At a glance:

Discreet air-vents
Cable Back-Plate
Multiple RGB-Sync Standards
Modular design
Self-supporting Tempered glass
Love the minimalist look
Lots of drive trays
Great for custom water-cooling
Premium manufacture
Easy panel removal (magnetized)
Price (130.00 USD)
A bit heavy
No RGB fans out of the box
The MasterCase is CoolerMaster best selling series of mainstream mid-towers. This is were it hopes to capture its most significant share of the market.
It does so, trying to juggle with quality, innovative features and an otherwise modest budget. Not an easy task in these tariff-ramping days.
But with the MasterCase MC600P, CoolerMaster is going all in and doesn't mind taking some risks!
The MasterCase MC600P
Our case is 235 mm wide, 548 mm tall, 512 mm deep.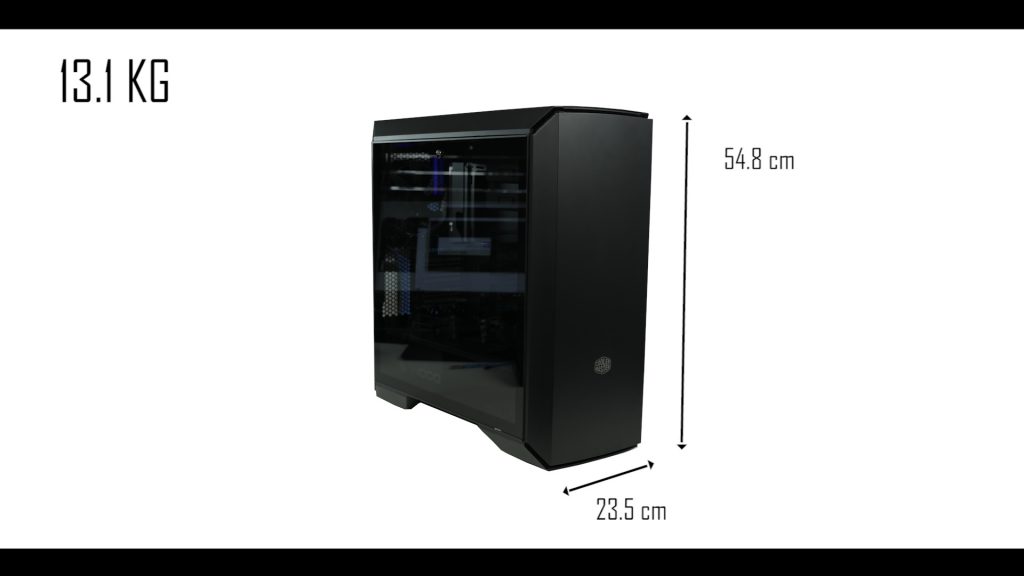 It weighs about 13.1 Kg empty, and can accommodate Micro ATX, Mini ATX, ATX and E-ATX, (up to 264 mm).
The chassis is made of out usual thick, cut-free galvanized metal. It is definitely sturdy and robust as heck! No wiggles when bear-naked, no vibration even with 7 fans running at different speed.
Deliciously stone-like.
Plastics are treated on both sides and of high manufacture. They have glare-less coating which ads to the "space-mineral" feel of the MC600P.  My only critic here is that it tends to attract (and keep) finger oils. I did need to continuously wipe it during the shooting. But this is me nit-picking.
Overall, as expected from a CoolerMaster flag-ship case, this chassis and its plastic panel, are the product of a refined, secured,  premium-manufacturing process. No doubt about that.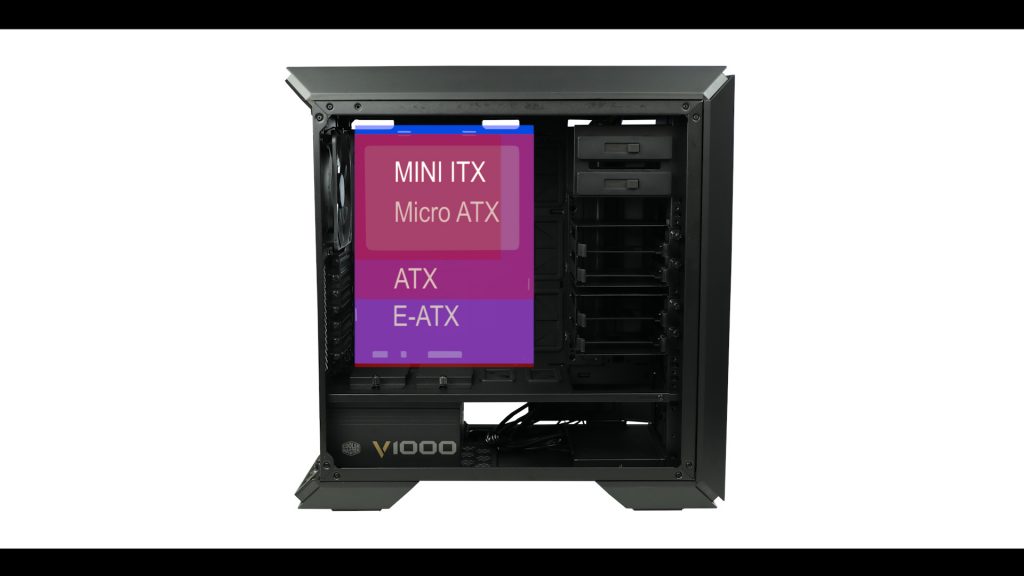 So definitely a mid tower which aims to satisfy a wide range of builds.


---
Tempered glass side panel
We have  a rather impressive, thick 40% darkened tempered glass panel.
Despite its rather darkened contrast, you can clearly see the components inside. It filters well the shiniest lights and renders an homogenized (and rather flattering) image of your build.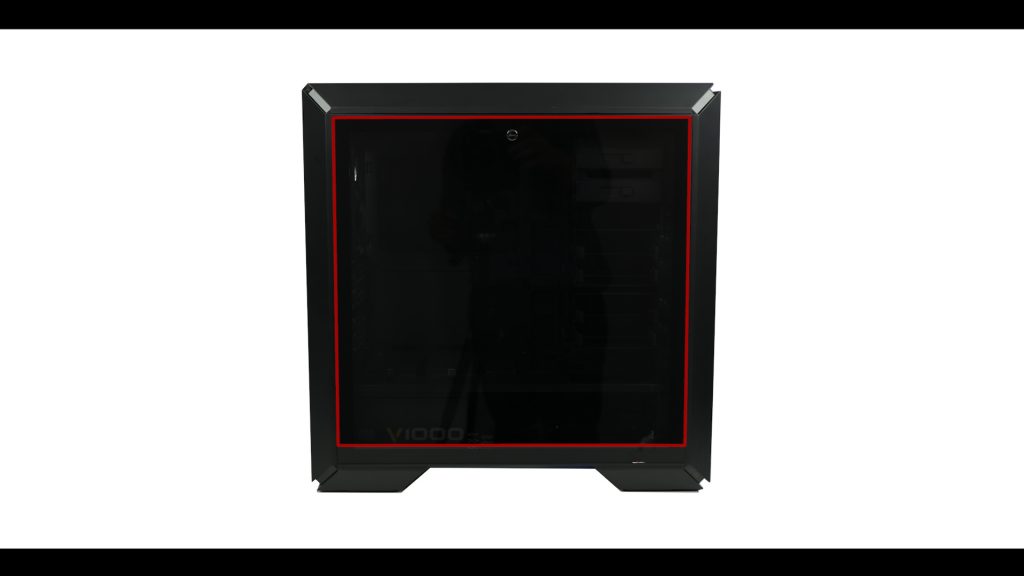 The locking mechanism is not the easiest one. You'll need a screw driver (or a coin?) to unlock the  tempered-glass panel. Over time, the unlocking-screw (or screw_key) will get some scratches and dents. So be gently with it.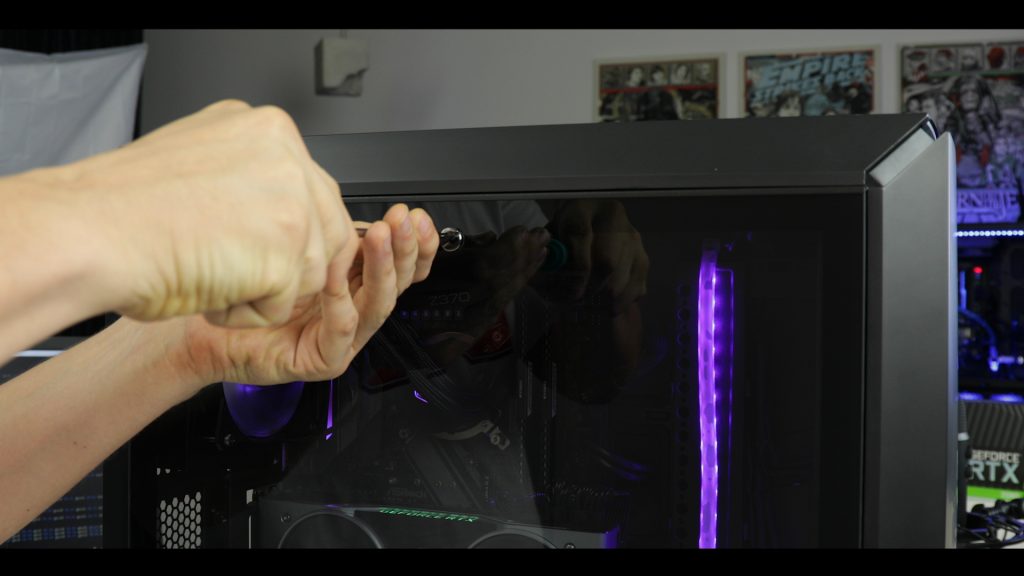 The tempered glass has a metallic base which allows it to rest on the chassis itself securely.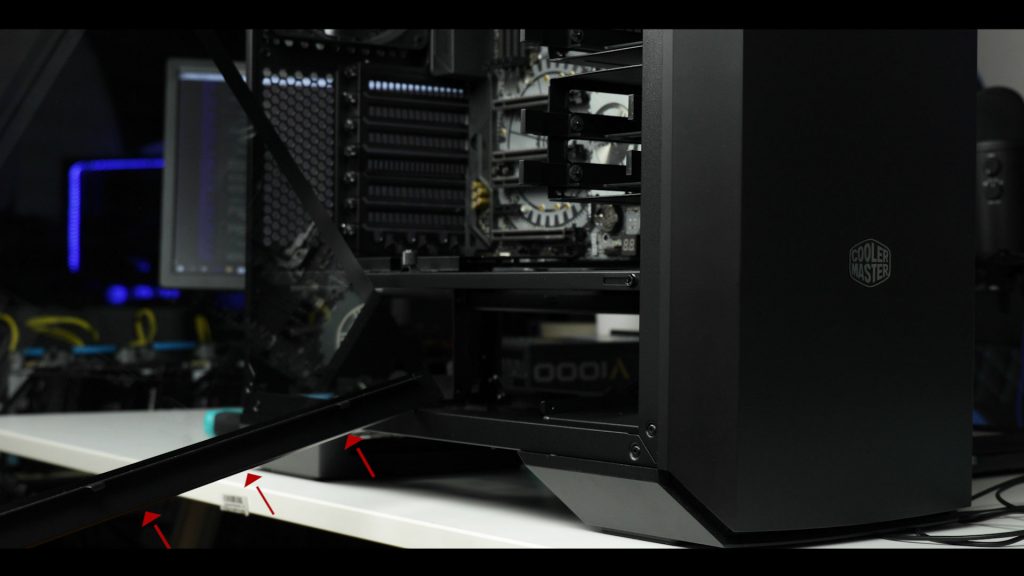 It can stay in a 30 degrees angle without any exterior support.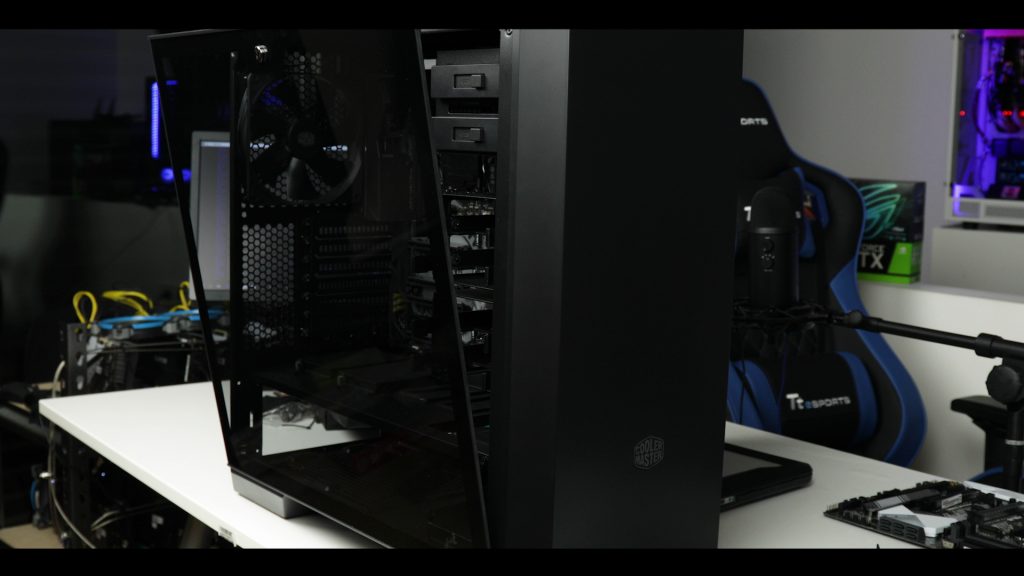 I very much like the idea. Tempered glasses, especial large ones, tend to be on the heavy side, and many of them end up shattered o the floor. So kudos to CoolerMaster for this.
---
Design
First thing to notice here, is the modular approach of the MC600P.
Everything and anything can be removes and / or adjust, apart from the motherboard plate it self.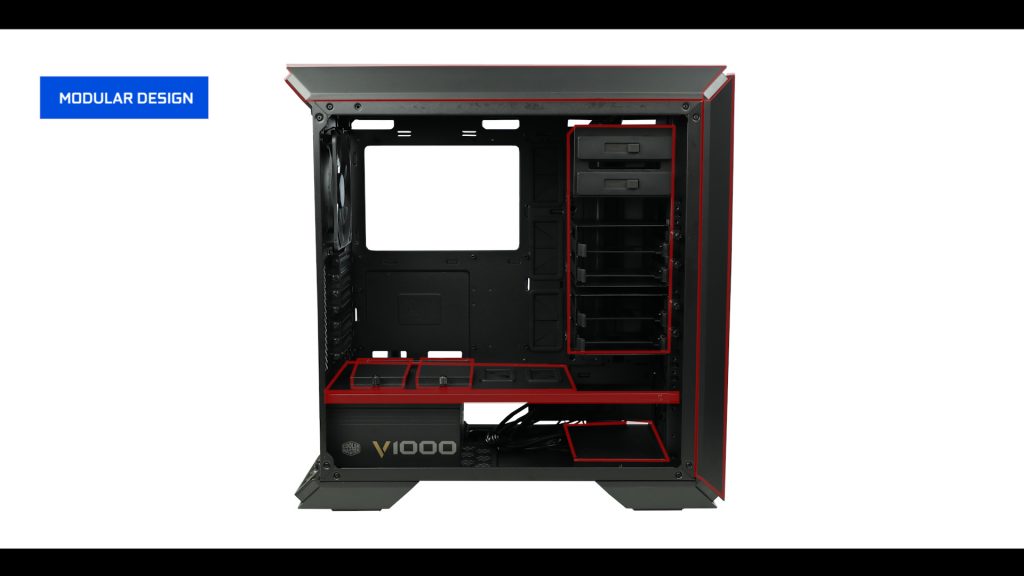 Front, top, and rear panels and simply magnetized to the chassis.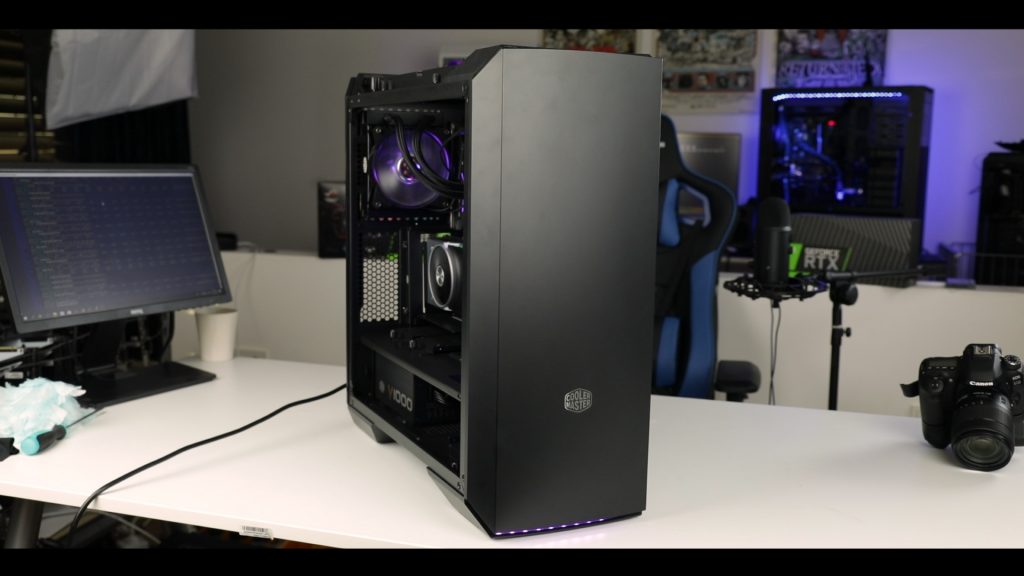 You simply need to apply a bit of pressure and they'll gently come apart. That is something I absolutely love.  Simplicity at its best.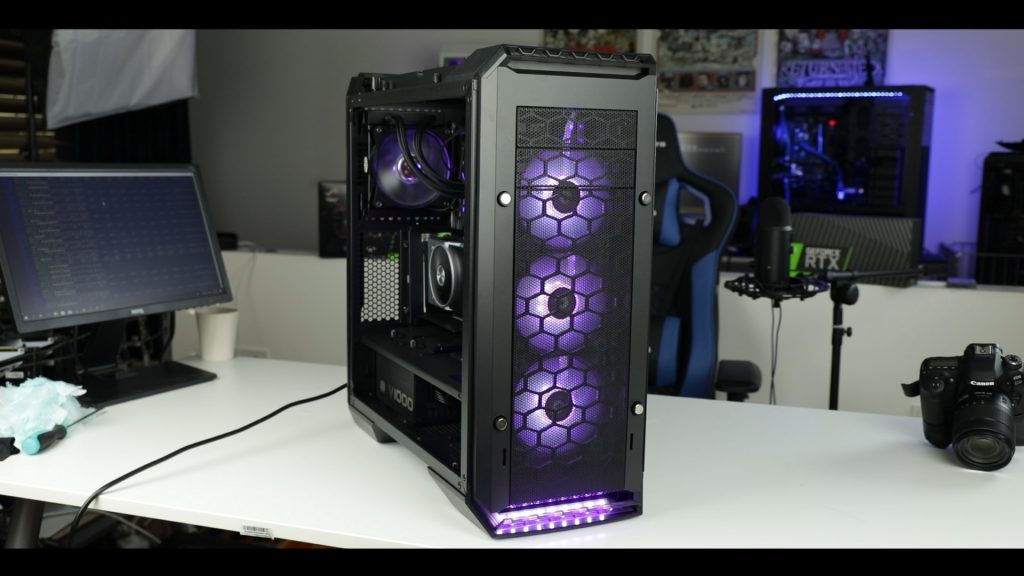 Behind the front panel we have a rather large intake filter as well as two 5.25 inch trays, which I find quite useless since the front panel has no opening for them. I'll credit this to some zealous standardization process back a the assembling line.
---
Front Panel
In tune with the  minimalist  design of our MC600P, the front panel IO and bouttons are no where to be seen.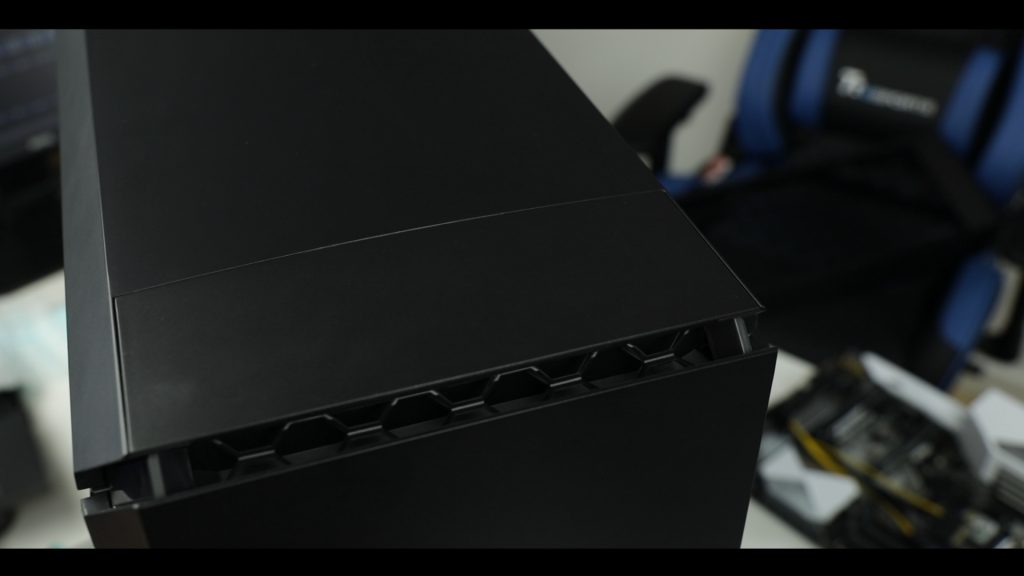 Instead they re hidden under a magnetize pivoting panel .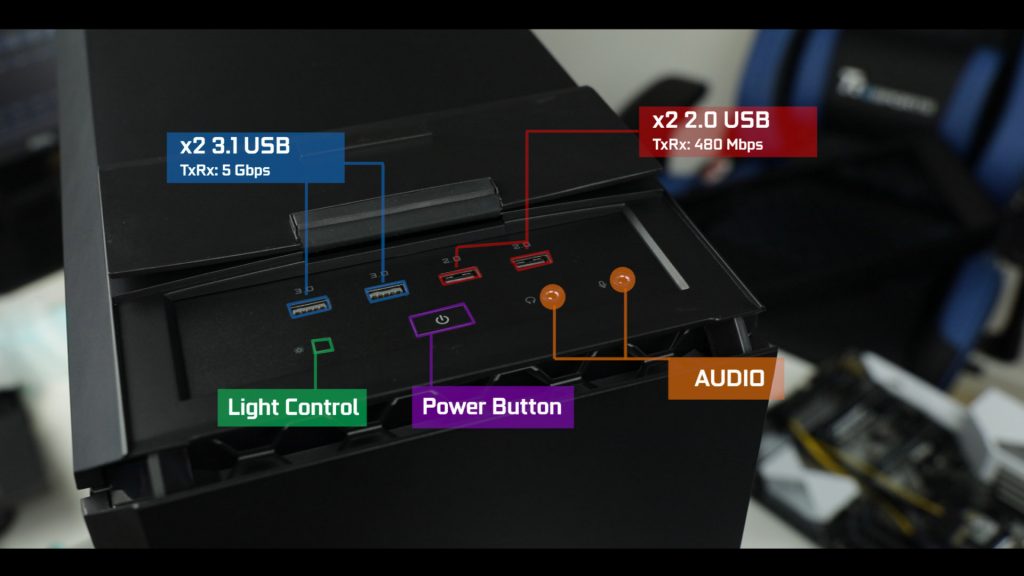 As we can expect from a mid-range case, we have :
x2 USB 2nd Gen
x2 3,1 (1st gen.)
Audio Mic/Headphones plugs
Power button
Light control button
No reset button here. So make sure to chose your motherboard adequately if you do require this feature.
---
RGB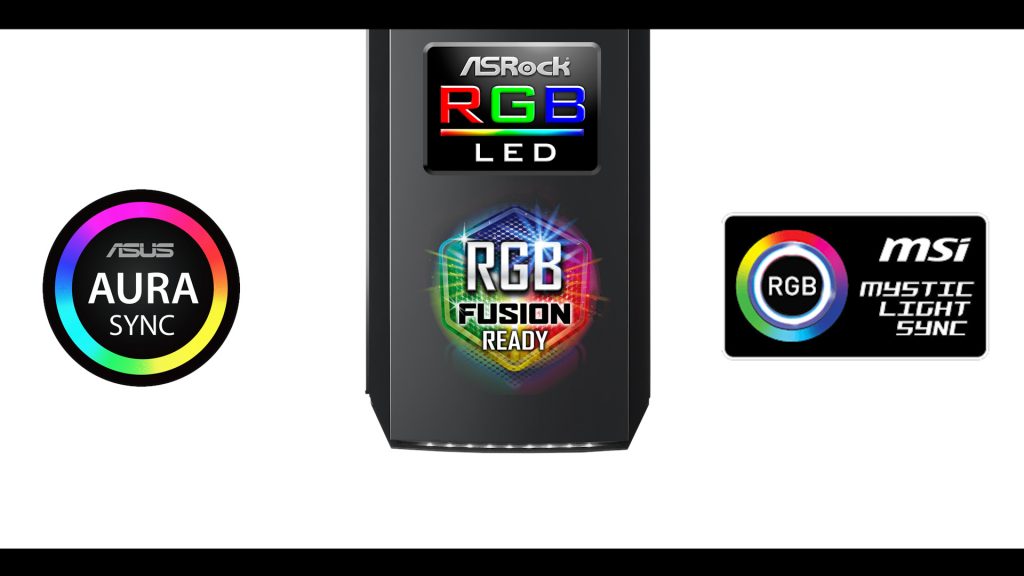 The MC600P is compatible to all the main sync-effect standards. That is a real plus. Not so long ago it was almost impossible to find an AURA compliant case, and I am delighted to see that CoolerMaster is fully embracing the RGB craze.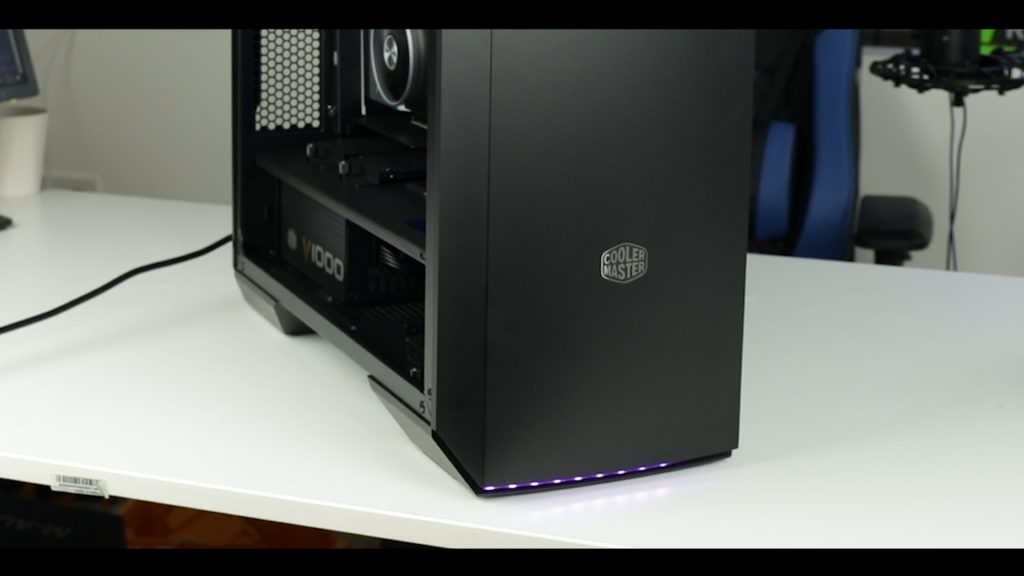 No "in your face" RGB strips here. Instead, a discreet RGB strip, somehwat hidden under the front-panel. The MC600P is going for more of a reflecting effect, than a drier RGB shine.
Again, this goes perfectly well with the on going design theme of our MC600P.
---
AIR FLOW
FROM THE BOX :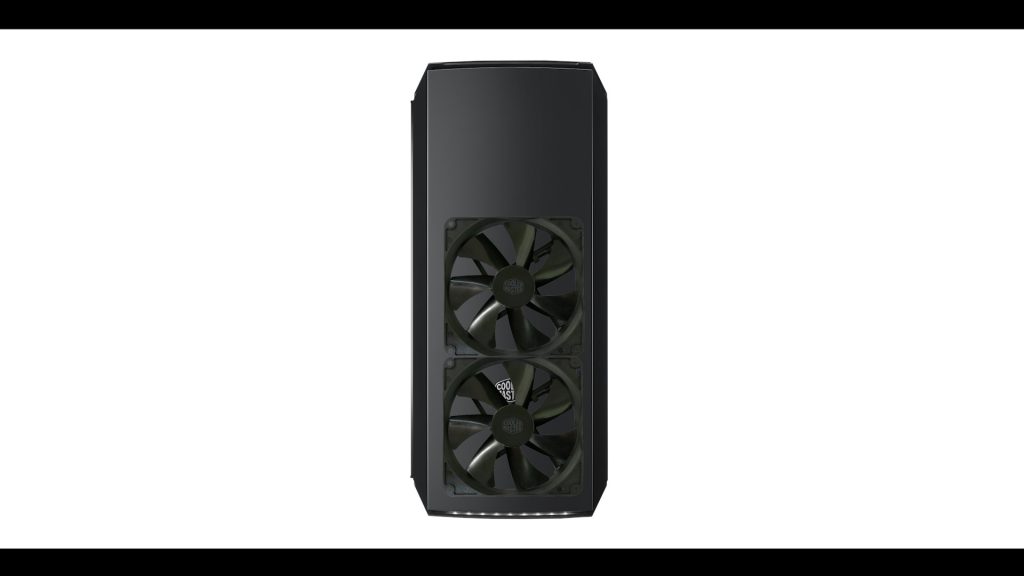 Our Front panel comes with two 140 mm high pressure fans. Note that you can replace them with 3 120 mm fans.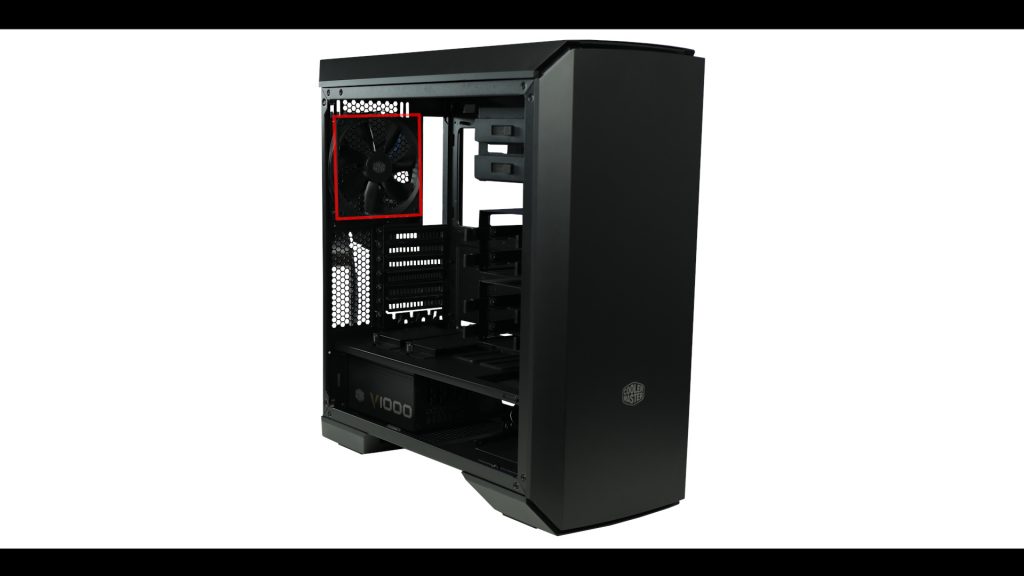 We have a 140mm Exhaust fan.
Adjustable Air-Flow
This is a feature I absolutely love.
The MC600P magnetized panel-locks are mounted on springs.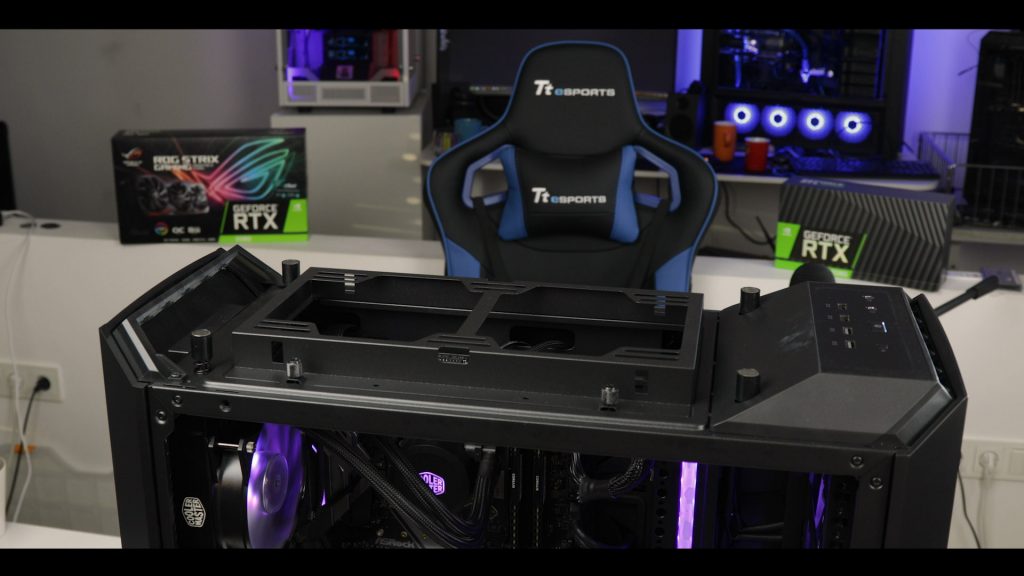 That allows us to securely elevate our front and top panel by as much as a full centimeter. And that makes a world of difference in terms of air flow intake.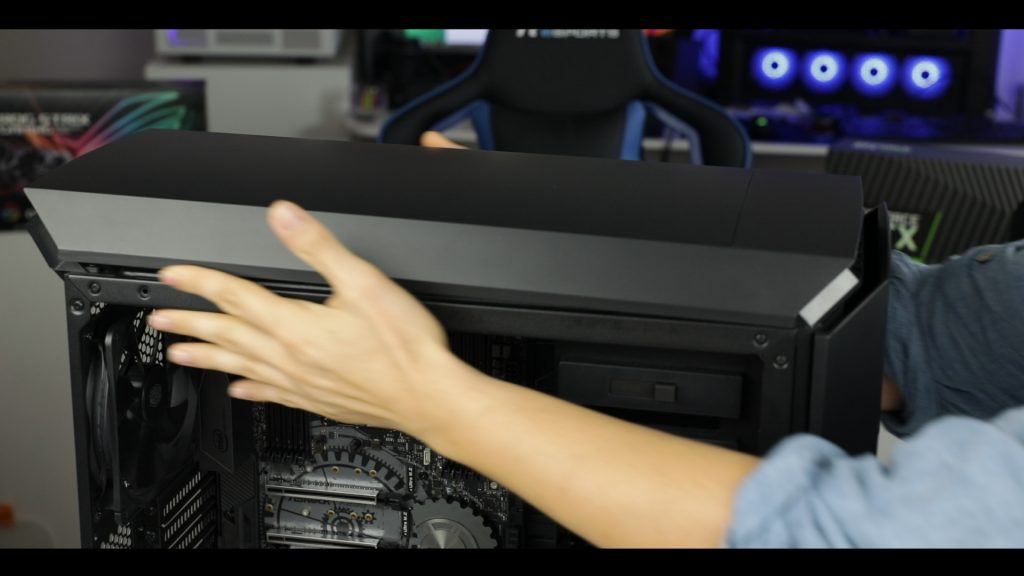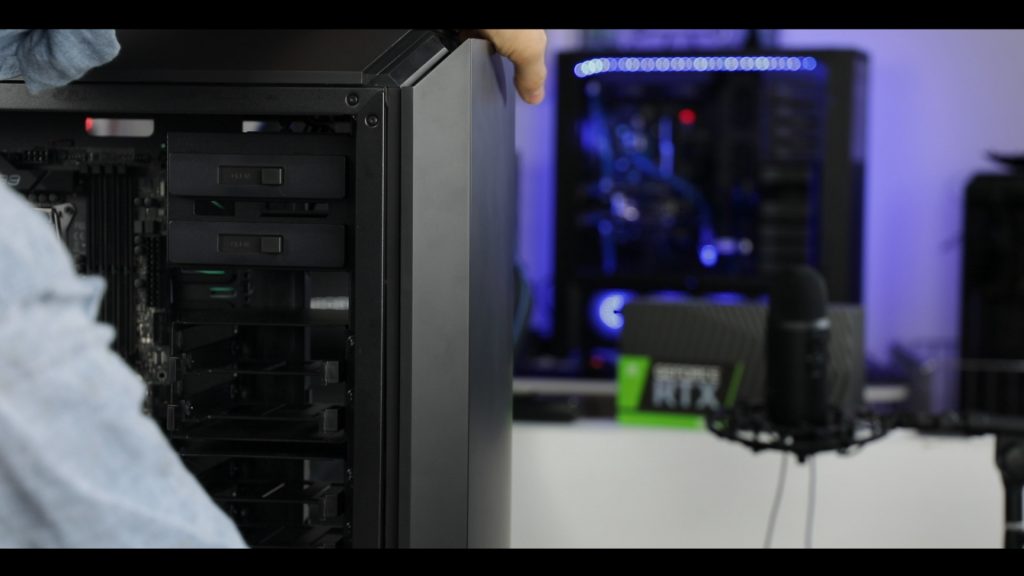 Especially if you are going for a custom water cooling solution and need lots fresh air available to them.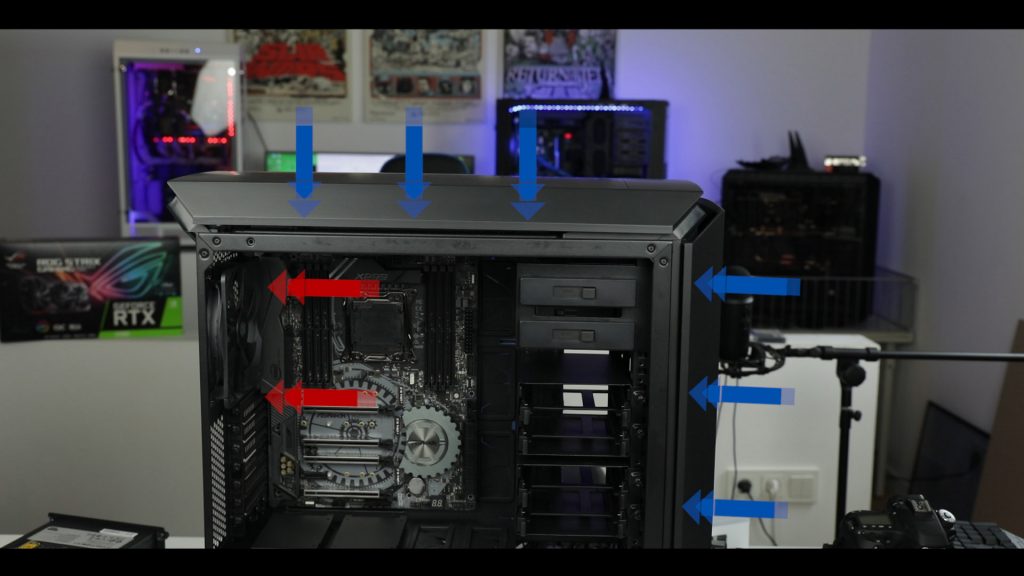 This is where you can truly appreciate CoolerMaster ability to surprise the market with infrastructure-like improvements.
This is a inexpensive yet fundamental change that CoolerMaster is introducing, and I am not sure I can go back to a 'classical' air-flow approach after this.
---
Radiators
The MC600P can accommodate up to 3 radiators simultaneously.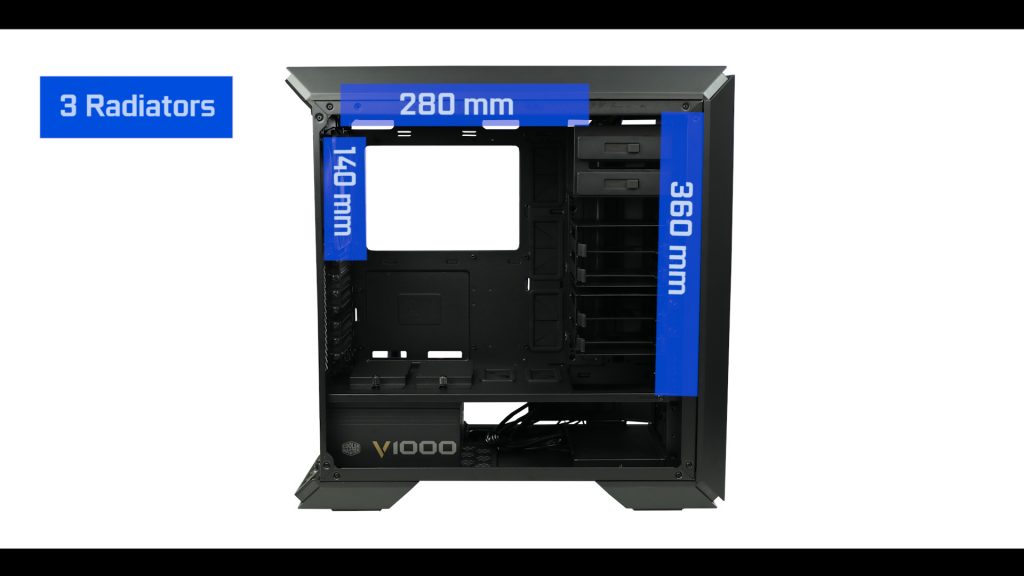 360mm  front panel radiator
280 mm top panel radiator
140 mm exhaust radiator for All-In-One CPU/GPU cooling solutions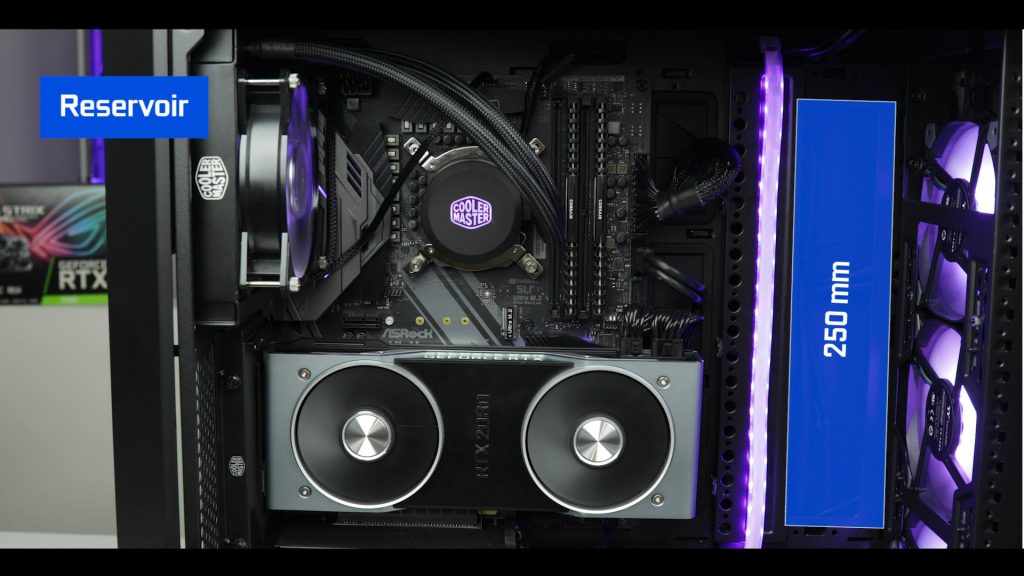 It can also handle about any size of reservoir out there. The longest one I had was 250 mm tall but I still had room to go.
I cannot see a dual loop configuration squeezed in there though. We do have ample space for a single-loop custom water cooling solution, but not quite two.
---
Storage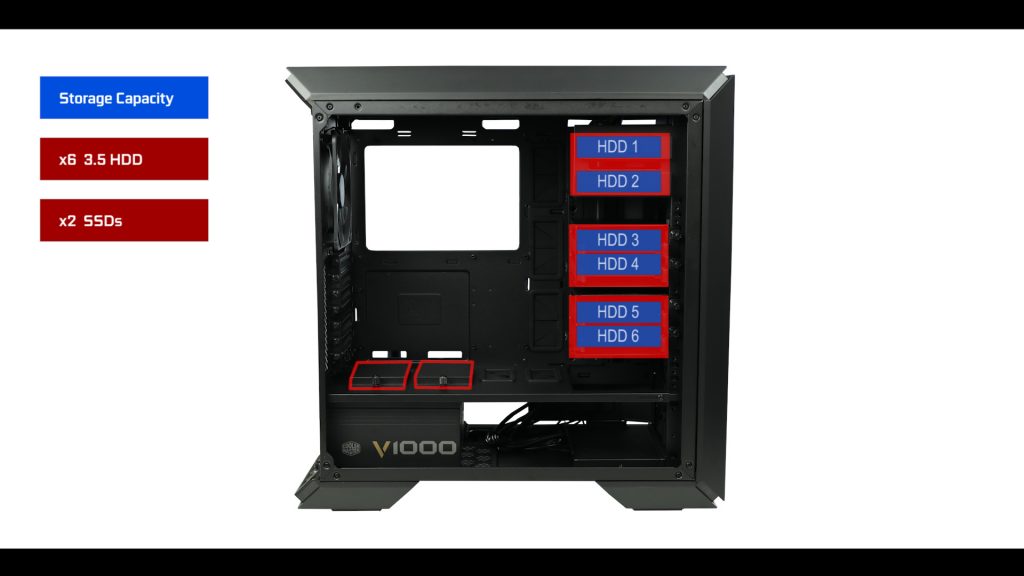 The MC600P can accommodate up to :
6 HDDs (3,5 inch)
2 SSDs (2.5 inch)
Of course, this is not counting on you motherboard ability to support multiple M.2 SSDs.
---
The rear
On the rear end of our case, we have a 140 mm high pressure exhaust fan,
and 7 back shields for our video cards and other accessories.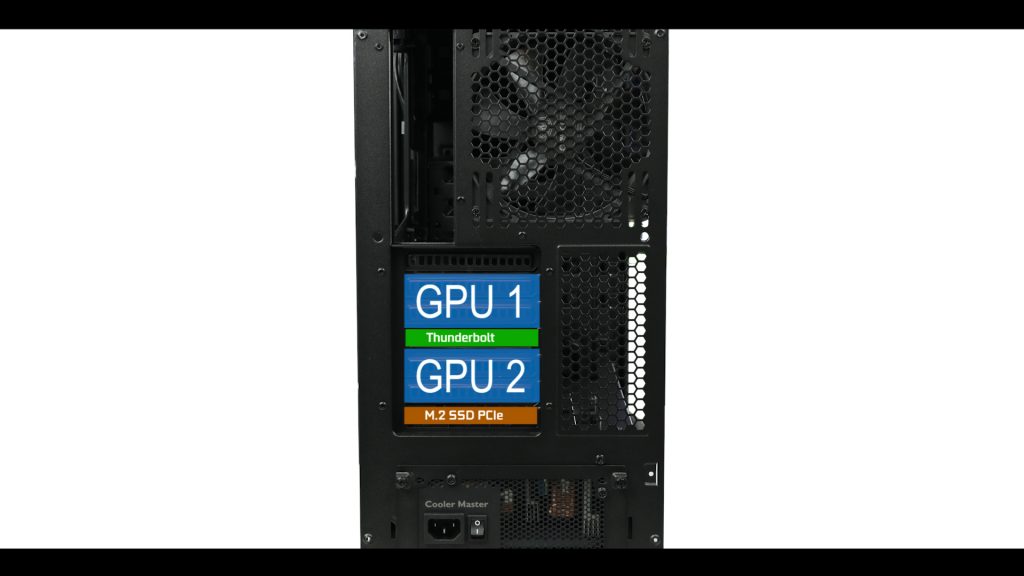 The case can comfortably accommodate up to 2 double-tray video cards as well as a couple single tray PCI-e exports. So plenty of upgrade space.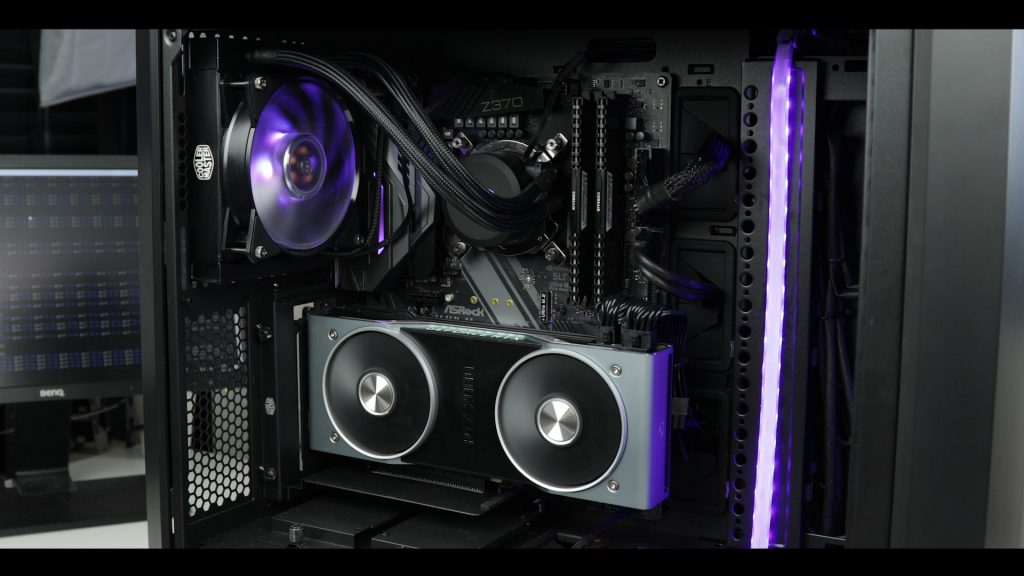 Note that the MC600P is compatible to the existing line up MasterCase accessories, including the vertical GPU mount, here featured.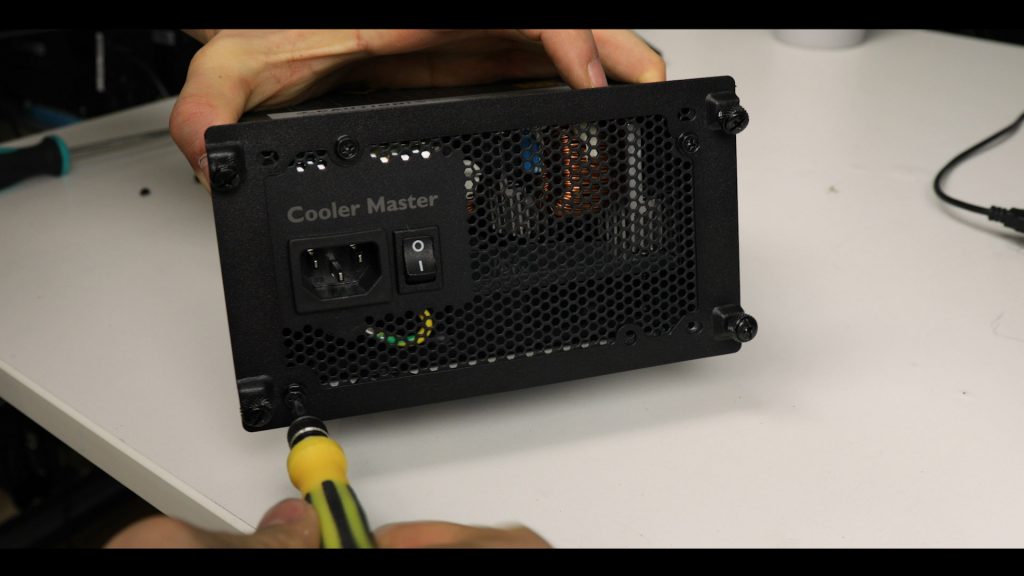 The MC600P comes with a PSU bracket which will be pre-installed on the PSU.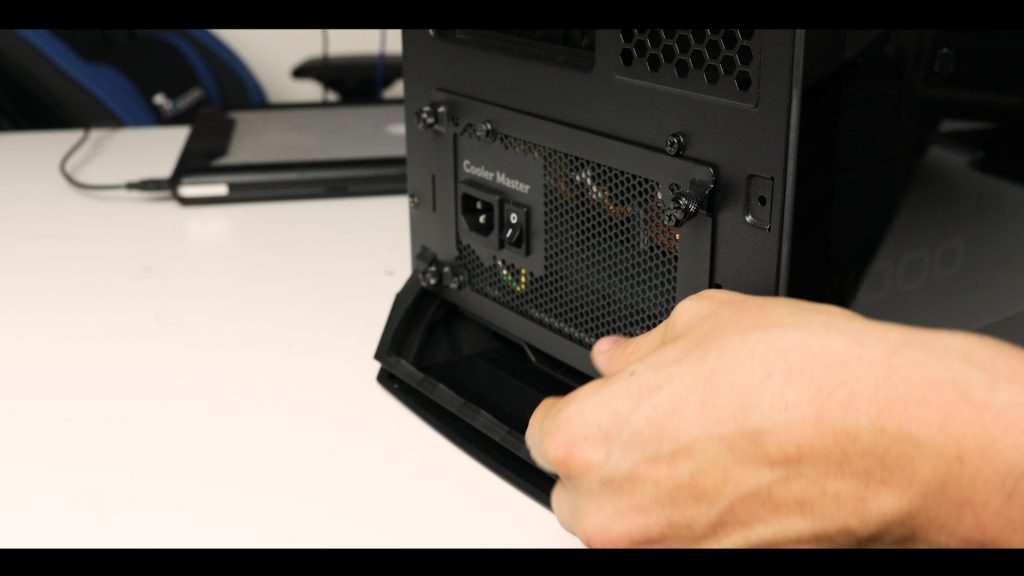 It will allow an easier and safer PSU in and out of the case.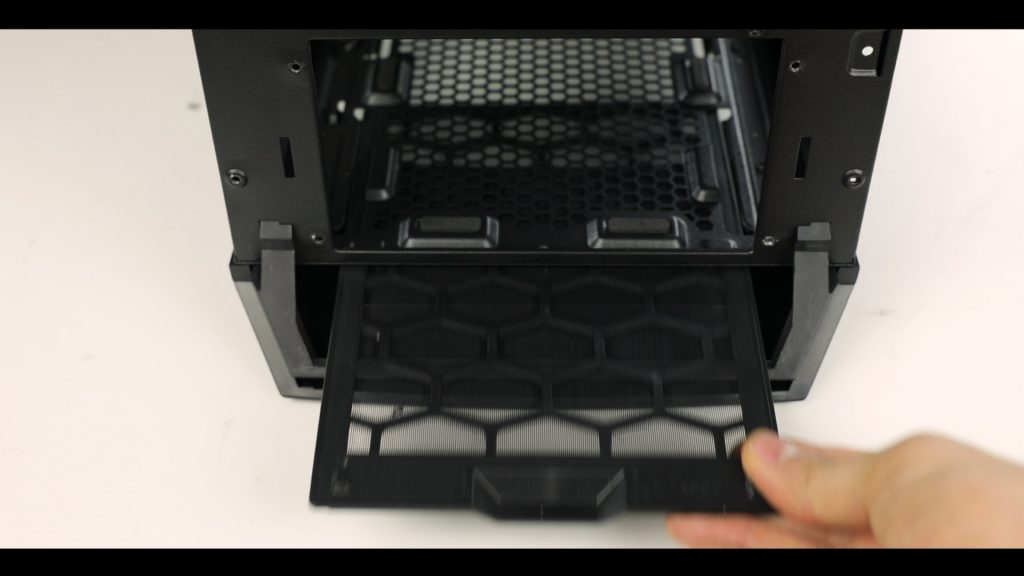 Under the PSU, we have a 2-fan sized air filter, which slides in and out of our case with very little drama.
---
Cable Management
So here is some innovation.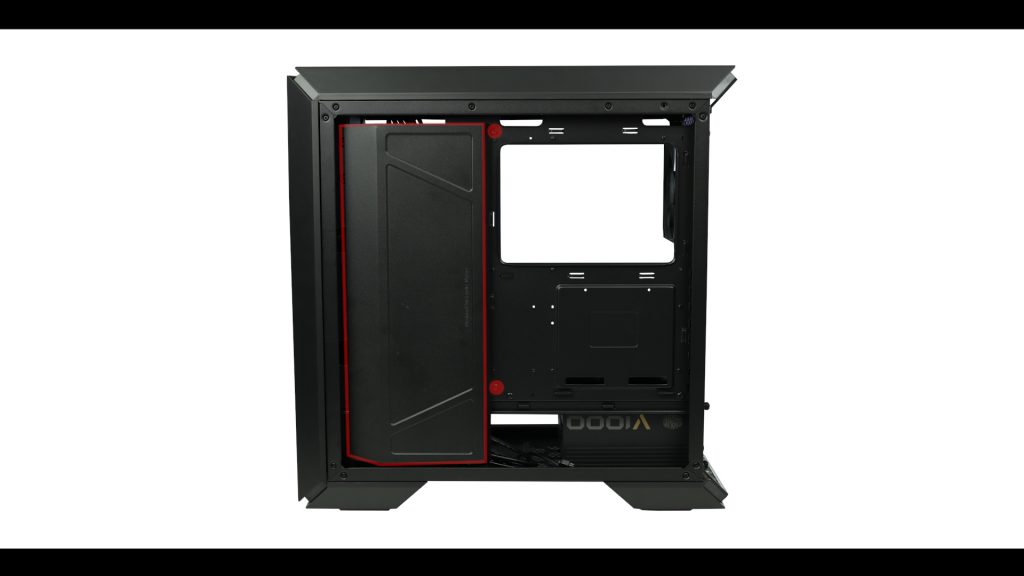 We have a rather imposing back plate which covers about 45% of our motherboard support plate.  Whatever cables-mess you got running, you can elect to easily (and lazily) hide behind.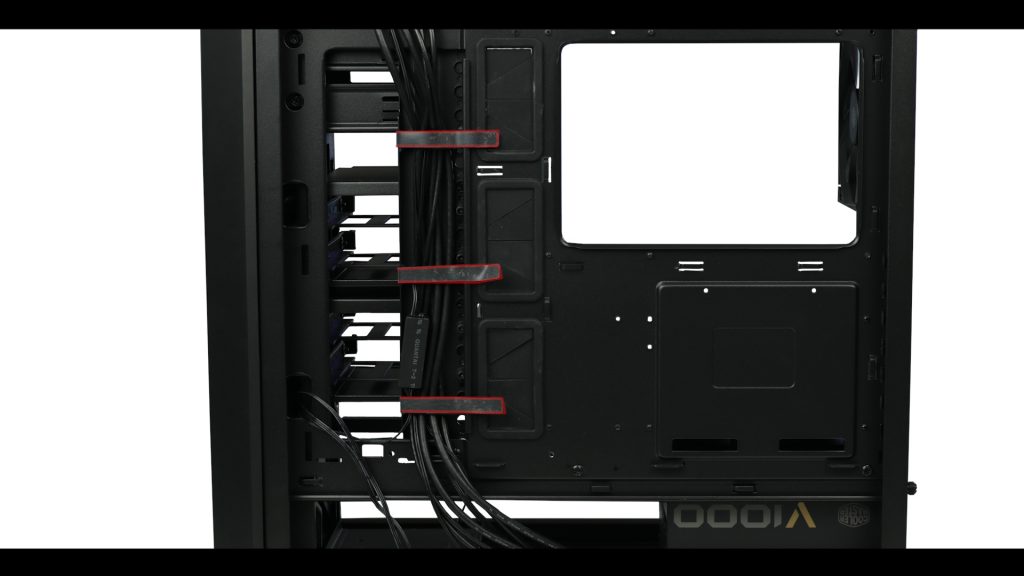 Behind it, we have 3 Velcro-ties which will help our cables stay in securely in place.
Conclusion
With the MC600P, CoolerMaster demonstrated that they are not market leader by luck,
CoolerMaster went for simplicity, engineering, innovation and an almost calm sense of luxury.
The magnetized panels, the air flow adjustments, the metal cable cover.. all that  shows a push forward and a worry to deliver a sense of satisfaction in terms of building experience.
I have build in and out of this chassis 3 times in a single week… and it was an absolute breath, ney .. and absolute pleasure!
The MC600P will accommodate any kind of build your money can buy. From the casual budget gaming machine, to the most eccentric custom water cooling system.
Its  aesthetics! I adore the overall monolithic design of the MC600P. I absolutely love the discreet AURA compliant RGB strip. And that tempered glass gives this deep mineral feet to it. In a word :  perfection.
Oh! And last but not least: its price! 130 USD before taxes. Absolutely in par and in tune with its market. I'll even go as far as calling it affordable.
Critics! I can find some. We do not have a front panel TYPE-C USB, I would have loved to see some RGB fans pre installed on the MC600P, but none of those are deal breakers.
I'll simply say that , if you are on the market for a new case, that is EXACTLY where your money needs to be!