Key Features
Price:

260 USD

(Confirmed)
Release Date : 27th January 2021
ATX Form Factor / 6 PCB Layers
INTEL Z590 chipset
LGA1200 CPU socket
CPU Support

Intel 10th Gen CORE CPU
Intel 11th Gen CORE CPU

4 x 32GB 5,133 MHz DDR4, maximum 128 GB
2 x PCIe x16  |  2 x PCIe x4
Back IO :

HDMI

1.4 with 10th Gen. Intel Core CPU
2.0 with 11th Gen. intel Core CPU

PS2 connector
2 x USB 2.0 — RX/TX 480 Mbps
3 x USB 3.2 2nd gen. Type-A RX/TX 10 Gbps
1 x USB 3.2 2nd gen. Type-A RX/TX 5 Gbps
1 x USB 4.0 RX/TX 20 Gbps
1 x surge protected 2.5Gbps LAN controller
WiFi 6 AX 201
Realtek ALC S1200A Codec 7.1 channels audio,

STORAGE

3 x M.2 SSD*
6 x SATA 3 — RX/TX 6 Gbps

MULTIPLE GPU
x17 50 AMPS power stages
6 layered PCB ( PCIe 4.0 ready)
5,133 MHz RAM clock
Great Premium integrated AUDIO
AWESOME cooling blocks
AWESOME M.2SSD Locking mechanism
Price
Absence of Q-LED error screen
The TUF series is changing! It used to be a board based on resilience, performance, and budget! Well, these days are gone!
We are now dealing with a proper premium board! In its make, its features, its power delivery, and… its pricing!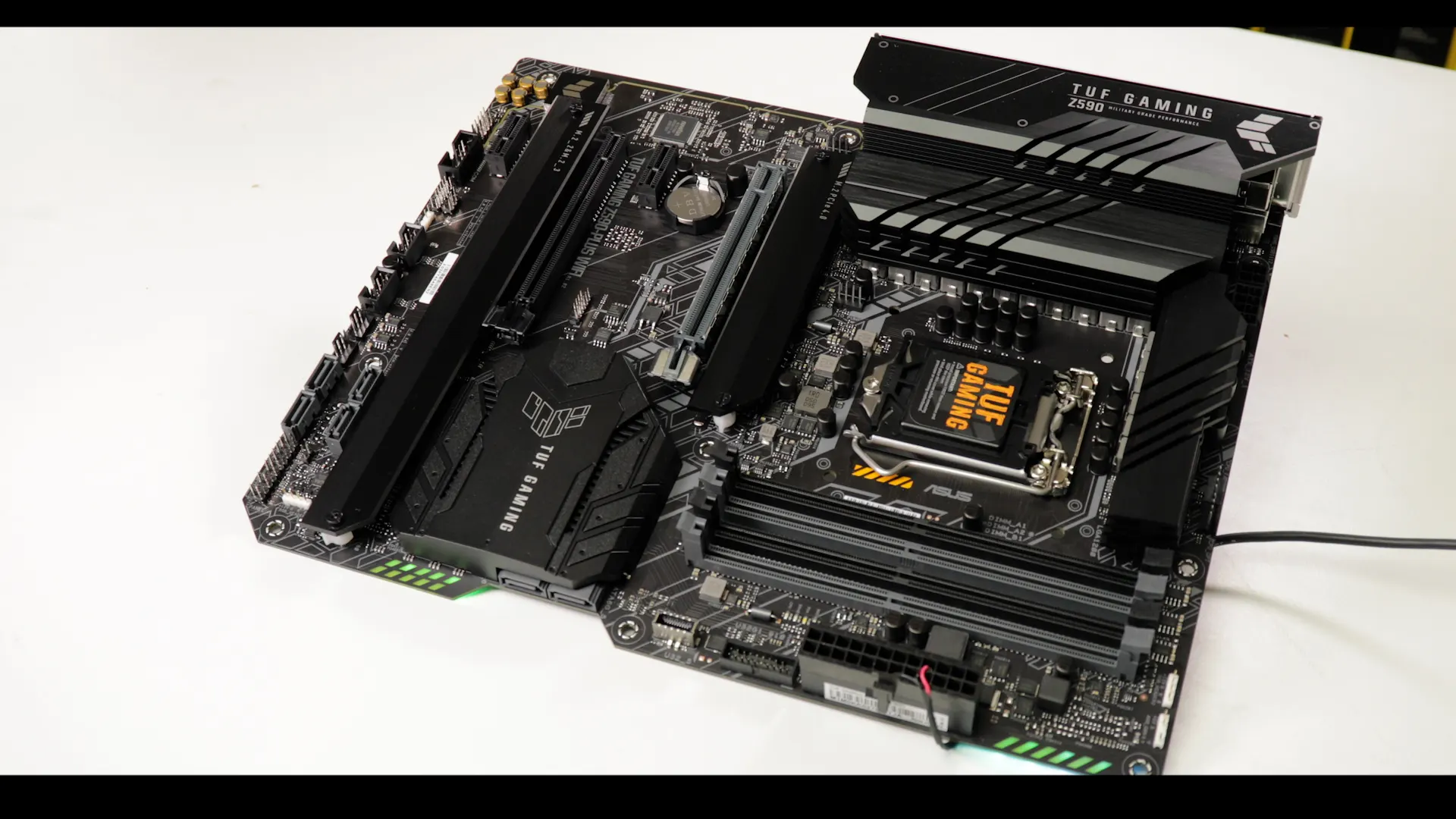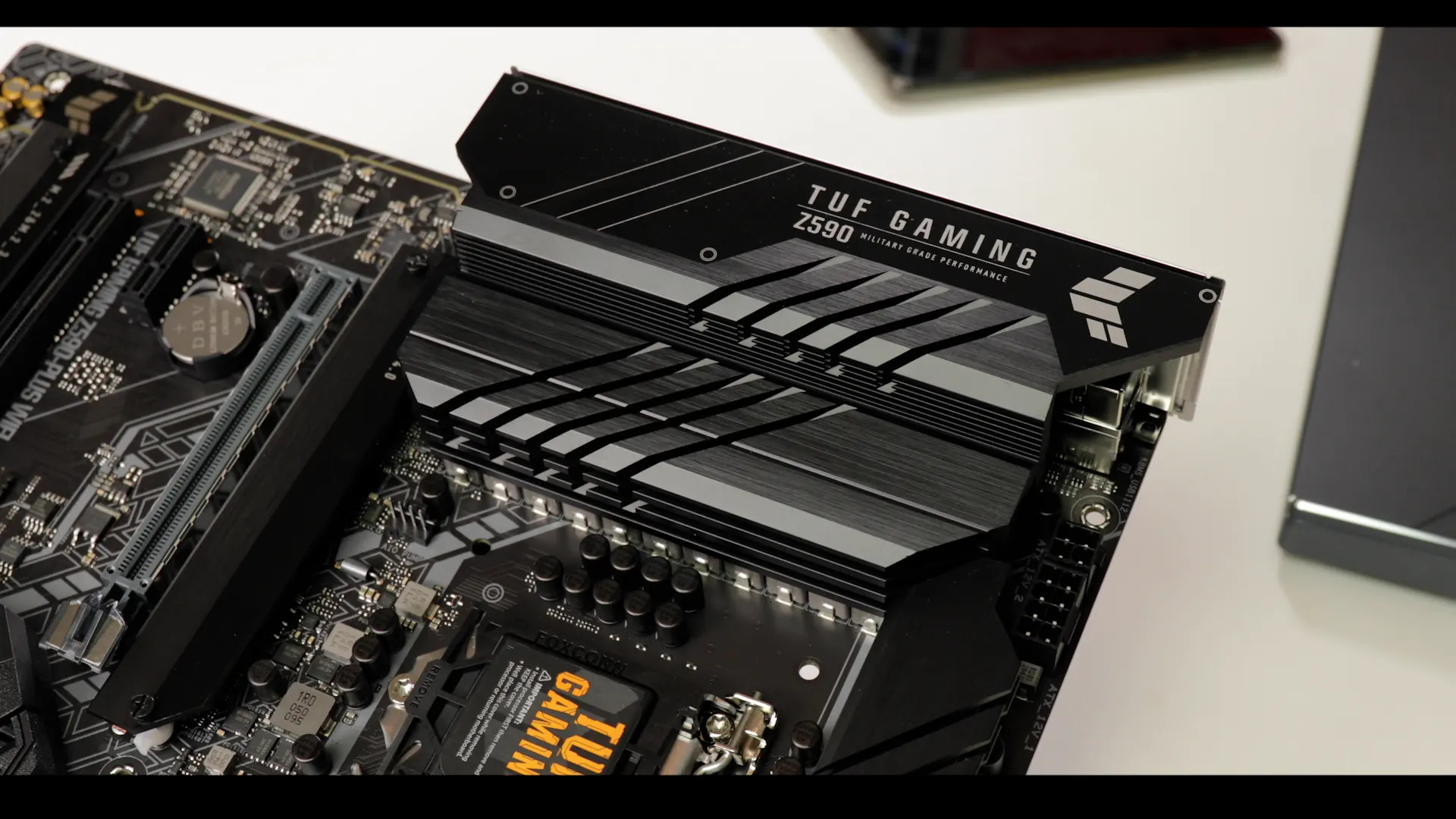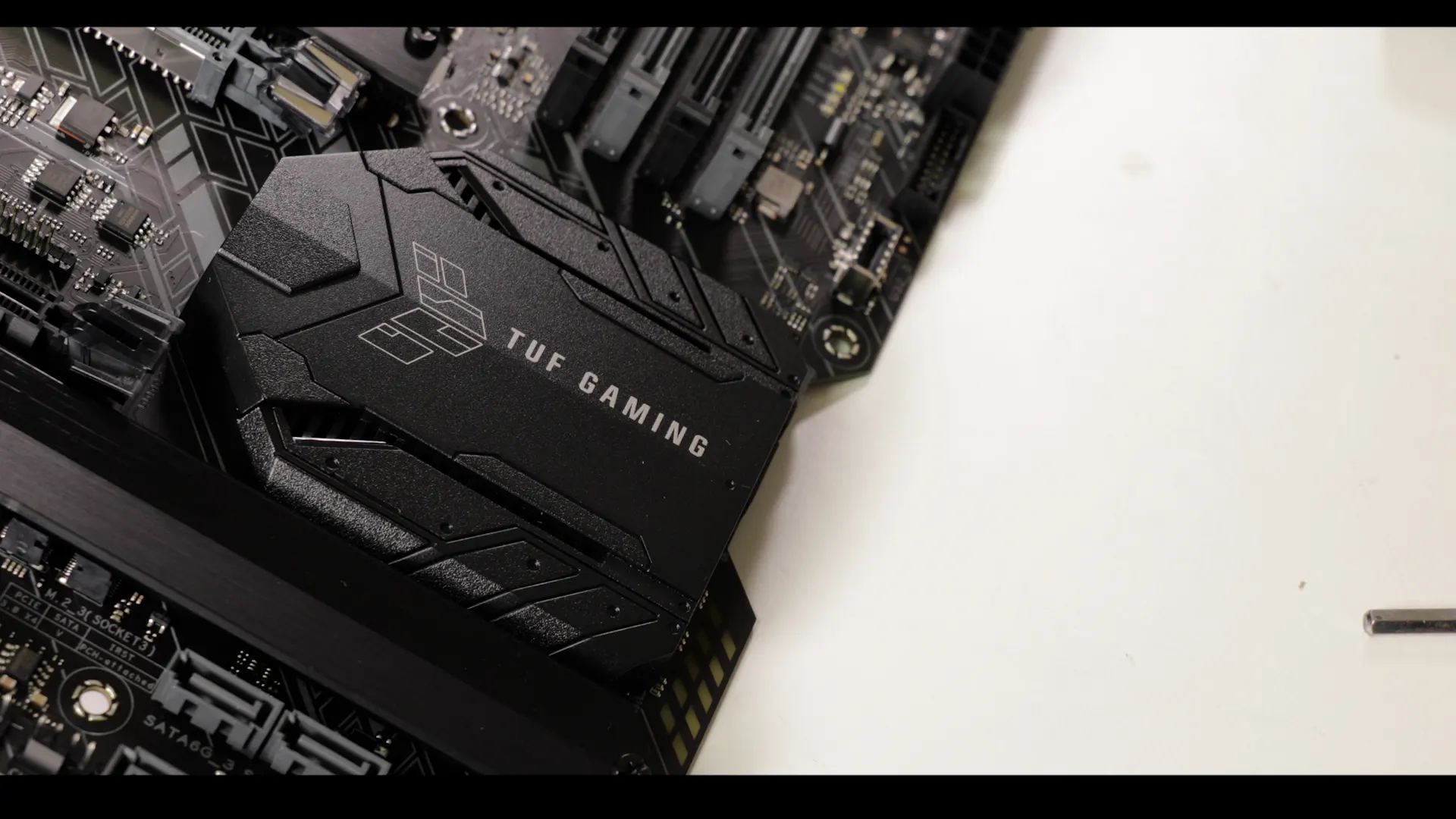 4 SATA cables
Q-Connector
TUF stickers
Manual
DVD driver & Software
---
PCB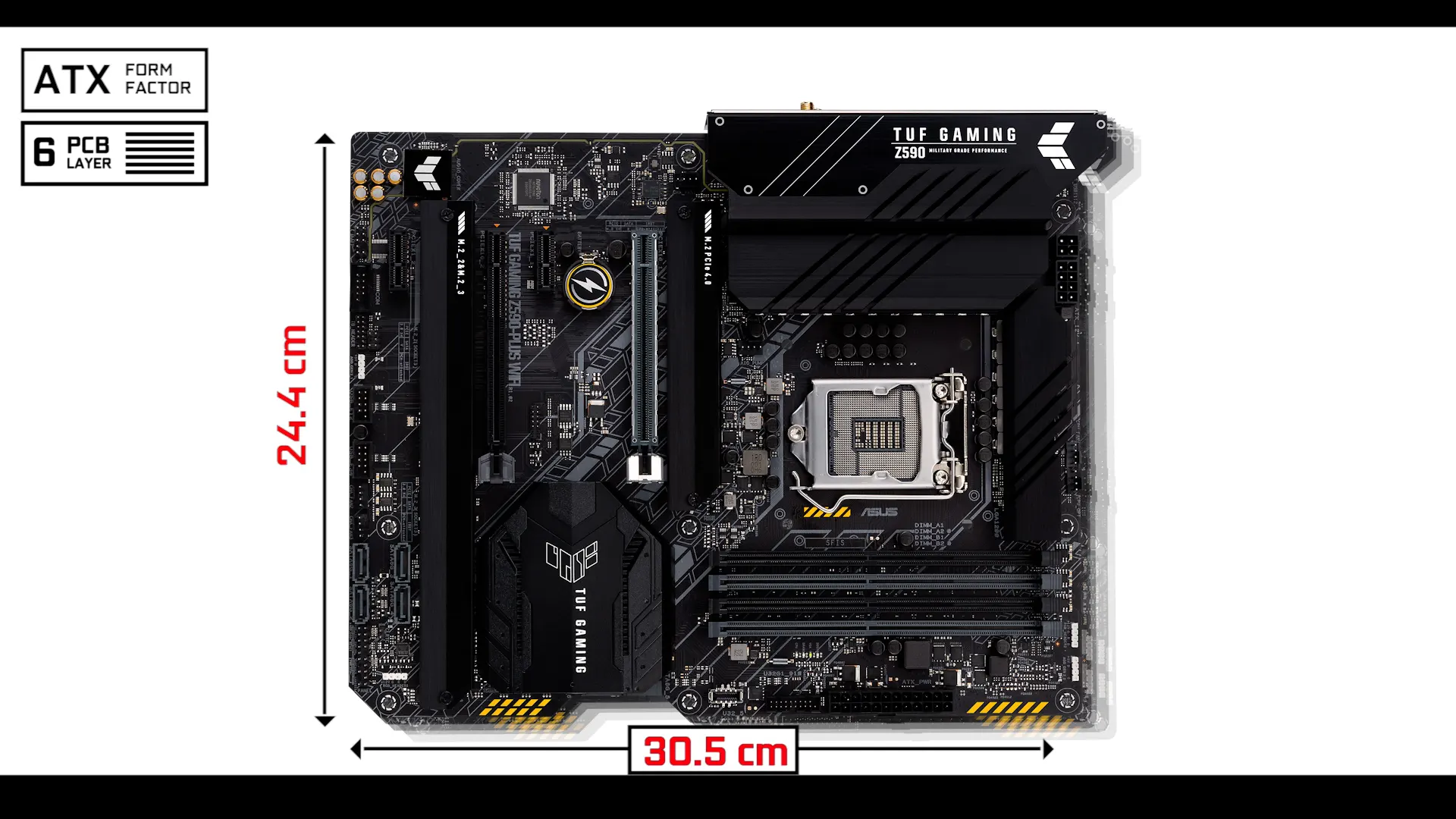 We are dealing with a 6 layered PCB ATX motherboard. Totally expected from a PCIe 4.0 enabled motherboard. Having more PCB layers (typically only 4) adds PCIe signal isolation which will allow a stable PCIe 4.0 support.
It also will benefit VRM heat dissipation and audio quality. Obviously, a very solid foundation for a performant and durable motherboard.
LGA 1200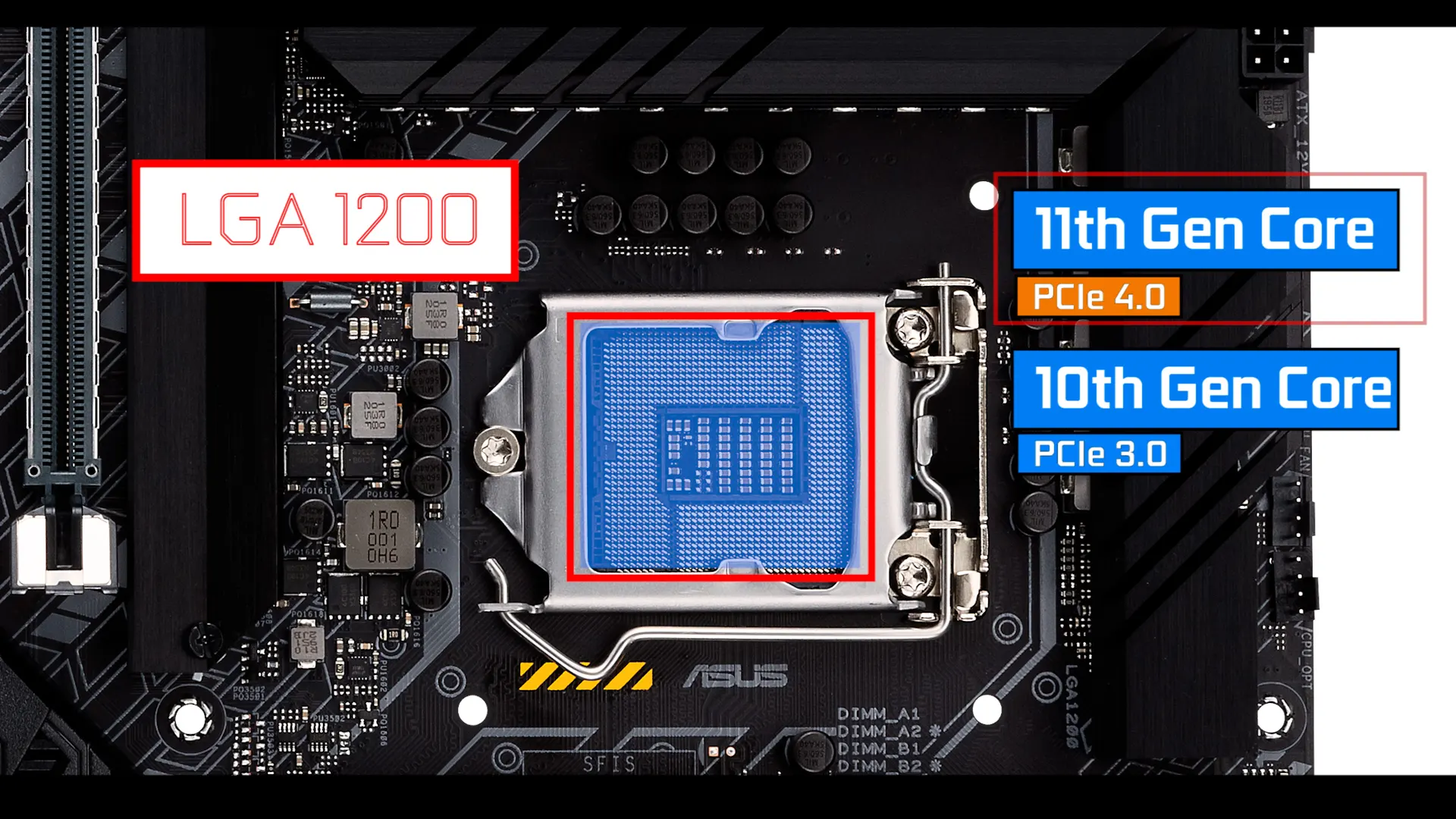 Our LGA1200 socket can support :
10 the Gen Intel CORE CPU
11 the Gen Intel CORE CPU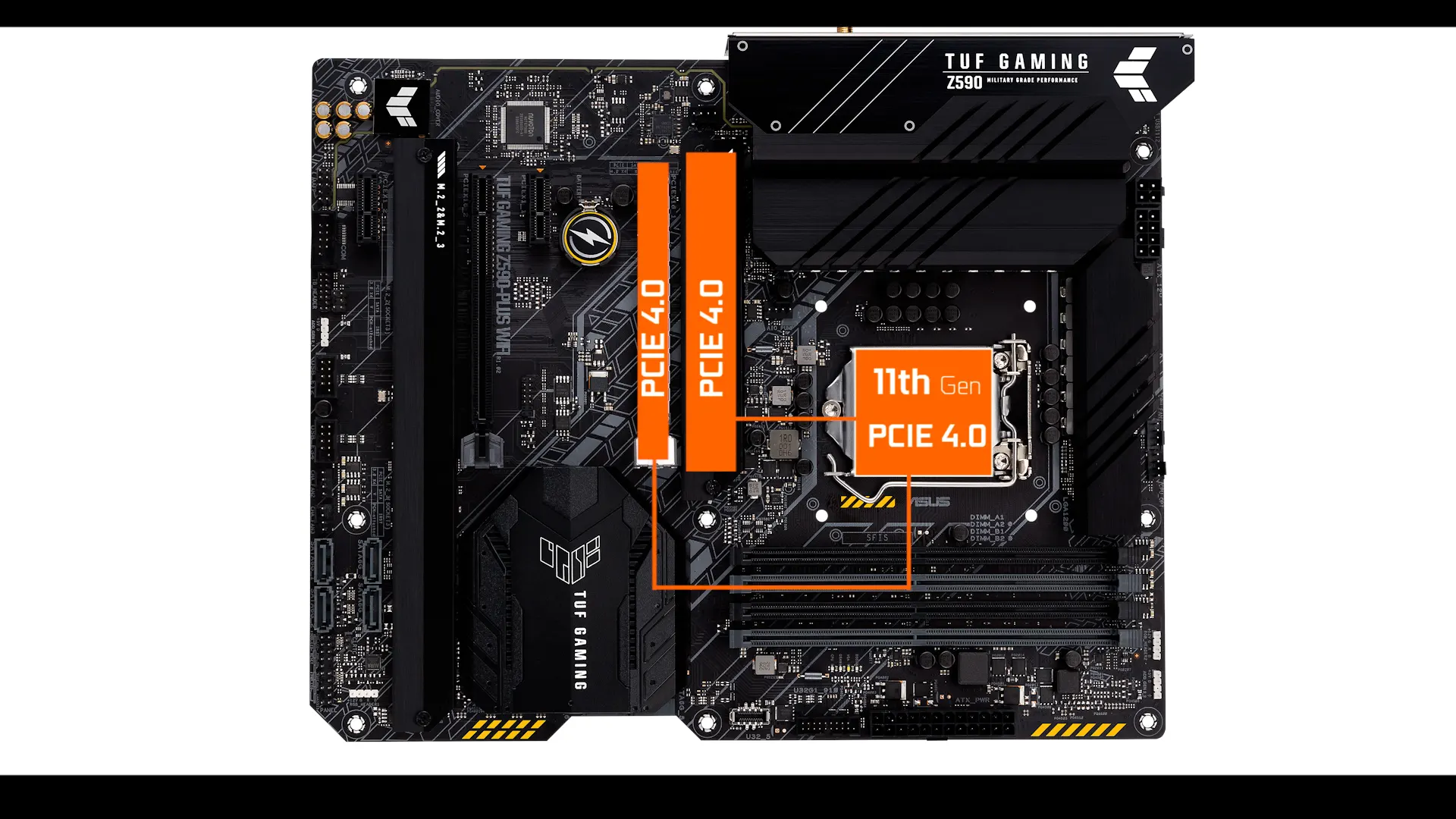 Worth noting only the incoming 11th gen Intel CORE CPU is PCIe 4.0 enabled which has its importance since it will feed our several components with double the bandwidth the PCIe 3.0 can.
The chipset fed components will remain PCIe 3.0 only compliant in any cases.
---
VRM
This is where ASUS really did well!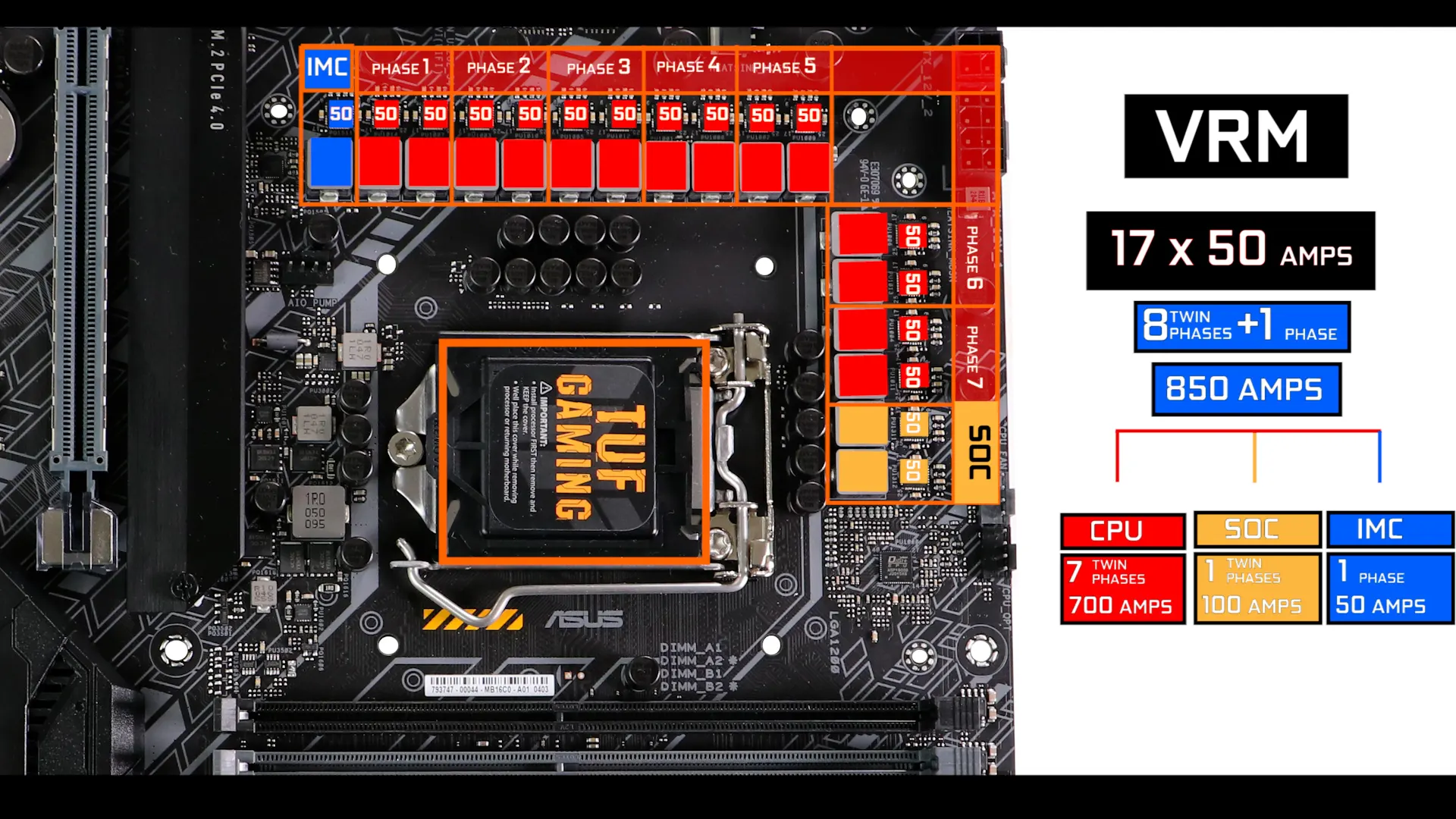 It has nothing to do with its predecessors, and truly is an unprecedent leap forward.
We have 17 50 AMPS CPU-centric powers stages, and 2 50 AMPS SOC power stages, for a grand total of 850 AMPS.
That's a whooping 700 AMPS worth of juice to power our processor. Obviously more, much more than you would ever need to power even the most over-clocked Intel processor at all times.
VRM Cooling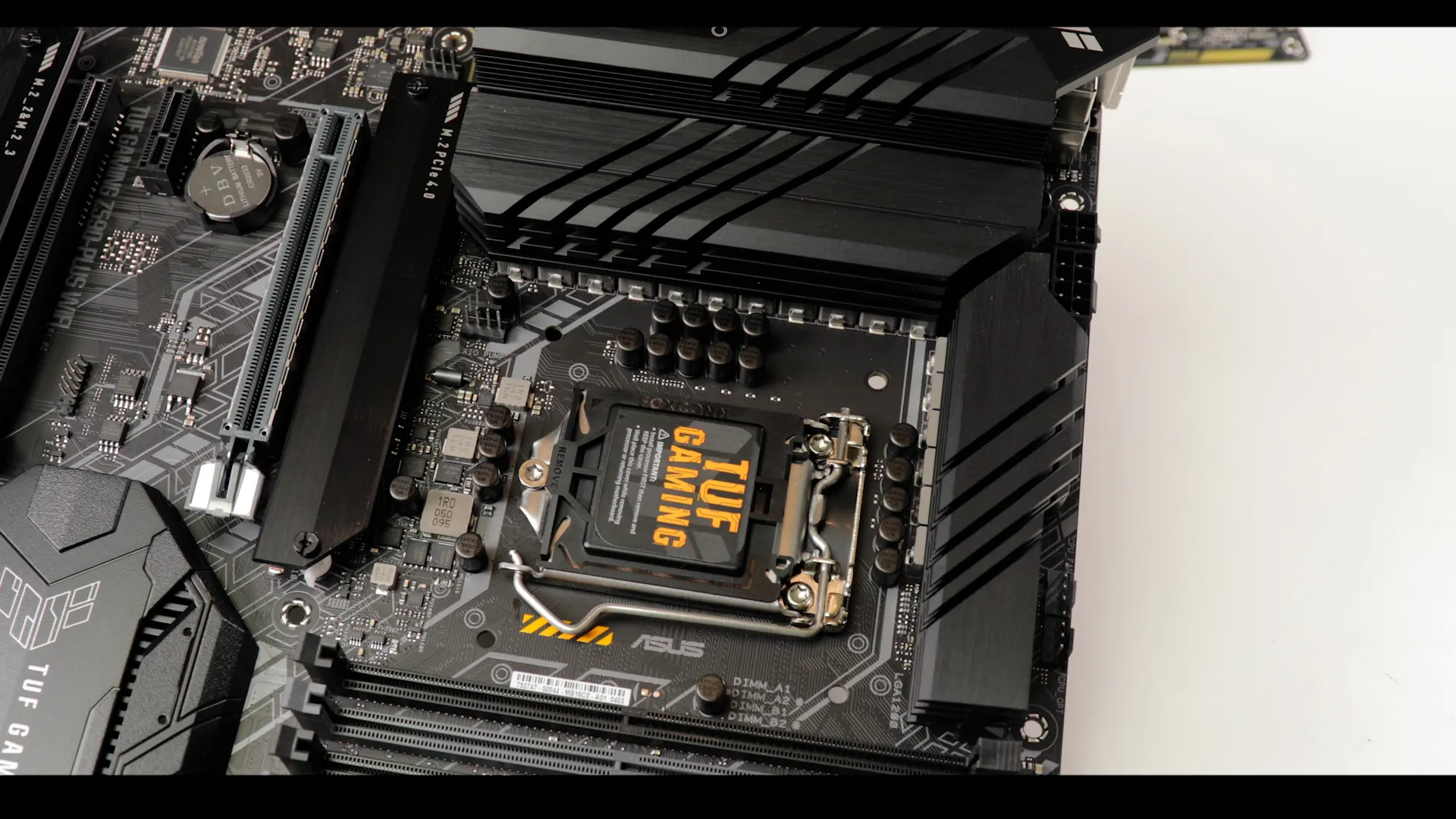 We have two massive double-contact heat-sinks.
Probably the biggest one I have seen on TUF series.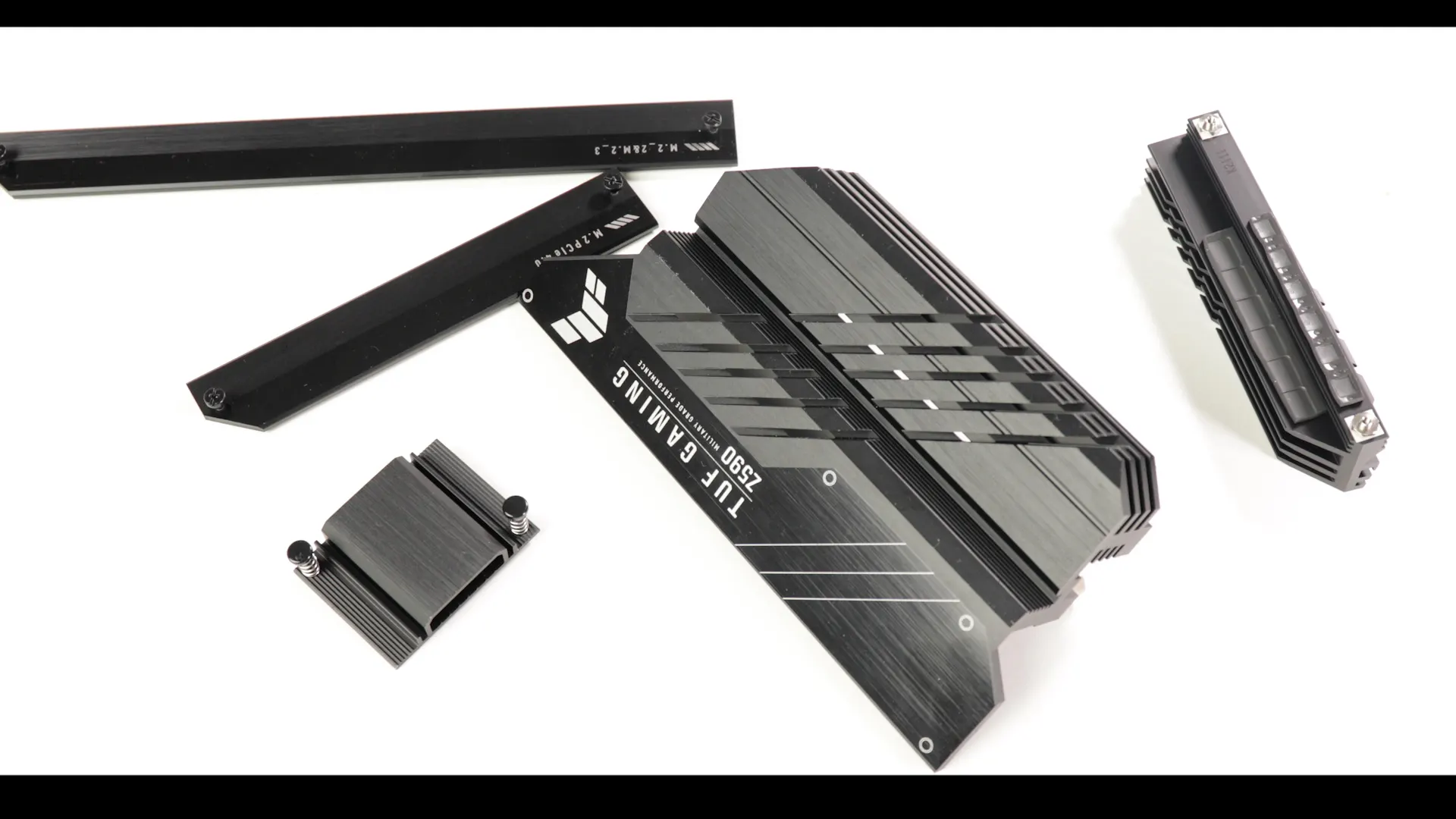 It shows impressively wide walls which will help conducting more heat towards the radiating roof.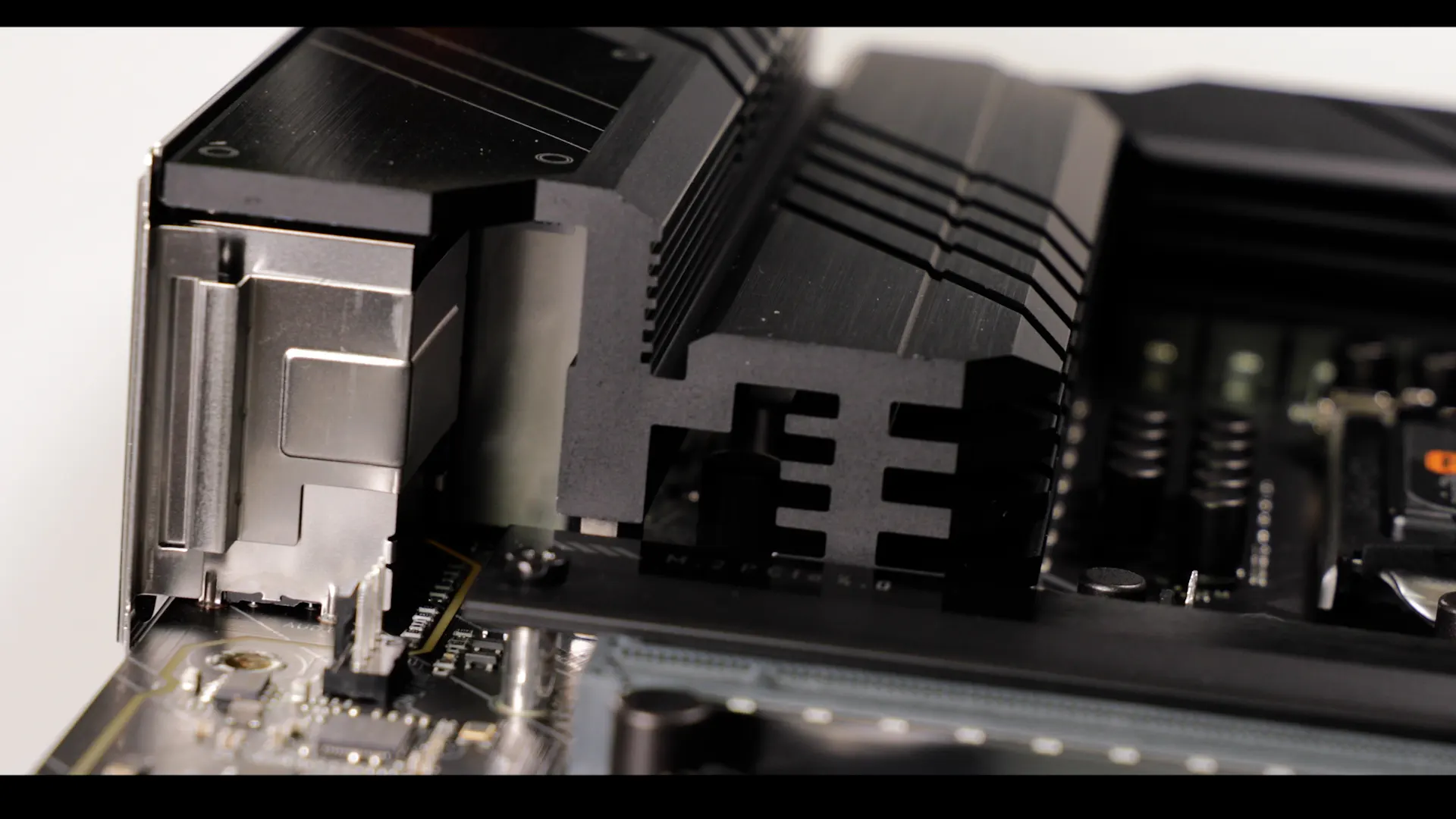 But I specially like the fact that the entire IO roof is in fact made of aluminum and provides an extended radiating solution to this muscled-up VRM!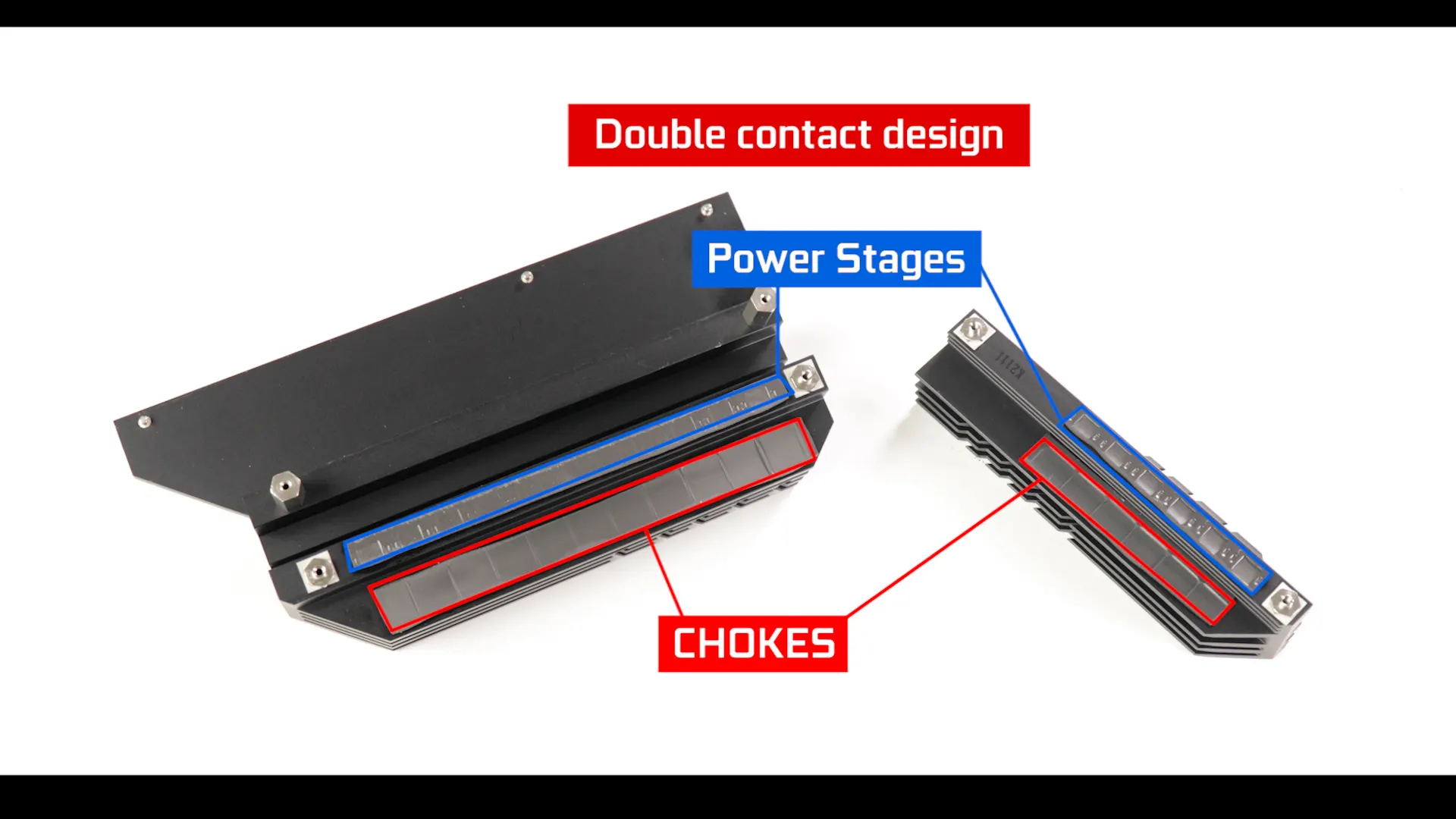 Finally, I want to note the double-contact design introduced by ASUS on B550 powered motherboards.
Both chokes and power stages have a thermo-padded contact to the heat-sinks, allowing a higher heat dissipation ratio.
A simple, inexpensive, but effective solution!
---
TEMPS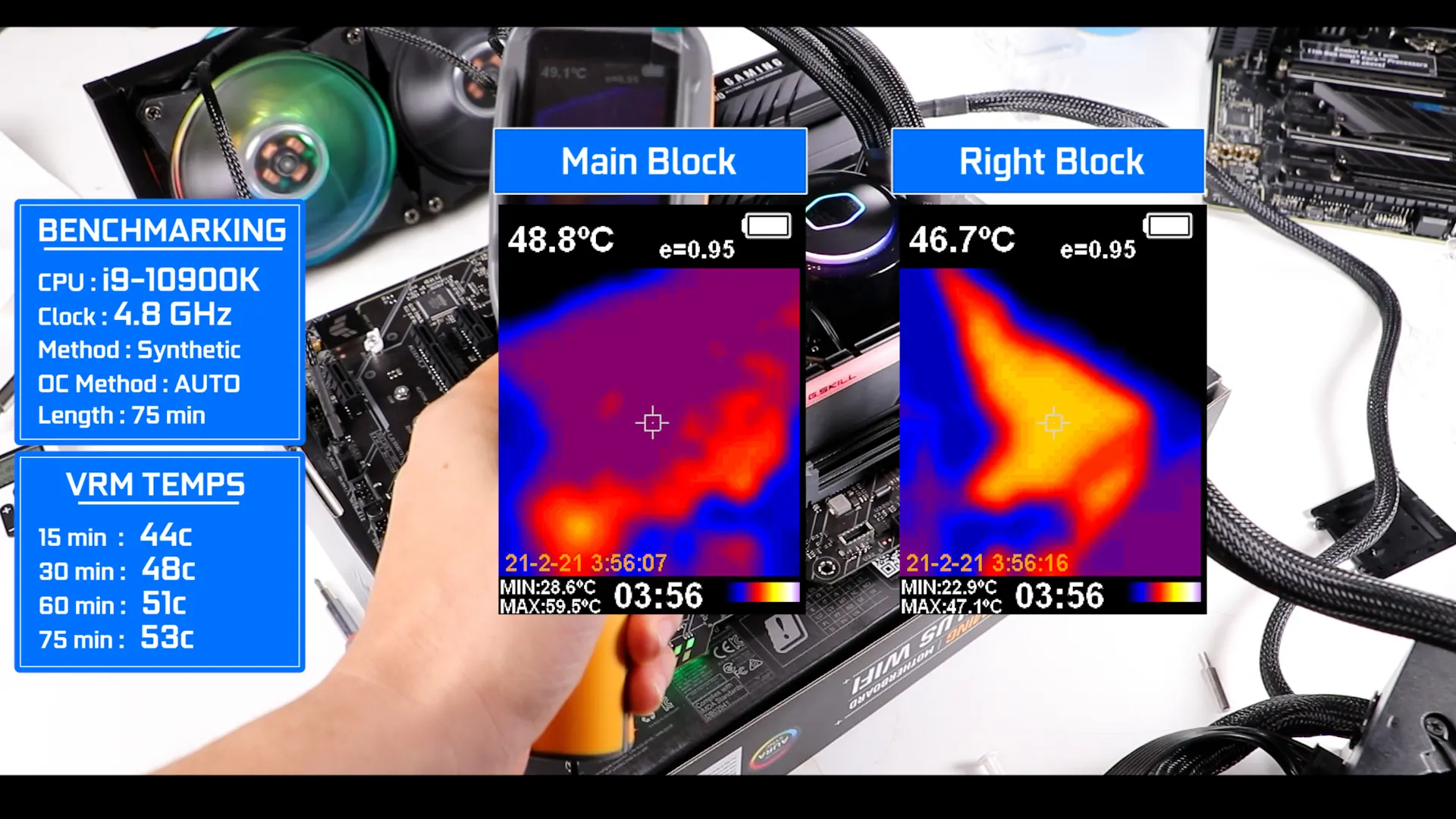 It results in one of the coolest VRM on the market.
After torturing my i9-10 900K for hours and of synthetic test, the VRM block never reached 55c. Needless to say, remarkable achievement for nearly 1000 Watts of heat output.
Either for heavy gamer or, content creator, a similar configuration will never experience such heavy loads as produced here. Therefore, it is safe to assume that a comparable build will probably never go beyond the 45c mark.
---
RAM
The TUF GAMING Z590 PLUS WiFi can support up to 128 GB of DDR4 ram in a dual channel configuration.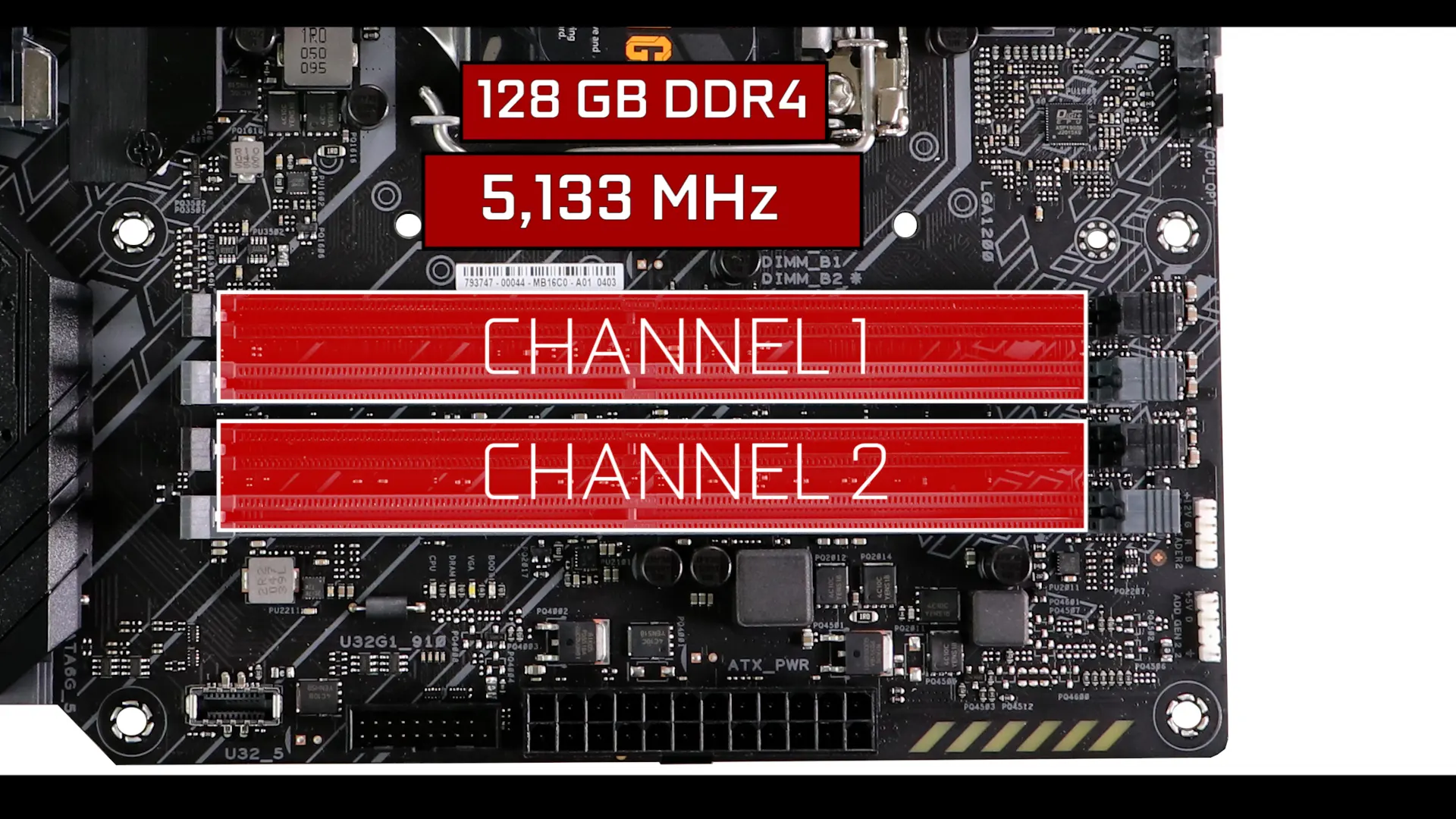 It is overclockable up to a novel 5,133 GHz ( in a single DIMM configuration ) which is noticeably more than its Z490 predecessor (333 MHz more).
This clock-jump is explained by the better memory-clock support of the new Z590 chipset (jumping from 2,933 MHz to 3,233 MHz of native support).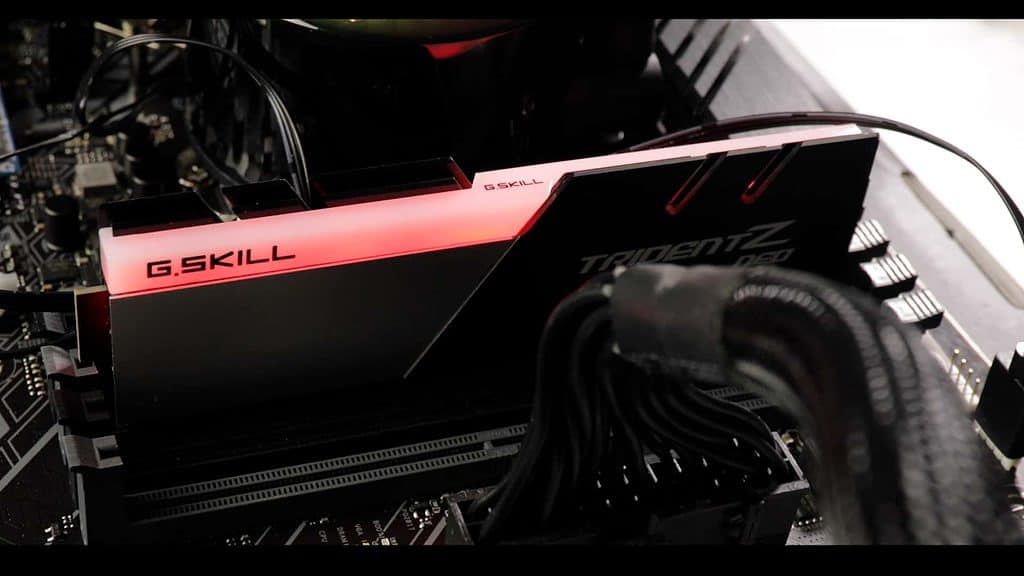 Populating more memory slots will result in slower shared clocks :
1DPC 1R max speed 5133 MHZ
1DPC 2R max speed 4400 MHZ
2DPC 1R max speed 4000 MHZ
2DPC 2R max speed 3800 MHZ
---
M.2 SSD
Our board can support up-to 3 M.2 SSD. But there is a catch!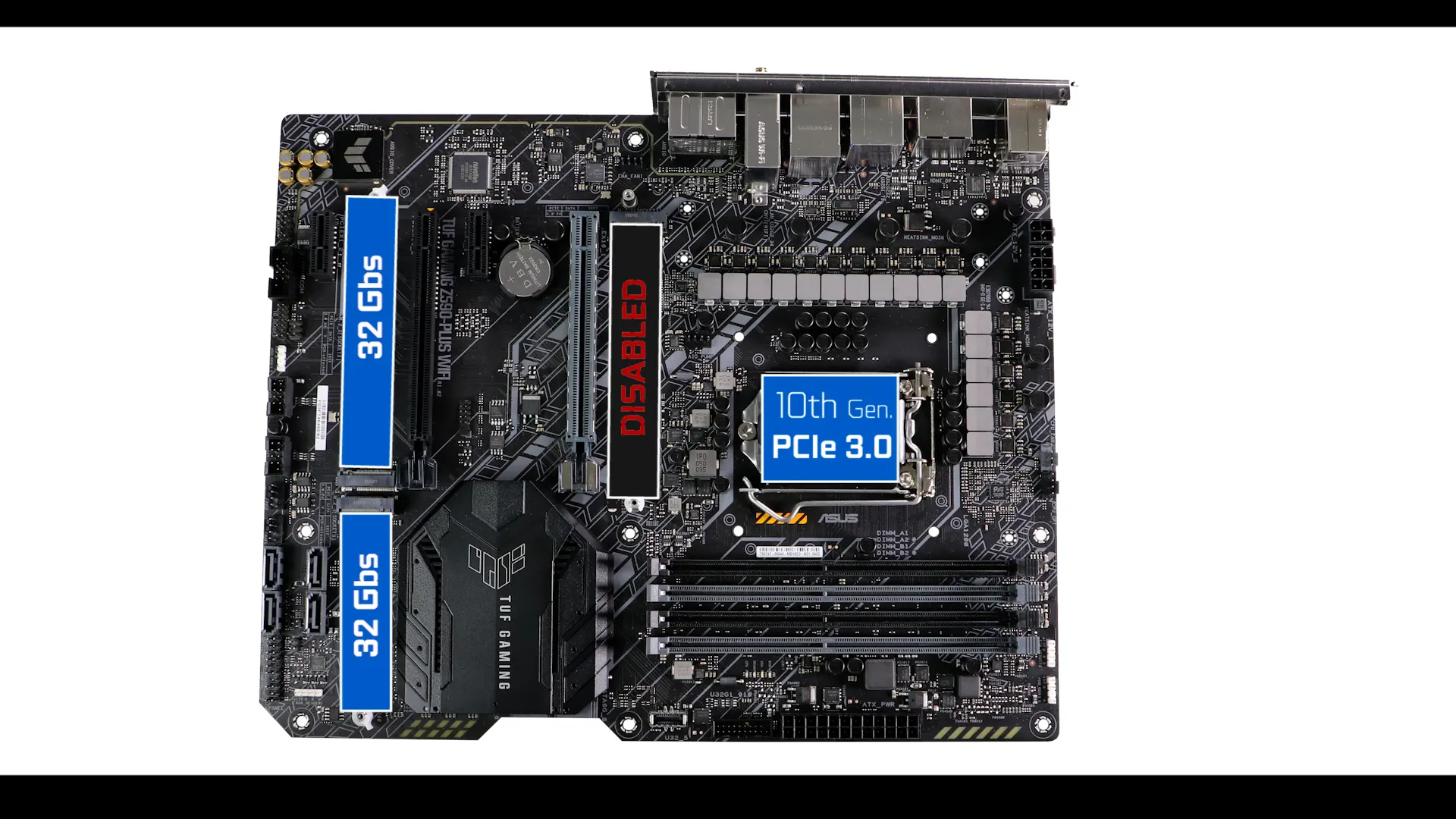 Couple this board with a 10th Gen Intel CORE CPU, and 'only' two M.2 SSD connectors will be usable, at PCIe 3.0 standard, meaning up to 32 Gb/s each.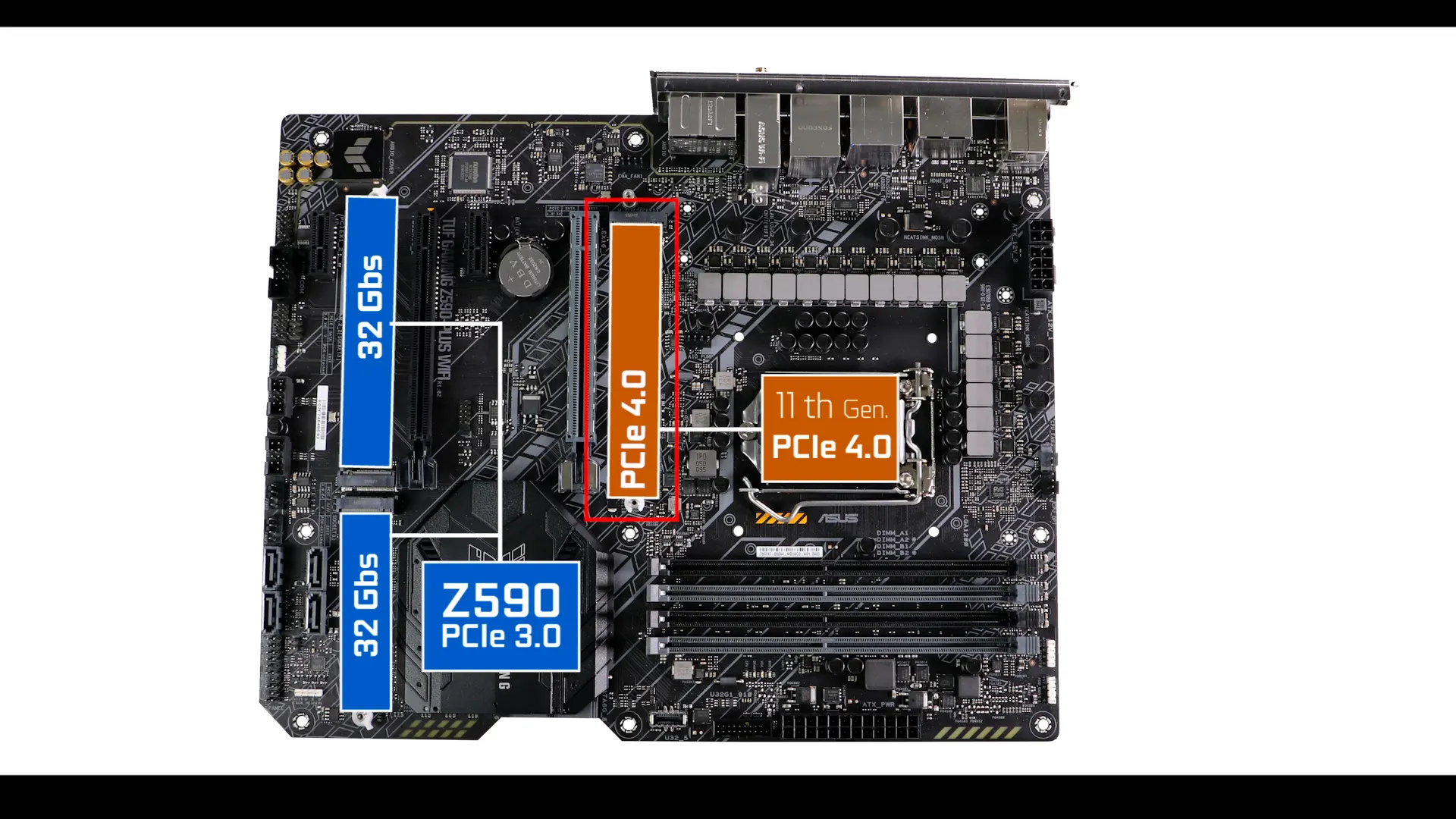 But if coupled with a 11th GEN Intel CORE CPU, your board can now support up-to 3 M.2 SSDs, 1 of which can transfer data at PCIe 4.0 bandwidth levels, meaning up to a whooping 64 Gbs.
Obviously this will produce quite a bit of heat, and ASUS the same thermal obsession it showed on this board VRM.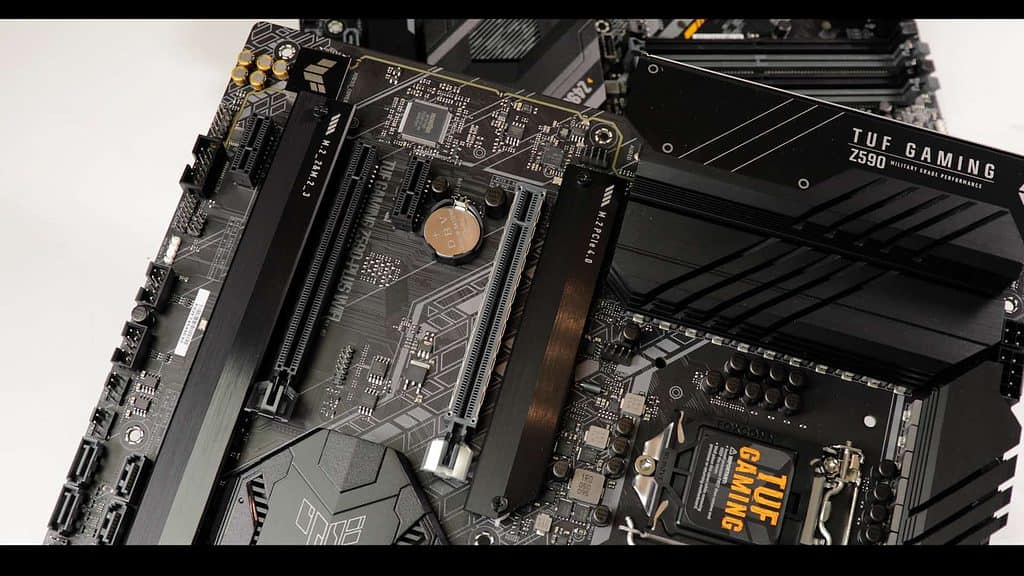 Both of our M.2 SSDs heat-shield are absolutely massive.
Obviously, more than enough to keep your PCIe 4.0 enable stick away from ever thermo-throttling.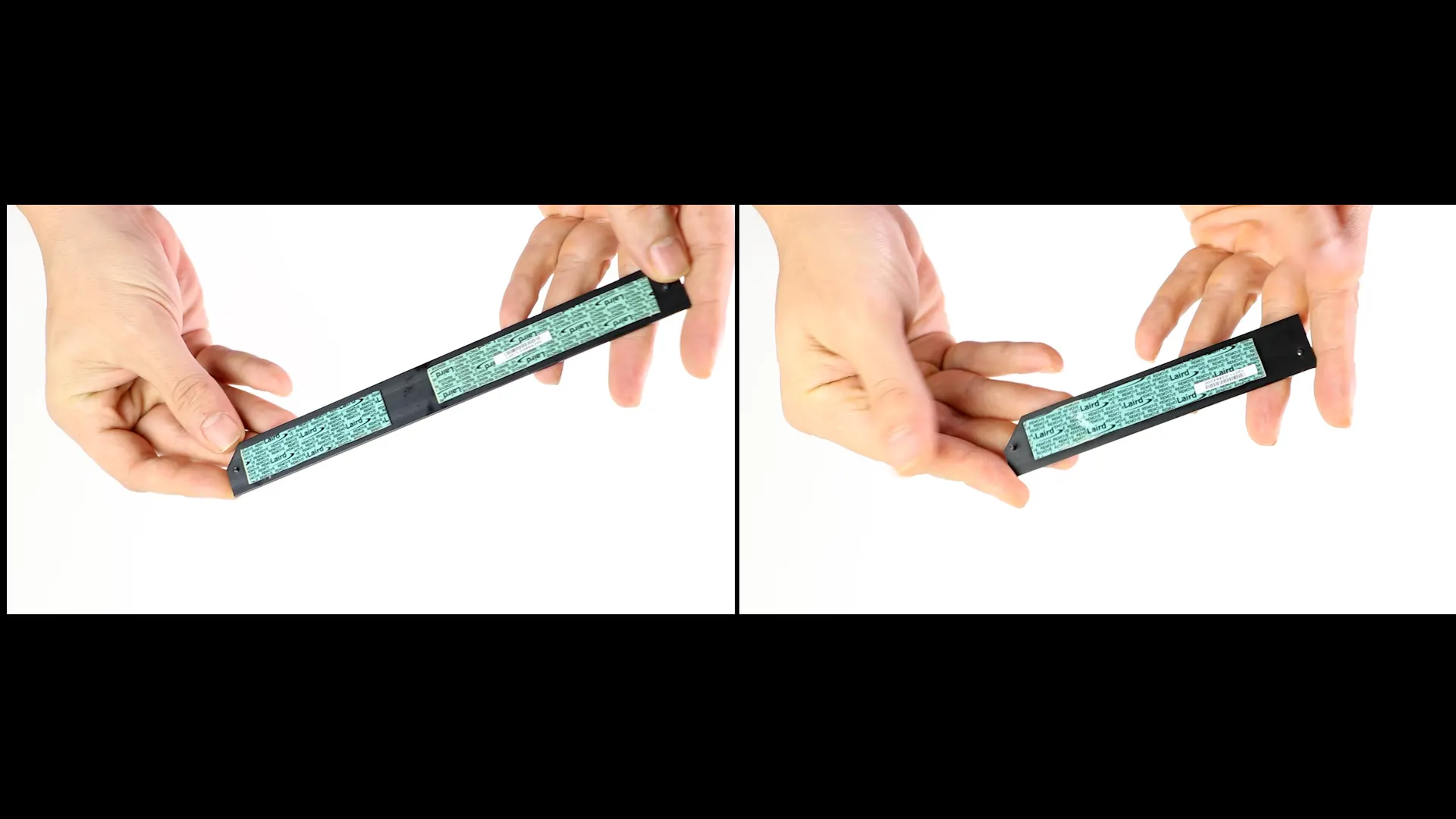 A special mention for our 3rd and fourth M.2 SSDs which do share the same long heat-shield.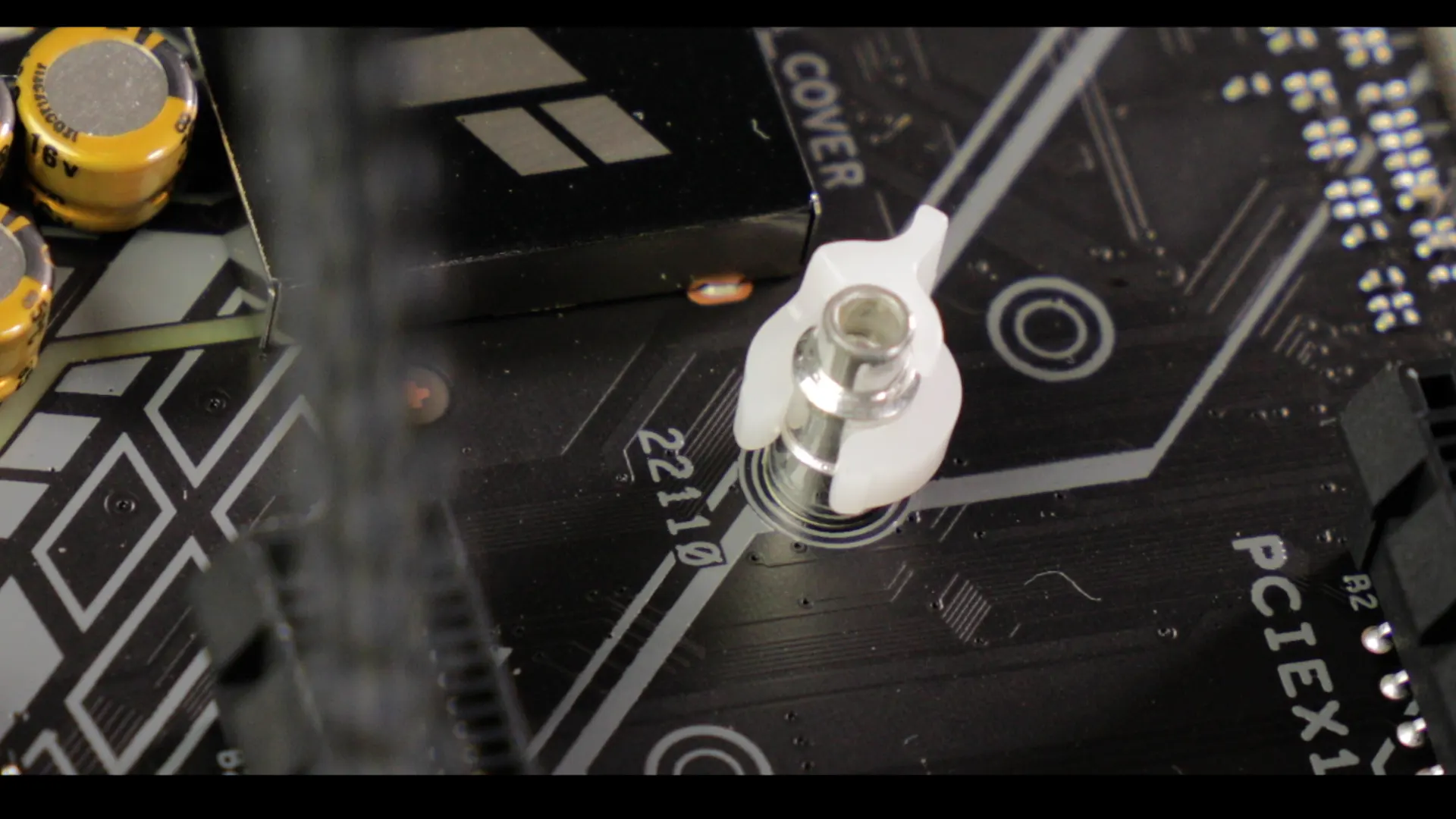 Now let's talk about some real innovation. ASUS has chosen its TUF series to introduce a tool-less M.2 SSD locking system which I personally LOVE!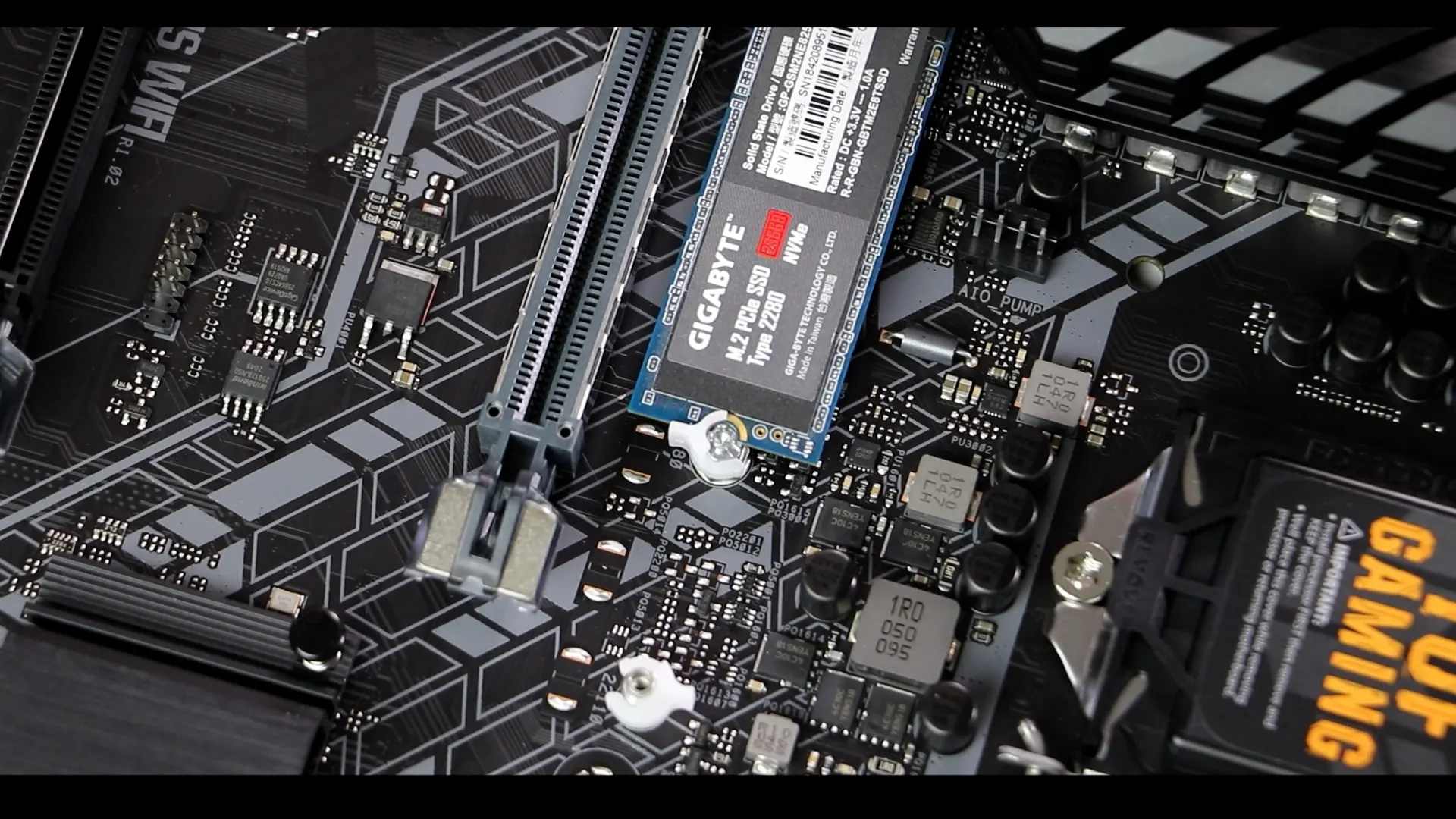 Simple to use, quick to install. I am absolutely excite about it, and wonder why this feature did not find itself in the more expensive ROG series.
---
Chipset
Despite many early reports, the Z590 Chipset does not house any PCIe 4.0 lanes. Instead it has the same 24 PCIe 3.0 lanes as seen on its Z490 predecessor.
In addition it can redirect the 11th Gen Intel CORE CPU 20 PCIe 4.0 lanes to some of the board components ( on this board, two PCIe 16 exports and two M.2 SSD connectors).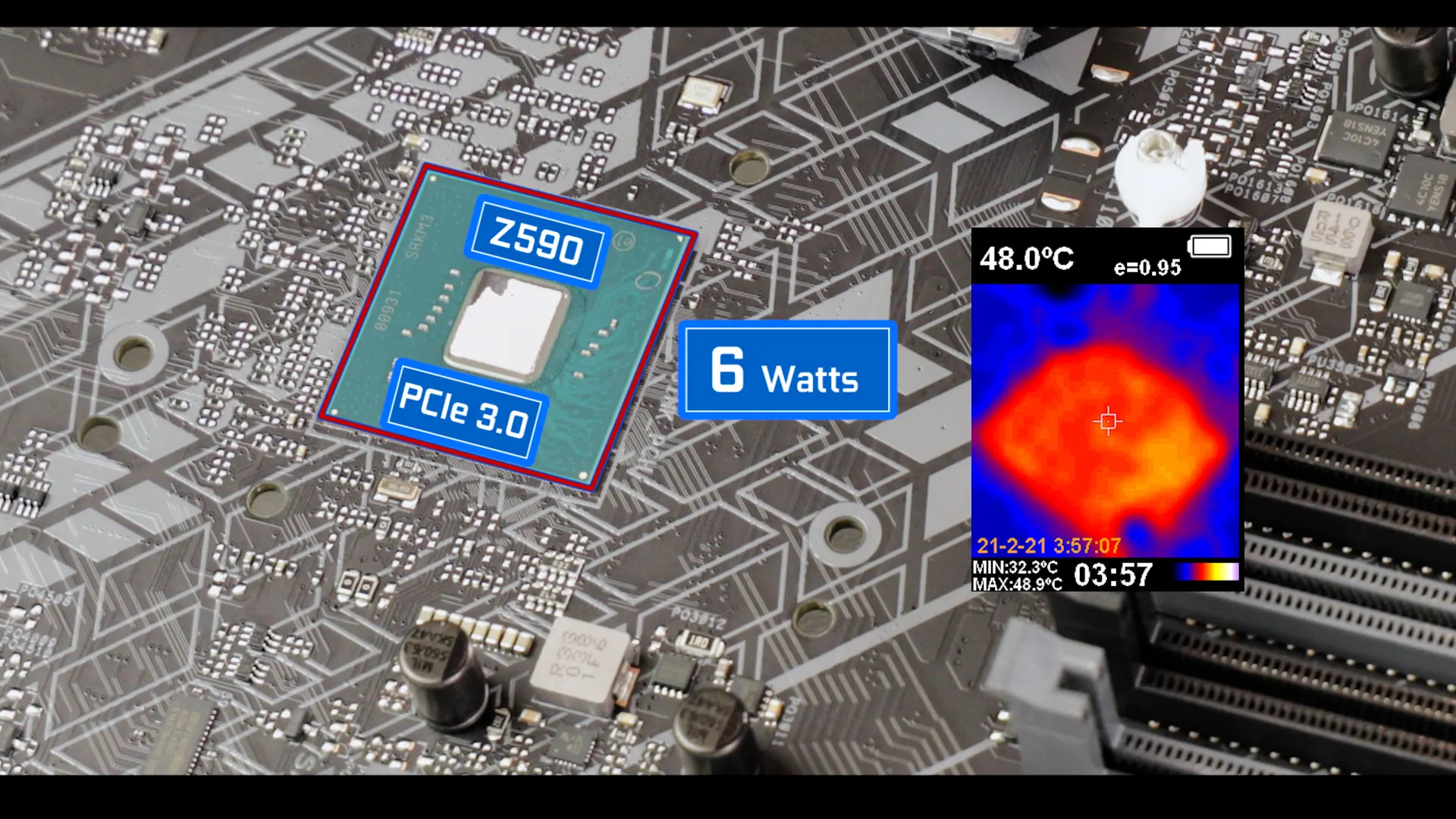 Is it a band thing? Not necessarily.
One one hand it keeps our chipset cold enough not to require an active cooling solution as seen on the boiling 11 watts X570 chipset, and on the other, the motherboard still benefits from the PCIe 4.0 standard brought in by its CPU.
As a result, we have a cooler, more affordable and arguably more durable motherboard.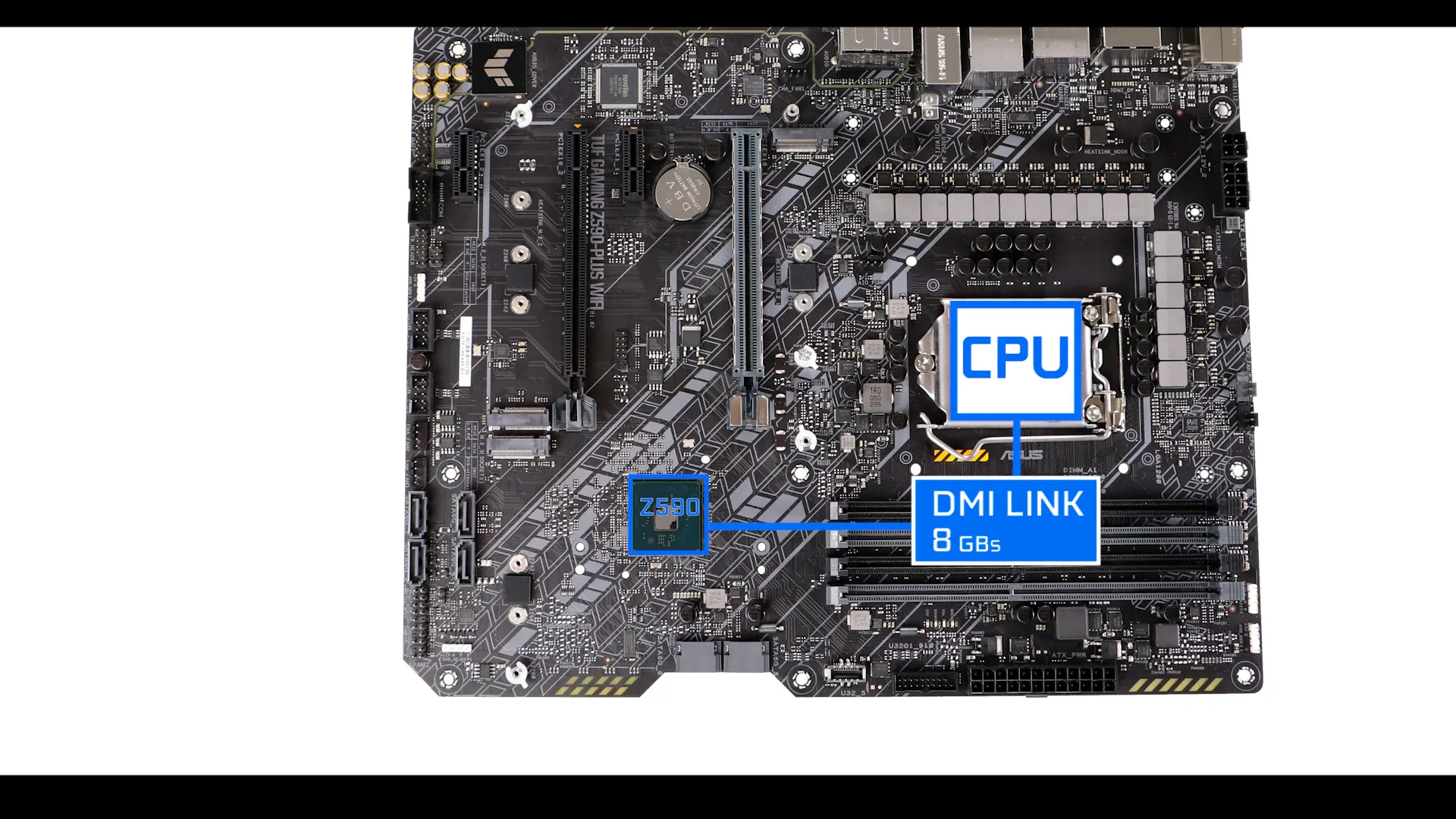 The upgraded we know of are, most noticeably,
an upgrade DMI link which allows x8 PCI-e lane (8 GB/s) data swap between the chipset and the CPU. That is double what we have seen on the past few generations of Z powered motherboards.
Something which definitely benefit the overall bandwidth capacity of our board.
Thunderbolt 4.0
More USB supports ( special note for the USB 3.2 dual channel 20 Gbs TYPE-C ).
---
SATA 3.0
For more classical storage solutions, we have our usual SATA 3.0 plugs. 6 in total, with a transfer rate of 6 Gbps each. They can be configured to run into a 0,1, or 10 RAID configuration.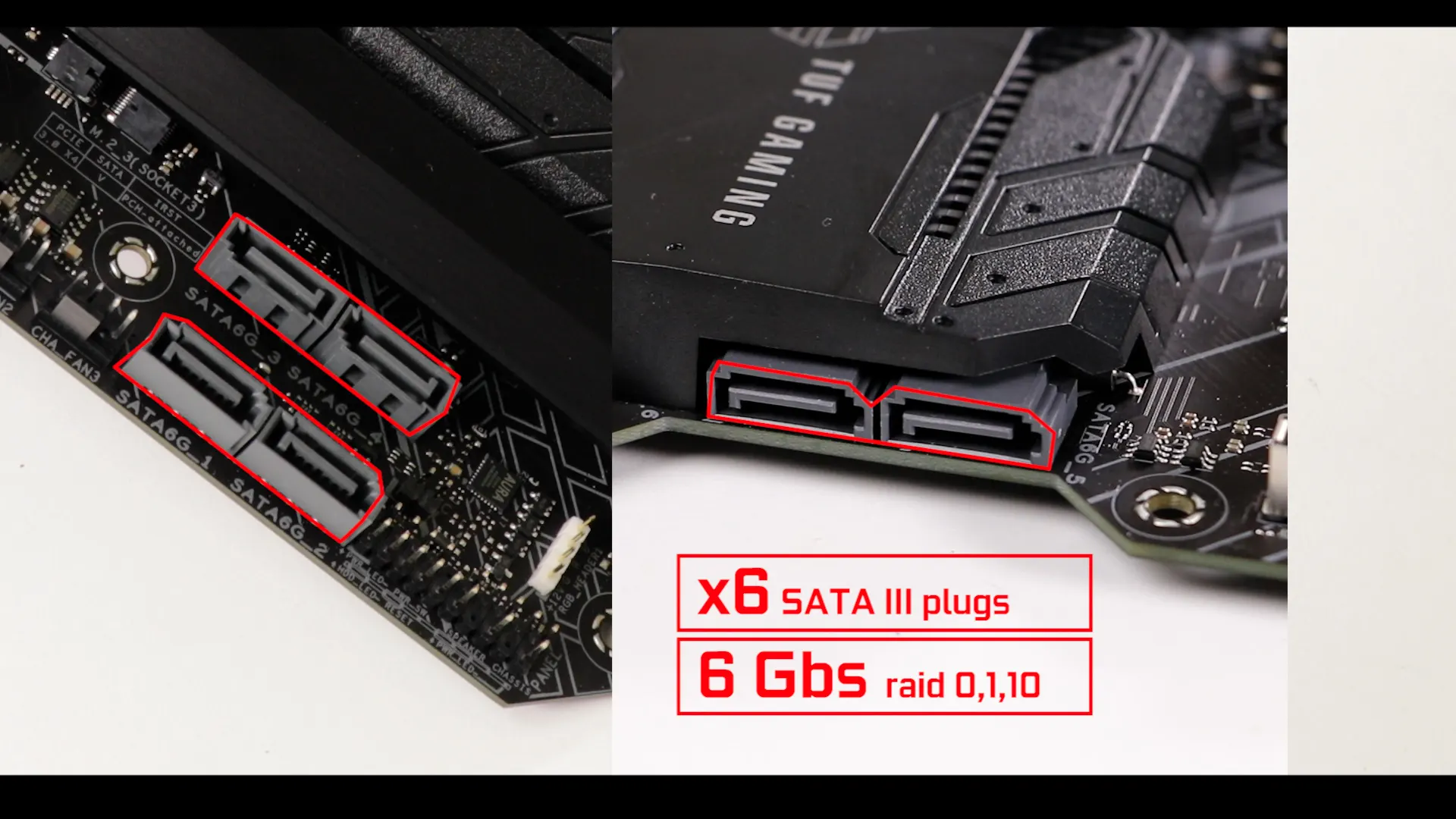 ---
PCIe Slots
The TUF GAMING Z590-PLUS WiFi has 4 PCIe expansion slots.:
2 16 lanes with different speeds
2 single Lanes PCIe
Only the closest one to your CPU can deliver up to 16 Lanes worth of bandwidth meaning, this is where you'd want your video card to be placed for optimal performances.
Our second16 slots is capped at 4 PCIe lanes, not exactly GPU friendly.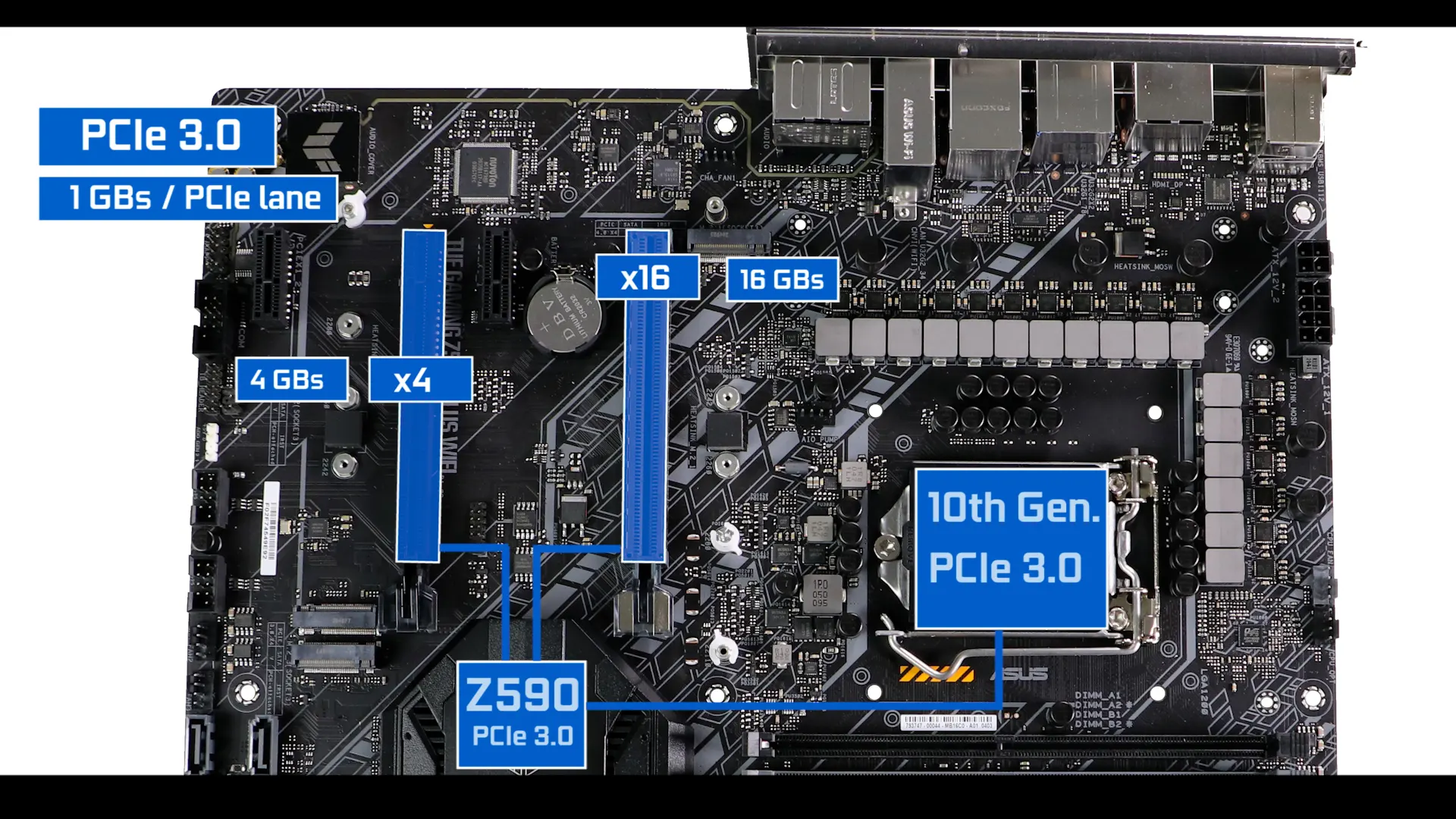 Coupled with a 10th Gen Intel CORE CPU, all of our PCIe slot will output bandwidth at a 1 GBs rate (PCIE 3.0 standard).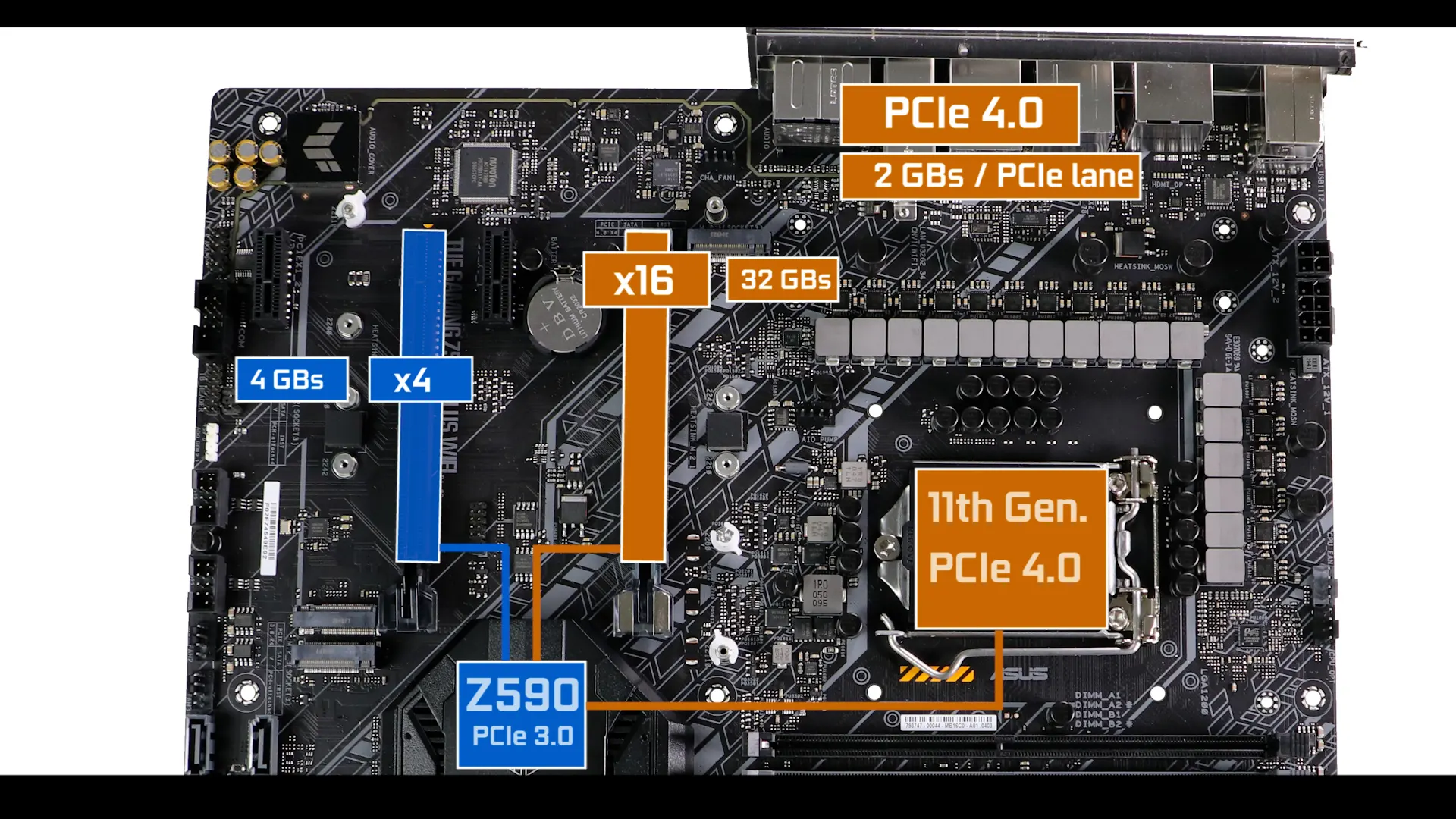 But if coupled with a 11th Gen. Intel CORE CPU, our first PCIe 16 slot can output PCIe 4.0 bandwidth levels meaning 2 GB/s per lane.
Worth noting that, with the current bandwidth outputs of AMD or Nvidia graphics cards, there are no performance gains between PCIe 3 or PCIe 4 standards.
It is great for future proofing (and marketing), but that's about it .
---
Back IO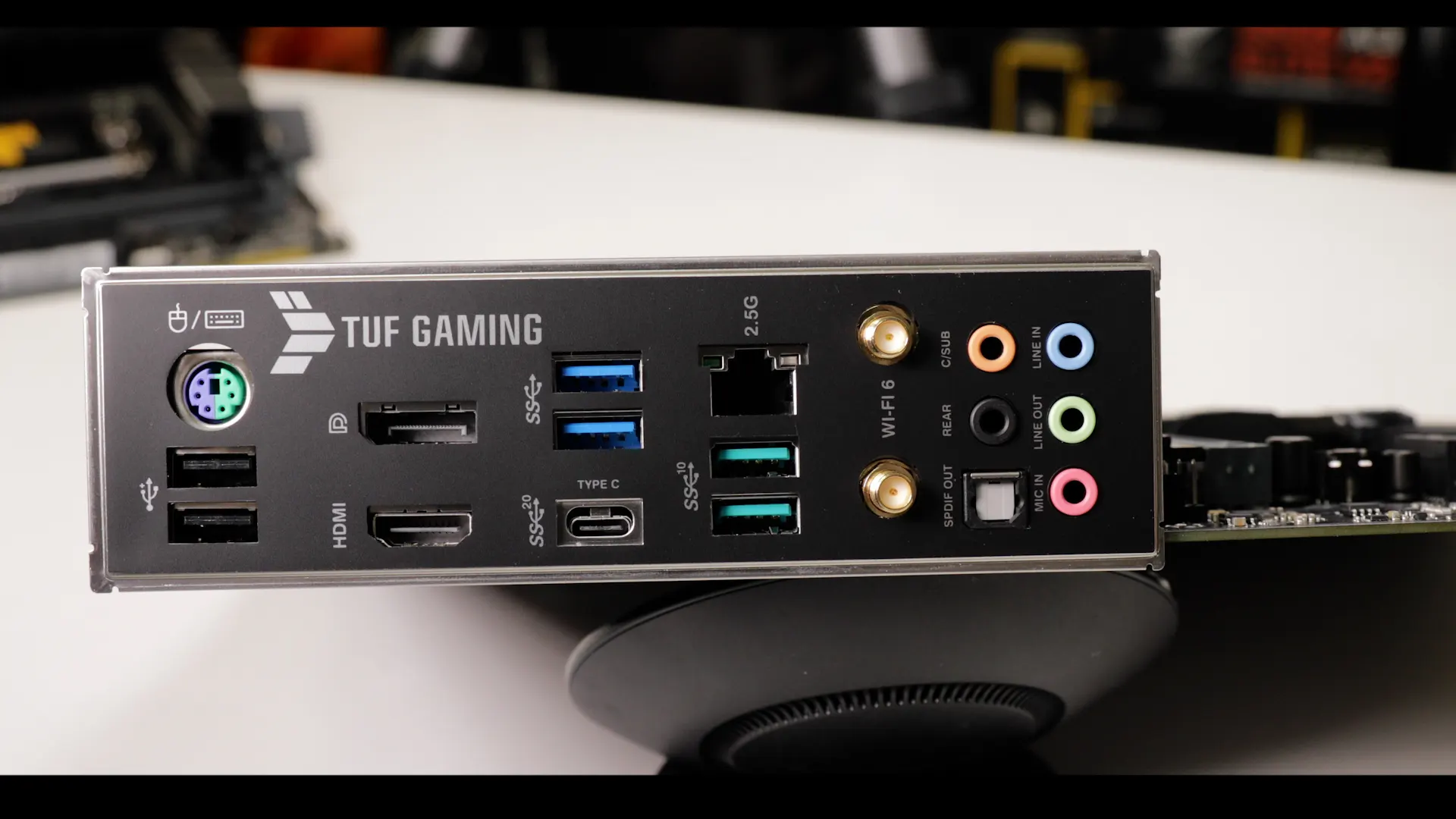 First let me note the presence of an IO integrated plate which is always a good point!
PS2 Connector
a HDMI output which can either output at 1.4 standard when coupled with a 10th Gen. Intel Core CPU, or 2.0 when couple with a 11th Gen. Core CPU.
a 1.4 DP port
x2 2nd Gen USB plugs (480 Mbps)
x2 3.2 1st Gen. Gen USB plugs (5 Gbps)
WiFi 6 Dual Band AX201 adaptor (2.4 Gbps) / BT 5.2
x2 USB 3.2 2nd GEN USB (10 Gbps)
x1 USB 4.0 Type-C (20 Gbps)
x1 surge protected (TUF LANGUARD) Intel I225-V 2.5Gbps LAN controller (step 3)
ALC S1200A REALTEK audio codec, which is about the best integrated AUDIO Codec a board can have. It takes full advantage of the numerous PCB layers available to it, since both left and right audio channels have been traced on individual PCB layers, further improving its signal isolation and protecting it from static interferences.
Great for playing and recording alike.
---
Front Panel Connectors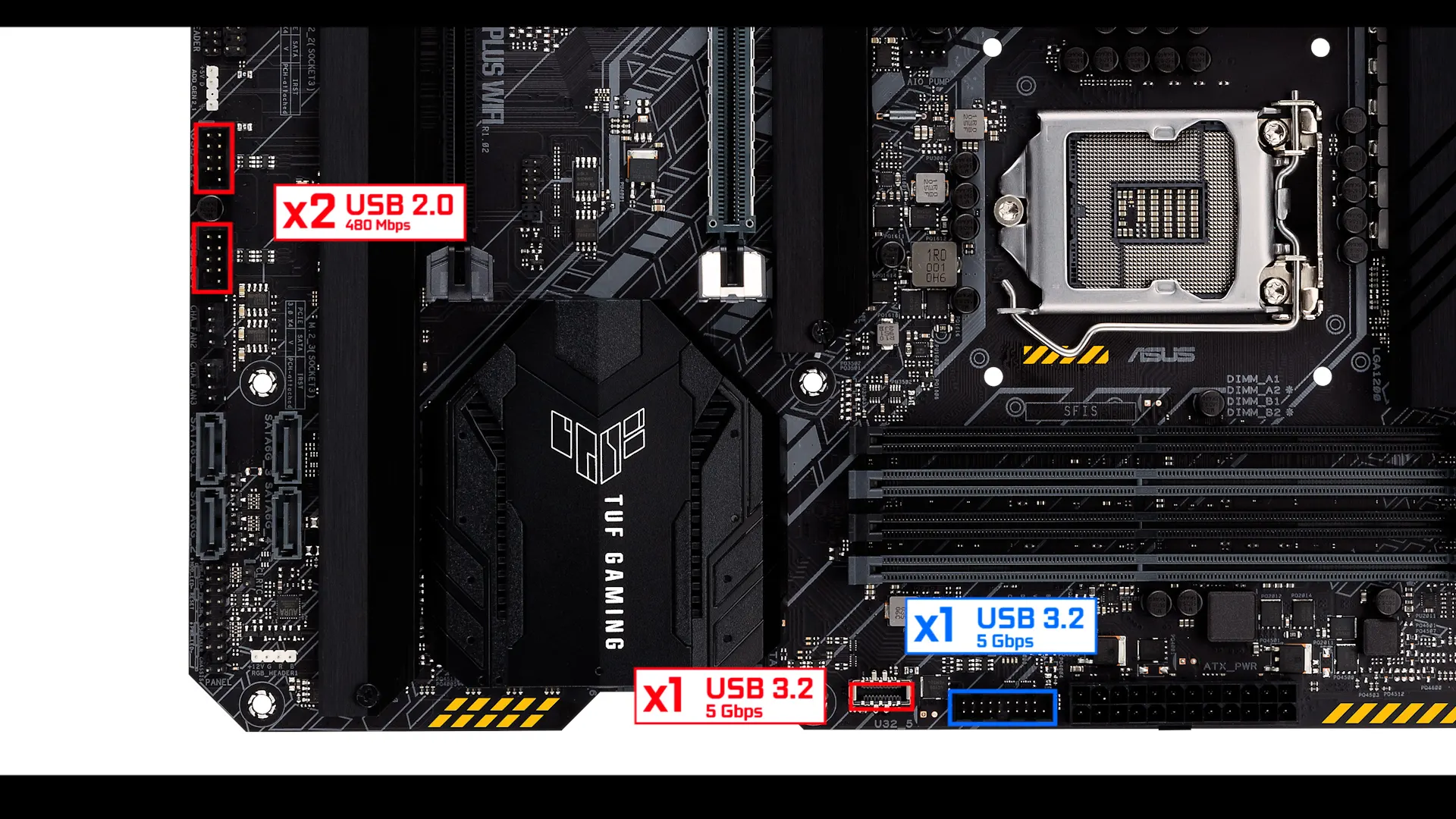 We have :
2x 2nd gen USB front panel connectors , good for our AIO pumps, or PSU monitoring,
1x 5Gbs USB 3.2 (1st Gen) front panel Connector
1x 5Gbs USB 3.2 (2nd Gen) TYPE-C front panel Connector
Overall a well furnished board-based peripherals in par with its pricing.
Cooling connectors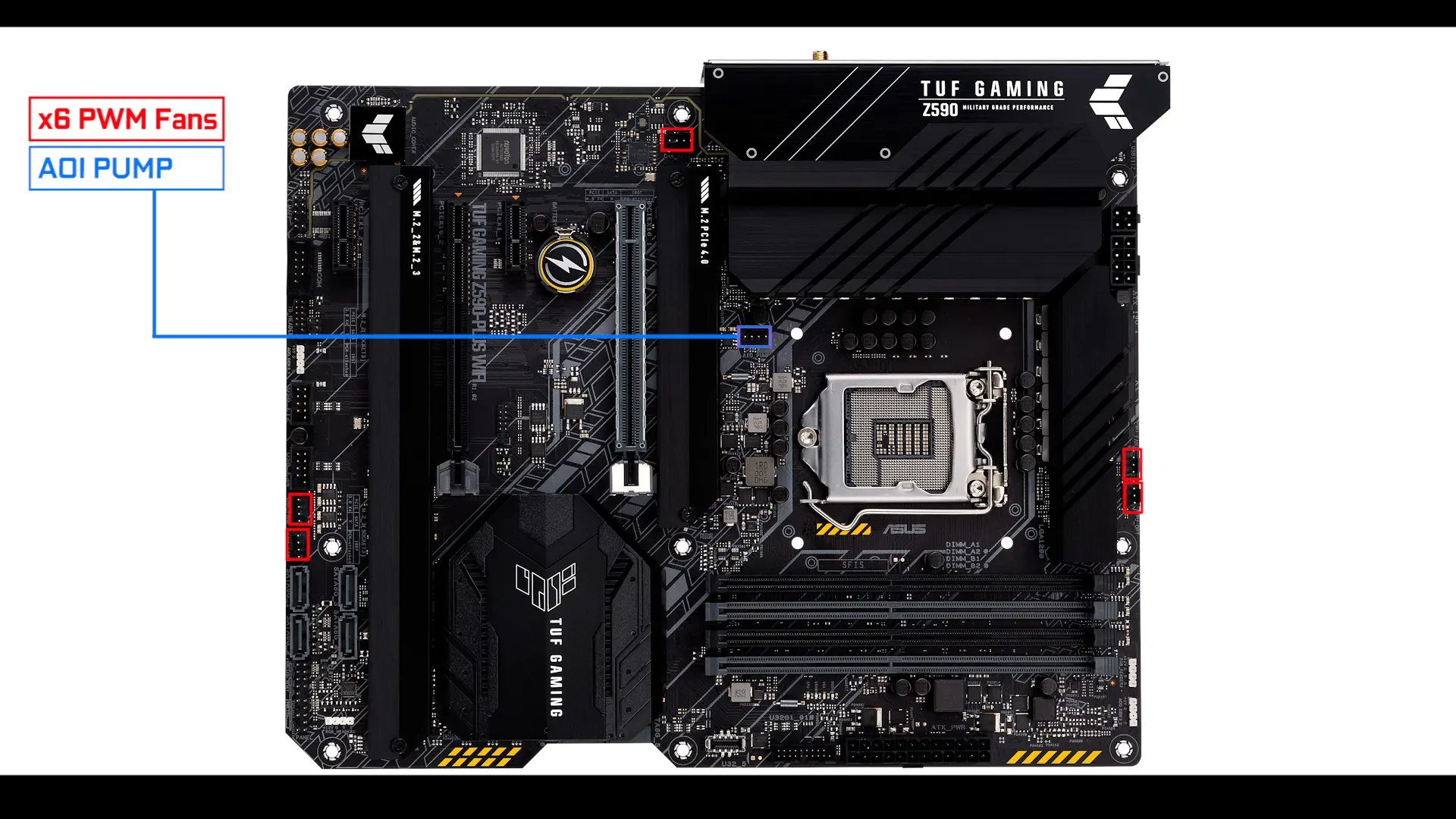 We have 6 nested PWM FAN connectors, 1 of which can support a water pump (AIO or dedicated).
Definitely what you want to see on an enthusiast driven board. It can handle about any cooling solutions you will throw at it. Spanning from the classic air to the eccentric dual-loop custom water cooling apparatus.
---
TROUBLESHOOTING
EZ Debugger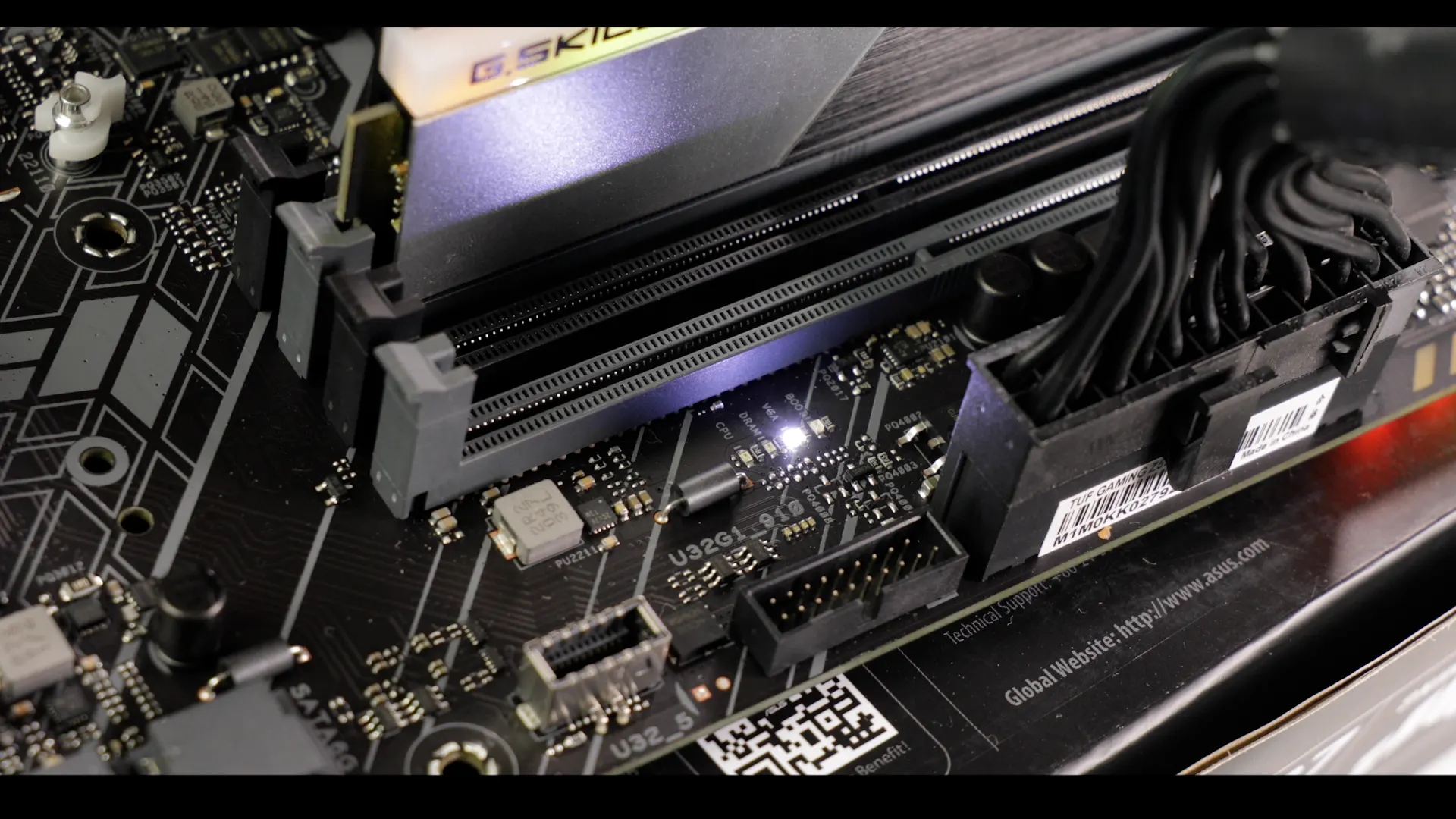 The EZ debugger is really the a must-have on PCIe 4.0 enabled boards. More often than not, enthusiasts can't resist the call to find their RAM or CPU overclocking limits, and fail boots becomes a daily incidence.
The EZ debugger will give us a first-aide troubleshooting guidance one what stage of the boot your system failed.
---
AURA Sync Effect
RGB wise, the TUF Z590-GAMING PLUS WiFi has 2 nested RGB strips :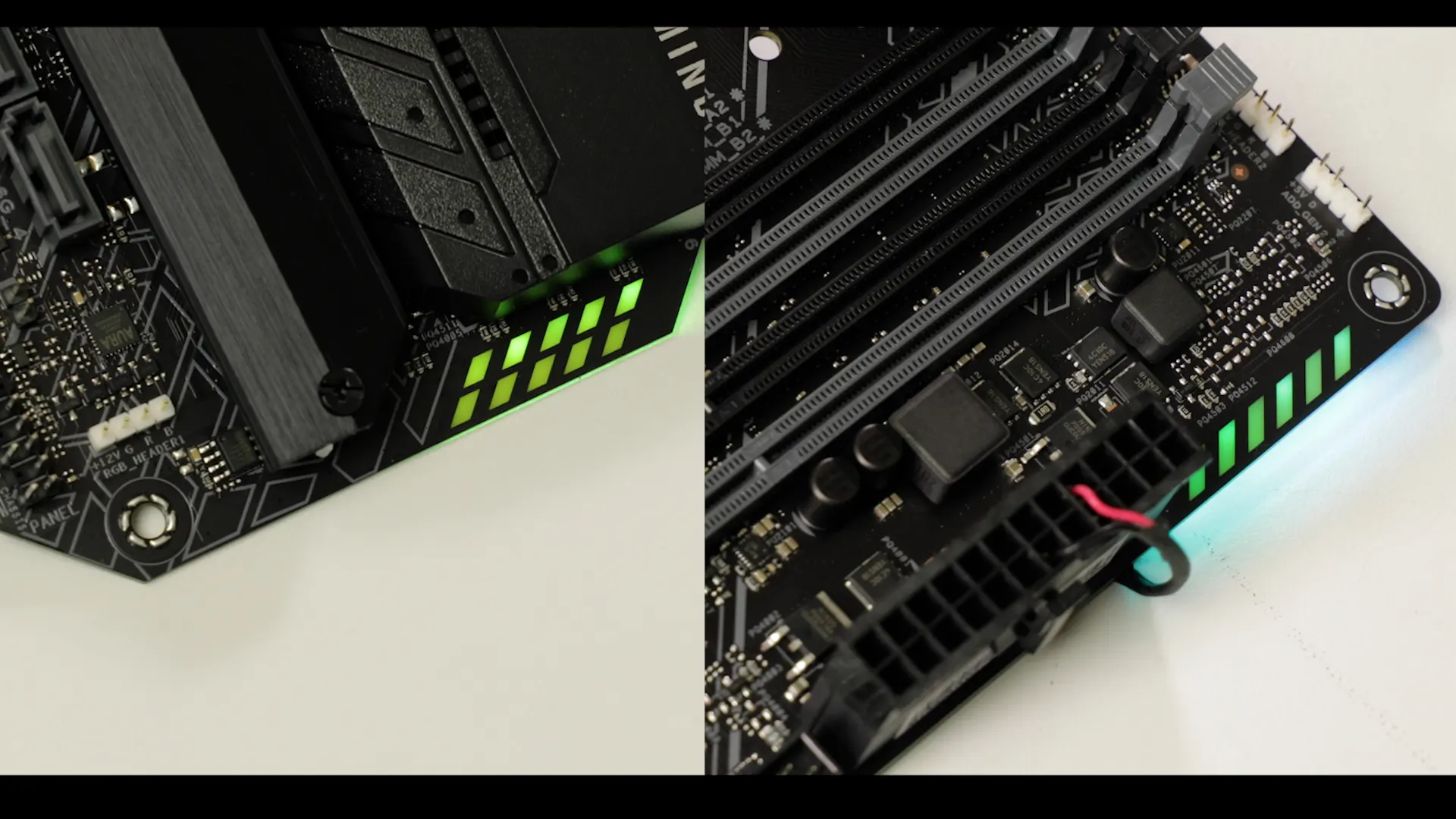 Placed on both extremities of the PCB board
In addition we also have 4 RGB connectors :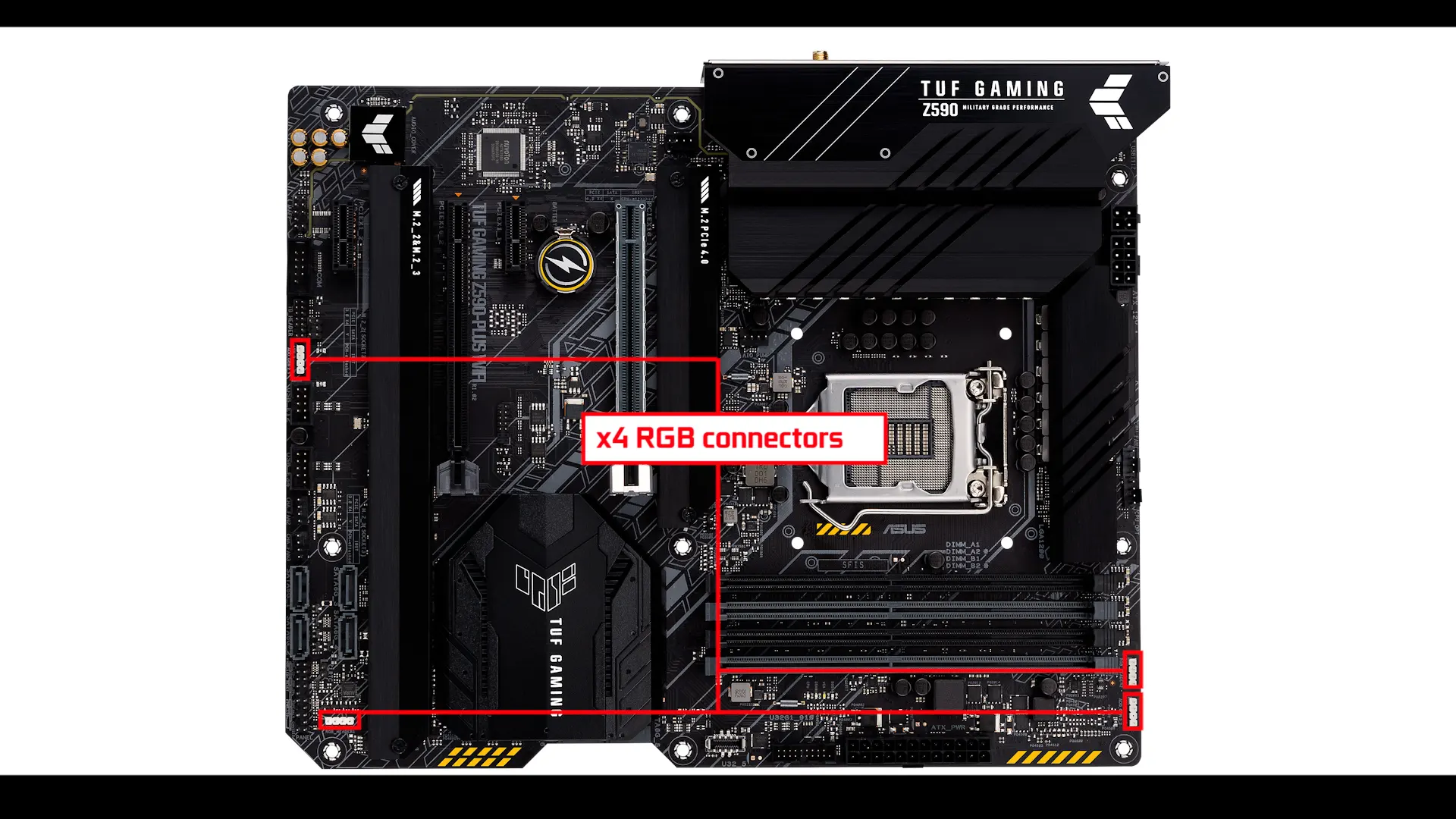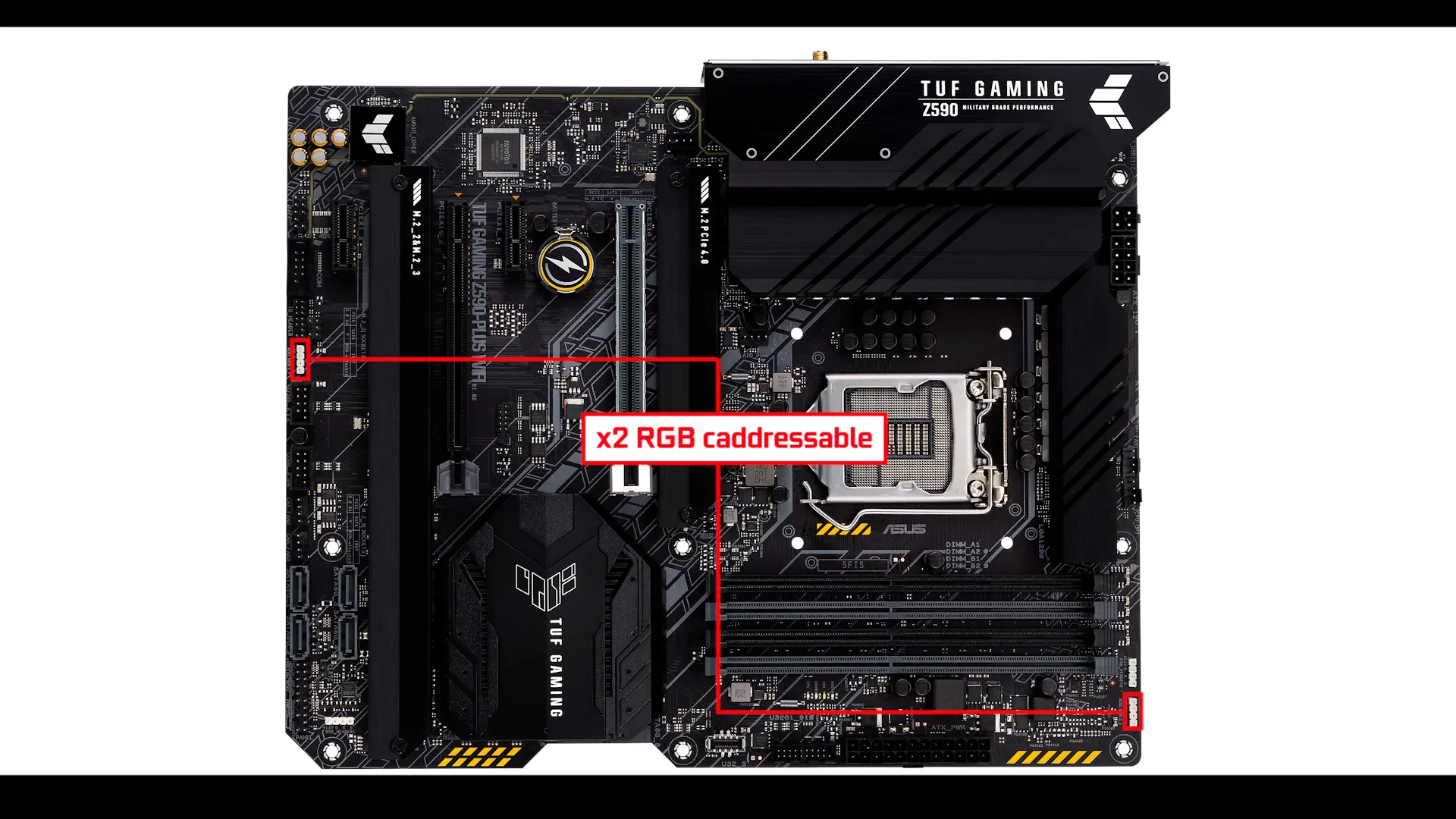 2 classic AURA RGB Connectors
2 Addressable AURA RGB Connectors
All of the above are obviously fully customizable (and sync-able) though ASUS proprietary AURA software or ARMOURY Crate.
---
CONCLUSION
At about 260 USD the TUF GAMING Z590-Plus Wifi is about 60 bucks more than its Z490 predecessor, and the all question is: is it worth it?
Obviously, if you are already rocking a Z490 powered motherboard, since it will support 11th gen CPUS and PCie 4.0 standard, short answer is no,
But if that is not your case, well yes!!!
It is hard to transpire how much in love I felt with this board.
The VRM, the generous and efficient cooling components, the overall engineering quality, this has nothing to do with previous iterations of this board.
I cannot underline enough what a genius move that M.2 SSD locking system is!
No more screws to lose, a more robust design. This feature excites every cell in the reviewer that I am.
My only question is, why was this feature not adopted in much more expensive ASUS motherboards like the ROG MAXIMUS XIII Hero!
In short, the TUF Gaming Z590-Plus WiFi shows off a balance between power, premium engineering, pricing and innovation, rarely seen in any motherboard.. in a very very long time.
I'd risk myself to say, that it could be the best motherboard I have reviewed at that price range up to this date!
If you are a gamer, and enthusiast builder or even an insane overclock… well frankly talking… you would be a fool to put your money anywhere else!!! And that is not something I say about every board who goes through my desk.
QUICK OVERVIEW
CPU & northbridge support
Supported Processor
10th & 11th Gen. Intel CORE CPUs
Chipset
Z590
CPU socket
LGA1200
Memory
Slots
4 (dual channel)
Max System Memory (Gigabytes)
128
Memory Technology
DDR4
Maximum Clock (MgHz)
5,133
Connectors
USB 2.0
2 back IO + 2 on-board
USB 3.2 (1st Gen)
2 on-board
USB 3.2 (2nd Gen)
2 on back IO + 1 on-board
USB 3.4
1 on back IO
LAN
2.5 Gb/s
WiFi
WiFi 6 AX 201