Tech News
ROG Zenith Extreme Alpha X399 ROG Rampage VI Omega X299
FLASH INFO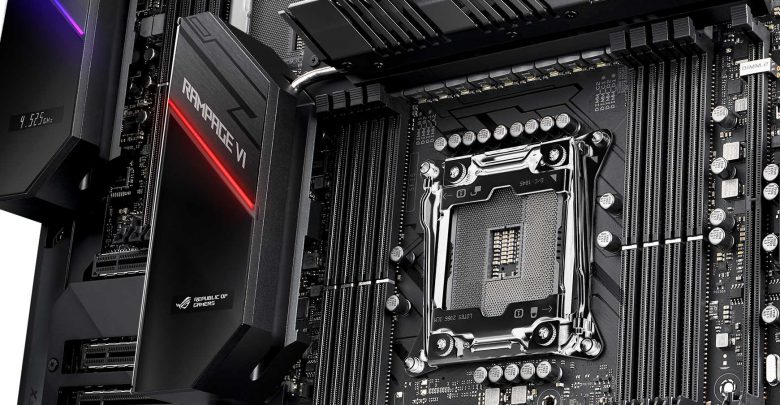 As expected, ASUS just releases its latest ROG series "refresh" for high-end Intel and AMD CPUs.
They carry these code-names preceding the motherboard names:
Alpha (AMD powered motherboards)
Omega (Intel powered motherboards)
What changed ?
Not much. But in both cases, ASUS has given a real focus to keeping the VRM cooler, longer. Other than this, we are dealing with almost identical PCBs and almost identical components. Let's dig a little deeper:
SPECS:
ROG Zenith Extreme Alpha
ROG Rampage VI Extreme Omega
CPU
AMD® Socket TR4
Intel® LGA 2066
Chipset
AMD® X399
Intel® X299
Form Factor
EATX
EATX
Memory Slots / Maximum
8 / 128 GB DDR4
8 / 128 GB DDR4
Memory Frequency (MHz)
3600+ MHz(O.C.)
4266+ MHz(O.C.)
Multi-GPU Support
3-Way SLI/3-Way CFX
3-Way SLI/3-Way CFX
PCIe 3.0 x16
4 x PCIe 3.0 x16 (dual x16/x8/x16/x8)
44-Lane CPU

3 x PCIe 3.0 x16 (dual x16 or x16/x8/x8)

28-Lane CPU-

3 x PCIe 3.0 x16 (x16, x16/x8, x8/x8/x8)

1 x PCIe 3.0 x4
1 x PCIe 3.0 x4
SATA 6Gb/s
8
6
32Gb/s M.2
2 x M.2 2242-22110 (PCIe 3.0 x 4 & SATA)
3 x M.2 2242-22110 (PCIe 3.0 x 4)
1 x M.2 2242-2280 (PCIe 3.0 x 4)
1 x 2242-2280 (SATA & PCIe 3.0 x4)
USB 3.1 Gen 2 Front Panel Connector
1
1
USB 3.1 Gen 2
1 x Type-C
3 x Type-A
1 x Type-C
1 x Type-A
USB 3.1 Gen 1
12
14
Gigabit Ethernet
Intel I211-AT

Aquantia AQC-107 10G LAN

Intel I219-V

Aquantia AQC-107 10G LAN
ROG Zenith Extreme Alpha: AMD X399 for Ryzen Threadripper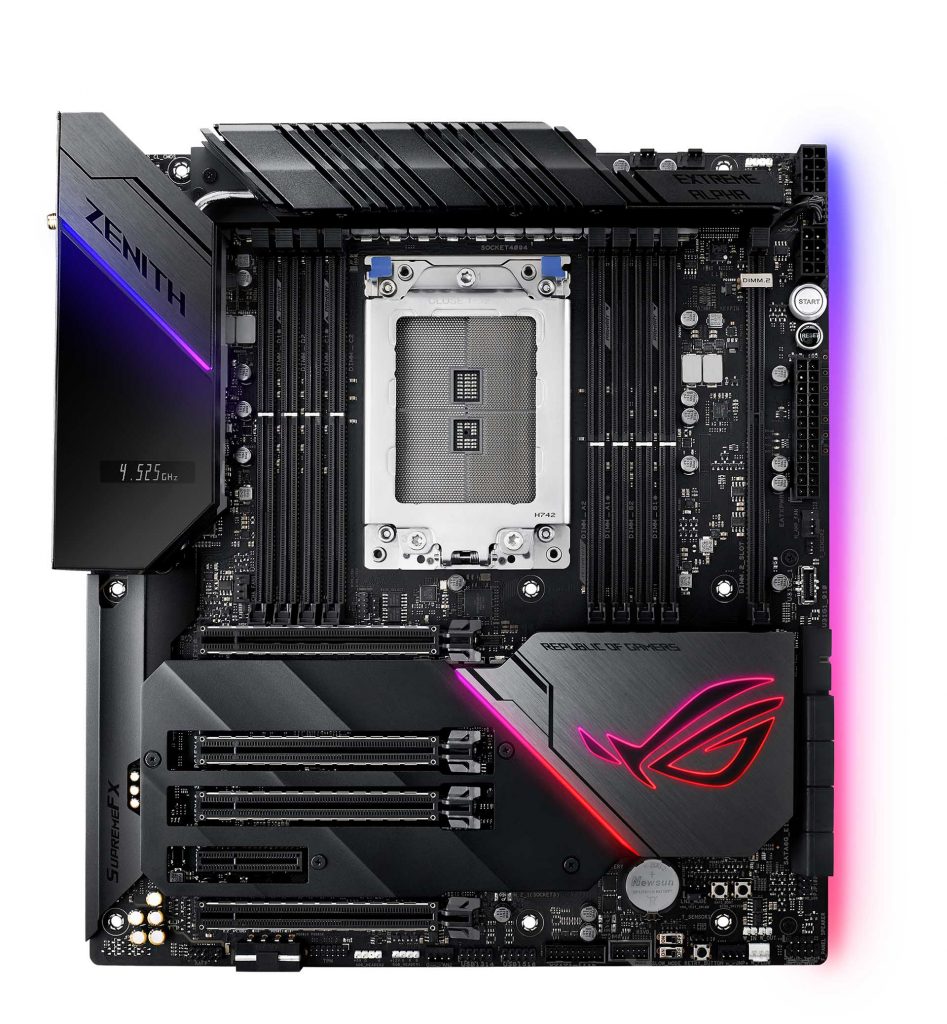 At first glance, there are no obvious changes between the ROG Zenith Extreme Alpha and its predecessor, the  ROG Zenith Extreme .
But one thing which did make me beam is the VRM cooling system. We can see not one, but 2 VRM fans mounted right on top of the side (8) phases.
The Zenith Extreme has somewhat of a over heating problem as it stands. The Alpha refresh seems to want to fix that!

No more fan vent on the back IO (good and wise move). That does translate in a second Lan plug! We now have a 1 Gigabit as well as an Aquantia 10 Gigabit Ethernet plug! No more external PCie to enjoy a 10 Gig Lan :).
But after reviewing the Prime X299 Deluxe II a couple weeks ago, I was expecting to see a "dual-thunderbolt 3" feature, which made such an impression on me. Indeed, I am a bit disappointed about that.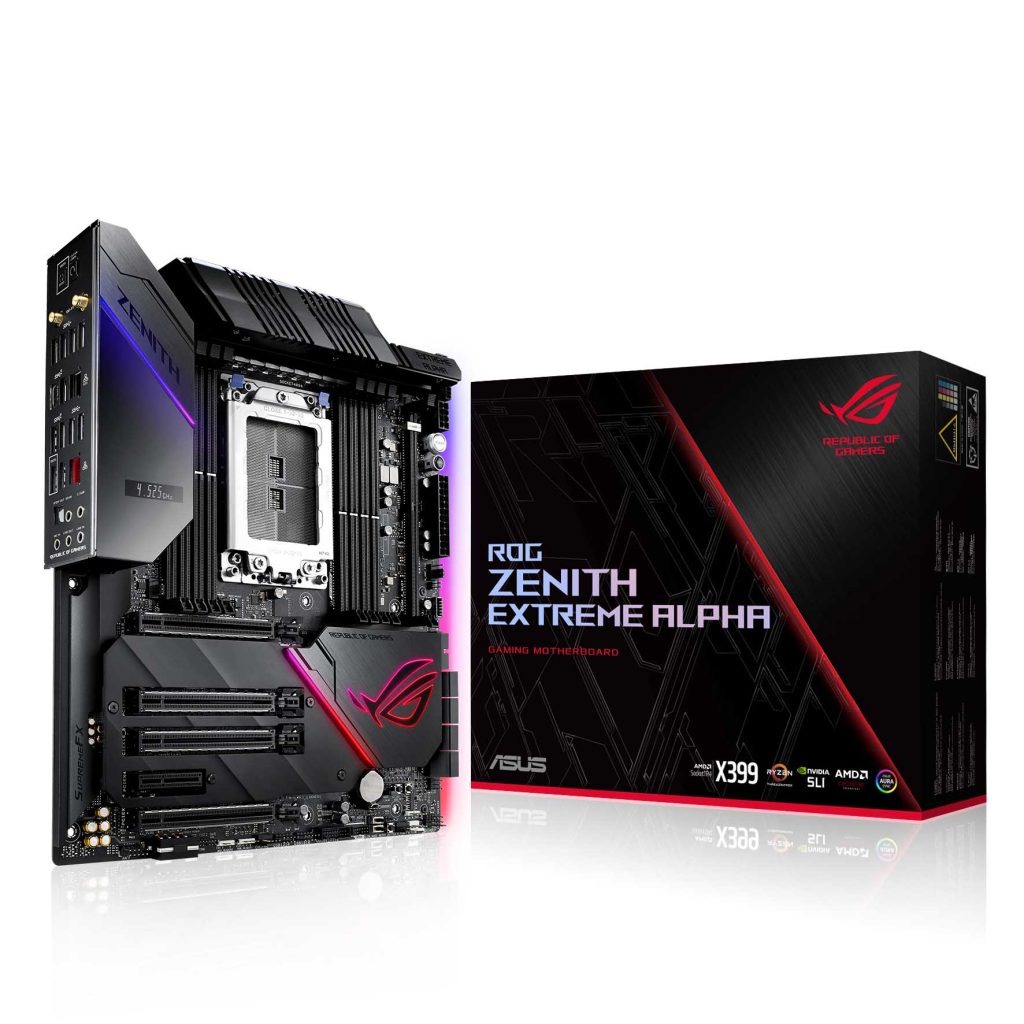 .
Power delivery wise, we got a 8 phase VRM delivered by 16 power stages. With the upgraded VRM cooling system, I do not expect serious over heating, even when over clocking the gargantuesc 2990WX.
We got premium 5000 hours life-span chokes and the expensive (and rare) IR3555 PowerIRSTAGE ICs which is great news for Overclokers.
ASUS ROG Rampage VI Extreme Omega Motherboard
Same remarks apply as in the Zenith Extreme Alpha.
The Rampage VI and Rampage VI Omega are, in essence the same board, but I am equally happy to see the upgraded side VRM Heat sink. We have 2 fans directly mounted on the 10  power stages. Again, great move in terms of cooling and heat dissipation!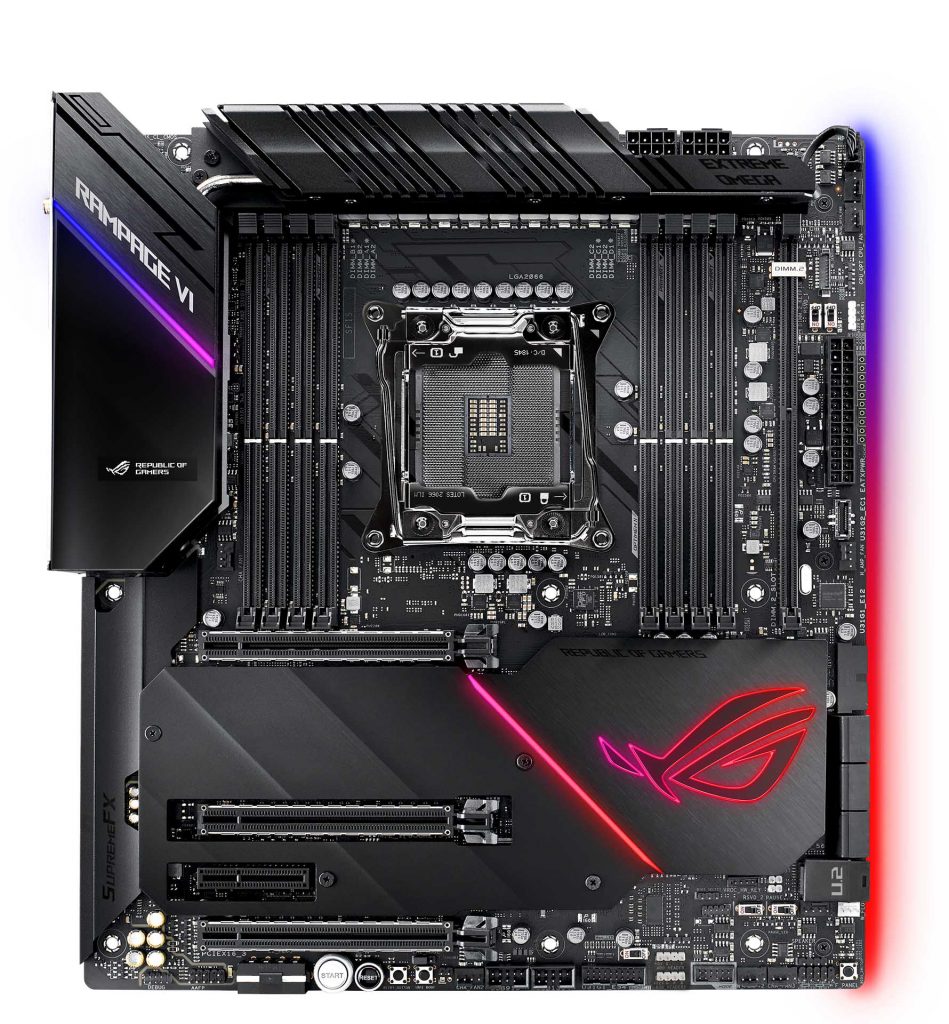 .

.
The Back IO is identical to the Rampage VI', save the disappearance of the 802.11AD Wi-Fi simple antenna, which did not survive on the Zenith Extreme Alpha either.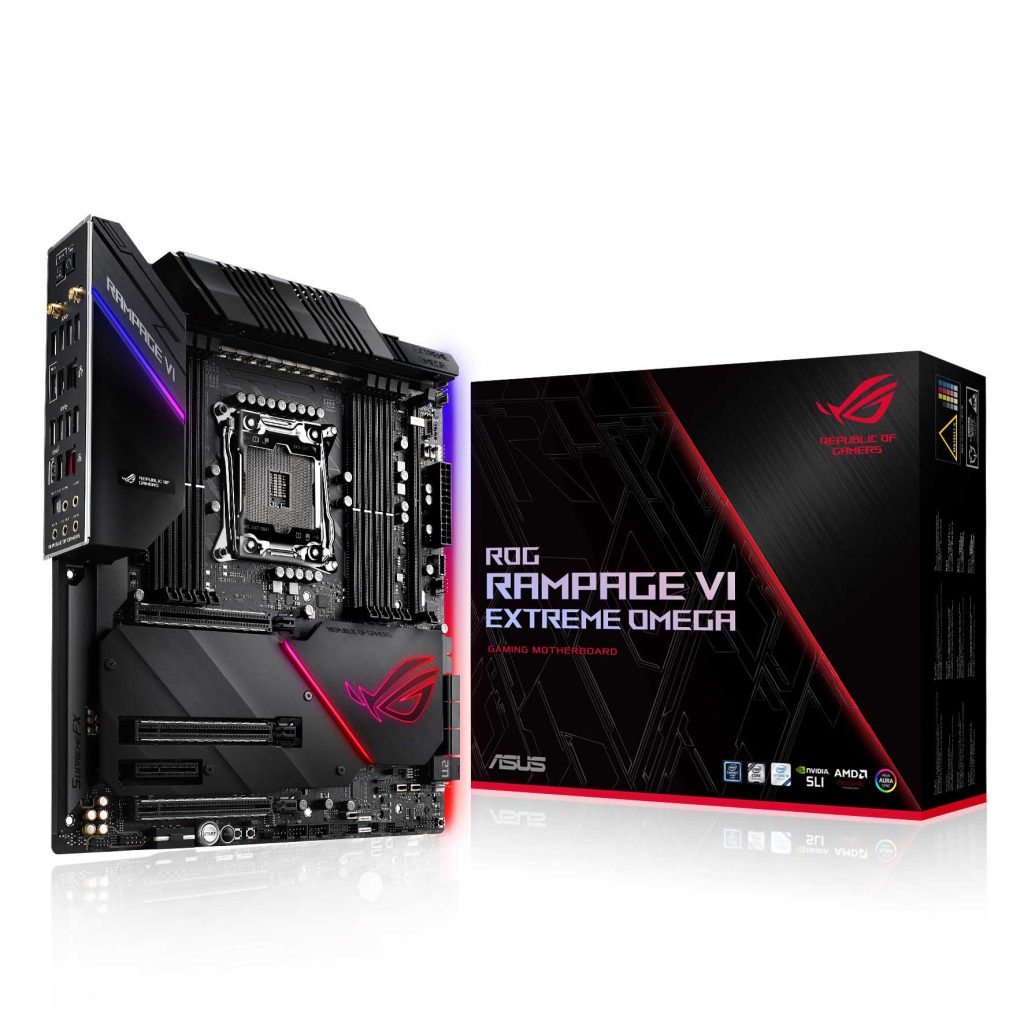 .
As for the rest, we will have to wait for my actual review of the boards to get more details. But one thing is for sure, even if the price is not yet available, these will be EXPENSIVE. I recon a price tag orbiting anywhere around 700 to 800 USD before taxes, for both the Alpha and Omega boards.
They will be available this month in major retailers across the globe, so you won't have to wait too long.