Key Features
Price: 600
27″ QHD (2560 X 1440)
IPS Panel
144 Refresh Rate
1 ms panel s response time
AMD FreeSync 2
HDR-400
Noise-cancellation for mic
Display inputs : x2 HDMI 2.0 – x1 DP 1.2
IO : x2 USB 3.1 (5 Gbps)
Audio jack + Mic
[/box]
10 Bit Color Depth
Beautiful make and manufacture
Very good and complete menu
On-screen gaming and hardware Metrics
Mic noise-cancellation technology
Beautiful RGB implementation
Gorgeous IPS screen
Extremely performant panel
A bit pricey
Only HDR-400
Awkwardly placed audio jacks
Only two USB 3.1 plugs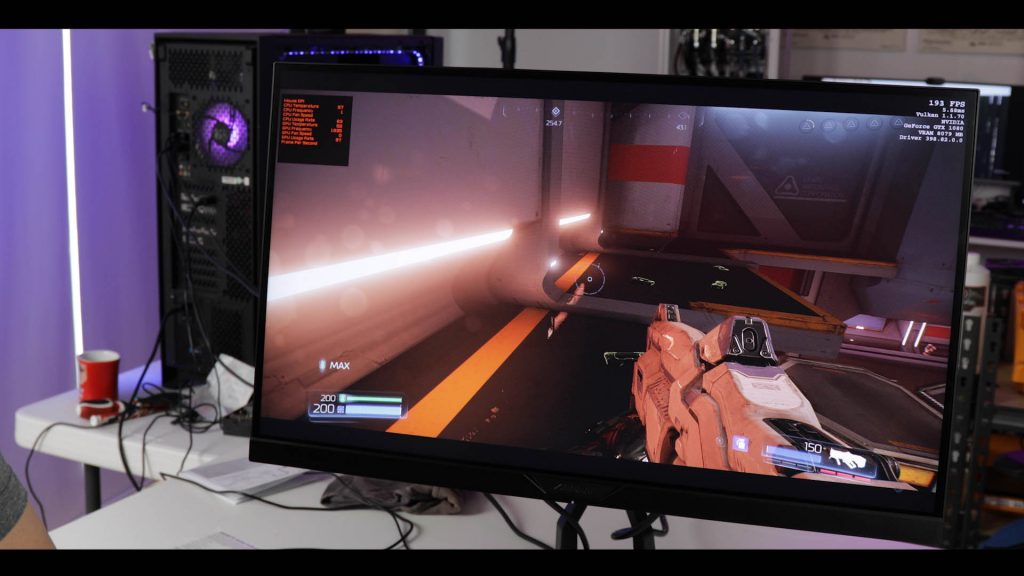 I love seeing major brands releasing first-time components!
It is the only time they genuinely try to disrupt the market. They usually think big, and try to make their mark by innovating.
Gigabyte is going heavy by releasing the  AORUS AD27QD . Its first gaming monitor ever!
And going for a 27 inch QHD, 144 Hertz 1ms IPS panel, puts it in direct collision course with the biggest names in the industry.
Let's see how well it fairs.
The Body
AORUS doesn't only want to deliver the best gamer experience possible. It also wants it to look good doing it! And that's where I'll start,  the design and construction.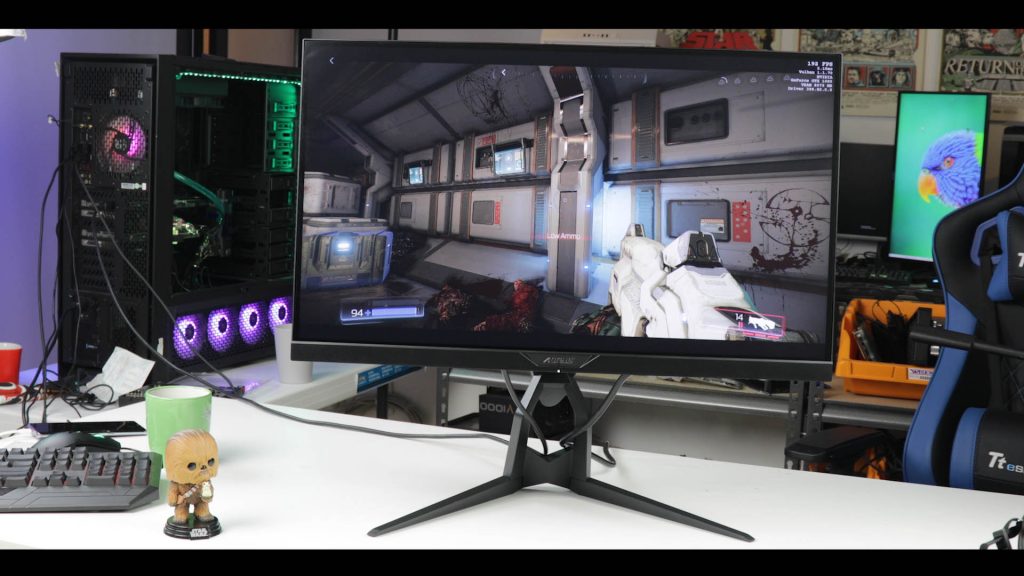 It is angular, it is aggressive.  No curves or very little. This thing comes right out of an Alien movie!
It has this very re-assuring industrial feel wherever your touch it. Almost no plastic. It is made of thick heavy metal. AORUS wants you to know that the AD27QD has been ENGINEERED!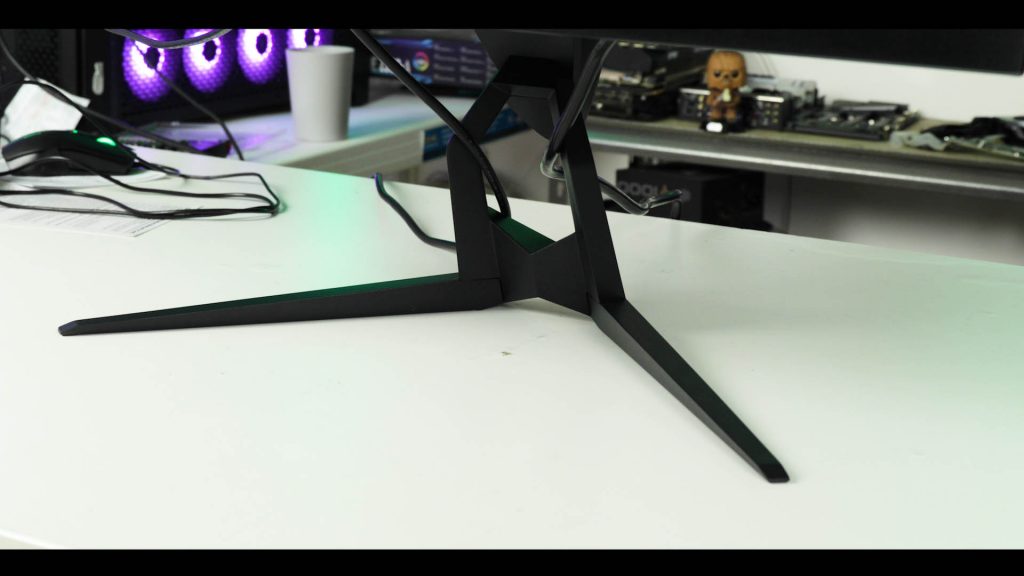 Despite its rather small size, the base is impressively stable and ground our screen remarkably well!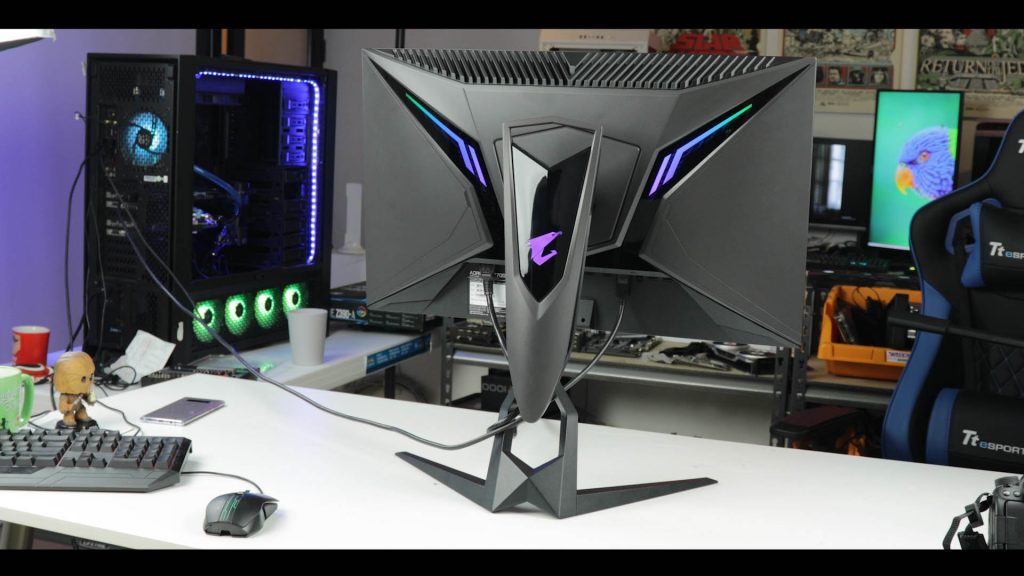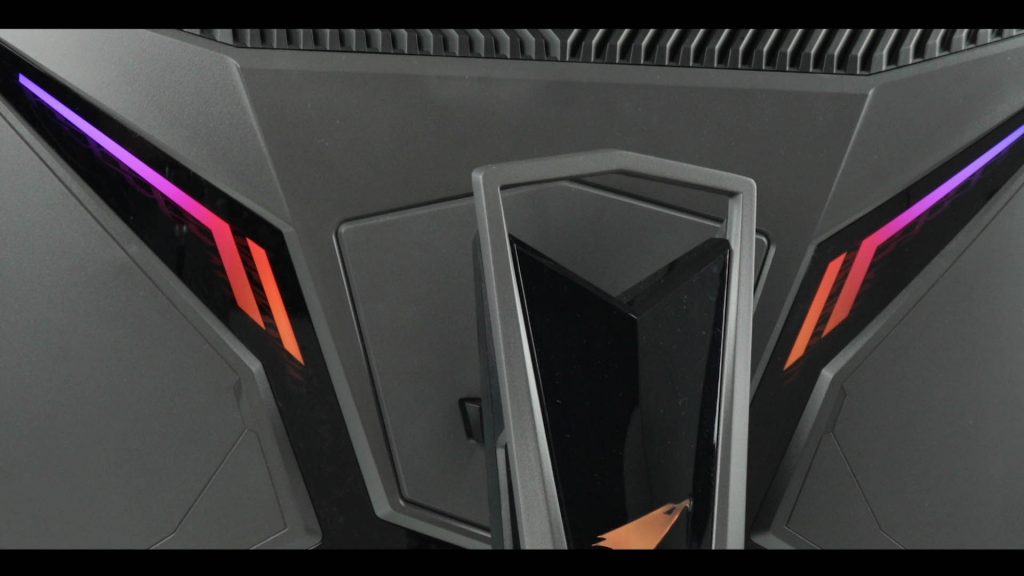 On top of our column we do have a rather large and pointy handle.
That is something AORUS' competitors have been doing as well, with different level of success.
But it is usually  hazardous to try and carry the full weight of your monitor by such a handle. The problems with screens is that, structurally, their weight is not equally spread-out, and as soon as the base is free from the the table, they tend to swing rather violently. In some cases, this translates into a broken panel.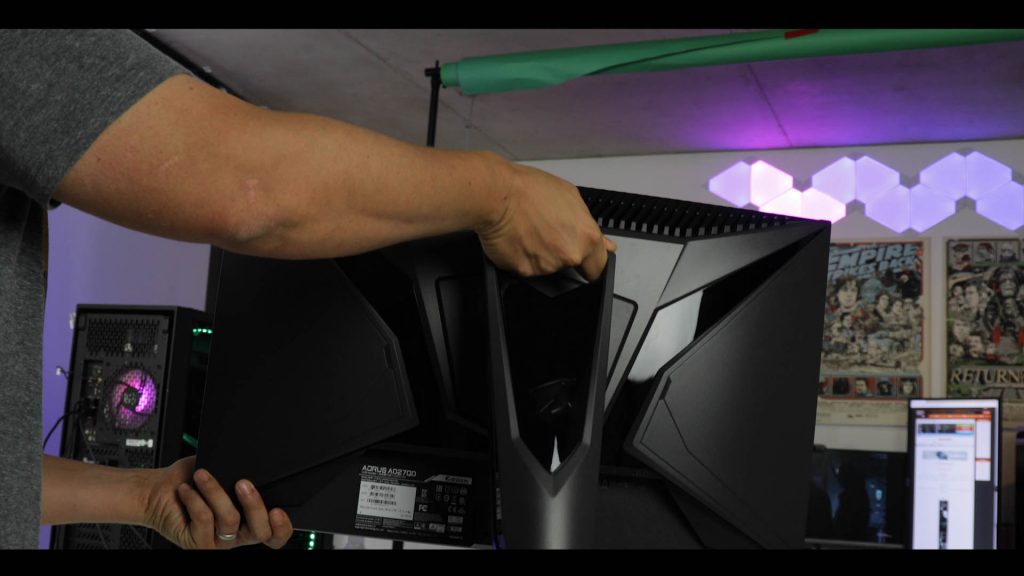 But not here! Because the column and base of our screen are heavier than usual,  they manage to balance the heavy weight of our monitor. No swings, no pain.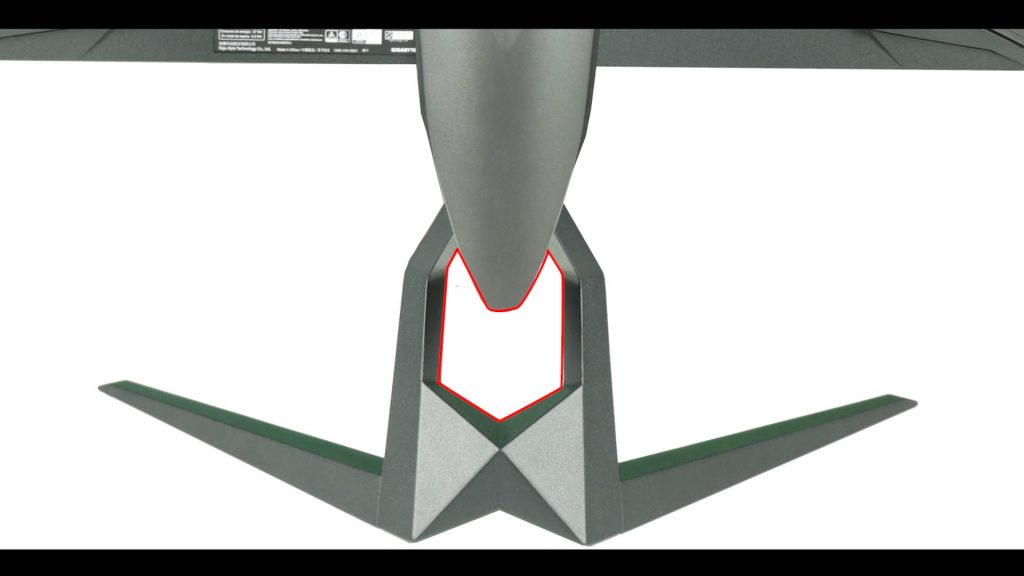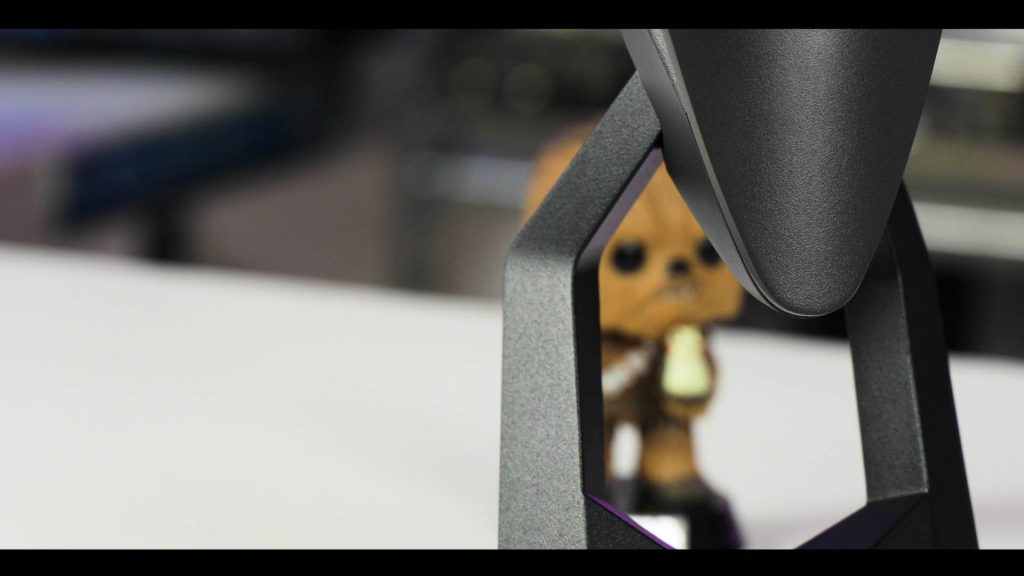 Let's not forget that larger than life cable whole right here.  Simple but very practical indeed!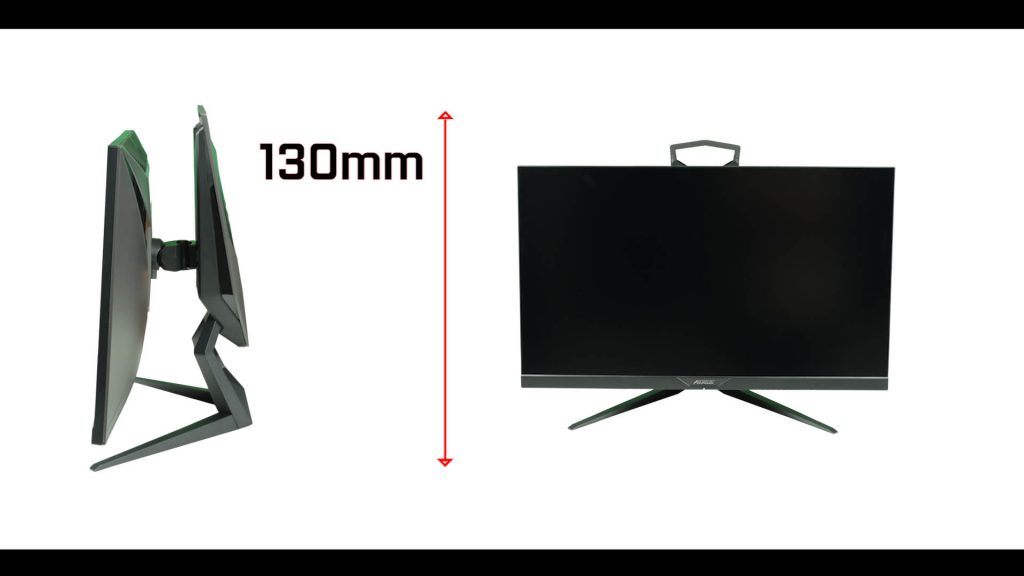 We have a standard  panel height adjustment of 130 mm.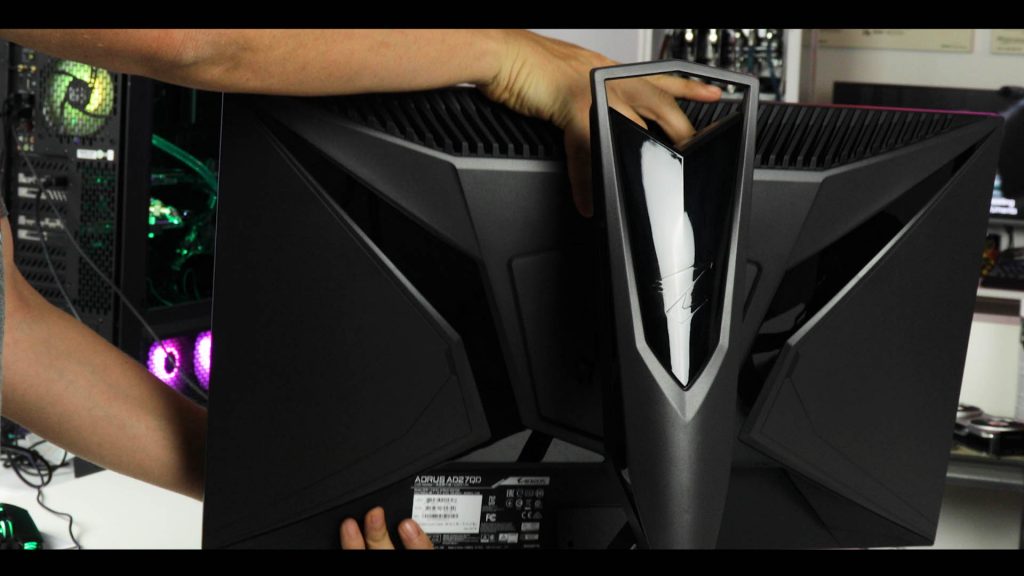 The resistance pressure needed to adjust the AORUS AD27QD is right where it should be. Its butter smooth, satisfying and quick-movement safe. Loving it !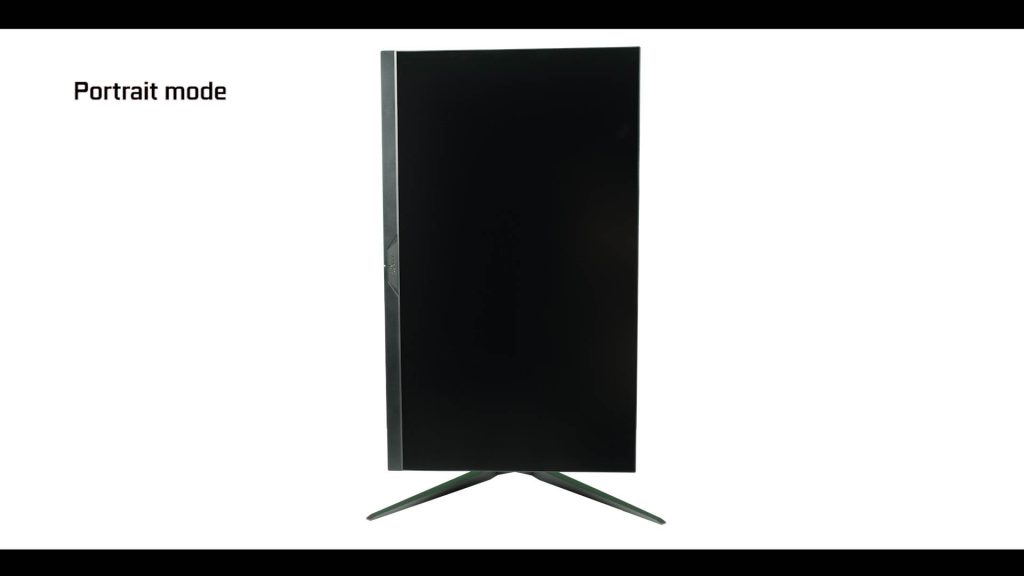 The panel can pivot at a 90 degree angles giving us a portrait mode, which also gives an easier access to all our IO plugs and display inputs.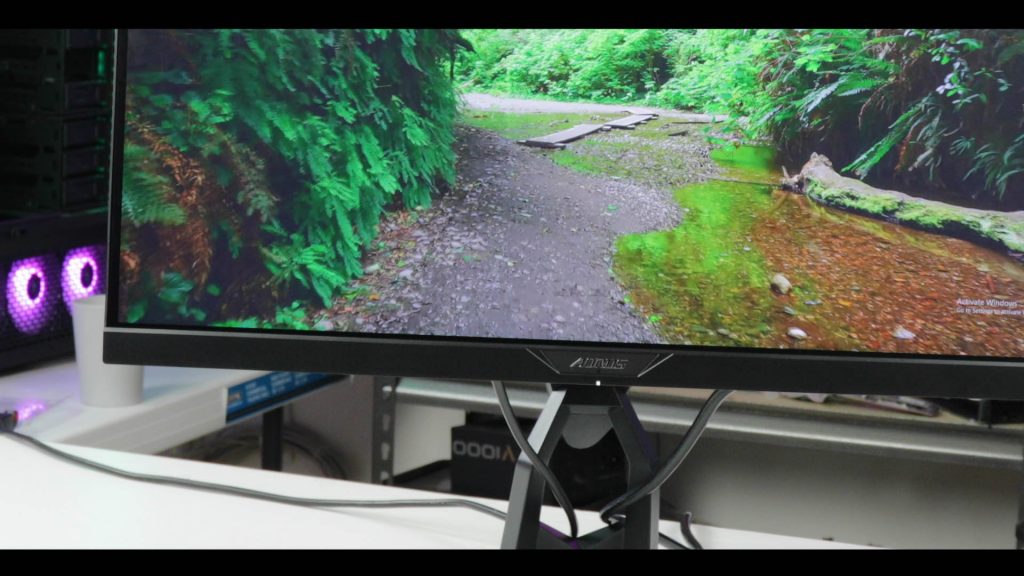 Side bezels are almost non-existent, which makes this screen an obvious choice if you are looking at a multiple monitor configuration.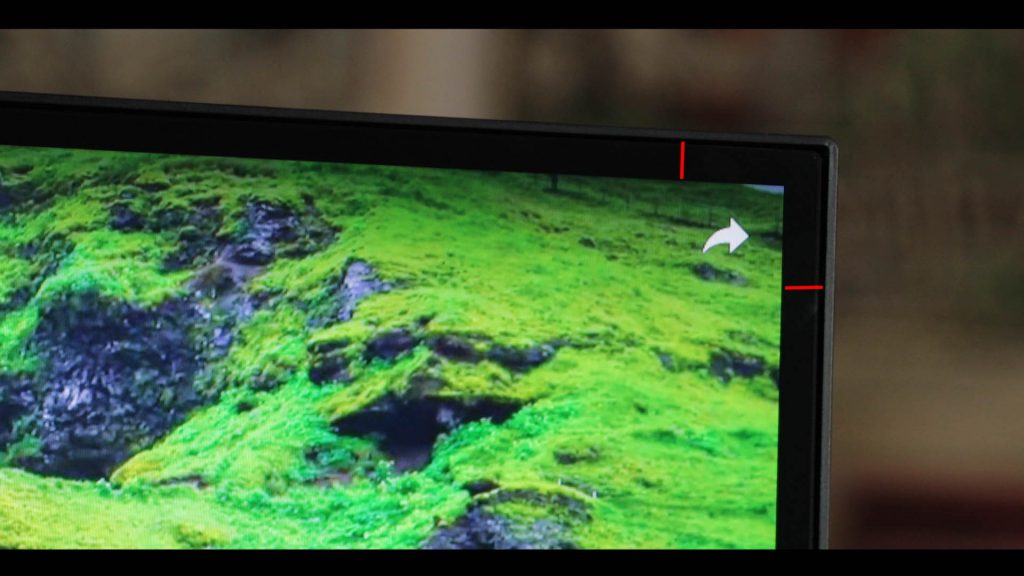 But I'd like to note that the image stops a little shy from the bezels, so you ll lose out a bit of screen right there.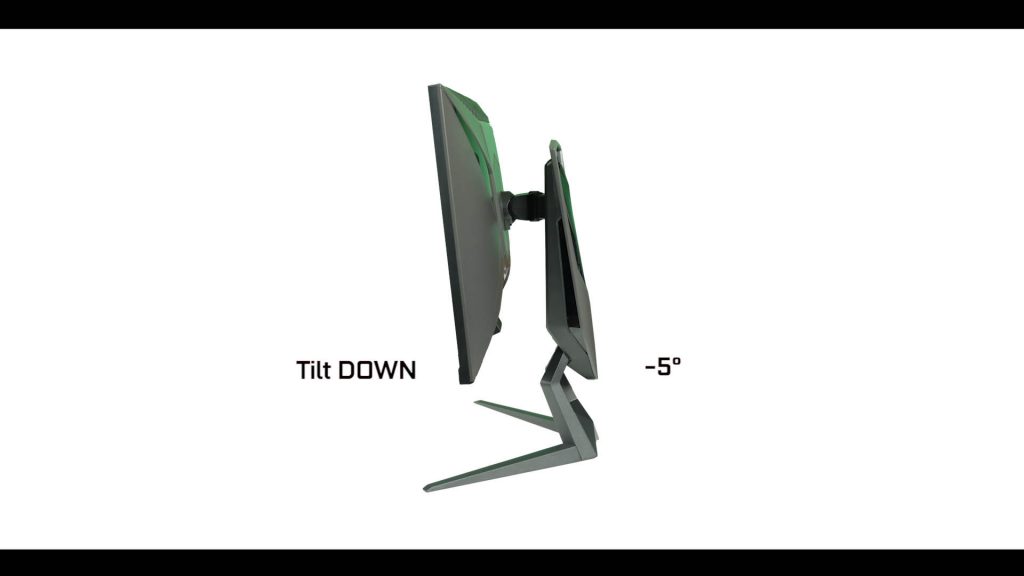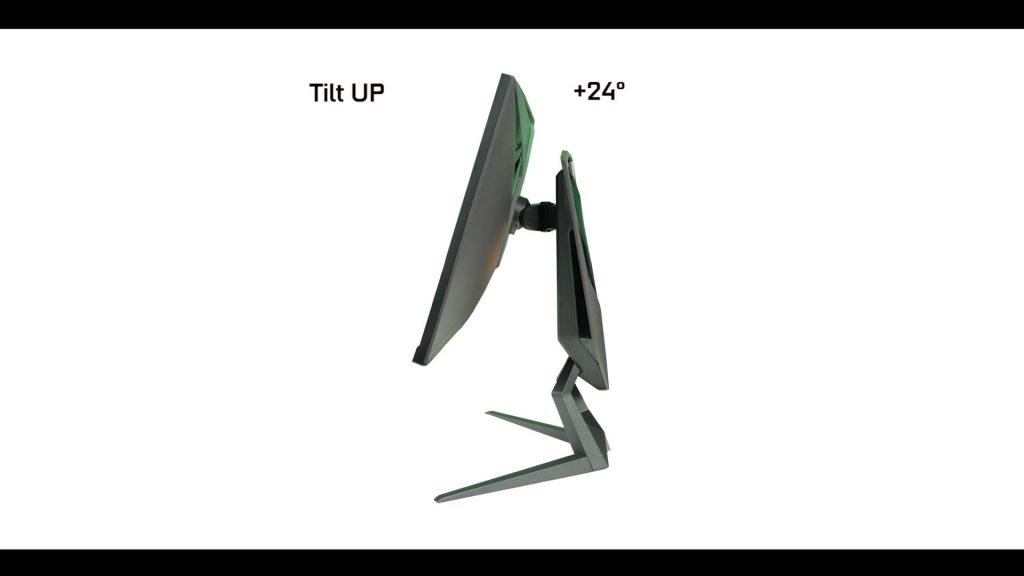 We also have a +24 and -5 degrees tilt,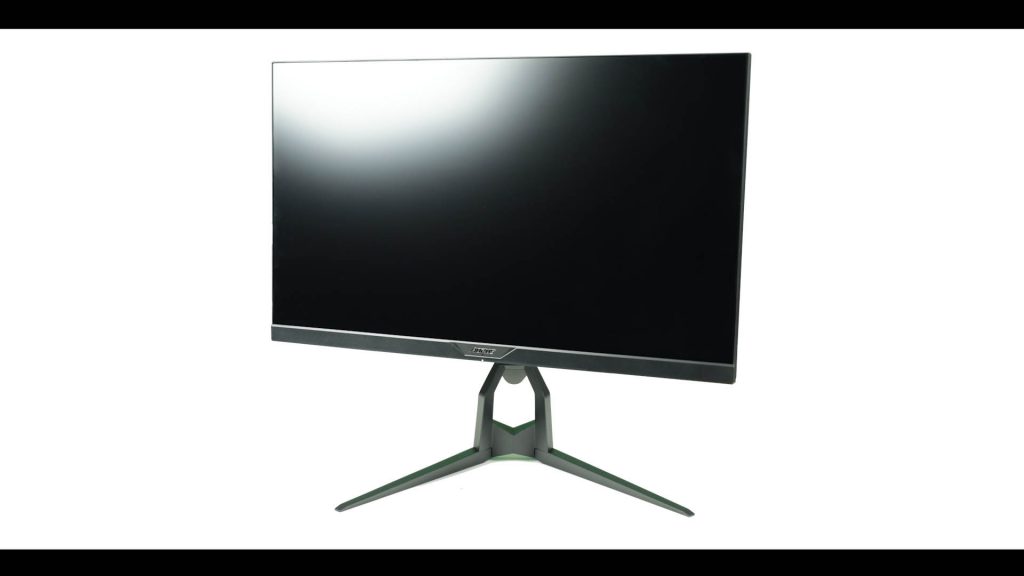 and a 20 degrees swivel!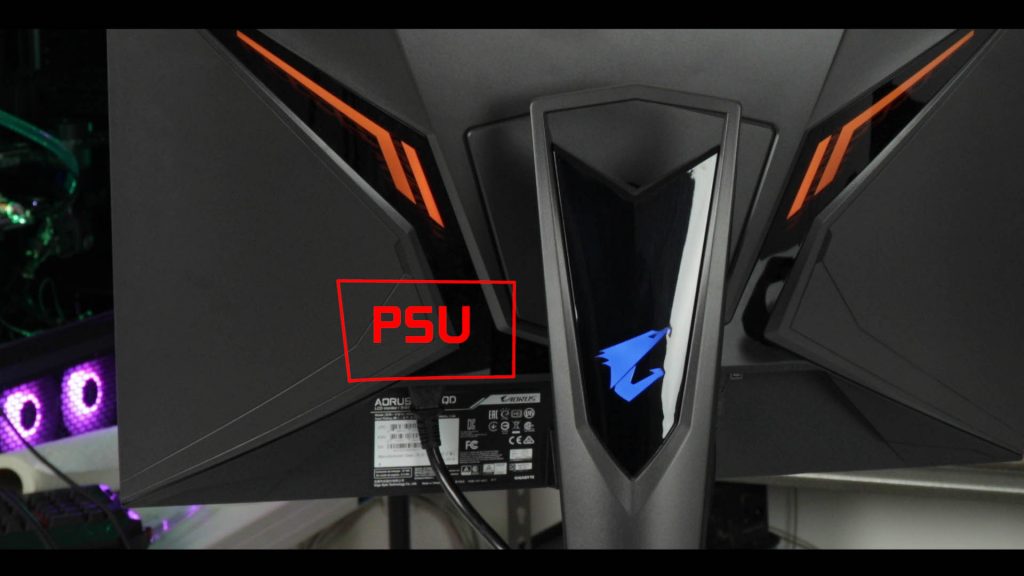 Finally, on the build side of things, I'll note that the power supply is built-in the chassis'monitor, meaning that a classic power cable will suffice to turn this bad boy on. On the minus side, it'll make the monitor much heavier.
In all and for all, not only does it look great, but the build quality is probably the best I have ever seen on any monitor thus far.
The Panel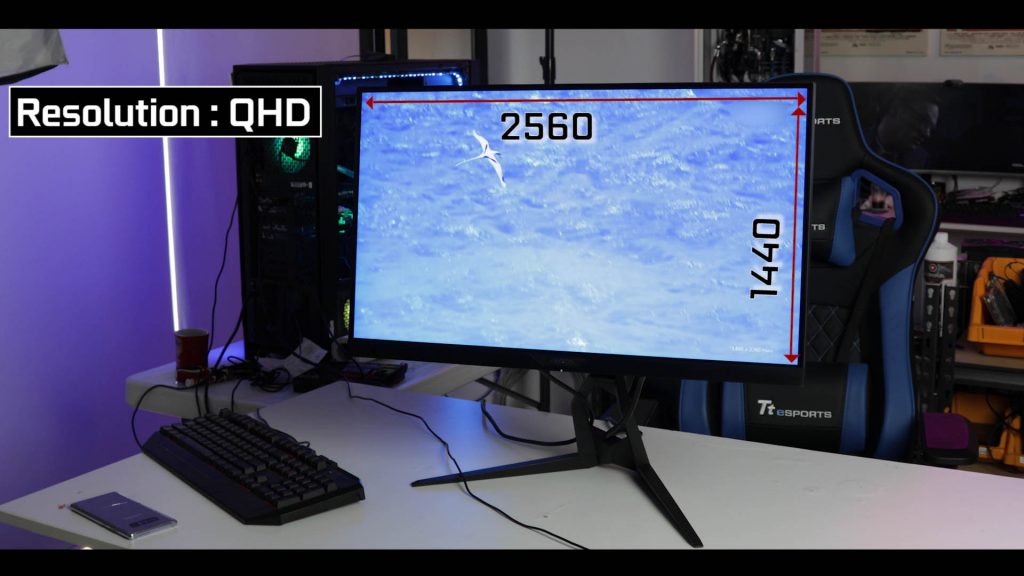 This is a QHD panel, meaning a  2560 X 1440 resolution. It is the gaming goldilock these days, balancing absolute finesse of graphic and, performances required to run it!
It is run up-to the gaming-pro standard 144 Hertz refresh rate with a top of the industry 1 ms response time.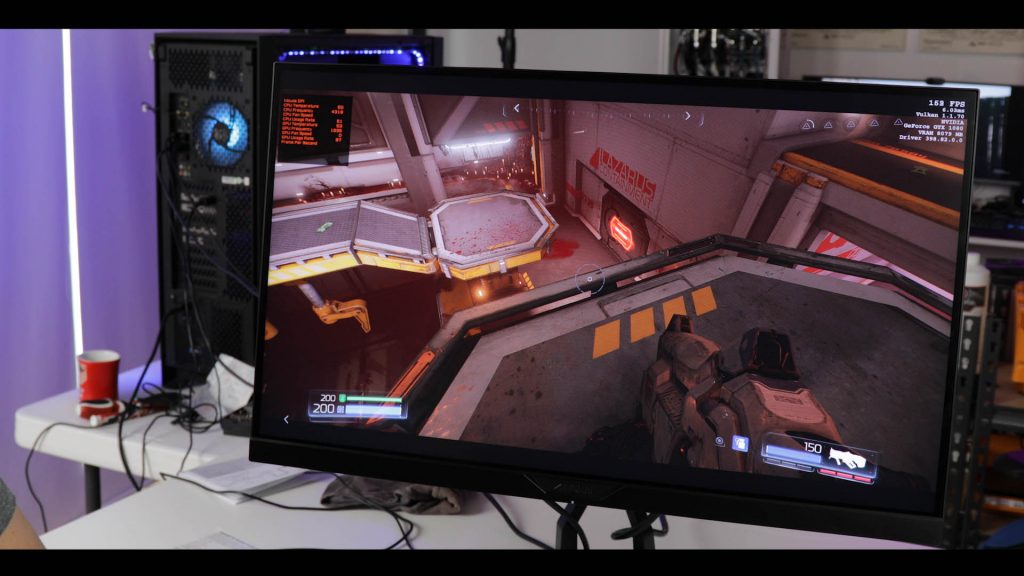 10 Bit Color Depth
Our AORUS AD27QD boast a rare 10 bit color depth ! Which gives absolutely stunning images. Colors are vibrant and surprisingly life-like. It really is the first thing which pop-out of the screen, when gaming on it for the first time.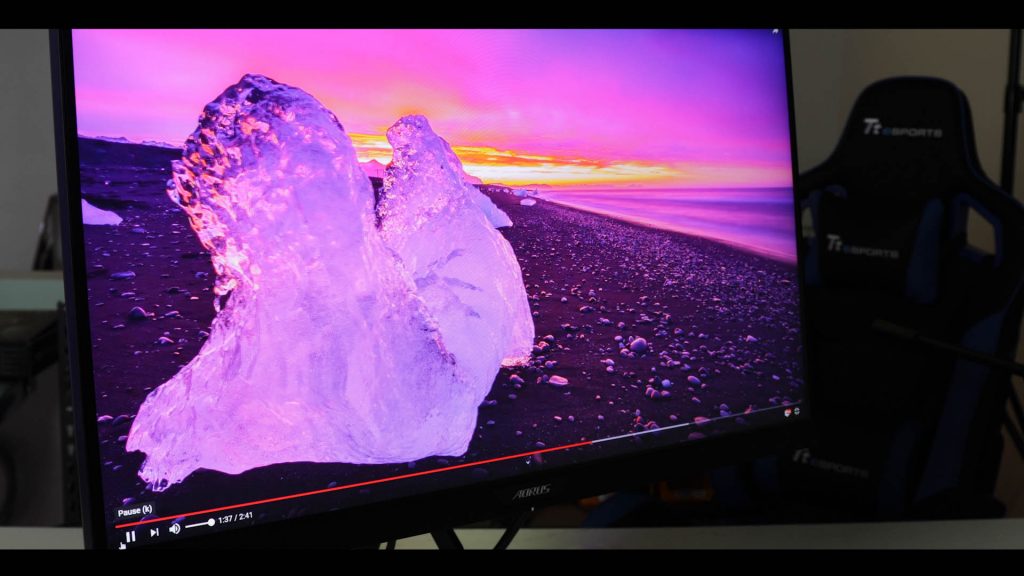 Precision : In a  8 bit panels, there are 256 shades grading black to white.
In a 10 bit we have  1024 different shades going from back to white. Or any other colors.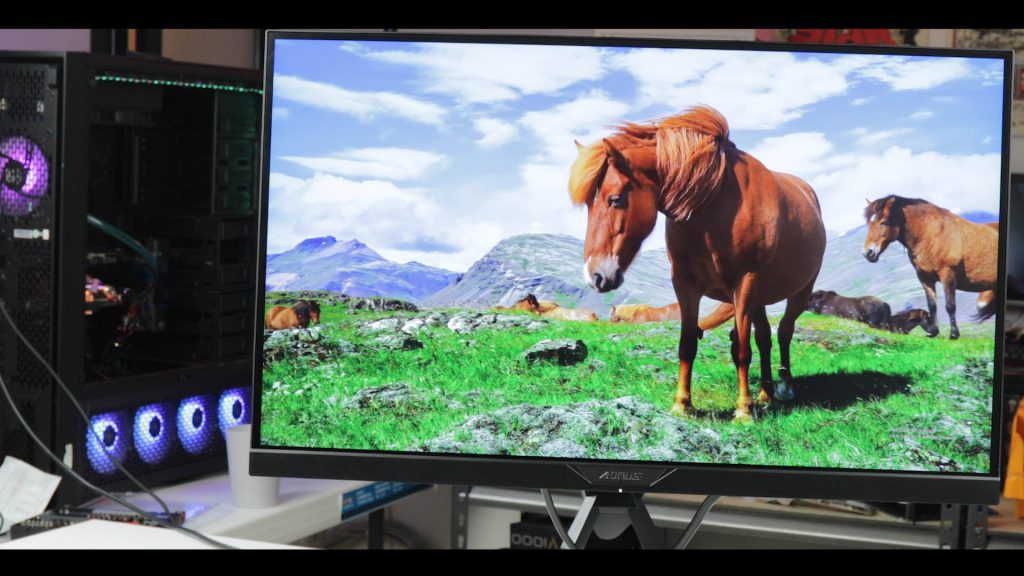 HDR-400
High Dynamic Range is here to give us more life-like light treatments by contrasting the available scree brightness, re-working shadow effects and light diffusion. But with only 400 NIT Brights, HDR does not shine here and is barely noticeable.
You will need 800 NIT brights (or 1000) to really appreciate what HDR can do.
Not its best day in our case, I am afraid.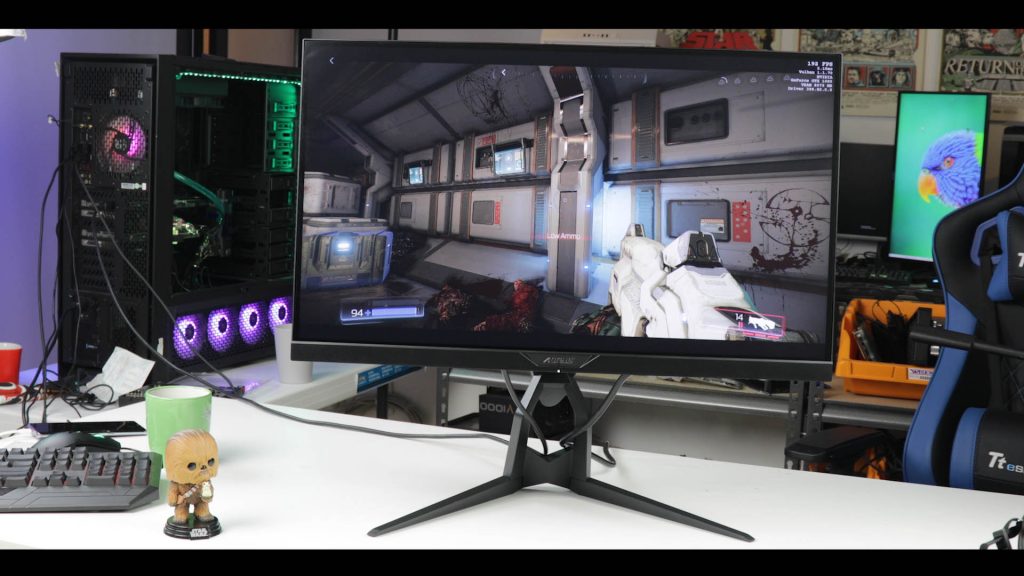 FREESYNC 2
The monitor is also equipped with the EXCELLENT AMD Freesync 2 chipset (Graphics ONLY available on HDMI Ports), saving and protecting us from any kind of in game tearing.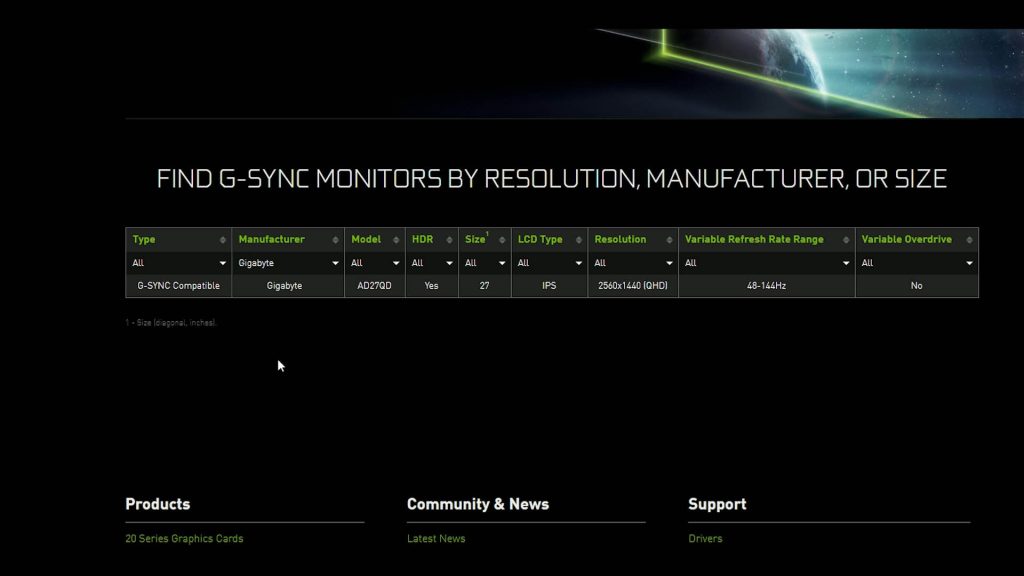 The AORUS AD27QD has been graded "G-Sync Compatible" by Nvidia. This means that AMD and Nvidia video-cards, alike, will be able to operate FreeSync 2 during gaming. And that is absolutely awesome !
Connectors and Display Inputs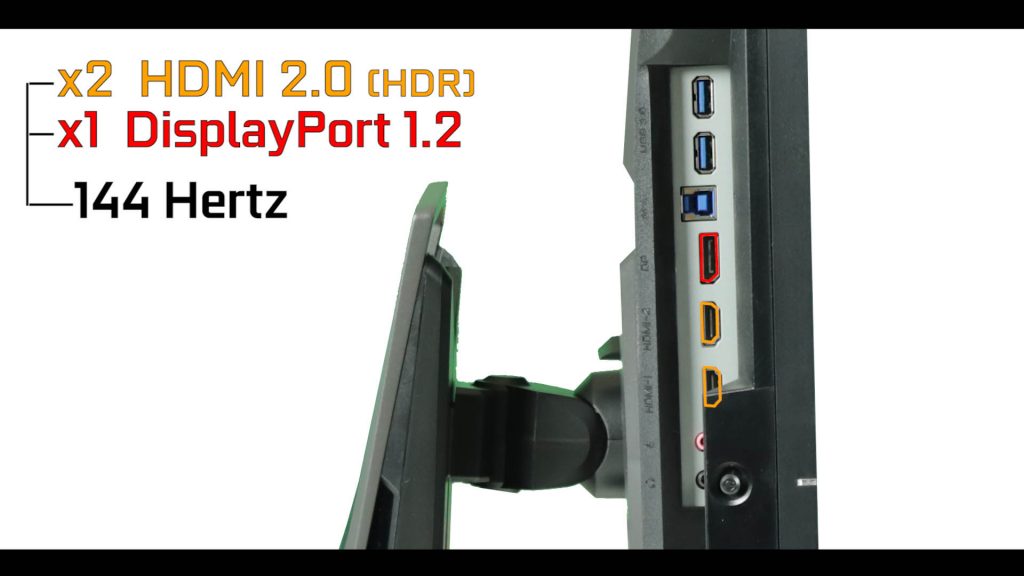 IO wise, the monitor supports two 2nd gen HDMI ports (Only one with HDR), and a 1.2 DisplayPort. All of them supporting a 144Hz frequency!
I will regret seeing only 2 of 3rd gen USB (5 Gbps). Other manufacturers are now upgrading their USB hubs to boast up to 4 USBs.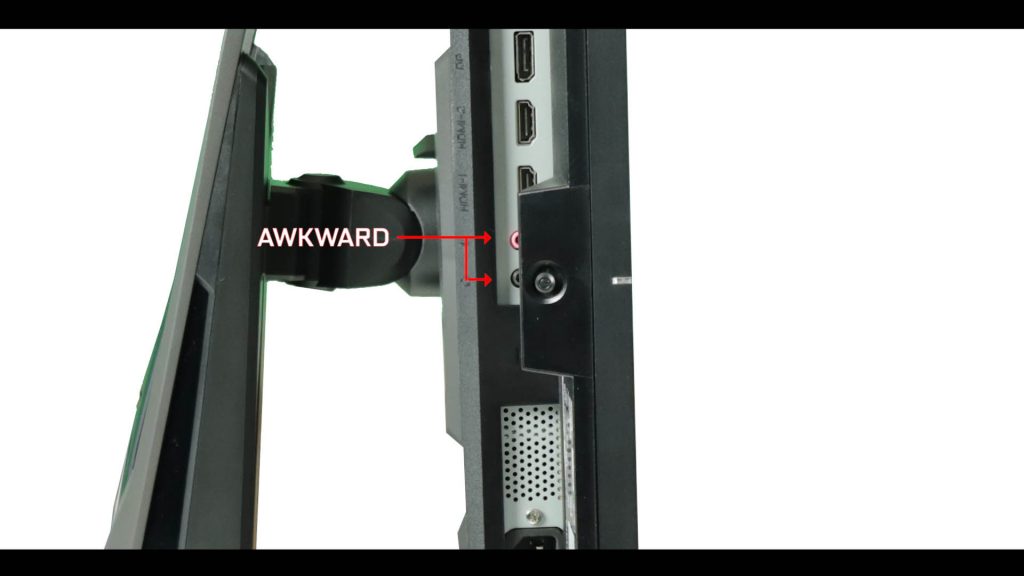 We do have the usual headphone jack and mic input. I find them somewhat awkwardly placed and would have preferred to see them on either the panel extremities for better an easier access.
The Menu
AORUS went further than anyone else in terms of display customization features and gaming options. And frankly, this is probably its best feature.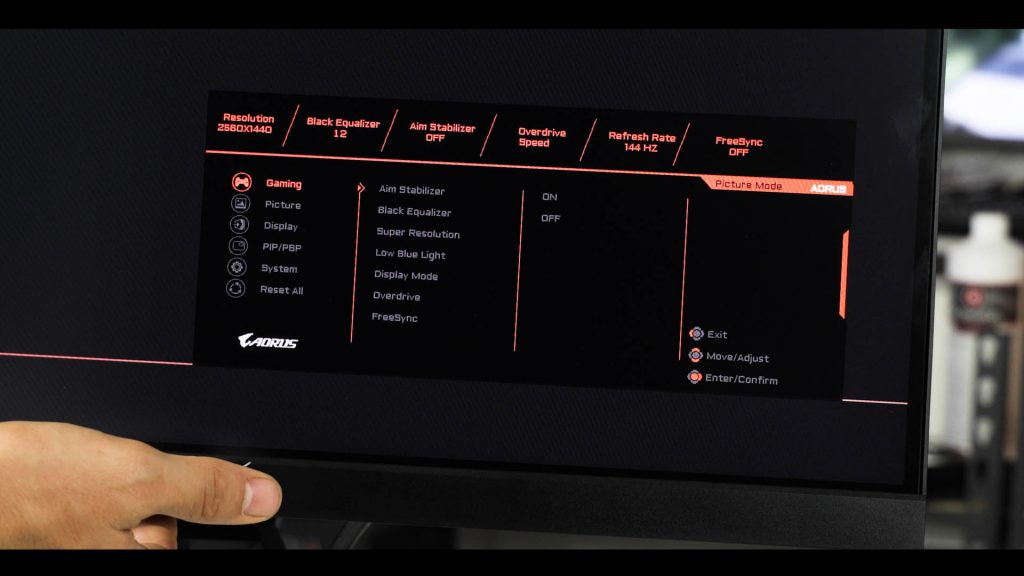 So first, your navigation in this rather complex menu is not too bad. The Joystick menu is solid and does responds with precision.. so we are good.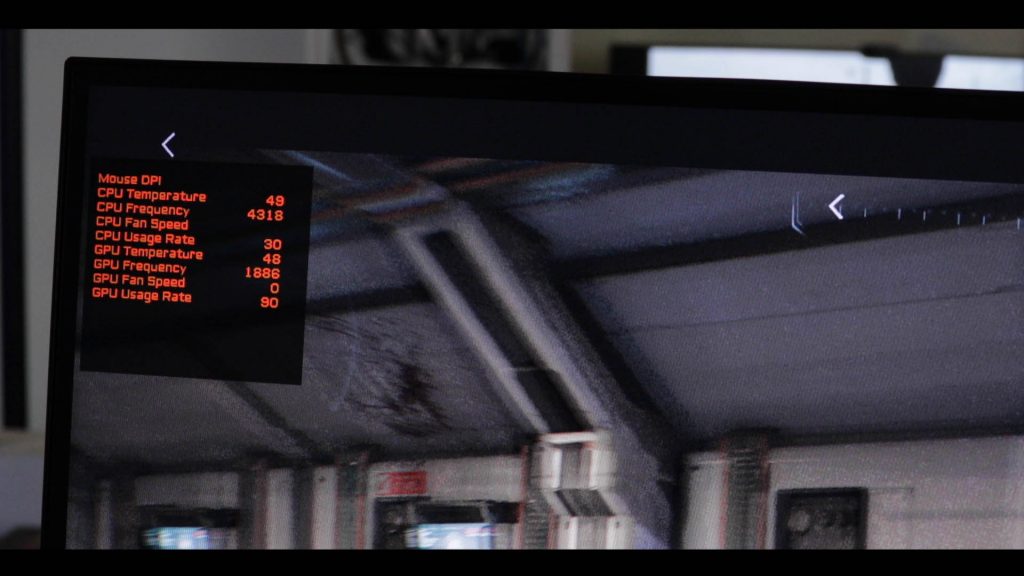 What the AD27QD can do and that no-one else does, it to spew out complex system stats directly onto your display without any heavy add-on software! You need metrics? here they are!
I cannot stress enough how big of a deal it is for an ever-tweaking gamer.
You can call on any metrics easily and quickly without having to rely on the game features or your video-card options.
BRILLIANT! Major Kudos to AORUS for this!
Noise Cancellation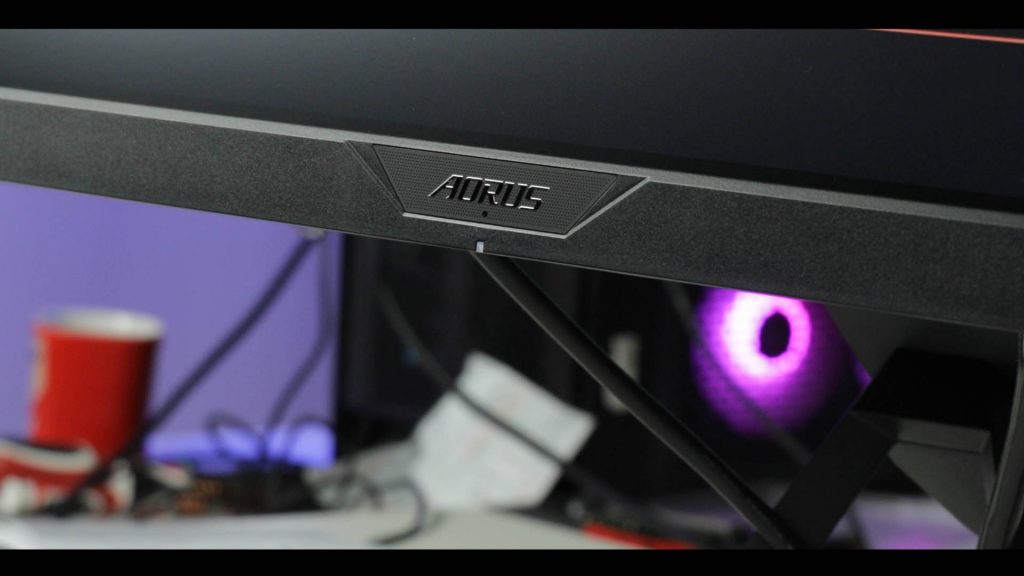 AORUS is pioneering some amazing audio tech here. With the help of 3 built-in microphones, the AD27QD will be applying a noise-cancelling filter onto any microphone you will connect to your screen. Regardless of its brand.
It won't impact what you ear, only the person you are talking to will benefit from this. Exit annoying fan noise, and other background noises.
The RGB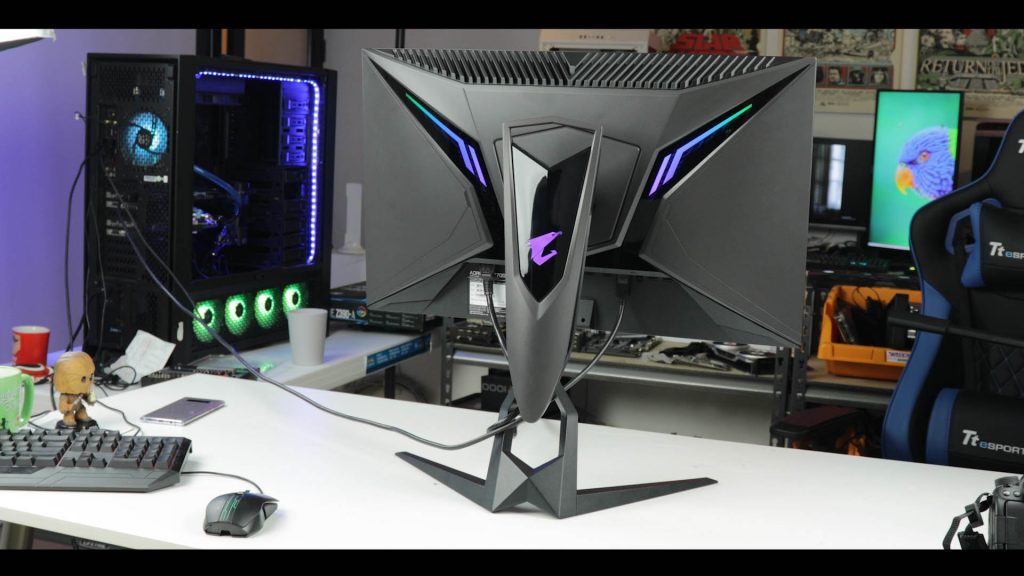 I am not a fan of RGB on screens, but here, I need to admit that it is pretty darn cool. As Steve Jobs would say, the back of these things looks better than the front of some competing models!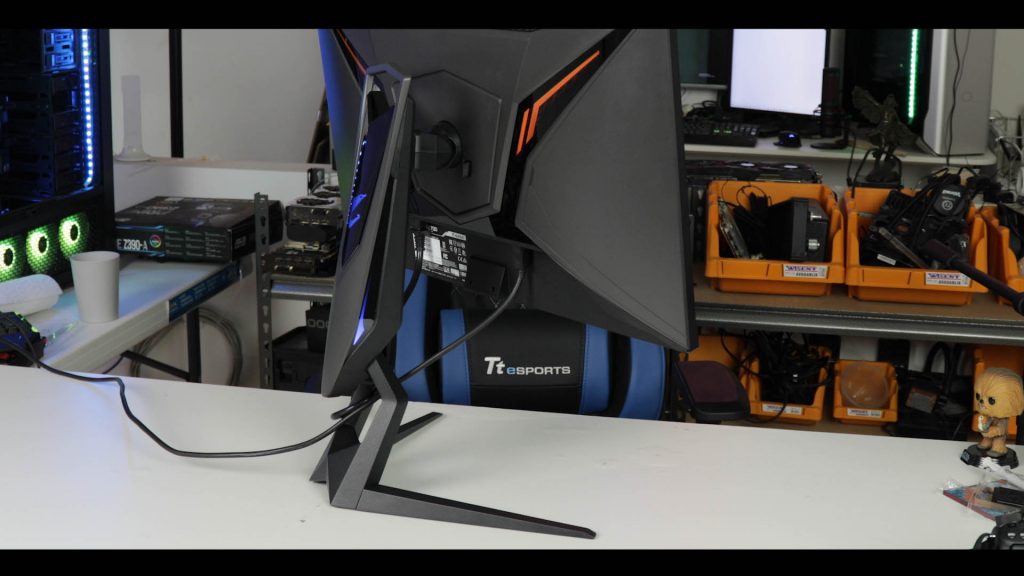 We got 2 bright angled strips on the back of our panel, as well as on the side of our supporting column!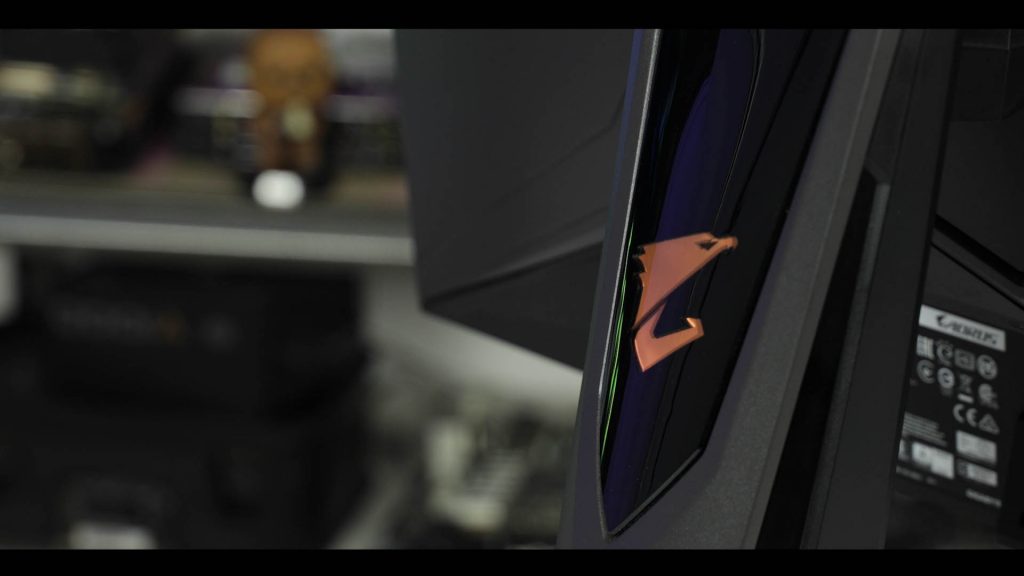 We also have a RGB LED right under the AORUS eagle logo! And of course, you can sync your monitor lighting to your other AORUS RGB components thanks to its Fusion 2.0 software!
In Conclusion.
At about 600 USD before taxes, this is not your cheapest high-end gaming monitor out there. But it's impossible not to look at this and not be wowed.
The aggressive angular design, its heavy-duty fee, the nano-precision in every of its adjustment.
It is just a beautifully manufactured object.
The panel is absolutely gorgeous. The combination of 27″ QHD, 144 Hertz refresh rate and 1 ms response time, places it on the very top list of any pro-gamers out there.
The 10 bit color depth was especially impressive to watch. Colors were bright, vibrant. No bleeding or ghosting. A perfect delivery!
But where I can say that the AD27QD is in a league of its own, is in its innovating thinking. Its gaming centric-obsessed  features! The nested metric display and noise cancellation add-on absolutely blew me away. And I am sure you feel me on this.  Not only is it a first.. but it is a mature one.
I am not mentioning the RGB so much, because this is really up a taste thing… especially knowing that this side of the monitor will be against a wall.
I will regret having a somewhat unsatisfying HDR-400, awkwardly placed audio jacks and a rather meager 2 USB 3.1 plugs.
But nothing which would change my mind on the fact that, the AORUS AD27QD is probably the best screen I have been given the chance to test lately.
This is the best gaming monitor money can buy. Delivered by a first-timer in the industry. Talk about an upset!
To its credit, AORUS managed to re-energize an other-wise stagnant segment of the gaming industry. And in that very market, Gigabyte is now a force to recon with.
To our greatest benefit.