Not without hurry, Asus has just released 5 motherboards equipped with the new Intel X-299 chipset. The Prime X299 A being its entry-level model.
Key Features
Review Price: 310.00 USD
ATX Form Factor
Intel X299 chipset
Intel LGA 2066 socket
Quad-channel, 8 slots, max 128GB (Dual channel and max of 64 GB for i7-7740x and i5-7640x CPUs)
3 x PCI-E x16 | 2 x PCI-E x4 | 1 x PCI-E x1          ALL PCI-e Lanes are 3rd Gen.
1 x USB 3.1 Type-A, 1 x USB 3.1 Type-C | 4 x USB 3.0 | 1 x Gigabit Ethernet | 2 x USB 2.0 | 5 x audio | 1 x optical S/PDIF
2 x M.2 SSD | 8 x SATA 3
2x SLI | 3x CrossFire support
AURA Light Sync. Effect
Onboard CPU, PCI-e (x2) and chipset, temperature sensors.
Accessories & Docs
I/O shield
2 SATA Cables
Front panel bridge
M.2 SSD mounting screw and screw raiser
M.2 SSD vertical mount
CPU installer
Manual
The Prime X299 A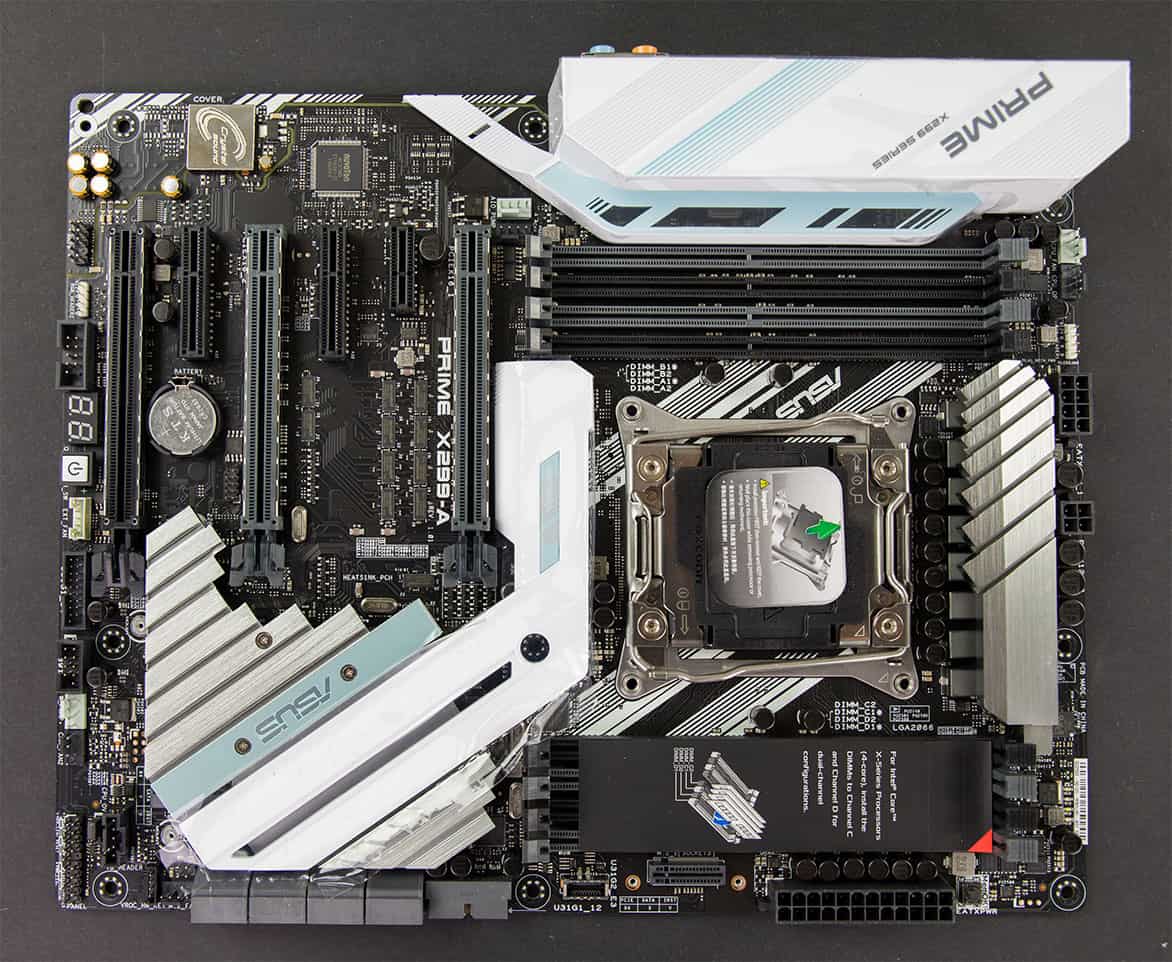 Being a sober representative of the new X299 powered boards, the Prime X299 A offers no compromise on its abilities! In short, it's not because it is the cheapest that it is weakest! It's not! It's actually the opposite!
Memory wise
M.2 SSD
Compared to its predecessor (the X99), the only real advantage the x299 chipset has, is its bandwidth!
From 8 2nd Gen. PCI-e Lanes,  we are now at 24 available 3rd Gen PCI-e lanes ( basically what a Z270 has).
And that allows this board to comfortably feature and operate a dual 4x M.2 SSD configuration:
1 M.2 SSD , up to 80 mm long, in a horizontal configuration, co-cooled by the X299 heat-shield.
1 M.2 SSD, up to 110 mm, in a vertical configuration.
Let's not forget that, as in the Z270 chipset, the X299 chipset is "Optane Ready". This should get our M.2 gum-sticks transferring data to 32Gb/s!
SATA
8 SATA 3.0 with up to 6Gb/s of individual bandwidth. I feel that this is a bit much and, in my opinion, as M.2 SSDs continue to mature, we should see less and less SATA ports on future boards.
RAM (Dual and Quad channel)
It gets tricky!
The motherboard presents itself with a quad channel configuration, for a total of 128 GB of DDR4 RAM. But not all X series CPUs can run quad channels! Some of them (quad cores) can only run up to a two channels (4 RAM slots, up to 64GB of DDR 4 RAM).
So if you have the i5-7640x or the i7-7740x (4 cores respectively), you will be limited to a dual channel configuration (channel C and D), and up to 64 GB of RAM. Any X CPUs with more than 4 Cores, will be able to activate the entire 4 channels! Therefore, chose well!
The maximum clock allowed by our Prime X299 A is an impressive 4133 MgHz! Nothing to envy to the Deluxe version.
---
Enthusiast and other goodness!
Onboard add-ons
There is a Q-Led screen! And that firmly puts this entry model in Enthusiast grounds. The Q-LED screen is always an advantage when it comes to system monitoring (CPU Temperature) or troubleshooting (Q-Codes).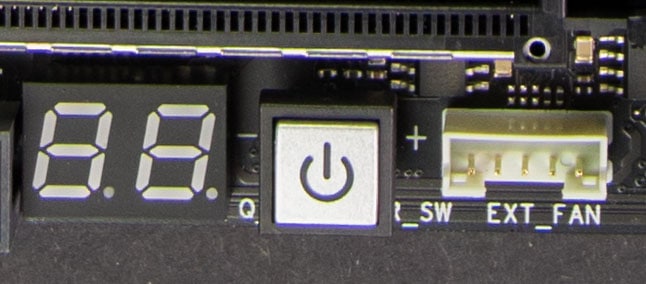 I appreciate the soldered power button! Again, and enthusiast must. I will regret the Reset button being left out :(. But given the budget we are working with, I am a happy bunny!
AURA Sync.
An absolute necessity if you care about what your build looks like! And I DO! This board is particularly well equipped! 2 RGB strips are already on-board.
one under the X299 heat shield
one next to the CPU
In addition, we have 2 AURA RGB 4 pin connectors at each extremity of the Prime X299 A.
So plenty to make it shine!
Temperature sensors
I am far from done.
This board feature 4 live onboard temperature sensors + 1 temp connector! 2 of which will allow us to monitor our PCI-E X16 slots current heat dispersion!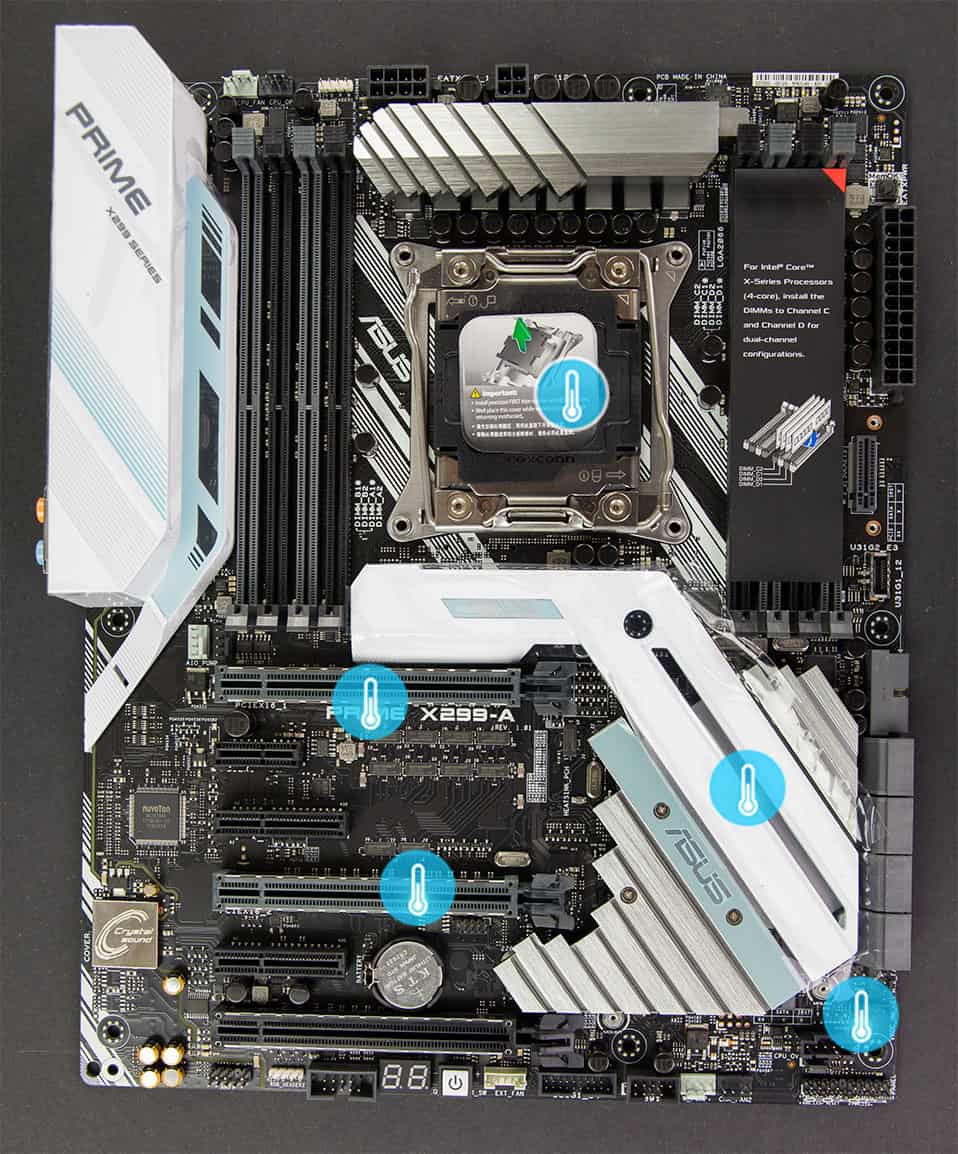 In all and for all, the Prime X299 A has custom water cooling in mind. And coming from Asus, I am not surprised! I am yet to see a RAM channel temperature sensor. But I am not giving up hope!
---
PCI-E
This is where the X299 brings a needed update to the excellent X99 chipset line-up. Bandwidth. We are passing from an 8 Lanes PCI-e (2nd Gen) to a 24 PCI-e (3rd Gen).
A glass of water in a desert if you ask me. It was about time! An untrained eye might have thought that Intel was sleeping on its 2014 achievements!
Never mind the past. Today, and on this board we have:
3 metal-reinforced x16 PCI-e
2 x4 PCI-e
1 x1 PCI-e
Now! Pay attention to this:
The Prime X299 A SUPPORTS 3 way SLI and 3-way CFX!
THEORETICALLY, in a multiple GPU configuration, we could run TWO video cards at full 16 BUS speed! That's a full 15 GB per cards, per second! I am hyperventilating!
And if it fancied you to had a third GPU, you could still hope for an 8 BUS speed for the third video card.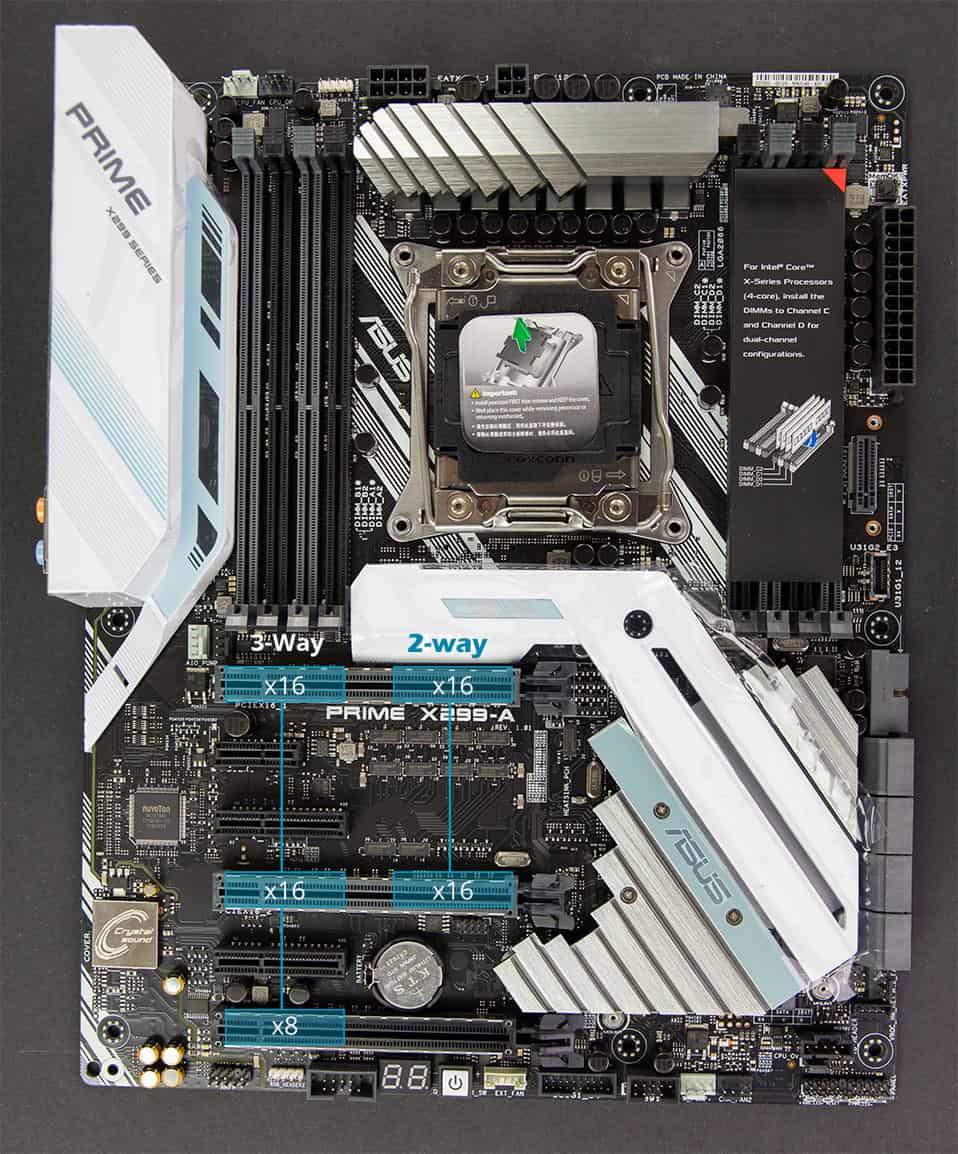 But there is a BUT!
It probably did not escape you that we are way beyond the 24 PCI-e lanes generously provided by our chipset. Well, your CPU will provide the remaining necessary lanes.
For your motherboard to feed and allocate 16 + 16 + 8 Lanes, (40 lanes) just for your three video cards, you will need no less than the mighty i9-79xxX CPU. The I9 X series processor (starts at 999,00 USD!).
Indeed only an i9 will provide you with an extra 44 PCI-e lanes, allowing our build to rock simultaneous, storage and multiple GPU with such a configuration.
Anything less, say i7 or i5, will add only 16 3rd Gen PCI-e lanes. Might as well stick with a Z270 chipset!
As you can tell, I am a little frustrated with Intel's approach to the PCI-e lane counts. Offering acceptable amount of lanes, only to high paying customers, is borderline unethical, especially when its main competitor, the 1950X Threadripper, is to provide no less than 64 3rd Gen. PCI-e lanes for 999,00 USD. I am Just going to let it seat here.
---
Peripherals

Should I say it? It feels a little lonely in there.
Well, not so fast. There are couple (and by a couple, I literally mean two) interesting components.
Starting from the left, we have:
BIOS button (always a plus)
2 2.0 USBs (…)
1 Gb/s Ethernet plug
4 3.0 USBs
2 3.1, 2nd Gen USB plugs (ouf).
8 Channel Audio / DTS
I'll jump right in there. This is an entry-level model, so I am not surprised to see a bare-bones configuration. But still, there is innovation! The 3.1 Type A and Type C USB are of 2nd generation, meaning that we could expect fast data transfers out of these plugs. I mean 10 Gb/s fast!

Moreover, we have an additional onboard 3.1 2nd Gen connector for our front panel. And that is pure luxury!
---
Conclusion:
For an entry model, and despite a couple of missteps (where is the WI-FI adapter? Integrate I/0 shield anyone?), the Prime X299 A  does gives you more than you paid for!
This  board can take care of your most advanced computing, no matter the context!
Out of the five X299 boards ASUS has released, this is the one which makes the most sense to me, as a gamer, as an enthusiast builder, and as a programmer.
Overall, the Prime X299 A is fully able to power, either a high-end office workstation or a good-looking, power-driven gaming rig. No doubt on that!
This said, given the current AMD "situation", would I go for an Intel CPU or Intel chipset? That is an entirely different topic!
QUICK OVERVIEW
CPU & northbridge support
Supported Processor
Intel Sky Lake X | Intel Kabylake X
Chipset
X299
CPU socket
LGA 2066
Memory
Slots
8 (quad and dual channel)
Max System Memory (Gigabytes)
64/128
Memory Technology
DDR4
Maximum Clock (MgHz)
4133
Connectors
USB 2.0
2
USB 3.0
4
USB 3.1 / 2nd Gen
2 (Type A and Type C)
LAN
1 Ethernet Lan, up to 1 Gb/s