Key Features
Price: 280 USD
ATX Form Factor
AMD X399 chipset
TR4 CPU socket
Compatible with 1st & 2nd Gen.  AMD Threadripper
8 x 16GB 4,266 MHz DDR4, maximum 128 GB
3 x PCI-E 3.0 x16, 3 x PCI-E 3.0 X1
Back IO : 4 x USB 2.0, Dual Band WiFi 802.11AC , 3 x USB 3.1 2nd gen. Type-A + Type C, 3 x USB 3.1 (1st Gen), 1 x  Gigabit LAN, ALC1220-VB Realtek 7.1 channels audio.
2 x M.2 SSD, 6 x SATA 3
3 x CrossFire support, 2 x SLI support
12 CPU phases  for better Over-Clocking
Premium Chocks, and MOSFETs
Advanced Custom Water cooling support
Clear and practical board layout
Superior sound Codec and WIMA capacitors
Premium manufacture
Superior custom water cooling support
Advanced temp monitoring
Great pricing
no Q-LED screen
no Start and Reset soldered buttons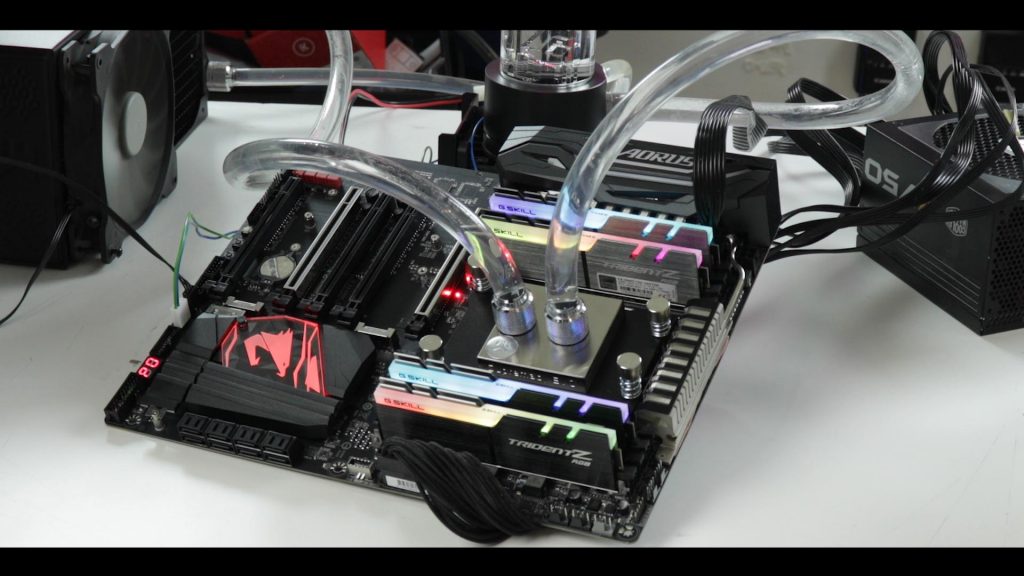 4 SATA cables
M.2 SSD screws and screw raisers
2 way SLI Bridge
WiFi dula band antenna
RGB addressable cable extension
RGB cable extension
Manual
DVD driver & Software
The X399 AORUS PRO
First and foremost, it is an ATX motherboard, which is rather rare in the X399 realm.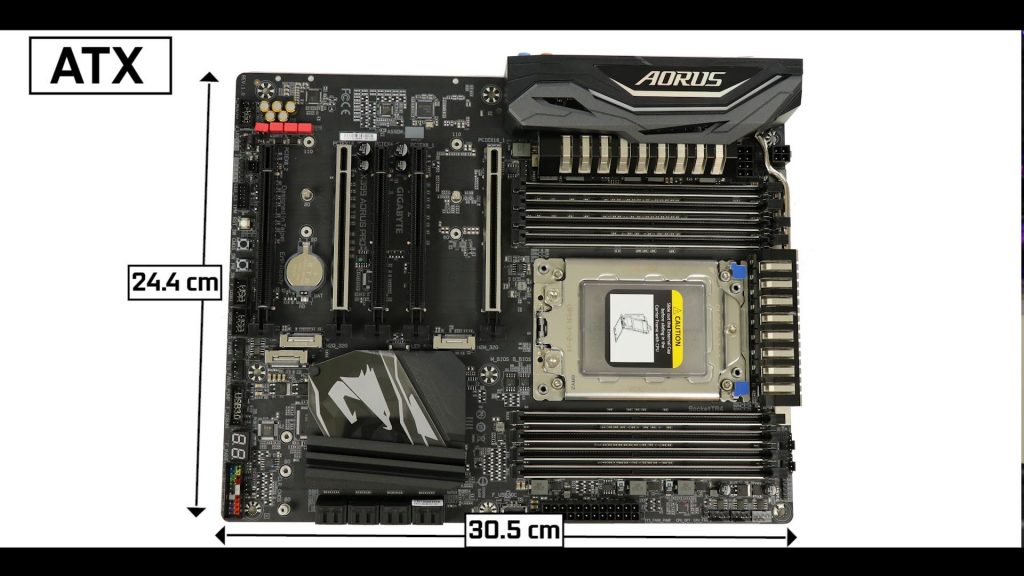 It will fit in virtually any case you can throw at it.
Socket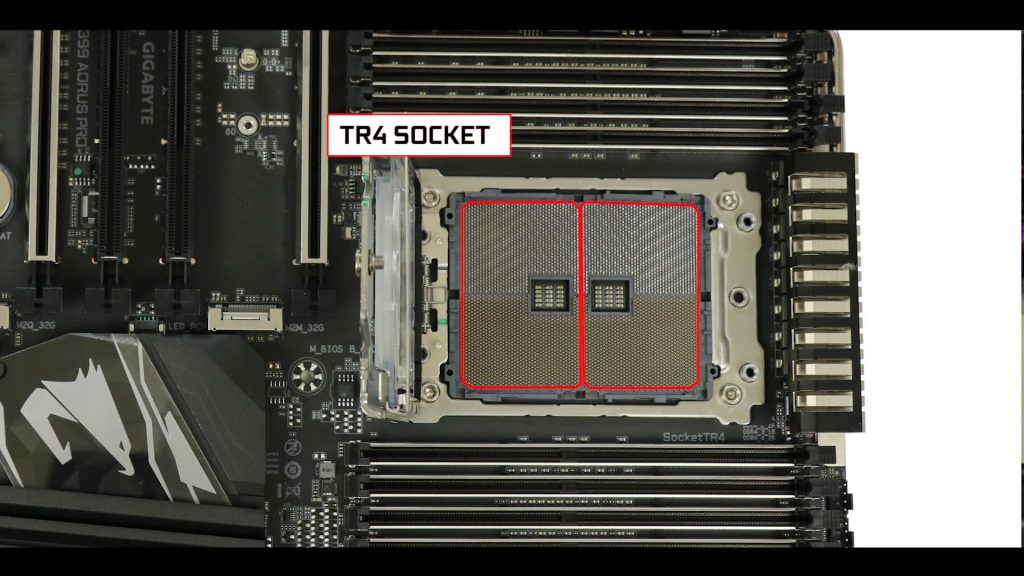 Equipped with the gigantic 4094 Pins TR4 socket from FOXCONN, the X399 AORUS Pro supports both 1st and 2nd generation of Threadripper processors.
VRM
The X399 AORUS PRO  comes with 13 50 AMPS phases, 8 of which are dedicated to your CPU.
Without being the most aggressive over-clocker on the market, the X399 AORUS PRO will be able to optimally run Threadrippers processors.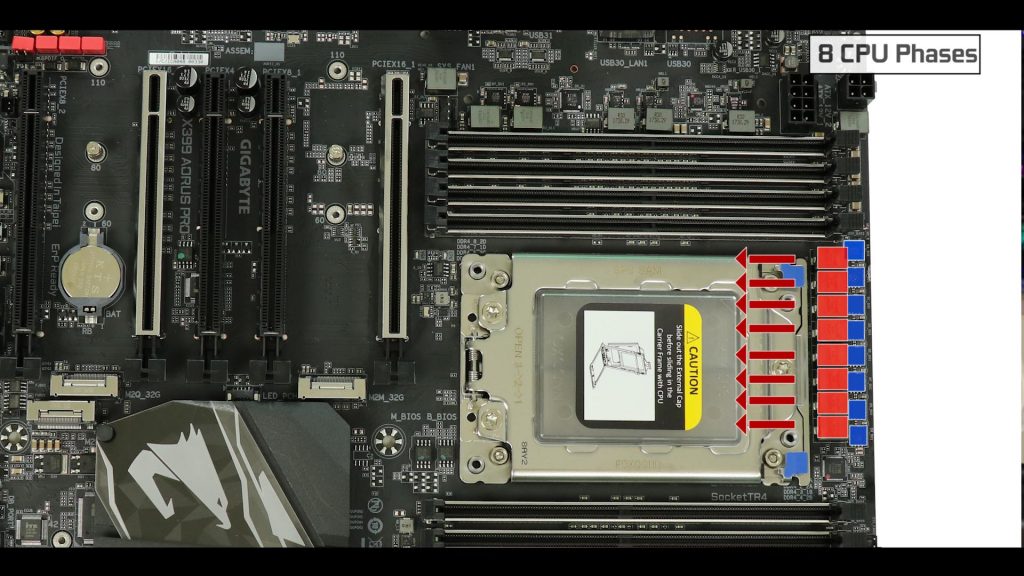 This said, if you are on the market for Overclocking a 32 Physical core, you might want to upgrade to something a bit beefier.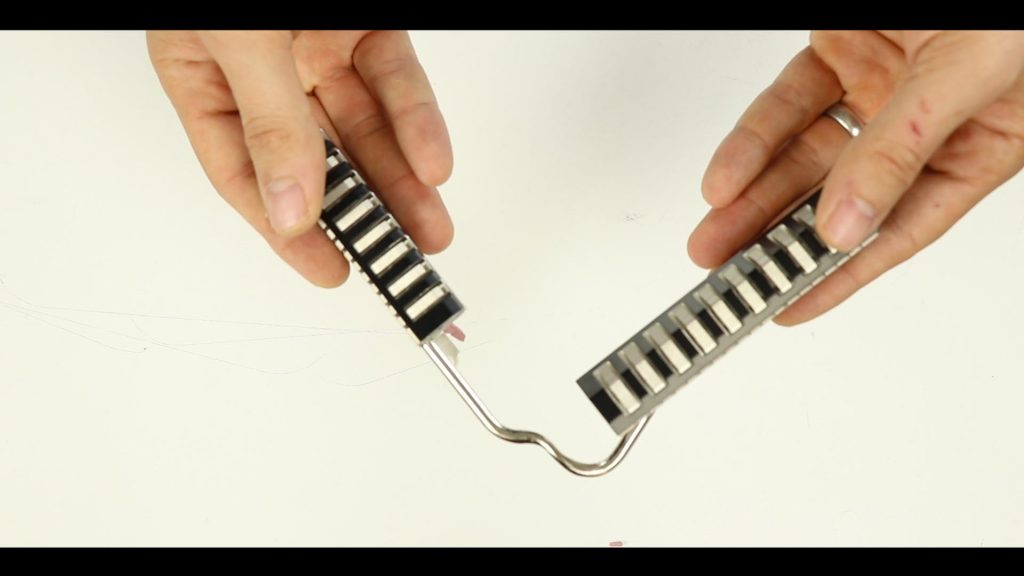 Heat-sink wise, Gigabyte provided this board with truly premium and particularly efficient fin-design heat sinks.
Both heat-sinks are linked by a hollow tube to help help air circulating from one to another.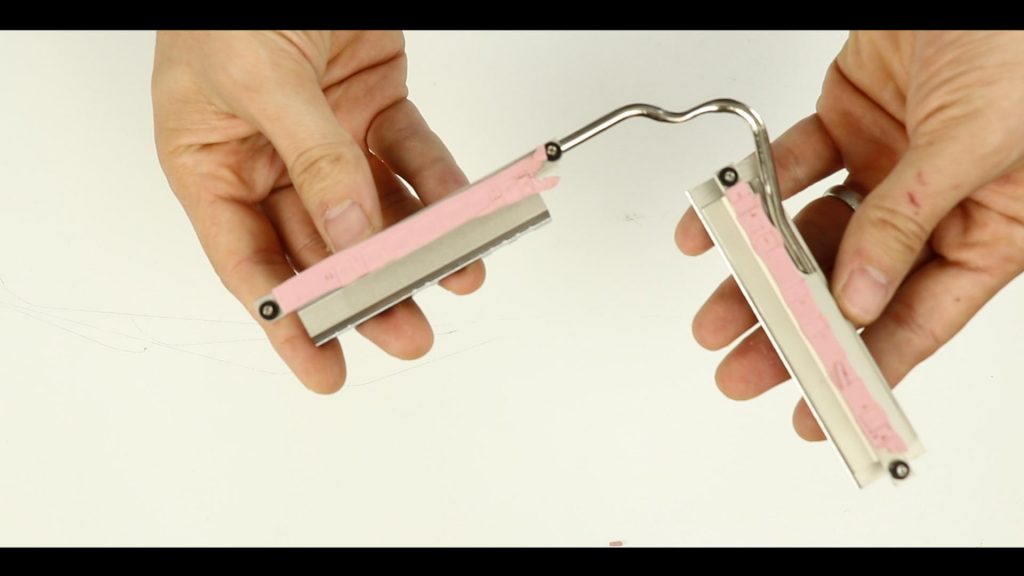 They do have an additionally therm-padded layer on the CPU phases, which was a very wise move given the fact that having only 8 phases might have meant VRM over-heating.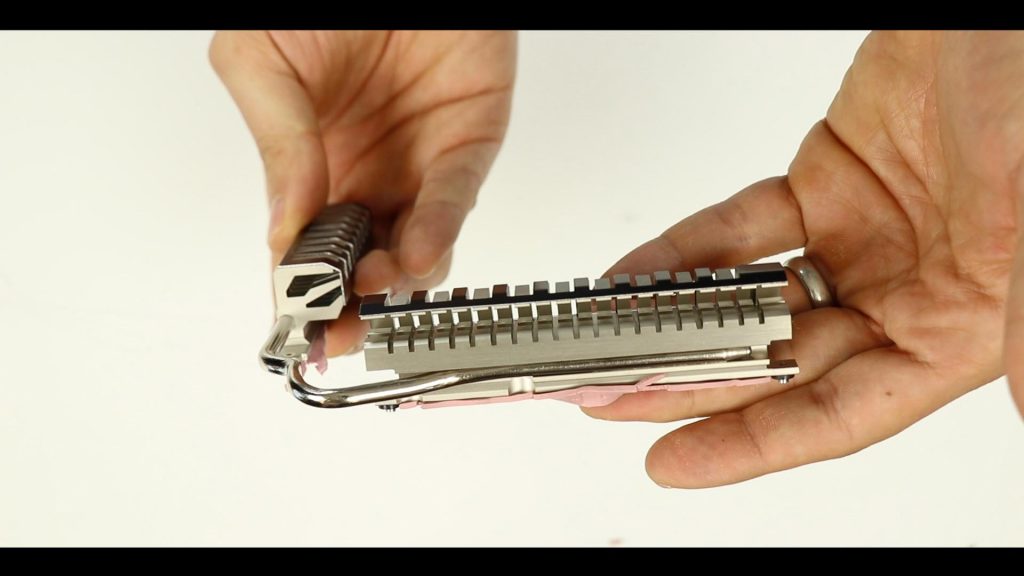 But overall, they do a great job at radiating away all that processor drawn heat.
RAM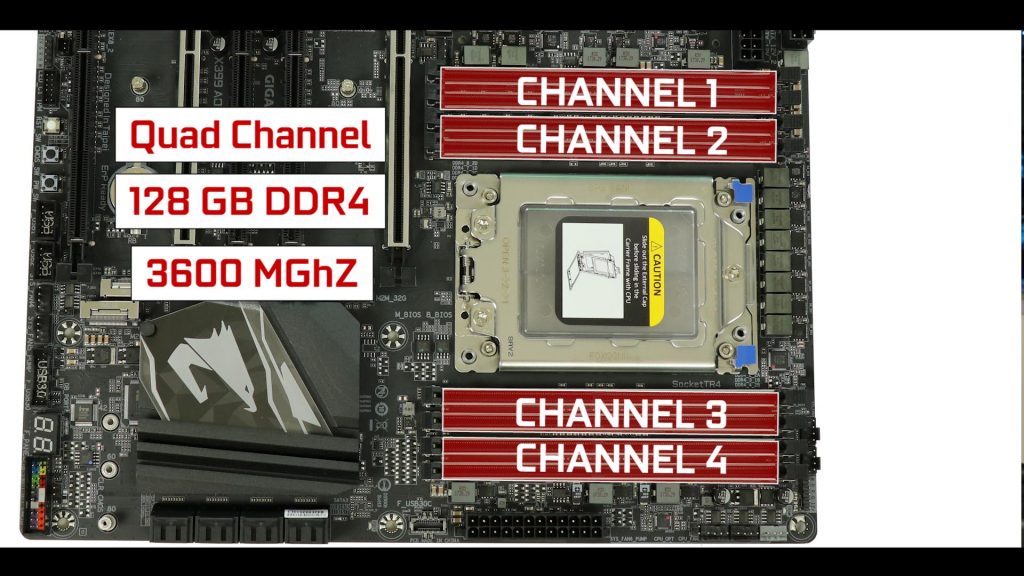 RAM wise, we have the usual octo- slot quad channel configuration.  It will support up-to 128 GB of DDR4 RAM at a stable 3,600 MgHZ.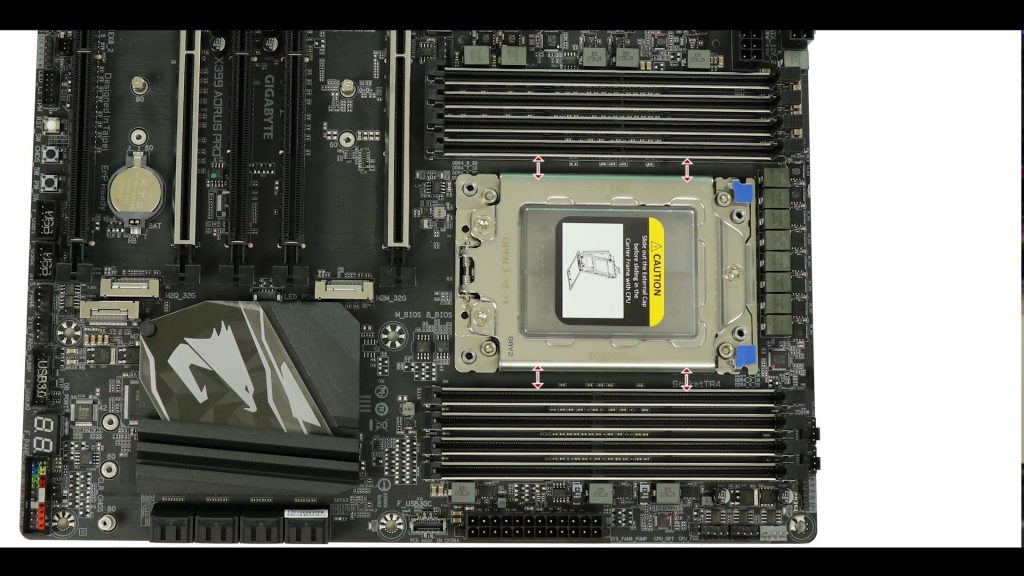 I do regret that particularly narrow space between the TRY sockets and the RAM slots. If you are going for air cooling, and given the rather massive Threadrippers air cooler currently available, they will probably obstruct some of your RAM, making any memory change somewhat labor-intensive.
M.2 SSD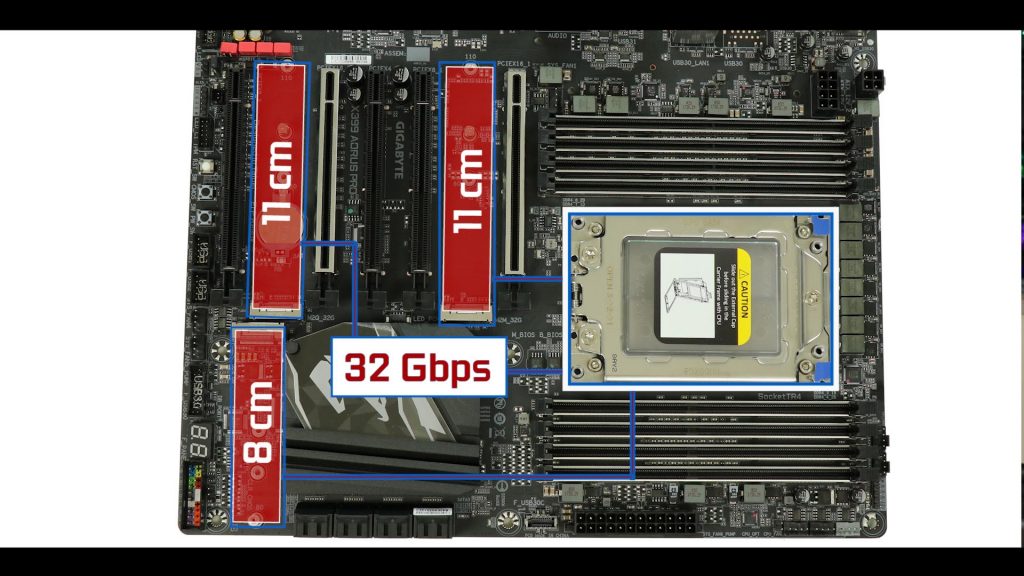 Storage wise, we have three M.2 SSD connectors!
All of them have direct access ot the CPU, so no spcific emplacement for a boot stick.
They can all transfer data up to 32 Gbps individually (x4 SATA), but note that it will likely incur some overheating and therefore, indelicate thermo-throttling.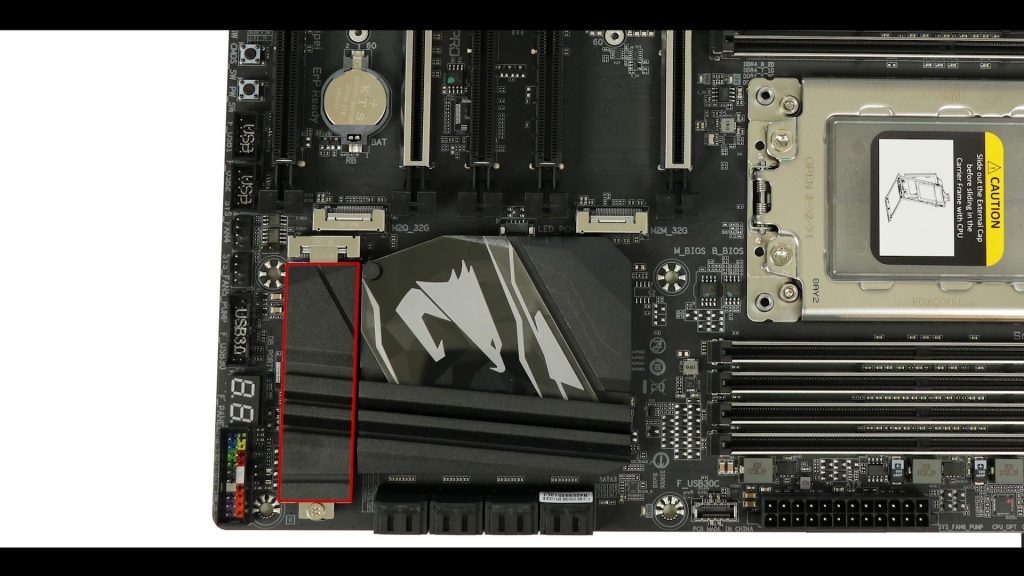 That is precisely why the smaller and denser 8 cm stick is equipped with a rather thick and heavy padded thermo-shield, which does a great job at radiating away extra heat.
That is where I would recommend to place any M.2 SSD bootable device.
With this kind of theoretical transfers, do not be surprised to see your M.2 SSDs sticks overheating, and thermo-throttling.
SATA 3.0
X399 AORUS PRO WiFi SATA connectors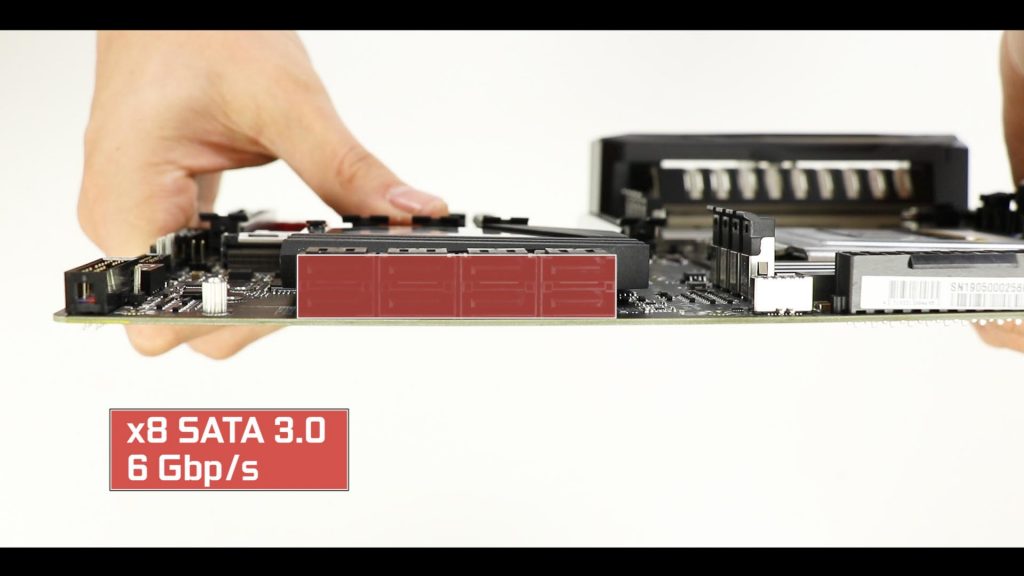 For more classical storage solutions, we have our usual SATA 3.0 plugs. 8 in total, with a transfer rate of 6 Gbps each. They can be configured to run into a 0,1, or 10 RAID configuration.
PCIe Lanes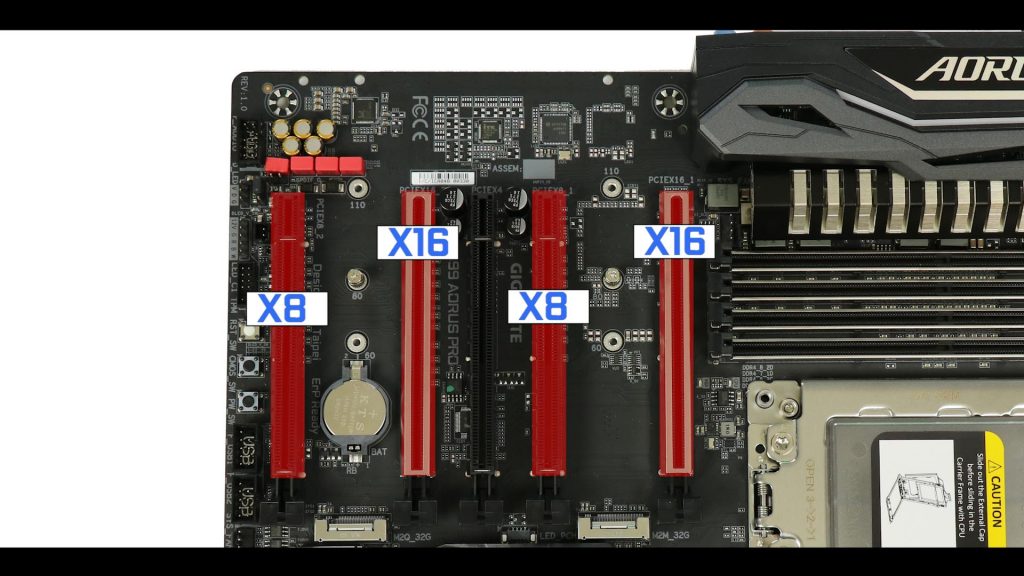 The X399 AORUS PRO WiFi has 5 16 lanes 3rd Generation PCI expresses.:
Only the metallic re-enforced 16 lanes PCIe slots can operate up to 16 full BUS speed. Therefore, this is where your video card, dual video-card configuration, should be placed for optimal performances.
We have 2 additional 8 BUS 16 lane PCIe slots whic ca, if necessary, support a 3rd or even a fourth GPU for a 3 or 4 way Crossfire or SLI configuration!
The 5th PCIe slot, at the center of them all, has been capped at 4 BUS speed for other non-GPU exports.
BACK IO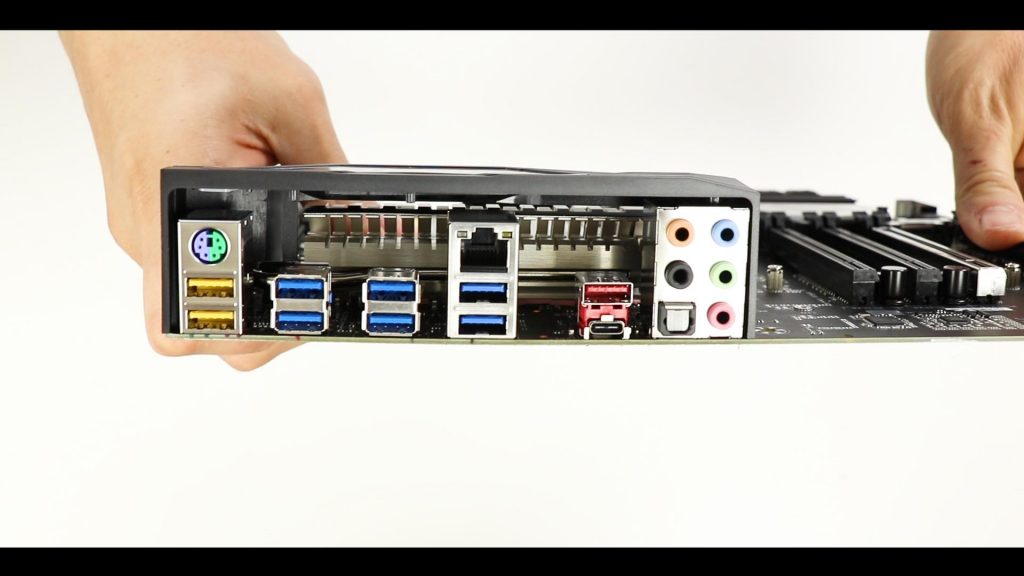 First, let me note that we do NOT have an integrated I/O shield, which I regret Does not cost much, and really makes things easier for all of us builders.
Starting from the left, we have :
PS2 Keyboard / Mouse
x2 USB 2.0 RX/TX 480 Mbps / DAC  to isolate USB based audio devices from electric interference (very happy to see this)
x6 USB 3.1 1st Gen. RX/TX 5 Gbps
x2 USB 3.1 2nd Gen. ( 1 type A + 1 type C) RX/TX 10 Gbps
x1 Gigabit  LAN
Realtek ALC1220-VB, 7.1 channels
AUDIO and Capacitors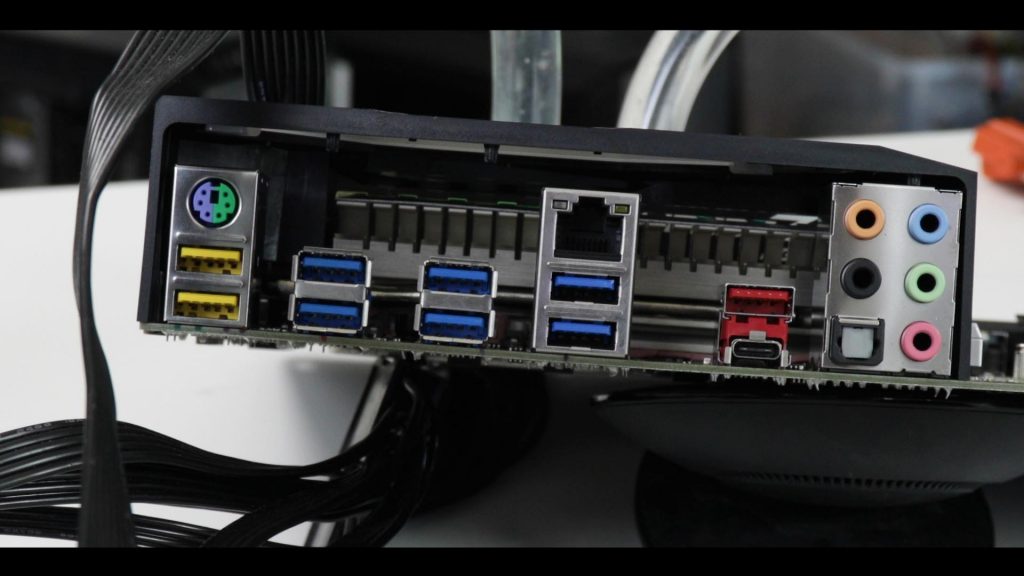 The X399 AORUS PRO  is equipped with the excellent ALC1220-VB Realtek Codec.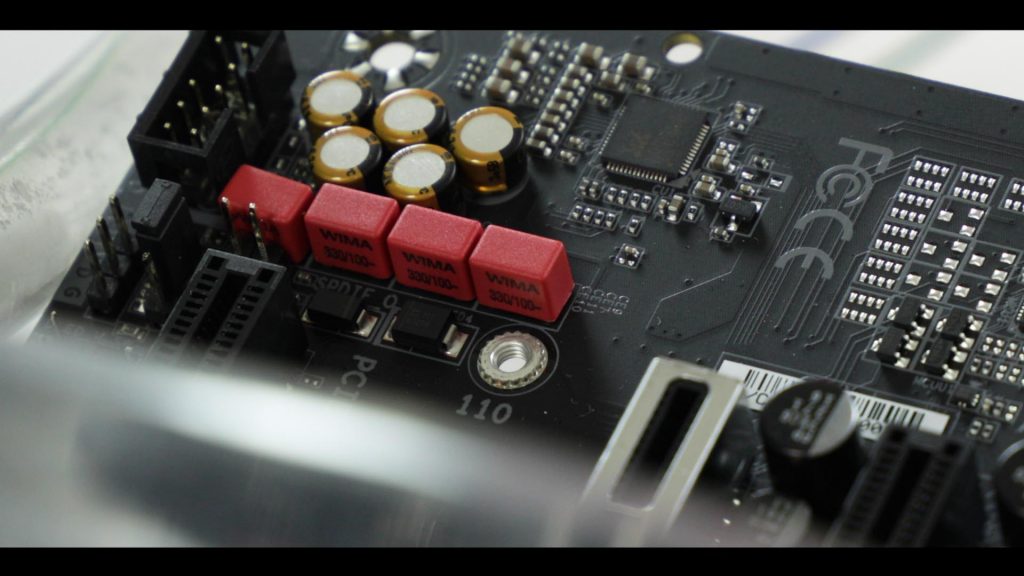 and indeed it is doubled with  WIMA FKP2 capacitors which will deliver crystal clear, interference-free sound. Heavy and pure bass.
This is something we don't usually on boards at this price range. Someone at Gigabyte seems to like its sound!
Front Panel connectors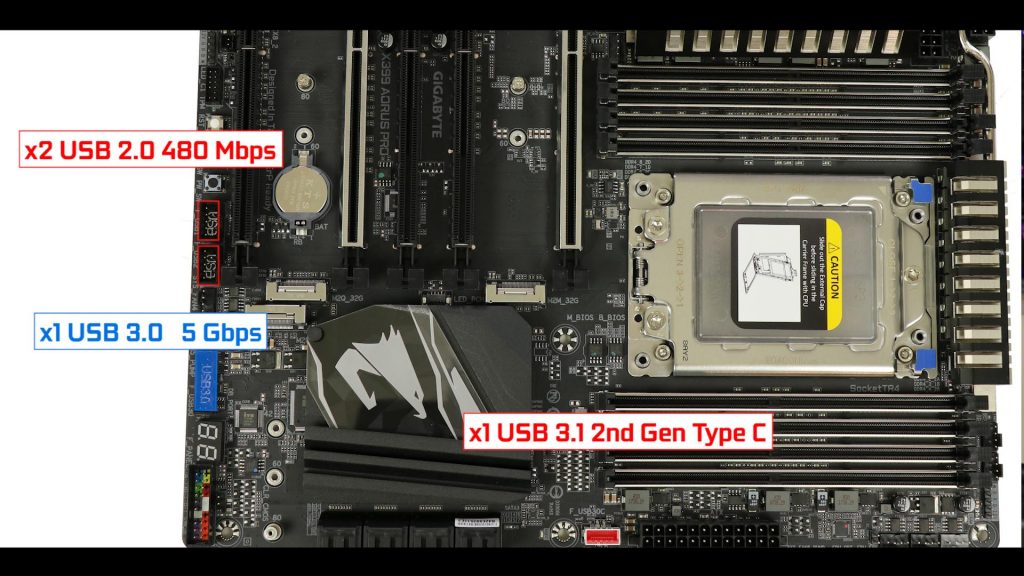 We have one USB 3.1 2nd gen type C front panel connector (10 Gbps) as well as a USB 3.1 1st gen type A (classical) front panel connector.
In addition, we have 2 USB 2.0 front panel connectors. Worth noting, these are not only relevant for data transfer, but they are also very useful for All-In-One water pumps energy supply and PWM abilities, or for Intelligent PSUs for in and out wattage readout / monitoring.
Fan & Pump Connectors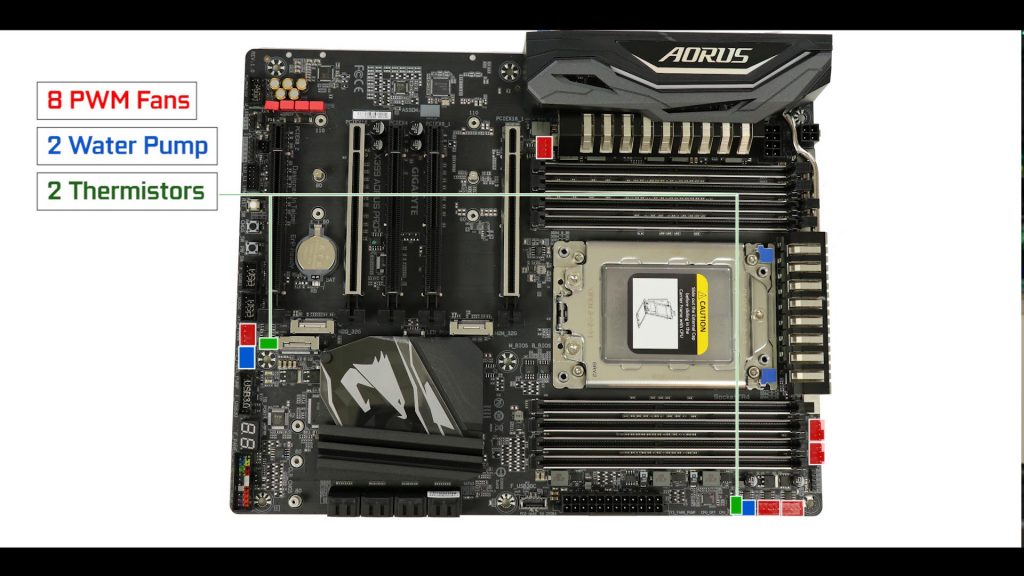 We have 8 nested fan connectors. 2 Of which are Water-Pumps connectors as well, and 1 compatible with All-in-one CPU coolers.
In addition we have 2 temperature sensors very well placed right on top of the Water-Pump connectors. In addition,  particularly like the well-spread layout of the connectors. They are all easily accessible, no matter your setup!
Kudos to Gigabyte for this.
So indeed we can comfortably operate a dual custom water cooling configuration with this board at the heart of it all! And given the Threadripper notoriously bad thermo throttling behaviors, it is what gigabyte needed to deliver in order to take this board seriously.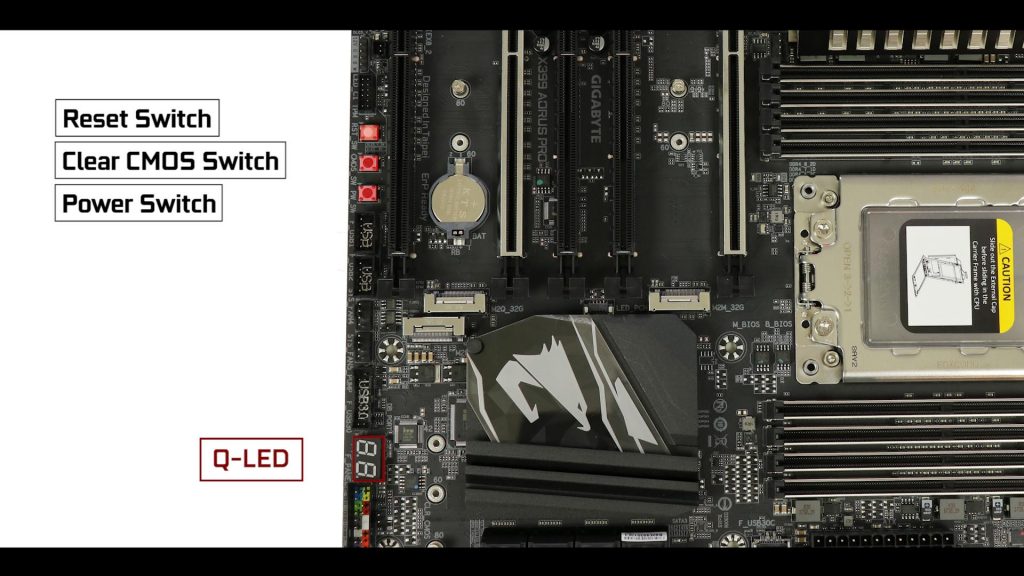 Control and troubleshooting wise, we have
A RESET switch,
A clear CMOS switch
And a power switch, witch I find a bit small, and would love to see back-lided in the next evolution of this board.
Most importantly we do have a QLED screen which is crucial in order to quickly diagnose and troubleshoot a boot failure.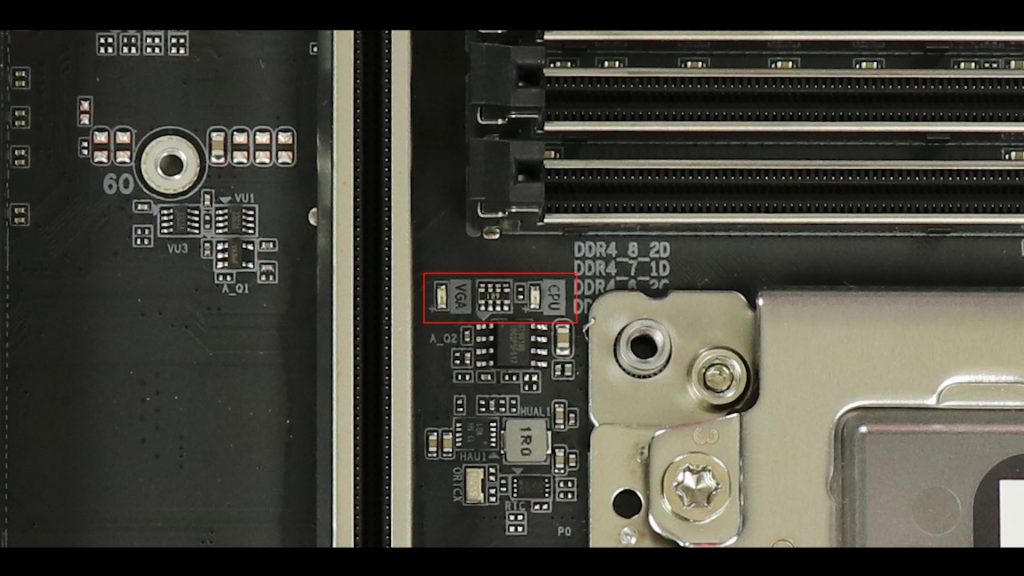 It is refined and supported by 2 led short debugger which will indicate at what stage your boot sequence got stuck.
RGB FUSION 2.0 Sync Effect
RGB wise, the X399 AORUS Pro comes with a minimal setup.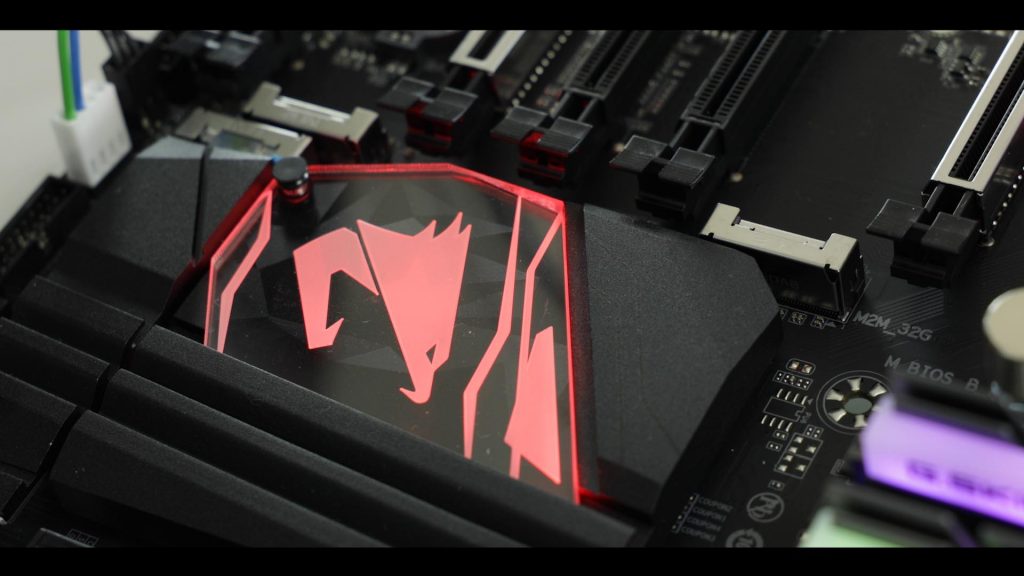 IO heatsink
The only RGB soldered strip is hidden under the Chipset Heatshield.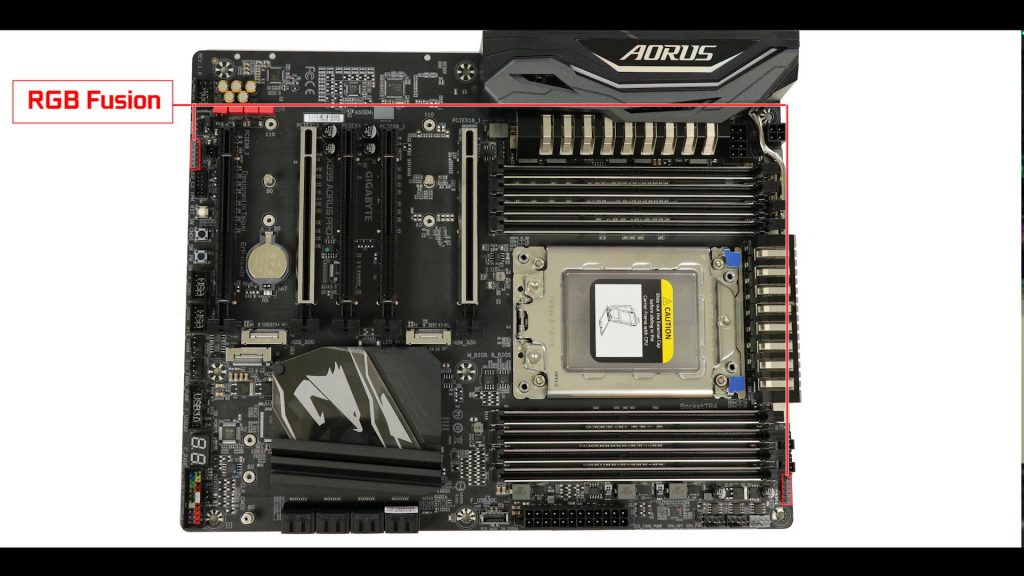 If you do want to restore some what of a RGB craze on your build, you have no less than 3 RGB connectors
2 classic RGB connectors here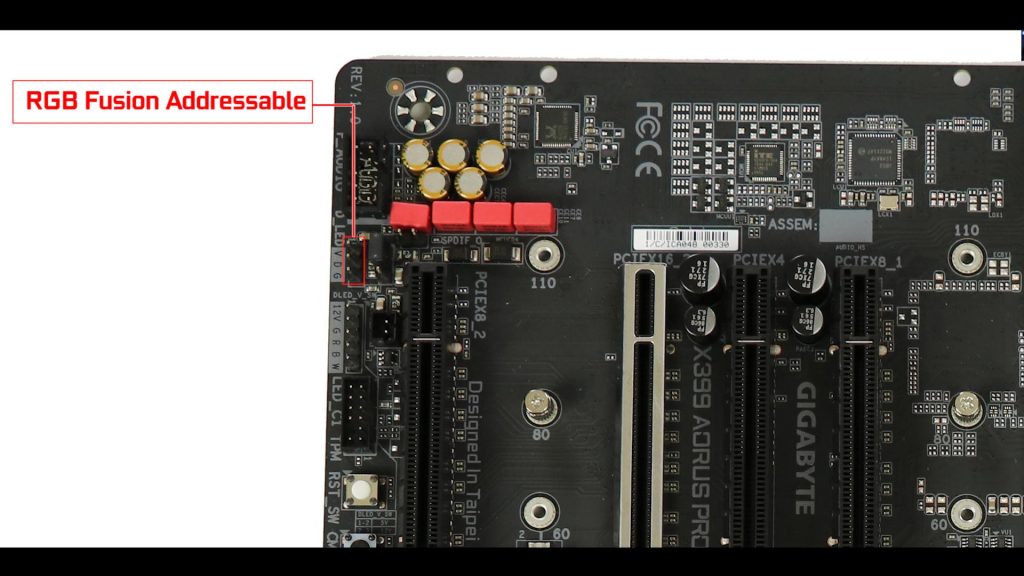 And 1 Addressable RGB connector right there!
Note how they have been places by opposing pair at the board extremities, once more allowing easy access and RGB setup in any possible build configuration.
---
Conclusion
The Aorus X399 Pro will cost you about 280 USD before taxes. It is  to the best of my knowledge the most affordable Threadripper board out there.
If you are looking for an insanely extreme Threadripper build with over-kill overcloking, dressed in RGB, shield and plates, this is not the board for you. For one these boards will cost anywhere between 100 buck to 300 bucks more than the Aorus X399 Pro.
No, instead this board tries to filter out all the glitter and keep the absolute necessary features to run your Threadripper to its best possible performances.
Balancing absolute necessity with the most modest price tag possible.
And straight to the point it does that!
Gigabyte achieved that delicate balance without sacrificing any of  the core features as well as on the premium-ship of the board itself.
Sure, they have been some sacrifices, we don t have an integrated shield, there is a very symbolic RGB presence on the board, only 2 PCIes have metallic re-enforced, only one M.2 SSDs has a heat-shield,  and of course, no WiFi or Bluetooth.
But these are not vital to the good running of the CPU.
The board has focused its limited budget on what truly matters namingly :
A solid 8 phases VRM
Fin heatsinks
An extended custom water cooling support
A real solid and premium manufacture
Multiple troubleshooting features,
A well furnished IO
Soldered buttons
A Dual BIO feature
And everything you will need to run a proper Threadripper build.
My only real critic would be the lack of room between the CPU socket and RAM channels, in the fear that a CPU fan coolers will obstruct access to some of the RAM  Dimms… but if you want an ATX board, this is the price to pay.
Overall gigabyte did pretty darn good on their promises and did deliver.
And at this price point Gigabyte obliterated its competition! Obliterated.
So if you are on the market for a budget Threadripper board, this is as a low price you can go, without sacrificing what makes the Threadripper such an amazing processor.
QUICK OVERVIEW
CPU & northbridge support
Supported Processor
1st & 2nd Gen.  AMD Threadripper
Chipset
X399
CPU socket
TR4
Memory
Slots
8 (quad channel)
Max System Memory (Gigabytes)
128
Memory Technology
DDR4
Maximum Clock (MgHz)
3,600
Connectors
USB 2.0
4 on back IO 2 on-board
USB 3.1 (1st Gen)
3 on back IO + 1 on-board
USB 3.1 (2nd Gen)
3 Type A/C on back IO + 1 Type C on board.
LAN
1 Gb/s