PFI : Product – Feature – Innovate
AOC just released its latest model of it gaming-centric  Line-up, the AGON AG273QCX. It is a crowded market segment and at 500 USD and up price-point, manufacturers have to both deliver an almost perfect Product, Feature rich experience and Innovate, all at once.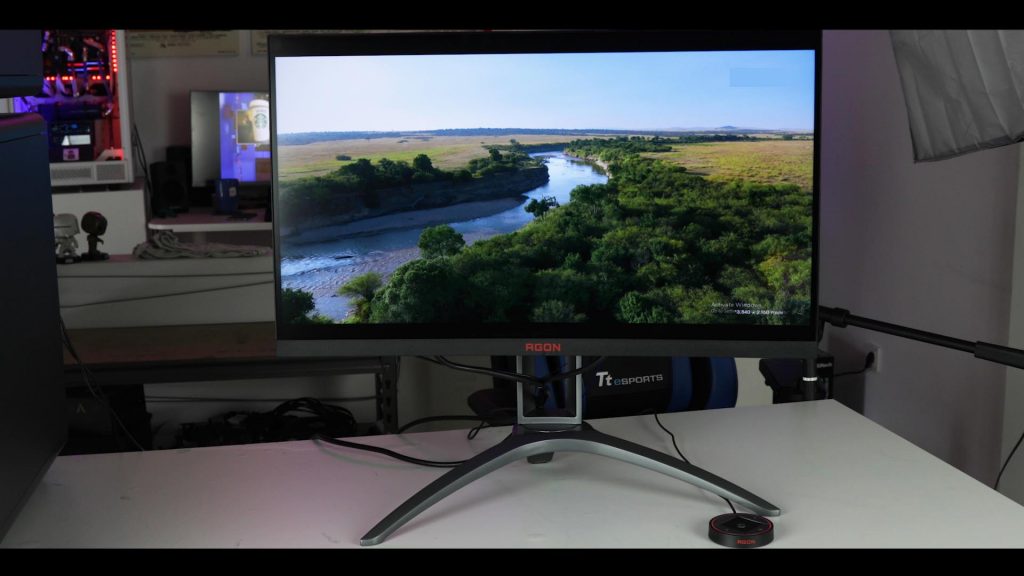 Only by perfectly balancing the three, a brand can impose itself and even, though rarely, become a reference.
The Design  (or the P for Product)
As in previous AOC screens I have reviewed, the base and upright column are made from solid aluminum and are reassuringly solid once assembled.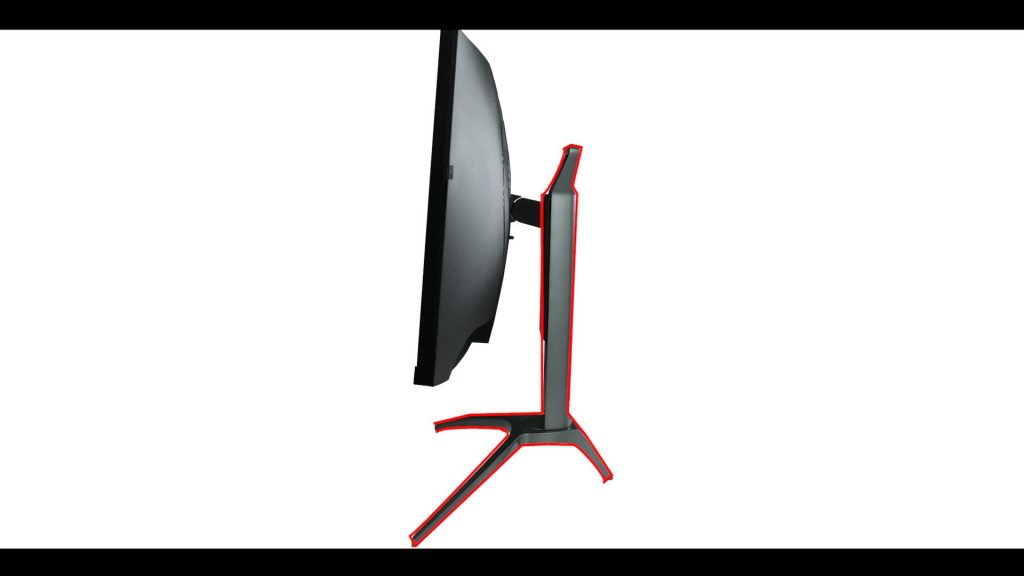 The base and support frame are made in solid sanded aluminum, and give that robust heavy duty feel to the all structure.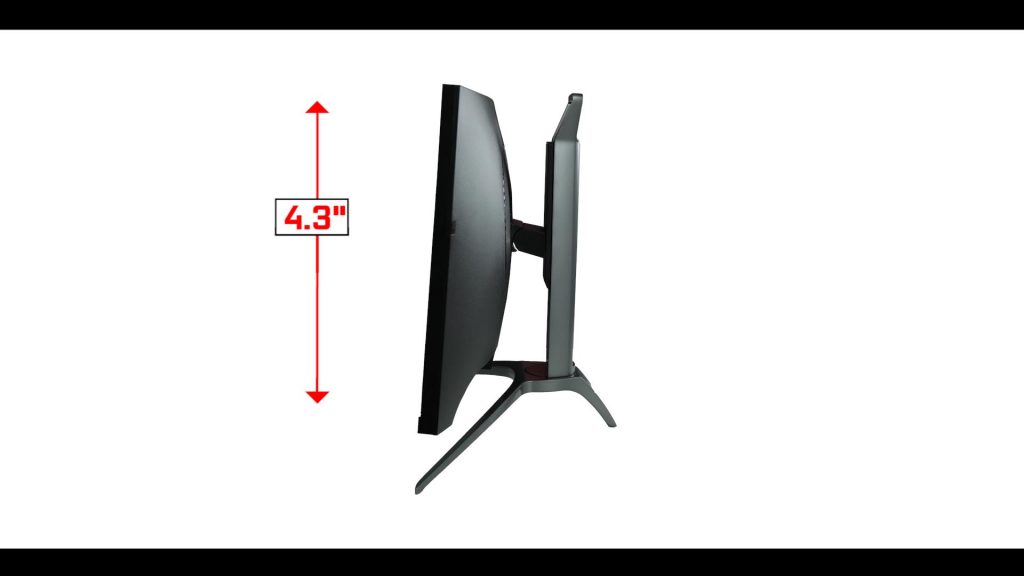 There's 4.3" of height adjustment along with 30° swivel to each side,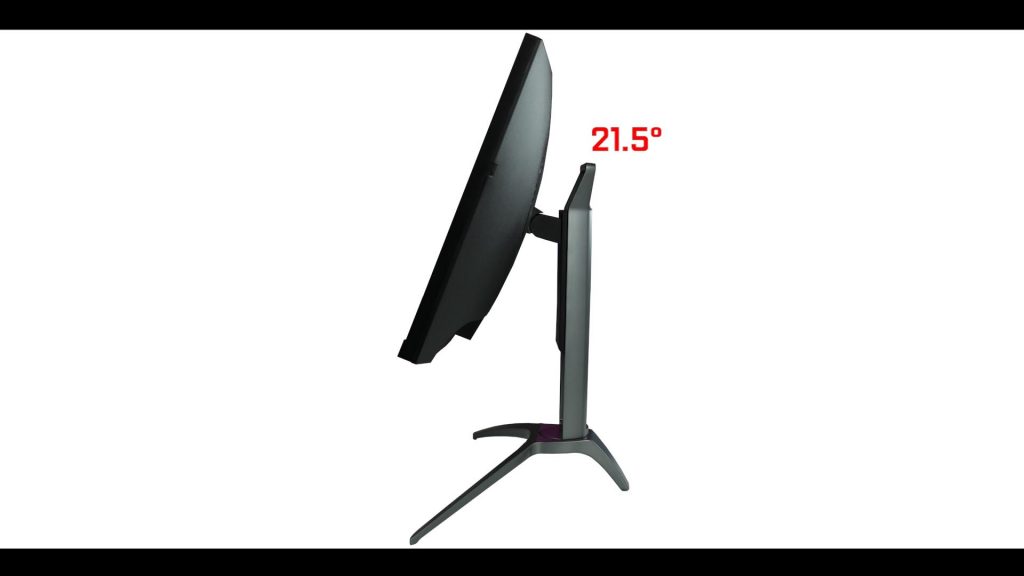 21.5° back tilt, and 3.5° forward.
As usual, Every adjustment feels smooth. No rapid transitions from a state to another. Only butter.
I do regret the absence of the position tracker previous AOC Agon  screens had on their column side. A very useful feature which helps to reproduce precise adjustments. Something pro gamers did value.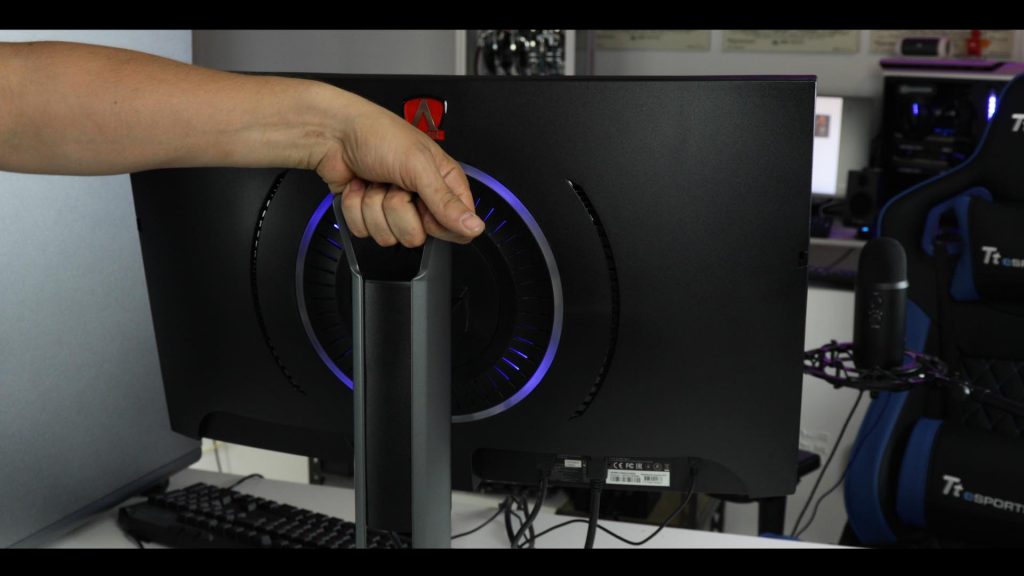 We also have that handle on top of the column, and despite being an ergonomic improvement, it can be dangerous to hold your screen through it. Not the most balanced design ever.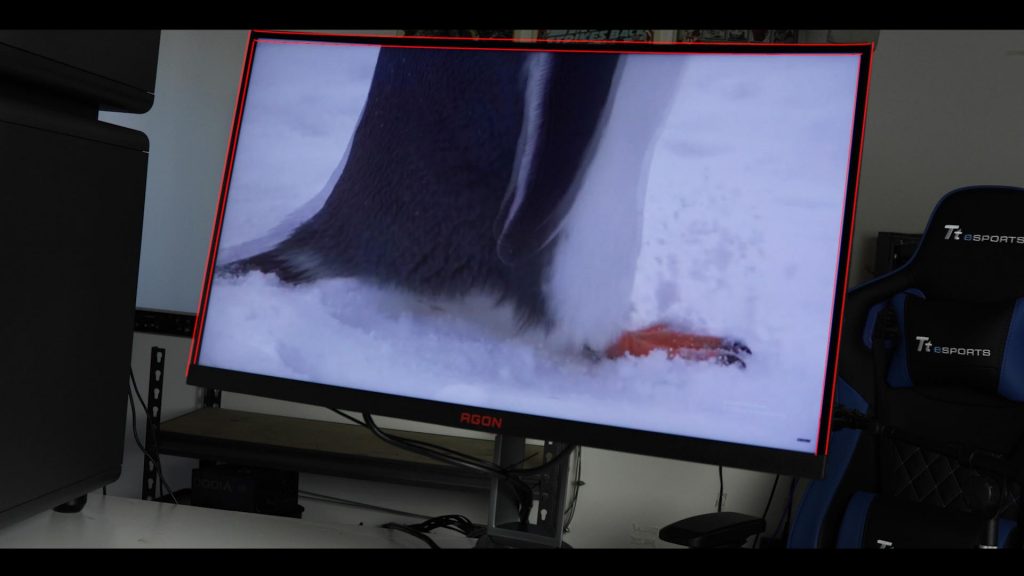 We have a razor-thin 7.5mm top and side bezel which gives that infinity-screen feel to this beautiful curved panel!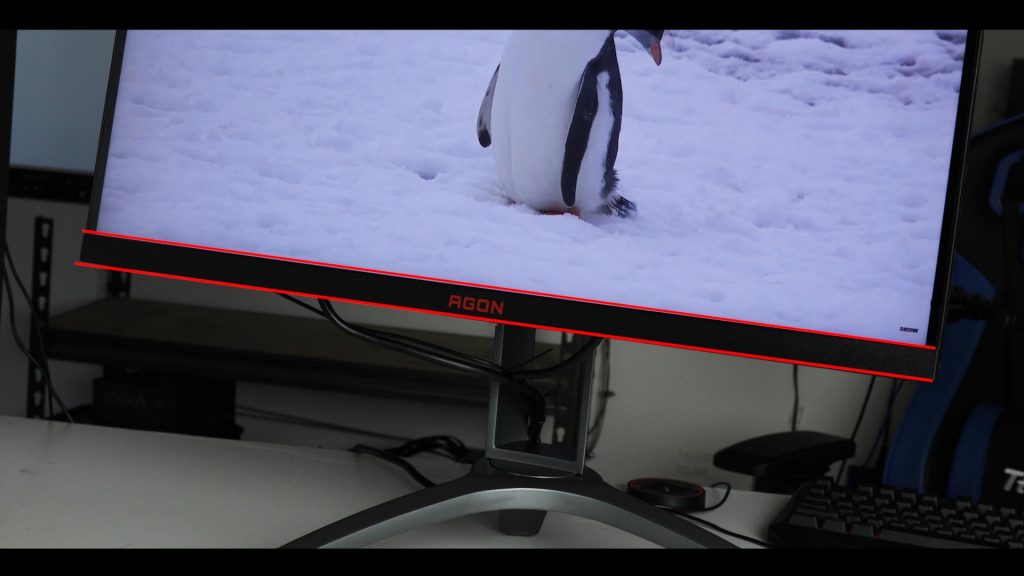 But I'll notice a rather very large 20 mm bottom bezel, which is at odds with the otherwise minimalist design.
Not sure what you are hiding behind this AOC, but on your next try, I want you to lose some of that bezel waistline!
On Screen Display Control  (or the F for Features)
We got a twin On Screen Display control.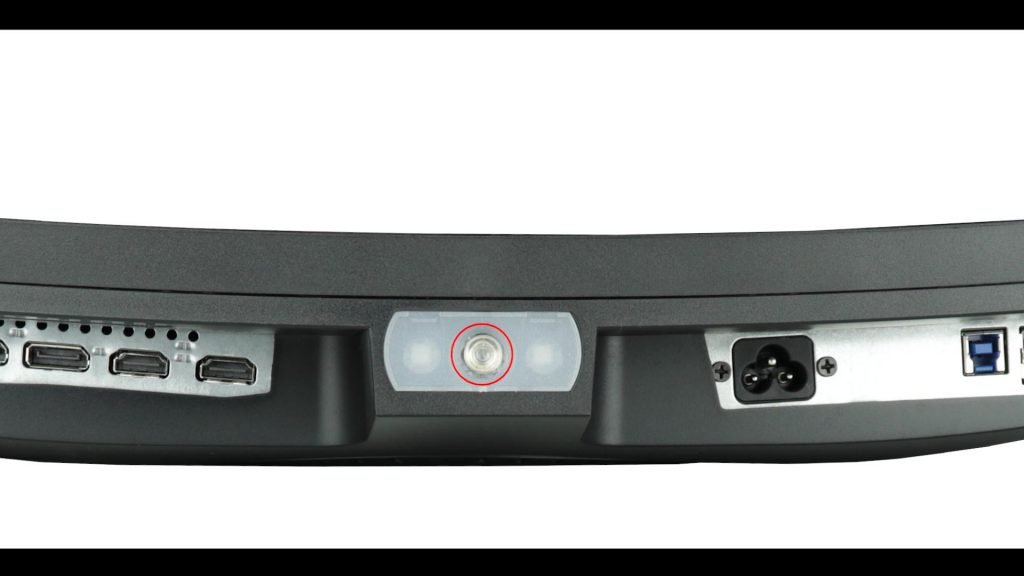 One placed in the center of our screen presented as a small and practical joystick. Makes it easy to navigate through the rather complete and feature packed menu.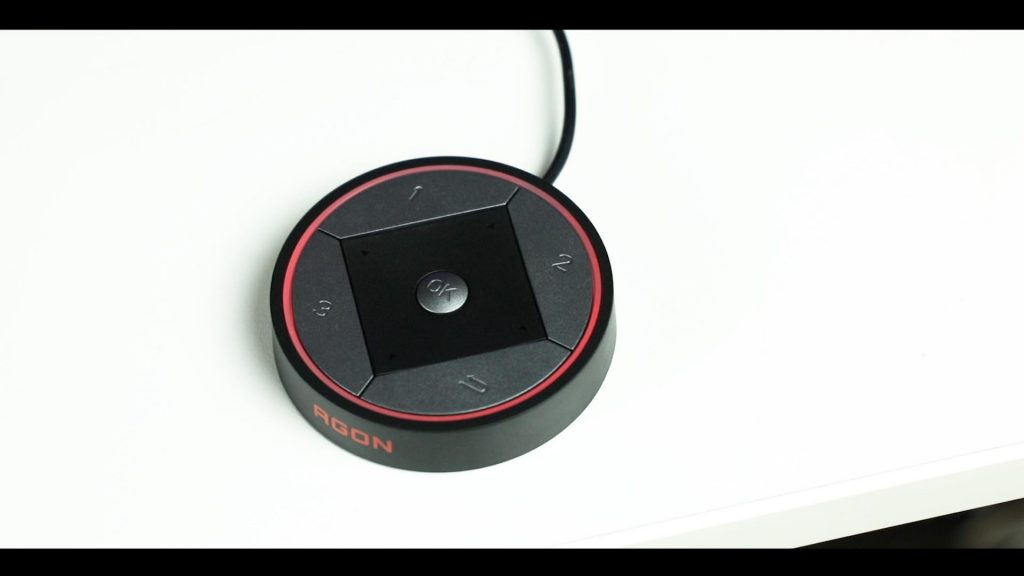 We do have a 2nd Onscreen_Display Control coming as a wired remote control which gives us direct access to the screen main features, through large big fat buttons.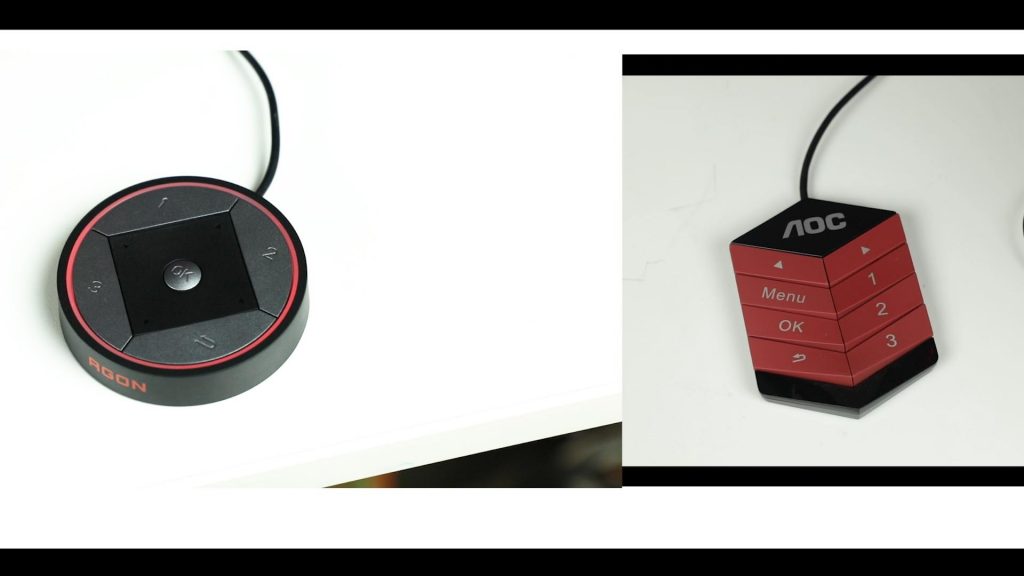 Compared to its previous iteration, It simply is a more research, manufactured and refined piece of hardware.
In application, the remote is a life saver when it comes to adjusting screen setting in the middle of a game. Absolutely loving it and hoping to see this feature is bleeding-out through the industry!
Display input & Connectors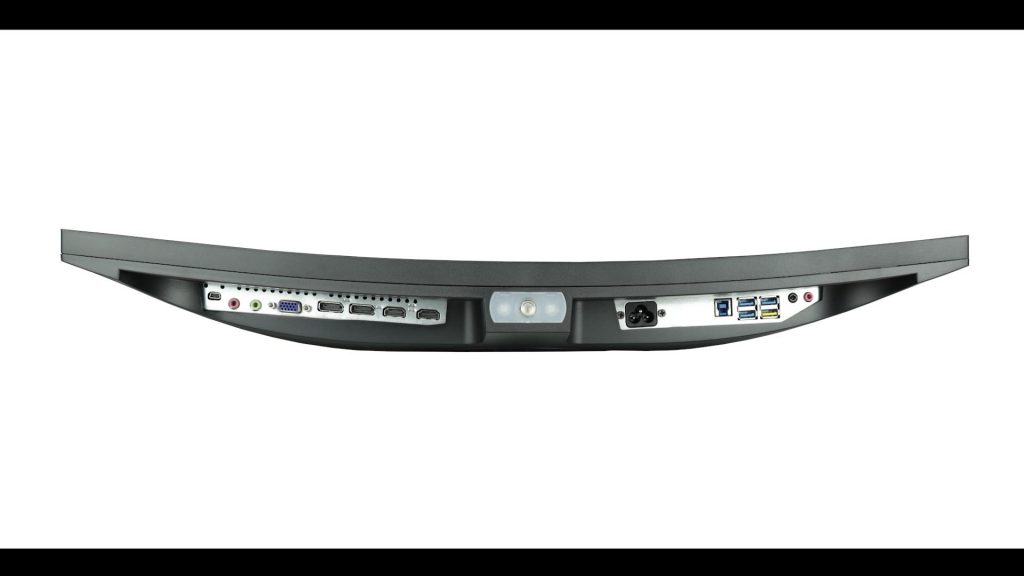 x4 3.1 USB 5 Gbps connectors (the yellow one is a DAC USB. Any USB-sound peripheral connected here will be protected from any kind of electrical interference. It's also a fast-charging port for your phone!
audio mic and line in input on both of the sides of our monitor for an improve access!
x1 VGA output… just in the case, you'd want to run this bad boy on a 486… only the wise and elders amongst you will get that joke!
x2 2 HDMI 2.0 (HDR , 144 Hertz)
x2 impressive 1.4 display ports! (144 Hertz)
A total of 5 independent sources on one single monitor… say whaaaaat!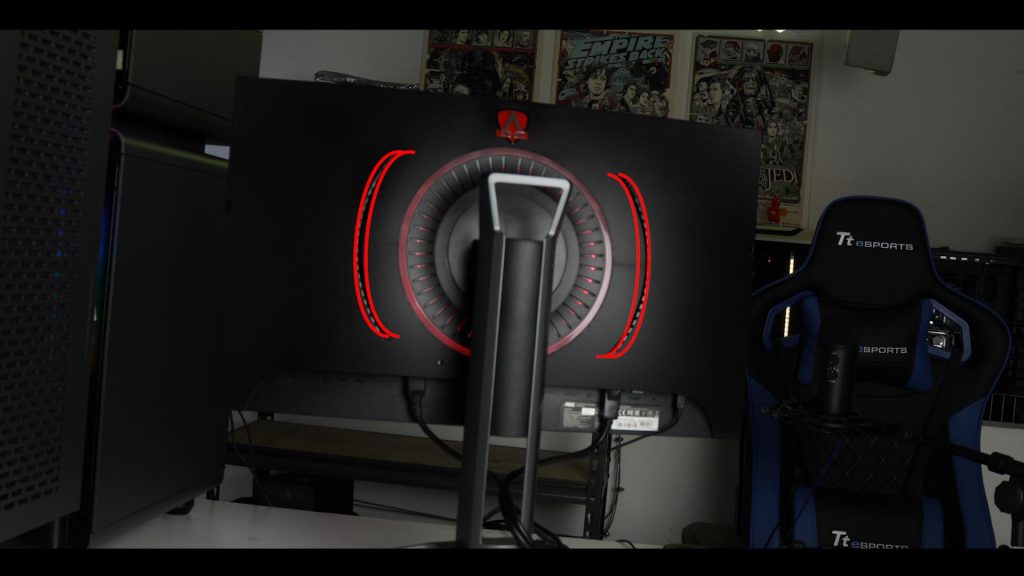 Let's note a somewhat symbolic pair of 5 watts speakers. Nothing you can game with but definitely useful for some troubleshooting!
And how to ignore the LED ring right under our rather imposing AGON Logo!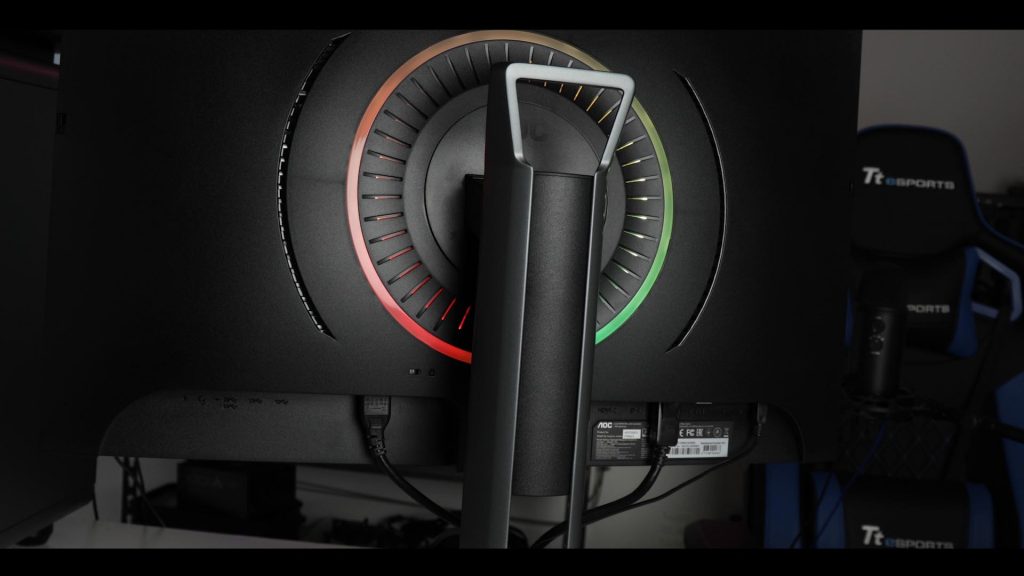 It shines, it rolls, and in any given colors! Like a wise-man once said, its behind looks better than the front of some monitors!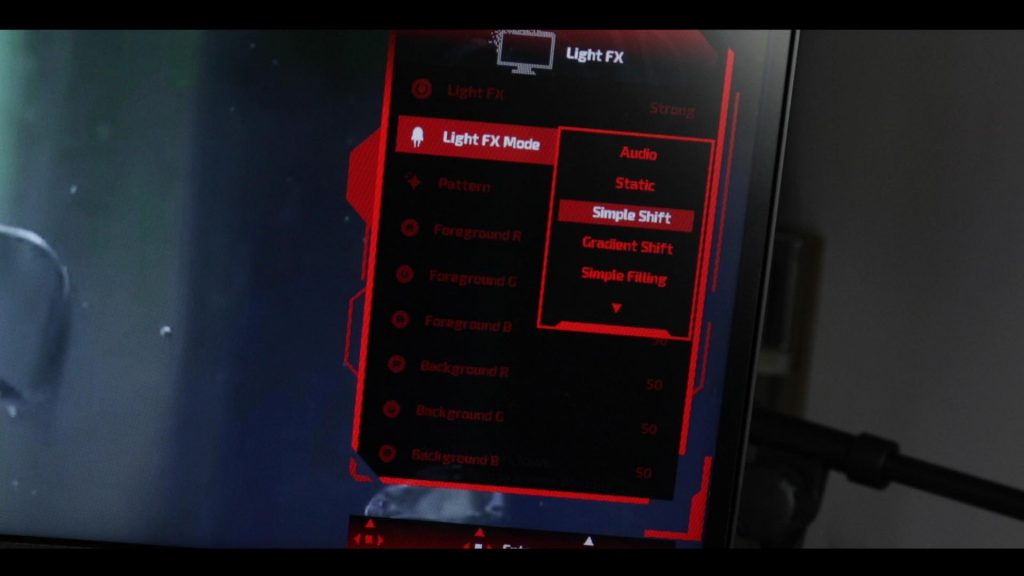 You will be able to control its different lighting effects through AOC well featured menu.
The Panel (or the I for Innovation)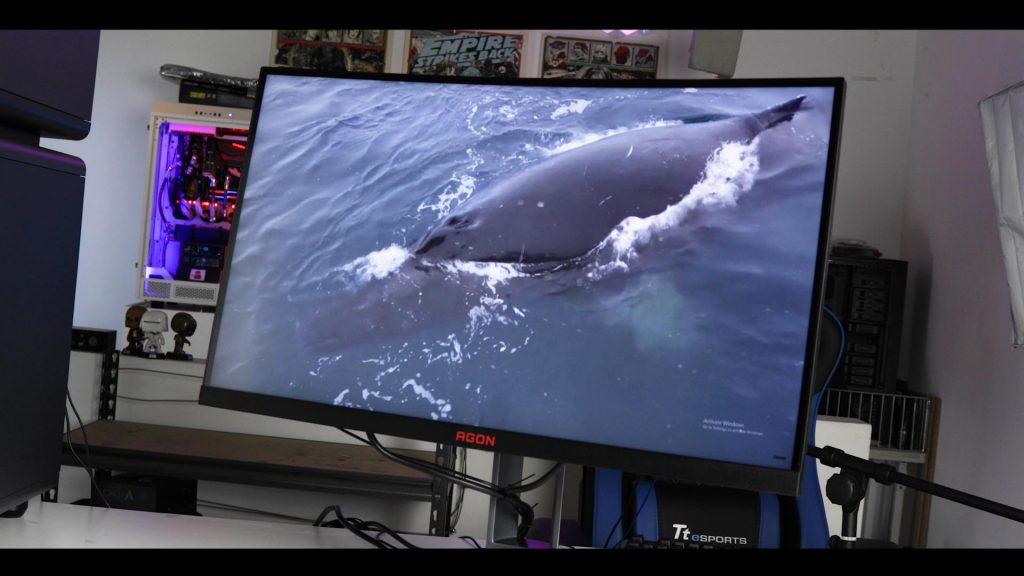 In one short breath, we are dealing with a Samsung made  QHD ( 2560 X 1440 ), 27″ curved SVA panel, with 144 Hertz refresh rate and a 1 ms panel response time.
And indeed there is a to unpack :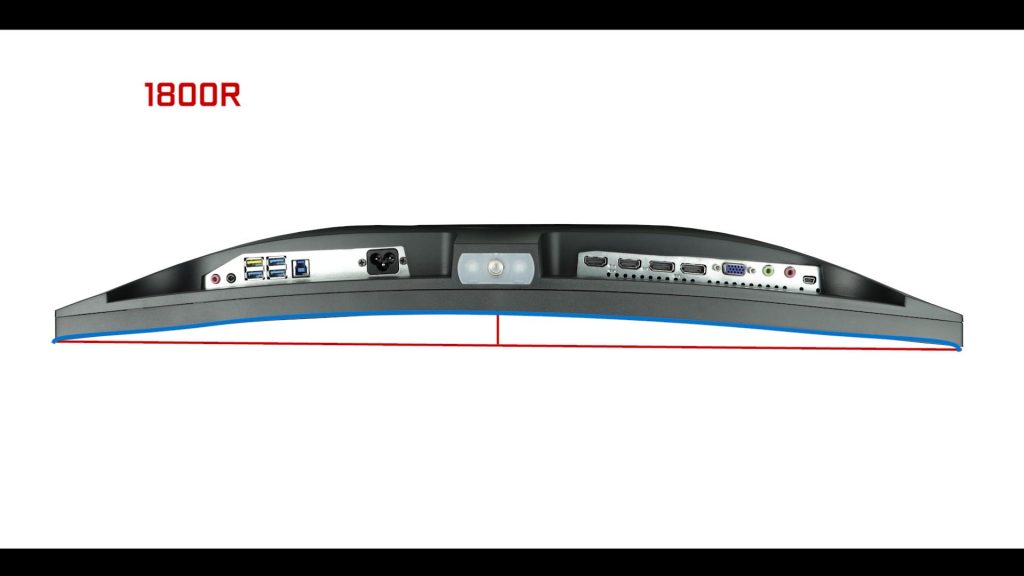 Our  27″ Samsung Super Vertical Alignment panel serves a 1800R curve, meaning a tighter curve, which, given the small screen size, makes sense.
Super Vertical Alignment panels are the latest  generation of LED/LCD screens. It comes after the IPS and the older TN screen technology, and aims to improve those technologies color and contrast draw-backs.
Pros of SVA:
A SVA panel will have a better contrast ratio, 3000:1 in our case, instead of the typical 1000:1 we will see on IPS or TN panels.
It has amazing view-angle qualities, surpassing the already high IPS viewing angle. 178° vs 173°.
Finally on SVA panel, colors range as well as color vibrancy are second to none. In many cases, this is the main drive for the technology adoption.
Cons of SVA:
it is a slower panel, with higher screen latency which makes it problematic for the gamer's community.
a premium cost compared to the 2 others technologies on the market (IPS and TN).
In our case, AOC uses a Samsung SVA panel, which was a wise choice. Samsung shows-off its manufacturing know-how and delivered through this panel a very balanced and focus product.
Not only does it keep all the SVA benefits, but somehow, as managed to give us a very fast panel, with pro-gamer grade latency.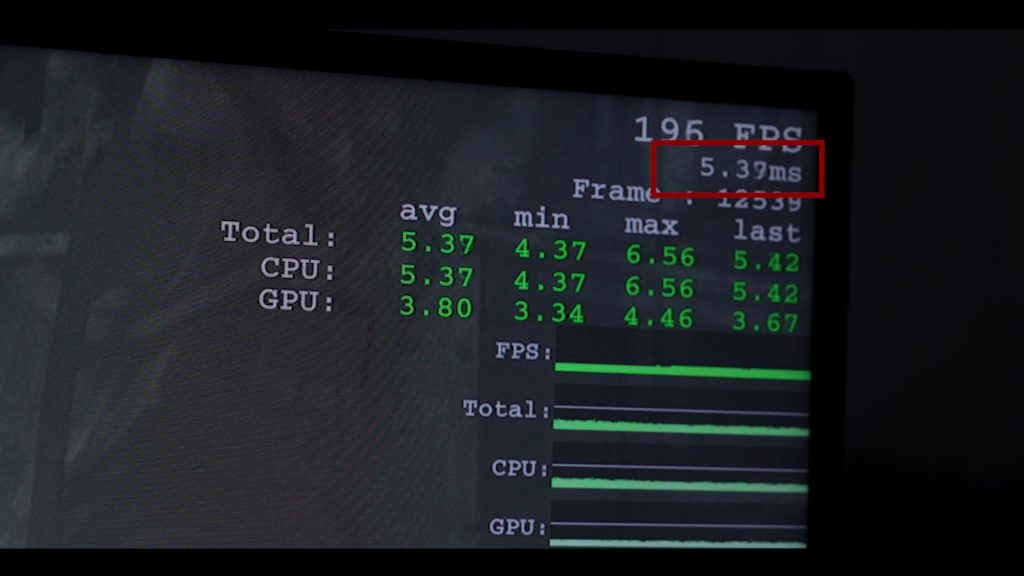 With a screen latency at 3 ms to 6 ms (rarely) in-game experience. It simply is  the fasted panel I have ever tested.
AMD Freesync 2 & HDR 400
AMD Freesync 2
The AG273QCX  comes with the excellent FreeSync 2 AMD chipset (display port 1.4 ), protecting our in-game experience from volatile fps or image tearing.  Especially important when you are dealing with high frequency gaming monitor such as this one.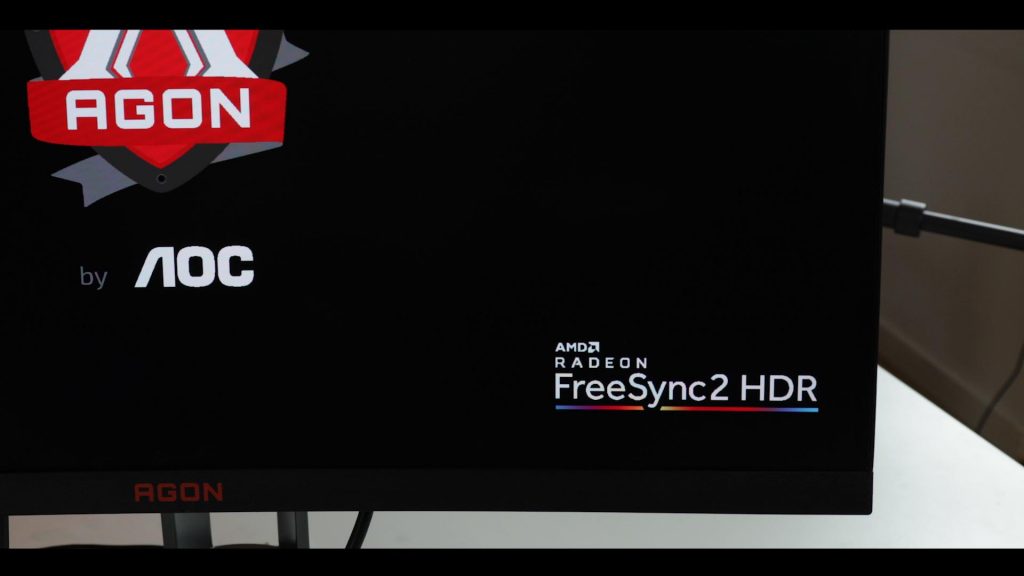 Despite not being on the approved G-SYNC compatible list, the AOC Agon AG273QCX is indeed G-Sync compatible. Your Nvidia cards will be able to G-Sync the hell out of this screen! And that is awesome on its own right!
Having Freesync 2 or G-Sync compatibility is especially important given the high 144 Hertz refresh rate the panel boasts.  And indeed, given enough graphic juice, you are dealing with the very best gaming panel the industry can produce.
It is fast, it is smooth, and most importantly, incredibly crysp. And that is exactly what AOC was aiming to deliver, and indeed delivered.
HDR-400
High Dynamic Range is a technology which uses the screen brightness to create  more life-like in-game lights and shadow effects. The brightest (measure in NITS) the monitor can go, the better HDR performs.
HDR comes in 400, 600, 800, and 1000 NITS variant, deprecating of the screen it comes with.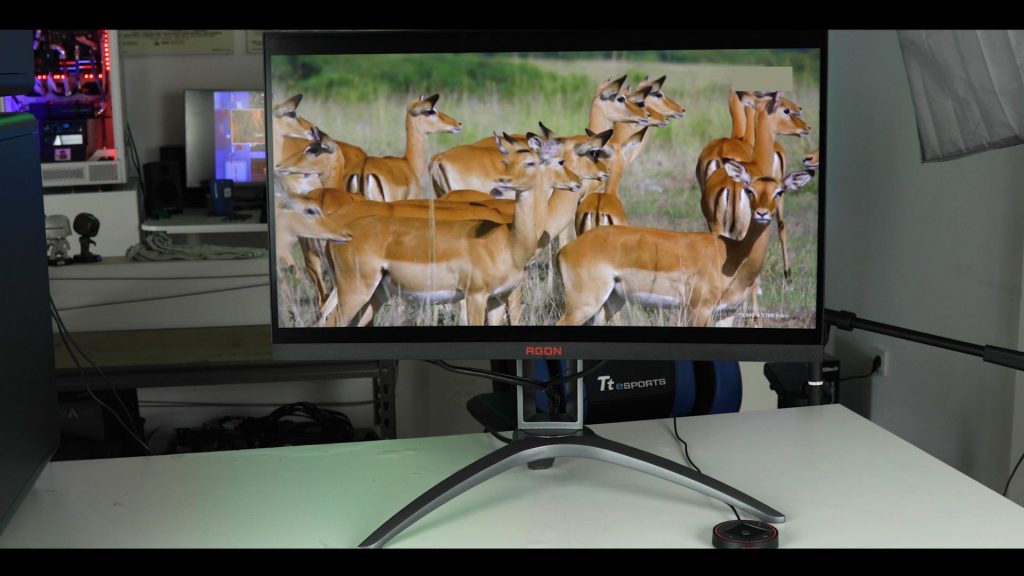 But with a modest 400 NITS the Agon AG273QCX does not allow ,all the luminescence range to really show-off what HDR can do. And indeed this will not have all the in-gaming effect that one would expect coming from HDR.
Color and View-Angles
Color-wise, we have a rather standard true color 8 bit meaning 256 shades of  in-between 2 given colors . Thats is the industry standard at this price range. And it will do the job, but I do regret AOC's lack of adventure in not going for a 10 bit color depth panel, which would have rendered 4 times (1024) the gradient between 2 colors
Other than that the colors are are vivid, without any perceptible distortions, ghosting or bleeding. And that's what AOC needed to get right in order to justify its price-point.
Angles views are where they should be, Given the fact that this is a SVA panel, without surprise we are seeing amazing view angles with little-to-none screen dissipation in even extreme screen rotation.
Obviously, having a curved screen helps quite a bit as well.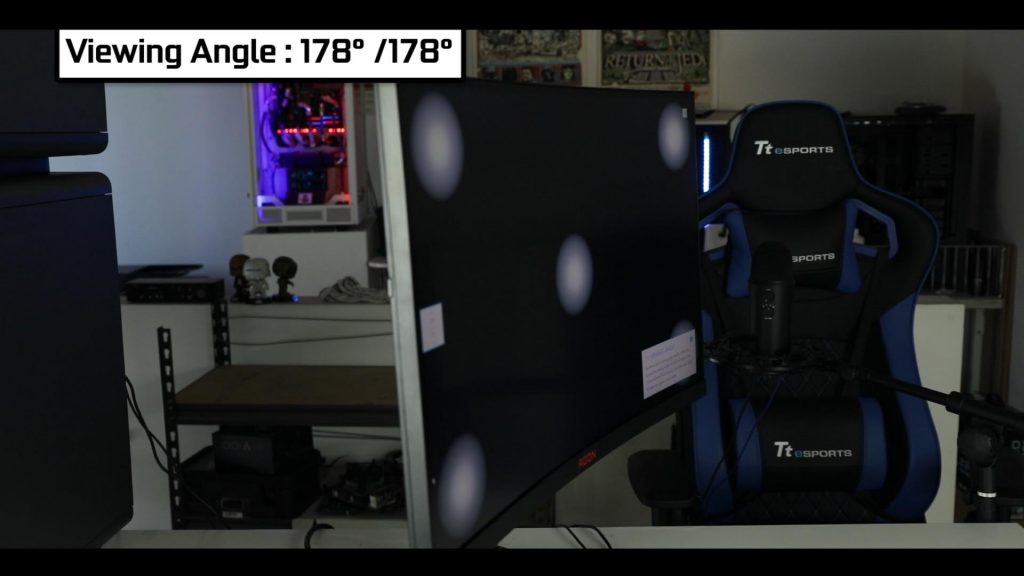 In conclusion,
At 500 bucks, the AOC Agon AG273QCX is not your cheapest option in terms of gaming monitor,  but it is worth every penny!
AOC, with its gaming-centric brand: Agon, has, release after release, shown a constant improvement in its manufacturing  process.
We have better quality materials, a more confident product, and a more intricate design. That last one shows that production line has been significantly upgraded in the past 18 months.
AOC is departing the mid-range gaming monitor market, and decisively entering the premium pro-gamer segment.
We have a very well featured IO, with clever add-ons, and a clear focus on feature accessibility. Such as the ambidextrous  audio-jacks and headphones support-antennas, or the menu remote control.
The Screen is 2nd to none in terms of gaming worthiness. It's fast, it is beautiful, it is vibrant and it  combines the right features : 27″, QHD, 144 Hertz , 1 ms.
Its simply one of the best gaming panel I gamed on. Period!
I only regret a couple of things, with only 400 NITS, this is not the best example of HDR support I have seen.
I do regret not having a 10 Bit color depth pallet.  I strongly believe that, coupled with the SVGA unique attributions, this would have brought this product to the market 1st place.
And finally a somewhat too large bottom screen bezel, but, here… I am being a puritan.
But other than that… this is absolutely well worth the money, and again an exciting evolution coming from AOC!