The MSI X470 Gaming Pro Carbon is a good looking board. MSI has gone all in to impress the gaming community and eat some ASUS market charts. It is a highly competitive market though… and it will take more than just looks to shoulder away from the competition.
Let's dig right in!
Key Features
ATX Form Factor
AMD X470 chipset
AMD AM4 socket
4 x 3466 MHz DDR4, maximum 64GB
2 x PCI-E 3.0 x16, 1 x PCI-E 3.0 x16, 2 x PCI-E x1
IO : 1 x USB 3.1 Type-A, 1 x USB 3.1 Type-C, 4x USB 2.0, 4 x USB 3.1 (1st Gen), 1 x Gigabit Ethernet, 1 x HDMI (1.4b), 1 x DisplayPort (1.2), 5 x audio, 1 x optical S/PDIF, AC dual band WIFI expansion slot.
2 x M.2, 8 x SATA 3
2x SLI, 2x CrossFire support
Accessories & Docs
1 x I/O shield
2 x  SATA Cables
1 x RGB extension cable (80cm)
1 x RGB 1 to 2 Y extension cable (80 cm)
2 x M.2 SSD mounting screw
1 x SLI HB Bridge (2-way-M)
1 x Manual / quick setup guide / coupon
Since there is really nothing new between the X370 and the X470 based chipset motherboards, and since it is EXACTLY the same components, layout and technology that you will find from a series to another will be identical. Manufacturers really had nothing much to do but to change some packaging and titles. But some others took this opportunity to focus on the actual design of their motherboards. And that's precisely what MSI has done with the X470 Gaming Pro Carbon edition.
---
Let's start with the obvious!
This is an ATX (24.4 cm X 30.5 cm), so chose your case accordingly!
Equipped with the new AMD X470 chipset.
It can run the Athlon A series as well as all the Ryzen based CPUs (1, 2 and G series).
Note that the X370 chipset is forward compatible and can also support the same processors, including the latest Ryzen 2 series.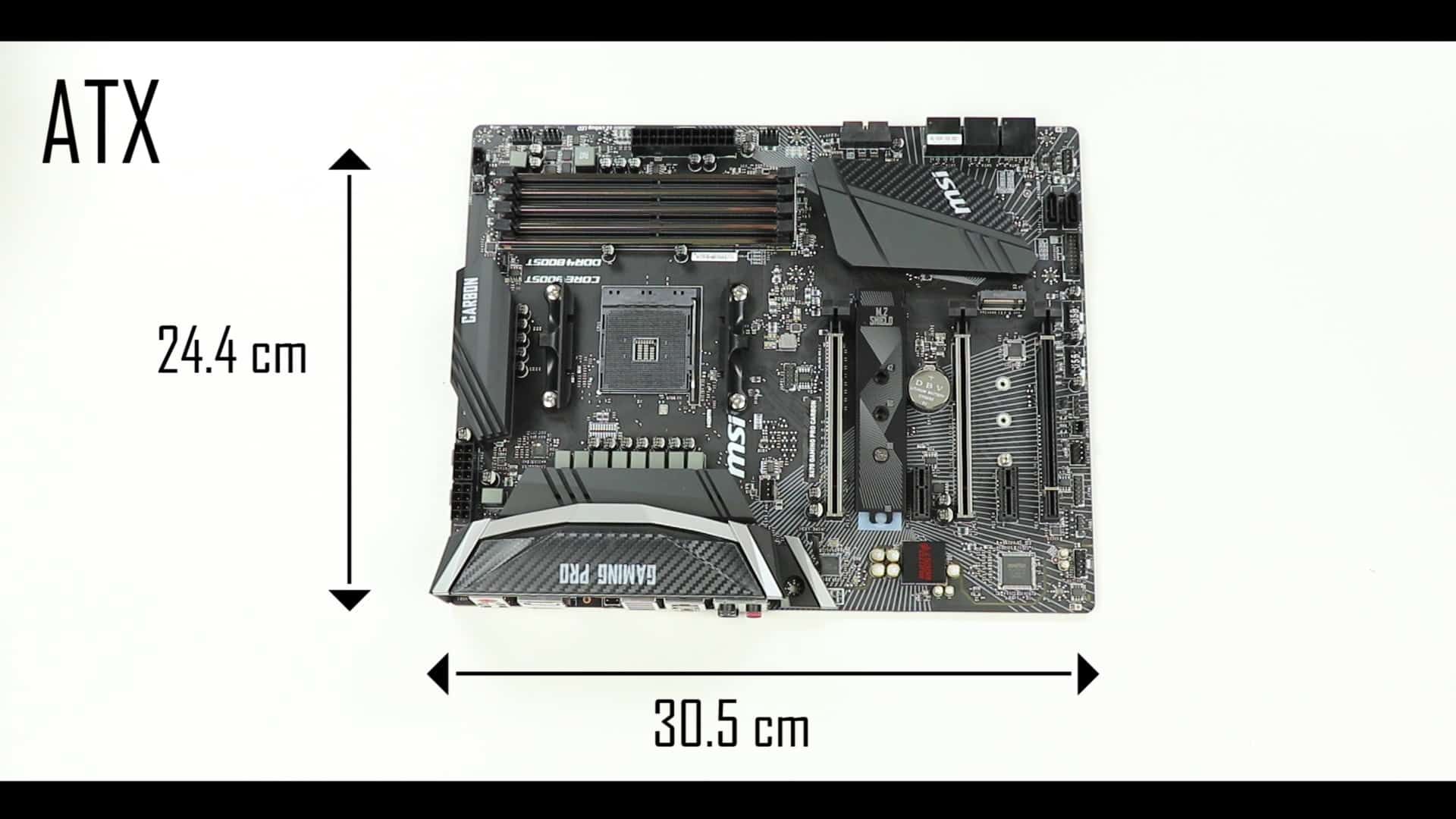 No backplate for us here. But nothing to be surprised about given the price range and of this board.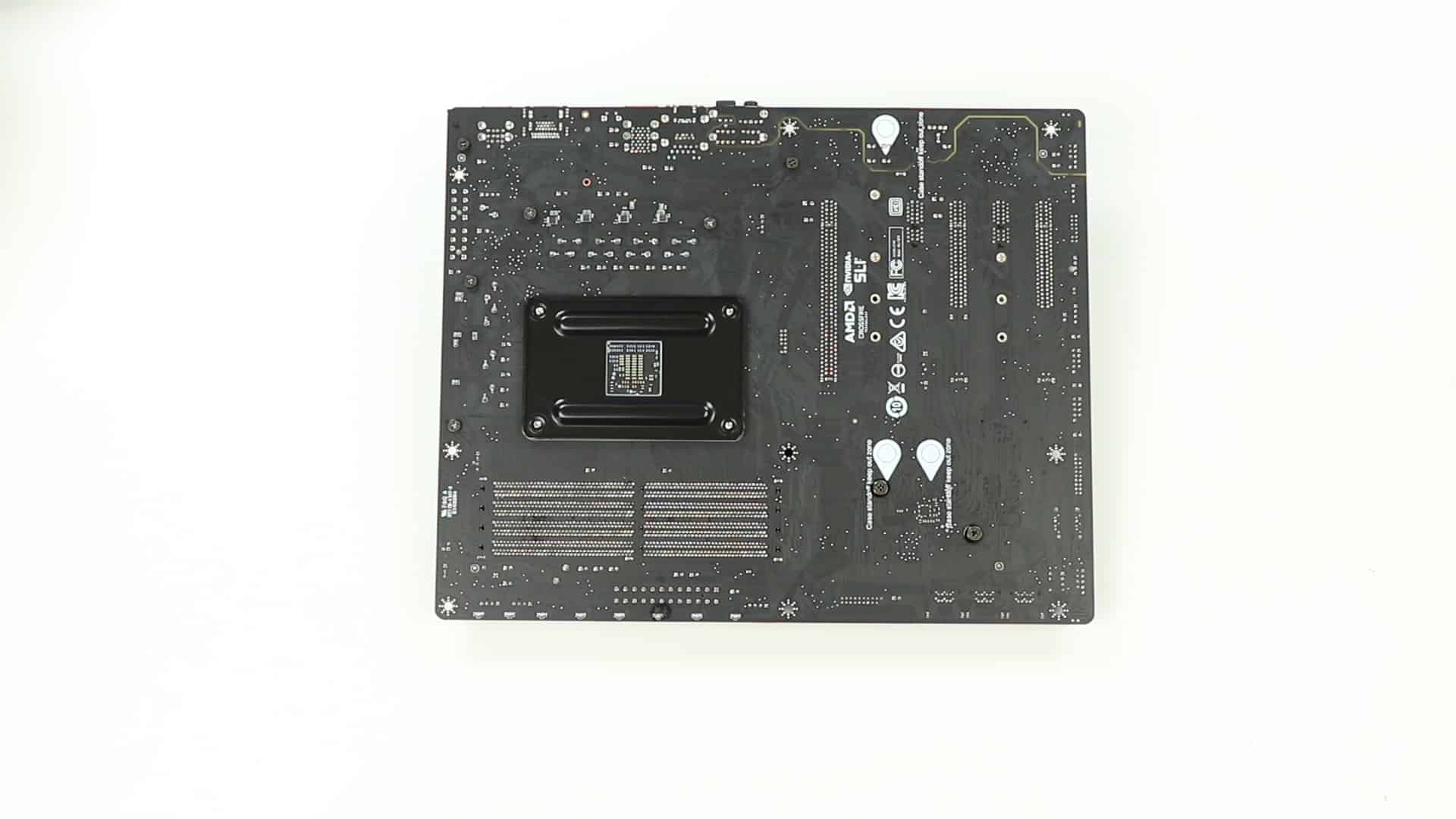 The CPU socket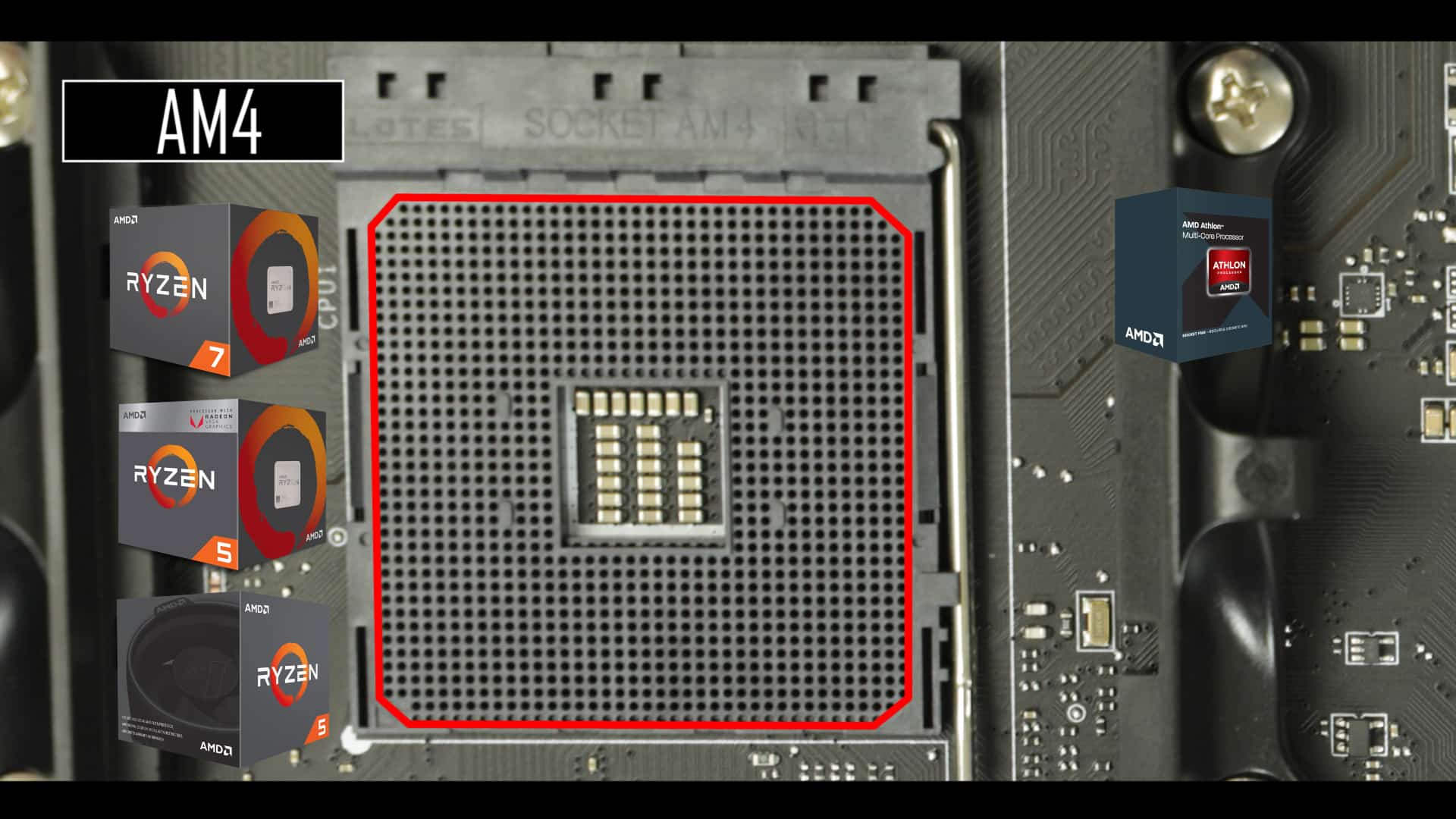 So here I go again, the AM4 socket can run the Athlon A series as well as all the Ryzen based CPUs (1, 2 and G series).
The PCIe slots
We have an impressive 6 individual 3rd Generation PCIe present on this board.
x2 2.0 single PCIe slot and single speed. 
x2 3.0 16 PCIe slots at different speeds.
x2 2.0 16 PCIe slots up to 4 BUS speeds.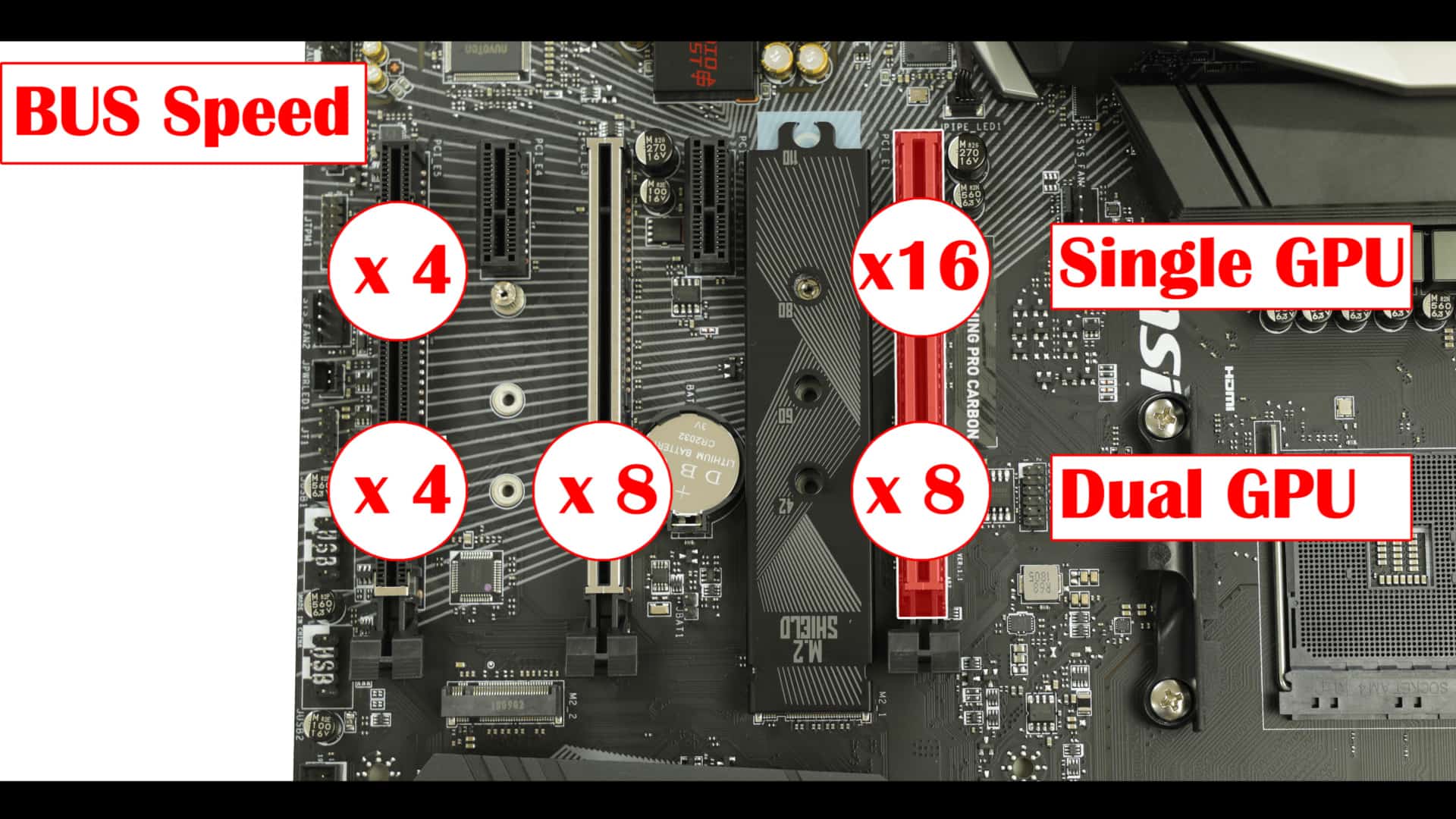 In a single GPU configuration, the first 16 slot PCIe (the closest on to the CPU), can deliver 16 full BUS speed. It is the only one able to do so. Make sure to use it for optimal GPU performances.
In a dual GPU configuration, the two first 16 slot PCIe will share bandwidth and will deliver up to 8 full BUS speed individually.
The last 16 slot PCIe is capped at a nominal 4 BUS speed, no matter the GPU configuration.
Since the first 2 16 slots, PCIes are the one most likely to receive GPUs, they have been metallically re-enforced for a better support.
SATA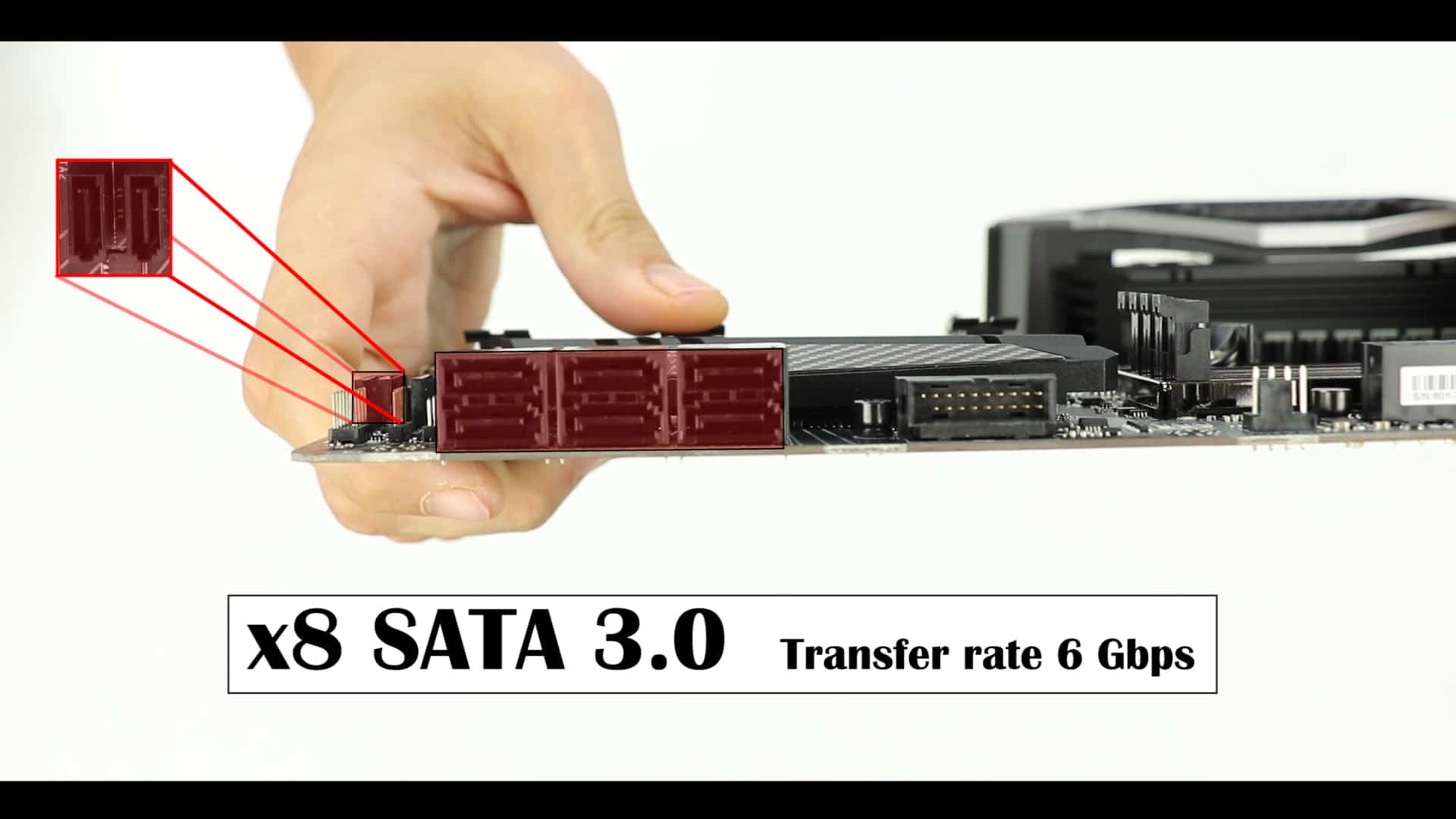 We have a total of 8 3.0 SATA plugs, 6 on the board's side and 2 on its front. They deliver up to 6 Gb/s of data swap. Perfect for your SSDs.
The IO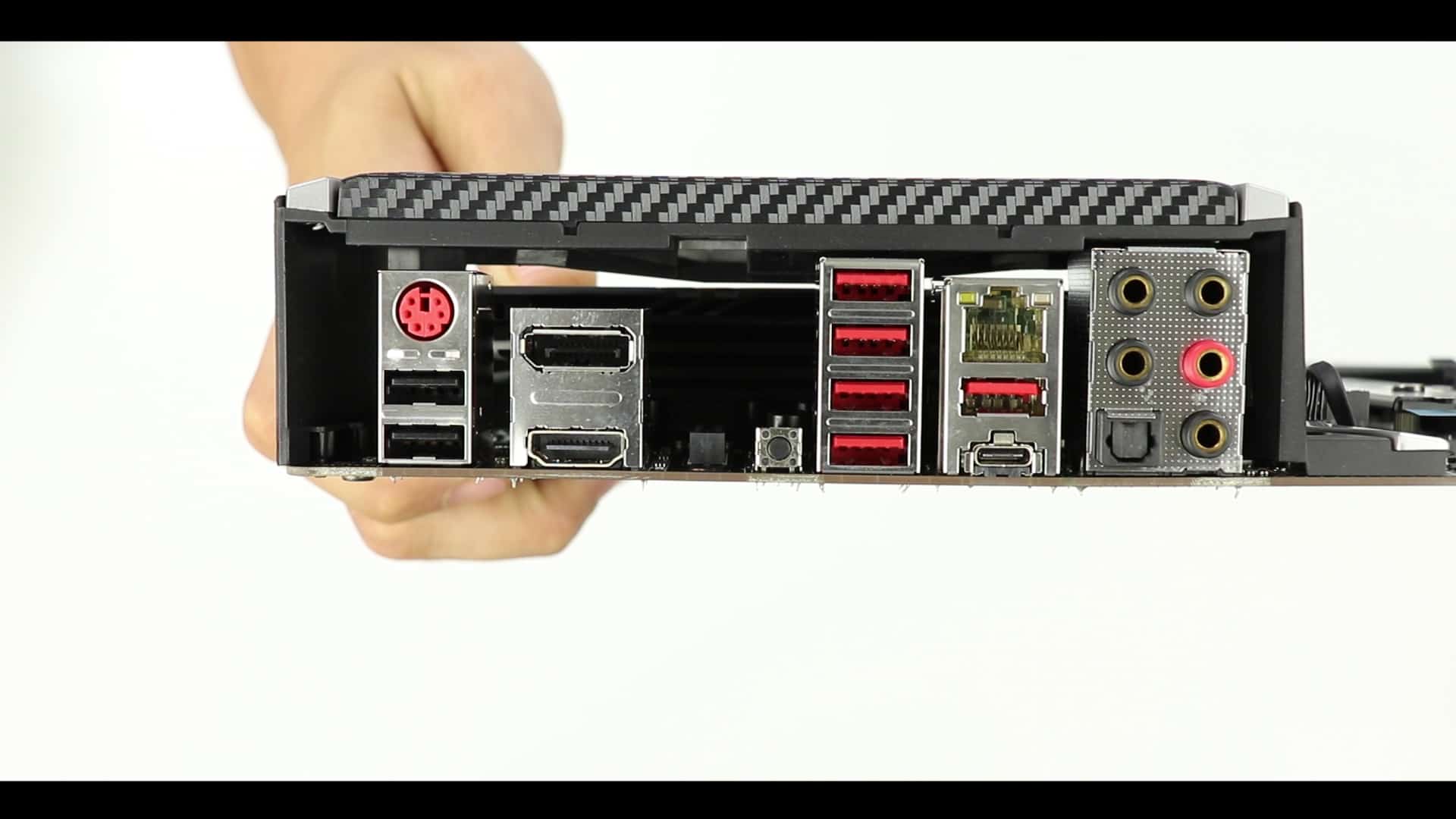 I regret the absence of an integrated shield, but at least the available IO shield has been padded. And that has its importance in a good quality build.
It might not sound like a big deal for many, but for a guy who grew up on 386 builds, and had many of its fingers scarred by generations of these animals, it is worth its pound of silver!
The IOs
Starting from the left we have :
a PS/2 connector
x2 2.0 USBs, with transfer rate up to 480 Mb/s
Wifi Expansion slot
1.4b HDMI and a 1.2 DisplayPort output for our CPU integrated GPU
Clear CMOS and BIOS button
x4 3.1 (1st Gen.) USBs, with transfer rate up to 5 Gb/s
x2 3.1 (2nd Gen.) type A and Type C USBs, with transfer rate up to 10 Gb/s
a Gigabit Ethernet plug
5 AUDIO BOOST audio out + 1 optical SPDIF outlet.
The Audio Boost chip is excellent in all aspects and is adequately isolated to avoid statics in a normal environment. And I say "standard" because if your computer is not powered by a grounded socket, your mic WILL be invaded by heavy staticsYouOu have been warned.
---
Memory
M.2 SSD
Two M.2 SSD connectors:
1 up to 110 mm in a horizontal position, equipped with a thermo shield,  between PCIe 16 1 and 2.
1 up to 110 mm in a horizontal position, without a thermo shield,  between PCIe 16 2 and 3.
And they individually can (supposedly) transfer data up to 32 Gb/s. But of course, this will be limited by the heat the sticks will produce doing so. Keep in mind that they WILL thermo-throttle, and MSI has done a rather poor job in both the placement of the M.2 SSDs (will be placed right under heating GPU/s ) and the thermal shield.
In fact, this deserves a few words on its own. This thermal shield is equipped with a thermo-pad, but the shield itself is so thin, I do not see where the heat will dissipate. A couple of design flaws I wish to see corrected on the next iteration of this board.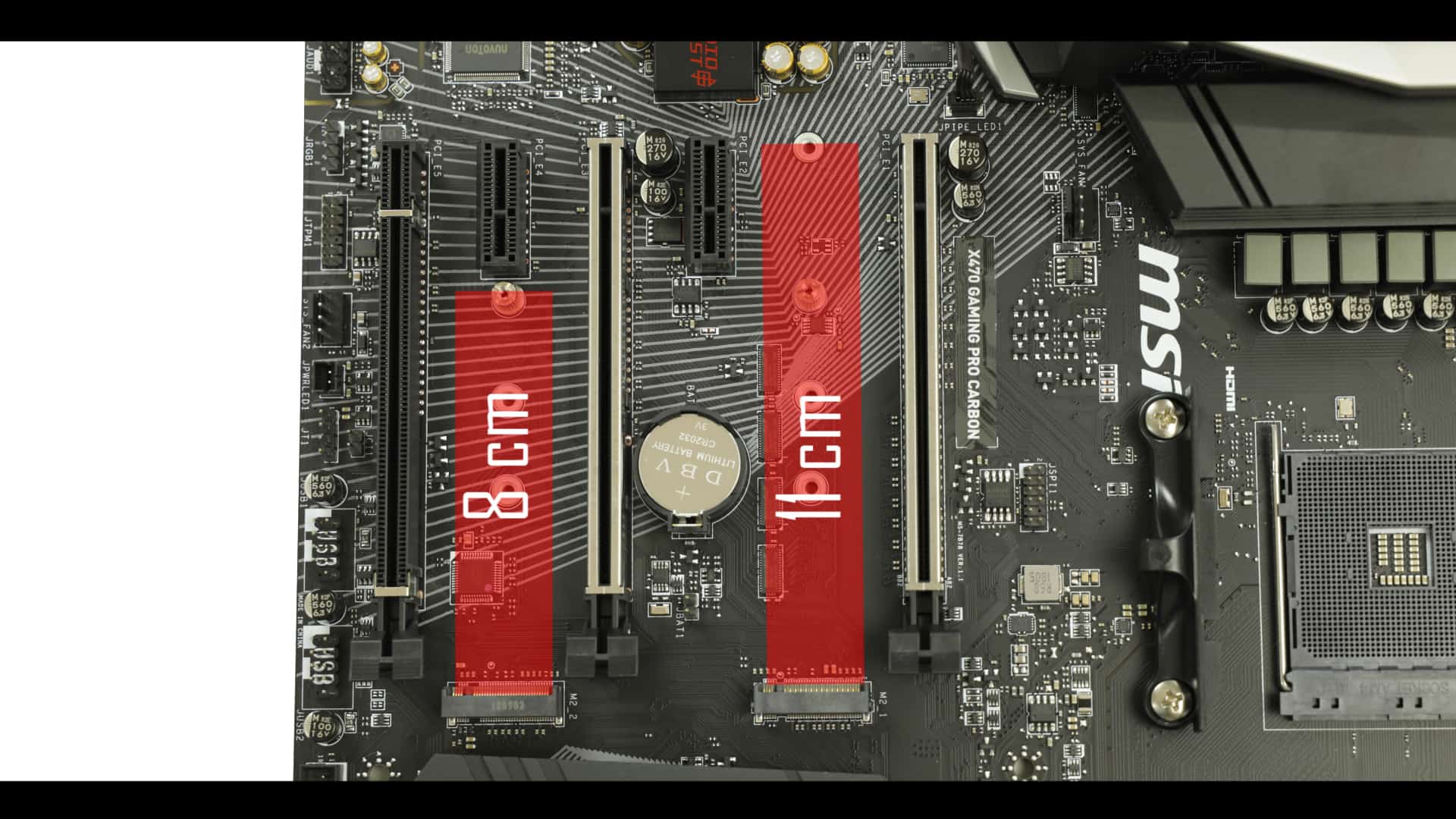 So yes! M.2 SSDs can be the main source of storage on this board! But again, nothing new since this was already a widely anticipated and circulated feature on the Z270 based motherboards.
RAM
64 GB DDR4 Ram, overclock-able up to an impressive 3466 MgHz! (XMP must be enabled). Obviously, that's 32 GB per channel, and 16 GB per memory slot.
Let's note and applaud the fact that MSI has fitted the ram slots with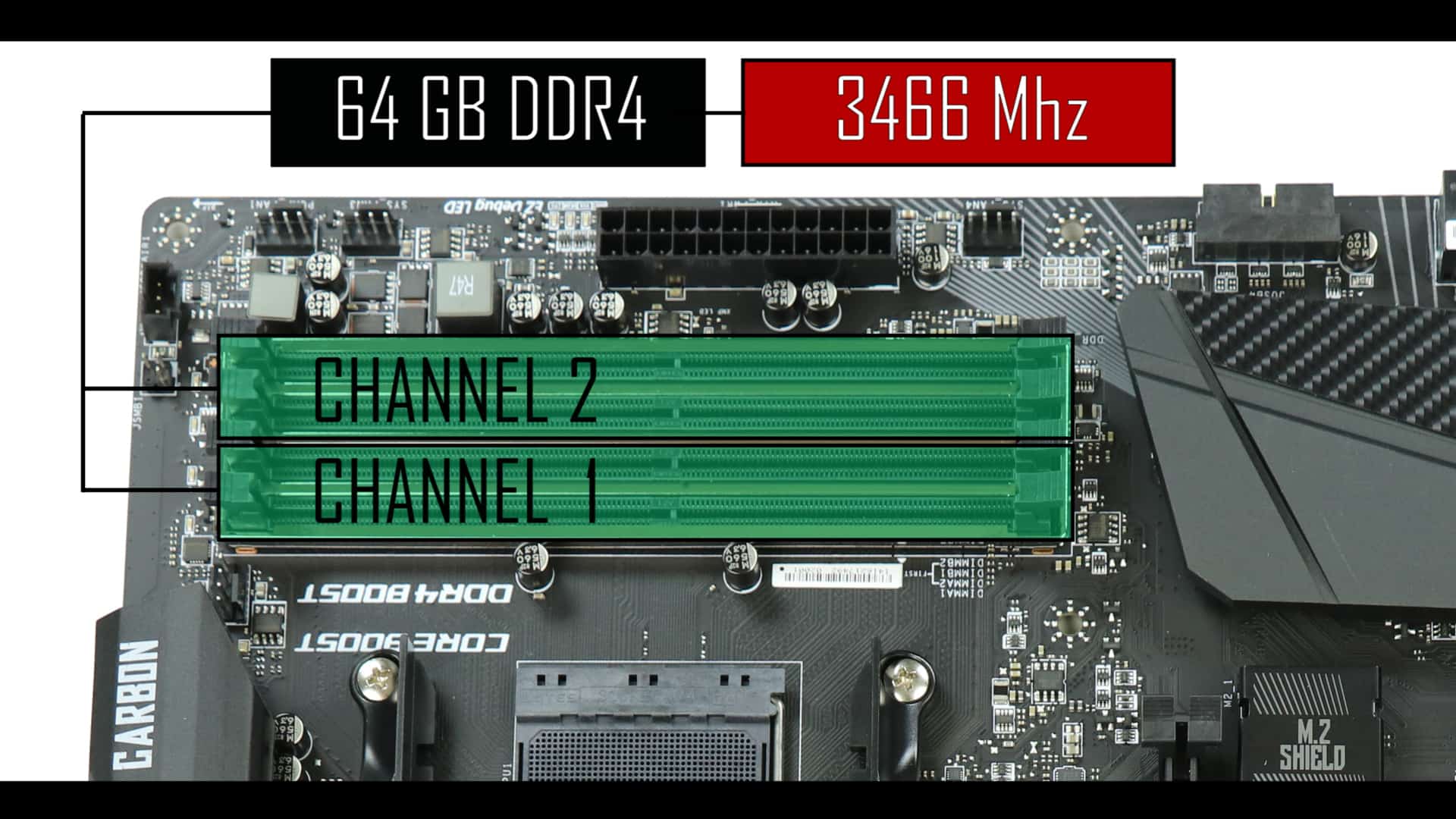 ---
LED debuggers
Even though we do not have a Q-led screen, we do have a few LED debuggers.
LEDs will inform us of the PCIe (16 slots) connection status
LEDs will inform us of the boot sequence
LEDs will indicate if the RAM modules are connected with the board and operational.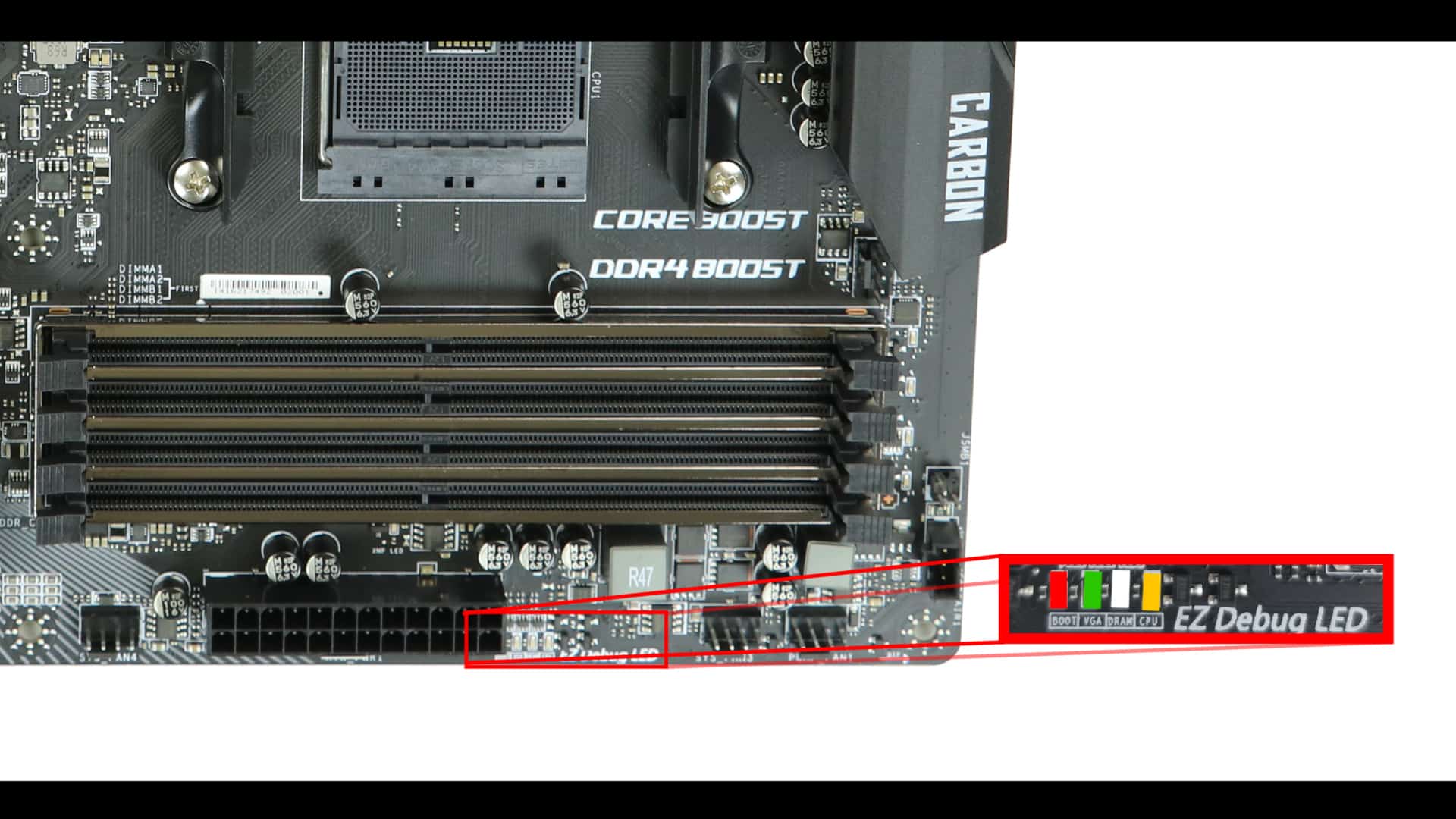 ---
Fan and Water Cooling
Well, the board will give us what we need to comfortably 1 custom water cooling loop. And that's because we have only 1 PWM water pump connector. You could potentially run a second pump on a fan connector, but I would not advise for it. Not now, not ever.
We have a total of 6 PWM fan connectors, one of which is also a PUMP connector. So if you are going for a custom water cooling configuration (or an AIO water CPU cooler), count 5 available native fan connectors.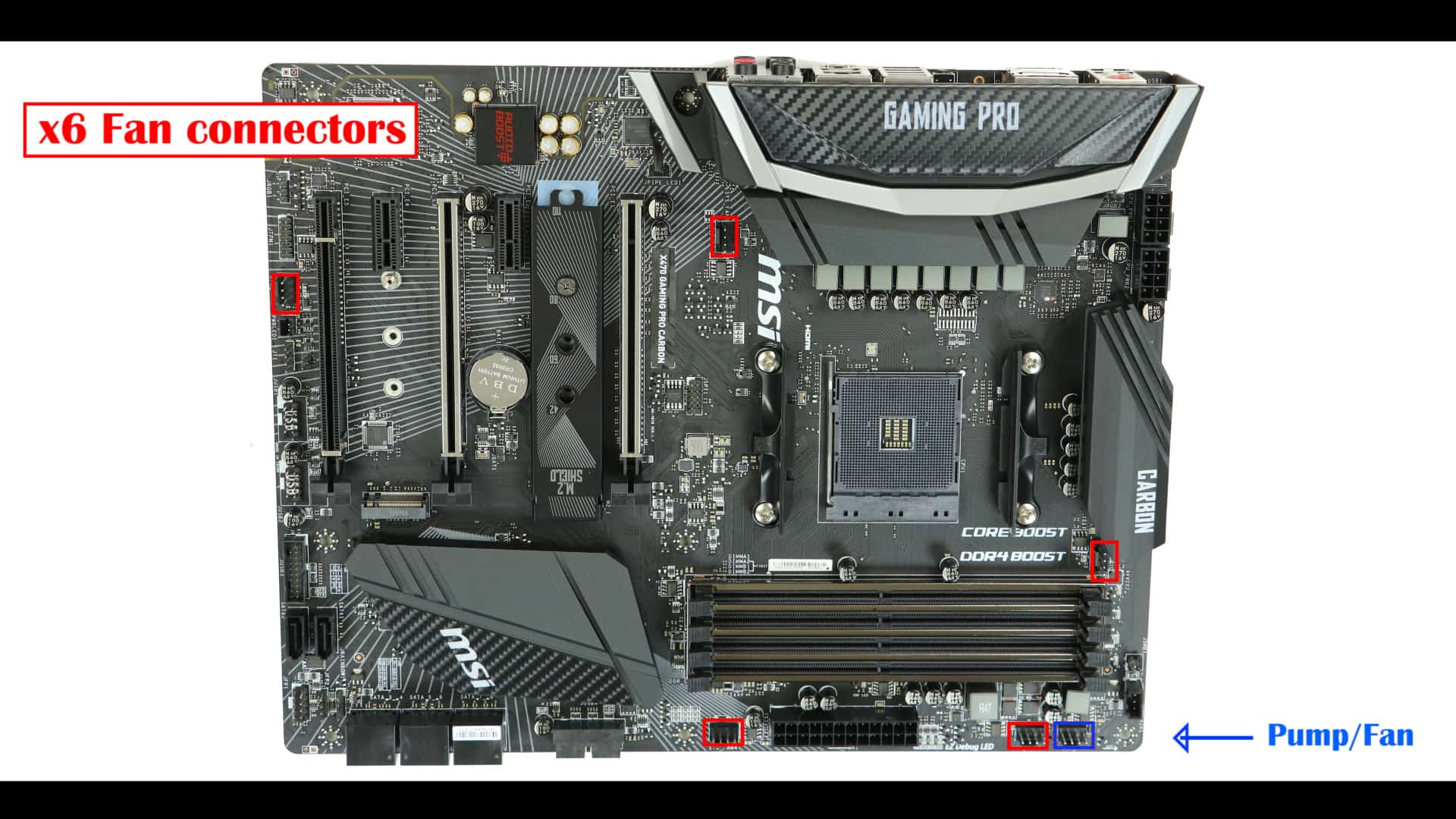 Performance wise, this will not add much, but definitely will extend your motherboard life spam by a century or two.
Luckily we also have a Corsair connector which will allow us to up-to 6 additional PWM fans and a couple of RGB addressable exports. Well done there!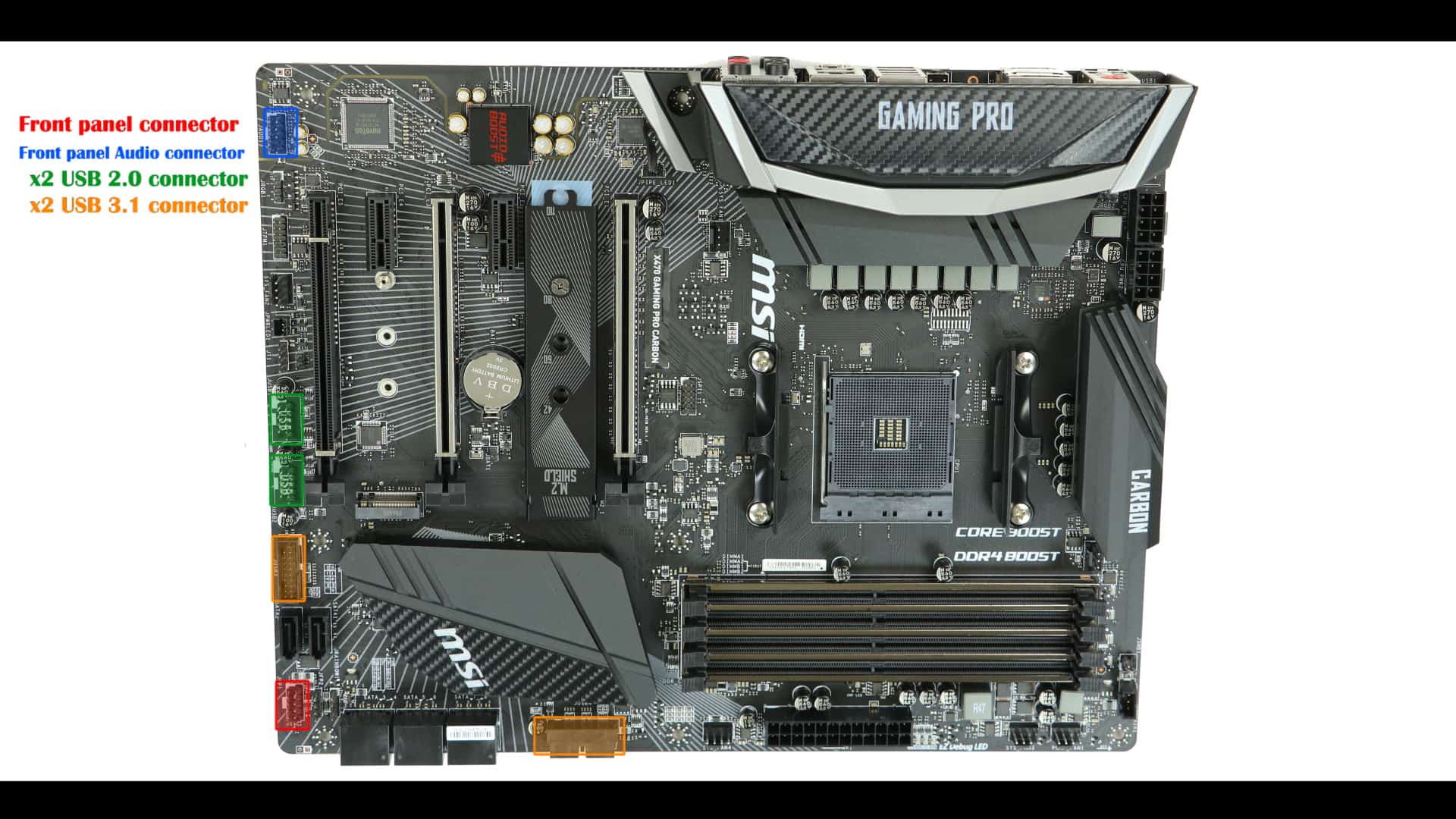 ---
Mystic light effect
And of course the looks. This board comes with 2 integrated RGB strips hidden under :
The IO roof
The X470 chipset heat-shield.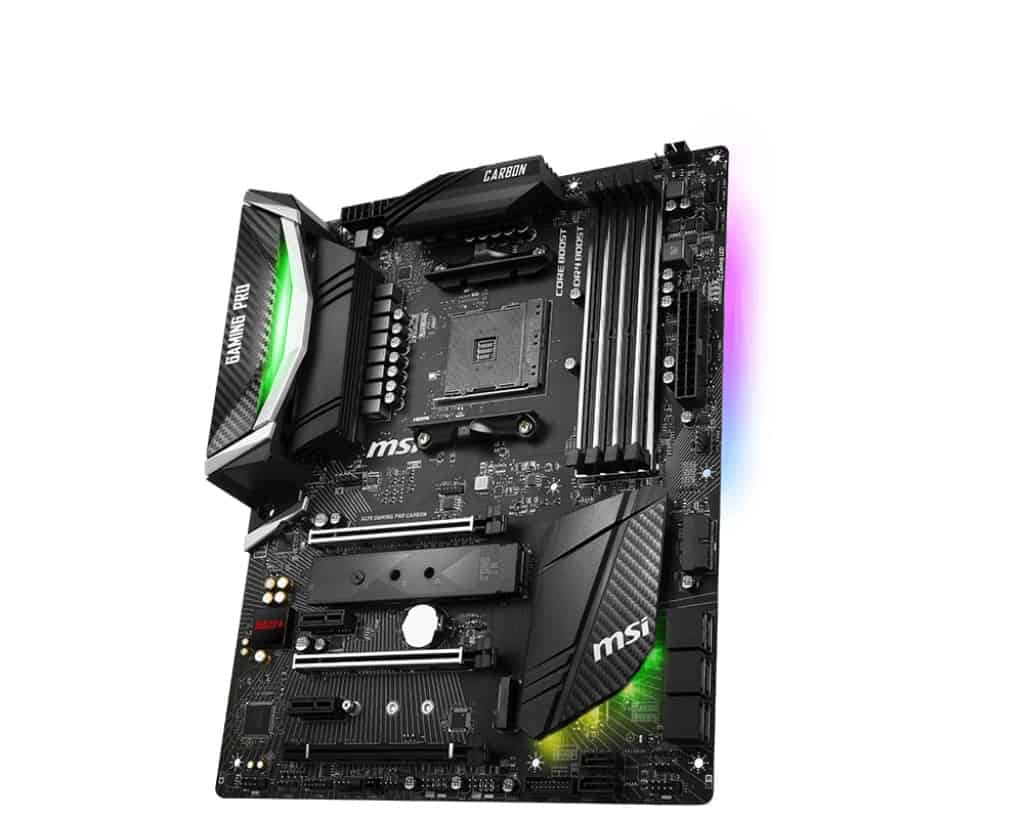 Of course, they are all Mystic Light effect compliant. Meaning that we will be able to sync there different lighting effect through the MSI proprietary sync software (which you've guessed it, is called Mystic).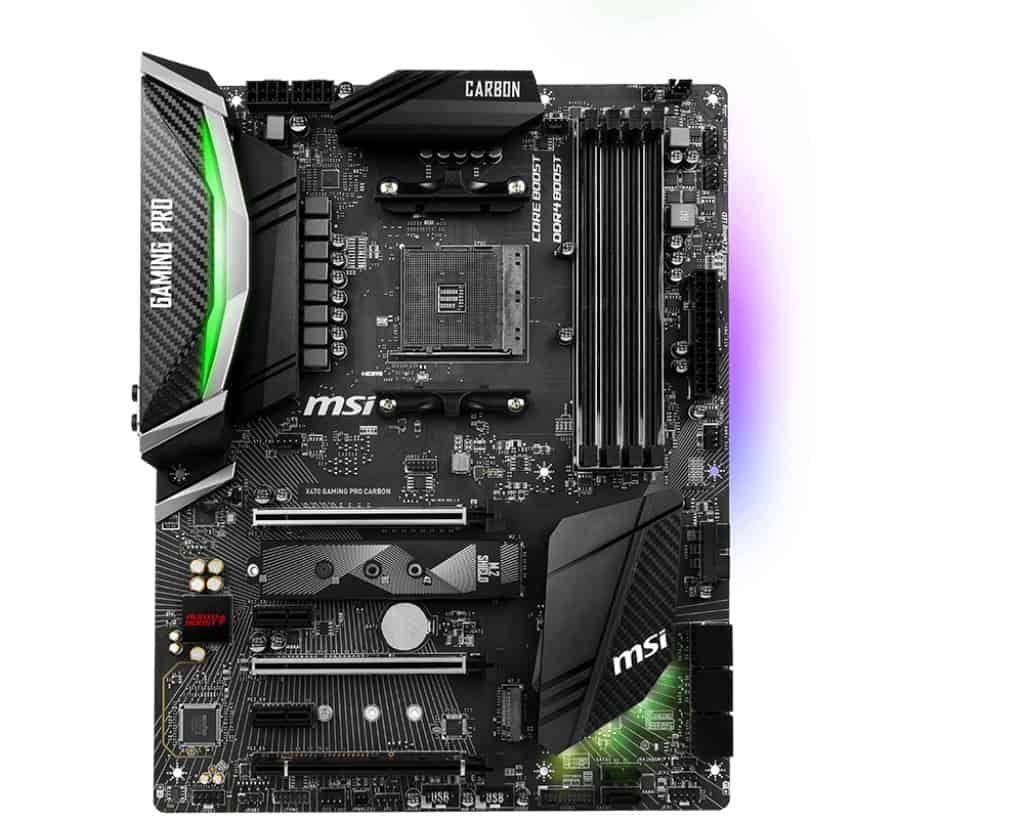 But that is not enough!!!
You can also add up to 3  LED strips exports on your board.  And let us note that, amongst them 3 connectors, we have an RGB addressable connector. If that is not enough, you can add a Corsair RGB light hub (which we just mentioned a few lines above), and that will give you 2 more RGB exports. That's a lot of RGB indeed.
For the ones who might not know it, and addressable LED strip will allow you to control the light intensity and color of every individual LED on that strip! Fancy!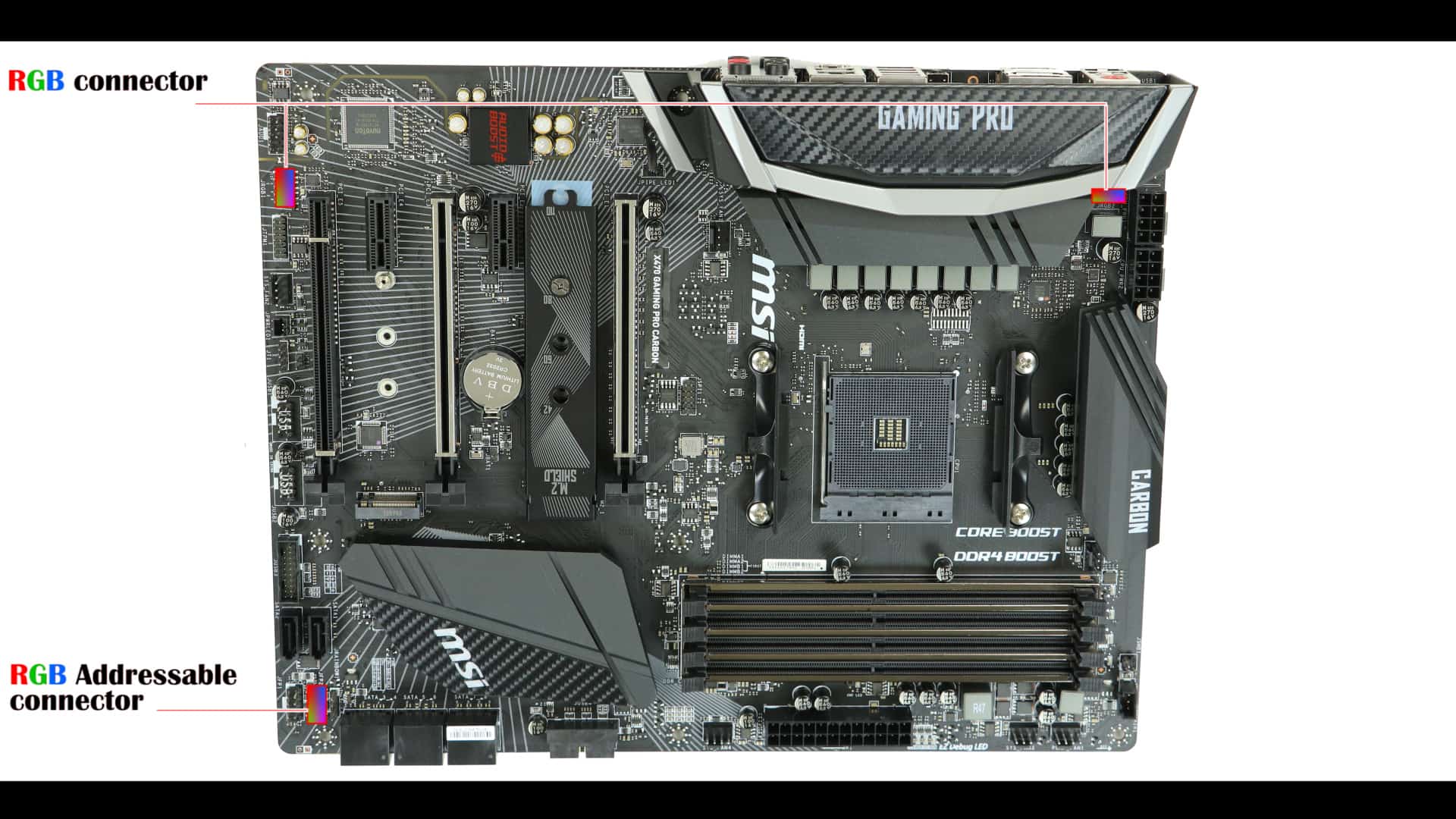 ---
CONCLUSION:
Well, before talking about the board, I will say that if you do have an X370 powered motherboard, do not even think of spending a single penny on an X470 board. There identical in all but a marginally higher RAM clock and a geeky BIOS option which helps you cash up to 2GB of data in your RAM… yeah…
Other than that, if you are on the market for a new system or and updating an outdated system, the MSI X470 Gaming Pro Carbon edition is a good option.
It is robust, MSI has clearly upgraded its manufacturing process. Given its price range, it does bring a lot to the table, especially when it comes to the aesthetic of it.
Despite some issues regarding the M.2 SSDs placement and cooling, or lack thereof, we have enough SATA ports to run a good, performant budget gaming build.
I will also note that I loved the clever use of RGB lights to help us troubleshoot all the main components and peripherals present on this board.
Easy setup, and efficient troubleshooting… I like it.
QUICK OVERVIEW
CPU & northbridge support
Supported Processor
Ryzen based CPUs and Athlon A
Chipset
X470
CPU socket
AM4
Memory
Slots
4 (dual channel)
Max System Memory (Gigabytes)
64
Memory Technology
DDR4
Maximum Clock (MgHz
3466
Connectors
USB 2.0 
4 + 2 on-board
USB 3.1  (1st Gen)
4 + 2 on-board
USB 3.1
2 (Type A and Type C) + 1 on-board
LAN
1 up to 1 Gb/s
WiFi
none but upgrade connector availabel on the IO