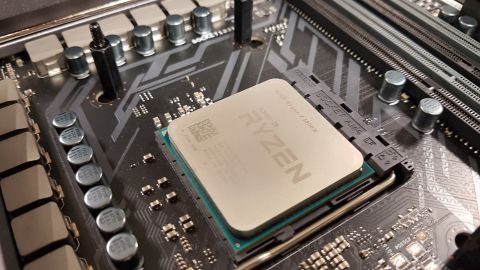 I had the luck to toy around with the AMD Ryzen 7 1800X CPU… and I can't get enough!
I transitioned from an i7-6900k to the 1800X 45 days ago today, and I thought I'd give you a couple of benchmarks and my first and last impressions.
After all, what can be so different from an 8 cores to another?
Let me start by saying that I have been an Intel fanboy since the (80)386… yeah… most of you were not born yet… but that CPU changed my life! And AMD or Cyrix (don't even ask) efforts, didn't make the slightest dent in my veneration for Intel's delicious silicon cookies.
And that, I'd have sworn, would never change… until Ryzen came along that is.
AMD Ryzen 7 1800X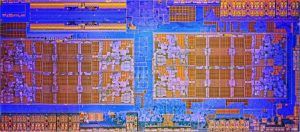 What to say? This little bundle of transistors changed my digital life. Of course… eyeing its ridiculous price tag of just below 500.00 USD (keep in mind that the i7-6900k is about 1,200.00 USD at the time of purchase and about 1,050.00 USD at the time of the article), made me set my expectations condescendingly low.
In addition, seeing that there were practically no motherboards or AM4 socket coolers for the Ryzen, didn't exactly press on me a positive first impression.
And, in truth, we all remember that AMD's specialty was to tail Intel's "Original" new architecture with an "almost as good.. but not really" cheaper version, which even, at some point would also (shamelessly) usurp Intel's CPU name (remember the 5×86?)
But hey, after a couple of days running around the AMD RYZEN 7 1800X… and another couple of days ignoring it (and the first surprised screams online)… I pushed that start button and jumped in Adobe Premiere.
A couple of video editing minutes later (that's 4 hours in earth time), some DOOM shooting and some "what the fudge….", my first thoughts went to Intel's team.
This thing was not just another cheaper "kinda" Intel's processor, this was a new world order!
this was a new world order!
---
Before going ahead a couple of benchmarks: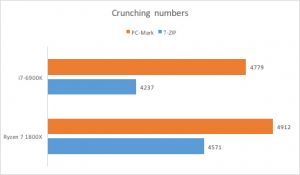 Yeah… you saw that right… 500 bucks CPU outperforms a shiny 1,000.00 dollars Intel, high-end i7-6900K CPU.
Sooo… what does it mean?
In short, this is an upset!
Intel needs to wake up and get this right. A lot of people are starting to scratch their heads and wondering what to do next.
Is this a fluke? Well not really, let's compare what's hiding under these CPU hoods:
AMD Ryzen 7 1800X
Intel Core i7-6900K
Market segment
Desktop
Manufacturer
AMD
Intel
Family
Ryzen 7
Core i7
Basic details
Model number
1800X
i7-6900K
CPU part number
YD180XBCM88AE
CM8067102056010
Box part number
YD180XBCAEWOF
BX80671I76900K
BXC80671I76900K
Introduction date
March 2, 2017
May 31, 2016
Current official price
$499 (as of Mar 2017)
$1089 (as of Jul 2017)
CPU features
Core name
Summit Ridge
Broadwell-E
Microarchitecture
Zen
Broadwell
Technology (micron)
0.014
Data width (bits)
64
Socket
Socket AM4
Socket 2011-3
Frequency (MHz)
3600
3200
Turbo Frequency (MHz)
4000
3700
Clock Multiplier
32
L1 cache
512 KB (code) / 256 KB (data)
256 KB (code) / 256 KB (data)
L2 cache (KB)
4096
2048
L3 cache (KB)
16384
20480
TDP (Watt)
95
140
Cores
8
Threads
16
It is important to remark that, due to Intel's prominence in the CPU market for the past 10 years, most of the softwares out there, are optimized to better work on its CPU architectures and different standards.
Nevertheless, the cheer and pure power of the Zen architecture, somehow, seems to overcome it all!
The future looks bright for AMD (short-term future at least), but Intel is never far behind, and it has already released a flurry of new CPUs (X series family, from which i7-6900K is ancestry) and promised to release the new Coffee Lake architecture to replace and update the already obsolete (seriously… after 6 months of life) Kaby Lake.
---
Conclusion:
For the time being, if I had any bits of advice for anyone on the market for a new gaming or production computer, I would wait… and wait some more. I would suggest waiting until the 1st January 2018. Let AMD and Intel trying to leapfrog each other until the status quo is achieved again. The Ryzen 7 1800X is just to first wave, and the Threadripper is just around the corner. So is Intel's 8th Gen. of CPU, Coffee Lake!
I can only see one person benefiting from this: the consumer.
Do not forget, that 2017 has seen 3 waves of CPUs (Kaby Lake, X series, Coffee Lake), and motherboard chipsets (Z270, x299, Z370), and that's for Intel alone.
AMD has released the Zen architecture CPUs, the X2 and X3 motherboard chipsets, and now, the Threadripper with its own X399 motherboard chipset.
I may even risk myself saying that this is unprecedented.