Tech News
AMD will announce Ryzen 7000 CPUs August 29. Here is everything we know.
Ryzen 7000 and Zen 4 will be a big overhaul for AMD's Ryzen CPUs.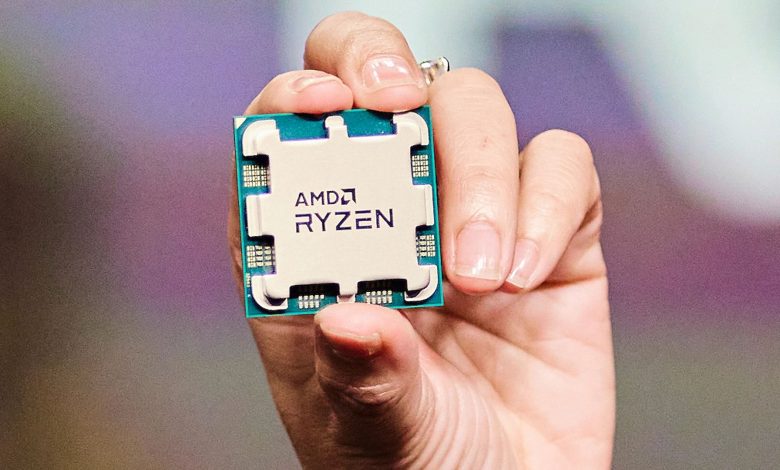 As we are bidding farewell to the RYZEN 5000 family of CPUs, the Zen 4 based 7000 series roll-out date is becoming clearer and clearer by the minute.
AMD will officially unveil (and launch) the new line up of CPUs on Monday 29th of August, 7pm eastern time. The company will livestream their formal unveiling alongside more details about the AM5 processor socket and 600-series chipsets.
Obviously we will then know more about the 7000 series pricing and performances then.
In the past 9 months, AMD has been continuously teasing the market with various rumors and leaks. Here is the resume of them all.
Same number of cores, but faster ones.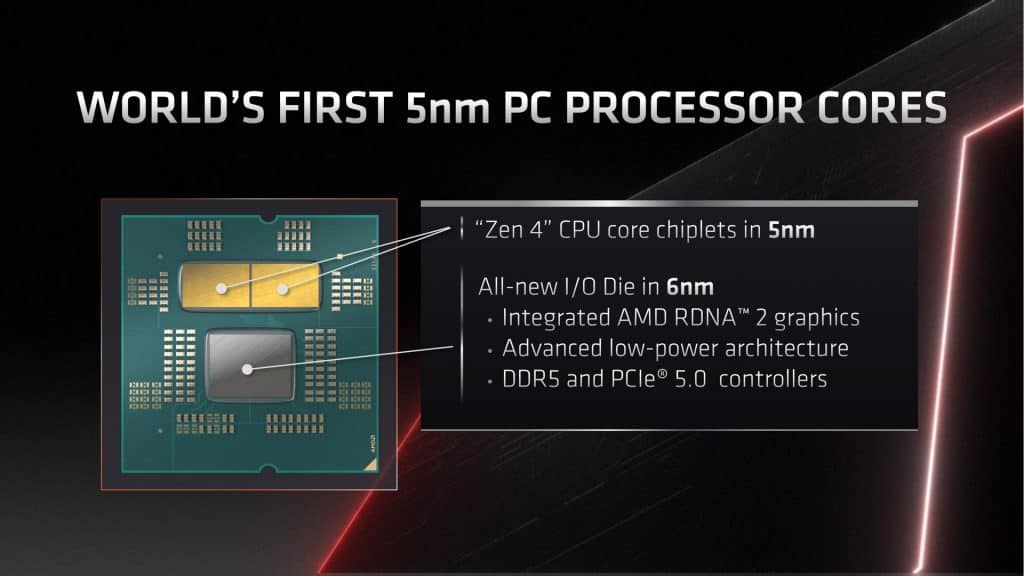 Compared to the nearly 2-year-old Ryzen 5000 processors and the Zen 3 architecture, AMD says that we can expect at least a 15 percent improvement in single-threaded performance, thanks to both clock speed increases and an 8-10 percent increase in instructions-per-clock (IPC). The company also promises performance-per-watt improvements, in part thanks to a new 5 nm manufacturing process (Zen 3 CPUs are 7 nm parts).
As for multi-core performance, Zen 4 CPUs will benefit from increased clocks and IPC, but also from the new AM5 CPU socket's increased power usage limits, which will let CPUs with lots of cores draw more power (and thus, run faster) for longer.
One thing that won't be improving with Zen 4 and Ryzen 7000, according to rumors and leaked retail listings, is total CPU core counts. AMD allegedly plans to introduce a 6-core Ryzen 5 7600X, an 8-core Ryzen 7 7700X, a 12-core Ryzen 9 7900X, and a 16-core Ryzen 9 7950X. All of these core counts are consistent with their Ryzen 5000 predecessors. Unlike Intel, Apple, and most Android chipmakers, AMD isn't throwing in a bunch of small cores to bump up the overall core count.
---
The "X" suffixes also point to these being higher-performing and higher-cost parts, which would mirror the way AMD launched the Ryzen 5000 family. Zen 3 only gradually trickled its way down to the sub-$200 price point and non-X CPUs, and I'd expect Zen 4 to be the same way, though possibly for different reasons.
With Ryzen 5000, AMD was dealing with a host of pandemic-caused (or pandemic-worsened) conditions: jammed-up supply chains, a global chip shortage, and historically high PC demand. By contrast, most PC and PC-adjacent companies are predicting a collapse in demand over the next couple years, and many are already seeing it on their balance sheets. If Ryzen 7000 stays expensive, it will be partly because the entire platform is more expensive in a way that will initially repel budget-focused buyers, which leads us to our next section.
NEW sockets for new motherboards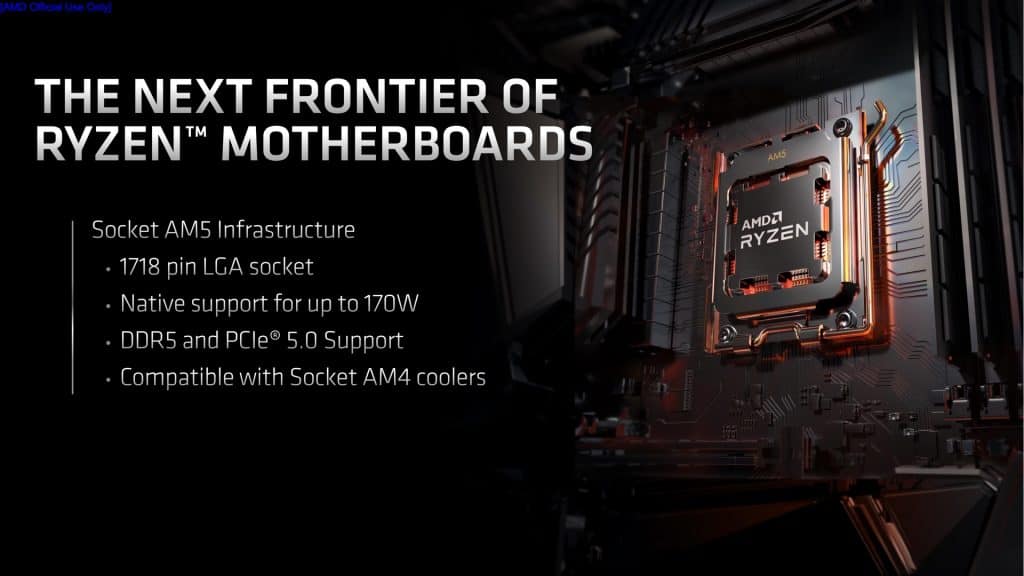 In many aspects, with Ryzen 7000, AMD is catching up with Intel's Z690 powered motherboards, which have been enjoying a monopoly on PCIe 5.0 and DDR5 RAM support, for almost a year now.
And as it happened for Intel and its Alder Lake CPU, Buying Ryzen 7000 will also automatically commit you to an all-new motherboard based on an X670E, X670, or B650 chipset.
Aside from the performance-boosting increase in maximum CPU power limits, these initial AM5 motherboards and chipsets will also bring PCIe 5.0 support to AMD's chips for the first time. In B650, there are just enough PCIe 5.0 lanes for a single M.2 SSD slot; X670 and X670E have enough lanes to support a GPU, too. This is mostly moot as of this writing, since PCIe 5.0 SSDs and GPUs don't exist, but that won't be the case in a couple of years.
Building a socket AM5 PC will also require the purchase of DDR5 RAM, since unlike Intel's Alder Lake chips, the Zen 4 memory controller doesn't retain support for DDR4 RAM (this makes some sense, since Ryzen's performance has always been a bit more sensitive to memory bandwidth increases and decreases than Intel's CPUs). And that will, undoubtably , translate in more expensive builds, and an additional demand pressure on DDR5 memory module stocks, which have been an issue ever since their introduction last year.
Hopefully its widespread adoption will incentivizes memory companies to increase production, lead to more supply, and bring down prices in the same occasion.
---
Integrated GPUs
Ryzen 7000 will add a feature that most Intel CPUs have had for ages: integrated GPUs across the lineup. These will be fully modern AMD GPUs based on the RDNA2 architecture, but they aren't meant for gaming. They're mainly intended to make Zen 4 processors more appealing for PC OEMs that sell lots of low-end to midrange desktops with integrated graphics, for people who just need a Microsoft Office and Solitaire box that can light up a monitor or two.
AMD has been able to offer options to these OEMs thanks to its G-series APUs (a term AMD has used to date for its processors with integrated graphics included), but these APUs have launched months behind their CPU counterparts and don't offer the same level of processor performance. These APUs have provided surprisingly decent 720p or even 1080p gaming performance in older or less demanding games and at lower settings, but we wouldn't be surprised if these initial Ryzen 7000 CPUs actually had weaker integrated graphics performance than the Ryzen 5000 APUs.
Even if you plan to use dedicated graphics, having an onboard GPU enabled can be useful. You can attach more displays to your system—the integrated GPU ought to be able to drive up to four of them based on the number and type of ports your motherboard offers, and your dedicated GPU can drive even more. Its video encoding and decoding hardware can also be used for streaming or video transcoding. If you do want higher-performing integrated graphics, AMD tells us it does plan to announce more direct replacements for the G-series APUs at some point down the line, but it's not what these initial Ryzen 7000 chips will be focused on.