Key Features
Price: 179.99 USD (CLICK TO BUY )
ATX Form Factor / 6 PCB Layers
AMD B550 chipset
AM4 CPU socket
CPU Support

RYZEN 3000 AMD CPU
RYZEN 5000 AMD CPU

4 x 32GB 5,100 MHz DDR4, maximum 128 GB
2 x PCIe x16 —  2 x PCIe x1
Back IO :

Display Port 1.2
HDMI 2.1
Flash BIOS button
2 x USB 2.0 — RX/TX 480 Mbps
2 x USB 3.2 2nd gen. Type-A+C — RX/TX 10 Gbps
2 x USB 3.2 (1st Gen) — RX/TX 5 Gbps
1x Realtek® RTL8125B 2.5Gbps LAN controller
1x Realtek® RTL8111H 1Gbps LAN controller
Realtek ALC1200 Codec 7.1 channels audio,

STORAGE

2 x M.2 SSD — RX/TX 32 Gbps
6 x SATA 3 — RX/TX 6 Gbps

MULTIPLE GPU

NO Nvidia SLI
x2 AMD Crossfire
Upgraded and robust VRM
Great passive Cooling elements
6 layered PCB ( PCIe 4.0 ready)
5,100 MHz RAM clock
Price
Premium Audio
No hybrid fan connectors
a 2nd LAN instead of WiFi
The TOMAHAWK is by far MSI's best selling motherboard, and in our case, helps cleaning its engineering name since its Z490 Gaming-PLUS and Gaming-Edge debacle.
Luckily for all of us, the MAG B550 TOMAHAWK came to be one of the best motherboard I have reviewed in a long time!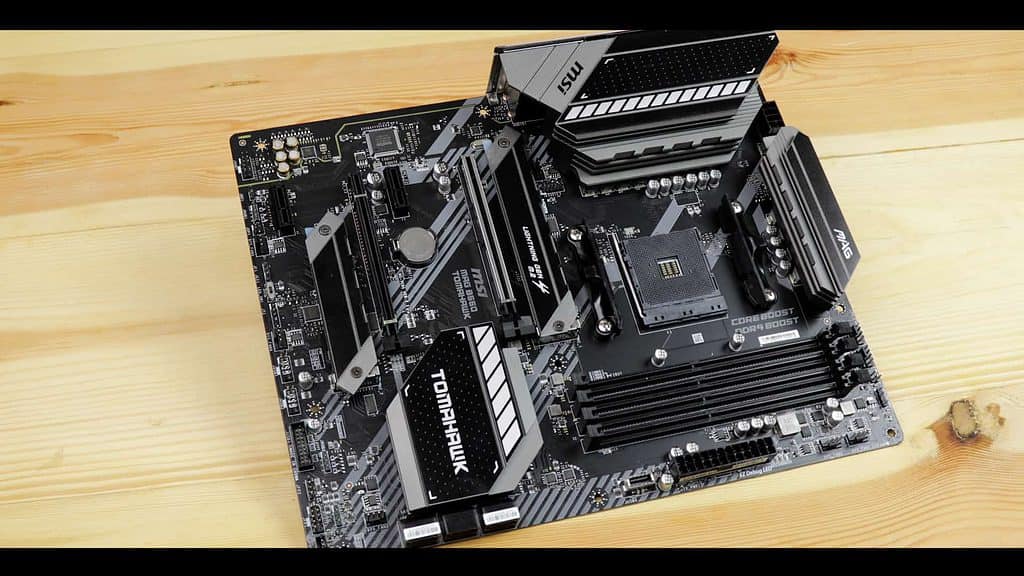 AMD's B550 chipset offers a much more versatile and affordable motherboard.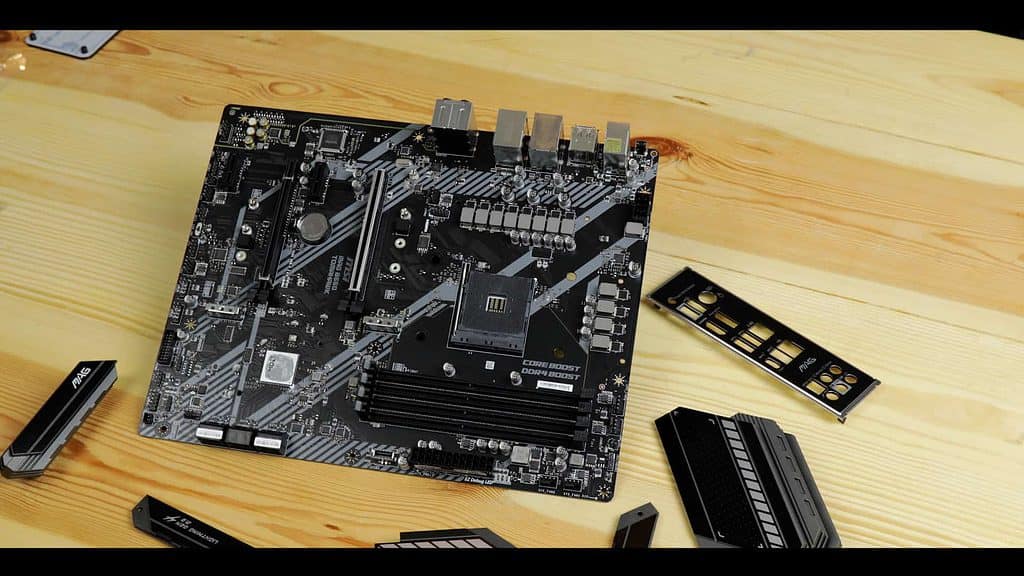 4 SATA cables
Thermistors
M.2 SSD screws and screw raisers
RGB cable extension
Manual
DVD driver & Software
---
PCB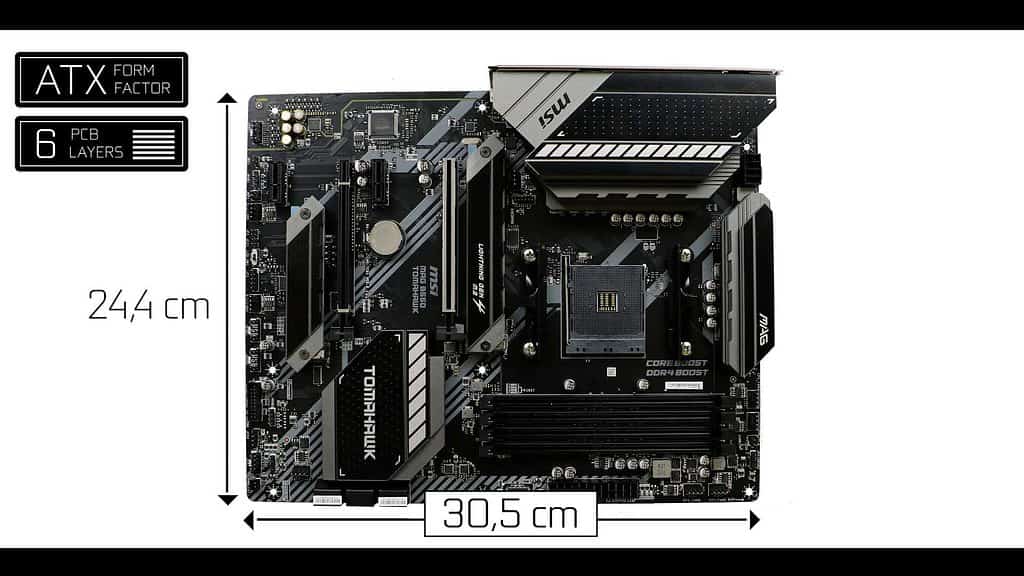 We are dealing with a 6 layered PCB ATX motherboard. A significant upgrade when compared to its predecessor, the TOMAHAWK B450 4 layers, and an added signal isolation which will allow a stable PCIe 4.0 support.
It also will benefit VRM heat dissipation and audio quality. Obviously, a very solid foundation for a performant and durable motherboard.


AM4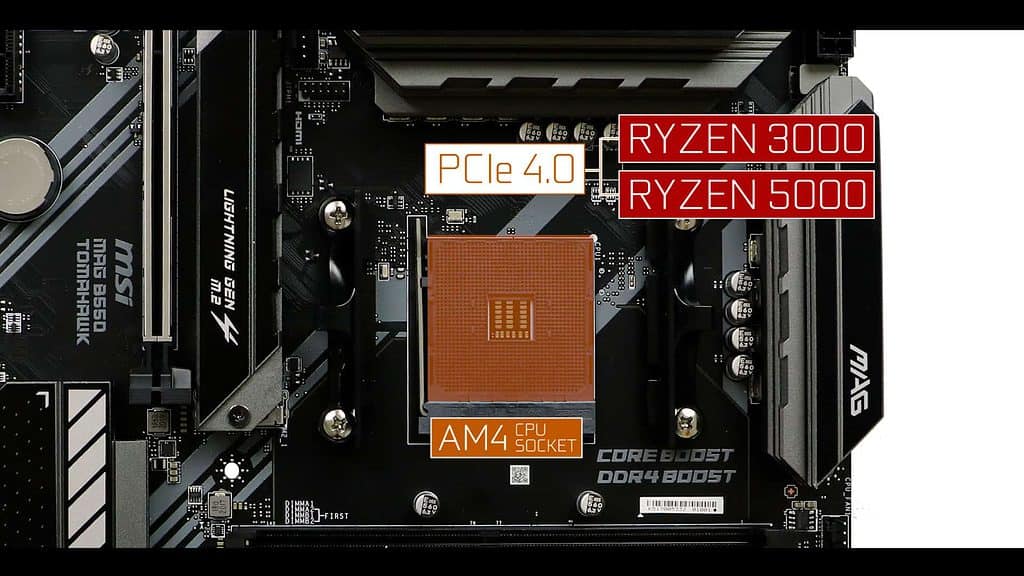 Our AM4 CPU socket supports :
AMD RYZEN 3000 series
AMD RYZEN 5000 series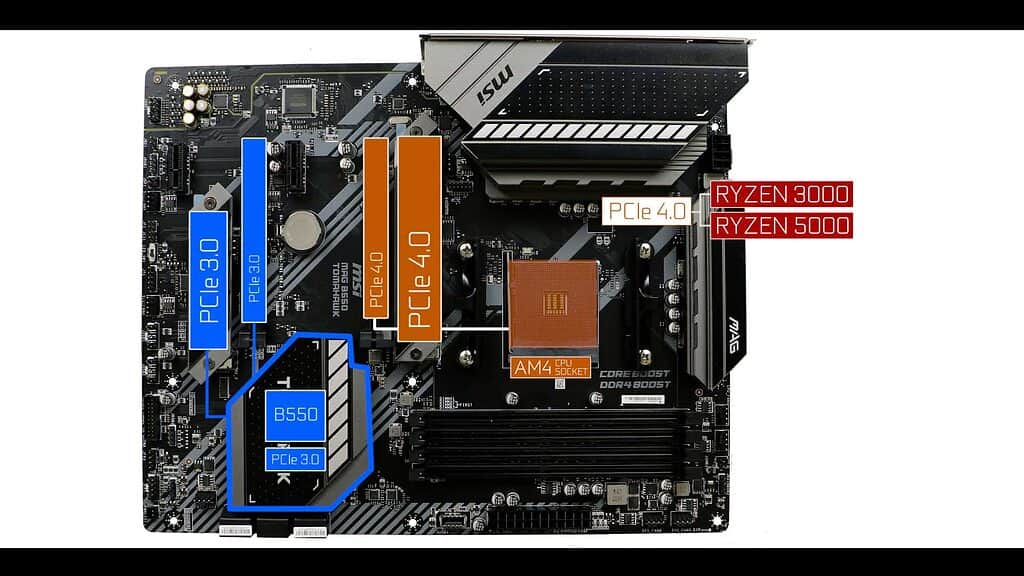 This is a PCIe 4.0 only CPU support, which makes sense since it is the CPU PCIE 4.0 lanes which will feed the PCIe 4.0 enable components (GPU PCIe slots and on M.2 SSD connector).
---
VRM
This is where MSI really did well!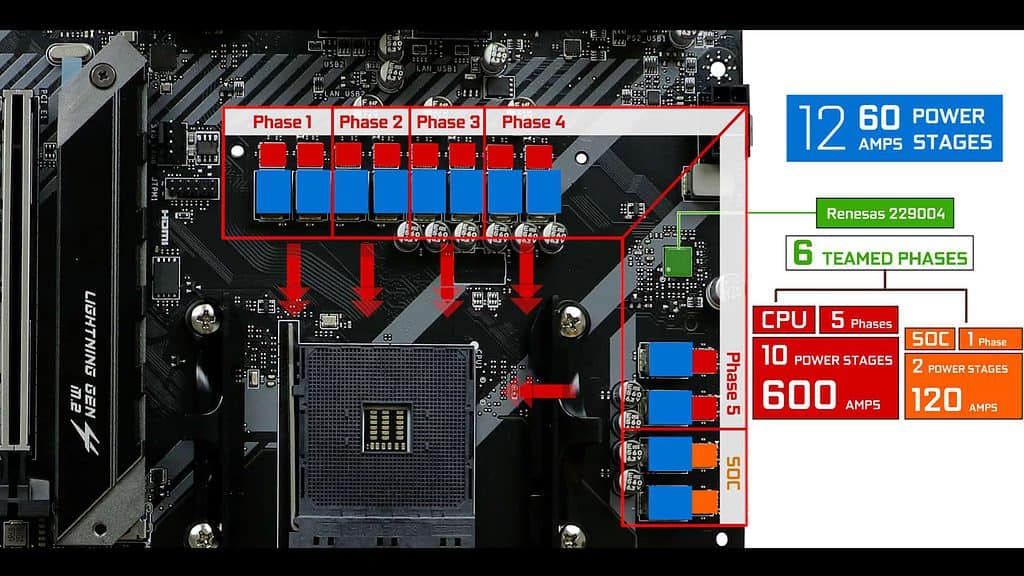 It has nothing to do with its predecessors, and closely follow the TOMAHAWK X570 TOMAHAWK .
We are dealing with 12 60 amps Powers stages, 10 of which are CPU centric.
They are paired into 5 phases, delivering a whooping 600 AMPs to our CPU
Obviously more than you'll ever need to run and severely overclock any of the processors featured in the Ryzen 3000 and 5000 series.
Heat wise
First, we have a 6 layered PCB, meaning a greater heat dissipation through the board,
Second, 600 amps are spread amongst 10 power stages meaning more radiating surface.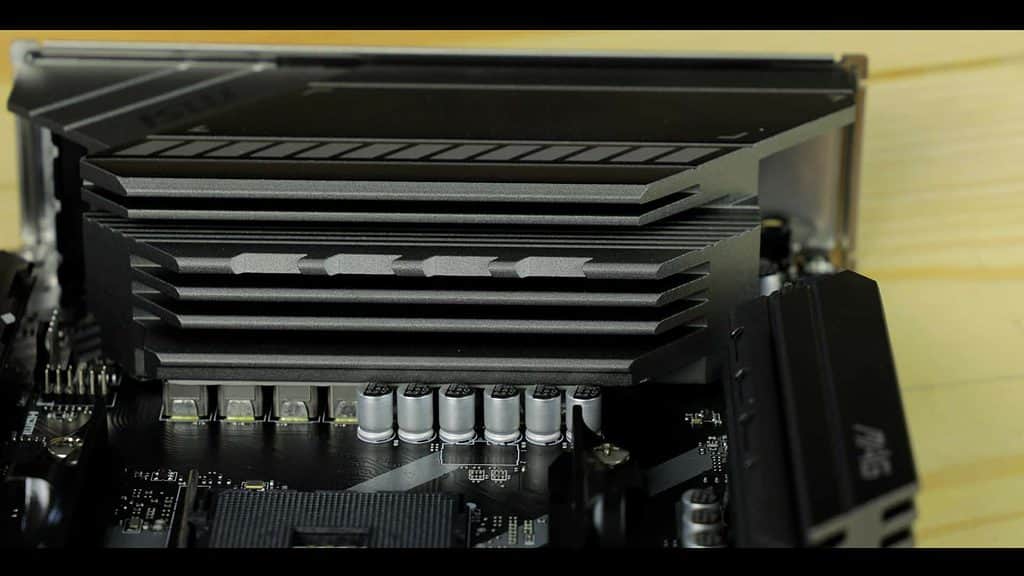 Finally, we have these rather premium and heavy VRM heatsinks which do a great job at radiating all that VRM excess heat.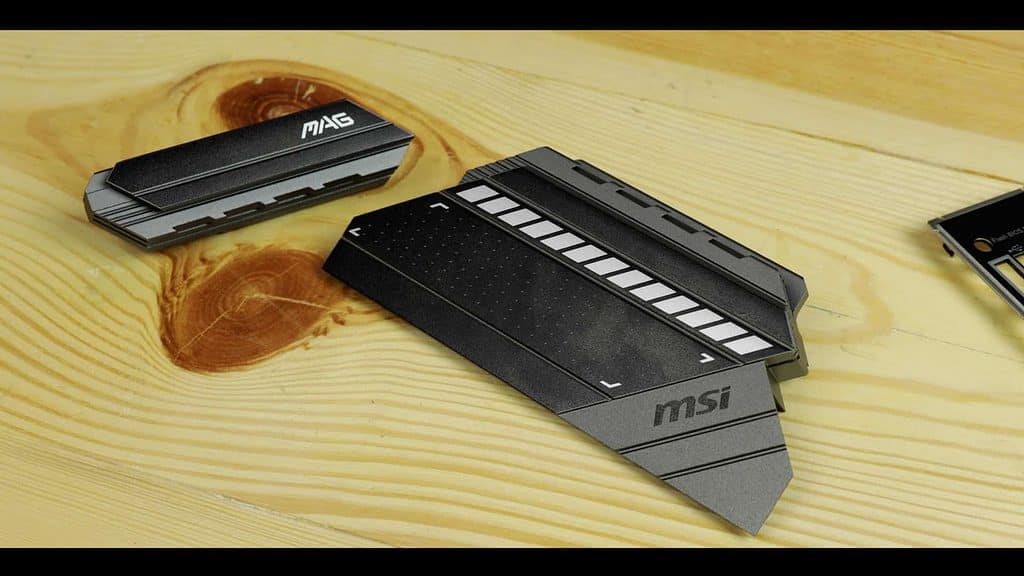 I'll note the main block "extended design" introduced by MSI, which I credit for such remarkable VRM temps.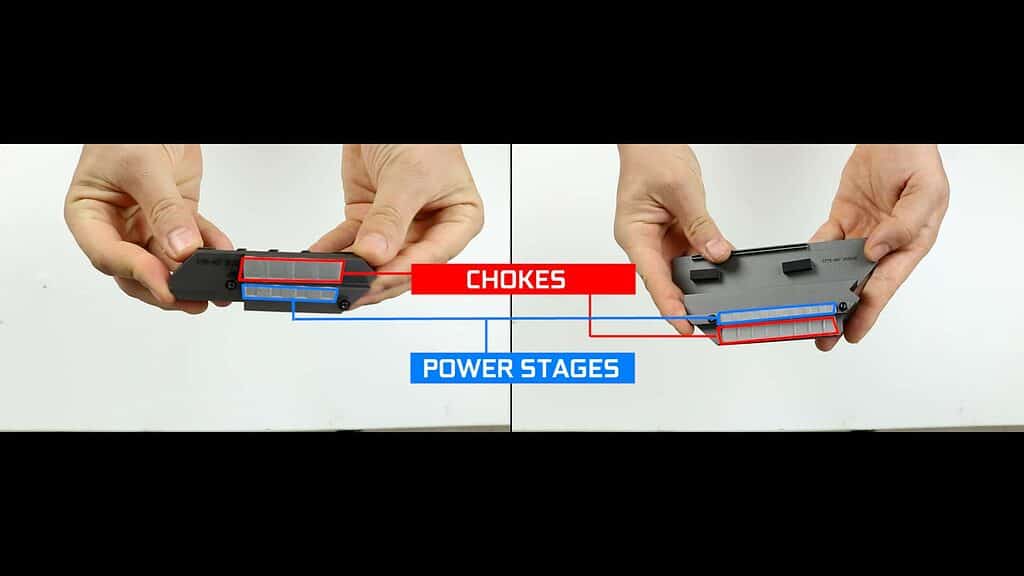 And that all translate in a cool VRM, even in the most demanding and continuous load.
With an overclocked Ryzen 3900X (4,3 GHz / 1.40v) , CPU stressed for 60 minutes.
Method : Open Air Test Bed (no direct air flow) / PBO enabled (BIOS).
PCB Junction points :      65 celcius    (peak)
VRM :                              66 celcius    (peak)
Slightly hotter than its X570 TOMAHAWHK counterpart for a 30% saving in cost.
Obviously this probably the most efficient VRM on the market today at that price point.
---
RAM
The MAG B550 TOMAHAWK can support up to 128 GB of DDR4 ram in a dual channel configuration.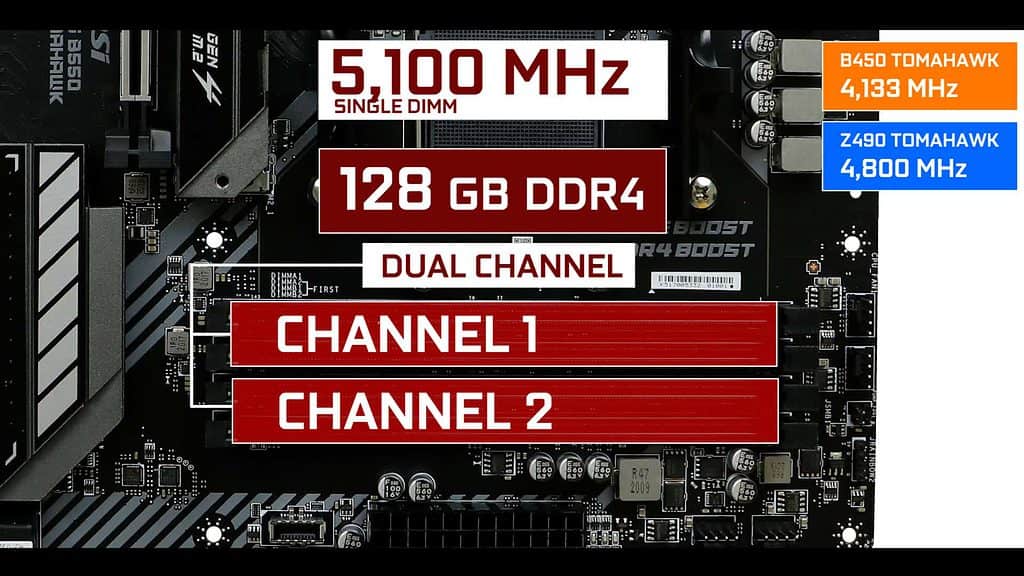 It is overclockable up to a novel 5,1 GHz ( in a single dimm configuration ) which is noticeably more than its Z390 equivalent.
Populating more memory slots will result in slower common clock :
1DPC 1R max speed 5100 MHZ
1DPC 2R max speed 3866 MHZ
2DPC 1R max speed 4000 MHZ
2DPC 2R max speed 3600 MHZ
---
M.2 SSD
Our board can support up-to 2 M.2 SSD (11 cm and 8 cm respectively).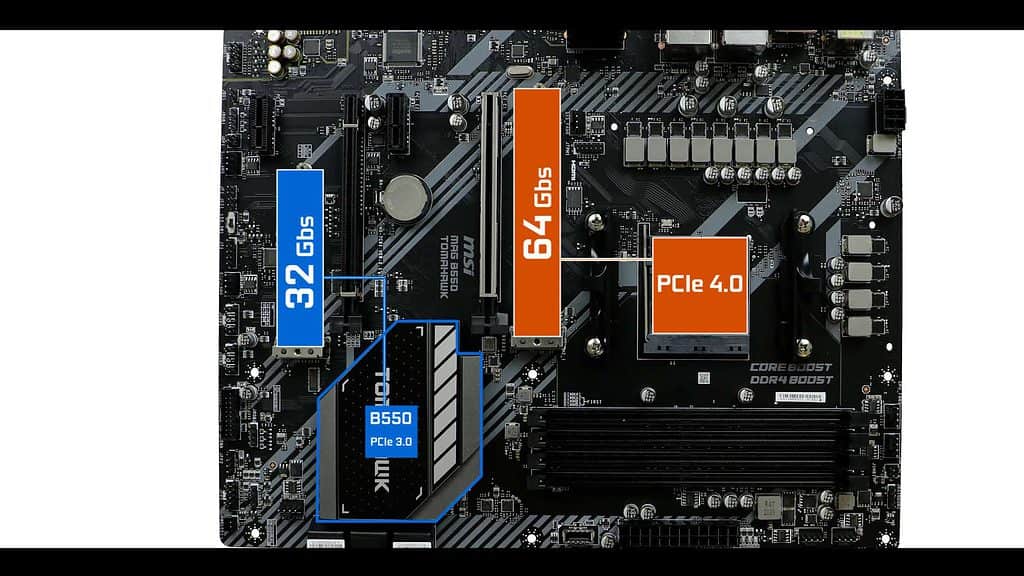 Equipped with PICe 3.0 M.2 SSDs, our sticks can swap data up to 32 Gb/s.
But if you do purchase a PCie 4.0 enabled M.2 SSD, then the CPU fed M.2 SSD will be able to swap data up to an indecent 64 Gb/s.
In both cases our M.2 SSD sticks will experience a lot of heat.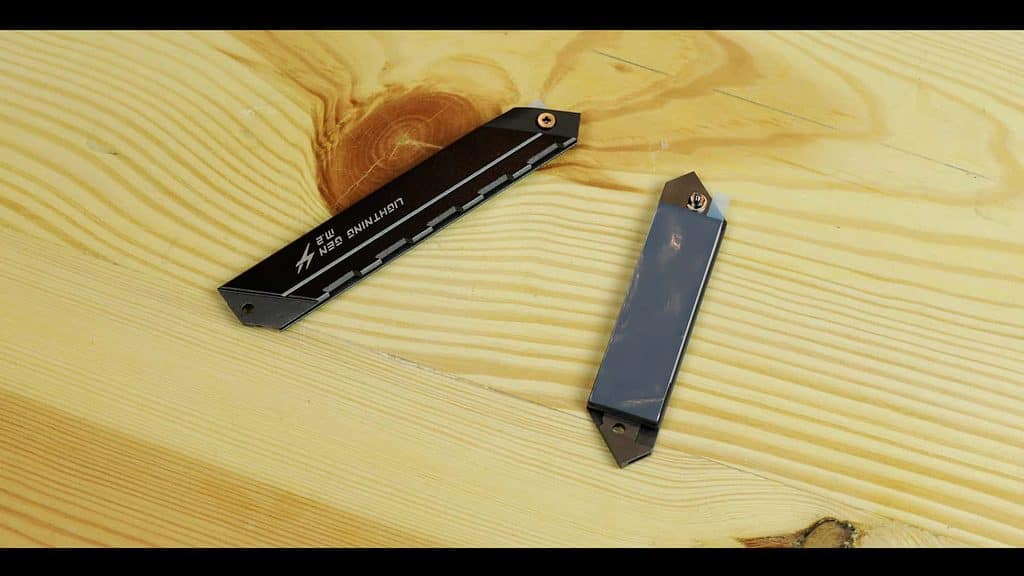 Fortunately , we do have  rather impressive thermo-padded heat-shields  which do a wonderful job at keeping our stick cool in any usage condition.
---
Chipset
Our B550 chipset is in all and for all a B450 chipset with an upgraded WiFi integrated module (WiFi 6 802.11AX) and a few more IOs.
It does remain a PCIe 3.0 Chipset. The PCIe 4.0 abilities of this board will be provided by its processor, which is not a bad thing.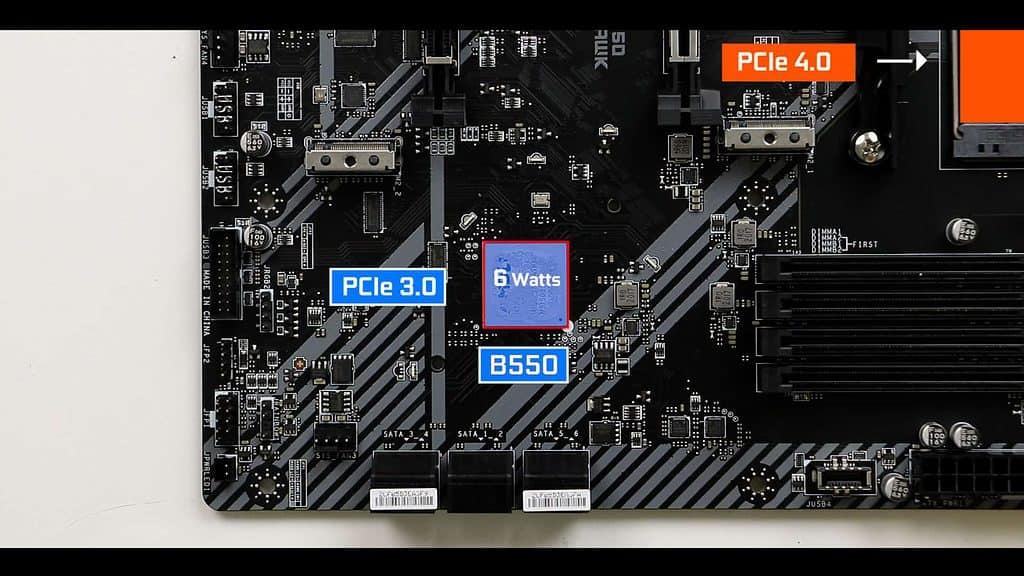 On one hand it keeps our Chipset cold enough not to require an active cooling solution as seen on the boiling 11 watts X570 chipset, and on the other, the motherboard still benefits from the PCIe 4.0 standard brought in by its CPU.
As a result, we have a cooler, more affordable and arguably more durable motherboard.
---
SATA 3.0
For more classical storage solutions, we have our usual SATA 3.0 plugs. 6 in total, with a transfer rate of 6 Gbps each. They can be configured to run into a 0,1, or 10 RAID configuration.
---
PCIe Slots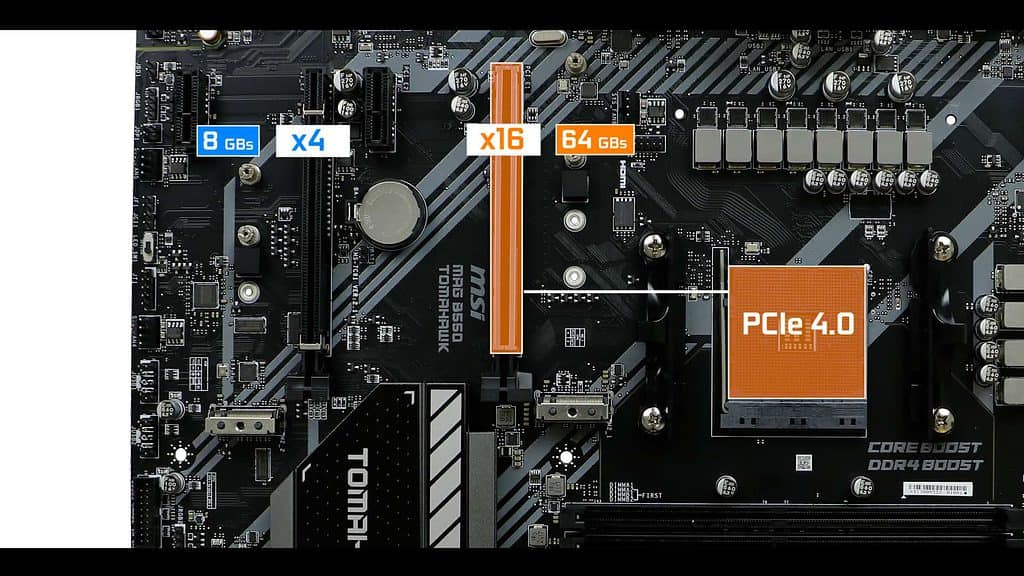 The MAG B550 TOMAHAWK has 4 PCI expresses slots.:
2 16 lanes with different BUS speeds
2 single lanes , single speeds
Only the closest one to your CPU can deliver up to 16 PCIE 4.0 Lanes meaning, this is where you'd want your video card to be placed for optimal performances.
The second 16 slot PCIe, is capped at only 4 PCIe 3.0 lanes. Not exactly GPU worth, hence the absence of a metallic reinforcement.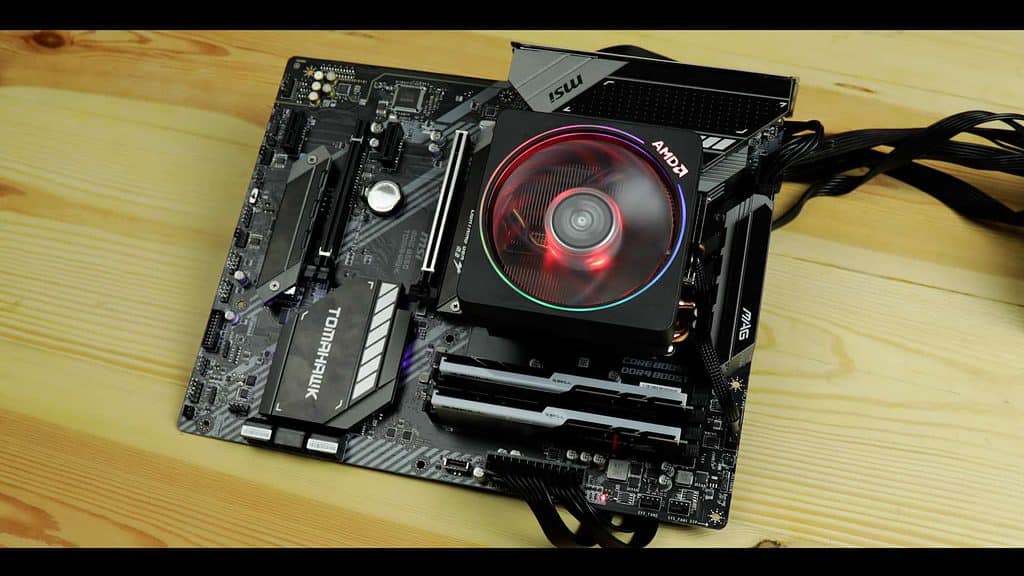 Perfect for gaming, but definitely not a creator-friendly motherboard, which, given the focus of MSI's MAG series, and its price point was expected.
---
Back IO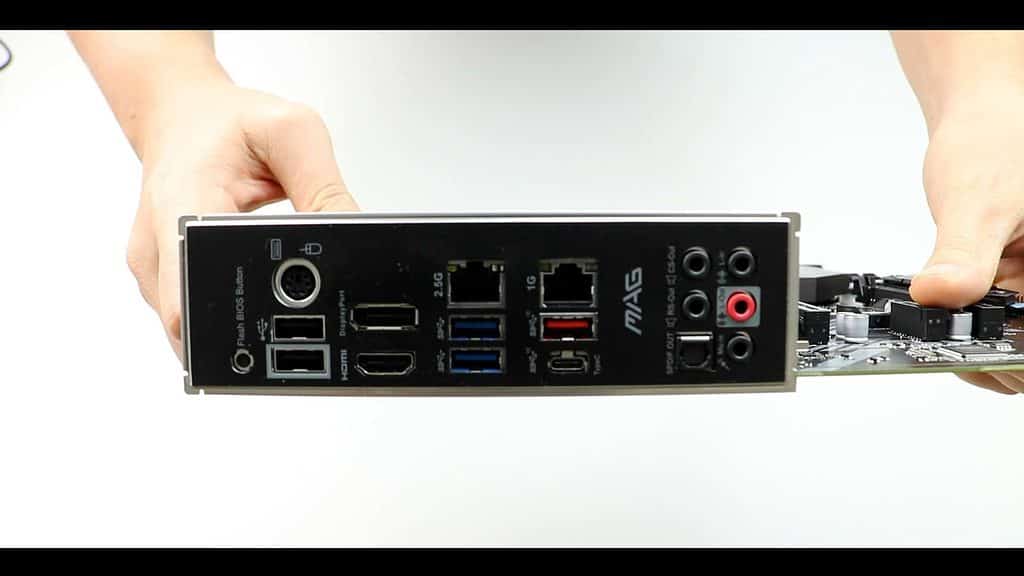 First let me note the presence of an IO integrated plate which is always a good point!
a BIOS flash back button, delighted to find one.. great to update or recover your bios on the go!
2x display outputs for our integrated graphics (HDMI 2.1 / DP 1.2), both of which can output 4096×2160 @60Hz.
4x 2nd Gen USB plugs
2x 3.2 2nd GEN USB plus , including a type C
1x Realtek® RTL8125B 2.5Gbps LAN controller which is the same upgrade I had spotted on the ASUS prime Z490-A preview. And that absolutely make me happy to see!
1x Realtek® RTL8111H 1Gbps LAN controller
a Wifi 6 AX201 with transfer up to 2.4 Gb/s, same that is available on AMD's X570 powered boards, finally, intel is catching up!
a rather premium ALC1200 REALTEK audio codec, which fully benefits from the 6 PCB layers board, since both left and right audio channel have been traced on separate and dedicated PCB layers, insuring a better static isolation, especially when recording. Problem that people living in a non grounded house will certainly appreciate !
---
Front Panel Connectors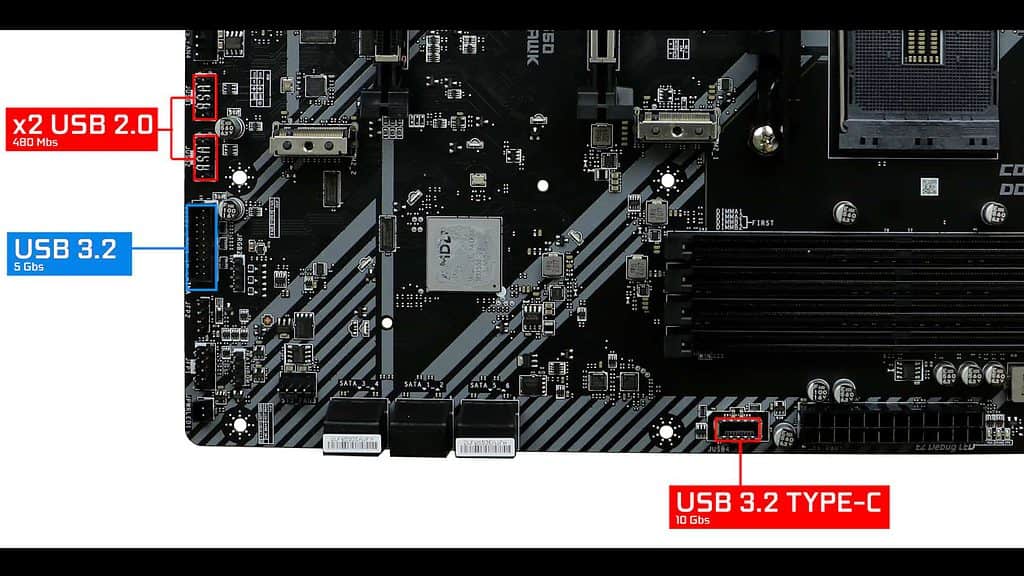 We have :
2x 2nd gen USB front panel connectors , good for our AIO pumps, or PSU monitoring,
1x 5Gbs USB 3.2 (1st Gen) front panel Connector
1x 10Gbs USB 3.2 (2nd Gen) TYPE-C front panel Connector
Overall a well furnished board-based peripherals in par with its pricing.
Cooling connectors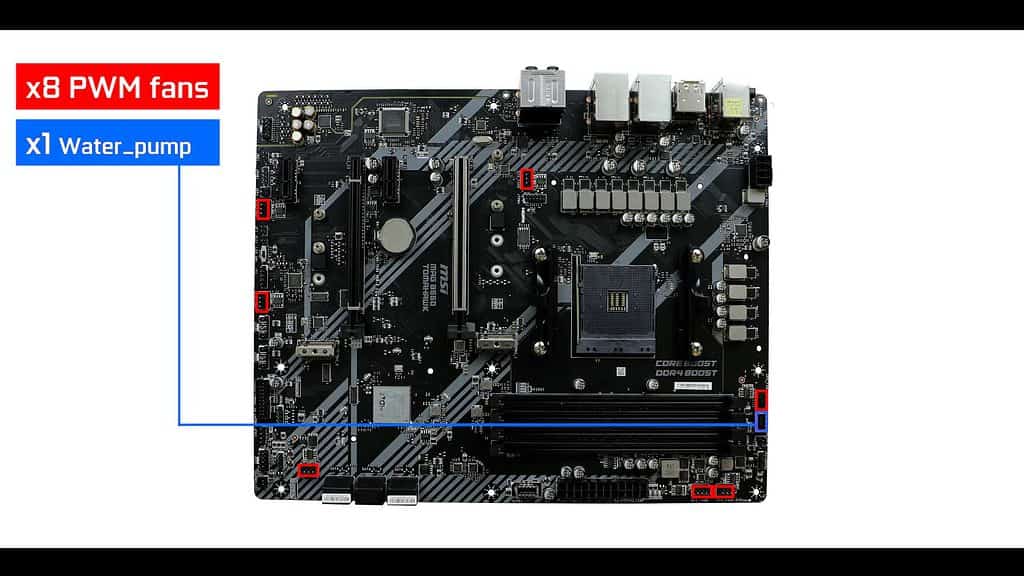 We have 7 nested PWM FAN connectors, 1 of which can support a water pump (AIO or dedicated)
Definitely what you want to see on an enthusiast driven board. The MAG B550 TOMAHAWK can handle about any cooling solutions you will throw at it. Spanning from the classic air to the eccentric dual-loop custom water cooling apparatus.
Only regret here, is the fact that these connectors are not Hybrids which could support anything you'd throw at it, whether a fan, a water pump or a flow sensor.
I would have given this boards an unprecedented level of agility which enthusiast would have most certainly appreciate.
---
TROUBLESHOOTING
EZ Debugger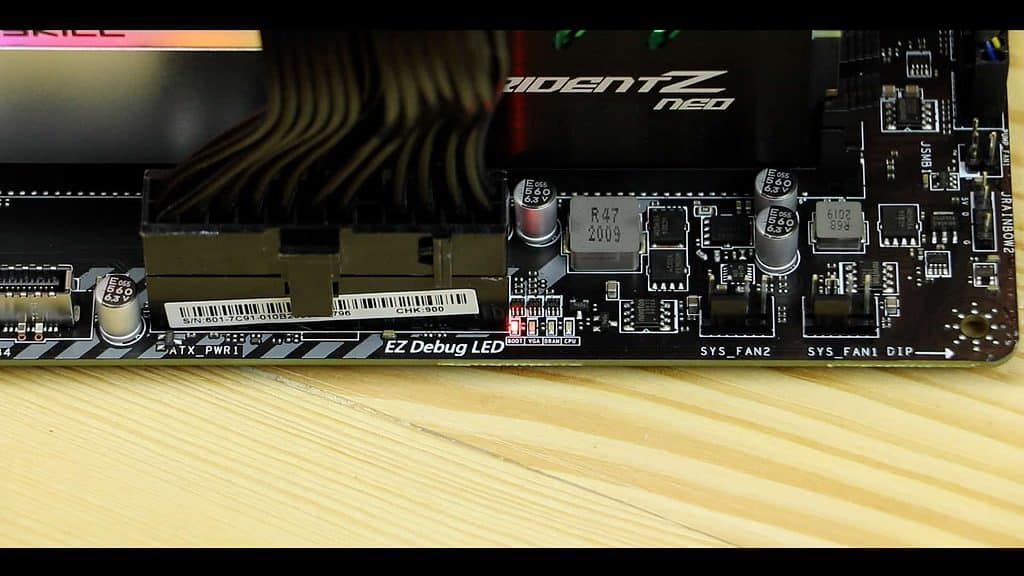 The EZ debugger is really the a crucial must have on the overclockers. More often than not, enthusiasts can't resist the call to find their RAM or CPU overclocking limits, and fail boots becomes a daily incidence.
The EZ debugger will give us a first-aide troubleshooting guidance one what stage of the boot your system failed.
---
AURA Sync Effect
RGB wise, our MAG B550 TOMAHAWK has  1 nested RGB Strip under its chipset heat sink.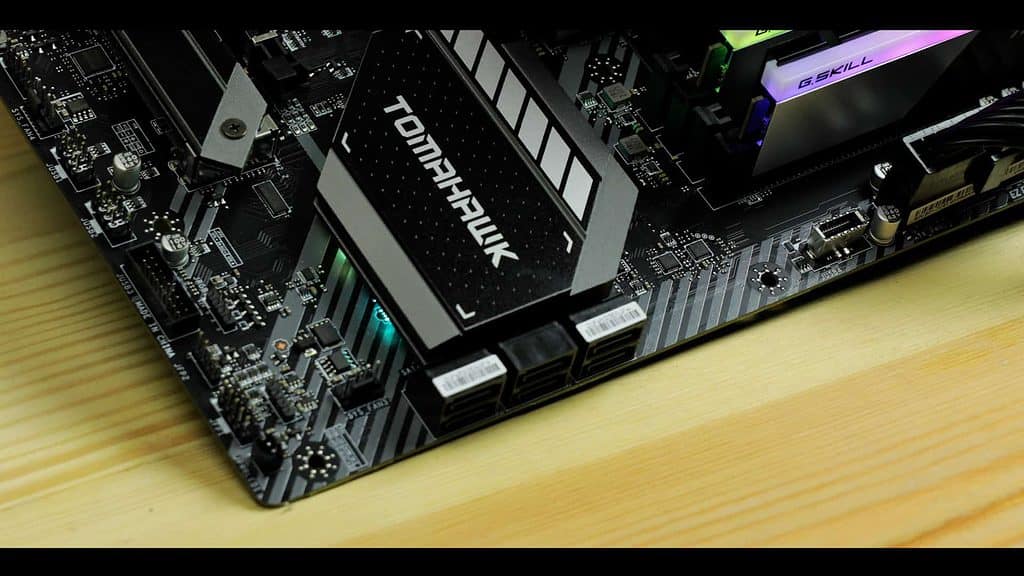 RGB Chipset heat sink,
We also have 4 RGB connectors :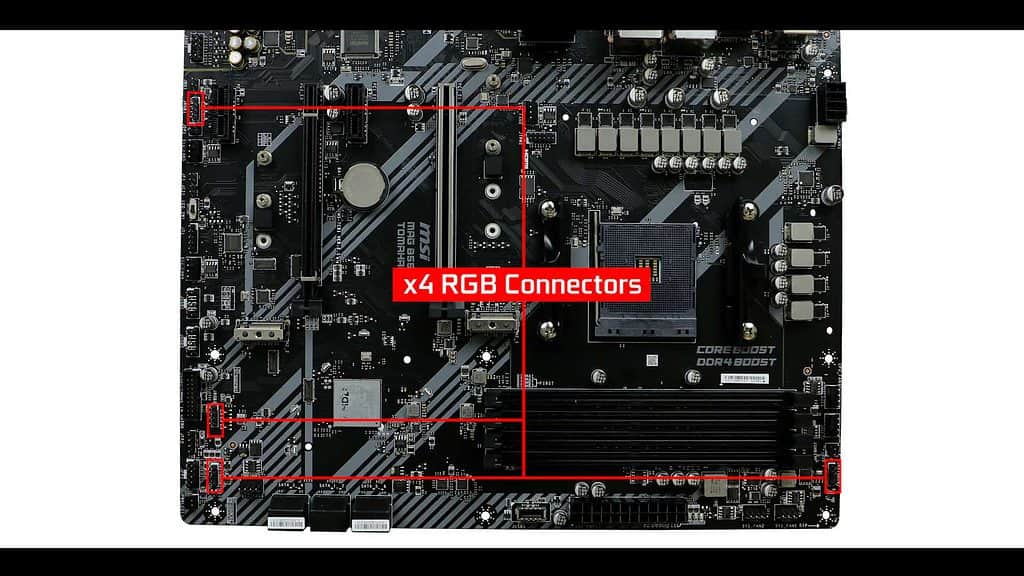 2 standard 12V RGB connector and 2 addressable RGB connector.
All of which can obviously be synced though MSI's MYSTIC LIGHT RGB Sync prioritary software.
---
CONCLUSION
At 179.99 USD the MAG B550 TOMAHAWK is a revolution in it s own merit! It has NOTHING to do with its predecessors.
The GOOD :  we got strong fundamentals, with a 6 layered PCB, very powerful VRM, and absolutely top of the industry cooling abilities.
THE LESS GOOD :
We got 2 Lan adapters instead of 1 LAN + WiFi.
PWM connectors not Hybrid.
IT'S A BIG YES!
All and for all, it is one of the best performant centric boards I have seen at that price point and that is what really does matter. In this regard, it easily surpass its natural competition, the ASUS TUF-Gaming B550.
Despite having room for improvement in its feature department, at the sub 200 dollars, MSI's MAG B550 TOMAHAWK brings home the gaming crown.
QUICK OVERVIEW
CPU & northbridge support
Supported Processor
Ryzen 3000 and Ryzen 5000 AMD CPU series
Chipset
B550
CPU socket
AM4
Memory
Slots
4 (dual channel)
Max System Memory (Gigabytes)
128
Memory Technology
DDR4
Maximum Clock (MgHz)
5,100
Connectors
USB 2.0
2 back IO + 2 on-board
USB 3.2 (1st Gen)
2 on back IO + 1 on-board
USB 3.2 (2nd Gen)
2 on back IO
LAN
2.5 Gb/s + 1 Gb/S
WiFi
NONE