Key Features
ATX Form Factor
Intel  Z390 chipset
LGA 1151 CPU socket
Compatible with 8th and 9th Gen. Intel CPUs
4 x  16GB 4,266 MHz DDR4, maximum 64GB
2 x PCI-E 3.0 x16, 3 x PCI-E 3.0 X1
IO : PS2 connector, 2 x USB 3.1 2nd gen. Type-A, 4 x USB 3.1 (1st Gen), 1 x Gigabit Ethernet, 1 x HDMI (1.4b), 1 x DisplayPort (1.2),3 x audio, 1x WiFi MU-MIMO 802.11 AC, BLUETOOTH 5.0
2 x M.2 SSD (Optane ready), 6 x SATA 3
2x CrossFire support
The TUF Z390-Gaming Plus comes in with high expectations. Military graded resistant component at a floor-bottom budget!
Spoiler alert, even though it started with noble attention and with a rock-solid experience, Asus seems to have somewhat miss the point on this one.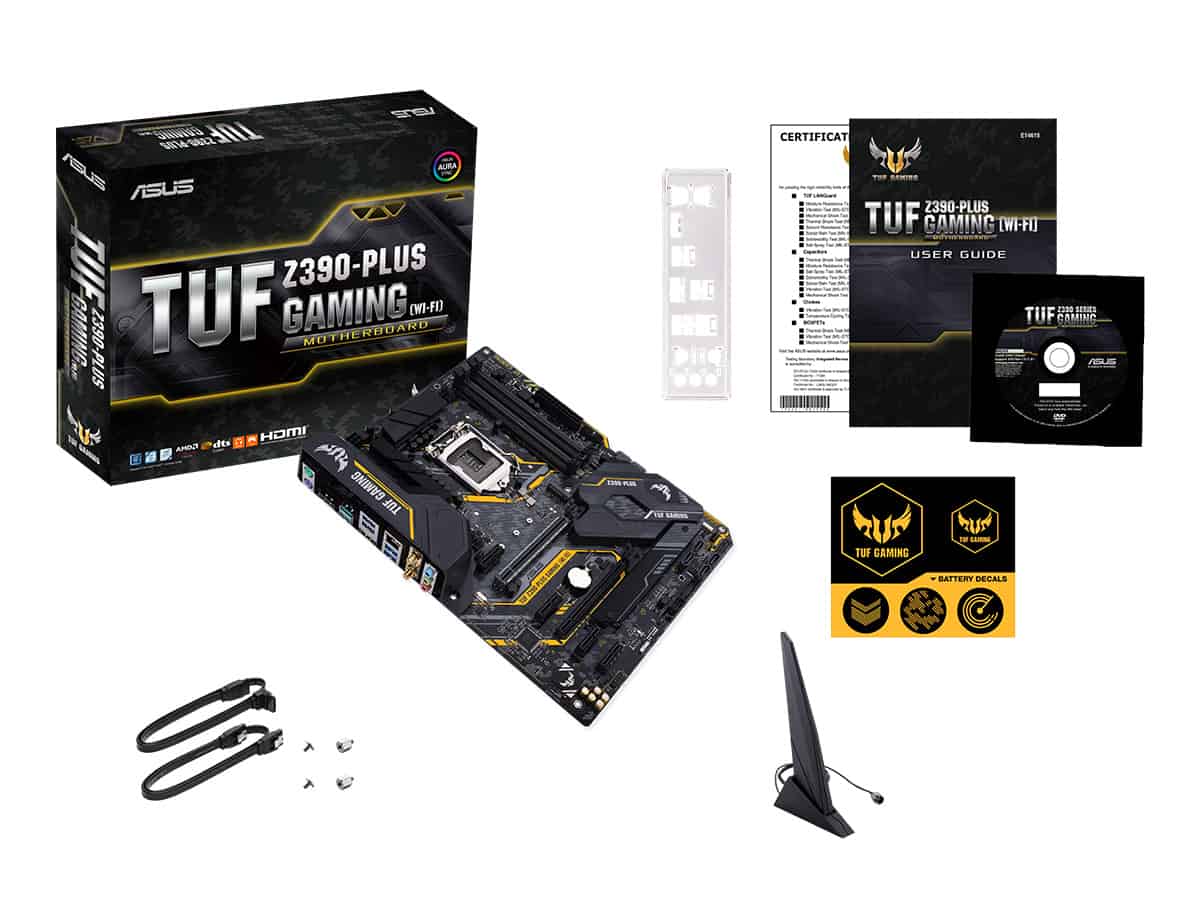 Other than the board itself, in the box you will find :
2 SATA cables
WiFi antenna
IO shield
M.2 SSD screws and screw raisers
TUF stickers
Driver DVD
Documentation and TUF certification
The TUF Z390-PLUS Gaming WiFi
First and foremost, it is an ATX motherboard which will fit virtually any case you throw at it. Nothing new there. Note that there is no PCB back shield on this board.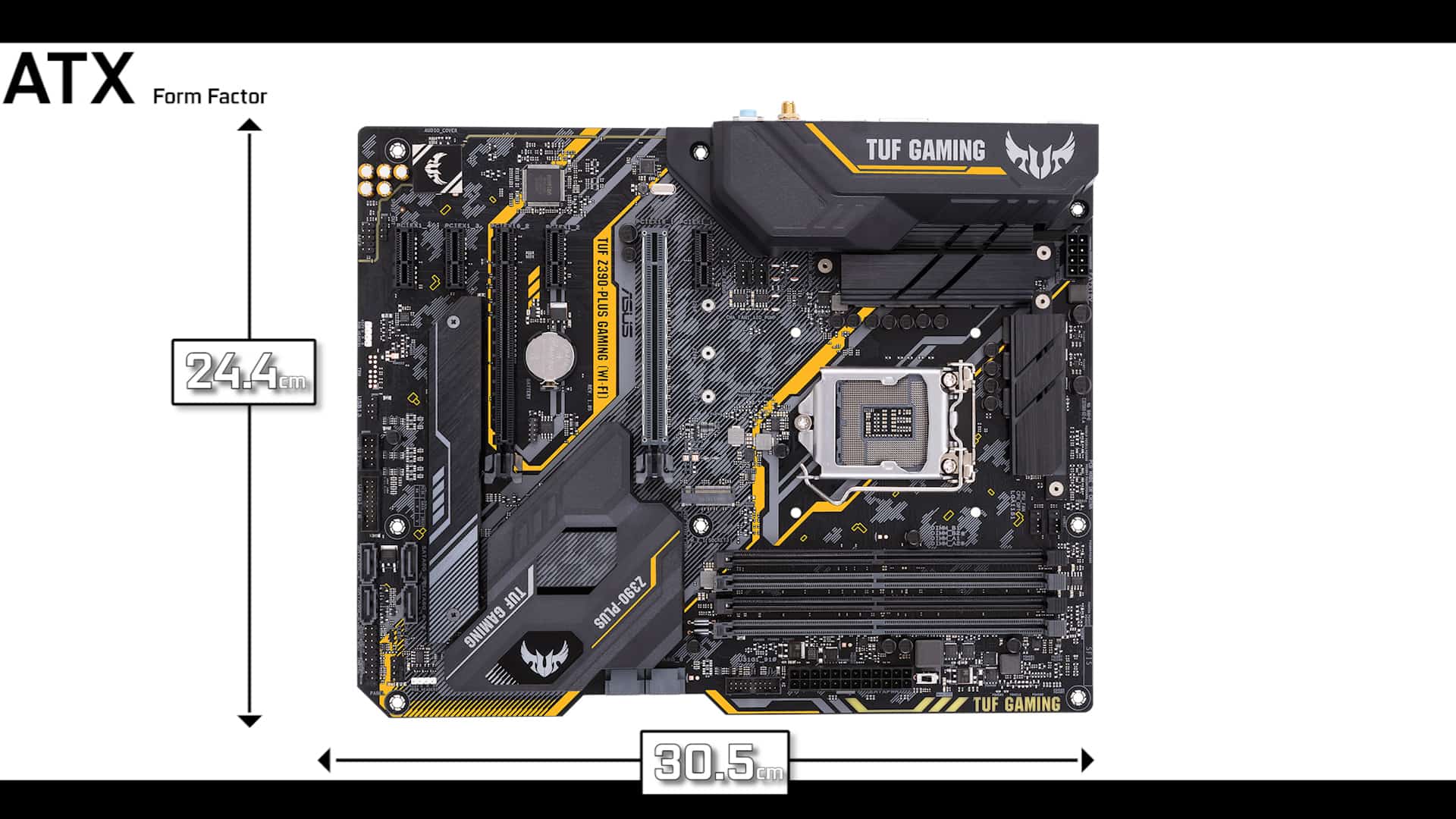 The Z390 chipset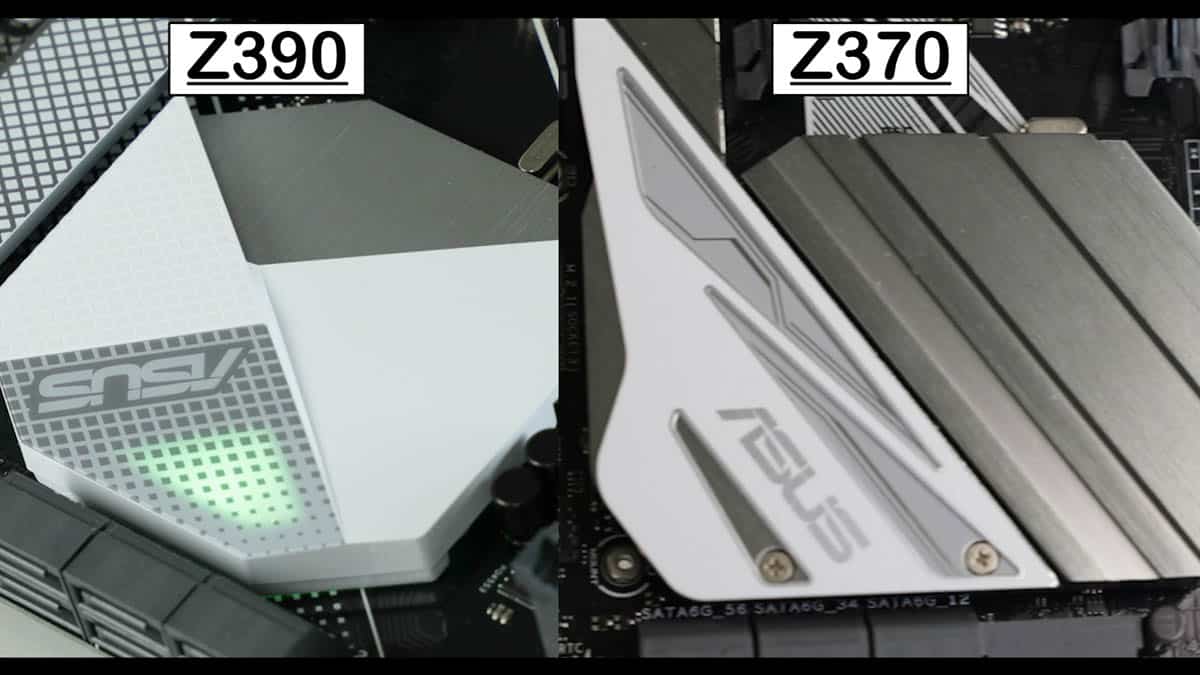 The big difference in this new series is, of course, the chipset: The Z390.
What you need to know here is that the Z390 is in all and for all identical to its predecessor, the Z370. The only noticeable differences are the addition of 2 features (marked in red below) :
Intel Z370 versus Z390


Intel Chipset
Z390
Z370
Overclocking Support
Yes
Yes
On-CPU PCI Express* 3.0 Configurations
1X16 or 2X8 or 1×8+2X4
1×16 or 2×8 or 1×8+2×4
Independent Display Ports / Pipes Support
3/3
3/3
Memory Channels / DIMMs per Channel
2/2
2/2
Processor Overclocking
Yes
Yes
Integrated Intel Wireless-AC Support (CNVi)

Yes

No
Intel Optane Memory Support
Yes
Yes
Maximum High Speed I/O Lanes
30?
30
Maximum USB 3.1 Ports: Gen 2 / Gen 1

6 / 10

0 / 10
Maximum SATA 6Gb/s Ports
6
6
Maximum PCI Express* 3.0 lanes
24 (v3.0)
24 (v3.0)
Intel Rapid Storage Technology
Yes
Yes
Maximum Intel RST for PCIe Storage Ports (x2 M.2 or x4 M.2)
3
3
Intel RST PCIe RAID 0, 1, 5
Yes
Yes
Intel RST SATA RAID 0, 1, 5, 10
Yes
Yes
Intel RST for CPU-attached Intel PCIe Storage
Yes
Yes
Other than that, they are the very same chipset, which is a good thing since both the Z370 and Z390 can support the same processors:
8th Generation Intel Processors (Coffee Lake)
9th Generation Intel Processors (Coffee Lake refresh)
Socket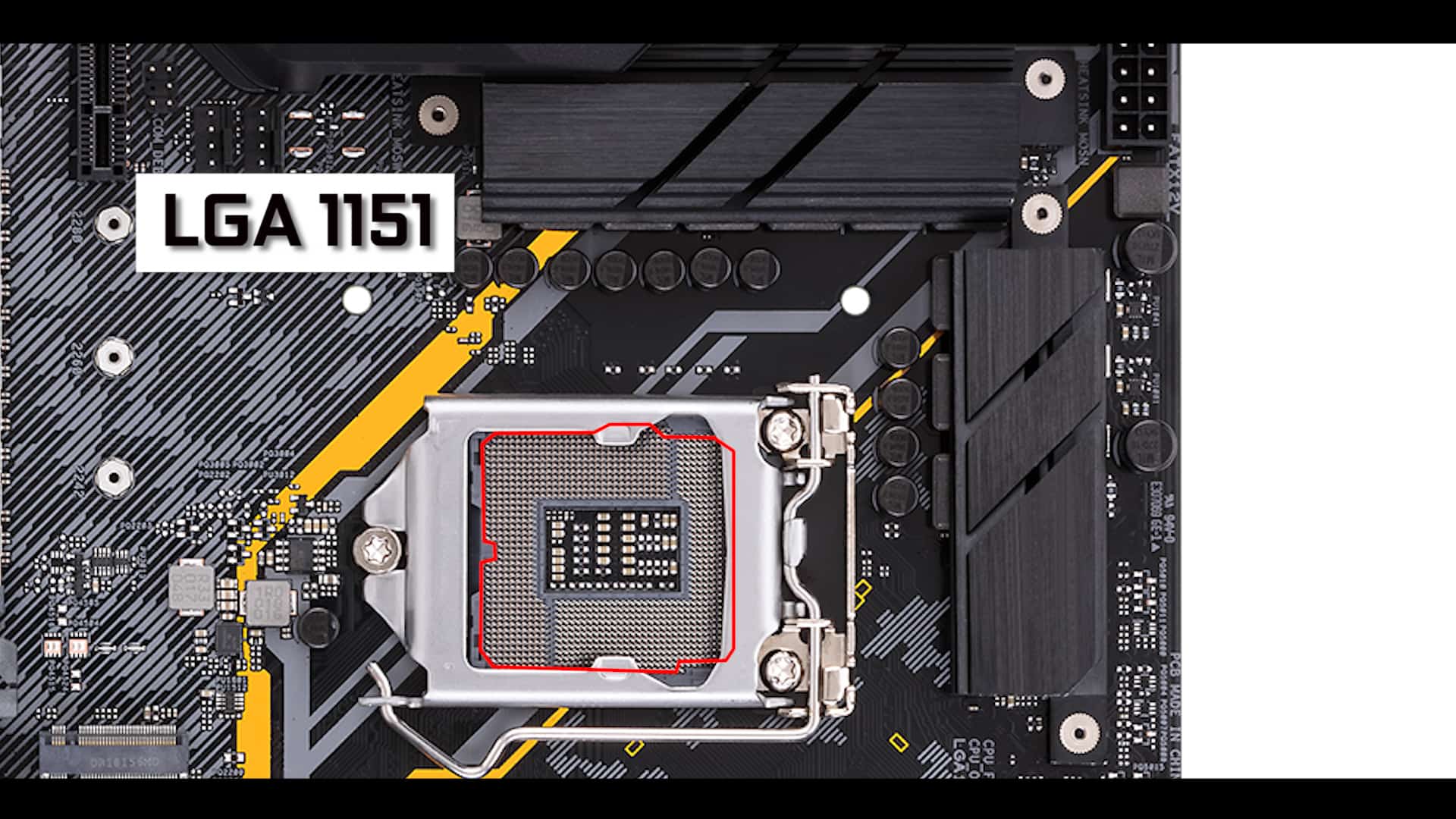 Luckily for all of us, this board still uses the highly compatible 1151 LGA CPU socket. Therefore, if you have installed any Intel CPU in the past decade, you should feel right at home.
And, as previously stated, the CPU socket will support both the 8th and 9th generation of Intel's Icore CPUs.
VRM
The TUF Z390-PLUS GAMING (as well as any other TUF Z390s) comes with 8 phases which really are 4 phases in parallel. This is a definite are a change compared to the TUF Z370 8+2 phases series. That is explained by the fact that the voltage switch is faster on 4 phases and will better suit an 8 core CPUs.
On the downside, fewer phases mean higher temps on every phase and I could not detect real issues unless of course, you did try to run and OC an i9-9900K.  In which case I clearly detected some serious heating coming from the VRMs,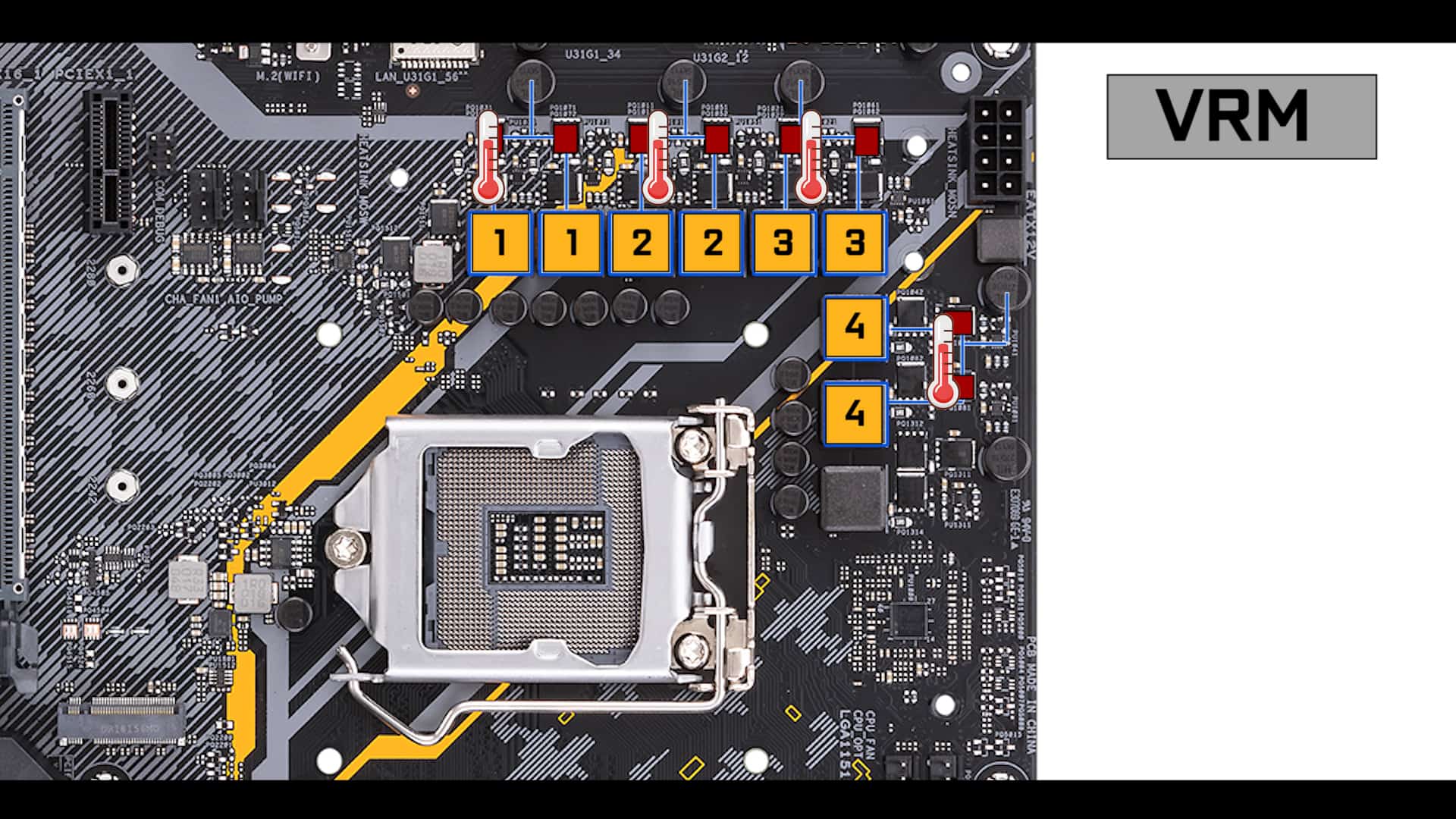 I find the VRM heat sinks a bit skinny, and since there are no fan mount / fan provided with the TUF Z390-PLUS GAMING, I do fear that serious CPU OC is out of the question. Anything beyond the i7-9700K will suffer from throttling when faced with prolonged CPU stress.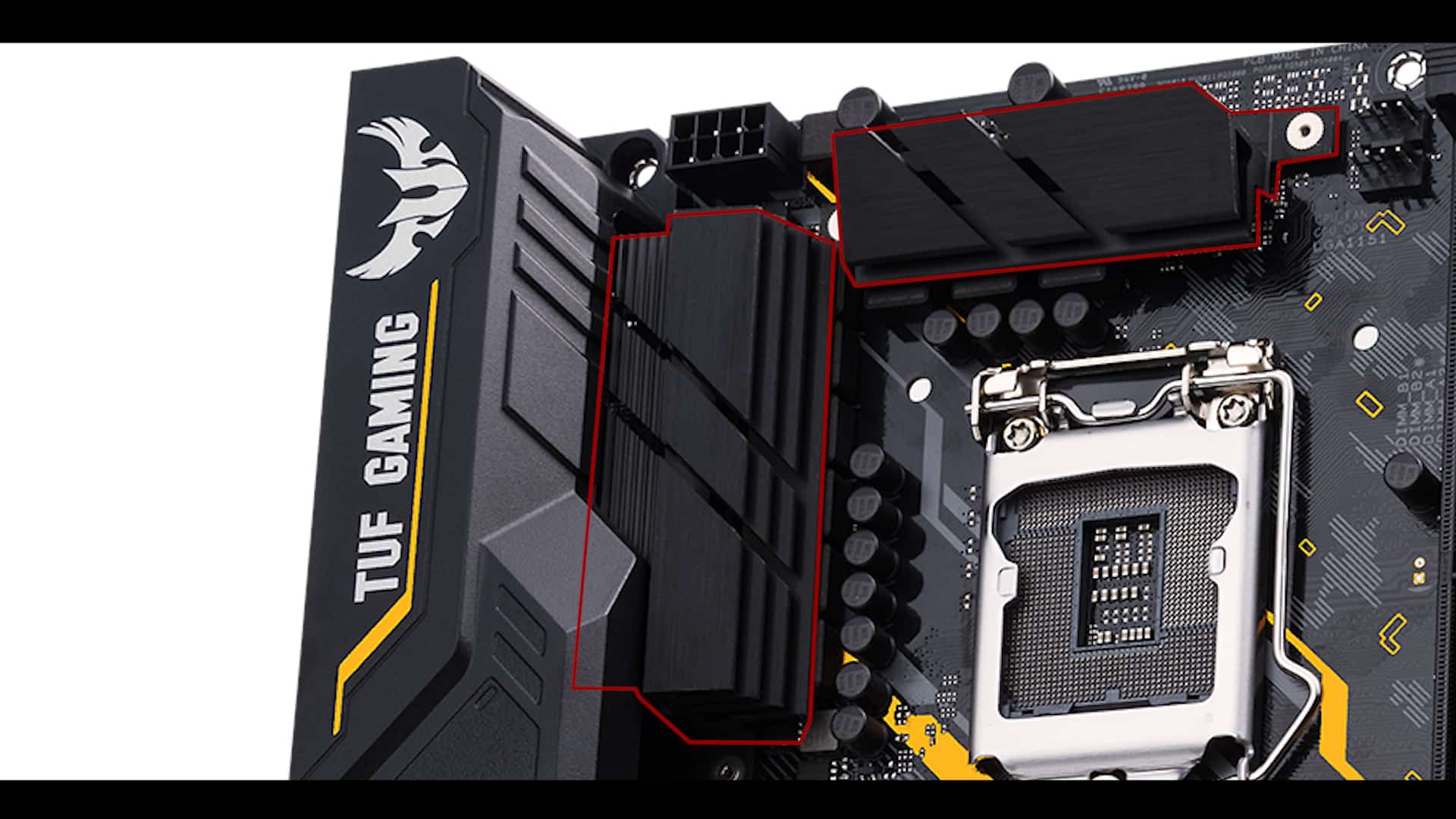 As for the 8th generation of Intel Icore CPUS, you are safe and can do whatever you want.
TUF
The TUF motherboards comes with a few unique features which translates in unique robustness and resistance to time and indelicate voltage.
TUF Motherboards are equipped with Military-grade components. And yes, there is such a thing as Military grade components.
Chokes are 5000 hours life-span graded, which is more than double than 2000 hours we get on standard motherboards. And that's fine.. but not so long ago, on the TUF Z270 series  chokes use to come with a 10,000 hours life-span graded chokes. So a definite downgrade, and not a small one.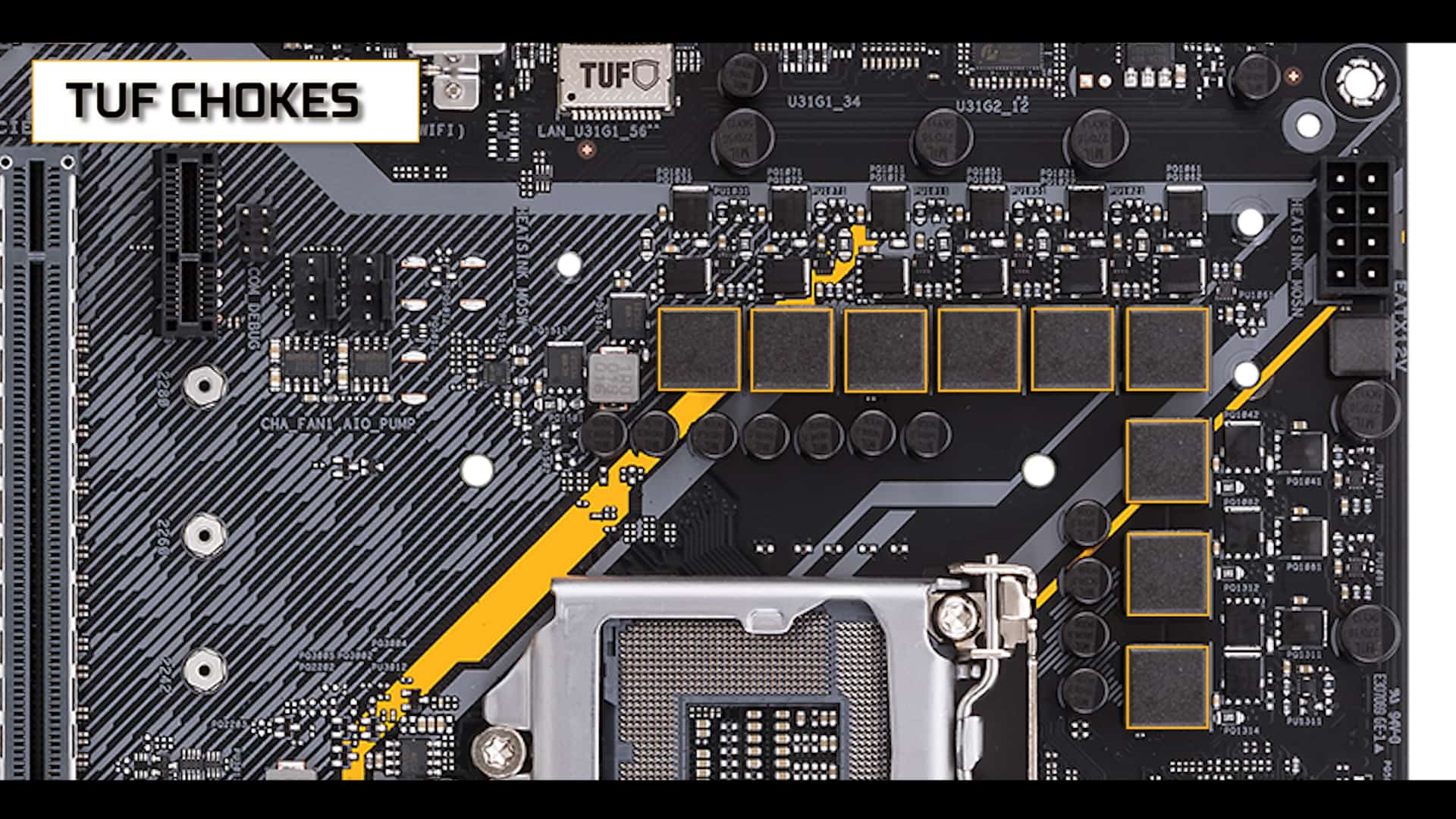 TUF MOSFETS These "not so well known" components regulate the voltage going from the your phases to the chokes. And the more resistant and accurate they are, the safer and better-performing will be your CPU.
In our case, military-grade MOSFETS translates in better power efficiency and reduced heat generation.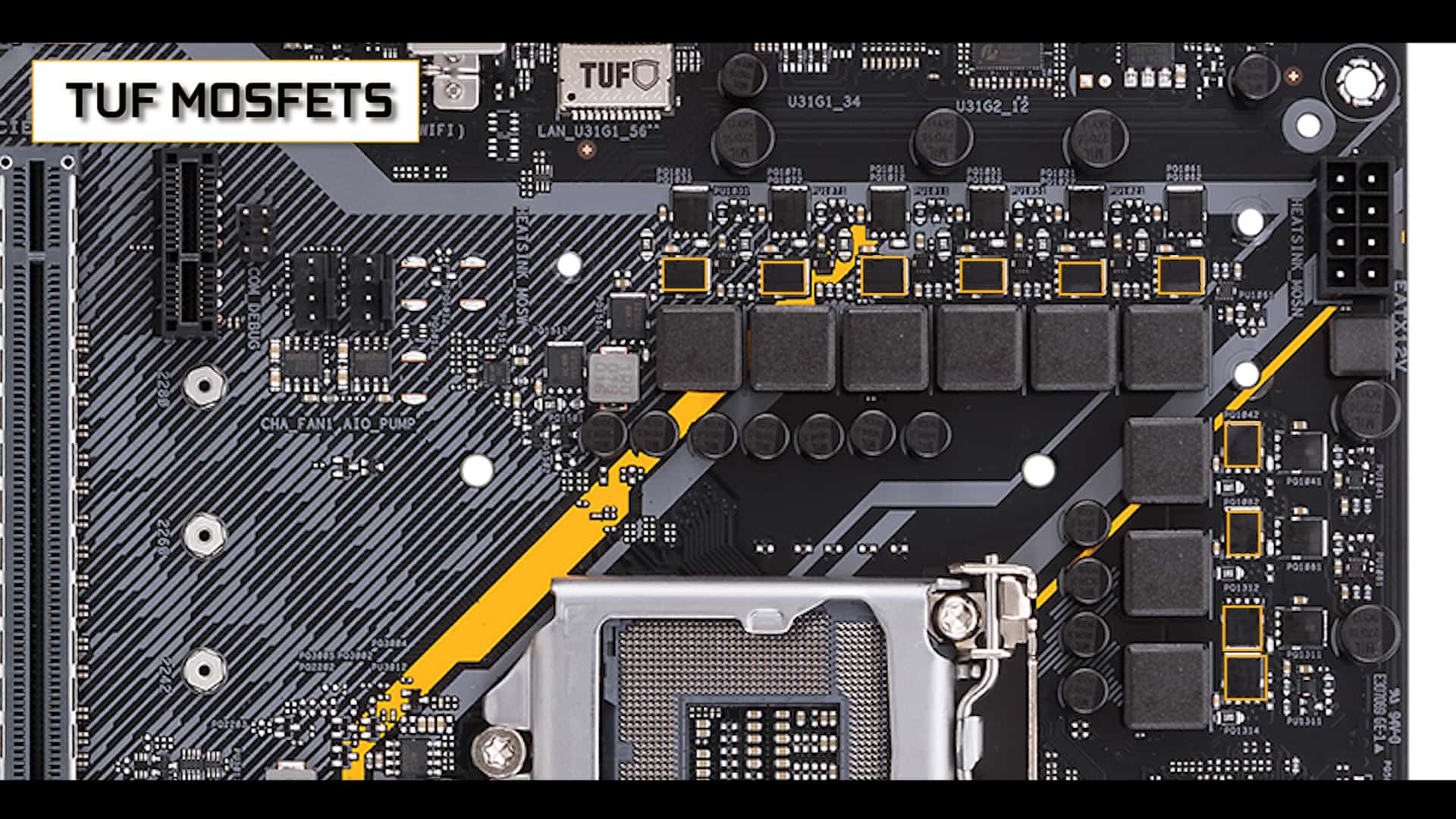 TUF LANGUARD goes out of its way to protect your LAN ethernet plug against surges. In effect, it increases the level of protection by about 250% compared to typical industry norms.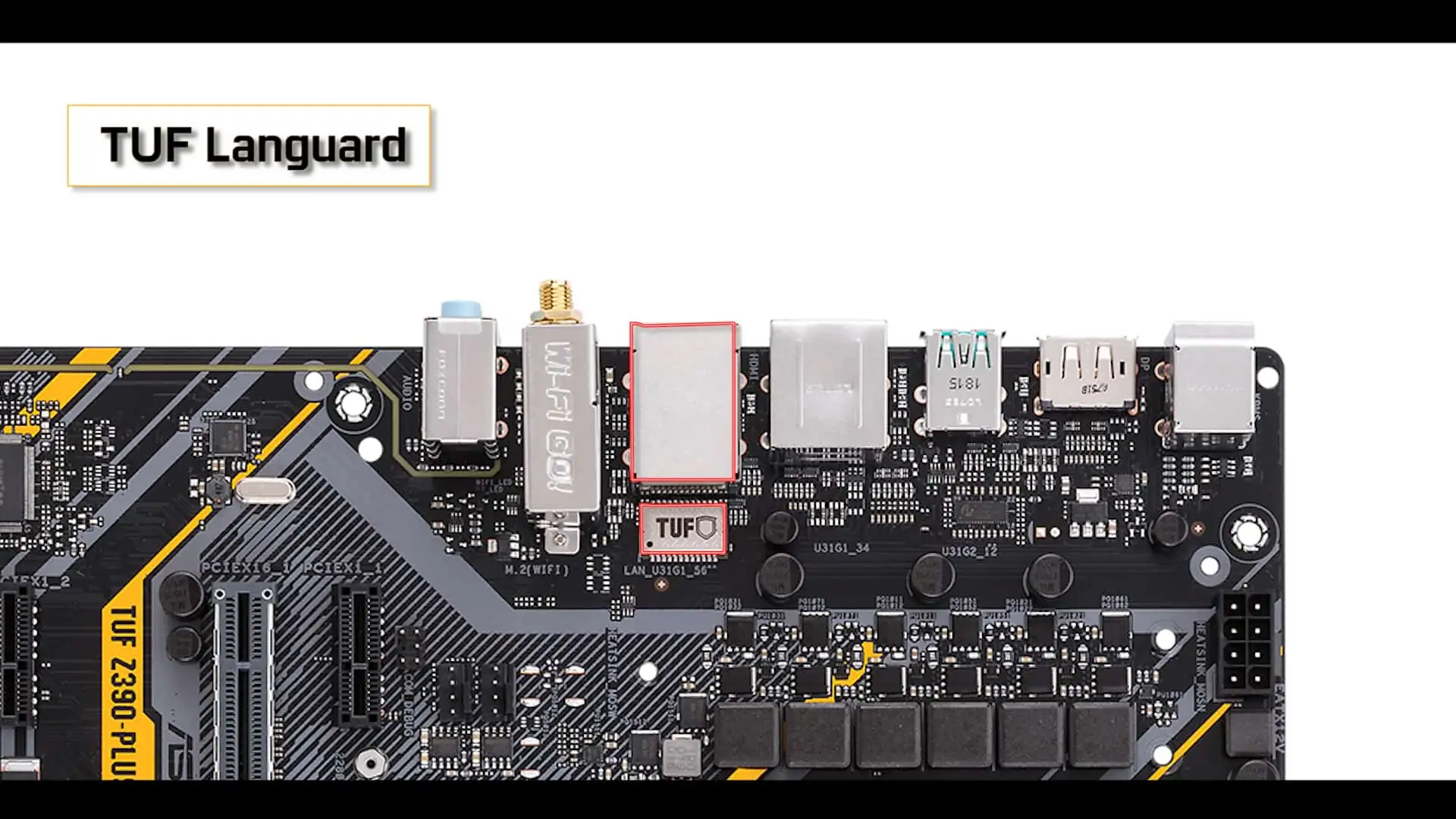 Stainless Steal IO triples the life span of your back IO housing and protects it from corrosion. Never really knew why this was necessary. I would very much rather see an integrate IO shield instead.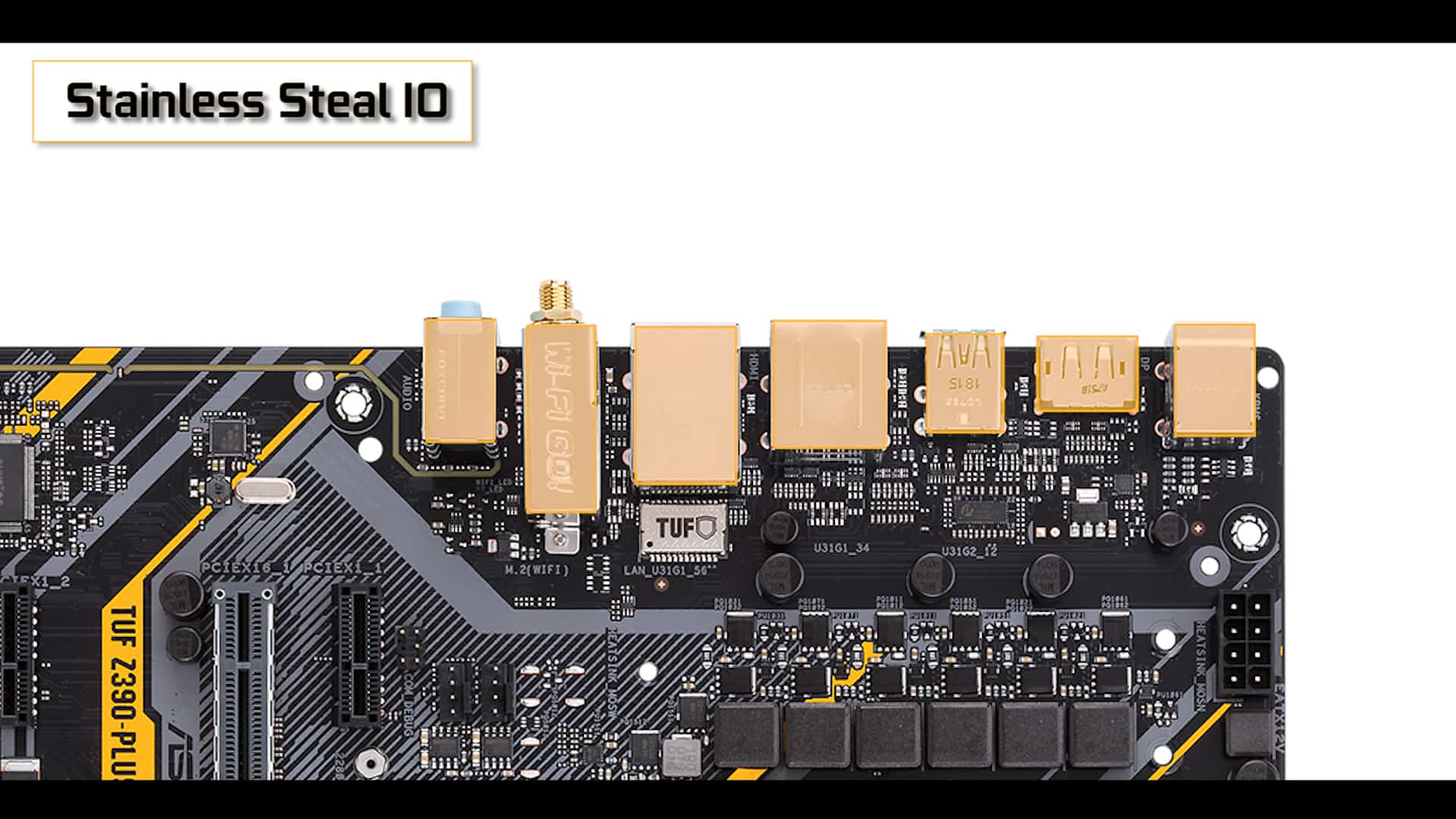 RAM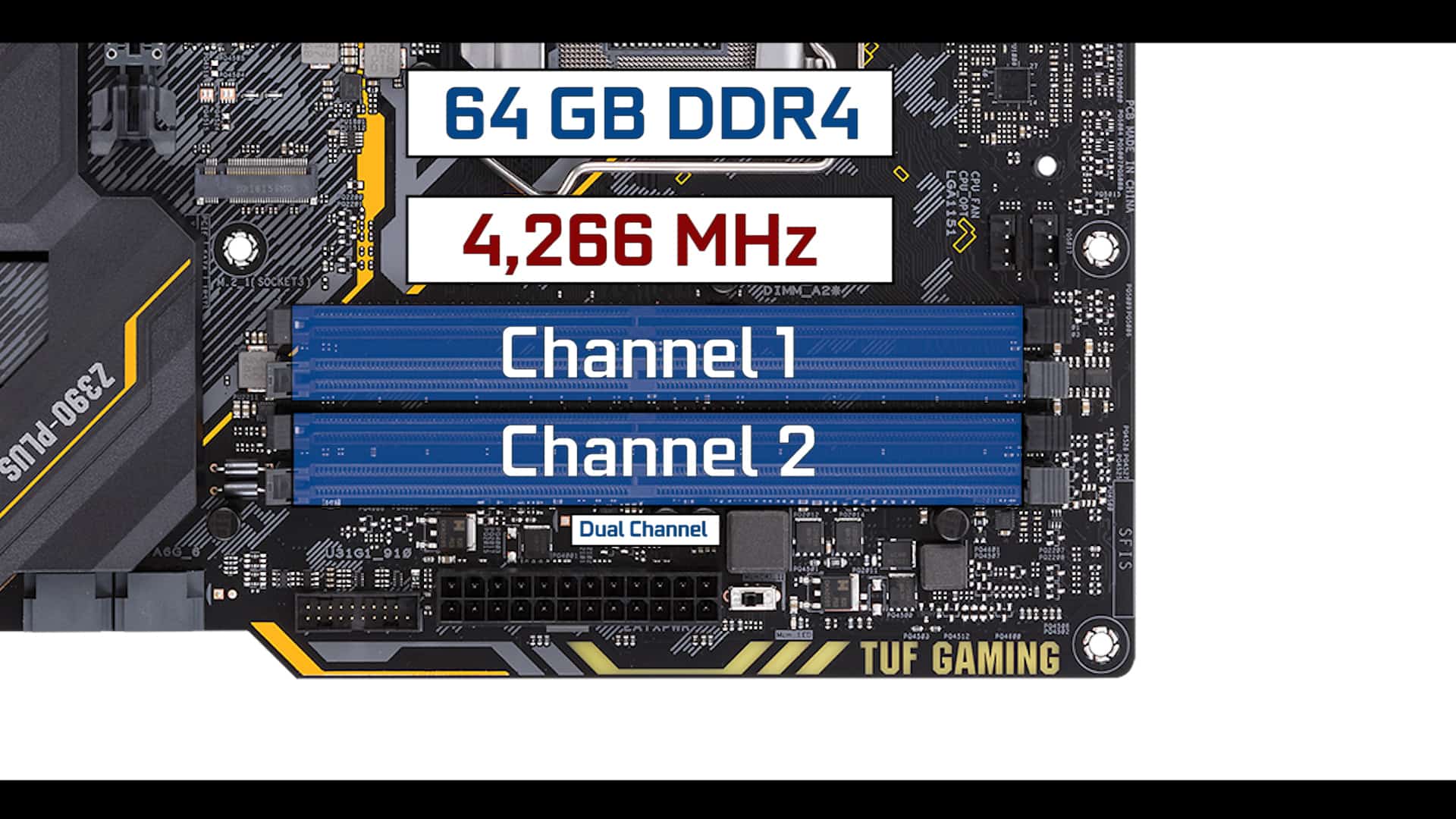 RAM wise, nothing surprising. We have the usual dual channel configuration which can support (for now) up to 64gb of DDR4 RAM, overclock-able up to 4,266 GHz. This is 367 MgHZ more than on its predecessor.
I did say for now because word on the street is that this board will, in the future, support up to 128 GB of DDR4 ram, in a 32X4 configuration.
M.2 SSD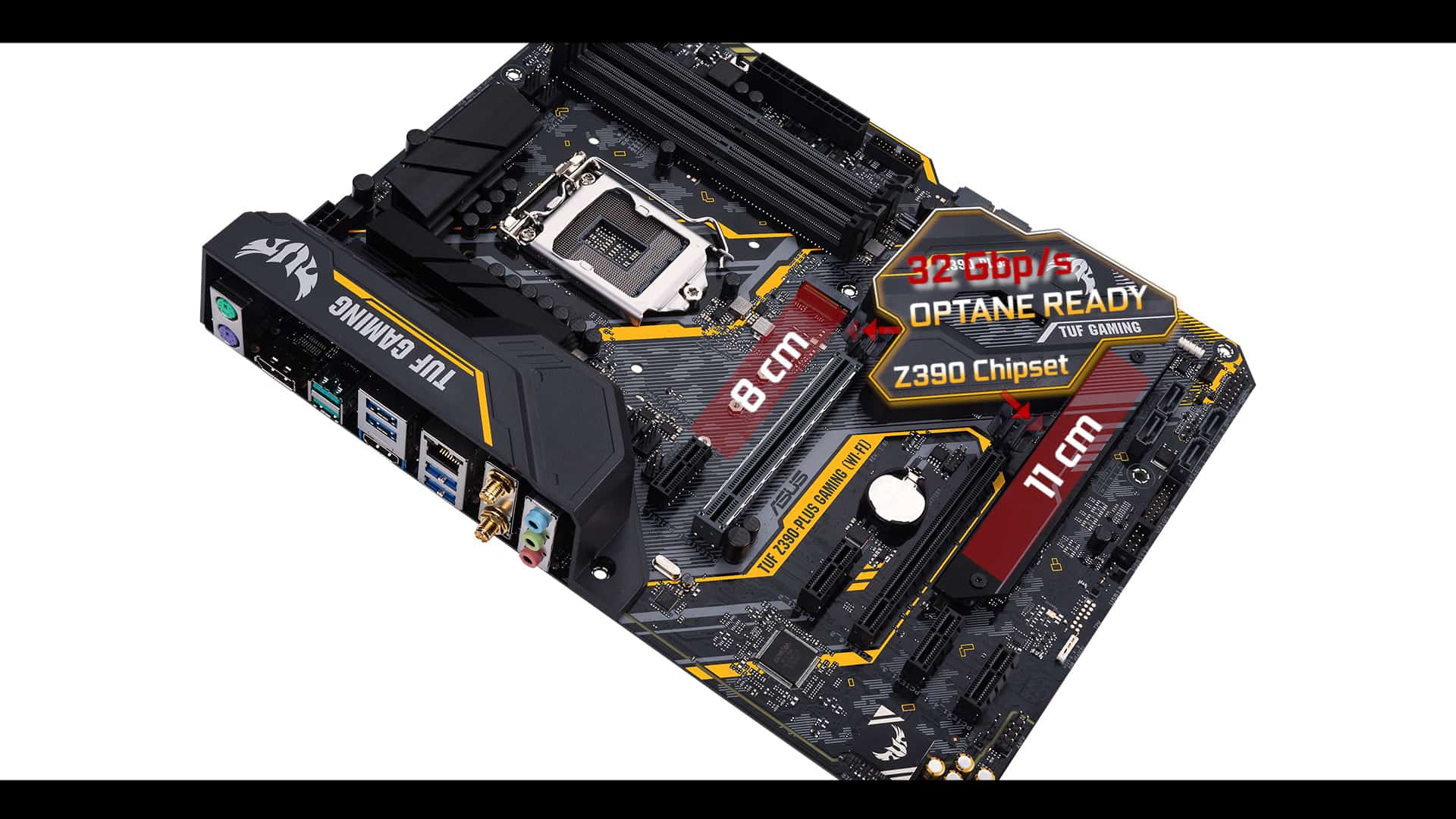 Storage wise, we have a dual M.2 SSD configuration. . And of course, the Z390 chipset is Optane ready. This will allow our M.2 SSD sticks to swap data up to 32 Gbps.
With this kind of theoretical transfers, do not be surprised to see your M.2 SSDs sticks overheating, and thermo-throttling. That is why one of the M.2SSD (the longest one), has been equipped with a thermo-padded heat-shield. Therefore, this is where I would recommend to place a bootable M.2 SSD if any.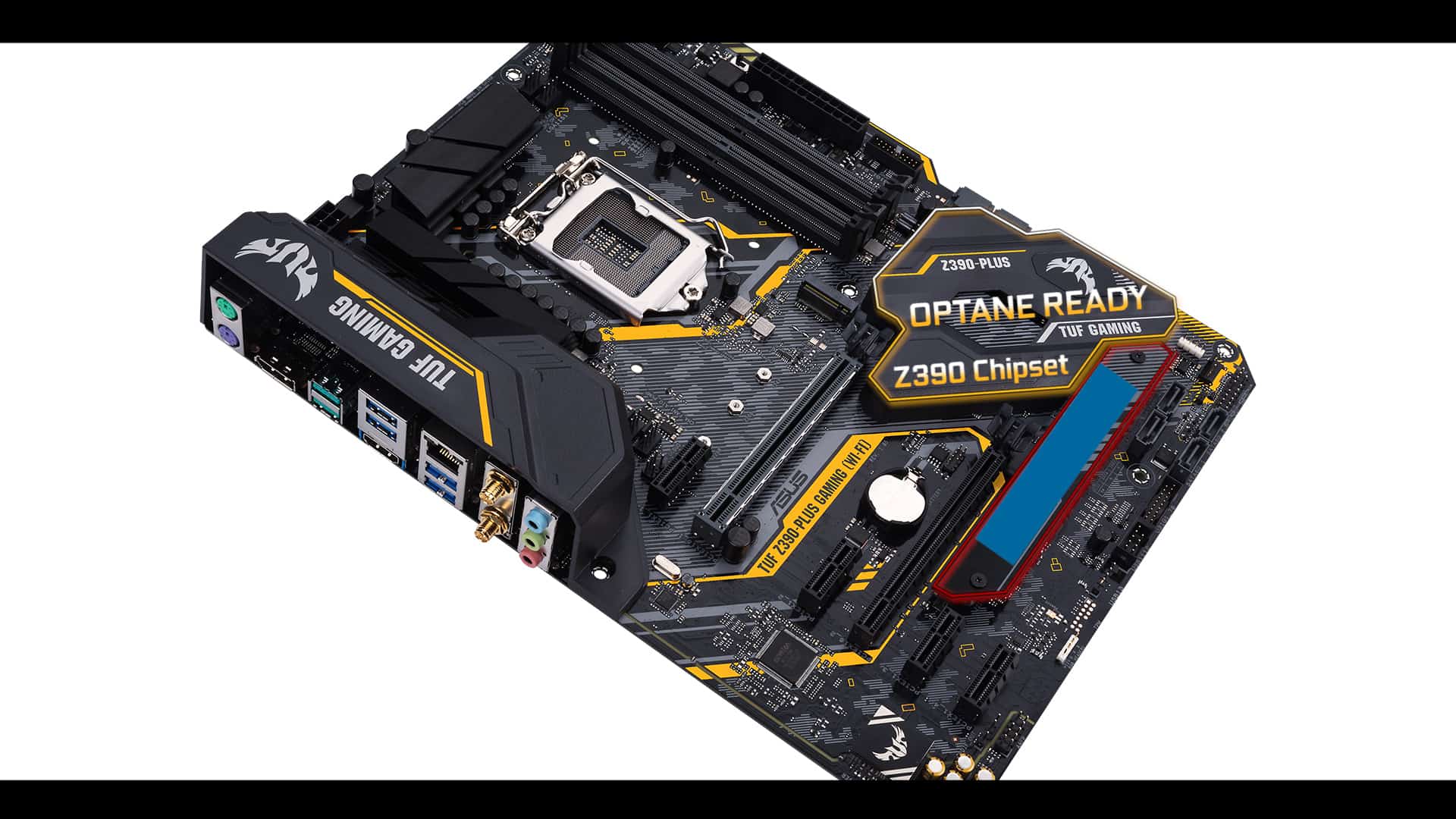 A small yet important improvement: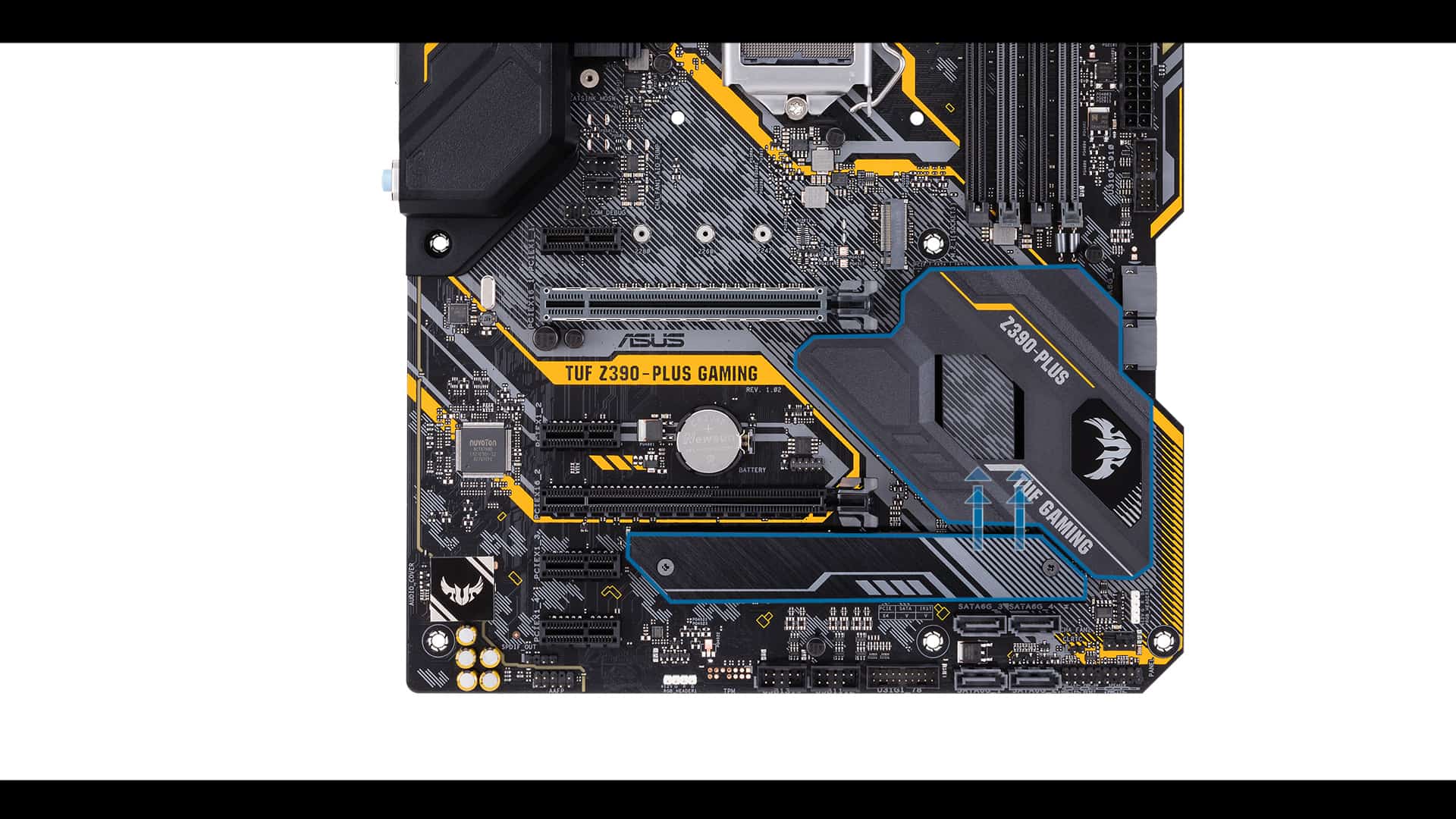 The chipset heat shield and the M2.SSD's are now physically separated, avoiding any thermal exchange between those usually warm components.  Asus has been introducing this improvement all over its latest motherboards series, and I do think that this is an important evolution.
SATA 3.0
TUF-Z390-PLUS-GAMING SATA connectors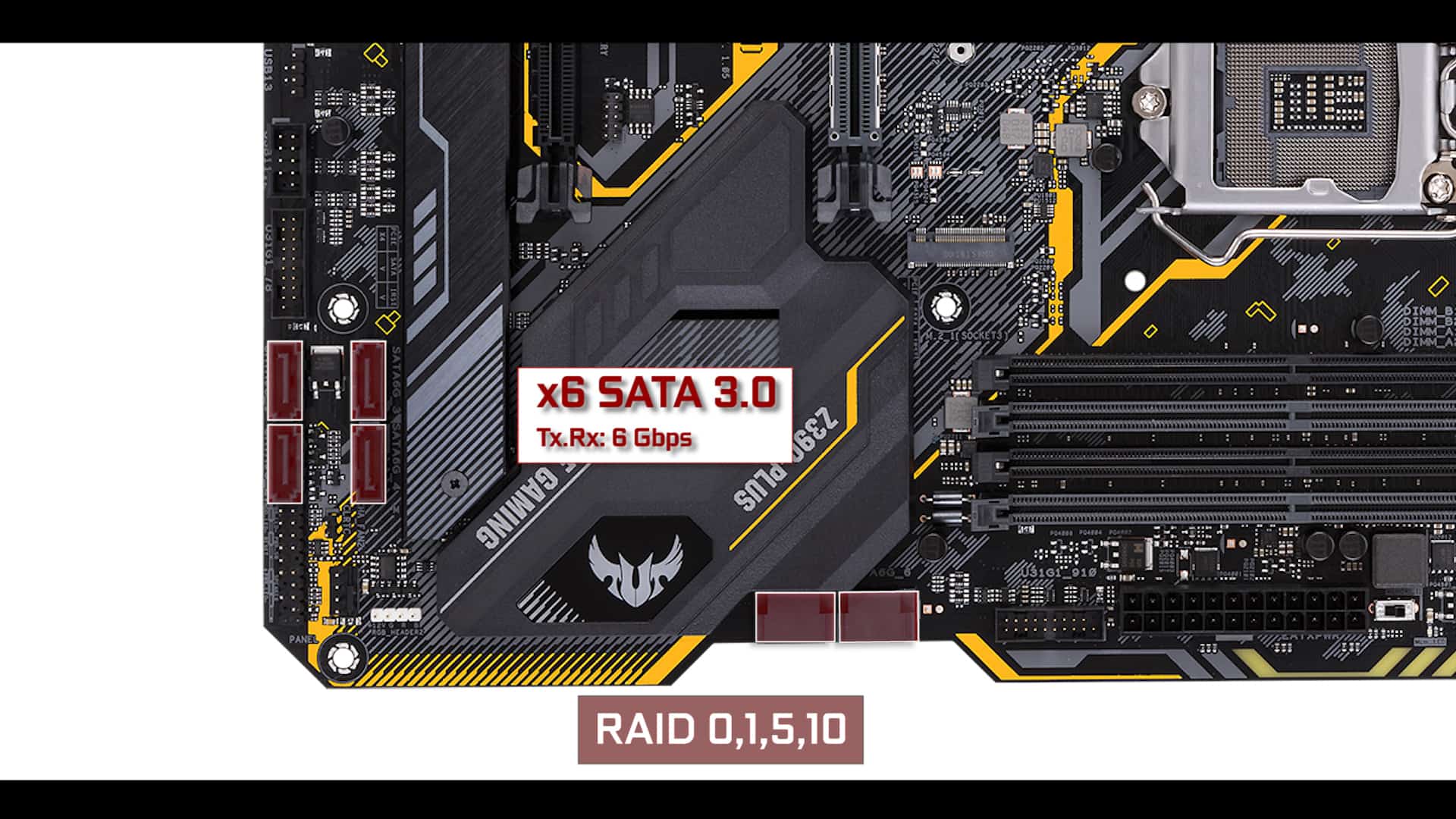 For more classical storage solutions, we have our usual SATA 3.0 plugs. 6 in total, with a transfer rate of 6 Gbps each.
PCIe Lanes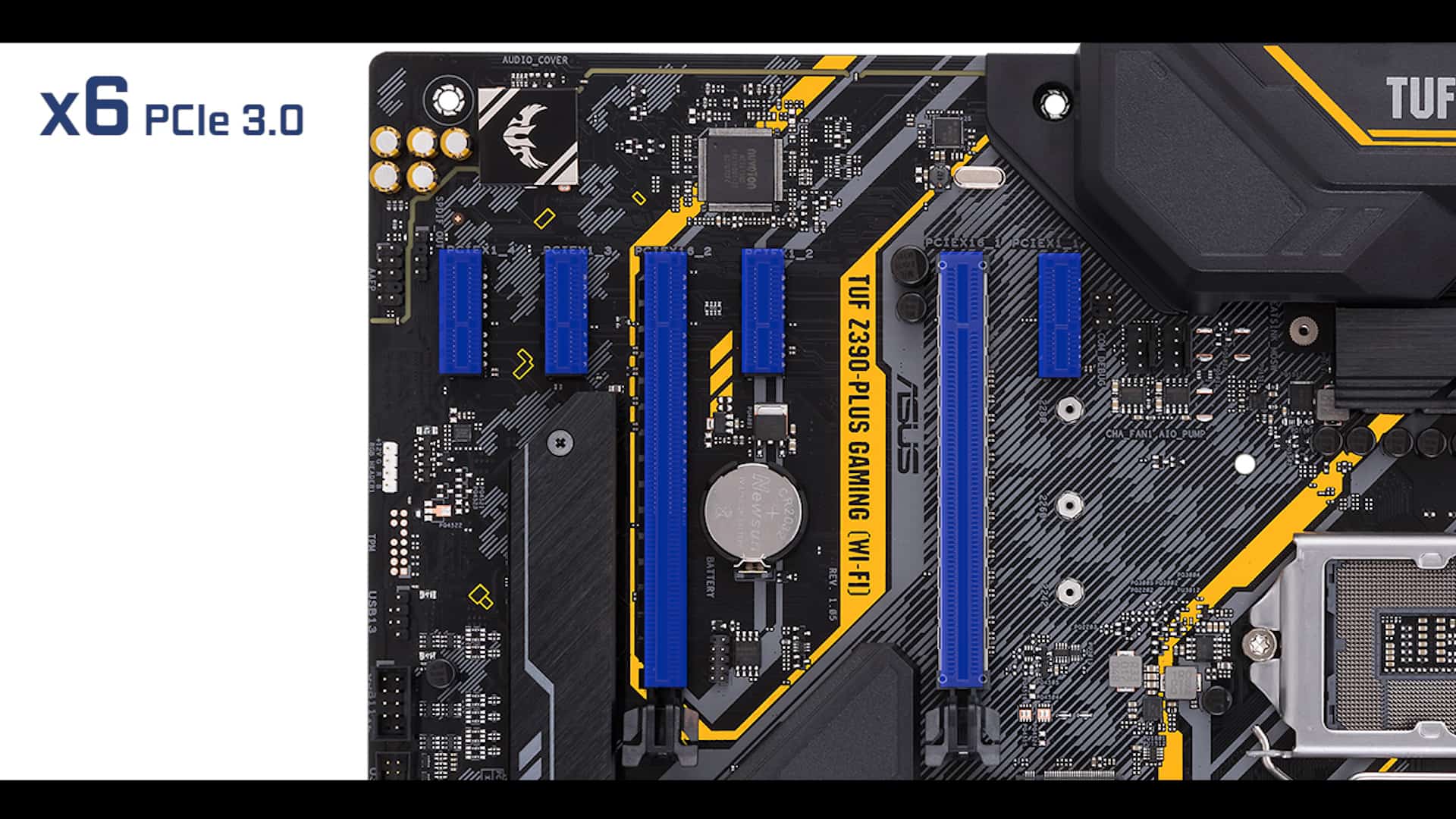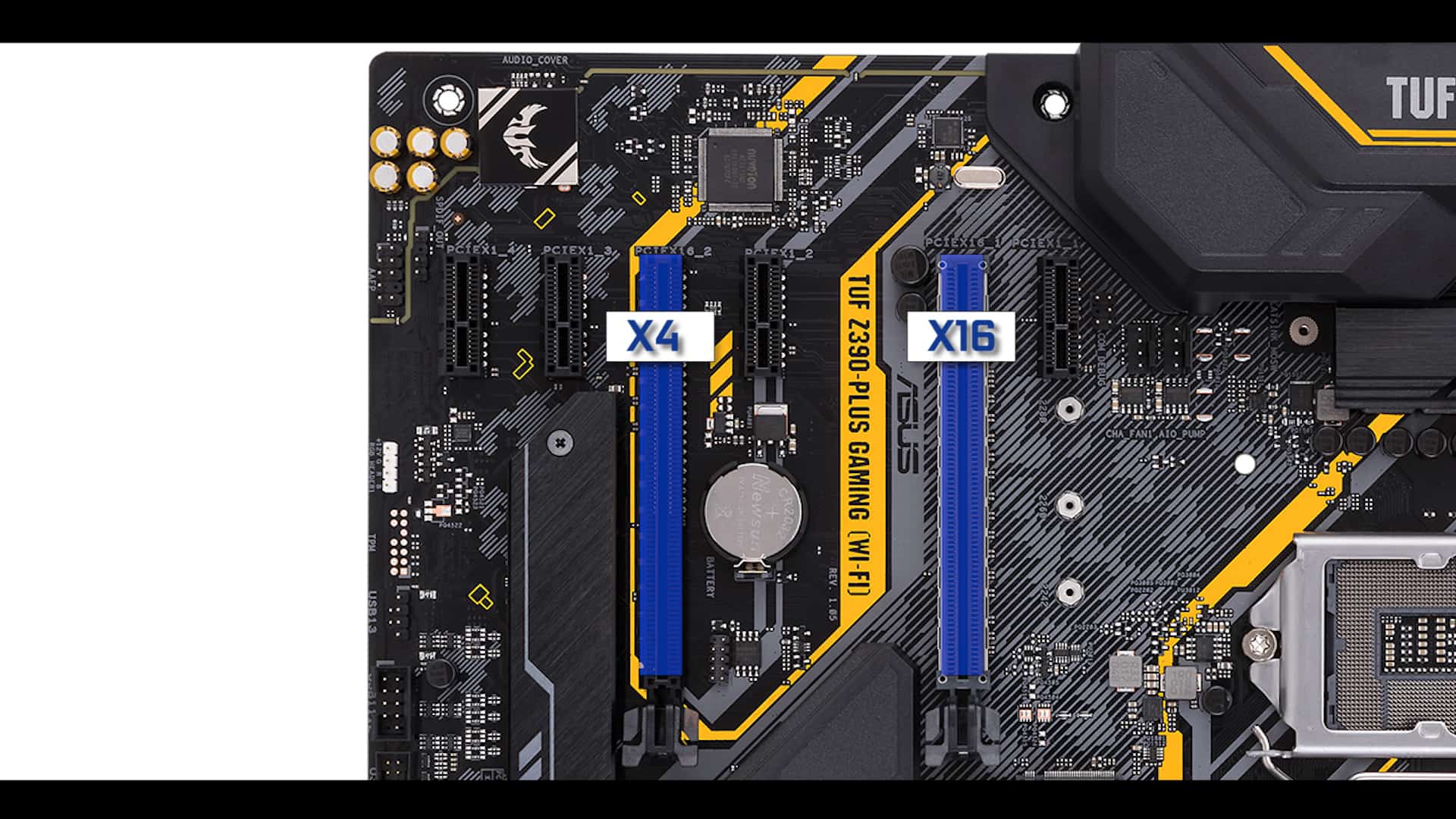 PCIe wise, we are operating on the minimum requirements.
Only the closest 16 lanes  PCIe slot can operate up to 16 full BUS speed. Therefore, your unique video card should be here for optimal performances.
And that is precisely why, it has been metabolically reinforced.
The second 16 lanes PCIe slot has been capped to only 4 BUS speed and not metallically re-enforced, which makes perfect sense since the TUF Z390-Gaming Plus does not support SLI, Nvidia's multiple GPU standard.
BUT… in a chilling twist, this board is apparently CrossFire compatible, meaning that it can operate 2 AMD video cards. And that's were I find myself scratching my head.
The second PCIe is capped at 4 BUS speed, not metallically re-enforced, so if you did decide to go ahead with a second AMD video card, you d find yourself in an obviously handicapped system with both cards running at 4 BUS speed (multiple GPUs run as fast as the slowest one present), and possibly could damage the board.
It almost feels like competing engineers worked o the same board, with different aims.  What on earth Asus….???
BACK IO
First, let me note that we have an integrated I/O shield. Which is ALWAYS a good start.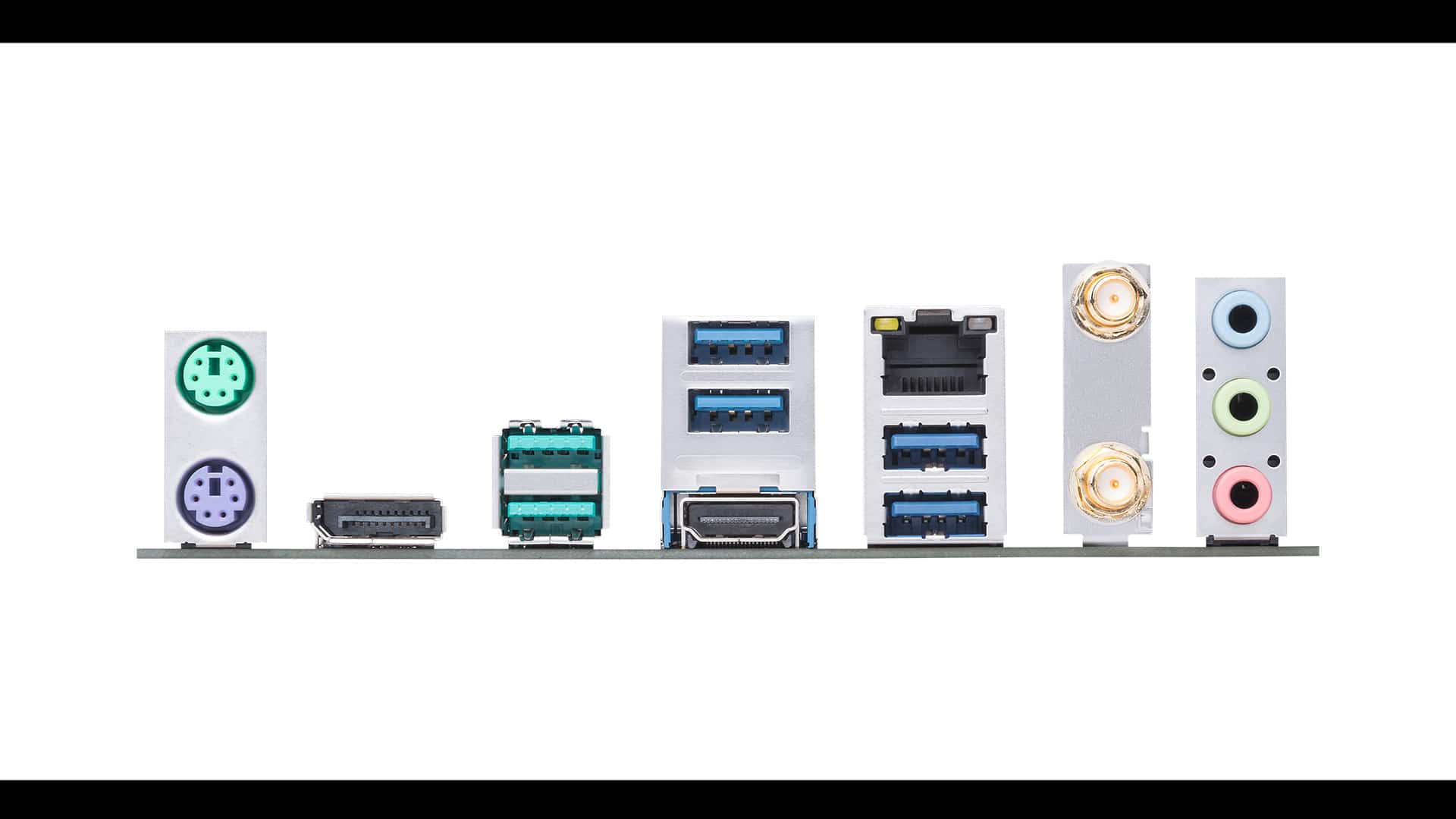 Starting from the left, we have :
 PS/2 keyboard/mouse connector
x2 USB 3.1 2nd Gen. ( type A) RX/TX 10 Gbps
x2 Display output : 1 HDM 1.4B + DisplayPort 1.2
x1  TUF LANGUARD Gigabit LAN
2×2 Mu-MiMo WiFi 802.11ac / Bluetooth 5.0
Realtek S1200A
I am not happy! There is really not much to work with and there are no excuses. only 2 USB 3.1 Gen 2 a,d no Type C. I had not expected this from Asus.
Keep in mind that 3.1 gen 2 can transfer data up to 10 Gbps and costs absolutely nothing to Asus to had up to 6 of them on any given board  since 6 of them have been nested in the news Z390 chipset.
It would have been an easy way to up the the feature level of the TUF Z390-Plus Gaming at almost no extra cost.
2×2 MU-MIMO WiFi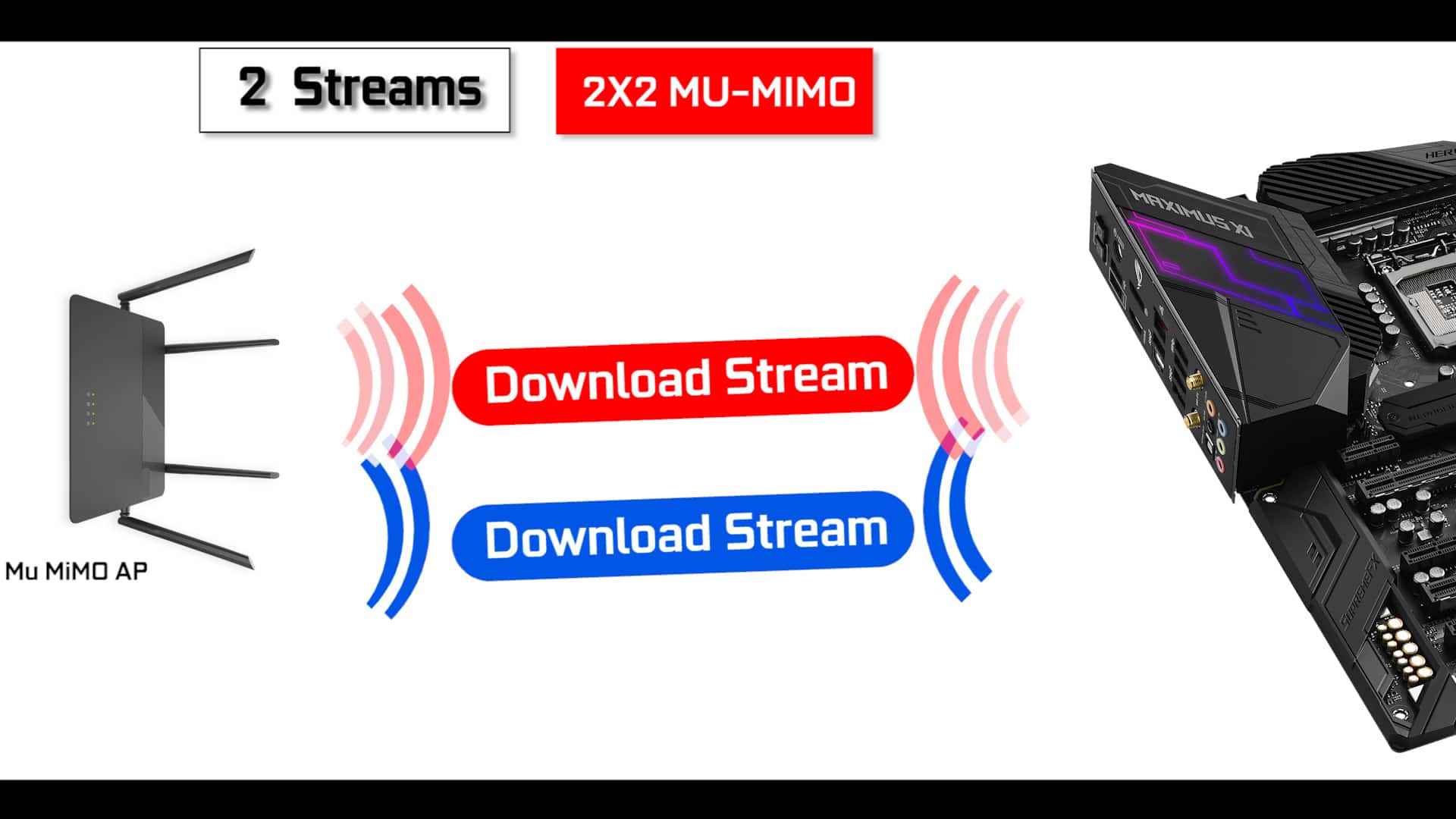 The new 2×2 MU-MIMO WiFi standard operates multiple download streams (when used and paired with an MU MIMO router), resulting in better coverage and more dedicated signal for each of your MU-MIMO devices.
On the TUF Z390-Gaming Plus, we can hope for WiFi speeds up to 1.7 Gbps, or that's what Intel claims. I did not manage to go beyond 1.1 Gbps myself.
Front Panel connectors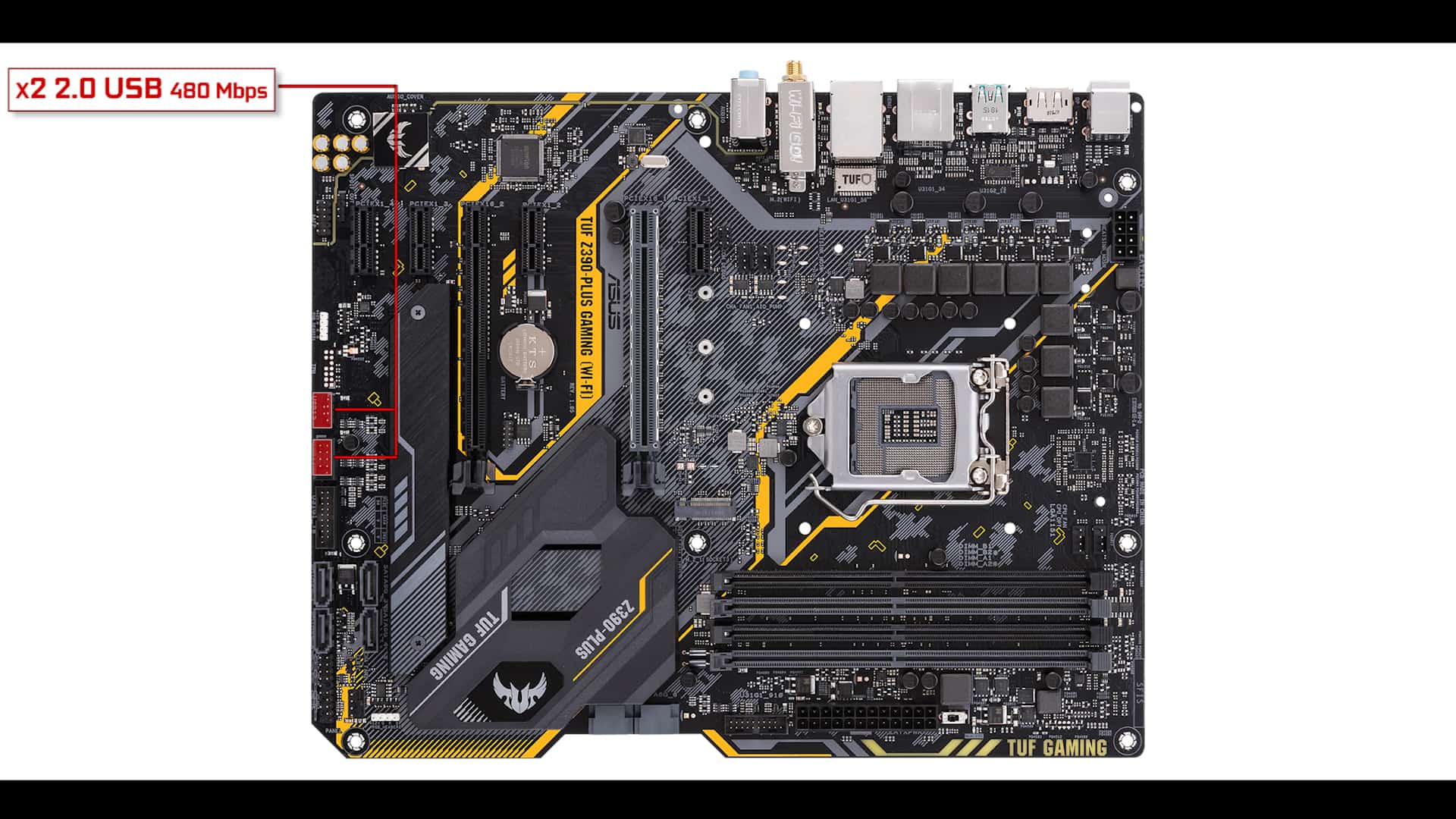 We have 2 USB 2.0 front panel connectors.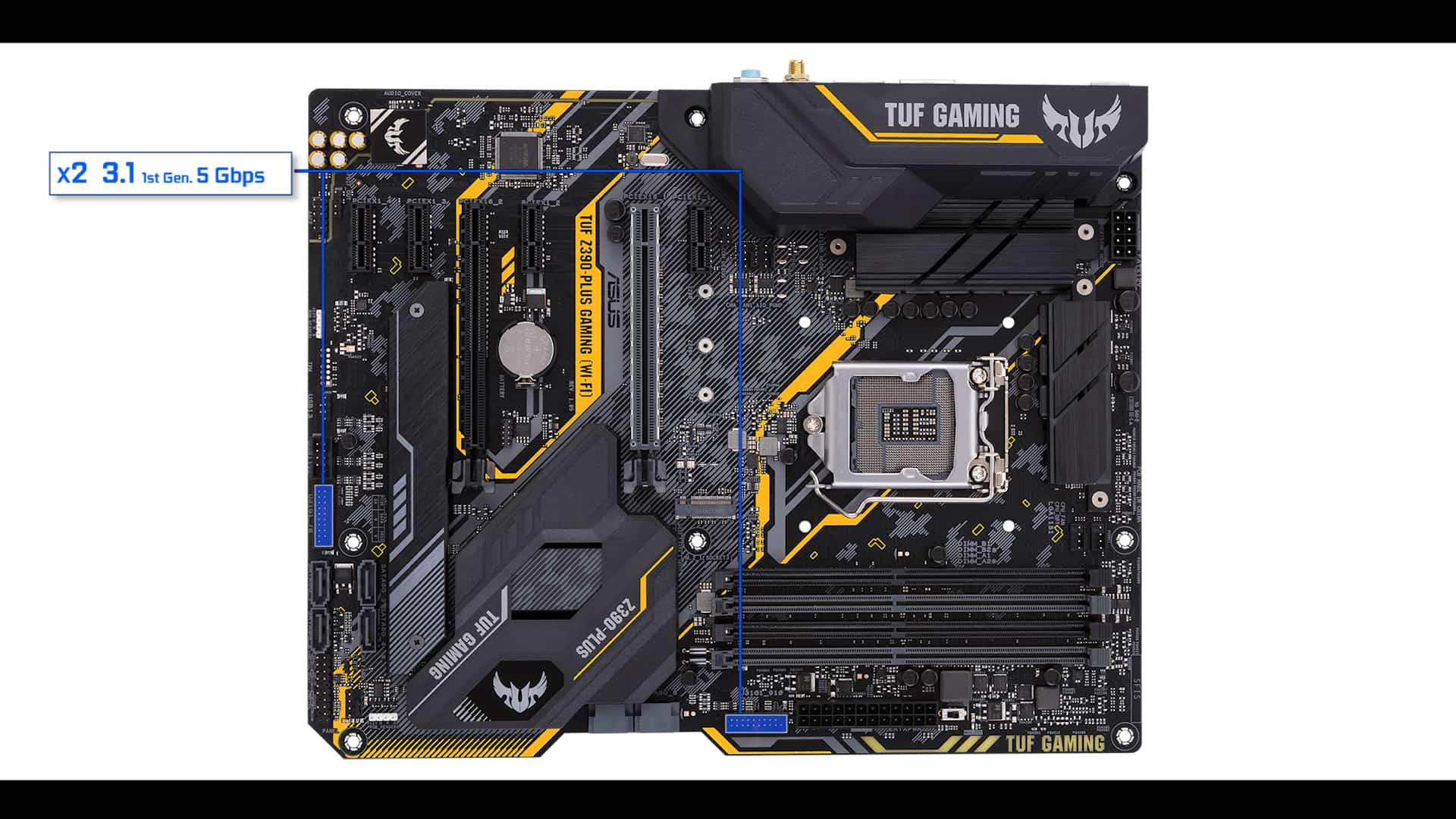 We have  2 USB 3.1 1st gen type A (classical) front panel connector.
Fan & Pump Connectors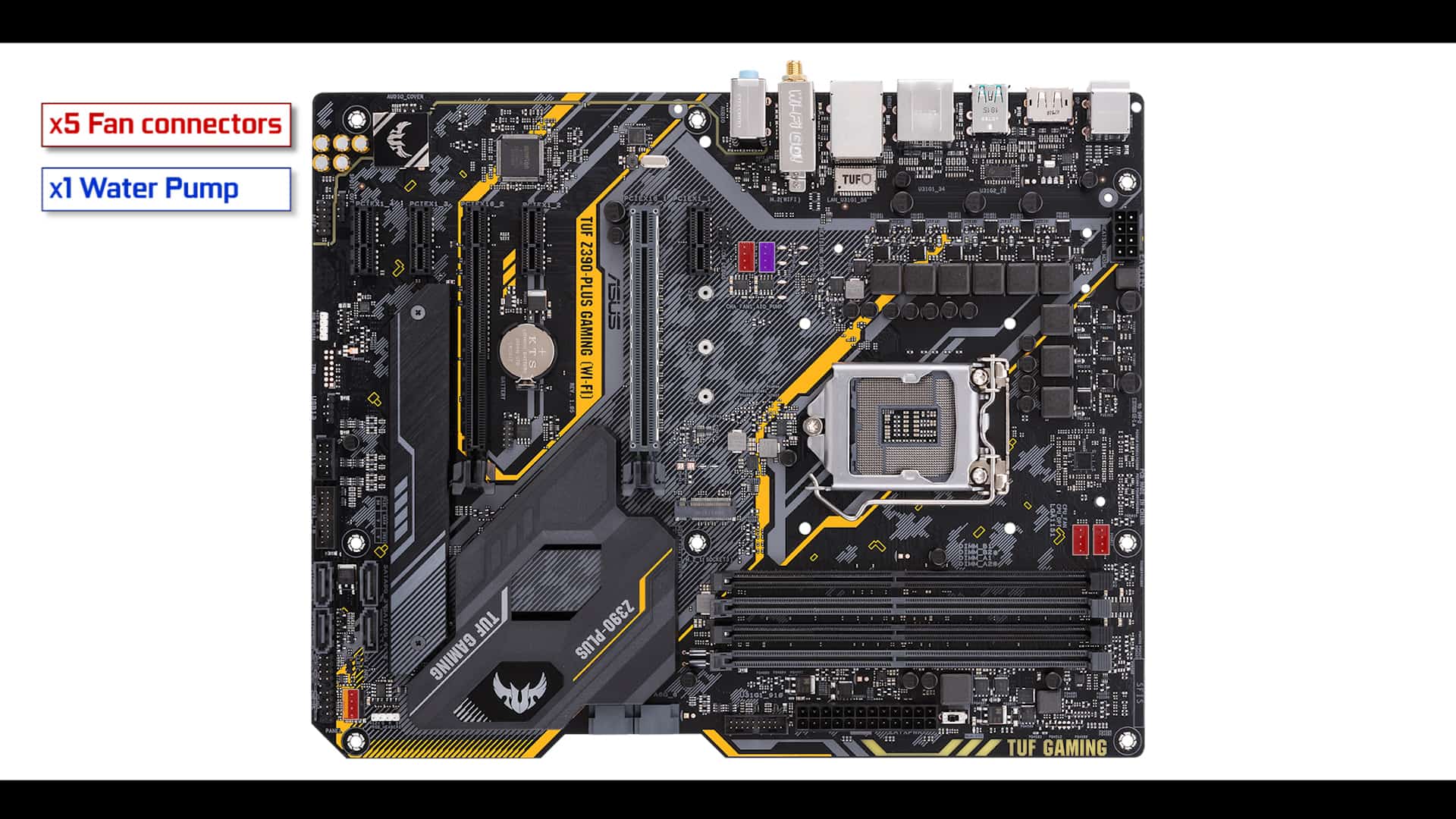 We have 5 native PWM fan connectors, 1 of which can be used for your water pumps. And that will not make our enthusiastic friends dream, but it will be plenty to run a descent single-loop custom water cooling
I would have loved to see a couple more fan connectors, but let us not forget that we are at an entry level, and we will take what we can.
AURA
Asus prides itself for being at the forefront of the RGB craze, and it tries hard to keep that edge on every board iteration it releases.
The TUF Z390-Gaming Plus is not only a robust board, but it is a good looking one. It comes equipped with 2 native RGB strips:
One right below the PCB: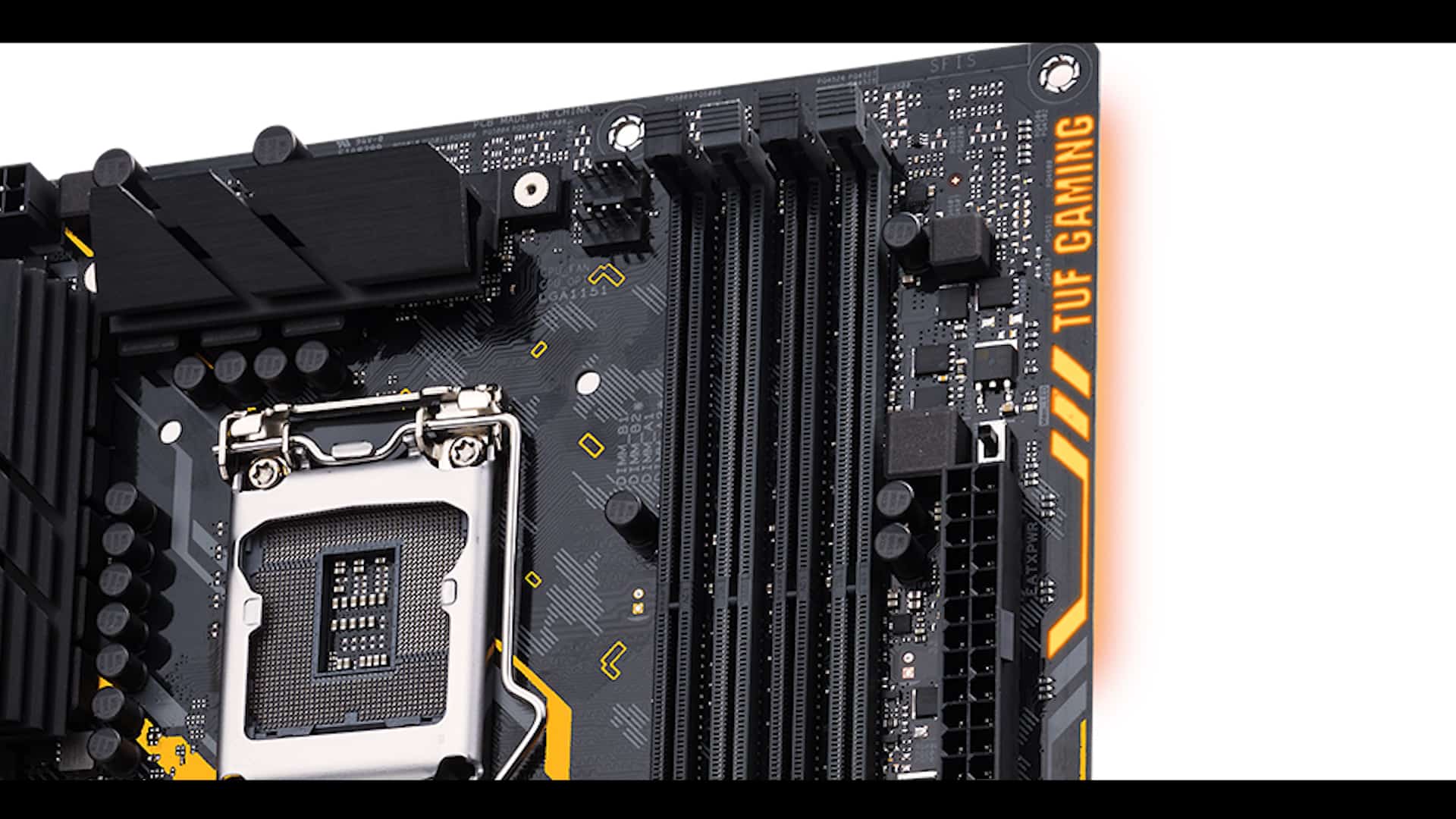 PCB
And one right under the chipset heat-shield.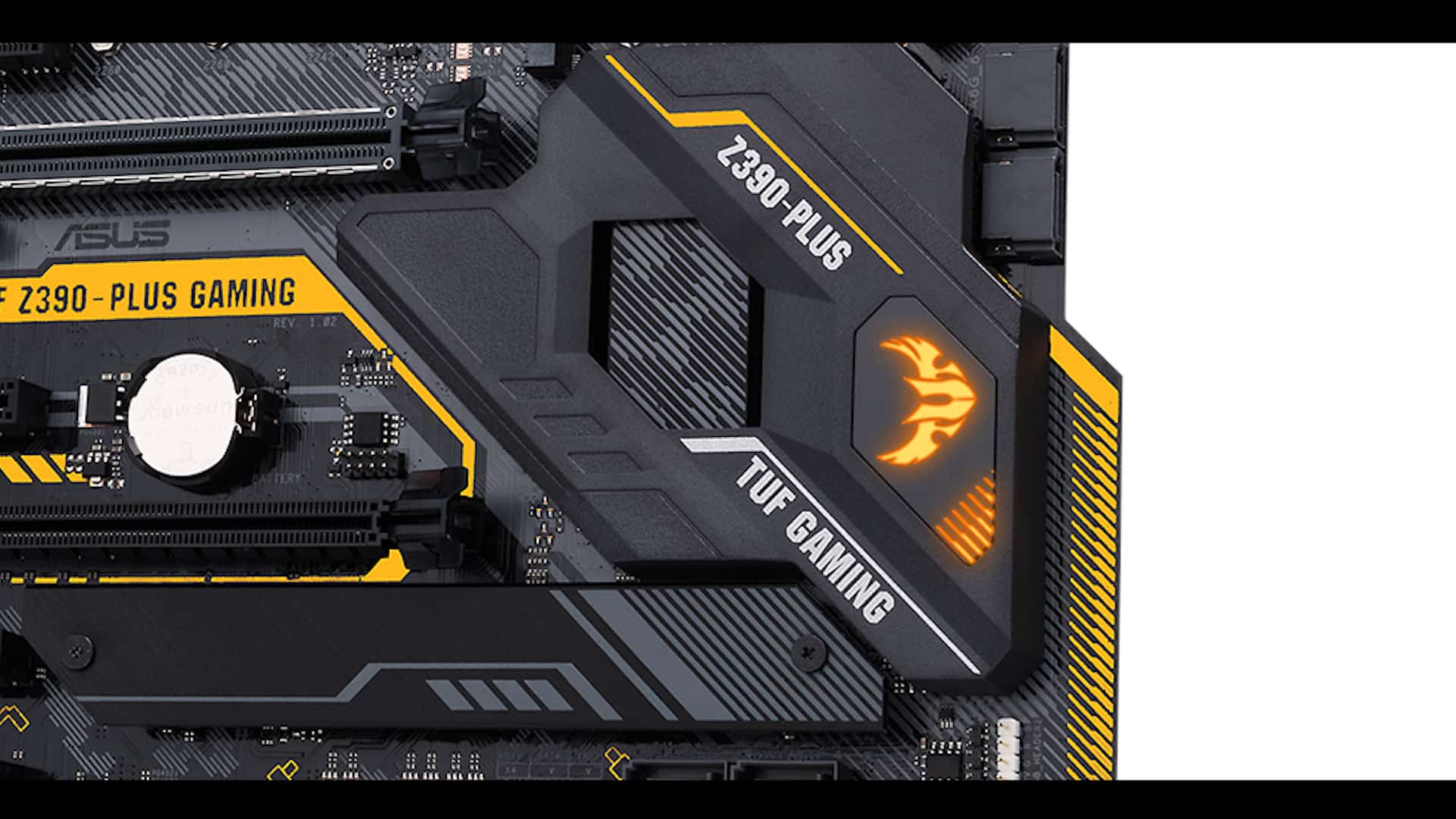 Under the Heat-shield
But if that is not enough, you can add up to 2 additional RGB strips!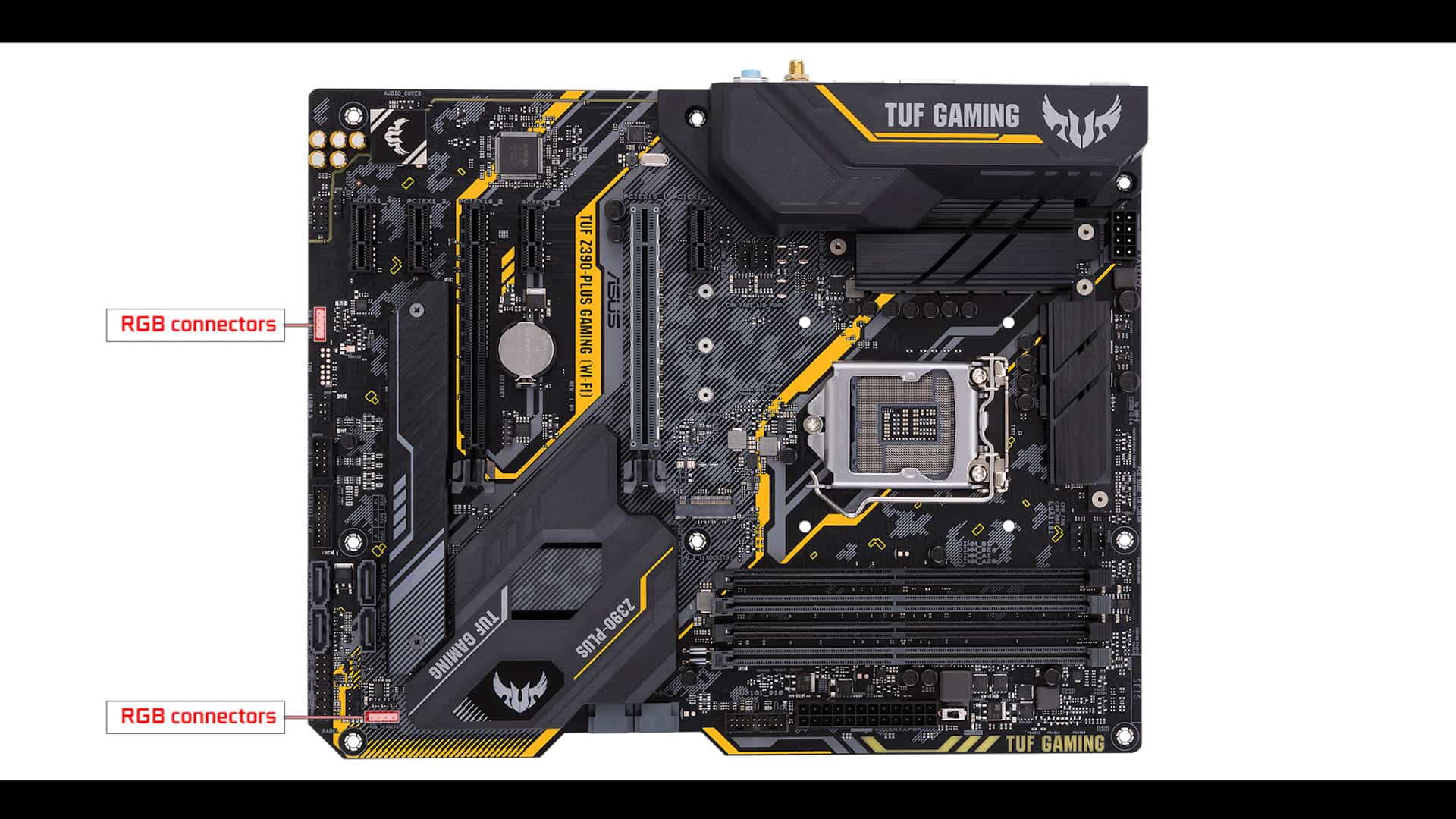 But I will regret the absence of an Addressable RGB connector. Frankly this doesn't really cost anything more to add.
---
Conclusion
The TUF series was designed to be the toughest, most resilient line up of motherboard ever released. And there must be an entry level in every line-up.  But there is such a thing as too little.
Unfortunately, the TUF Z390-Gaming Plus suffers from too many short-comings.
For one, we have no SLI support, and basically only 1 PCI-e with the necessary lanes and metallic support to safely run e GPU optimally and safely. And yet, the motherboard is Crossfire enabled, meaning that you can operate 2 AMD video cards. It makes no sense.
We have almost no USBs on the IO,  It's almost empty.  No USB 3.1 Type C, which is unforgivable given that the Z390 chipset has 6 of them nested in it.
We got a 4 phases / parallel configuration, which is not the greatest if you want to run a 8 core CPU, let alone overclock it.
Chokes has been downgraded from 10,000 hours life span (TUF Z270 series), to 5,000 hours.
No EZ debug as we use to have on the previous iteration of this motherboard. No flashback button, no.. no… no…
Even at that price point, the TUF z390-Plus Gaming seems to lack focus, feature and suffers from an overall non-harmonious design.
QUICK OVERVIEW
CPU & northbridge support
Supported Processor
8th & 9th Gen. Intel Icore Processors
Chipset
Z390
CPU socket
LGA1151
Memory
Slots
4 (dual channel)
Max System Memory (Gigabytes)
64
Memory Technology
DDR4
Maximum Clock (MgHz)
4,266
Connectors
USB 2.0 
2 on-board
USB 3.1  (1st Gen)
4 IO + 2 on-board
USB 3.1 (2nd Gen)
2 Type A IO
LAN
1 up to 1 Gb/s
WiFi
802.11AC + 2×2 MU MIMO + Bluetooth 5.0
Not so sure about this one!