Take a gamer's wild dream (on steroid), couple that with a touch of enthusiastic computer builds… and you'll get the ROG Maximus IX EXTREME edition!
Key Features
Review Price: 630.00 USD
EATX Form Factor
Intel Z270 chipset
Intel LGA 1151 socket
4 x 4133MHz DDR4, maximum 64GB
3 x PCI-E x16, 1 x PCI-E x1
1 x USB 3.1 Type-A, 1 x USB 3.1 Type-C, 6 x USB 3.0, 1 x Gigabit Ethernet, 1 x HDMI, 1 x DisplayPort, 5 x audio, 1 x optical S/PDIF, 2 x antenna
2 x M.2, 6 x SATA 3
2x SLI, 3x CrossFire support
I knew that ASUS has been investing heavily in its "enthusiast builders" base, but have they gone too far?
The Maximus IX Extreme goes way further than any other enthusiast's motherboard has ever gone! Since the Maximus VIII, we were used to have some pre-installed water blocks here and there. But a monoblock? a M.2 SS water-block extension?
Yes.. you read that right! The Maximus IX EXTREME edition, features its very own Bitspower Mono-block and a M.2 SSD extension water-block!
And if you think that's all… you are mistaken!
---
A Custom Water Cooling dream!
The monoblock
Indeed! This is what makes the Maximus IX Extreme so EXTREME! Who puts a monoblock in its motherboard accessory box? On top of it all, it looks like a tape cassette! COME ON!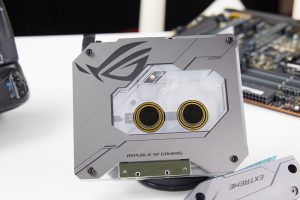 And not just any old monoblock! This one can :
Measures water flow
In and outlet water temperature
In and outlet water leakage detection.
AURA RGB strips
and other PWM measurements.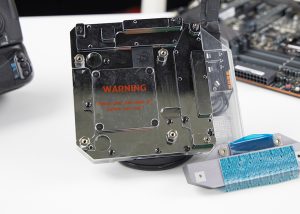 M.2 SSD Water-block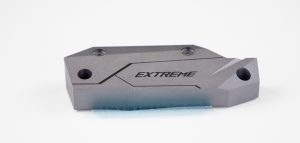 Let's not forget the extension! ASUS felt the need to provide us with a M.2 SSD water block extension!
To be clear, no water will flow through this block. Heat dissipates by simple heat conduction (1st law of thermodynamics, remember?).
Latest motherboards (Z270) come Optane (Intel) compliant, hence, M.2 SSDs can potentially run data transfer up to 32 Gbp/s. In reality, M.2 SSDs thermo-throttle before reaching these speeds. And if they do, they don't last more than a symbolic second before reducing to safer transfer levels and temperature. So… yeah! This extension might indeed be more than just a extravagant-in-your-face kind of move. This might be instrumental in getting the best possible performing system out there!
I can not wait to benchmark this!
---
The Motherboard
Let's start with the obvious!
This is an EATX, so a slightly roomier board.
Better for bandwidth driven hardware (multiple GPUs, M.2SSDs) thanks to its Z270 chipset.
Can run both Intel's 6th Gen CPUs (Skylake) OR its 7th Gen CPU (Kaby Lake).
Additionally, It is a MAXIMUS board! Meaning that you should expect a higher level of finish and greater freedom in customization. That includes the BIOS which, in a very ROG way, brings you a higher degree of tweak-ability (and responsibility!).
And don't let the waterblocks fool you! Asus has spent as much time on the design of this board than they spent on its accessories. And that's no small feat!.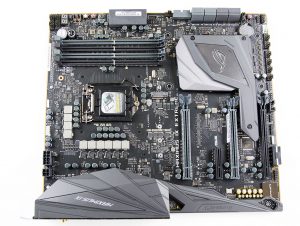 The Back-plate

But what really shows that this board was better designed than the rest, is the fact that the I/O shield is integrated on it. It might not sound like a big deal for many, but for a guy who grew up on 386 builds, and had many of its fingers scarred by generation of those animals, it is HUGE!
USB
I was delighted to see thunderbolt 3.0 directly integrated on the board! Bandwidth transfer on either type A or type C USB are graded to be up to 10 Gbp/s. Keep in mind that this is RARELY the case.
We also have 6 3rd Gen. USB which can transfer up-to 640 MB/s (give or take).
AUDIO JACKS — I know… but read!
Usually, I don't spend much time on the audio jacks outlets (who does?)! But here, I was surprised by the lack of colours which usually shows on the audio outlet. Instead, on this board, they are all plane golden!
And that's because they LID in their usually and respective colours when you put on your computer! GENIUS! Again, I know that this might sound like an aesthetic touch, but for anyone who tried to reach for the right jack (remember the punishing sounds coming out of your speakers when plugging in the wrong darn audio outlet?) in complete darkness, knows how precious this can be!
Other than this, as usually found on Asus boards, you can expect a higher sound rendition with the Supreme FX sound audio chipset. Worth noting, Asus has added the third generation of its already widely use Sonic Radar III and Sonic Studio III, which aims to please audio producing users more than gamers really!
WI-FI
2×2 dual-band 2.4/5GHz antennas for up to 867 Mbit/s transfer speeds and its Multi-User MIMO (MU-MIMO) technology which is supposed to deliver a higher DB wattage to higher consuming data wi-fi users. In application, I could reach a comfortable 420 Mbit/s at medium range, and 790 Mbit/s a close range. Interestingly, the speed drastically drops at the very same point, and you can barely achieve 100 Mbit's as soon as you have more than a wall and a piece of furniture between you and the antenna.
For the rest, we have our usual 1 Gbit ethernet plug, our Clear-Cmos and BIOS refresh button and 1.4 HDMI / 1.2 DP ports for our integrated graphics. Nothing much to write about here!
---
Memory
M.2 SSD (cooler than air…oh yeah!)
Now… for me, this might very well be the shinning star of that build.
Two Optane ready M.2 SSD connectors:
up to 80 mm (closest to the CPU, the only one water cooled)
up to 110 mm (under the Z270 heat shield)
And they individually can (supposedly) transfer data up to 32 Gb/s… and for the first time, I believe it.
A water cooled M.2 SSD is the only positive evolution to mature this technology at this stage. Everything has failed. Fan cooled M.2 SSDs seemed appropriate for 950 series, but the EVO 960 M.2 SSDs have seen higher temperature and steeper heat dissipation curbs, translated in loss of performances, sooner and greater than seen on the previous models.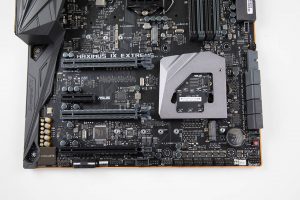 So yes! M.2 SSDs can be the main source of storage on this board! Finally!
RAM
64 GB DDR4 Ram, overclockable up to an impressive 4,300 MgHz ! (XMP must be enabled)
FANS connectors
I never mentioned fan connectors before, but this board features 8 of them!!! And, as if this was not enough, you can add another 4 on a (provided) fan extension hub!
This motherboard can easily sustain 2 full 480mm radiators, AND the a few more for your case exhaust. It is clear. The ROG Maximus IX Extreme was designed to run in the guts of a super tower (Obsidian 900D, The Tower 900).
---
CONCLUSION:
The monoblock is stunning, and features an impressive array of sensors!
A M.2 SSD waterblock extension is purely genius!
I love the built in I/O shield!
Anything a motherboard could ever feature! It's all here… you just need to pay for it!
Indeed, if there was a Republic of Gamers, Asus would be the President! That is its strength, but that is also this motherboard's problem!
MAKE NO MISTAKE! Water cooling enthusiasts is whom this motherboard was built for! Furthermore, I am not sure this was designed to be a high seller! Instead, it is a great showcase of what ASUS can do when it unleashes itself in the… Extremes! (whooo)
QUICK OVERVIEW
CPU & northbridge support
Supported Processor
Intel Sky Lake | Intel Kabylake
Chipset
Z270
CPU socket
LGA 1151
Memory
Slots
4 (dual channel)
Max System Memory (Gigabytes)
64
Memory Technology
DDR4
Maximum Clock (MgHz
4133
Connectors
USB 3.0
6
USB 3.1
2 (Type A and Type C)
WIFI
2×2 dual-band 2.4/5GHz antennas for up to 867 Mbit/s transfer speeds
LAN
1 Intel I219-V Gb LAN, up to 1 Gb/s
[/toggle