Key Features
Price: 190 USD
ATX Form Factor
AMD X570 chipset
AM4 CPU socket
Compatible Ryzen 2000 and 3000 CPUs
4 x 32GB 4,400 MHz DDR4, maximum 128 GB
2 x PCI-E x16, 3 x PCI-E X1
Back IO :PS2, Flash BIOS button, 2 x USB 2.0, 2 x USB 3.2 2nd gen. Type-A+C , 4 x USB 3.2 (1st Gen), 1 x  Gigabit LAN, Realtek ALC1220 Codec 7.1 channels audio, Dual Band WIFI AC RX/TX 433 Mbps
, HDMI 1.4,
2 x M.2 SSD, 6 x SATA 3
2 x CrossFire support, NO SLI support
Good integrated Audio
EZ debugger for troubleshooting
Bellow 200 USD
inadequate VRM cooling
4 classical PCB layers
No delta turbine for chipset cooling
No WiFi 6 standard
Only 2 back USB 3.2 2nd gen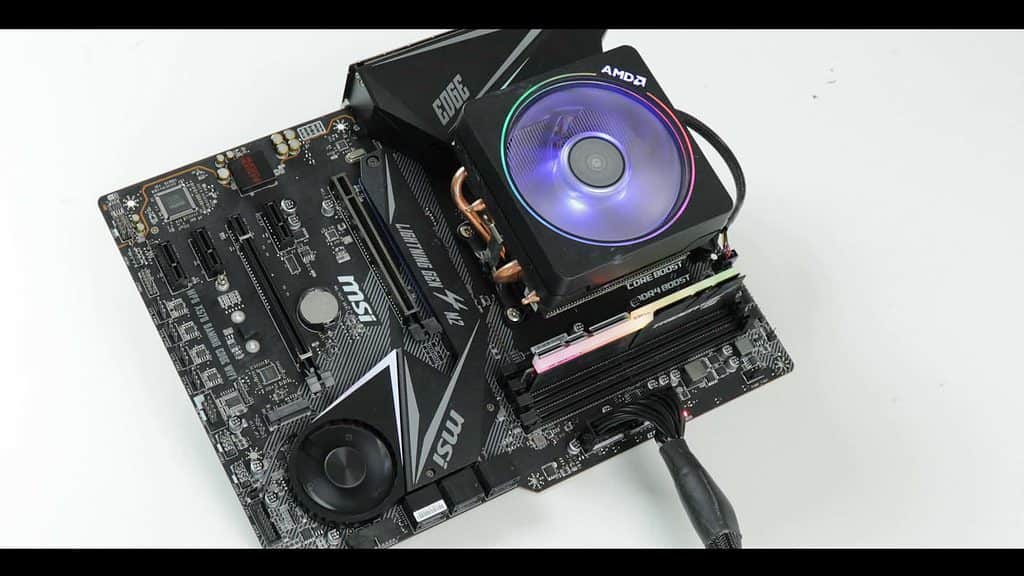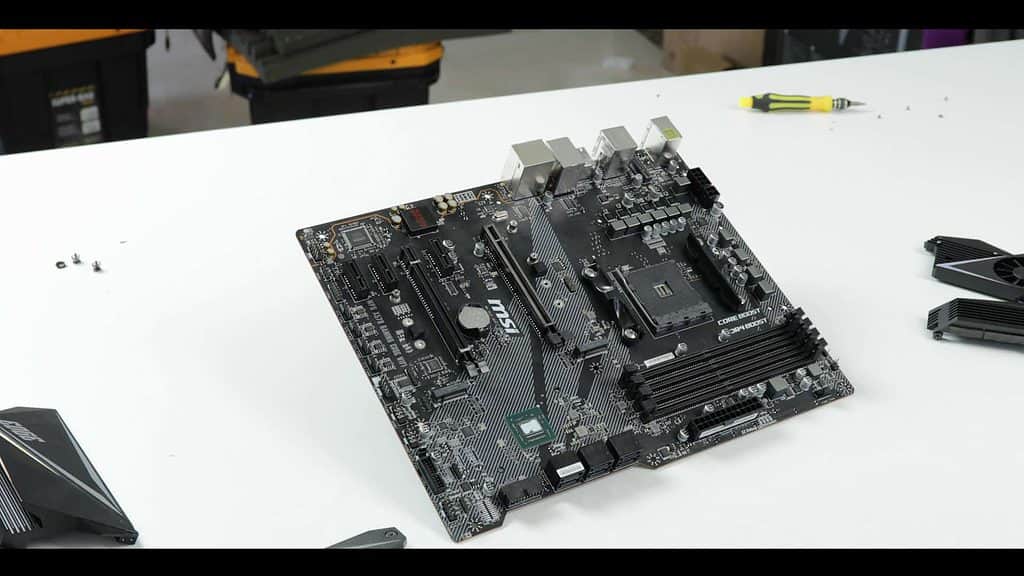 4 SATA cables
2 wifi antennas
M.2 SSD screws and screw raisers
RGB addressable cable extension
RGB cable extension
Manual
DVD driver & Software
MSI front sticker
---
PCB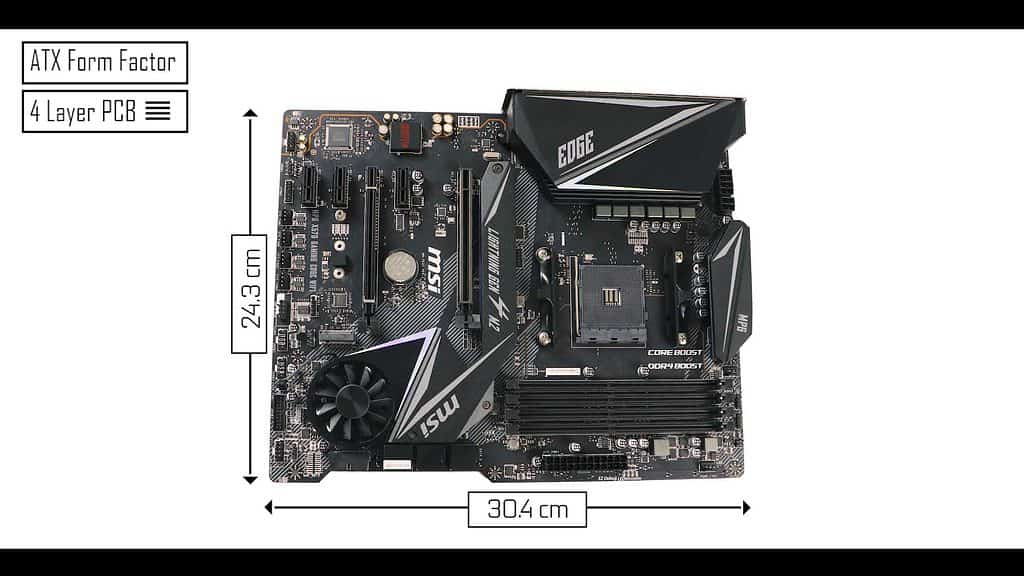 We are dealing with a classic 4-layer PCB ATX motherboard. In terms of signal isolation and signal interference with other components on the board, this can be problematic, especially in a PCIe 4.0 configuration. And that obviously means that, at occasions, you might meet stability issue during bandwidth intensive tasks.
It also mean a poorer VRM heat dissipation, and therefore, a less durable product over all.
No exactly the way to start a positive review, I am affraid.
Socket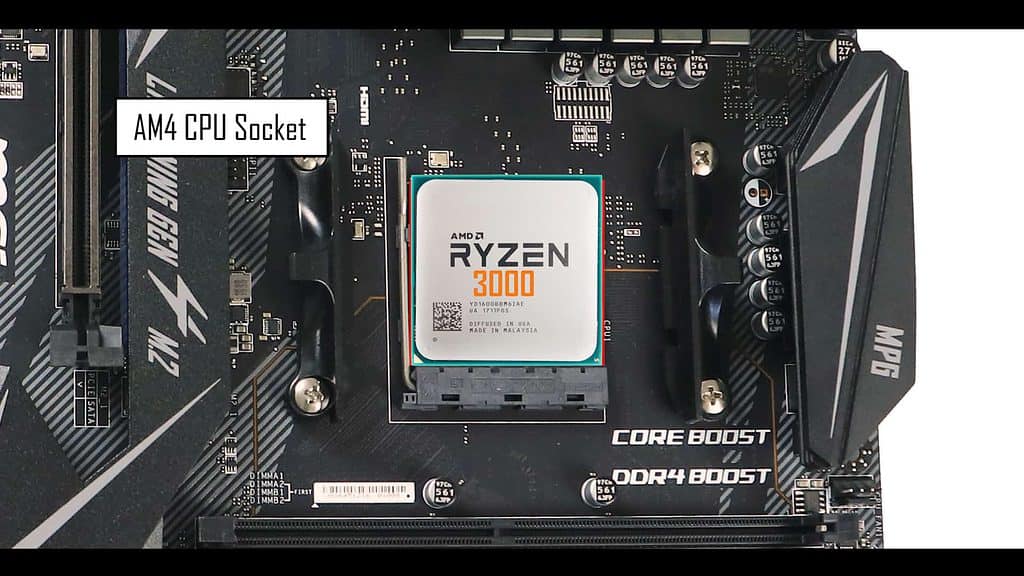 Our AM4 socket can support :
Ryzen 2000 series of AMD CPU
Ryzen 3000 series of AMD CPU\
Not that the PCIe 4.0 abilities of our motherboard will only be unlocked if coupled with a Ryzen 3000 series.
---
VRM
This is were really MSI messed up!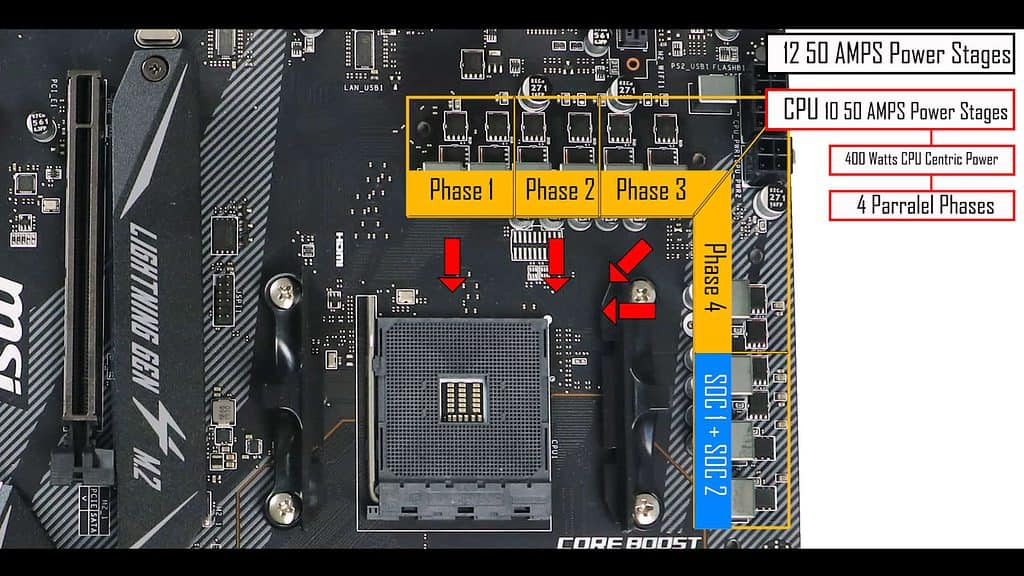 We are dealing with 10 powers stages. We have 8 sets of low and high-side sub overheating CPU-centric MOSFETs, controlled by a rather good  IR35201 PWM controller.  It is configured to act as 4 parallel CPU centric Phases + 2 SOCs.
It does deliver a total of well about 50 AMPS per Power Stages, so about 400 AMPS of CPU centric power, which sounds great on paper, but because MSI went for a cheaper configuration than say DR CMOS phases, it is far from being agile, it has an incredibly heavy heat foot-print, and the 4 layered PCB does nothing to help.
So basically, if you are trying to overclock anything above a 6 physical core you are going to find yourself flirting with 110 degrees. yes, that's Celsius, on your VRM junctions.
So you do have the power to run any Ryzen 3000 CPU, but your VRM will either thermo-throttle or dangerously over-heat before you can do anything really interesting with it.
It's really the first time I am downing a board on its VRM.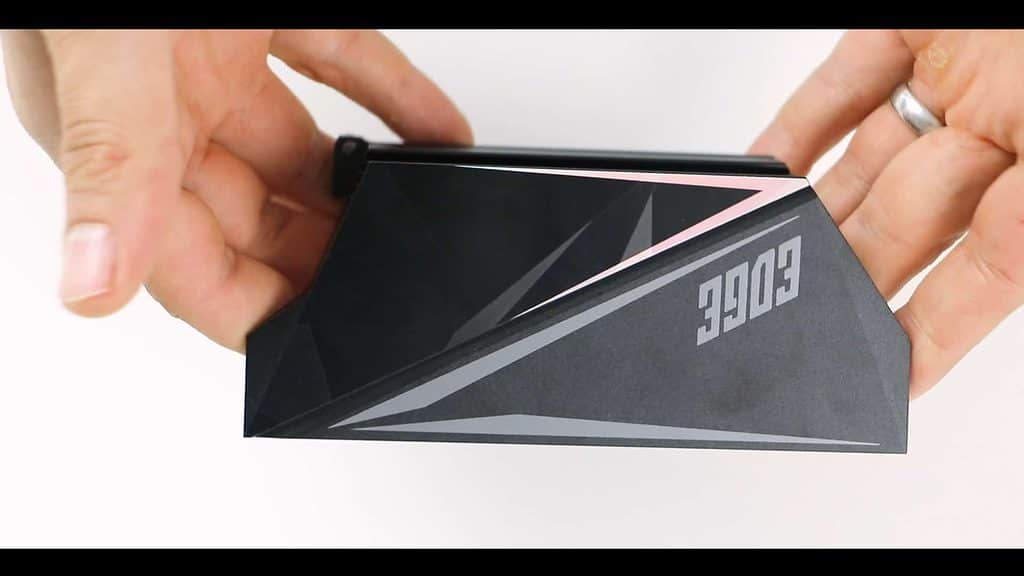 And MSI must have been somewhat aware of it looking at the MASSIVE VRM heatsink it has equipped tthe Gaming Edge with, I mean look at this!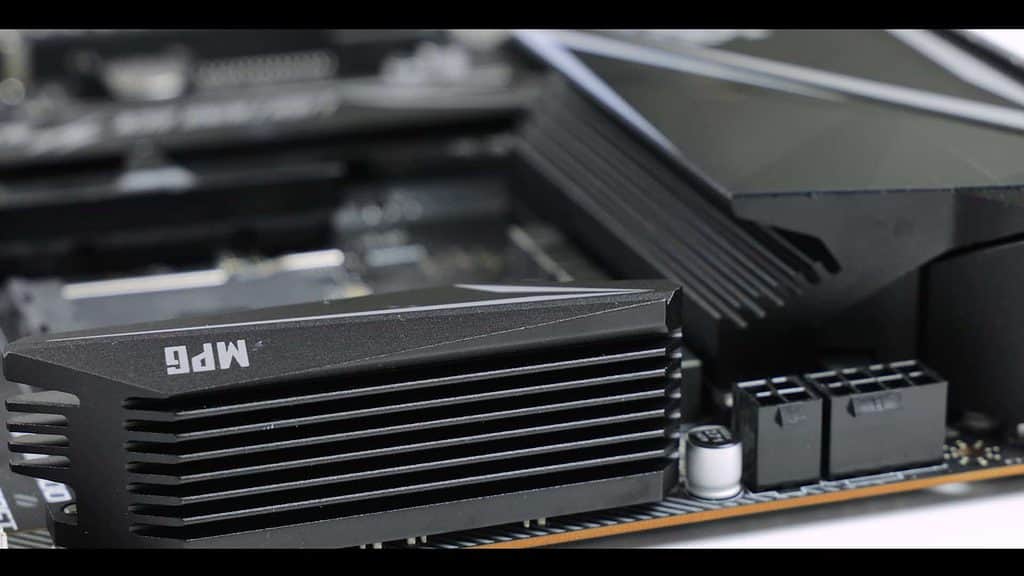 To their credit, it does somewhat of a good job to radiate some of that VRM excess heat, but unless having a turbo-prop engine as air supplier, it'll be quickly over heated at any Over-clocking attempt.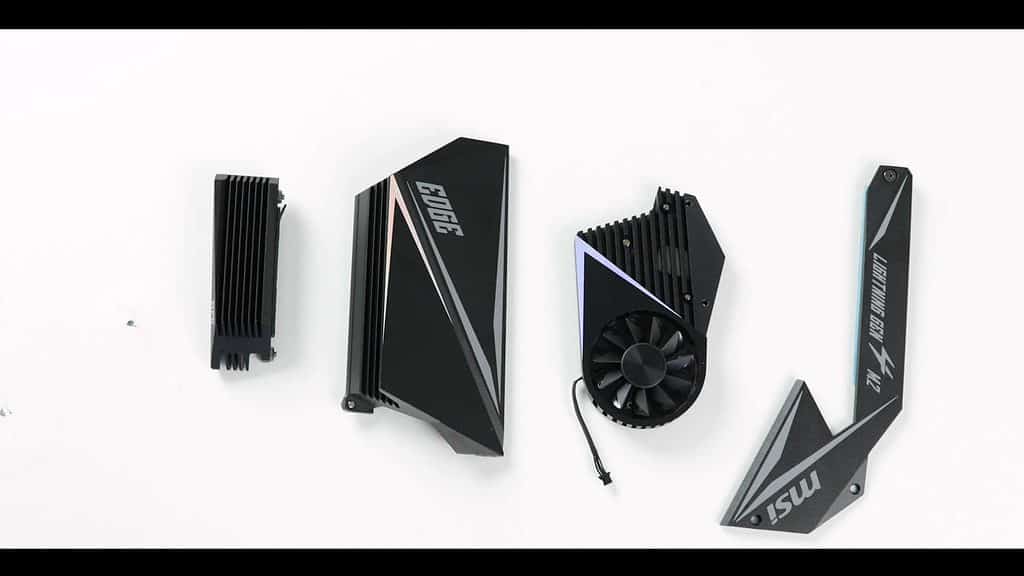 Between the PCB and the VRM, needless to say that this motherboard fundamentals need to be re-worked.
---
RAM
Again depending of your CPU series, you will get different performances.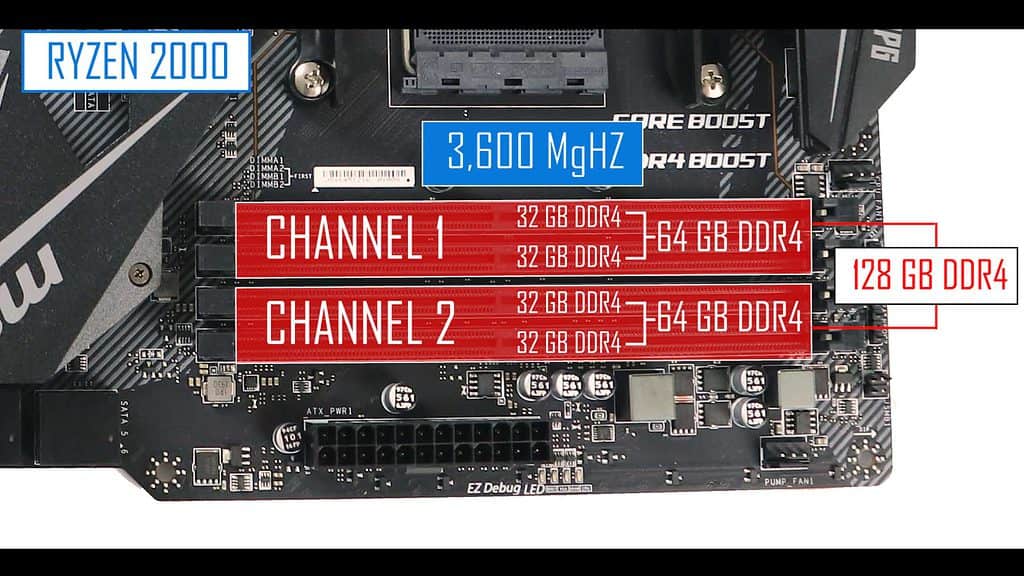 With a Ryzen 2000 series, your board support up-to 128 GB of DDR4 RAM overclock-able up-to 3.6 GHz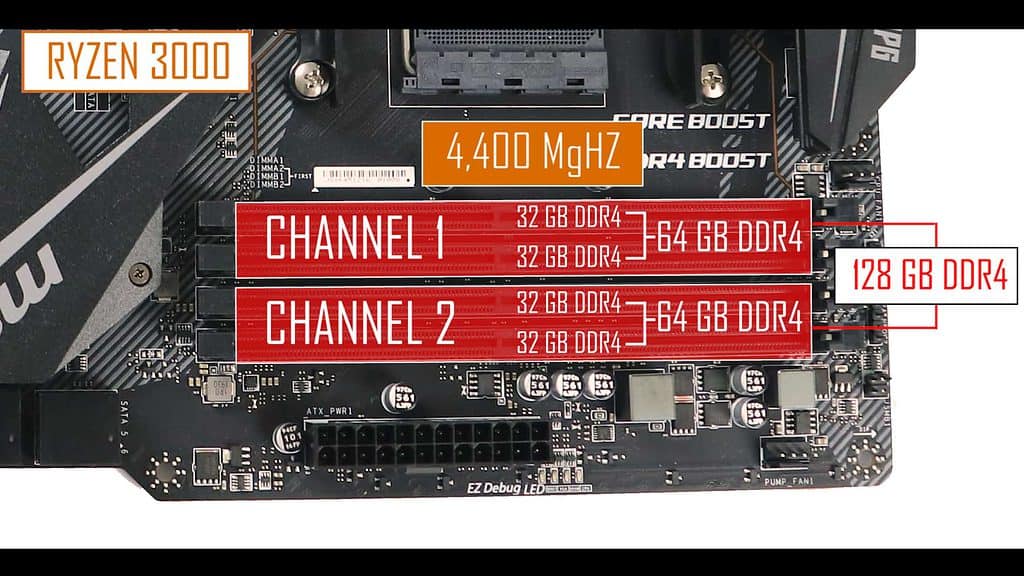 With a Ryzen 3000 series, your board support up-to 128 GB of DDR4 RAM (as well) overclock-able up-to 4.4 GHz!!!
That's 800 MHz differential, which is perfect example on how the Ryzen 3000 series of CPU can impact your daily computing performances.
---
M.2 SSD
M.2 SSD PCIe. 3.0
Our board can support up-to 2 M.2 SSD (11 cm and 8 cm respectively).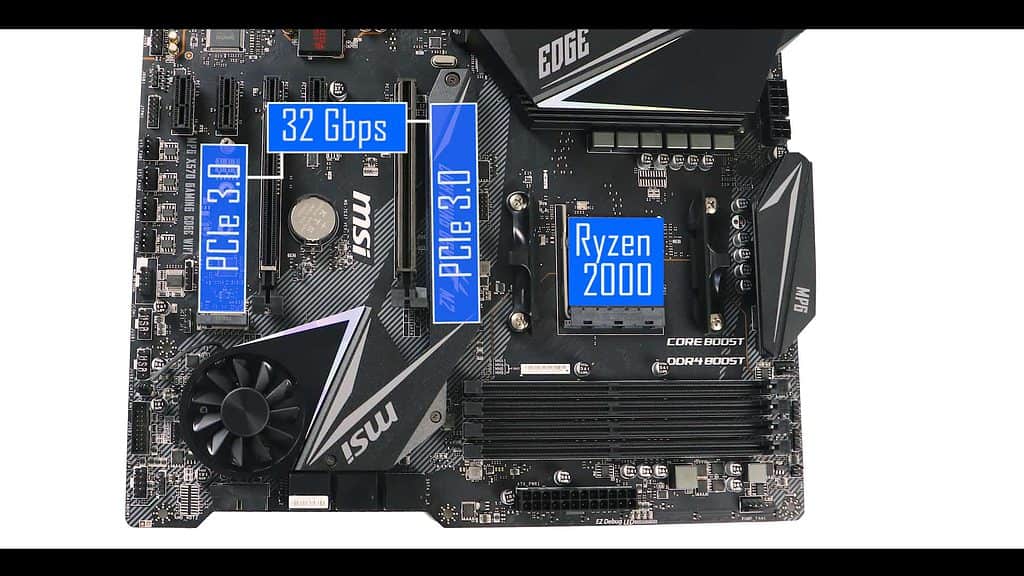 In PCIe 3.0 mode, they can swap data up to 32 Gb/s.
M.2 SSD PCIe 4.0
Couple with a Ryzen 3000 series, our closest M.2 SSD connector will be able to run at a PCIe 4.0 standard, meaning twice the read and write speeds (64 Gbps).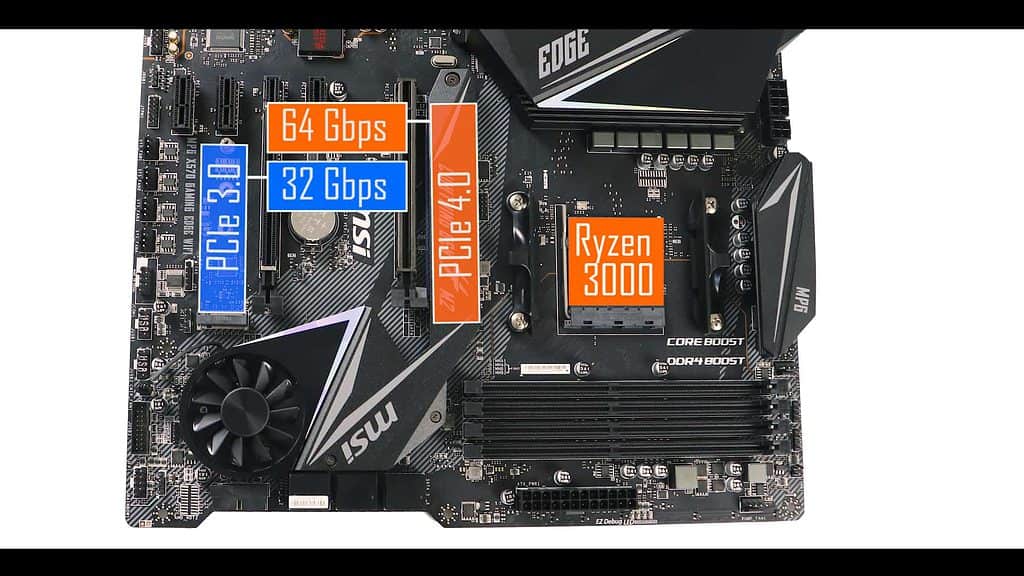 In both cases our M.2 SSD sticks will experience a lot of heat.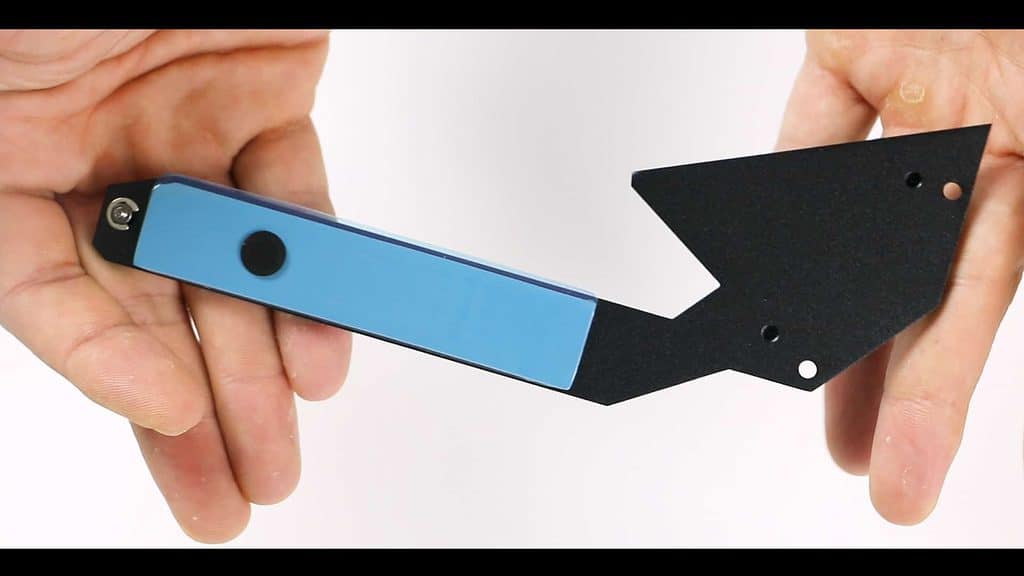 Luckily, we do have a rather impressive thermo-padded heat-shield (aka Frozr) which does the job at keeping our stick cooled in any usage condition.
---
Chipset cooling
Our X570 chipset runs on double the wattage of the X470 (5 Watt against 11 Watt). It does translate in much higher temperatures.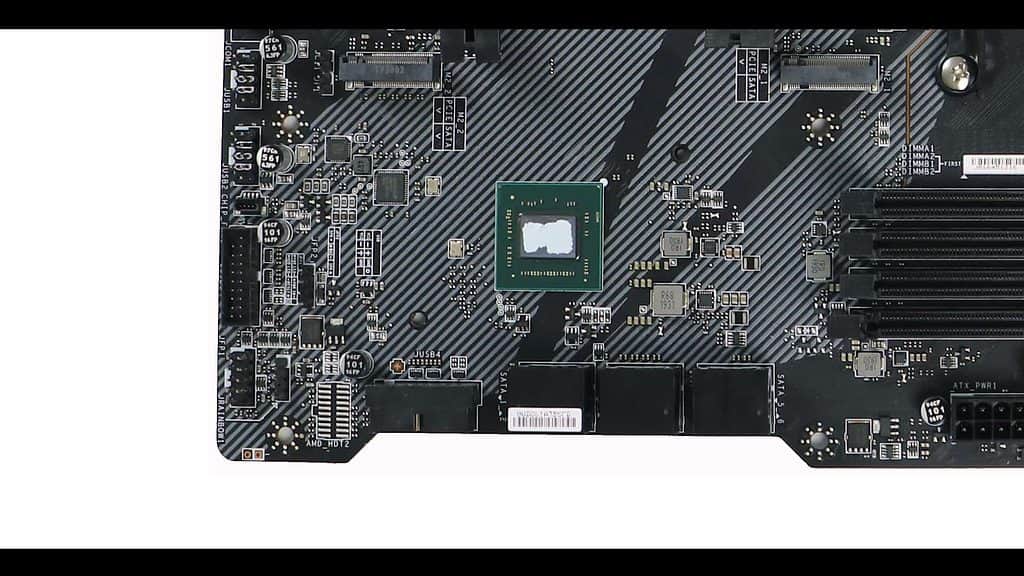 Active Cooling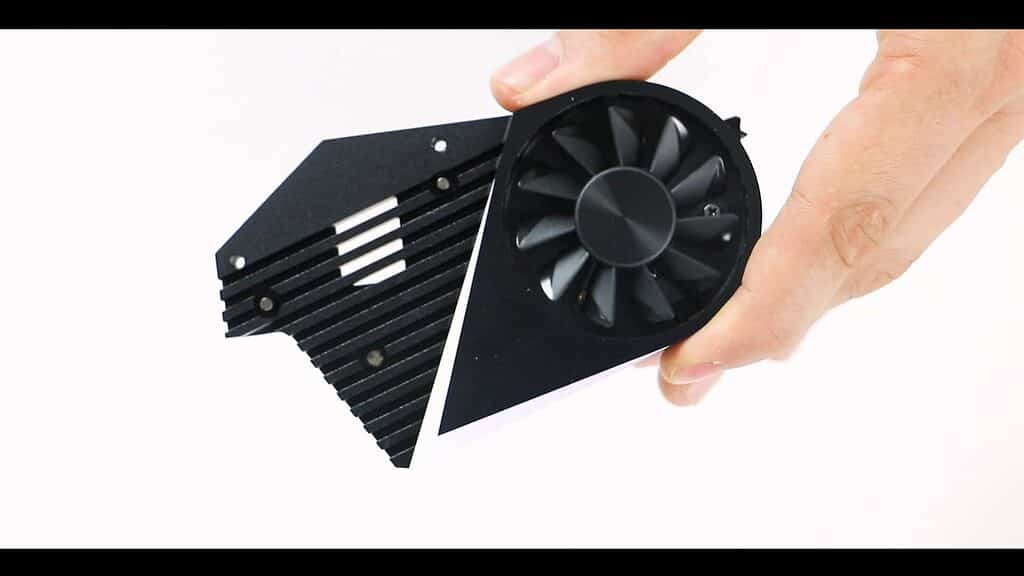 To keep these temps below 80c X570 manufacturers have all opted for a similar 60,000 hours graded delta fan.
But MSI found itself alone, going for a double-bearing classical fan. Not only does it mean a shorter life-span (50,000 hours graded), but it is both less robust and more noisy.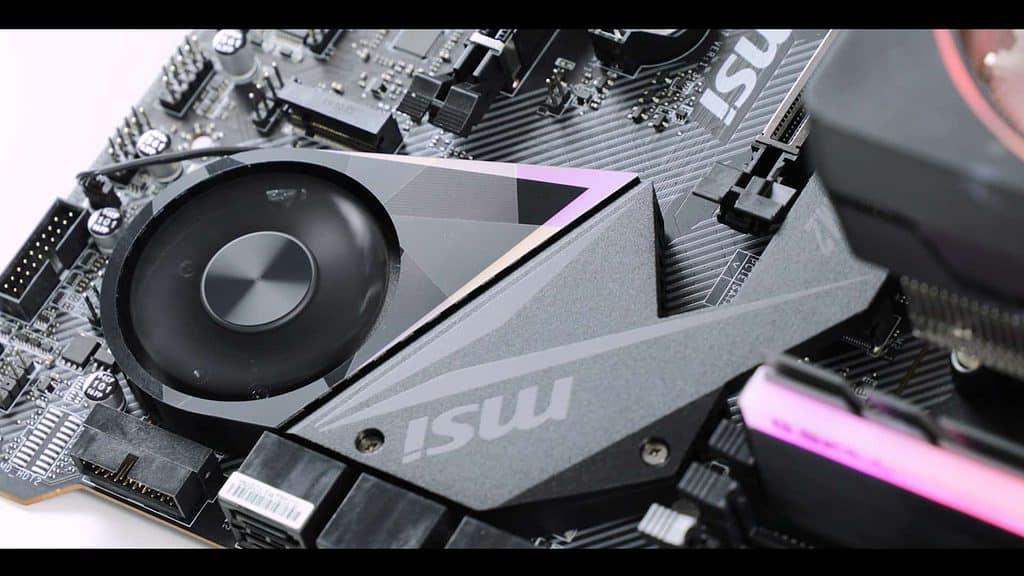 Again, a design choice which falls short of our expectations when comparing it to equivalent baords competing on the market.
---
SATA 3.0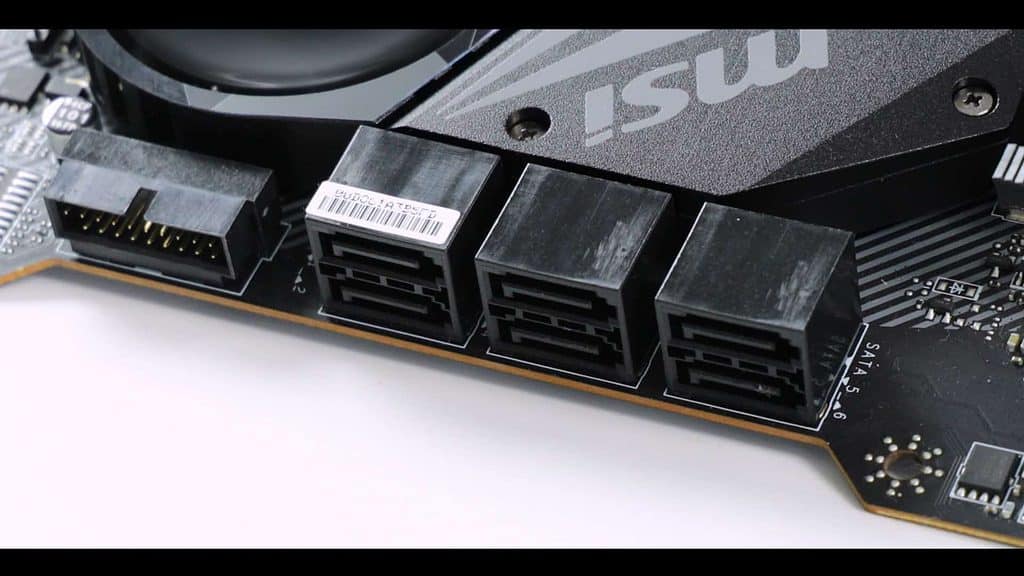 For more classical storage solutions, we have our usual SATA 3.0 plugs. 6 in total, with a transfer rate of 6 Gbps each. They can be configured to run into a 0,1, or 10 RAID configuration.
---
PCIe Slots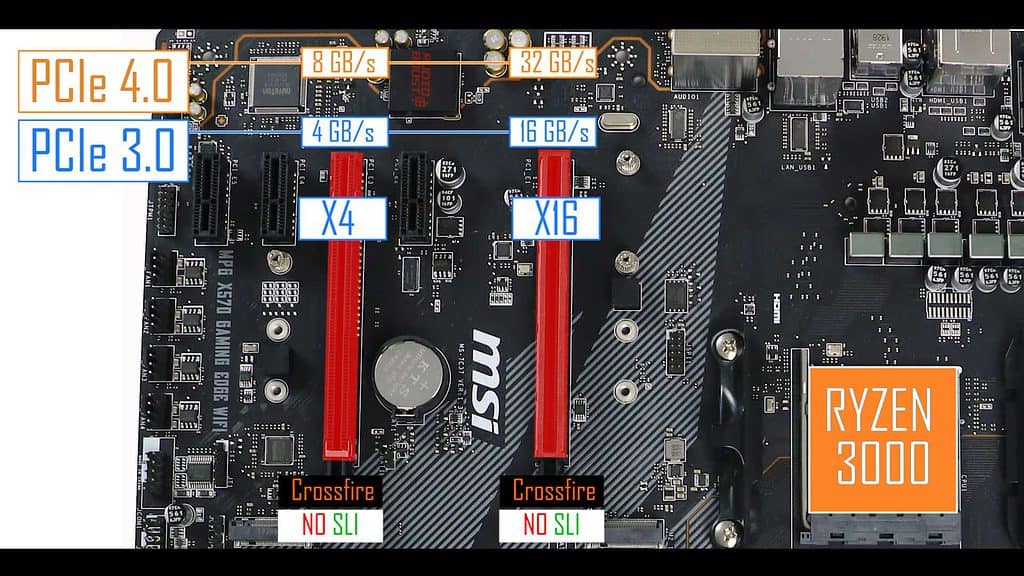 The MSI MPG X570 Gaming Edge WiFi has 5  3rd/4th Generation PCI expresses slots.:
2 16 lanes with different BUS speeds
3 single lanes , single speeds
Coupled with a Ryzen 3000 CPU and your PCIe will run at a PCIe 4.0 standard, dispensing twice more bandwdith than when coupled with a Ryzen 2000 series.
Only the closest 16 lanes PCIe slot can operate up to 16 full BUS speed. Therefore, your video card should be here for optimal performances.
The second 16 Slots PCIe has been caped to operated up to 4 full BUS speed. And in a PCIe 3.0 configuration, that would severely bottle-neck any secondary video card and, I would understand the absence of metallic re-enforcement.
But since PCI 4.0 configuration, there would be plenty of bandwidth to run a 2nd video card without issues. That's why I would have preferred to see a 2nd metallic re-enforcement on the second 16 slot PCIe export.
The board supports CrossFire but not SLI, therefore only dual Radeon AMD cards will be able to game in Sync.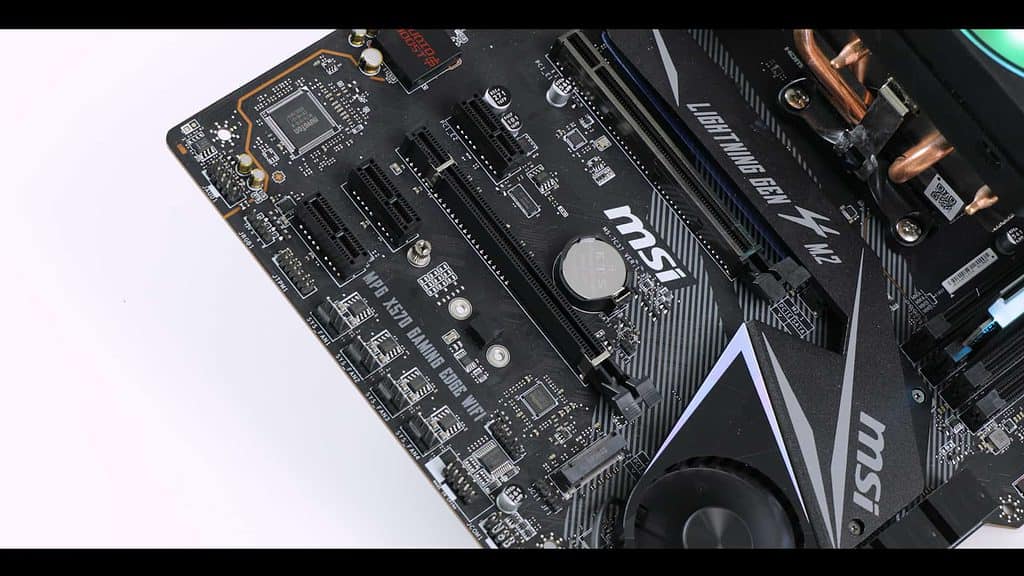 Worth noting, having a PCIe 4.0 export doesn't mean that you will be able to run your Video-cards twice faster. So far, the best GPU's available barely reach the PCIe 3.0 standard bandwidth limitations. Therefore, do not expect in-game performance gains.
Instead PCIe 4.0 exports have more of a future proofing advantage as well as a better multi GPU support. But that's it.
---
Back IO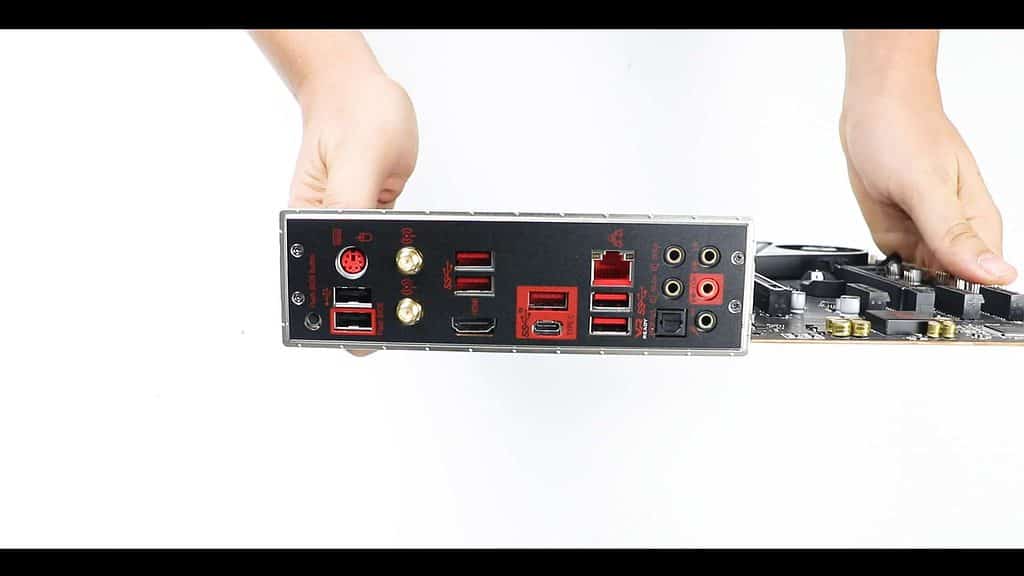 First let me note the presence of an IO integrated plate which is always a good point!
Starting from the left, we have :
a BIOS flash button
Mouse / Keyboards PS/2 plug
x2 USB 2.0 RX/TX 480 Mbps
Dual Band WIFI AC RX/TX 433 Mbps
x4 USB 3.2 1st gen RX/TX 5 Gbps (blue)
HDMI 1.4b
x2 USB 3.2 2nd Gen. RX/TX 10 Gbps (incl. Type C)
x1 Surge protected Gigabit  LAN
Realtek ALC1220 Codec 7.1 channels audio
The GOOD :
I am happy to see a BIOS Flash button, not always available at this price point.
Audio left and right channels are on a different PCB layers, meaning a better sound isolation, and indeed, recording was crystal clear. No acoustic interference indeed.
As for gaming, no complains, the audio was crystal clear, basses were deep and pure. Happy all around.
The BAD :
Only 2 3.2 2nd Gen USB plugs. Would want to see 4 of them.
WiFi should have been upgraded to the now common WiFi 6 standard (2.4 Gbps VS 433 Mbps currently).
---
Front Panel Connectors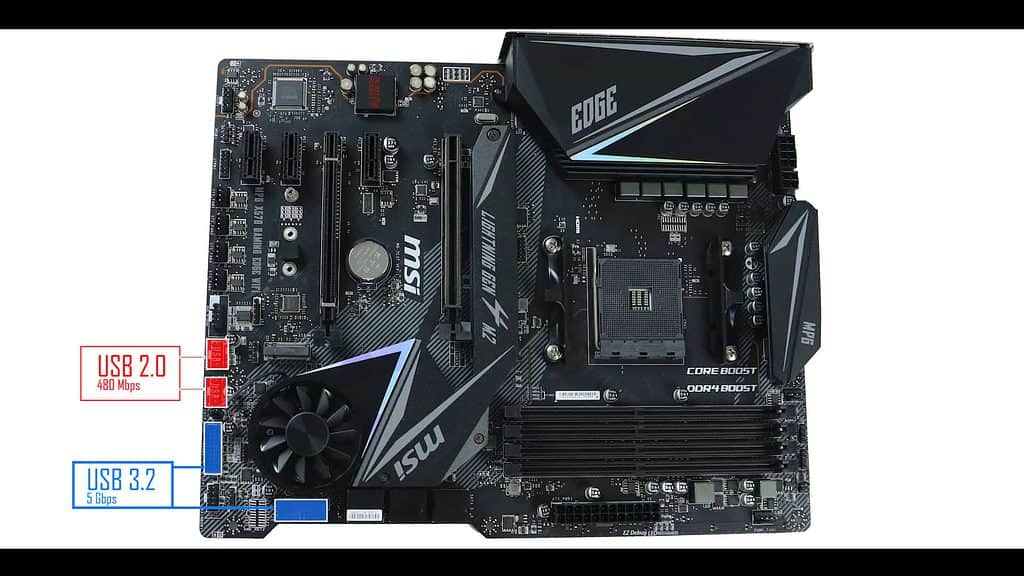 We have two USB 3.2 1st gen type A (classical) front panel connector.
In addition, we have 2 USB 2.0 front panel connectors. Worth noting, these are not only relevant for data transfer, but they are also very useful for All-In-One water pumps energy supply and PWM abilities, or for Intelligent PSUs for in and out wattage readout / monitoring.
I do regret the absence of a 3.2 2nd gen Type-C front panel connector. The X570 chip-set has ample resources to feed it all the bandwidth it needs, and having only one 3.2 1st gen FP connector will be somewhat handicapping for larger builds.
---
EZ Debugger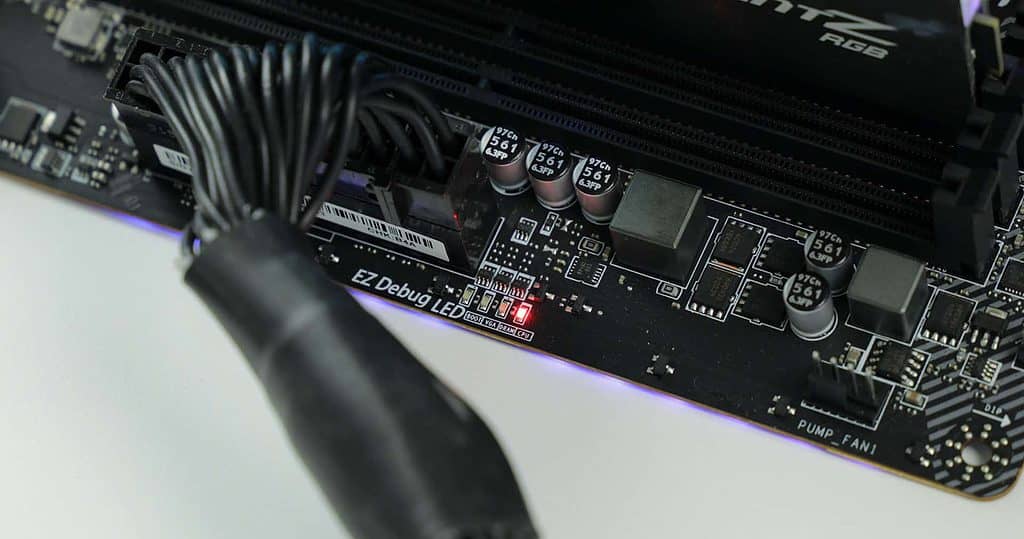 The very minimum in order to guide your troubleshooting, A must when it comes to a PCIe 4.0 enable motherboard.
---
Cooling Connectors
Cooling connectors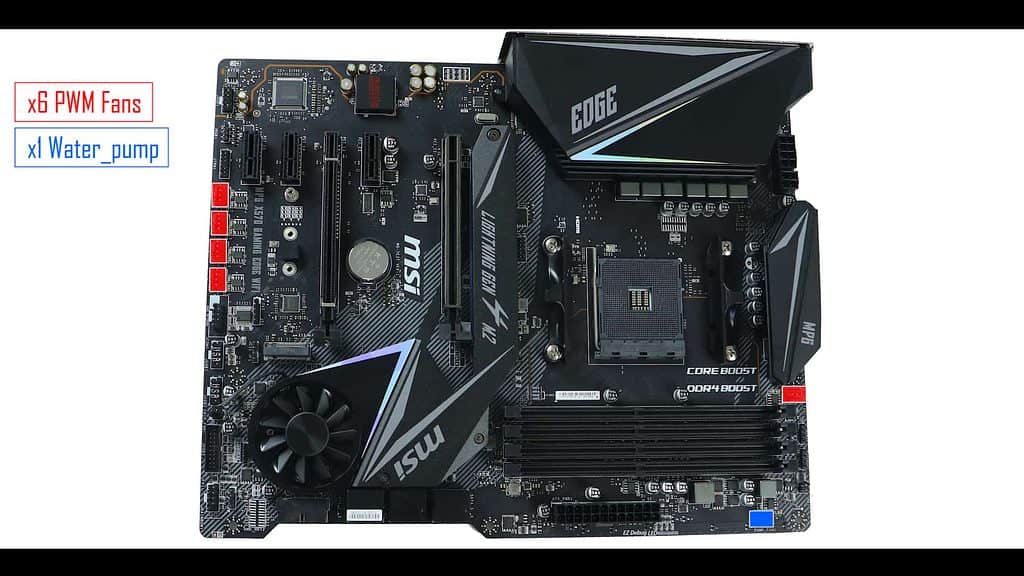 We have 6 nested fan connectors, 1 of which can support an All-in-one CPU coolers.
More than enough to keep air flowing through your build.
But, I do regret not seeing hybrid connectors, as available on Gigabyte motherboards. For no extra cost, hybrid connectors will let you use every connectors for fans, water flow sensor or water pumps, indiscriminately.
A feature which gives such an agility to your overall build. A miss I have a hard time to forgive!
---
Mystic Sync Effect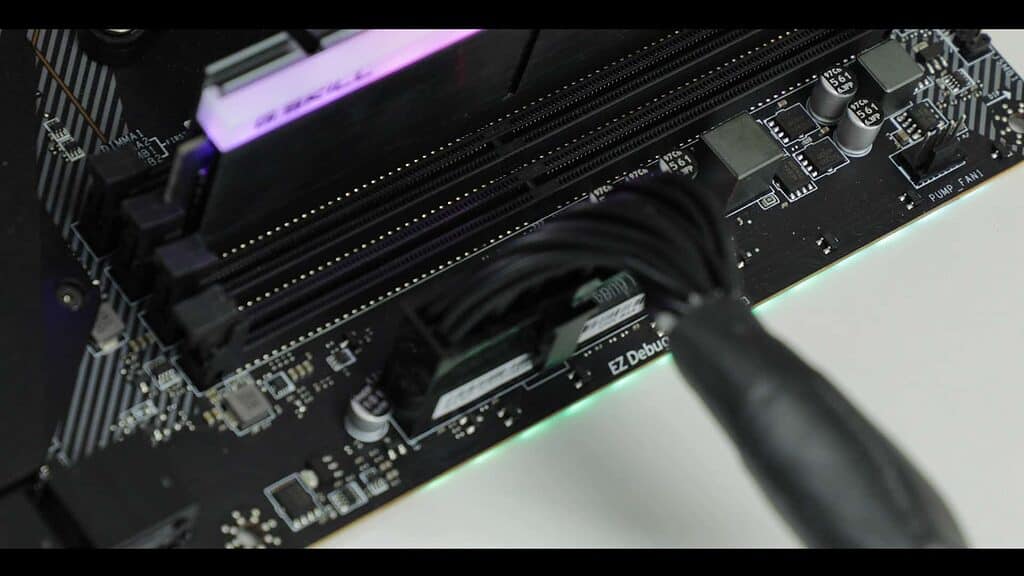 on the PCB
We also have 4 RGB connectors :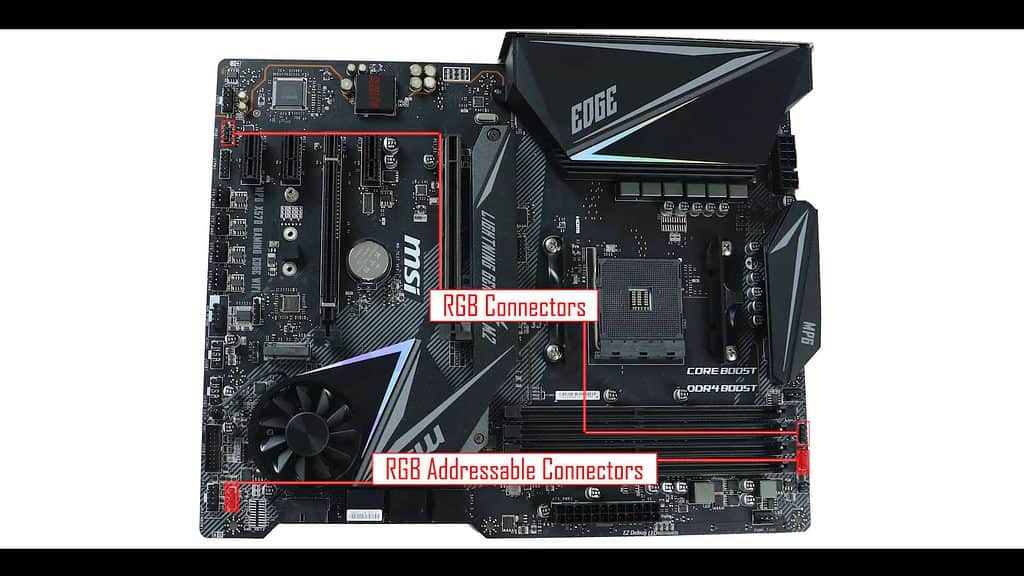 2 standard 12V RGB connector and 2 addressable RGB connector.
Pure luxury compared to what was previously available on X470 powered motherboards. Let's give this to MSI.
---
CONCLUSION
The MPG X570 Gaming EDGE WiFi will cost you about 200 bucks before taxes. And in view of the long list of features, yes,it might look like a good deal.
But truth be told, it is heavily handicapped from an inefficient, over-heating, thermo-throttling VRM.
And this could have been somewhat fixed by adding 2 additional PCB layers, but obviously this would significantly added onto the Gaming Edge Cost.
So, is this a no-deal? Well, as anything else in life, it all depends. If you are looking for a budget, rather well featured, board, to run nothing more than a 6 cores CPU at stock clock, than yes… this could be a good product.
And I say could, because there are so many misses. The absence of fan connectors and the poor chipset fan choice further disadvantage the MPG X570 Gaming Edge WiFi compared to similarly priced competing motherboards out there.
Furthermore, if you are an enthusiast going for Over-clocking or high core count CPU, I would definitely stay clear from it and go seek solace elsewhere!
Shortly said, It simply feels more like this motherboard was put together by a marketing team, rather than engineered.
QUICK OVERVIEW
CPU & northbridge support
Supported Processor
Ryzen 2000 , Ryzen 3000 series AMD Processors
Chipset
X570
CPU socket
AM4
Memory
Slots
4 (dual channel)
Max System Memory (Gigabytes)
128
Memory Technology
DDR4
Maximum Clock (MgHz)
4,400
Connectors
USB 2.0
2 back IO + 2 on-board
USB 3.2 (1st Gen)
4 on back IO + 2 on-board
USB 3.2 (2nd Gen)
2 Type A on back IO
LAN
1 Gb/s
WiFi
Dual Band WIFI AC / BT 4.2