Key Features
Price: 200 USD
ATX Form Factor
Intel Z390 chipset
LGA 1151 CPU socket
Compatible with 8th and 9th Gen. Intel CPUs
4 x 32GB 4,266 MHz DDR4, maximum 128 GB
3 x PCI-E 3.0 x16, 3 x PCI-E 3.0 X1
Back IO : 4 x USB 2.0, Dual Band WiFi 802.11AC , 3 x USB 3.1 2nd gen. Type-A + Type C, 3 x USB 3.1 (1st Gen), 1 x  Gigabit LAN, ALC1220-VB Realtek 7.1 channels audio.
2 x M.2 SSD, 6 x SATA 3
3 x CrossFire support, 2 x SLI support
12 CPU phases  for better Over-Clocking
Premium Chocks, and MOSFETs
Advanced Custom Water cooling support
Clear and practical board layout
Superior sound Codec and WIMA capacitors
Premium manufacture
Superior custom water cooling support
Advanced temp monitoring
Great pricing
no Q-LED screen
no Start and Reset soldered buttons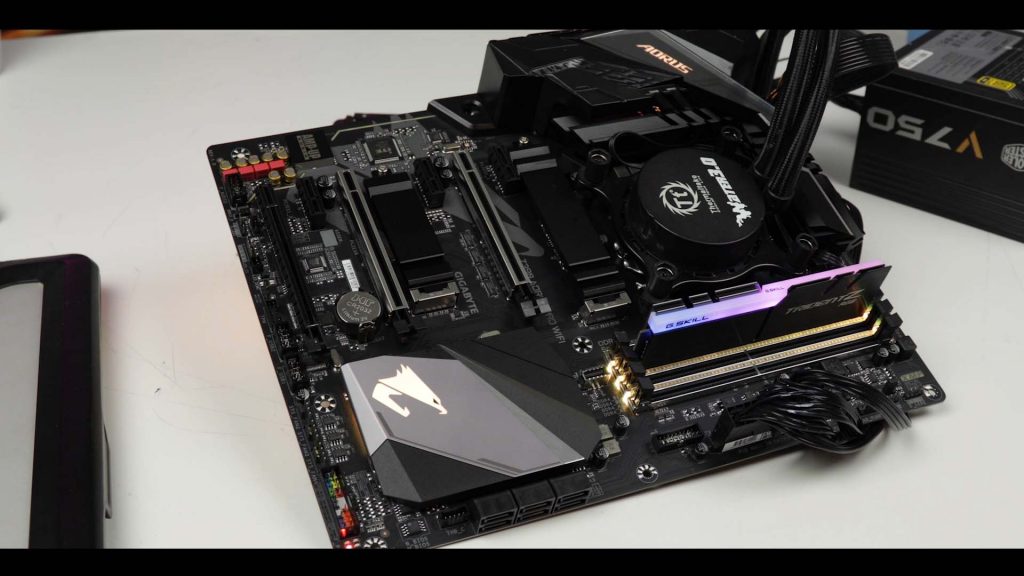 4 SATA cables
M.2 SSD screws and screw raisers
2 way SLI Bridge
WiFi dual band antenna
RGB addressable cable extension
RGB cable extension
Manual
DVD driver & Software
The Z390 AORUS PRO WiFi Rev. 1
First and foremost, it is an ATX motherboard.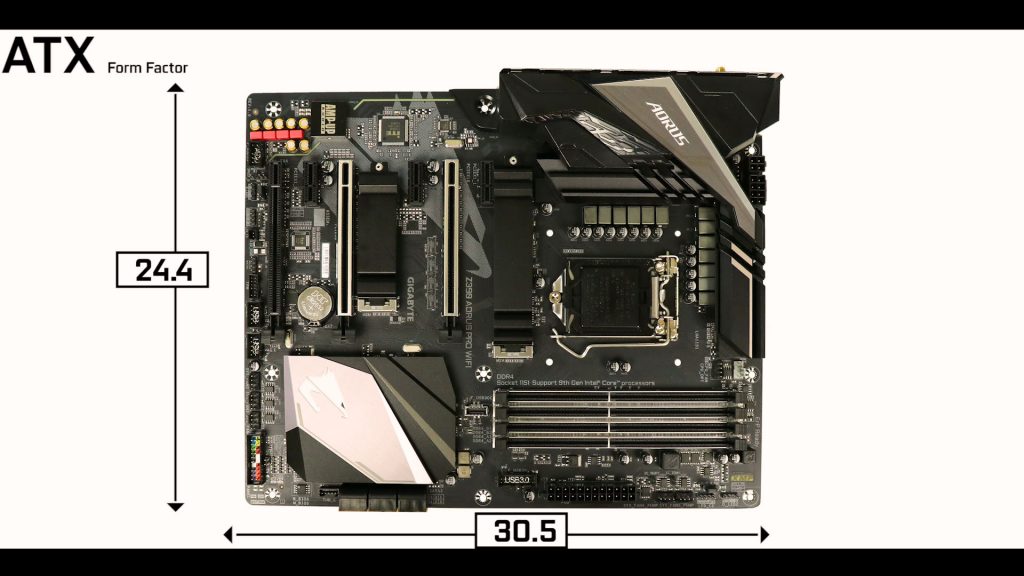 It will fit in virtually any case you can throw at it.
The Z390 chipset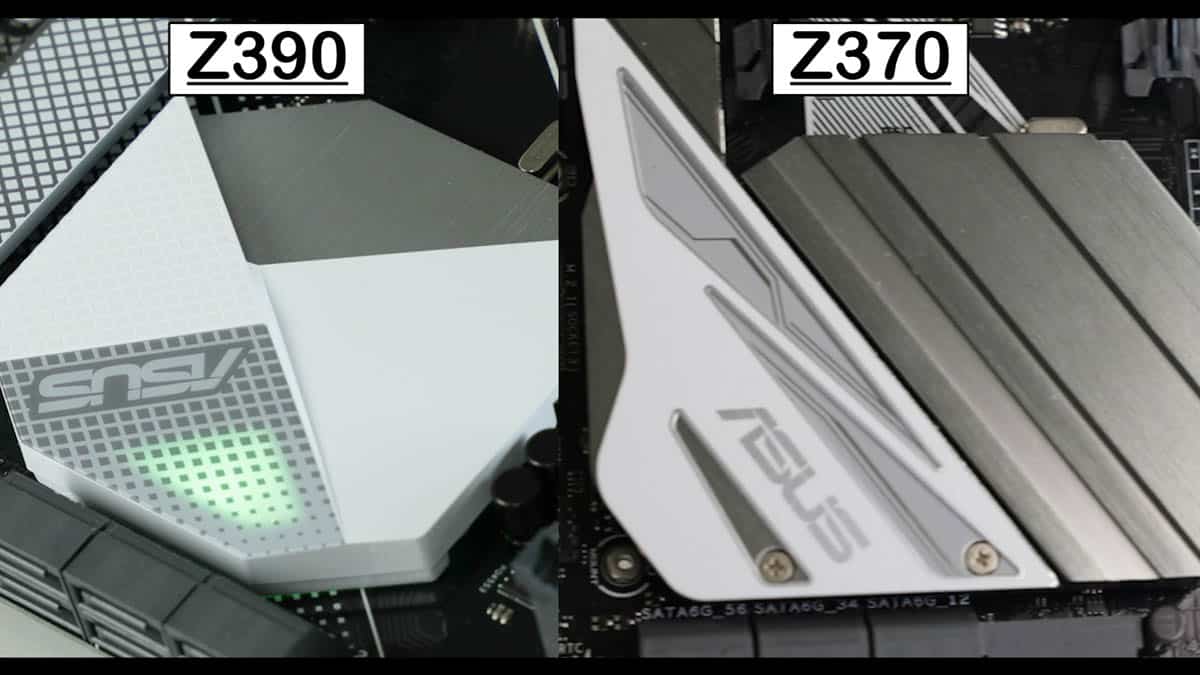 The big difference in this new series is, of course, the chipset: The Z390.
What you need to know here is that the Z390 is in all and for all identical to its predecessor, the Z370. The only noticeable differences are the addition of 2 features (marked in red below) :
Intel Z370 versus Z390


Intel Chipset
Z390
Z370
Overclocking Support
Yes
Yes
On-CPU PCI Express* 3.0 Configurations
1X16 or 2X8 or 1×8+2X4
1×16 or 2×8 or 1×8+2×4
Independent Display Ports / Pipes Support
3/3
3/3
Memory Channels / DIMMs per Channel
2/2
2/2
Processor Overclocking
Yes
Yes
Integrated Intel Wireless-AC Support (CNVi)

Yes

No
Intel Optane Memory Support
Yes
Yes
Maximum High Speed I/O Lanes
30?
30
Maximum USB 3.1 Ports: Gen 2 / Gen 1

6 / 10

0 / 10
Maximum SATA 6Gb/s Ports
6
6
Maximum PCI Express* 3.0 lanes
24 (v3.0)
24 (v3.0)
Intel Rapid Storage Technology
Yes
Yes
Maximum Intel RST for PCIe Storage Ports (x2 M.2 or x4 M.2)
3
3
Intel RST PCIe RAID 0, 1, 5
Yes
Yes
Intel RST SATA RAID 0, 1, 5, 10
Yes
Yes
Intel RST for CPU-attached Intel PCIe Storage
Yes
Yes
Other than that, they are the very same chipset, which is a good thing since both the Z370 and Z390 can support the same processors:
8th Generation Intel Processors (Coffee Lake)
9th Generation Intel Processors (Coffee Lake refresh)
Socket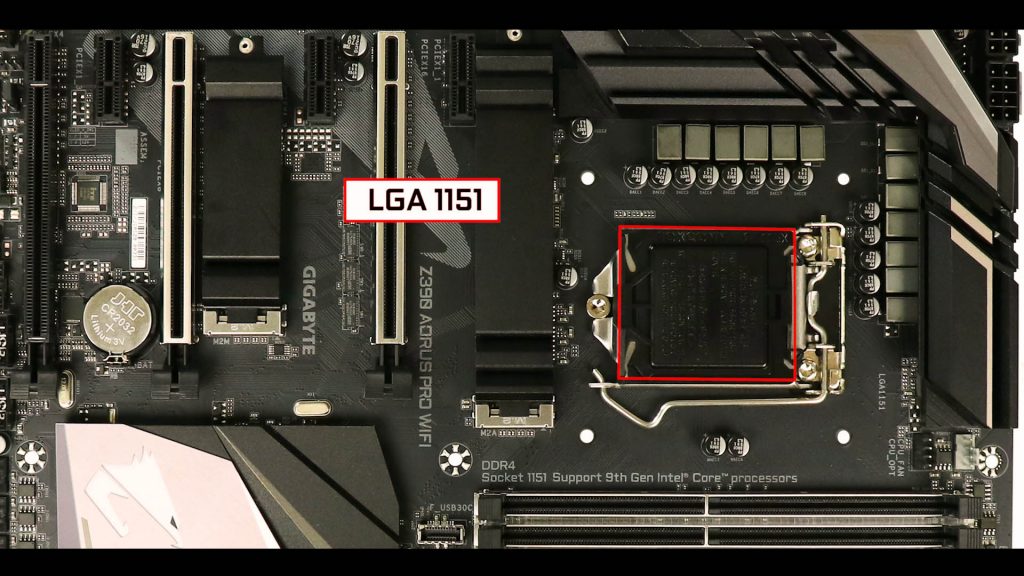 Luckily for all of us, this board still uses the highly compatible 1151 LGA CPU socket. Therefore, if you have installed any Intel CPU in the past decade, you should feel right at home.
And, as previously stated, the CPU socket will support both the 8th and 9th generation of Intel's Core CPUs.
VRM
The Z390 AORUS PRO  comes with 13 50 AMPS phases, 12 of which are dedicated to your CPU!
Obviously, this means a superior overclocking experience with ANY supported CPU. Yes! Including the massive i9-9900K!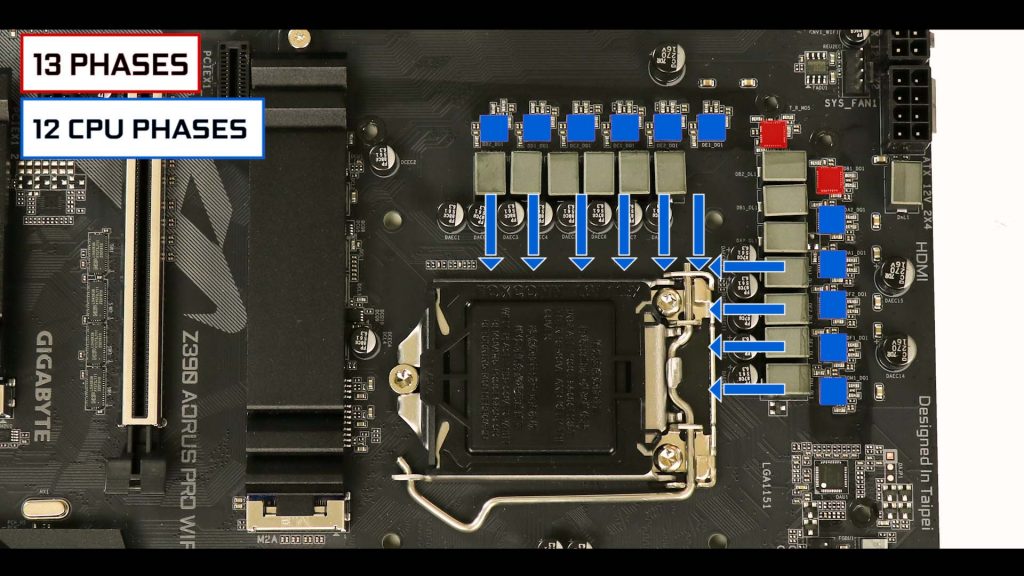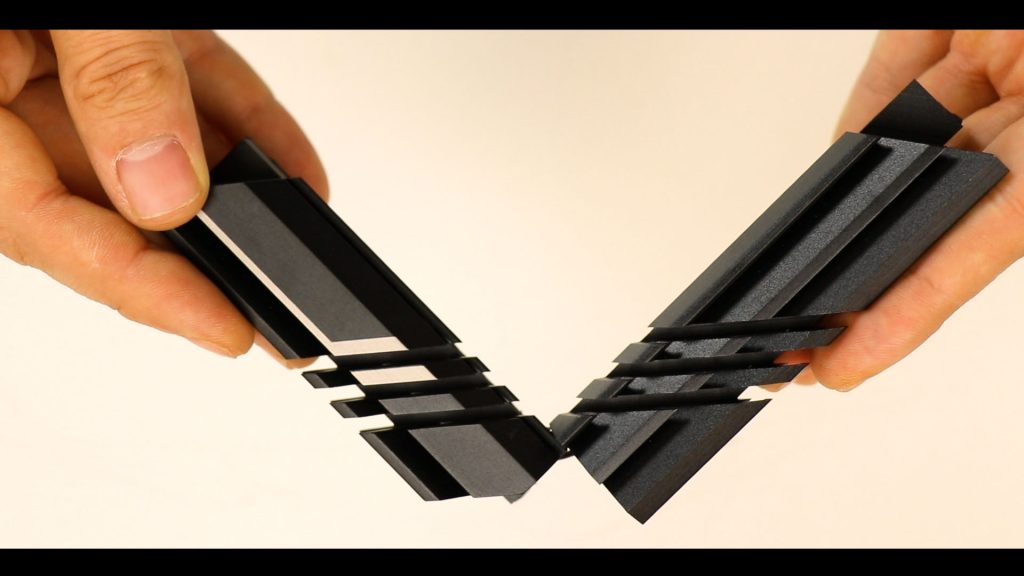 The heat-sinks are links by a hollow tube which will help air circulating from a heat-sink to another.
Note on Overcloking:
The VRM seems overkill, but more phases means more heat-dissipating surface.
In fact and In principle, you may also be able to run an I7 or I9 without the use of the heat-sinks just as long there is some air flow.
In consequence, even in extreme Overclocking on an i9-9900K no over-heating or thermo-throttling were detected.
RAM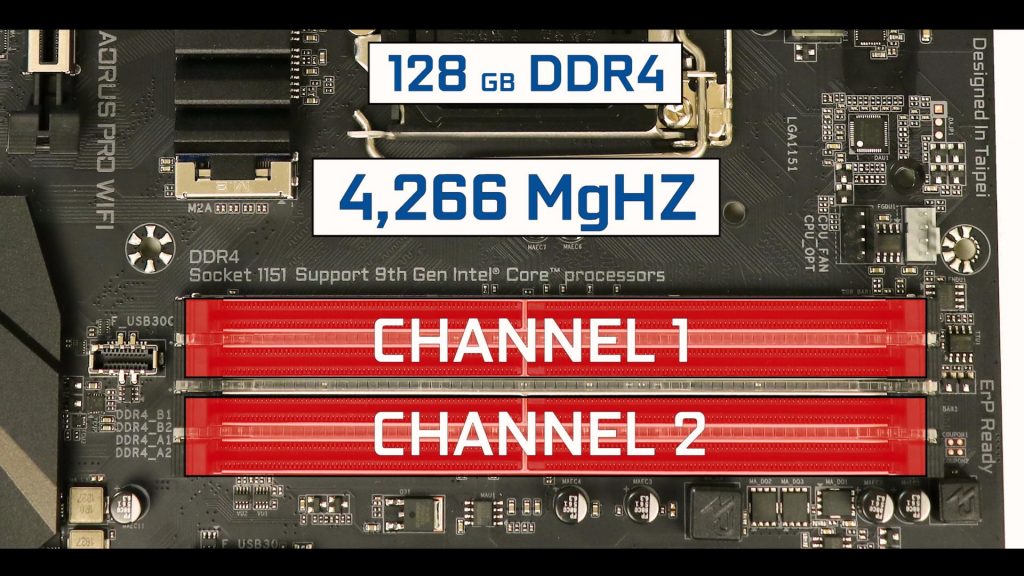 RAM wise, we have the usual quad slot dual channel but rarely enough, it can support up-to 128 GB of DDR4 RAM at a stable 4,266 MgHZ.
Only one other Z390 board I know of which can support that is the ROG Maximus XI Hero. In a gaming setup, having this much memory on a board might be somewhat overkill in my opinion.
But it does future-proof the board somewhat and will give more relevancy than 64GB boards in the coming years.
M.2 SSD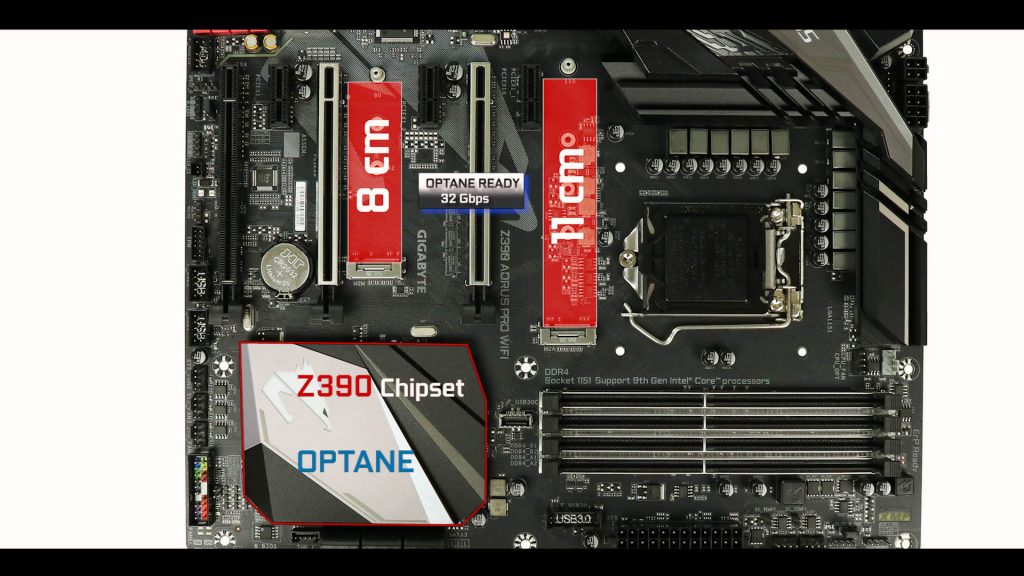 Storage wise, we have a dual M.2 SSD configuration in a 8 cm and 11 cm long configuration. Of course, the Z390 chipset is Optane ready. This will allow our M.2 SSD sticks to swap data up to 32 Gbps.
With this kind of theoretical transfers, do not be surprised to see your M.2 SSDs sticks overheating, and thermo-throttling.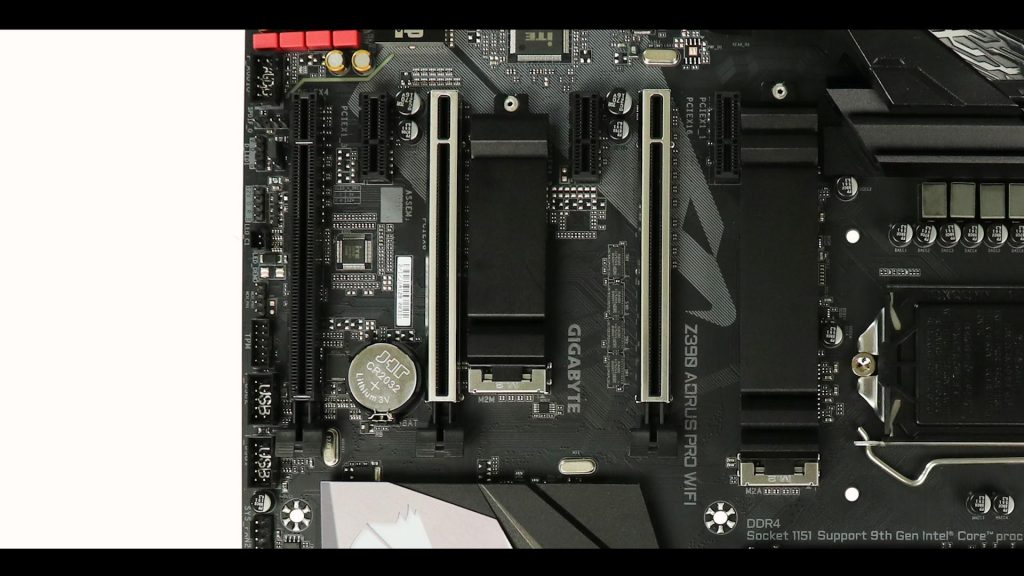 Thankfully, both of our M.2 SSDs have been equipped by thick and good
And that is why all of our longer (therefore hotter) M.2 SSD has been equipped with the padded thermo-shield
SATA 3.0
Z390 AORUS PRO WiFi SATA connectors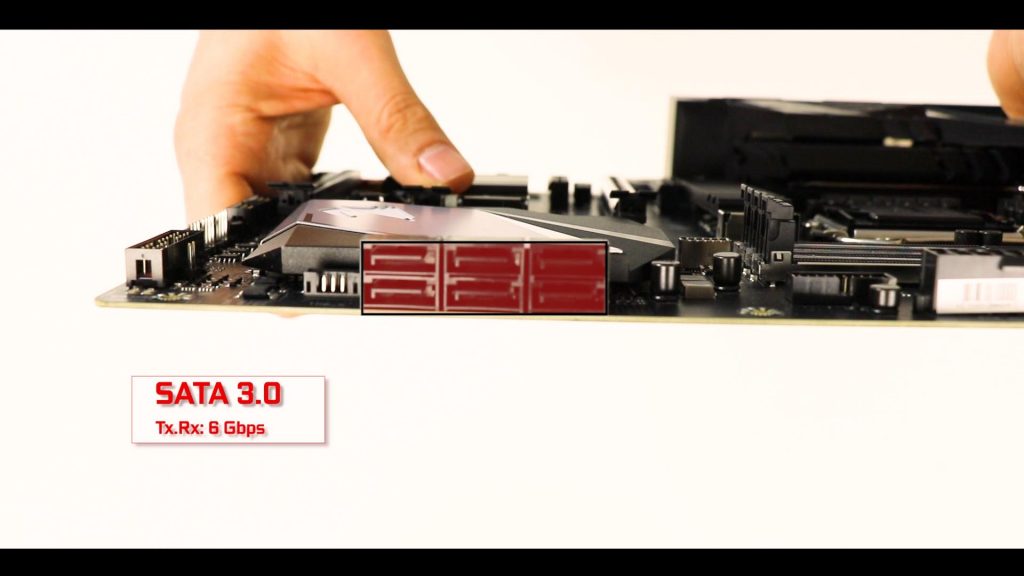 For more classical storage solutions, we have our usual SATA 3.0 plugs. 6 in total, with a transfer rate of 6 Gbps each. They can be configured to run into a 0,1, orr 10 RAID configuration.
PCIe Lanes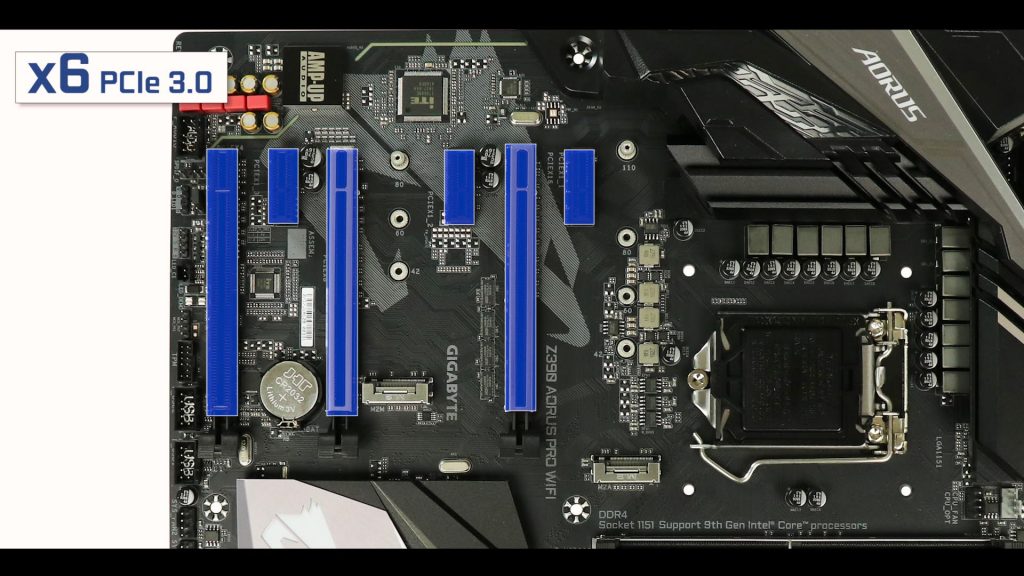 The Z390 AORUS PRO WiFi has six 3rd Generation PCI expresses.:
3 16 lanes with different BUS speeds
3 single lanes , single speeds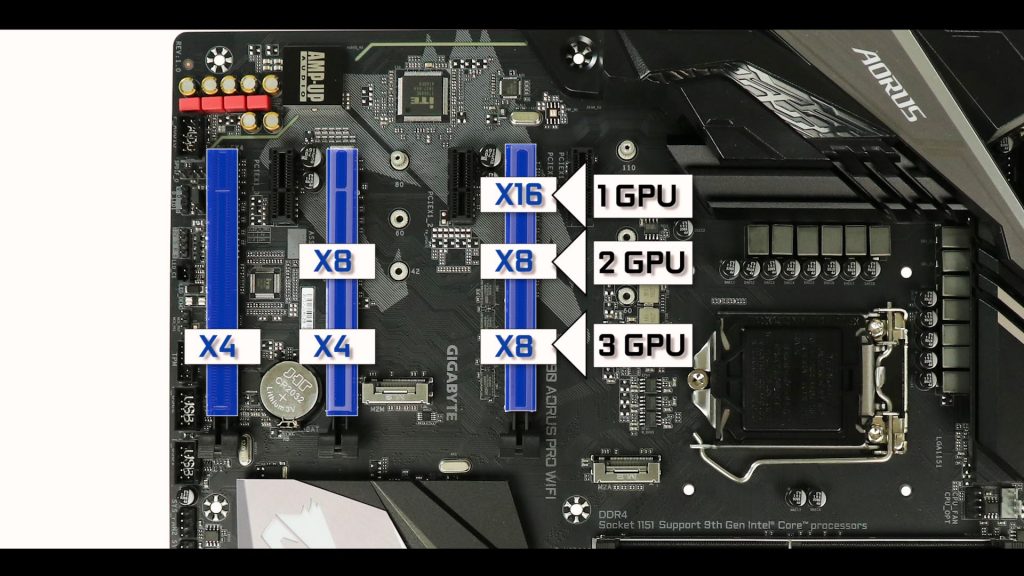 Only the closest 16 lanes PCIe slot can operate up to 16 full BUS speed. Therefore, your unique video card should be here for optimal performances.
In a 2 way GPU configuration, we have a descent 8 by 8 BUS speed, which is plenty to a run a well-performing SLI or CrossFire dual GPU configuration.
But evidently, the Z390/Core combination does not provide enough PCIe lanes to say the same about a 3 way GPU configuration, which will only provide 4 BUS speed in 2nd and 3rd position.
BACK IO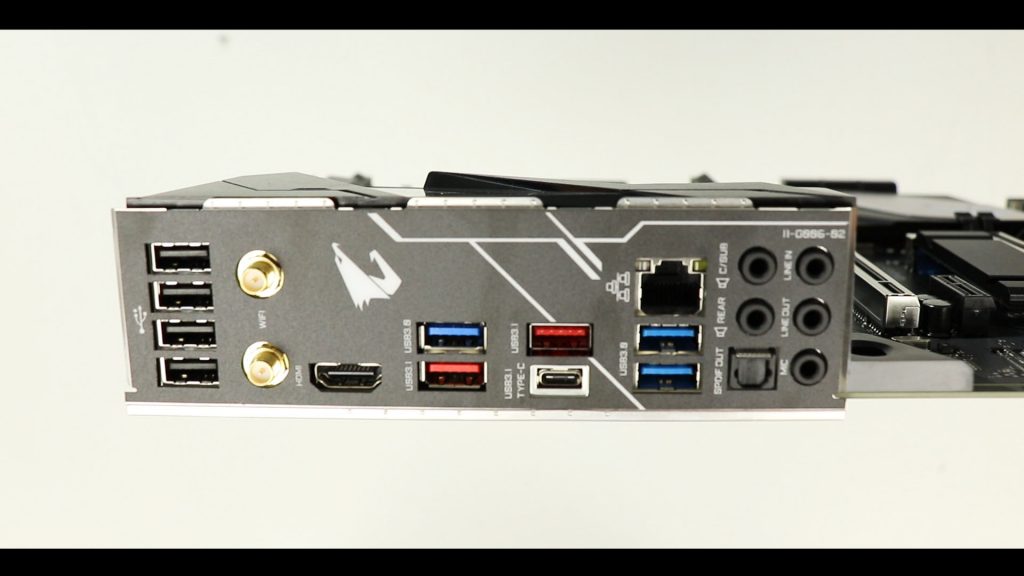 First, let me note that we have an integrated I/O shield. Which is ALWAYS a good start.
Starting from the left, we have :
x4 USB 2.0 RX/TX 480 Mbps
Dual ban WiFi 802.11 AC
HDMI 1.4
x3 USB 3.1 1st Gen. RX/TX 5 Gbps
x3 USB 3.1 2nd Gen. ( 1 type A + 1 type C) RX/TX 10 Gbps
x1 Gigabit  LAN
Realtek ALC1220-VB, 7.1 channels
AUDIO and Capacitors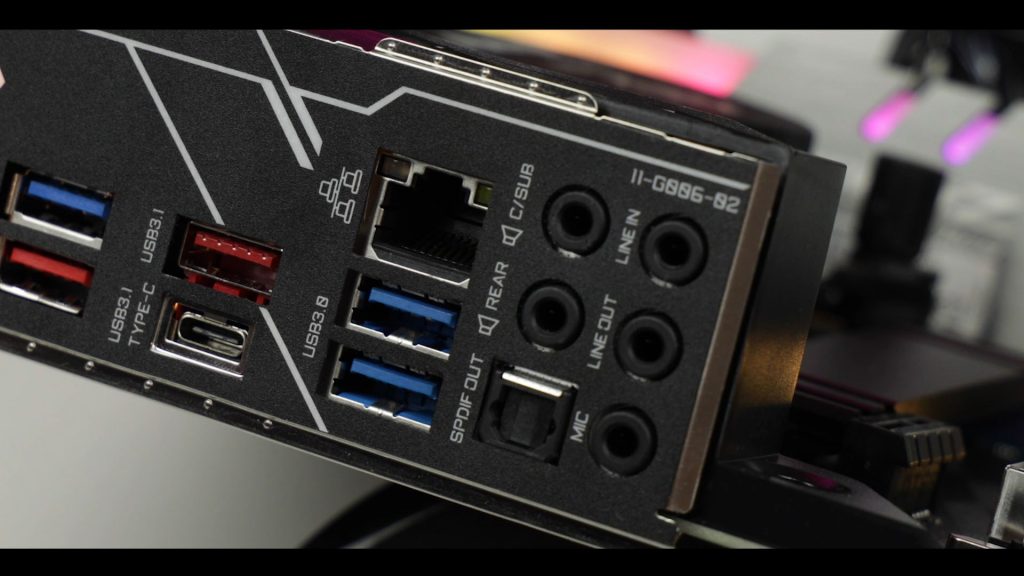 The Z390 AORUS PRO WiFi is equipped with the excellent ALC1220-VB Realtek Codec.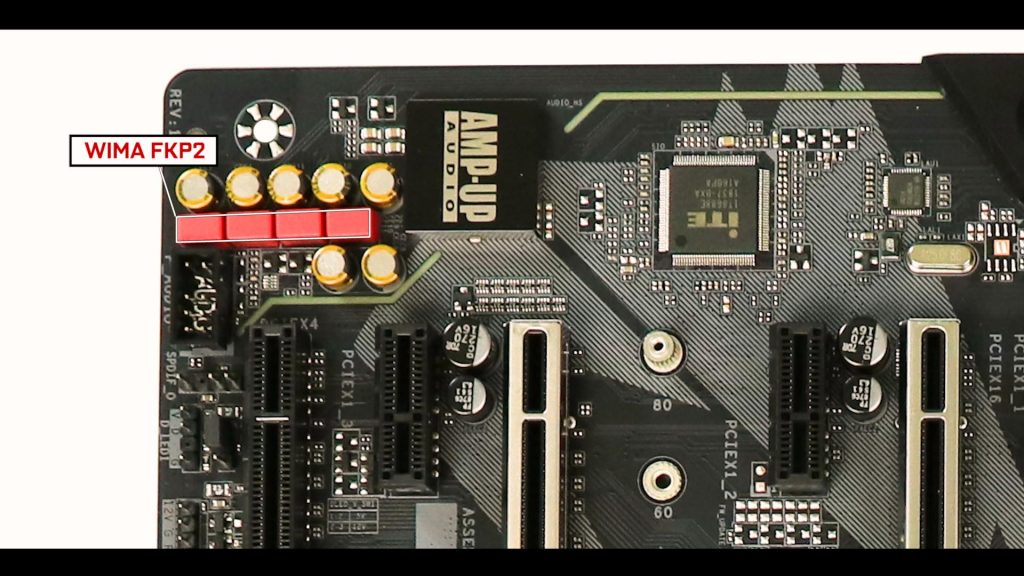 and indeed it is doubled with  WIMA FKP2 capacitors which will deliver crystal clear, interference-free sound. Heavy and pure bass.
This is something we don't usually on boards at this price range. Someone at Gigabyte seems to like its sound!
Front Panel connectors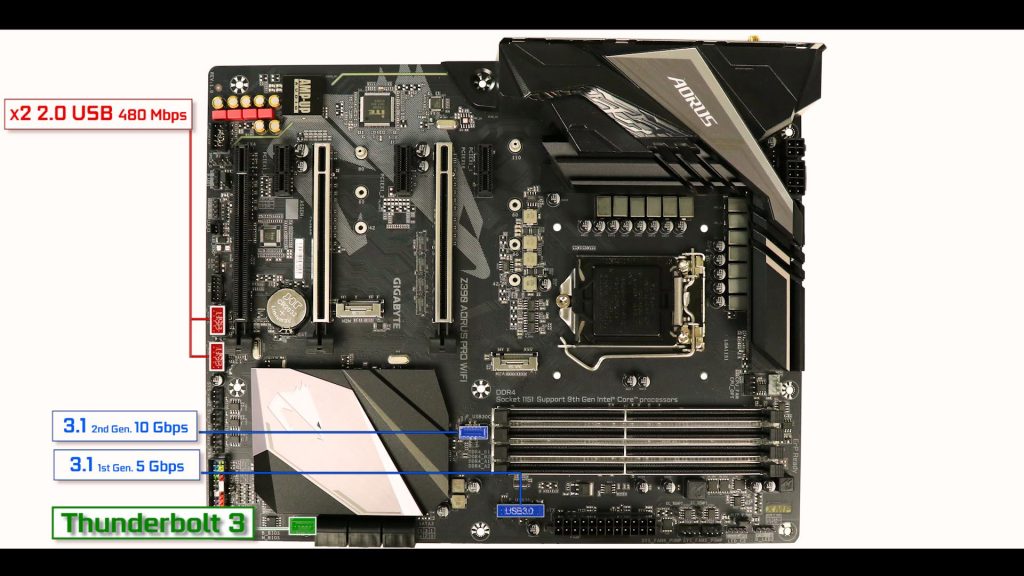 We have one USB 3.1 2nd gen type C front panel connector (10 Gbps) as well as a USB 3.1 1st gen type A (classical) front panel connector.
In addition, we have 2 USB 2.0 front panel connectors. Worth noting, these are not only relevant for data transfer, but they are also very useful for All-In-One water pumps energy supply and PWM abilities, or for Intelligent PSUs for in and out wattage readout / monitoring.
Finally we do have a Thunderbolt 3 connector allowing easy IO upgrade.
Fan & Pump Connectors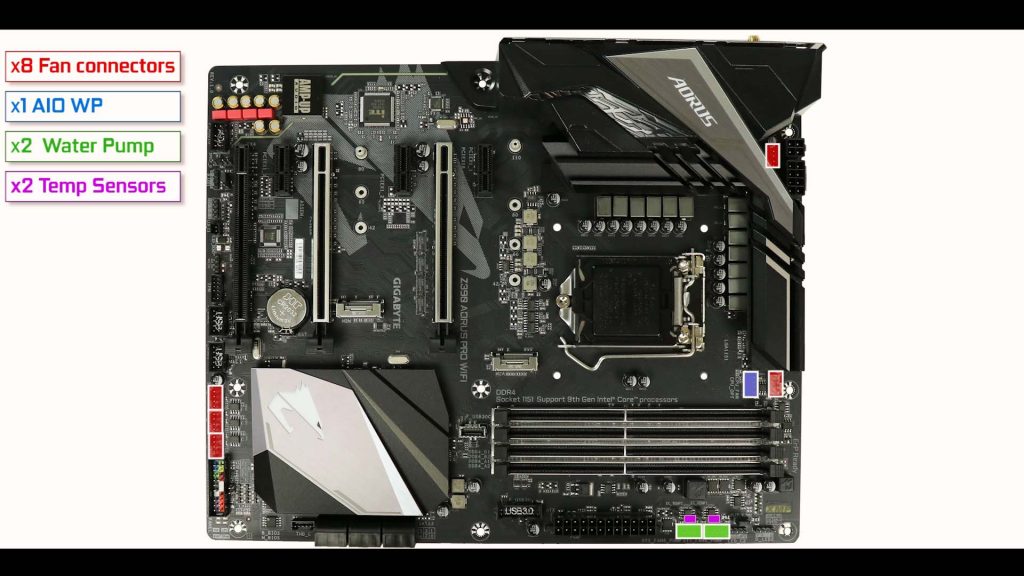 We have 8 nested fan connectors. 2 Of which are Water-Pumps connectors as well, and 1 compatible with All-in-one CPU coolers.
In addition we have 2 temperature sensors very well placed right on top of the Water-Pump connectors. In addition,  particularly like the well-spread layout of the connectors. They are all easily accessible, no matter your setup!
Kudos to Gigabyte for this.
RGB FUSION 2.0 Sync Effect
RGB wise, Gigabyte went all out on this board. This is tech-bling at its best!
We start with 5 nested RGB strips!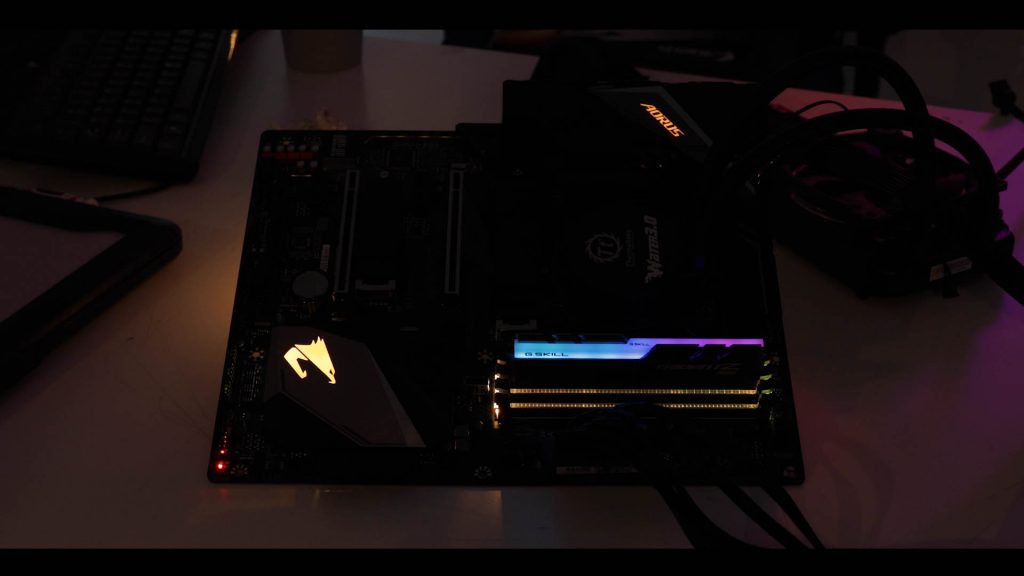 The board in the dark.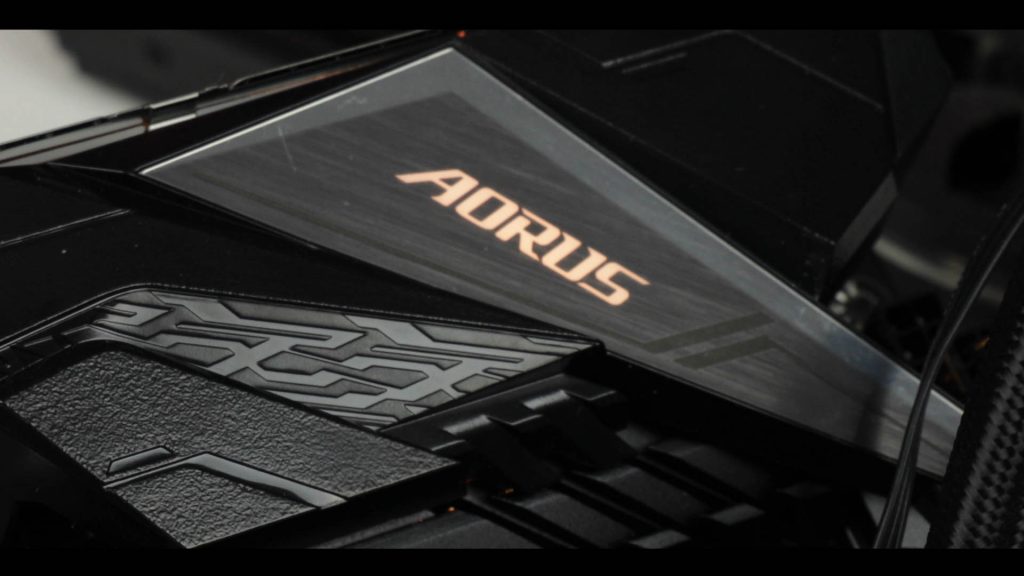 IO roof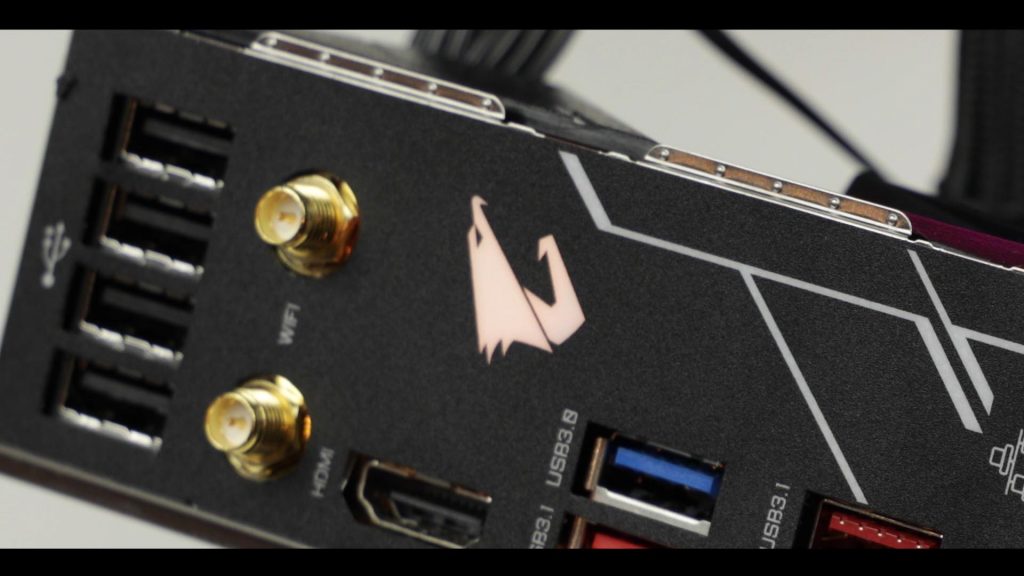 Back IO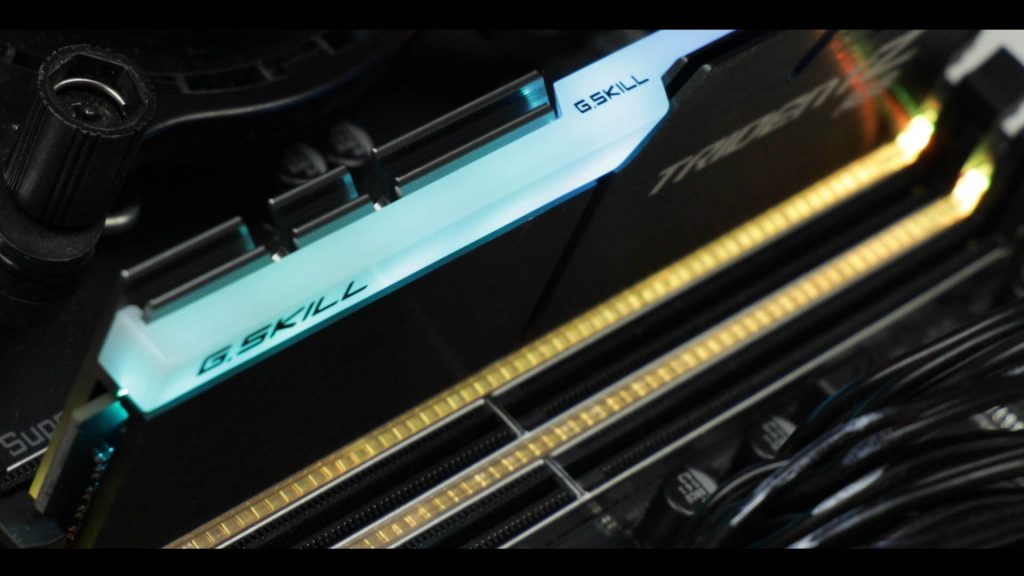 RAM RGB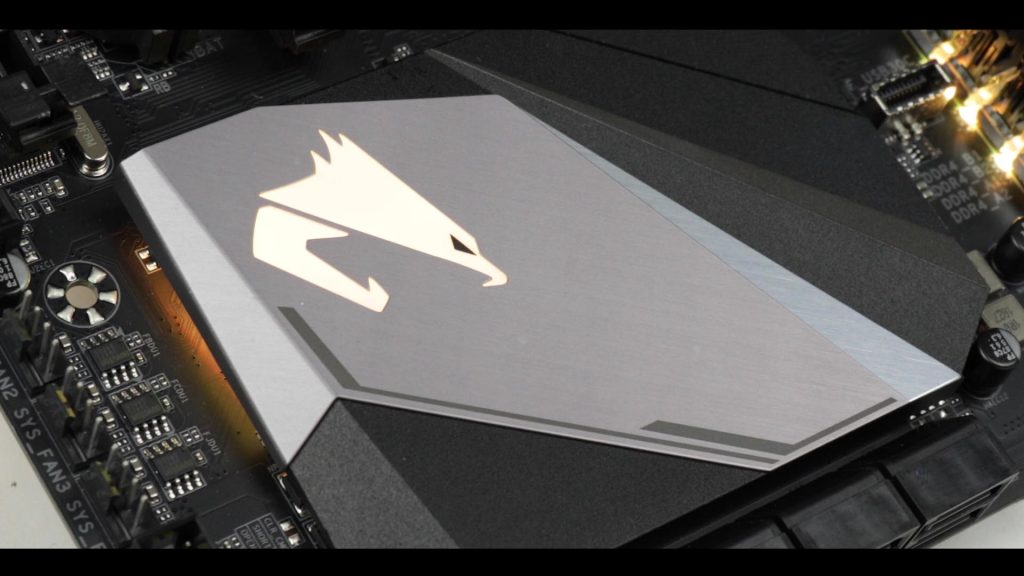 Under the heat-shield
One under the chipset heat-shield.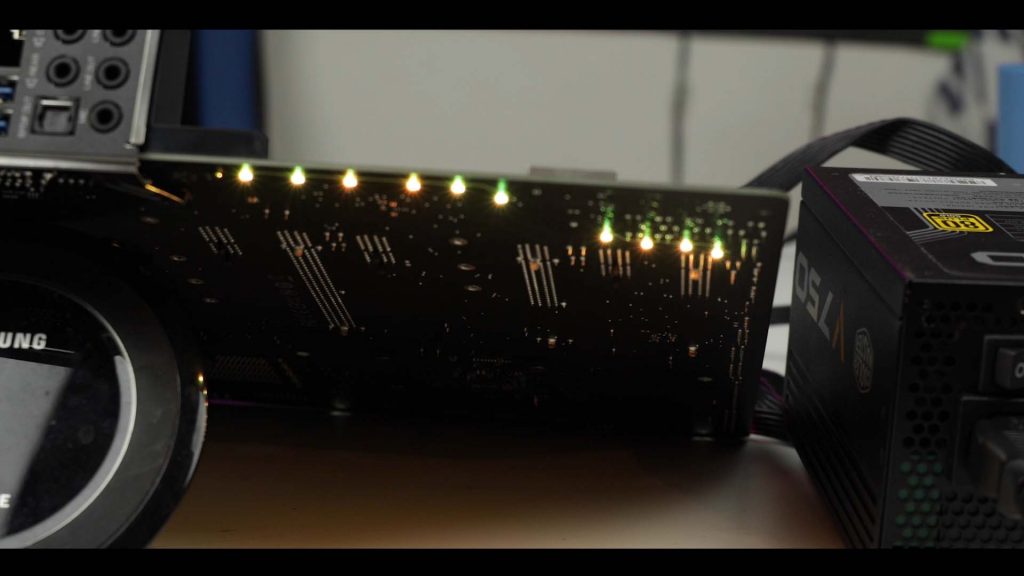 PCB
But if that is not enough, you can add up to 4 additional RGB strips :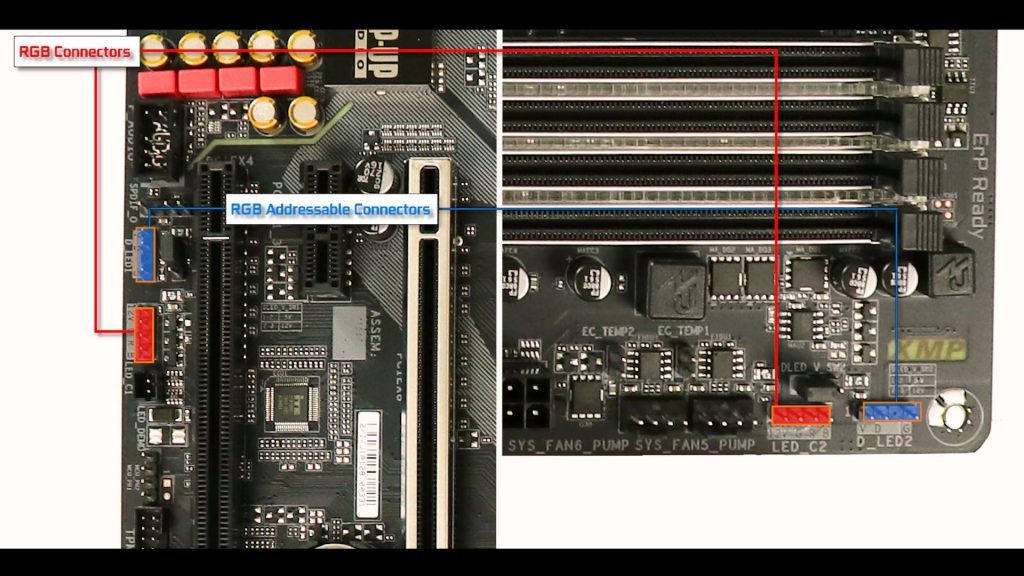 2 standard 12V RGB connector and 2 addressable RGB connector.
Note how they have been places by opposing pair at the board extremities, once more allowing easy access and RGB setup in any possible build configuration.
---
Conclusion
At 195-200 USD dollars, the Z390 AOURUS PRO WIFI successfully delivers a great value board with a premium manufacture and all this at whooping 100 bucks lower than its natural competition.
Entry-level usually try to balance feature and budget. The gaming motherboard market, is saturated, and to be absolutely honest, when you see and review as many motherboard as I did, they do tend to all look alike, and it sometime takes somewhat of imagination to try and differentiate them from one an other…
And it's not their fault, most of the available features on  your motherboard are dictated by the Chipset it runs, and manufacturers have very little to, on one hand had more and stay competitive.
But with Aorus and the Z390 chipset Gigabyte seems to have done what others often forget… they served us a Premium Focuses board.
They focused their money on 3 or 4  features:
An unprecedented VRM which will make no compromise overclocking wise.. including the fearsome i9 9900k
A crazy memory support with 128GB RAM on a dual channel configuration
An obsessively good and premium sound card which raises the integrated audio bar very very high
A reworked and well balanced aesthetic which will please any enthusiasts out there.
But what I really loved about this board, through the entire reviewing process, is that I could distinct a real common sense in every thing Gigabyte did with this board. Everything seems to make sense, and to logically fit together.
The placement of the fan connectors spread out all over the board, water pumps right under the thermistor connectors.. makes total sense… XMP light next to our ram.. RGB connectors paired and placed at opposite of the board. It all make so much sense.. it s almost satisfying.
I also loved some accessibility features… we have large clear writings all over the board … a back lidded XMP , everything a first time builders  will need to feel right at home on its first boot.
And finally it masterfully cater to enthusiast builders, bringing in everything the current market can offer in terms custom water cooling features and extreme over clocking.
At that Price range for what this board offers.. might very well be unprecedented.  And if you are on a market for a new board… either first time builder or seasoned enthusiasts.. this is were your money needs to be!
QUICK OVERVIEW
CPU & northbridge support
Supported Processor
8th & 9th Gen. Intel Core Processors
Chipset
Z390
CPU socket
LGA1151
Memory
Slots
4 (dual channel)
Max System Memory (Gigabytes)
128
Memory Technology
DDR4
Maximum Clock (MgHz)
4,266
Connectors
USB 2.0
4 on back IO 2 on-board
USB 3.1 (1st Gen)
3 on back IO + 1 on-board
USB 3.1 (2nd Gen)
3 Type A/C on back IO + 1 Type C on board.
LAN
1 Gb/s
WiFi
Dual Band 802.11 AC