Key Features
Price: 170 USD
ATX Form Factor
AMD X570 chipset
AM4 CPU socket
Compatible Ryzen 2000 and 3000 CPUs
4 x 32GB 4,400 MHz DDR4, maximum 128 GB
2 x PCI-E 4.0 x16, 3 x PCI-E 4.0 X1
Back IO :2 x USB 2nd gen. Type-A, 4 x USB 3.1 2nd gen. Type-A , 2 x USB 3.2 (1st Gen), 1 x  Gigabit LAN, S1200-A Codec Realtek 7.1 channels audio.
2 x M.2 SSD, 6 x SATA 3
2 x CrossFire support, NO SLI support
8+4 Phases VRM (4 true phases)
Great cooling components
Clear and practical board layout
6 Layer PCB
Bellow 200 USD
no Q-LED screen
no Start and Reset soldered buttons
no Type-C USB
no integrated Back IO plate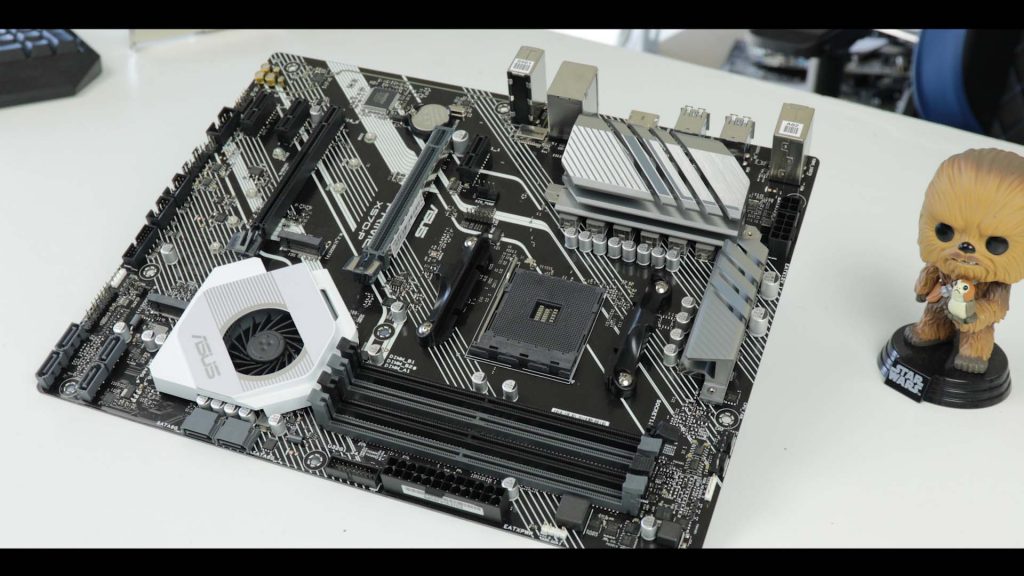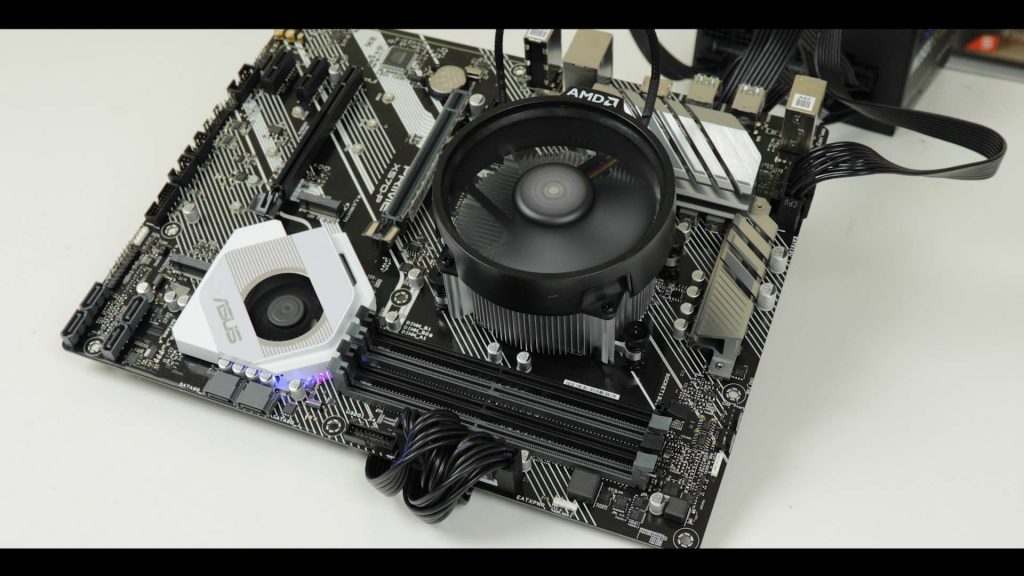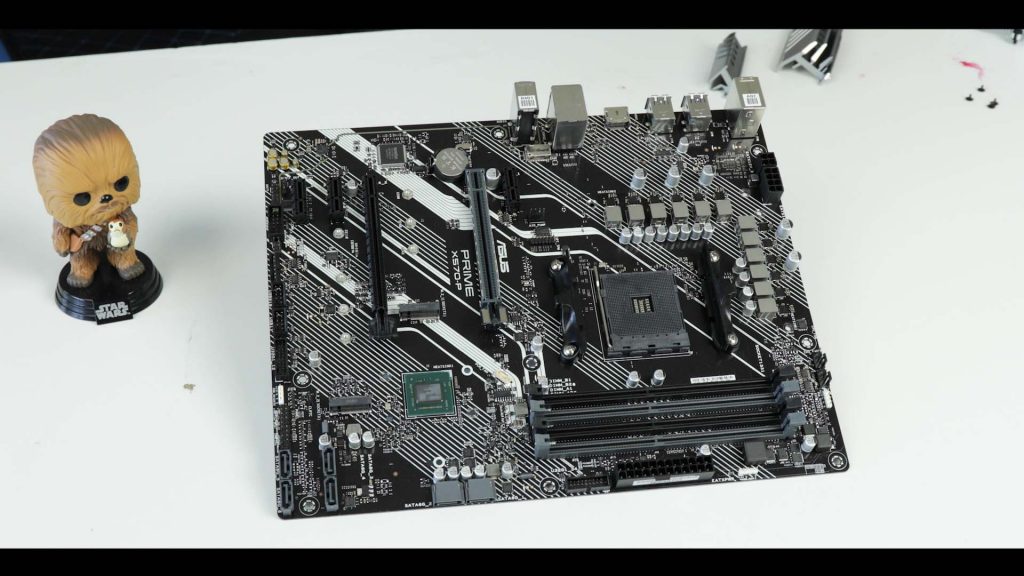 4 SATA cables
M.2 SSD screws and screw raisers
RGB addressable cable extension
RGB cable extension
Manual
DVD driver & Software
The PRIME X570-P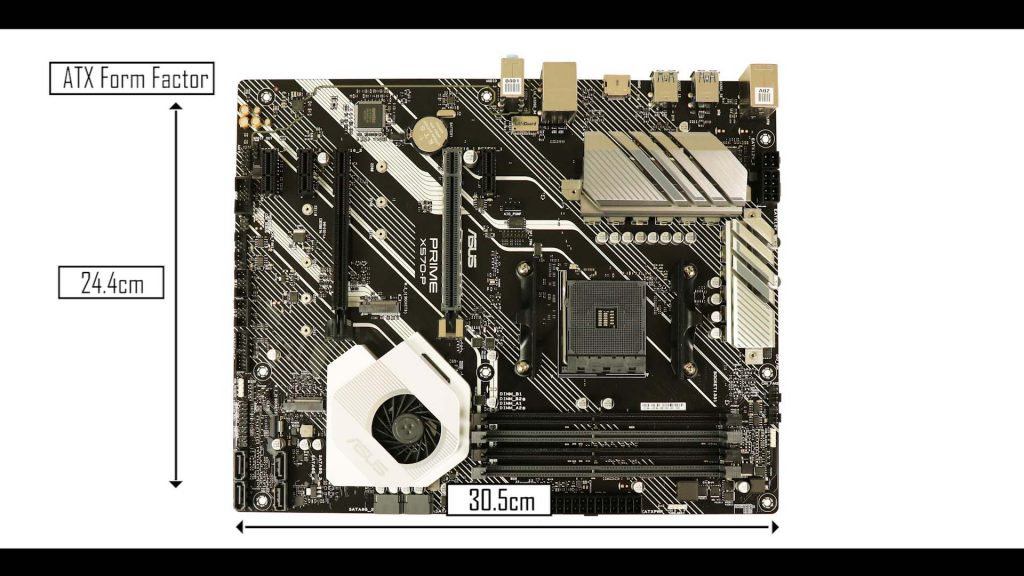 We are dealing with a 6-layer PCB, ATX motherboard. The 6 layer is main stream-on x570 motherboards.  The PCIE 4.0 standard has some signal integrity issue, and a 6 layered PCB does help isolating signals and avoiding component signal interference.
Socket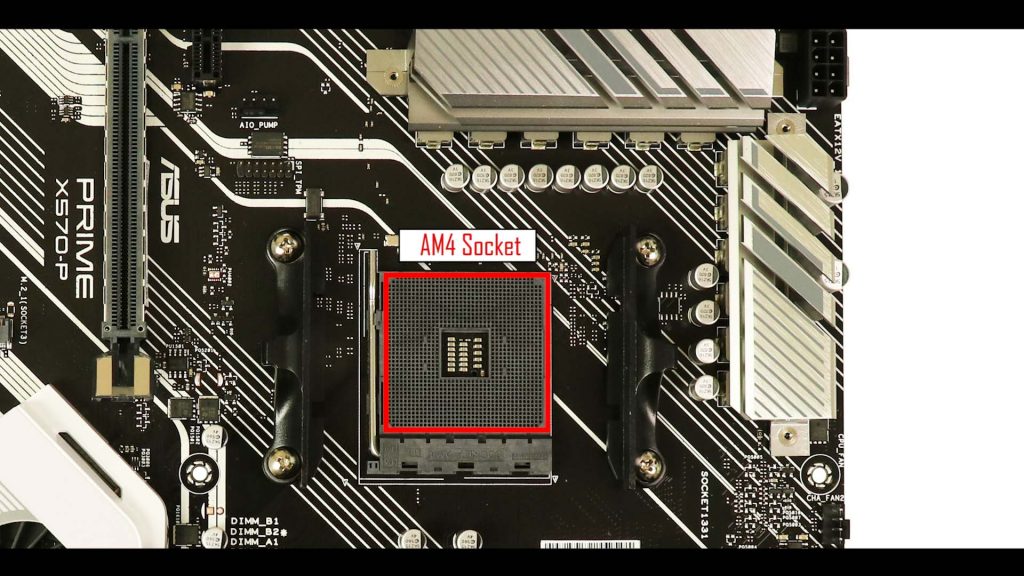 Our AM4 socket can support :
Ryzen 2000 series of AMD CPU
Ryzen 3000 series of AMD CPU
VRM
The Prime X570-P comes with what is advertised as a 12+2 phases VRM.
Obviously it is not the case, but it is not all bad!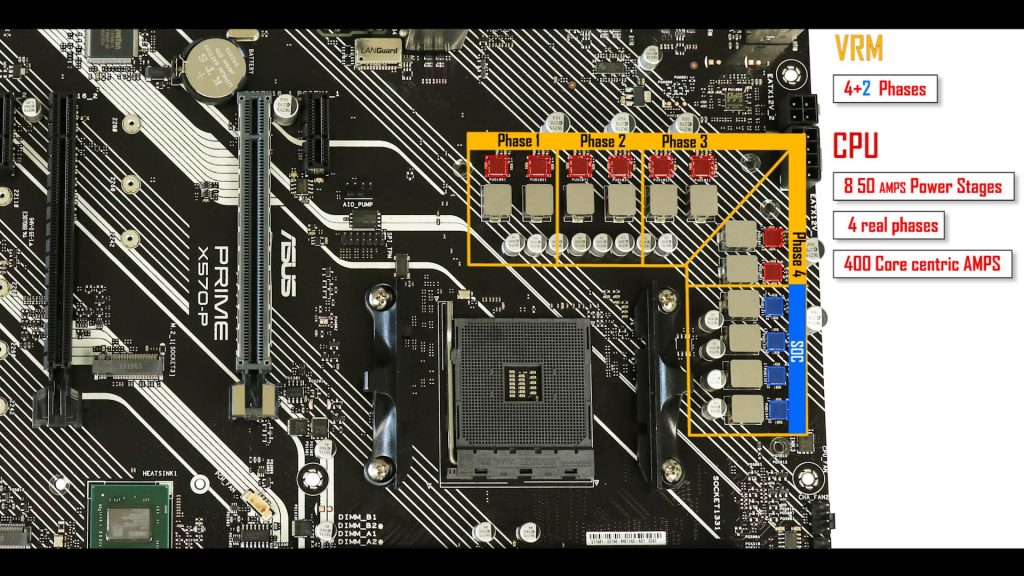 We are dealing with 4 trues phases organized in pairs. So 8 of the power stages are CPU-centric, delivering up-to 400 Amps of power with a heat foot-print of 100 Watts.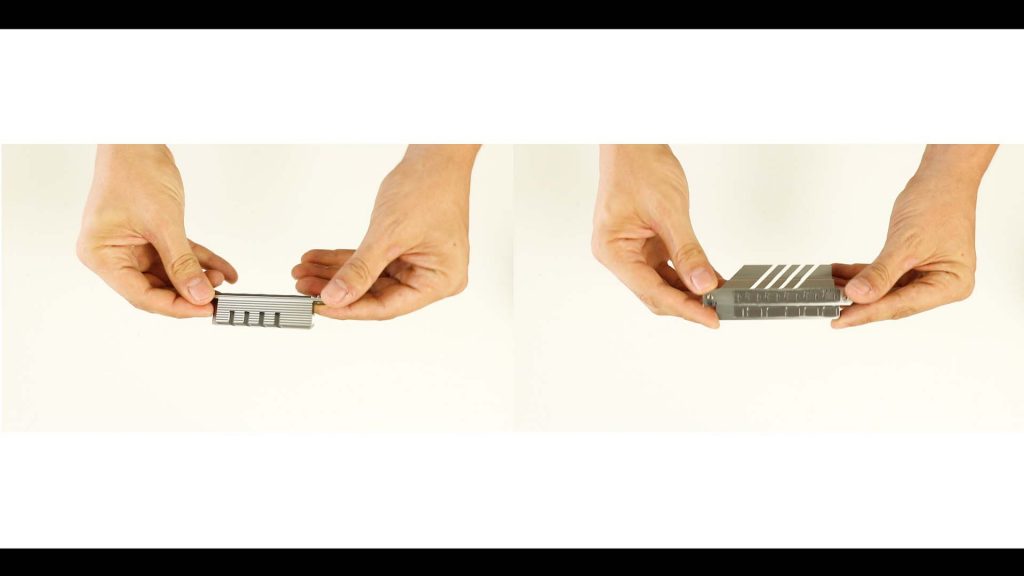 100 watts is a lot, but with a greater number of power stage-surface to dissipate them, and the rather premium heat-sinks ASUS has provided , you should not detect any kind of over-heating.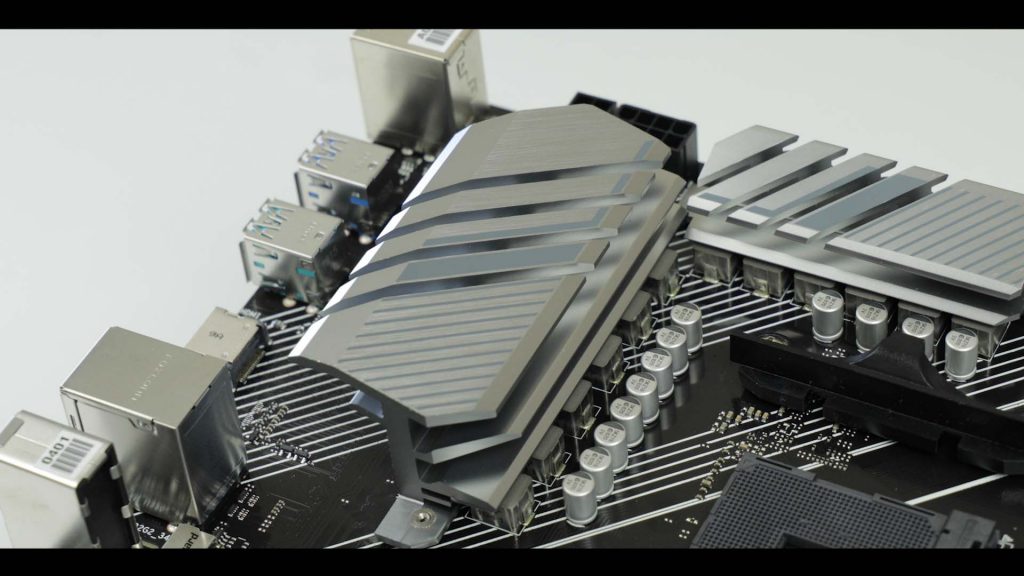 Heat sinks have a much larger radiating surface than on the previous versions of this board.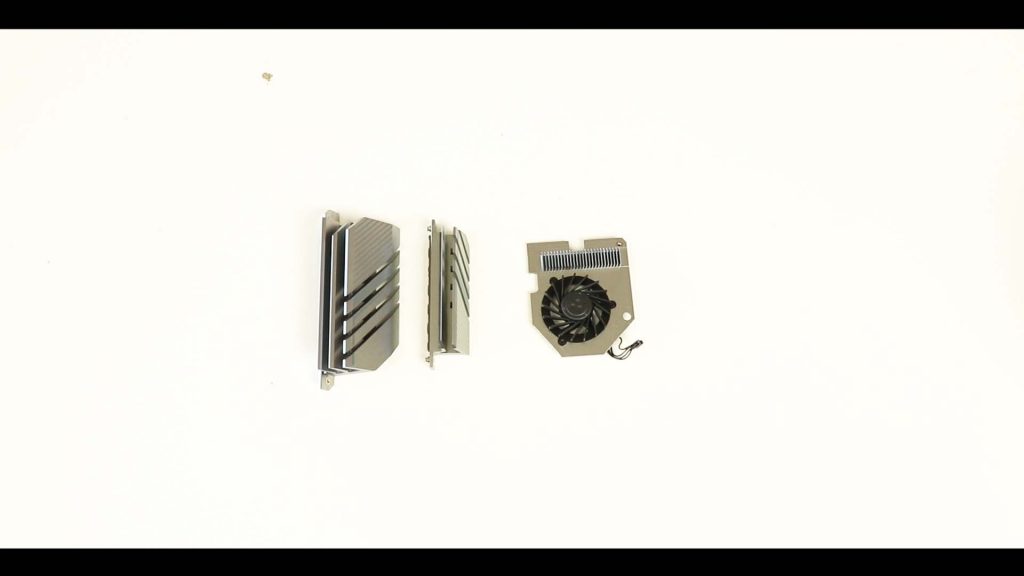 What remains the most surprising out of this sub-200 bucks board, is its excellent multi-core support.
The PRIME X570-P has the very same VRM present on the much more expensive (almost double the cost) Intel based MAXIMUS XI HERO.
As a result. the Prime X570-P can easily handle any Ryzen 3000 series you can throw at it. I would be more reserved its abilities to Overclock the R9 3900X or the  R9 3950X. You will start noticing 90C temps spikes on your VRM, and some thermo-throttling.
RAM
Again depending of your CPU series, you will get different performances.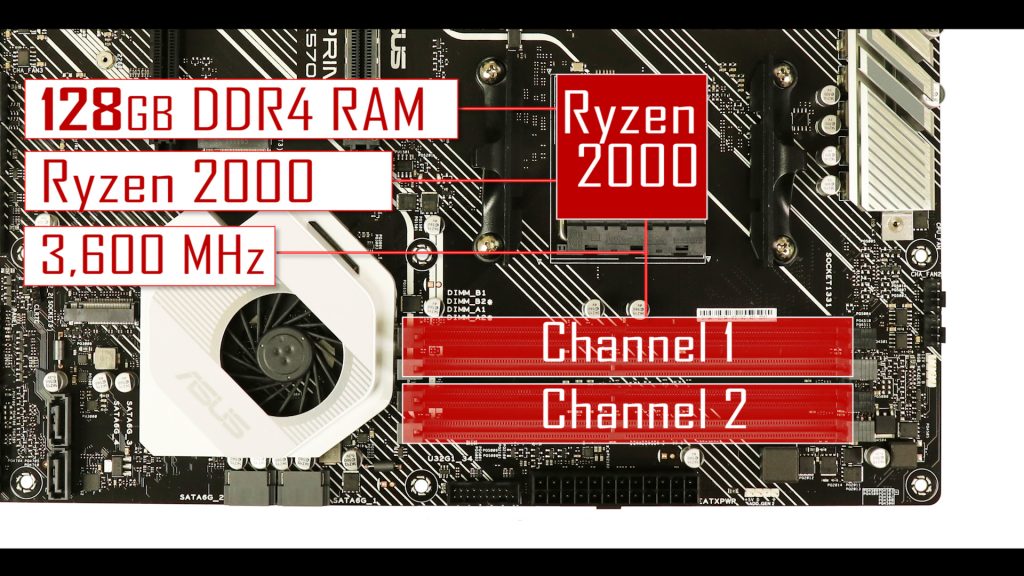 With a Ryzen 2000 series, your board support up-to 128 GB of DDR4 RAM overclock-able up-to 3.6 Ghz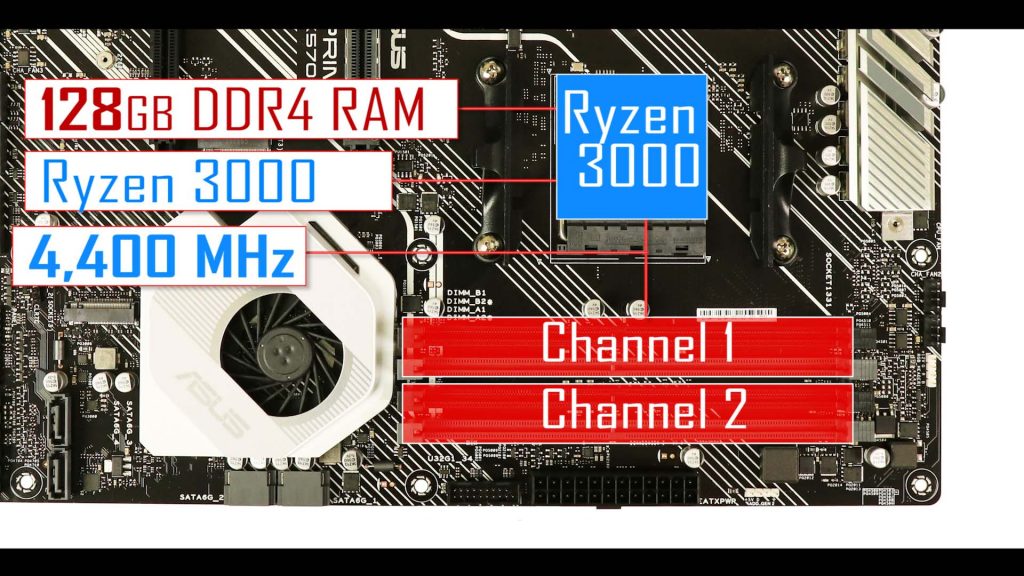 With a Ryzen 3000 series, your board support up-to 128 GB of DDR4 RAM (as well) overclock-able up-to 4.4 Ghz!!!
That's 800 MgHz differential, which is perfect example on how the Ryzen 3000 series of CPU can impact your daily computing performances.
M.2 SSD PCIe. 3.0
Our board can support up-to 2 M.2 SSD (11 cm and 8 cm respectively).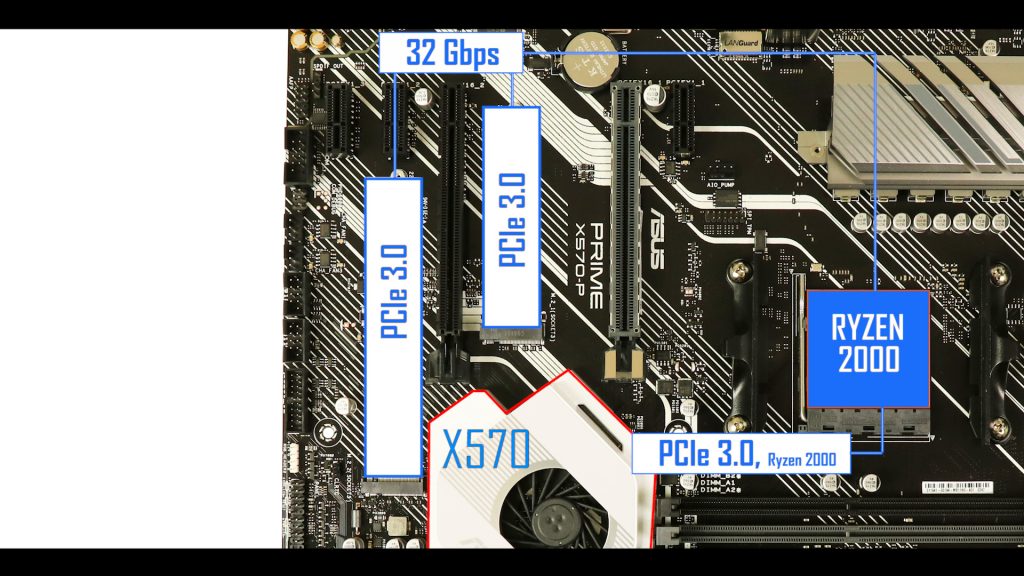 In PCIe 3.0 mode, they can swap data up to 32 Gb/s which obviously will cause some heat, and potentially thermo-throttle your sticks.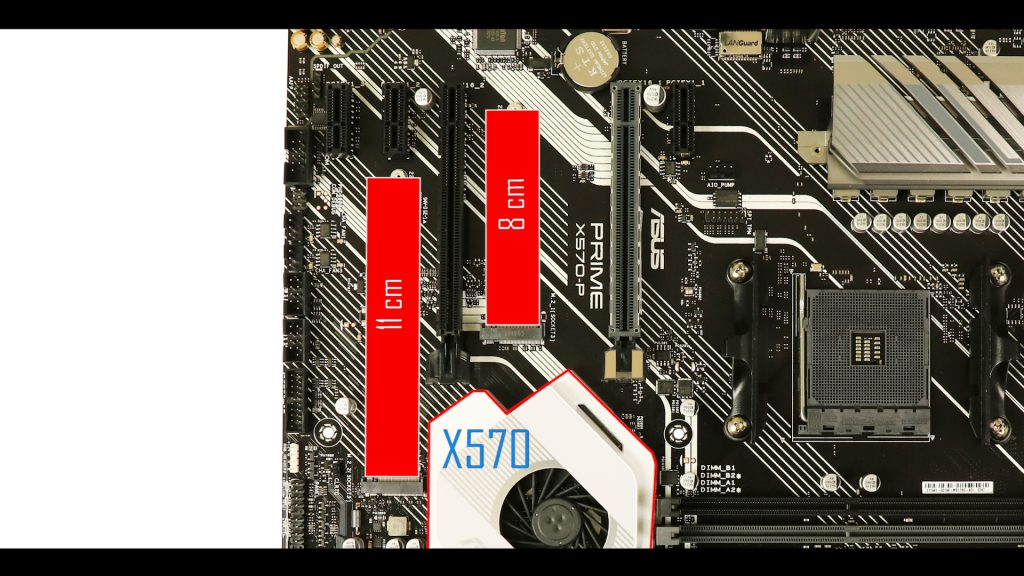 Unfortunately, there is no heat-sinks provided with the Prime X570-P. A clever way to avoid thermo-throttling, is to place your bootable M.2SSD (if any) on the 11 cm slot. Away from the video card!
M.2 SSD PCIe 4.0
In PCIe 4.0 configuration, our compatible sticks would experience twice the bandwidth , peaking at 64 Gb/s.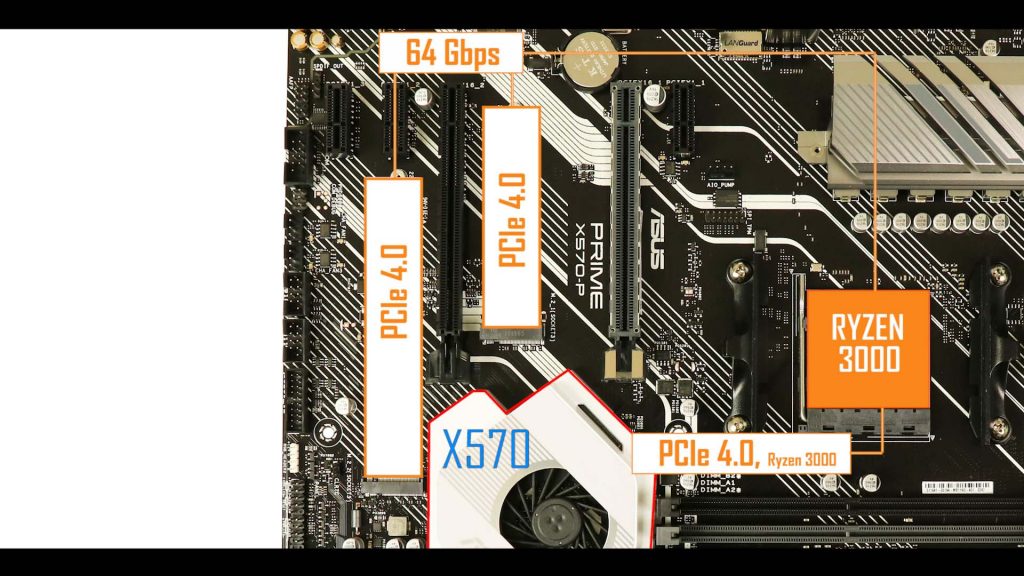 Obviously heat is an issue, and that is precisely why, all of the M.2 SSD PCIe 4.0 manufacturers have pre-mounted rather imposing heat shield on them.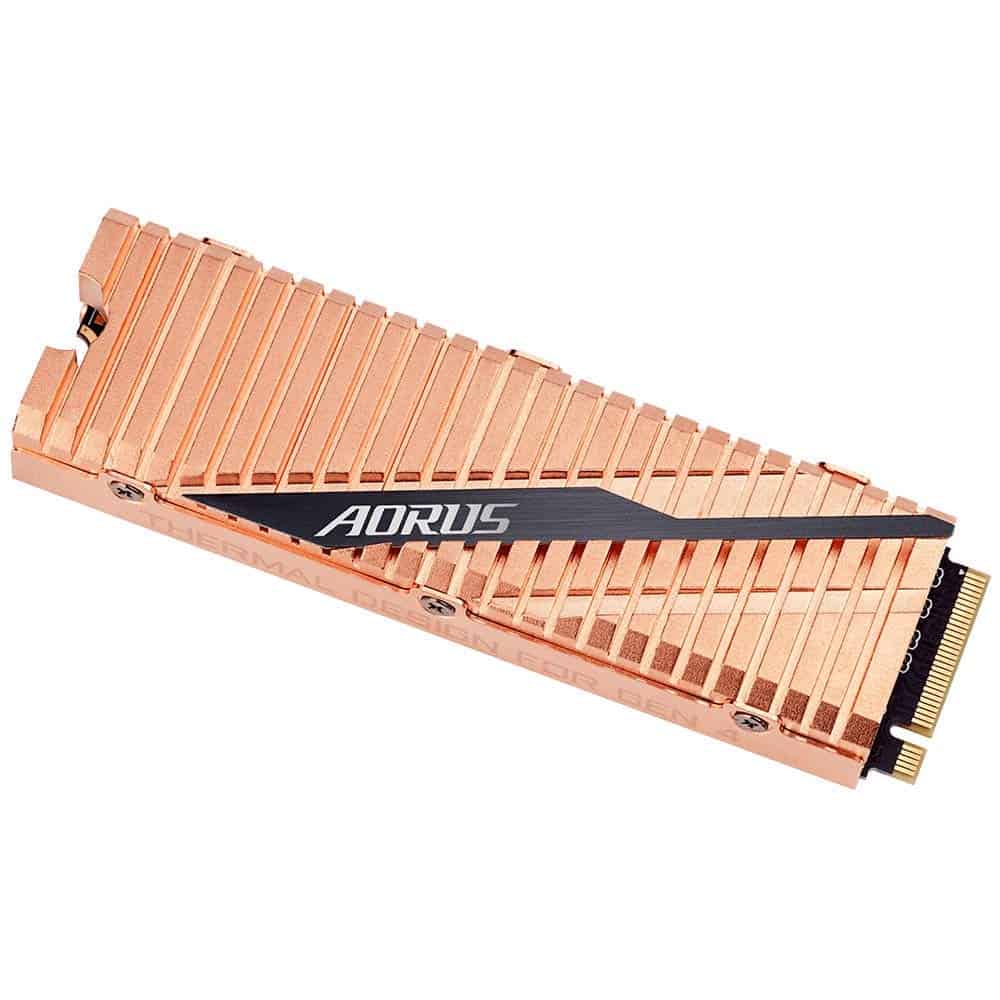 Our X570 chipset runs on double the wattage of the X470 (5 Watt against 11 Watt). It does translate in much higher temperatures.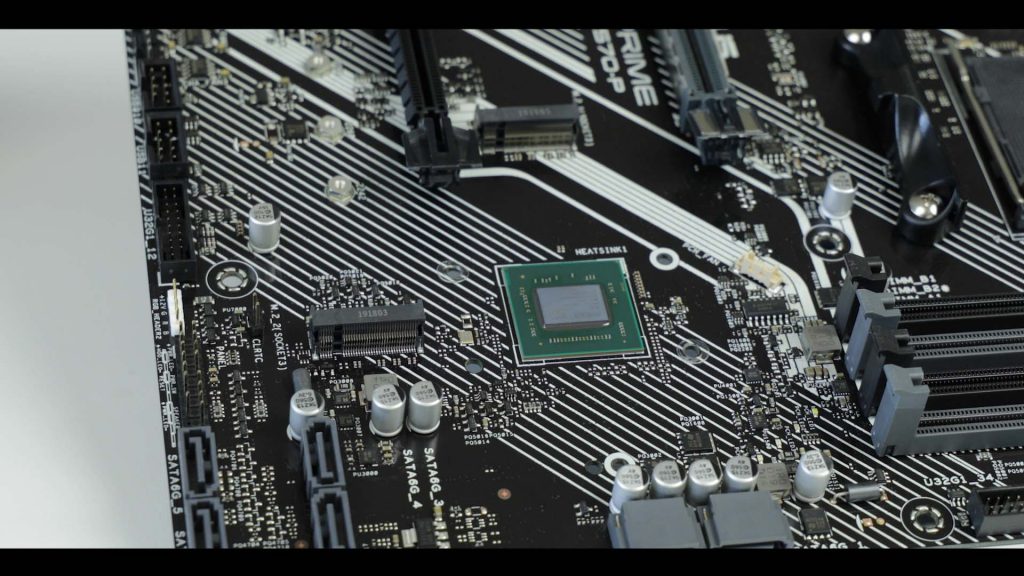 Active Cooling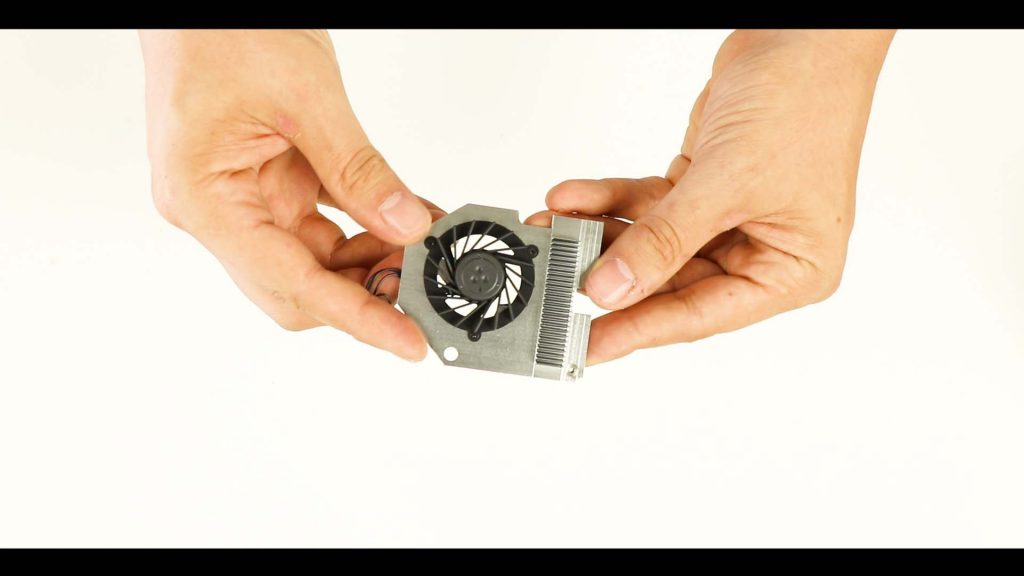 To keep these temps below 80c X570 manufacturers have all opted for a similar active single-blower option.
Asus took the extra step to add radiating fins, which indeed does make quite a bit of a difference, and without being the best X570 active cooling solution I have seen, it does the job.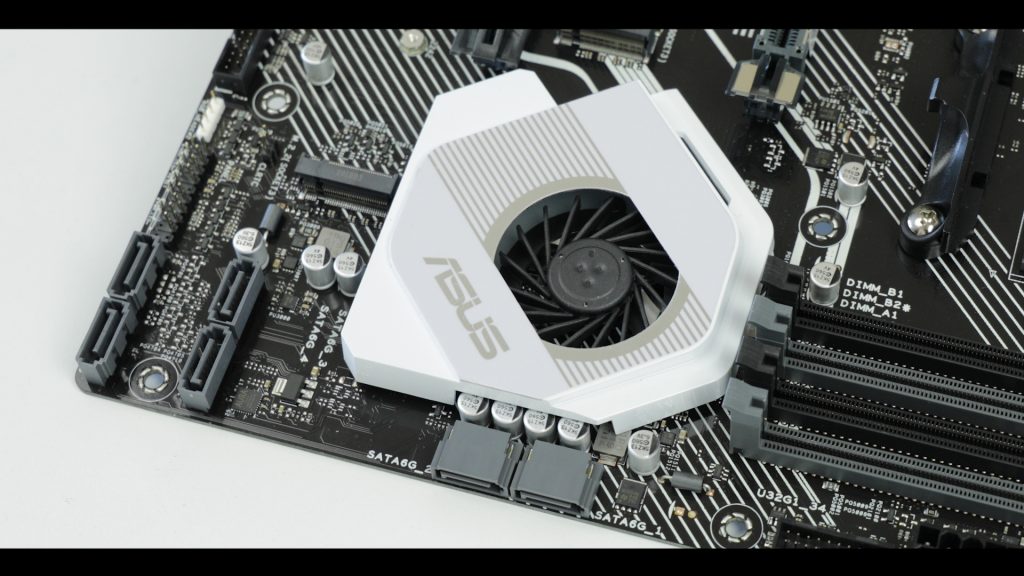 Note that it can be somewhat noisy if you keep your build open.
SATA 3.0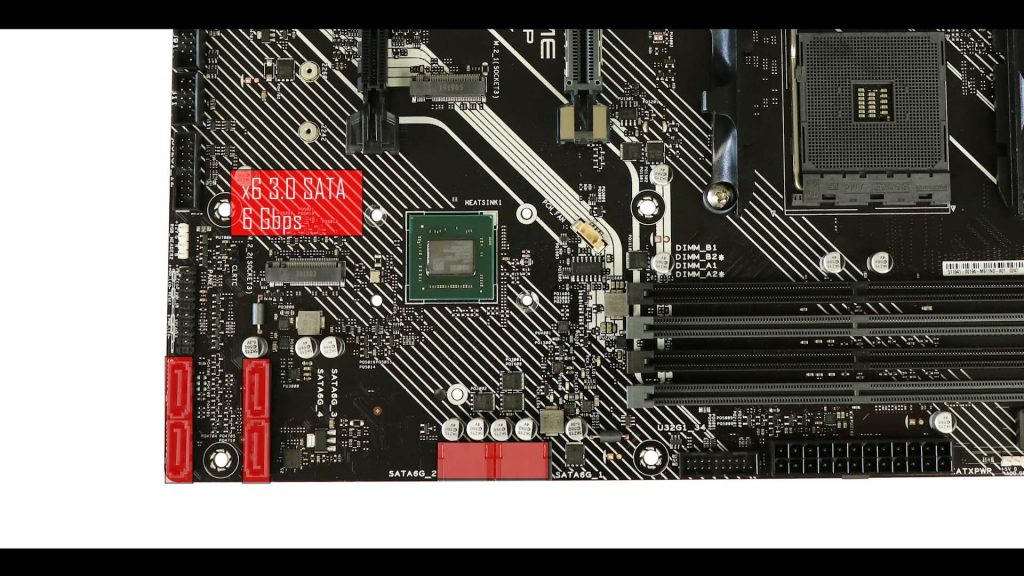 For more classical storage solutions, we have our usual SATA 3.0 plugs. 6 in total, with a transfer rate of 6 Gbps each. They can be configured to run into a 0,1,5 or 10 RAID configuration.
PCIe 3.0 VS PCIe 4.0
Depending of the Processor you will run on this board, your PCIe will be either 3.0 or 4.0
The difference is of size. Compared to PCIe 3.0, PCIe 4.0 will double the available bandwidth per lane, in each upstream or downstream direction!

In terms of IOs, or PCIe based storage solutions, this is great news ! But in terms of gaming, it is a more contrasted conclusion.
Video-cards currently on the market are far from bottle-necking the PCIe 3.0 standard in its 16 lanes configuration. Meaning that GPUs are yet to produce enough data to experience any kind of performance differences between a PCIe 3.0 and a PCIe 4.0 ran motherboard.
In the coming 6 months we will probably see some being released which will surpass the bandwidth ability of PCIe 3.0, and in this scenario, yes, you will notice performance differentials when upgrading to PCIe 4.0.
So a great future-proofing feature, but nothing which will immediately provide a gaming edge today.
On this board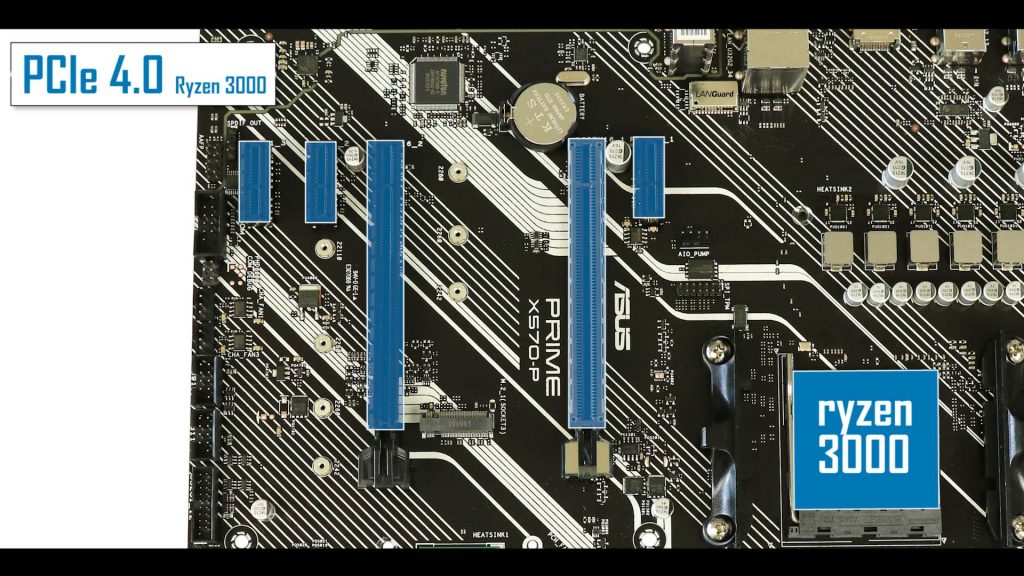 The Prime X570-P has 5   3rd/4th Generation PCI expresses.:
2 16 lanes with different BUS speeds
3 single lanes , single speeds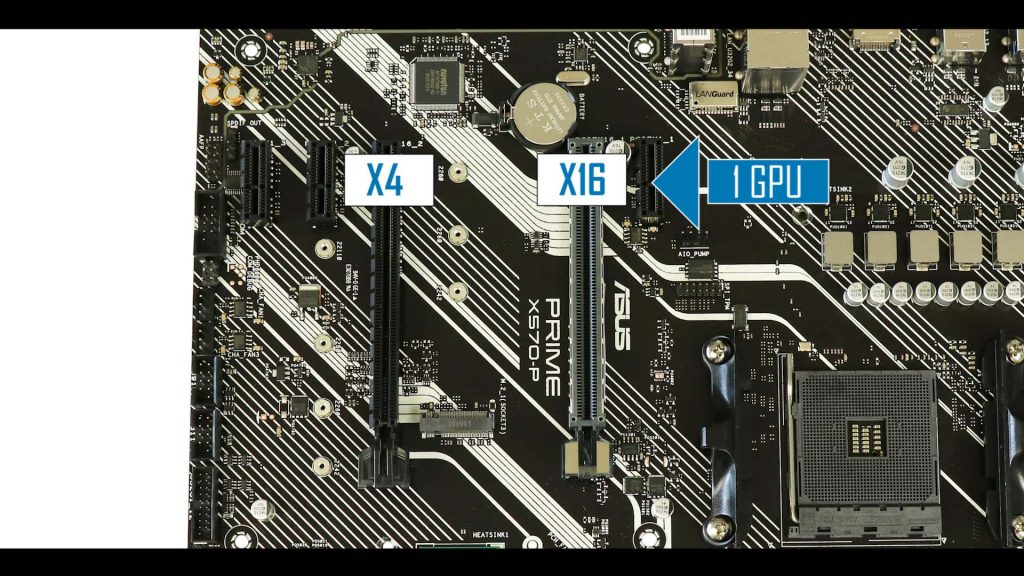 Only the closest 16 lanes PCIe slot can operate up to 16 full BUS speed. Therefore, your unique video card should be here for optimal performances.
The second 16 Slots PCIe has been caped to operated up to 4 full BUS speed. And in a PCIe 3.0 configuration, that would severely bottle-neck any secondary video card and, I would understand the absence of metallic re-enforcement.
But since PCI 4.0 configuration, there would be plenty of bandwidth to run a 2nd video card without issues. That's why I would have preferred to see a 2nd metallic re-enforcement on the second 16 slot PCIe export.
The board supports CrossFire but not SLI, therefore only dual Radeon AMD cards will be supported.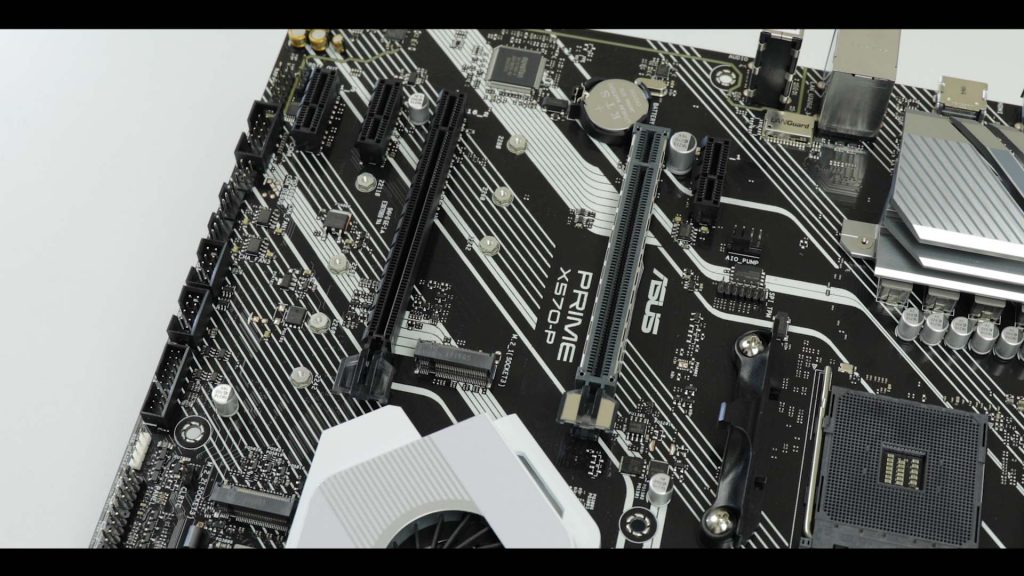 Again, no performance differential has been noticed between PCIe 3 and PCIe 4, with a single GPU.
BACK IO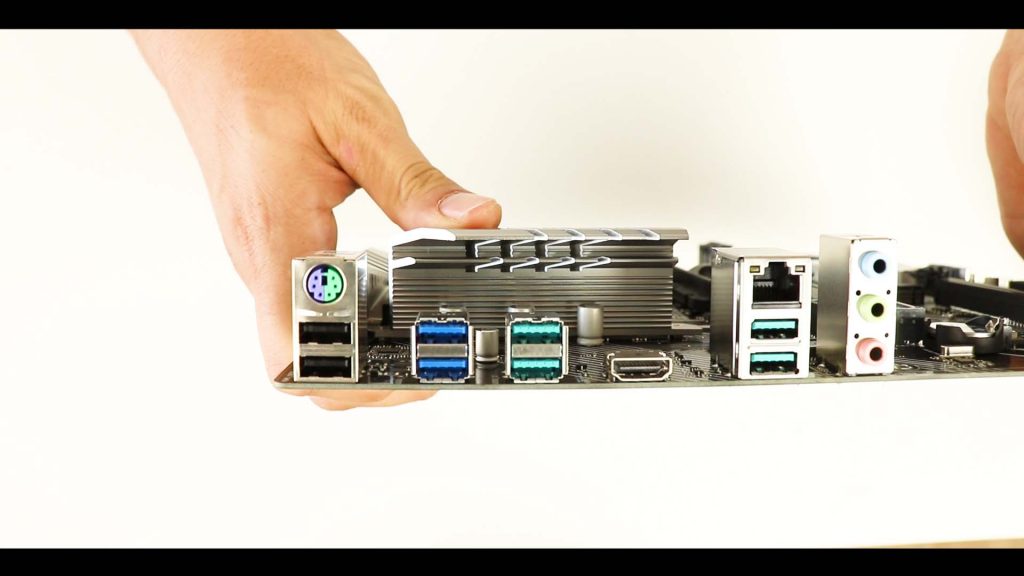 I will regret the absence of an integrated I/O shield. Doesn't cost much and improves first time builder experience, which this card was aimed for. Especially knowing that companies like Gigabyte did not shy away from adding one, for the same price!
Starting from the left, we have :
Mouse / Keyboards PS/2 plug
x2 USB 2.0 RX/TX 480 Mbps
x2 USB 3.2 1st gen RX/TX 5Gbps (blue)
HDMI 1.4b
x4 USB 3.2 2nd Gen. RX/TX 10 Gbps
x1 Surge protected Gigabit  LAN
S1200-A Codec Realtek, 7.1 channels
Front Panel connectors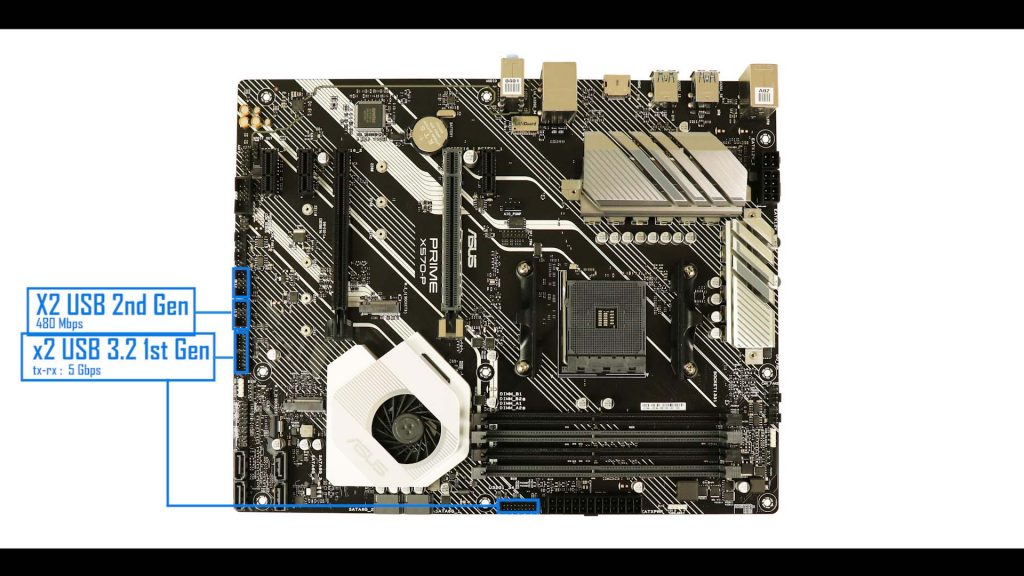 We have two USB 3.2 1st gen type A (classical) front panel connector.
In addition, we have 2 USB 2.0 front panel connectors. Worth noting, these are not only relevant for data transfer, but they are also very useful for All-In-One water pumps energy supply and PWM abilities, or for Intelligent PSUs for in and out wattage readout / monitoring.
I do regret the absence of a 3.2 2nd gen Type-C front panel connector. The X570 chip-set has ample resources to feed it all the bandwidth it needs, and having only 1 3.2 1st gen FP connector will be somewhat handicapping for larger builds.
Fan & Pump Connectors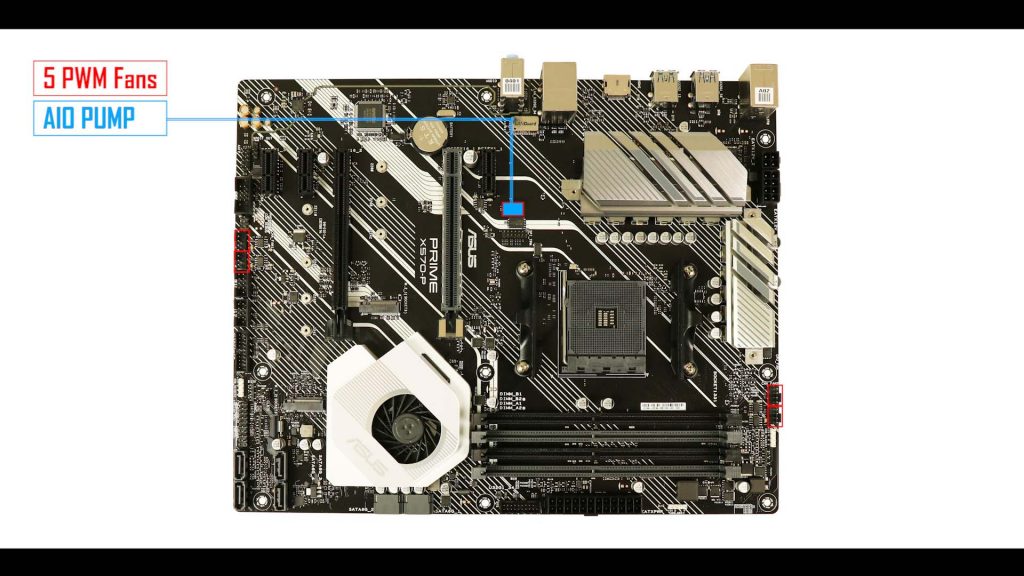 We have 5 nested fan connectors, 1 of which can support an All-in-one CPU coolers.
More than enough to keep air flowing through your build.
There is no Custom-water cooling support or features, but I did not expect a first-time builder motherboard to feature any. So no worries there.
AURA Sync Effect
We have an RGB strip nested under the chipset heat-shield.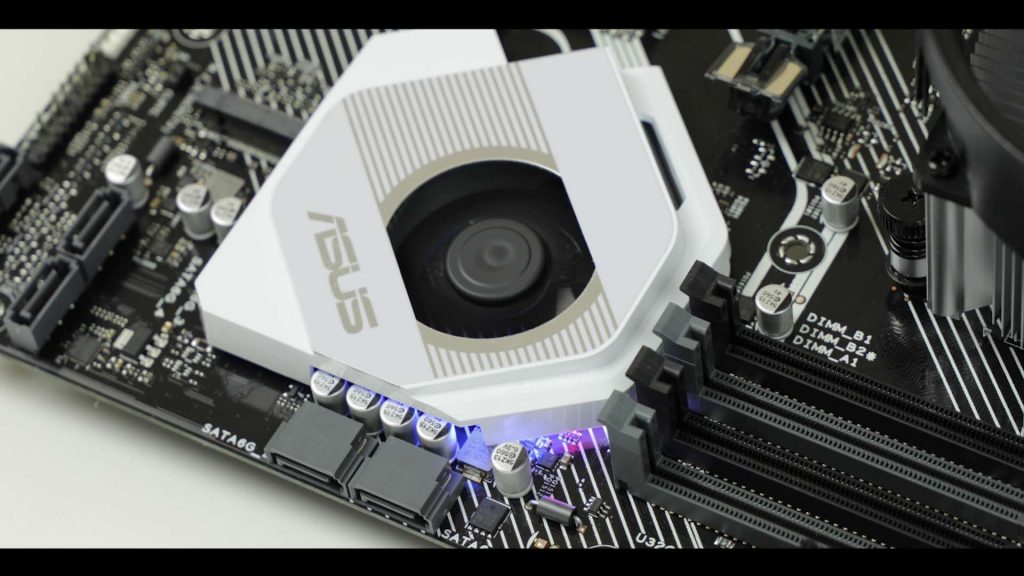 on the PCB
We also have 3 RGB connectors :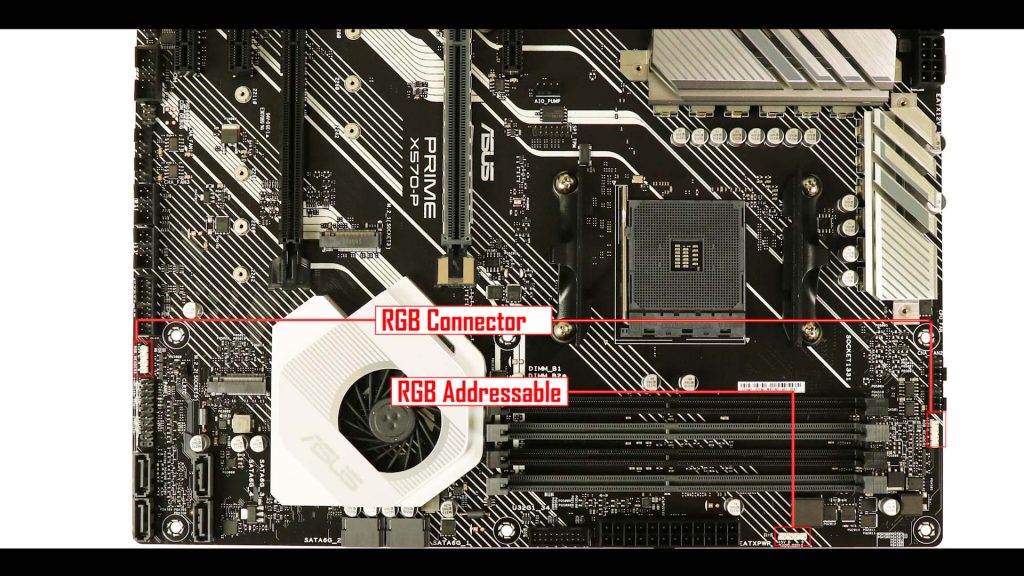 2 standard 12V RGB connector and 1 addressable RGB connector.
Pure luxury compared to what was previously available on X470 powered motherboards.
---
Conclusion
At 160 USD before taxes is the cheapest X570 board on the ASUS line-up. And let's be clear, if you are looking for an enthusiast or custom water-cooling board, or something with more troubleshooting feature, wifi, … this is not for you! You'll need to go to 200+ budget to start seeing those.
Here, we have focused board, stripped from all the non-essentials, a bare layout showing off ASUS absolute cost control of every component, and the all delivered with a flawless manufacture.
It is one thing to make a good product, it is another one make it affordable.
We got everything the X570 promises and everything the Ryzen 3000 series can deliver. Nothing less, nothing more.
But what really surprised me, was the VRM.
We have a truly premium configuration here, one that was directly imported from much more expensive models. Make no mistake about it, this thing can handle any CPU you can throw at it! It is not the best Over-clocker in the world, but up to 8 physical Cores, it is safe to say that you can go-ahead and push any CPUs beyond its natural limitations.
I do have a couple of remarks, same as I had for the TUF Gaming X570-Plus I  reviewed last week, I would have loved to have a metal re-enforcement on the second 16 PCIe slot.
And maybe the only true regret I have is the absence of any flashback function which, in my opinion is a must on any board … full stop.
But these are not deal-breakers, far from it!
Truth is, if you are on the market for a budget build, a first time build, and want to be in play with the most powerful components the industry can produce today, this is where your money wants to be !
QUICK OVERVIEW
CPU & northbridge support
Supported Processor
Ryzen 2000 , Ryzen 3000 series AMD Processors
Chipset
X570
CPU socket
AM4
Memory
Slots
4 (dual channel)
Max System Memory (Gigabytes)
128
Memory Technology
DDR4
Maximum Clock (MgHz)
4,400
Connectors
USB 2.0
2 back IO + 2 on-board
USB 3.1 (1st Gen)
2 on back IO + 2 on-board
USB 3.1 (2nd Gen)
4 Type A on back IO
LAN
1 Gb/s
WiFi
N/A