Let me introduce you to the VERY good looking ROG STRIX X299-E GAMING from Asus (what's up with the long names lately!??).
Key Features
Review Price: 345.00 USD
ATX Form Factor (30.5cm x 24.4 cm)
Intel X299 chipset
Intel LGA 2066 socket
Quad-channel, 8 slots, max 128GB (Dual channel and max of 64 GB for i7-7740x and i5-7640x CPUs). OC up to 4133 MgHz.
4 x PCI-E 3.0 x16 | 1 x PCI-E 2.0 x4 | 1 x PCI-E 2.0 x1
1 x USB 3.1 Gen 2 Type-A | 1 x USB 3.1 Gen 2 Type-C | 1 x USB 3.1 Gen 2 on-board connector | 8 x USB 3.1 | 1 x Gigabit Ethernet | 2 x USB 2.0 | 5 x audio | 1 x optical S/PDIF
2 x M.2 SSD (1 vertical)| 8 x SATA 3 (6Gb/s)
Dual Band WIFI 802.11 a/b/g/n/ac | 4.2 Blutooth
Supports Raid 0,1,5,10
up to Triple SLI support| up to Triple CrossFireX support
AURA Light Sync. Effect
On board CPU, PCI-e (x2) and chipset, temperature sensors.
Accessories & Docs
1 x I/O shield
4 x SATA Cables
1 x Thermal sensor cable
1 x RGB 4 pins 12v cable extension
1 x Addressable RGB 3 pins 5v cable extension
1 x Front panel bridge
3 x M.2 SSD mounting screw and screw raiser
1 x M.2 SSD vertical mount
1 x SLI HB Bridge (2-way-M)
1 x CPU installer
1 x Manual / quick setup guide / coupon / stickers
1 hand-door sign
[spacer height="20px"]
The ROG STRIX X299-E GAMING
We are entering the Republic Of Gamers, and we are expecting a flashy, extravagant, good looking motherboard!
And the ROG STRIX X299-E Gaming delivers!
Forget about the usual RGB LED strips. How about an RGB vibrant screen looping up to 16 million saturated colours (more on that later)? And how about a massive mirroring ROG logo proudly seating right in the middle of your board? The all, of course, deliciously AURA compliant!
Let's be clear! This board is meant to be shown! Choose your case accordingly!
But there is so much more than what meets the eye (and so much already does).
This is, arguably, one of the most powerful gaming board available on this price range!
Do you not believe me?
Well, let's dig right in!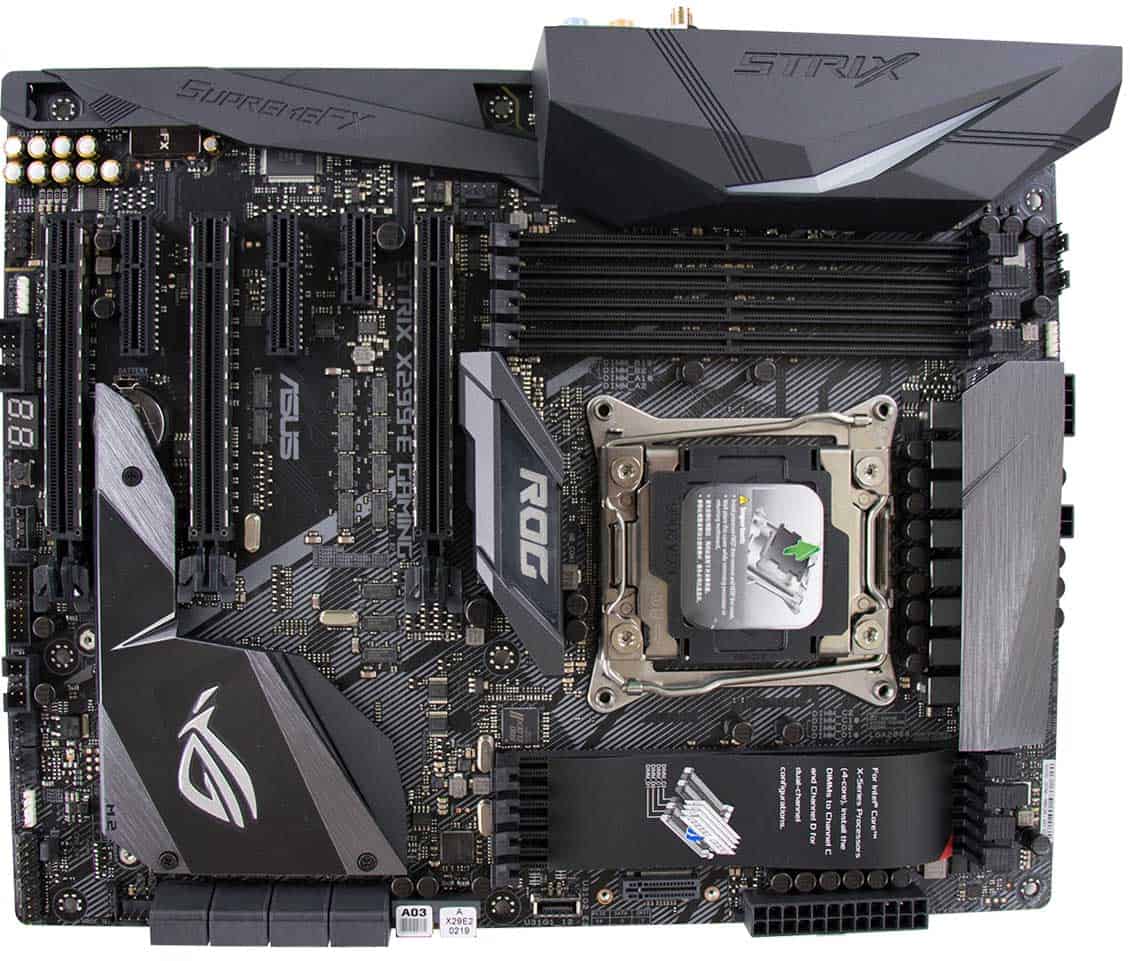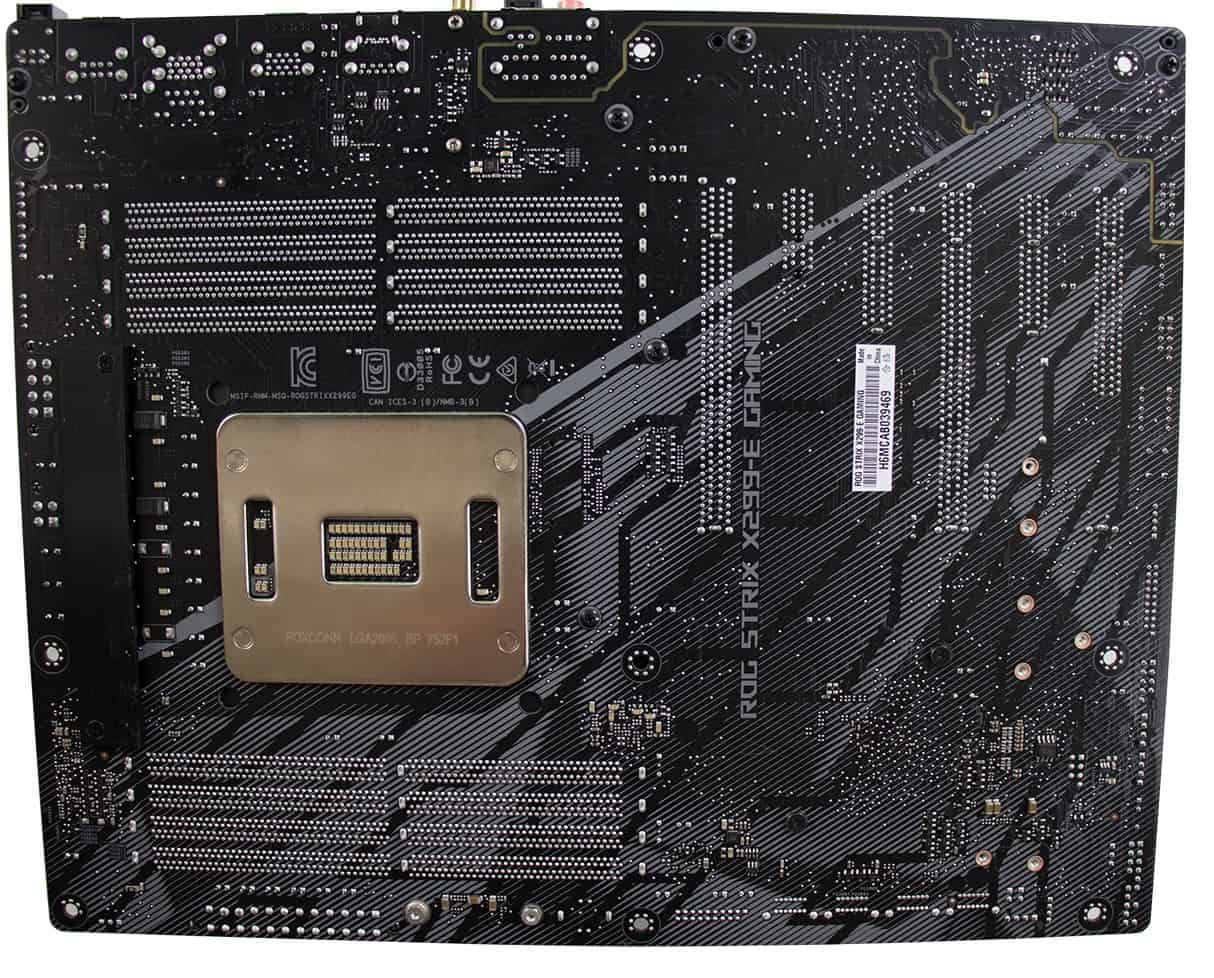 ---
LGA 2066 Socket
The ROG STRIX X299-E Gaming is the first proper gaming board featuring both the new X299 chip-set and its LGA2066 socket.
What does it mean for us gamers?
More 3rd Gen. PCIe Lanes. Given the right CPU, you can have an unprecedented 44+24 PCIe Lanes to toy around with! And yes, that does mean crazy multiple GPUs configurations!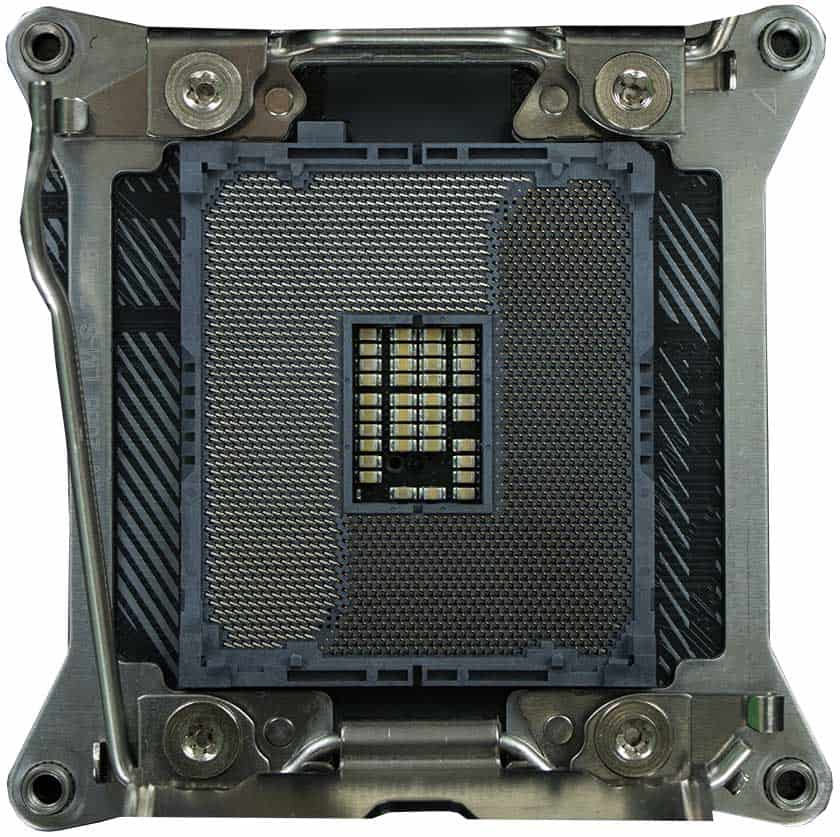 ---
The X299 chip-set
The only viable competition to Intel's new X299 chips is the AMD's x399 chip-set. And unsurprisingly, the X299 features many more 3rd Gen PCIe (24 VS 2) and more RAID configurations.
But let's not jump to conclusions to fast. the reason why AMD's X399 has such a ridiculously low PCIe count is due to the fact that its MASSIVE CPU, the Threadripper can boast up-to 64 3rd Gen PCI-e lanes. Yeah, you read that right! And please, do read more about it on my Threadripper in-depth review!
| | | |
| --- | --- | --- |
| | Intel X299 | AMD X399 |
| 2nd Gen. PCIe | 0 | 8 |
| 3rd Gen. PCIe | 24 | 2 |
| USB 2.0 | 14 | 6 |
| USB 3.0 | 10 | 8 |
| USB 3.1 Gen 1 | 10 | 14 |
| USB 3.1 Gen 2 | 5 | 2 |
| SATA 6Gb/s | 8 | 12 |
| MEMORY | Quad Channel | Quad Channel |
| SATA RAID | 0,1,5,10 | 0,1,10 |
| Multiple GPU | Up to Quad but up to Three on this motherboard | Up to Quad |
So why would you go for an Intel-based X299 chipset/CPU combo? Well, you can achieve a high count of PCIe lanes with a cheaper CPU. For example, you could go for an i5-7640X for less than 250,00 USD, and have of 40 3rd Gen PCIe lanes (14 provided by the X299 chipset and 16 provided by the CPU).
So a great choice for gamers on a budget!
---
Memory
RAM
As already seen and said on my Prime X299-A review, It gets tricky!
The motherboard presents itself with a quad channel configuration, for a total of 128 GB of DDR4 RAM. But not all X series CPUs can run quad channels! Some of them (quad cores) can only run up to two channels (4 RAM slots, up to 64GB of DDR 4 RAM).
So if you have the i5-7640x or the i7-7740x (4 cores respectively), you will be limited to a dual channel configuration (channel C and D), and up to 64 GB of RAM. Any X CPUs with more than 4 Cores, will be able to activate the entire 4 channels! Therefore, chose well!
The maximum clock allowed by our ROG Strix X299 is an impressive 4133 MgHz! A solid 933 MgHz AHEAD from Ryzen based CPUs (X370/Ryzen and X399/Threadripper).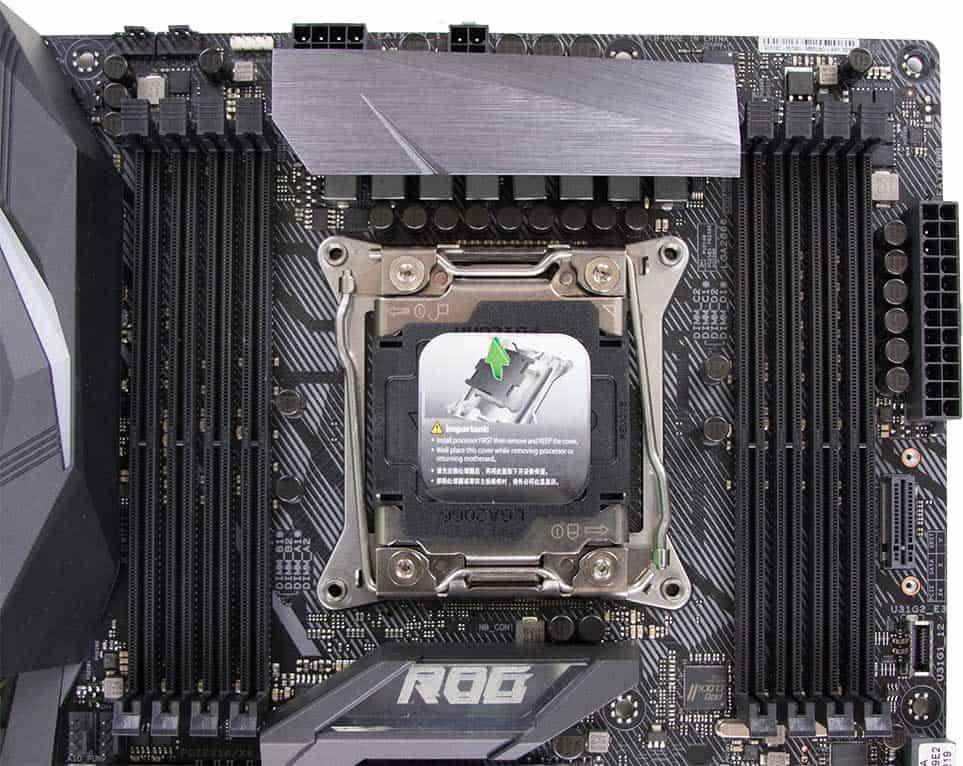 6 Cores CPUs and above (up to Quad Channel Configuration | 128 GB DDR4)
| | | | |
| --- | --- | --- | --- |
| DIMM / Channels | Single | Dual | Quad |
| A1 (Master) | | X | X |
| A2 | | | |
| B1 (Master) | | | X |
| B2 | | | |
| C1 (Master) | X | X | X |
| C2 | | | |
| D1 (Master) | | | X |
| D2 | | | |
4 Cores CPUs (up to Dual Channel Configuration | 64 GB DDR4)
| | | | |
| --- | --- | --- | --- |
| DIMM / Channels | Single | Dual | |
| C1 (Master) | X | X | |
| C2 | | | |
| D1 (Master) | | X | |
| D2 | | | |
M.2 SSD
Compared to its predecessor (the X99), the only real advantage the x299 chipset has, is its bandwidth!
From 8 2nd Gen. PCI-e Lanes, we are now at 24 available 3rd Gen PCI-e lanes ( basically what a Z270 has).
And that allows this board to comfortably feature and operate a dual 4x M.2 SSD configuration:
1 M.2 SSD, up to 80 mm long, in a horizontal configuration, co-cooled by the X299 heat-shield.
1 M.2 SSD, up to 110 mm, in a vertical configuration.
Let's not forget that, as in the Z270 chipset, the X299 chipset is "Optane Ready". This should get our M.2 gum-sticks transferring data to 32Gb/s!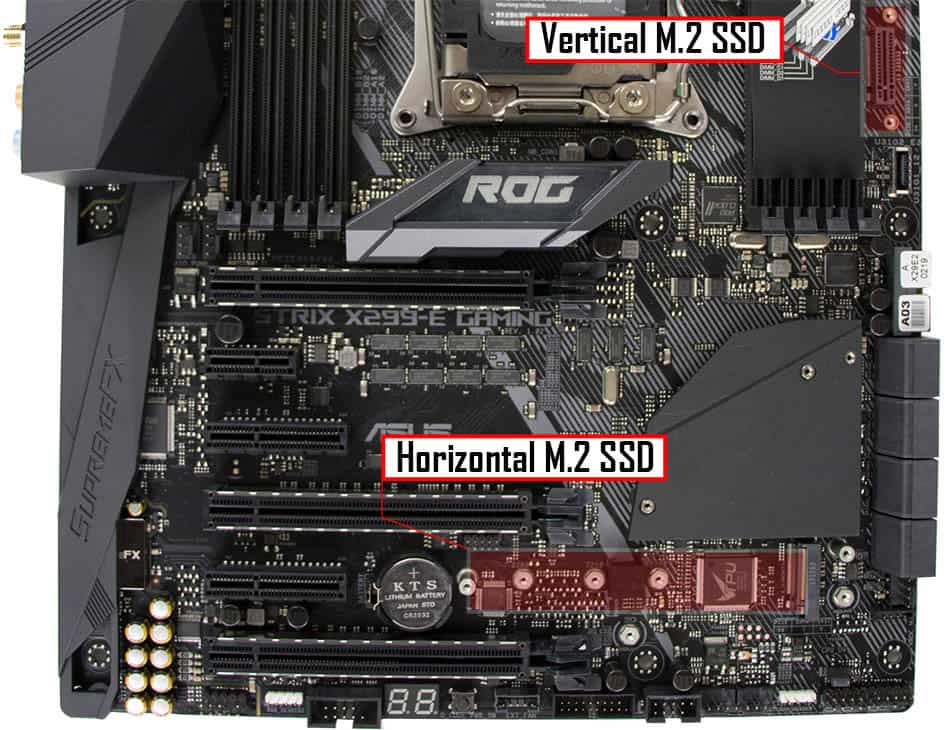 The horizontal M.2 SSD will benefit in terms of temperatures thanks to a thermo-pad placed right under the chip-set heat-shield!
Peripherals


Still, a lot of empty slots but I appreciate the LAN guard (you do not appreciate this until your board is fried by a something of network surge!) and the blazing fast (and I mean FAAAAAST) dual band WIFI adapter. A Gigabit-fast!
| | | |
| --- | --- | --- |
| | I/O Ports | Onboard i/o |
| WIFI / Bluetooth | 1 | 0 |
| USB 2.0 | 2 | 2 |
| USB 3.0 | 0 | 0 |
| USB 3.1 Gen 1 | 4 | 4 |
| USB 3.1 Gen 2 | 2 (type A + C) | 1 |
| SATA 6Gb/s | 8 | 0 |
| AUDIO | 5 channels + S/PDIF | Input/output |
| LAN | 1 RJ45 | 0 |
| BIOS FLASH BUTTON | 1 | 0 |
---
PCI-E Lanes
Even though our x299 chip-set can run up to a quad GPU configuration (SLI or CrossFireX), this board as room for "only" 3 of them. And since this is the same case for the past 3 X299/X399 motherboards reviews I have been doing, it seems to me that it will take a really special board to accommodate a 4-way GPU configuration!
You do know that I always appreciate the fact that they have metallic re-enforcements. Given the weight and size of the latest video cards, it is no luxury! And I have no doubt that one of these days we will get a titanium re-enforced PCIe slot!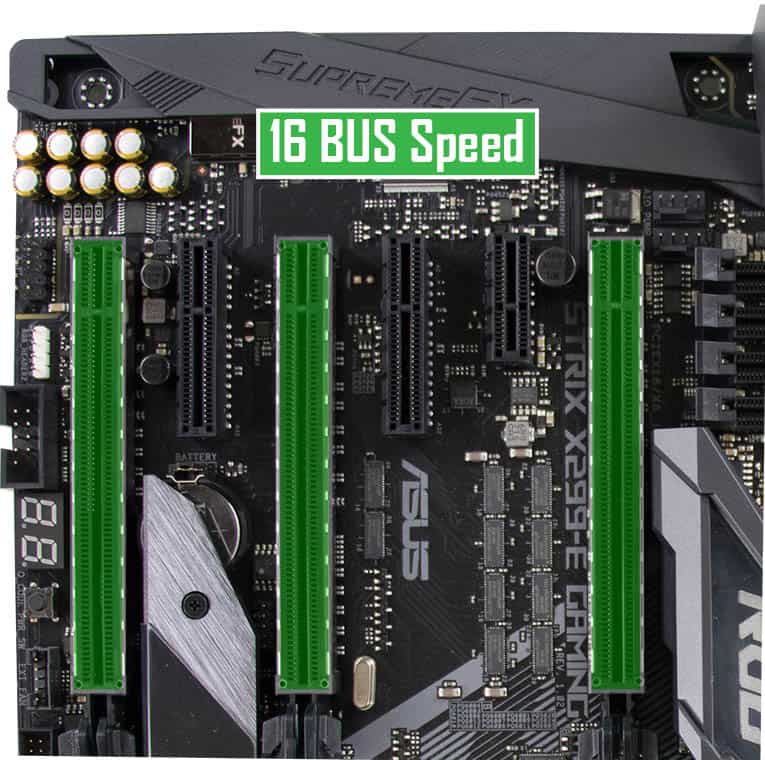 But please, do double check how many PCIe lanes your CPU will bring to your configuration! An optimal 3-way GPU config. will require 48 dedicated 3rd Gen PCIe lanes! So at least look at the 6 Cores CPUs, which usually comes with enough of them to complement the X299's.
---
For enthusiasts
AURA
I have been seeing some fine looking RGB components lately, but the ROG STRIX X299-A Gaming takes the prize! It is absolutely breathtaking.
The IO roof is complemented by flowing of RGB lights cascading all the way down to the 3D-mirrored ROG mounted logo. WOW!
You have to see it to truly give it justice!
And I do hope that, if you are going with this board, you will wisely choose the components and the casing to best put forward the aesthetic of it!
We also an extra 2 Aura RGB connectors on each extremity of the board, for additional Aura compliant strips which is always a plus if you want to extend the sync effect beyond your board and components.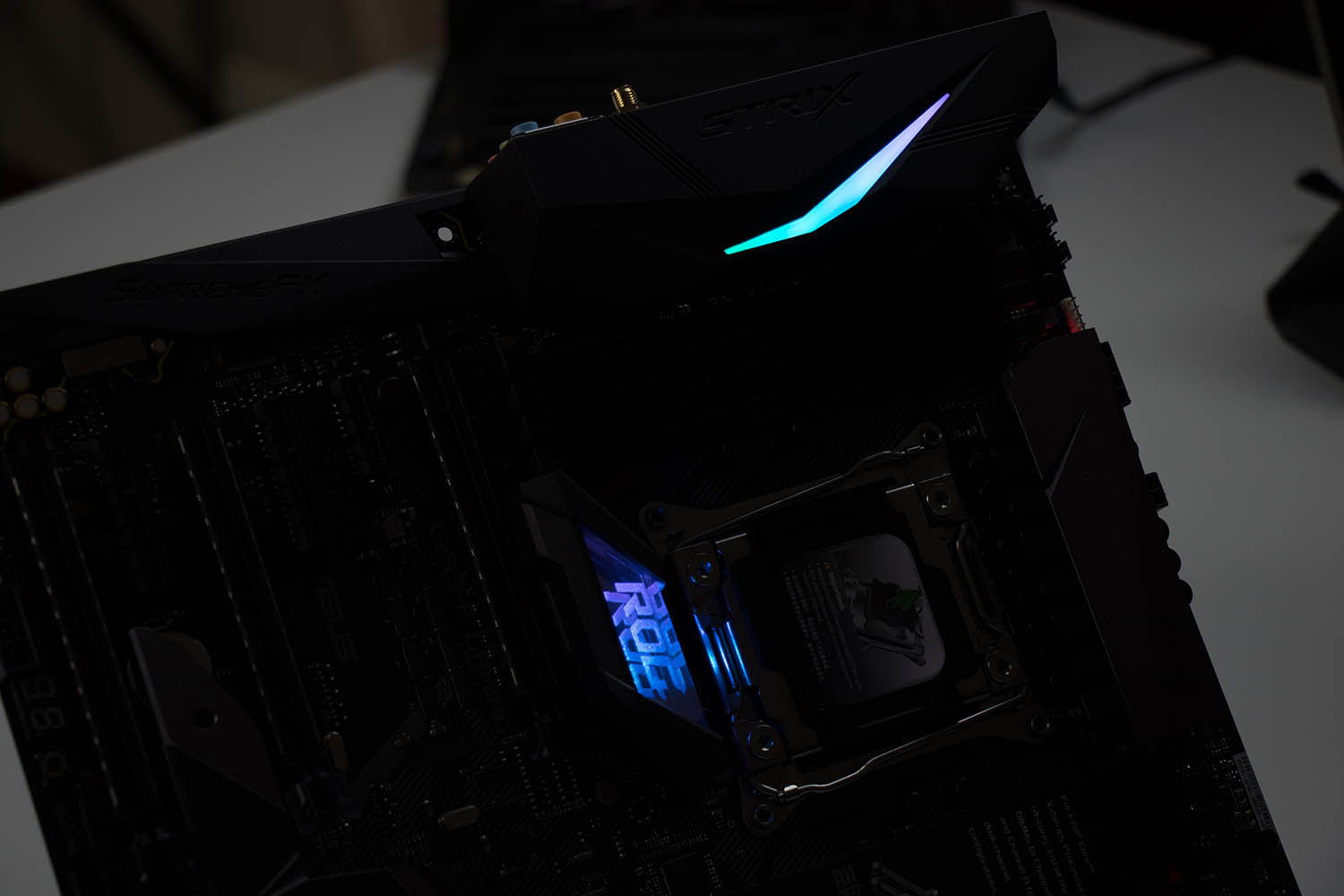 AURA ADDRESSABLE Header
I do need to give this header its own title. For the first time EVER, we have an RGB addressable header

That three pin header is different from the other 2 AURA connectors. First, it runs a 5V output, which is better for the safety of your board! But most importantly, this connector coupled with an addressable RGB cable will be able to extend the different AURA lighting effects to every LED individually!
Let me be clear, normal AURA RGB strips can sync their entire strips to the AURA effect, but in their entirety. Addressable strips can have their individual RGB LEDs shining in different colours, to more precisely reflect the current AURA effect in use!
Q-LED Screen
Again, a must if you care to tune your config just right. Sure you could do without… but why?
Finally, I'd like to give an extra point for the physical power button soldered right next to the Q-LED screen!

Custom Water Cooling Ready
And you know that motherboard has received as much engineering as it should when you can safely say that it is Custom Water Cooling ready! There should be a stamp for that!
Thankfully we have our array of fan connectors (5), temperature sensors (2) and water pump monitors (1 for AIO water pump, and 1 for a separated pump). Everything you need to operate a comfortable single or dual loop water cooling system!
---
Conclusion:
That was a risky bet. Usually, X-series chip-sets are for rendering or workstations but look at that, the gaming markets have its own solid seat a the upper-tier CPUs table. And we might have to thank (or blame) AMD for that, but that is a completely different story.
First, this is the best looking board I have seen since .. ever! And it feels great to handle (yes, this has its importance), it is robust and durable.
It is also a wide-market board. It aims to please amateur builders as well as early enthusiasts and it is a no-nonsense board which feels familiar to install and use.
The 3-way / individual 16 BUS speed is an absolute star. Not only does it make it an absolute gaming monster, but it also makes it somewhat future proof.
The dual M.2 SSDs mounts and its different cooling variant will tolerate no lags coming from its storage.
In short, this board has the potential to not only outperforms the most demanding game but wow and stun the eye!
My only regret is the fact that the IO shield is not board-integrated as we can see it on more premium ROG boards (Maximus IX Formula and Extreme).
At a price tag of 345 USD, the ROG STRIX X299-E Gamer is the only Gamer's alternative that I would advise in the X-series CPU family.
And here is the only real BUT I would add to this article. The CPU!
Chose well!
If you go for a 4 core CPU, you will be stuck with both, fewer RAM channels and fewer PCIe Lanes. And your build will be stuck to be nothing more than an expensive Z270-like computer.
If you want to take full advantage of what this board has to bring, you will need at least. a 6 Cores CPU (or above)!
Last note, Intel has just released its XEON-W CPU line-up. And guess what!? Overthought they will be using the same LGA2066 socket, It is NOT compatible with our X299 chip-set!
QUICK OVERVIEW
CPU & northbridge support
Supported Processor
Intel X-Series
Chipset
X299
CPU socket
LGA 2066
Memory
Slots
8 (quad and dual channel)
Max System Memory (Gigabytes)
64/128
Memory Technology
DDR4
Maximum Clock (MgHz)
4133
Connectors
USB 2.0
4
USB 3.1 / 1st Gen
8
USB 3.1 / 2nd Gen
3 (Type A and Type C)
WIFI
Dual Band, up to 1 Gb/s
LAN
1 Ethernet Lan, up to 10 Gb/s