Key Features
Price:460 USD
MINI-DTX Form Factor (17 cm x 20.3 cm)
AMD X570 chipset
AM4 CPU socket
Compatible Ryzen 2000 and 3000 CPUs
2 x 32GB 4,800 MHz DDR4, maximum 64 GB
1 x PCI-E 4.0 x16
Back IO: 6 x USB 3.2 2nd gen | 2 x USB 3.2 | 1 x  Gigabit LAN, S1220 Codec Realtek 7.1 channels audio | WiFi 6 802.11 AX200| Bluetooth 5.0 | Q-LED Screen | Clear CMOS, BIOS, Reset |
2 x M.2 SSD, 4 x SATA 3
70 AMPS power stages!!!
Has all the LN2 and troubleshooting features a ROG motherboard should have
Great DIMM.2 M.2 SSD module
8 Layer PCB
Lots of IO plugs
802.11AX 200 WiFi
Price
Poorly placed Q-Led screen
Poor front panel connector USB placement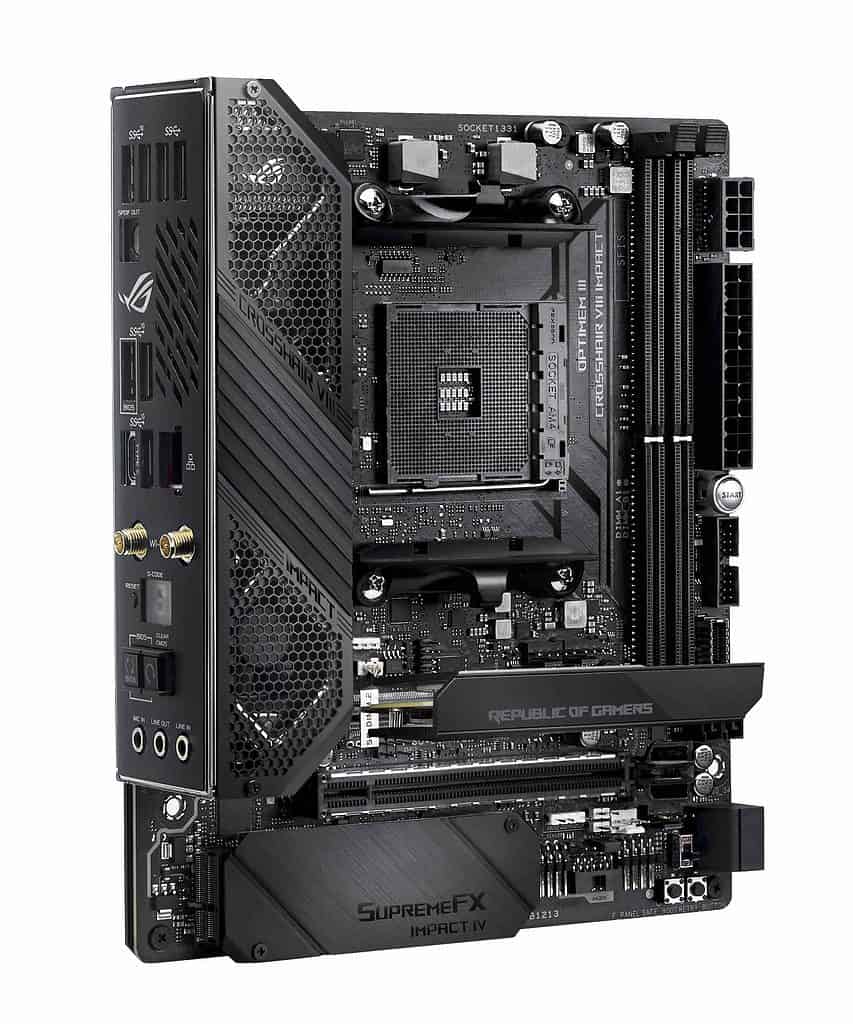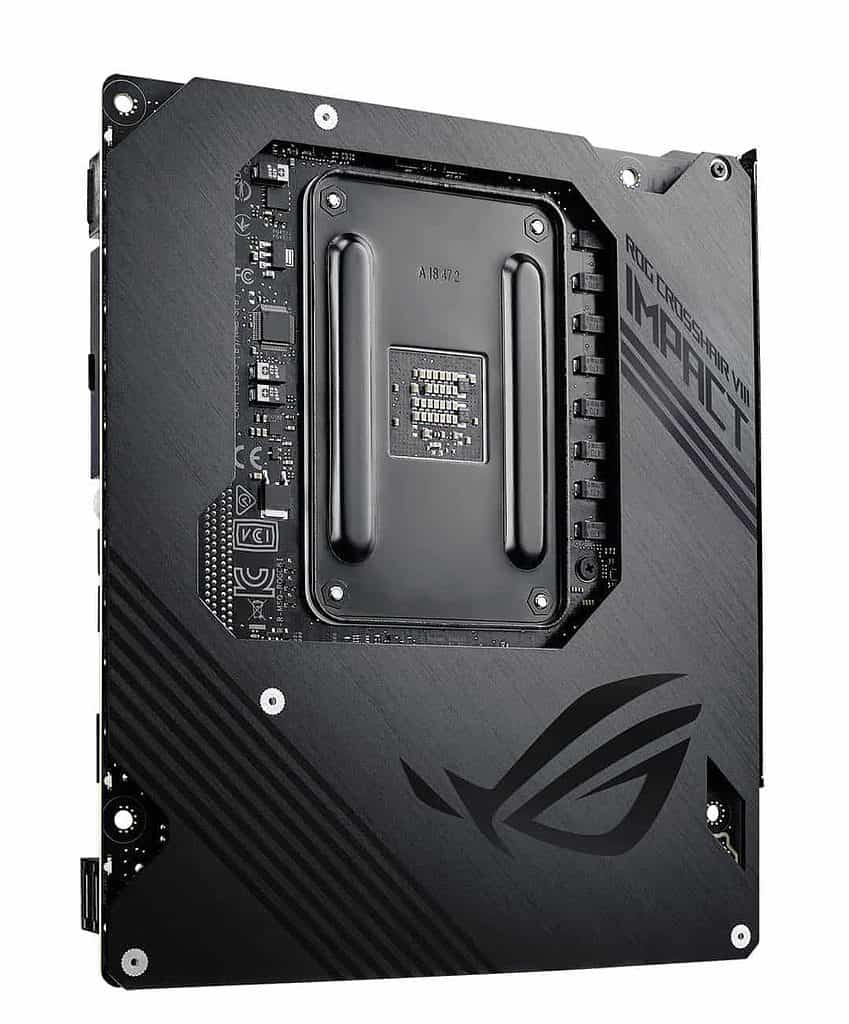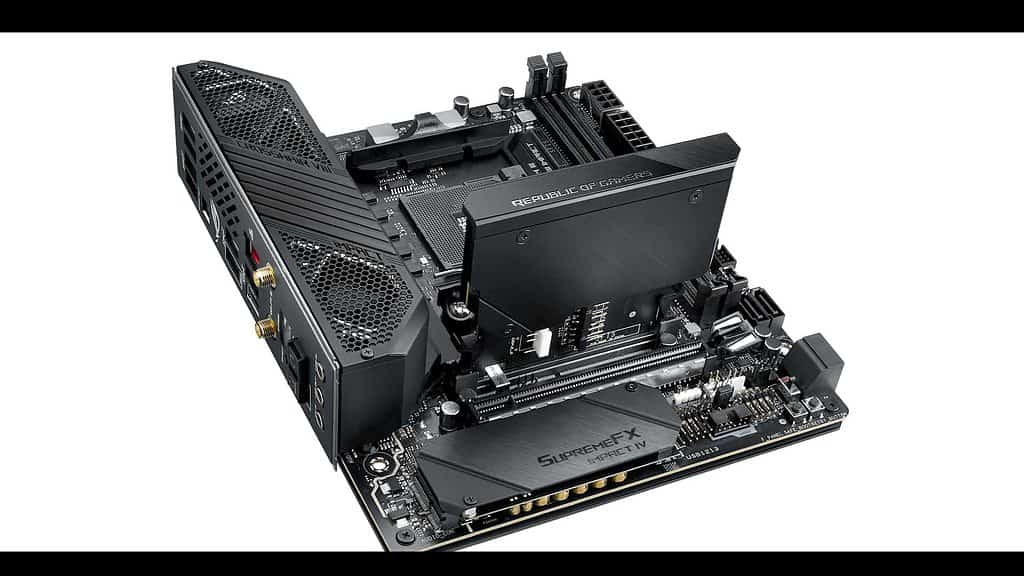 In the box:
4 SATA cables
M.2 SSD screws and screw raisers
RGB addressable cable extension
RGB cable extension
Manual
DVD driver & Software
---
The ROG CROSSHAIR VIII IMPACT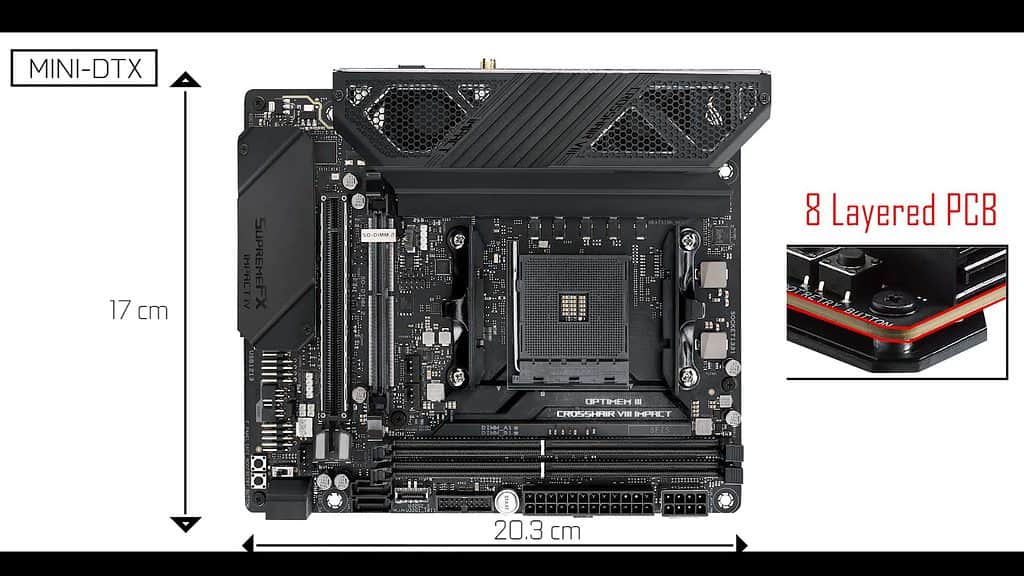 We are dealing with a 8-layer PCB, MINI-DTX motherboard. Not all boards come with a 8 layer PCB! It is expensive to manufacture, adds a significant level of complexity to the board's manufacturing process, but the benefits are noticeable.
Better signal isolation for a larger PCIe bandwidth tracing, better VRM cooling and an overall more performant and stable product.
Socket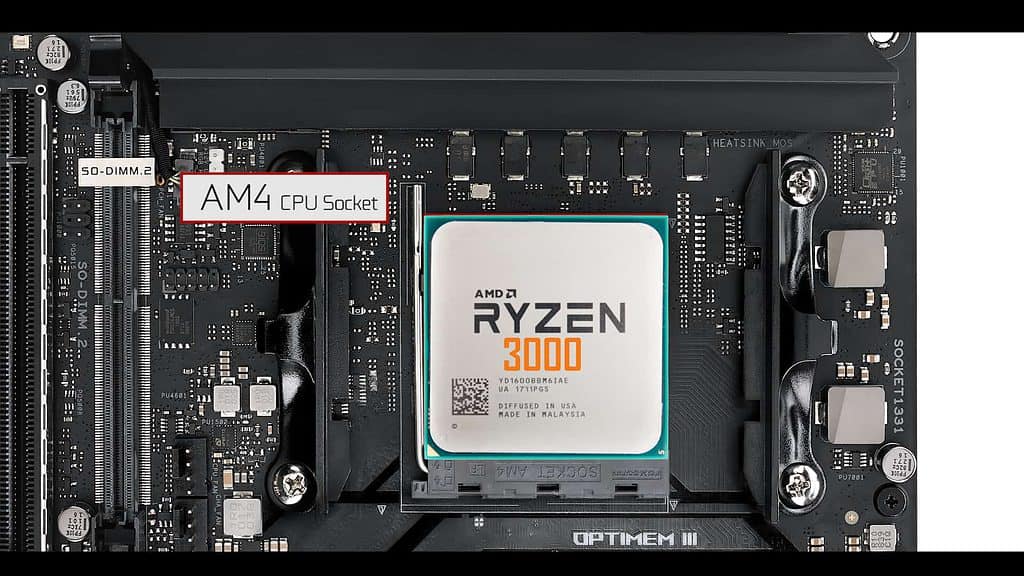 Our AM4 socket can support :
Ryzen 2000 series of AMD CPU
Ryzen 3000 series of AMD CPU
---
VRM
The ROG CROSSHAIR VIII Impact has the most powerful, heat efficient VRM I have seen in a long time.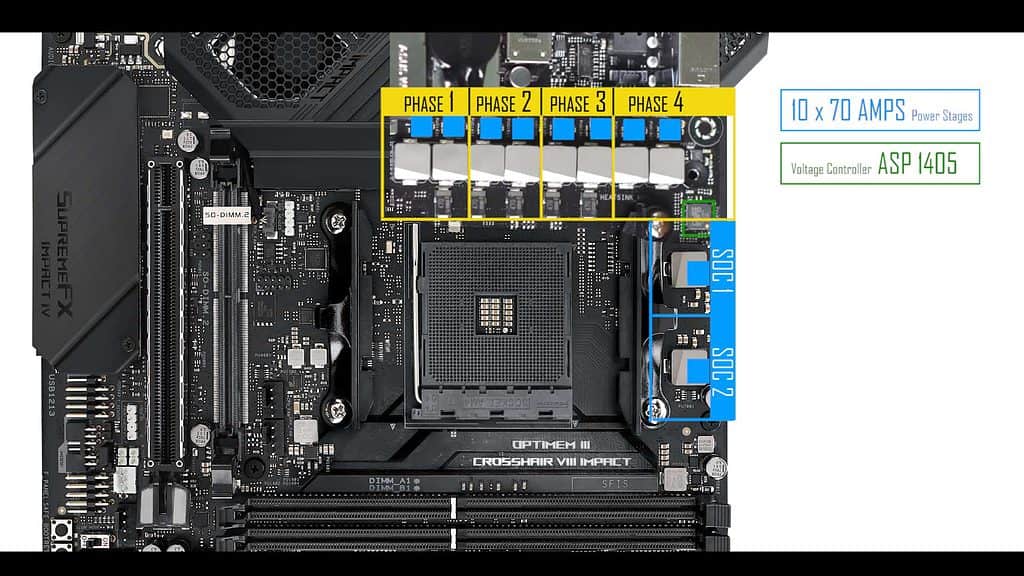 We are dealing with ten 70 AMPS power stages organised in 4 twin-phases + 2 SOC phases. I have never seen 70 AMPS power stages before, and it is a revelation.
At 400 AMPS of power delivery, the V-Phases only output 48 Watts worth of heat signature, in VRM term, it is ice-cold!. This board can push any high-core count CPU you can throw at it, and do so without running thermo-throttling risks!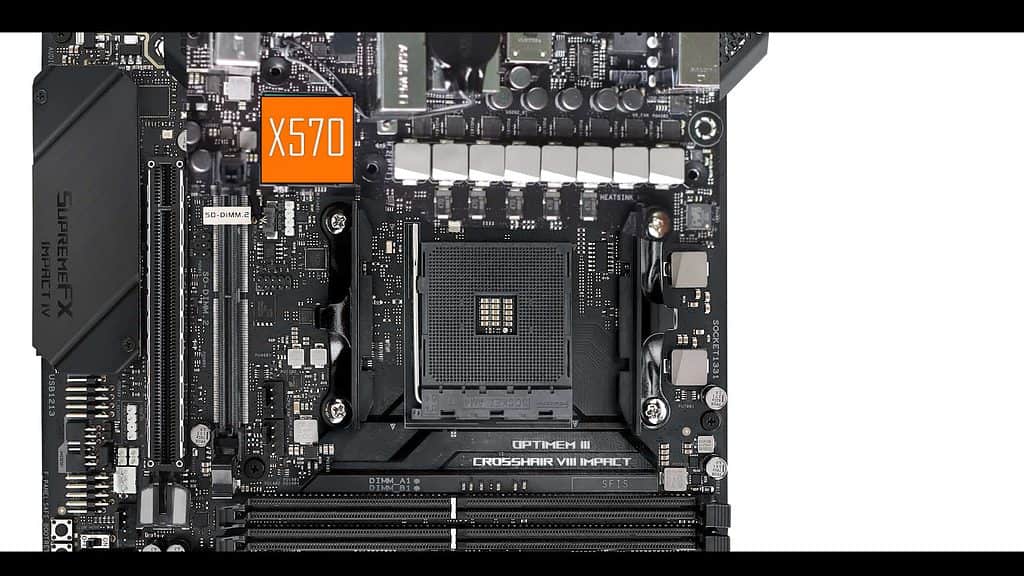 Worth noting, the chipset is rather close to our Power Phases which did give me concern in terms of thermal bleeding. Especially knowing that, at 11 Watts, the X570 Chipset is twice hotter than its predecessors (X470, X370 chipsets).
ASUS managed to deliver a stunning VRM solution, probably one of the most powerful available on X570 boards today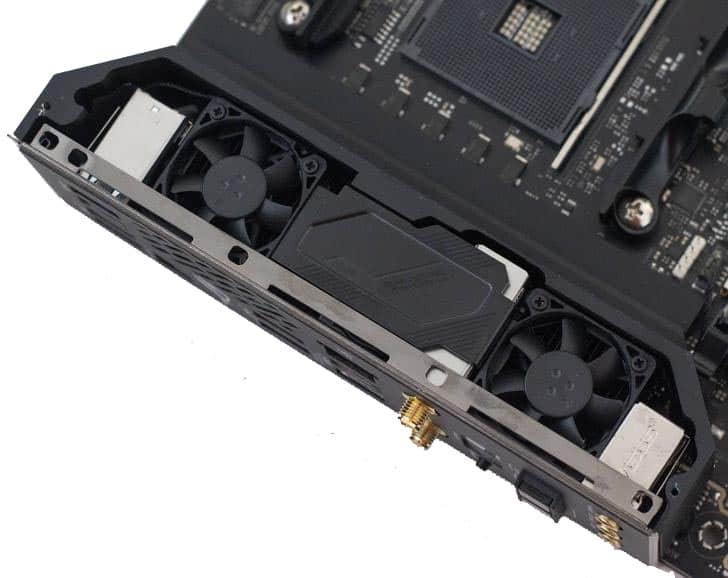 But thanks to a rather compact dual active cooling fan solution, heat dissipation rate is rather high and none of the Phases or Chipset communicate heat with one another.
In short, ASUS managed to deliver a stunning VRM solution, probably one of the most powerful available on X570 boards today, and took full advantage of the 70 AMPS power stages to keep it cool and rock-reliable.
Well done there!
---
RAM
The ROG CROSSHAIR VIII IMPACT features a dual channel memory configuration, populated by single DIMM extended channels, which can support up-to 32 GB of DDR4 RAM each.
Again depending of your CPU series, you will get different performances.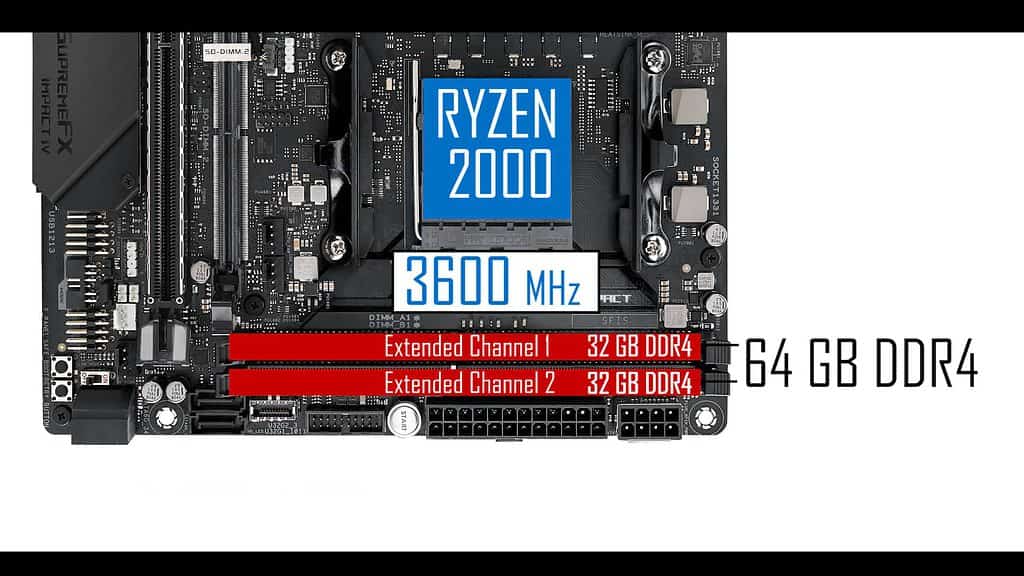 With a Ryzen 2000 series, your board support up-to 64 GB of DDR4 RAM overclock-able up-to 3.6 GHz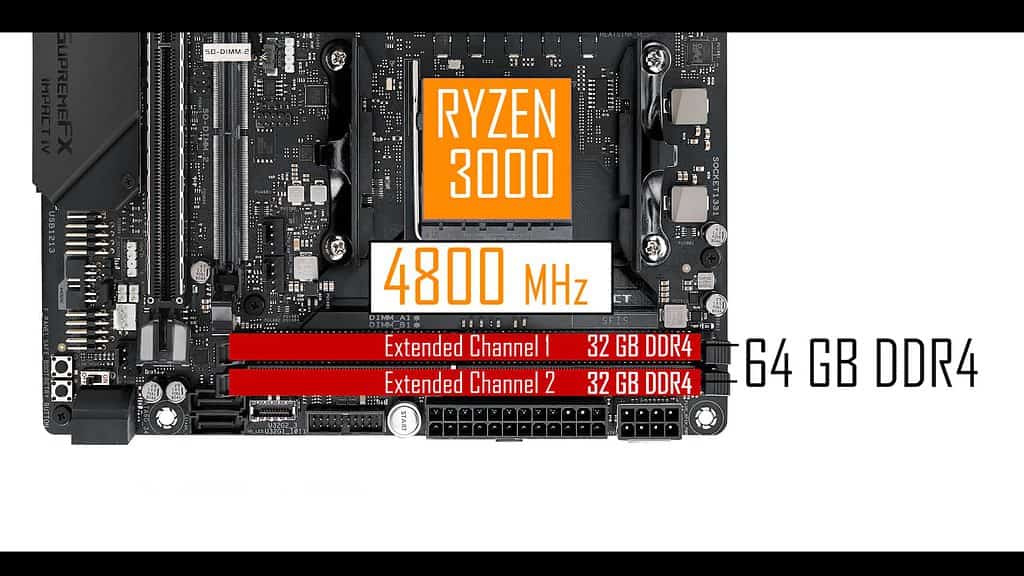 With a Ryzen 3000 series CPU, our channel will support up-to 64 GB of DDR4 RAM (as well) overclock-able up-to 4.8 GHz!!!
A whooping 1.2 GHz increase in contrast of the Ryzen 2000 CPU mode!!!
Having single DIMM channels can be limiting in terms of how much memory your board will support, but it also limits memory signal interference, and translates in significant clock increase.
That explains similarly high RAM clock on other single DIMM channel boards such as the MAXIMUS XI APEX or the ROG STRIX X570-I, which all feature 4.8 GHz RAM clocks abilities.
---
M.2 SSD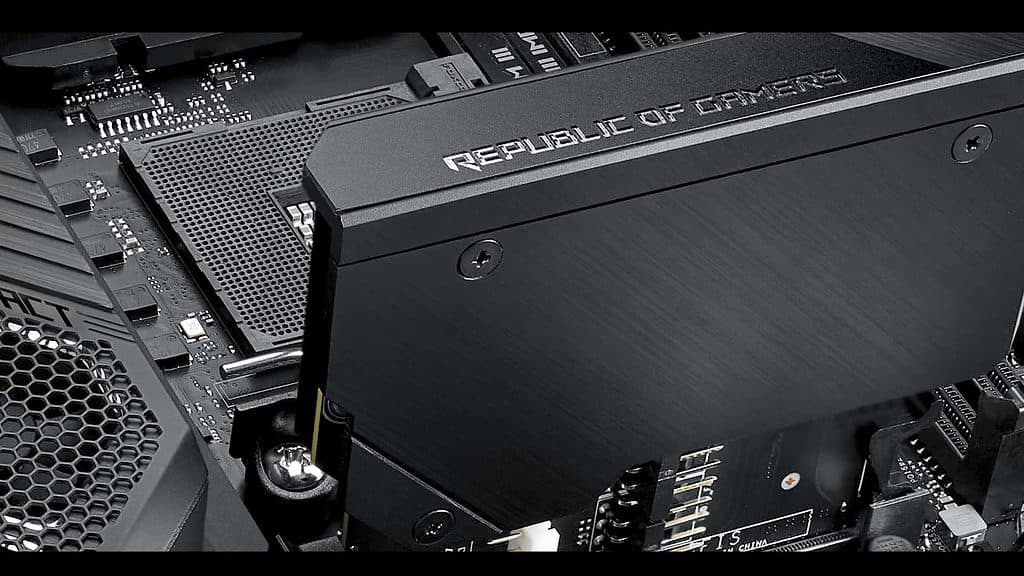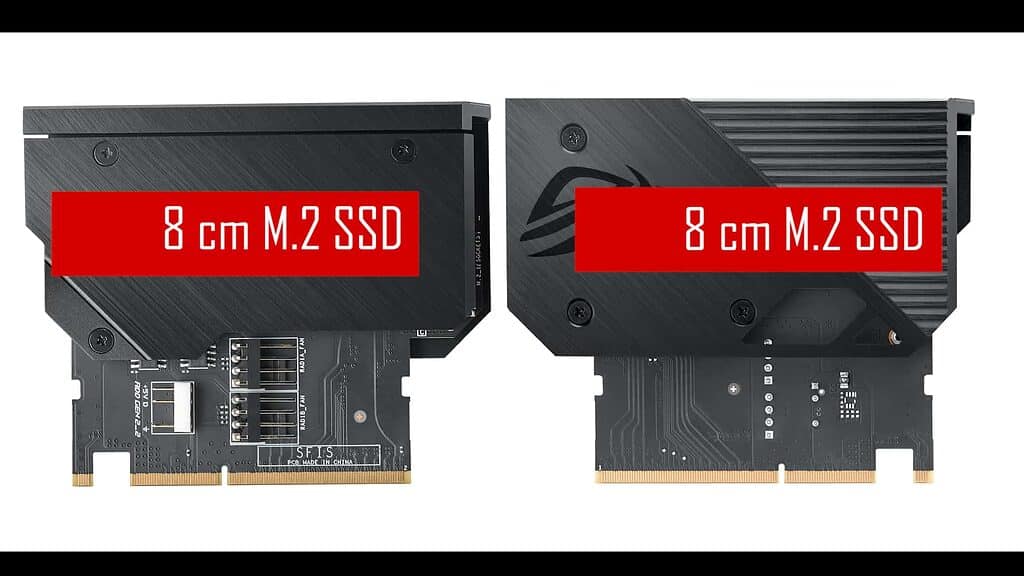 Through a DIMM.2 module, Our board can support up-to 2 M.2 SSD (both of 8 cm in length).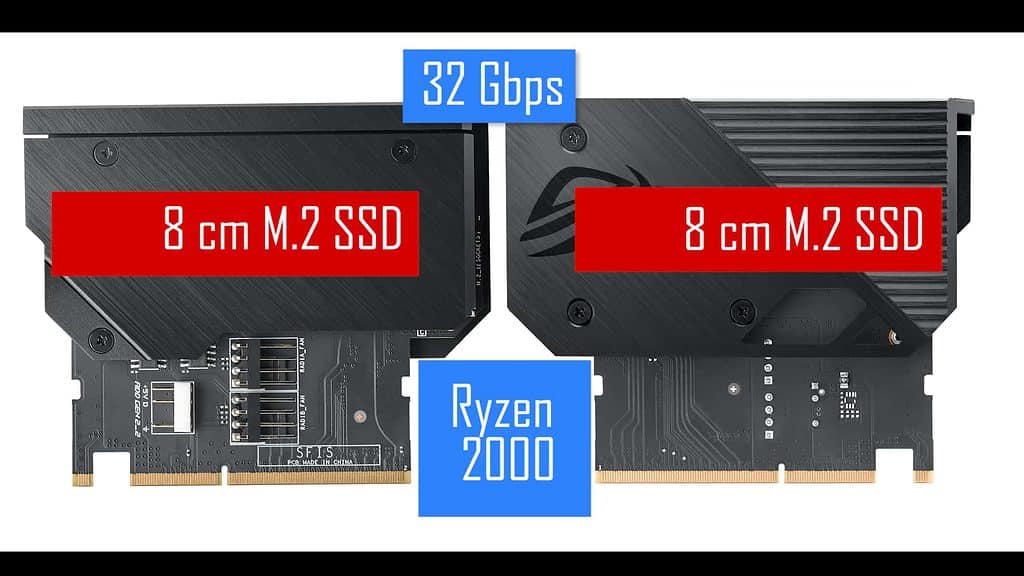 In PCIe 3.0 mode, they can swap data up to 32 Gb/s.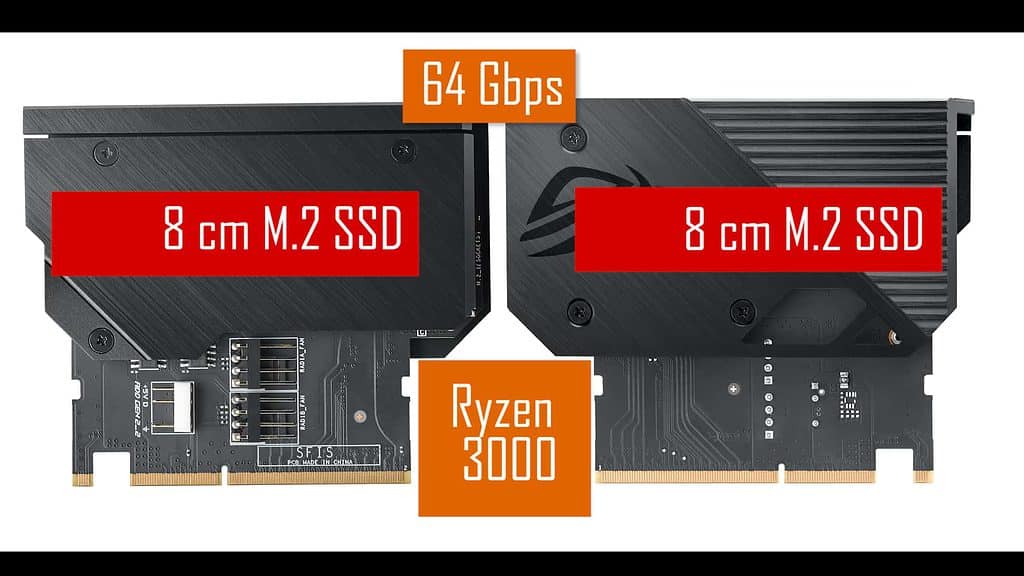 In PCIe 4.0 configuration, our PCIe 4.0 compatible  sticks would experience twice the bandwidth , peaking at 64 Gb/s.
In both cases these kind of speeds will generate quite a lot of heat, and potentially thermo-throttle your sticks.
Fortunately, the ROG CROSSHAIR VIII IMPACT DIMM.2 / M.2 SSD module features rather thick and surface-generous thermo-padded heat-shields which will radiate all that excess heat away!
---
SATA 3.0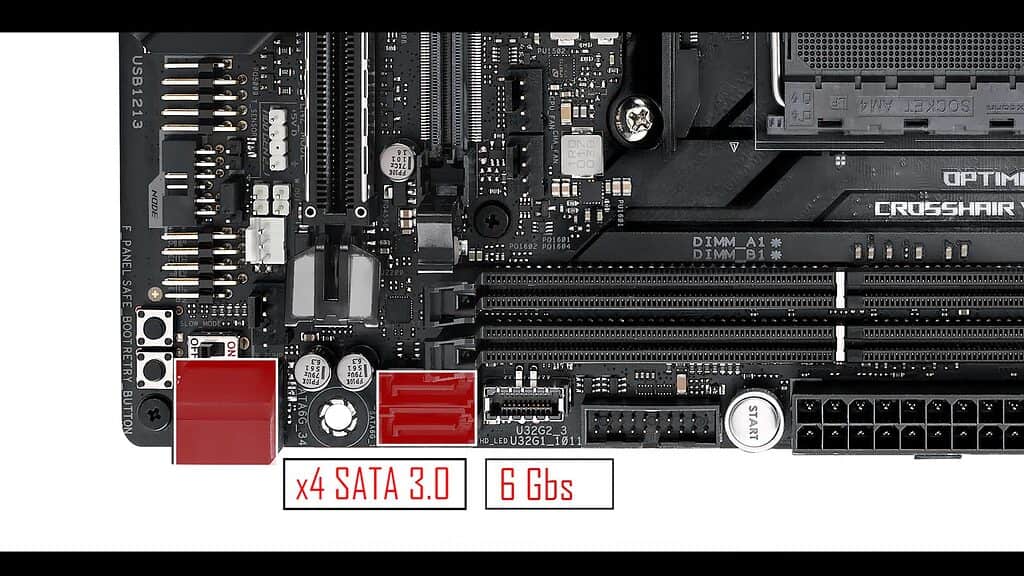 For more classical storage solutions, we have our usual SATA 3.0 plugs. 4 in total, with a transfer rate of 6 Gbps each. They can be configured to run into a 0,1 or 10 RAID configuration
---
On this board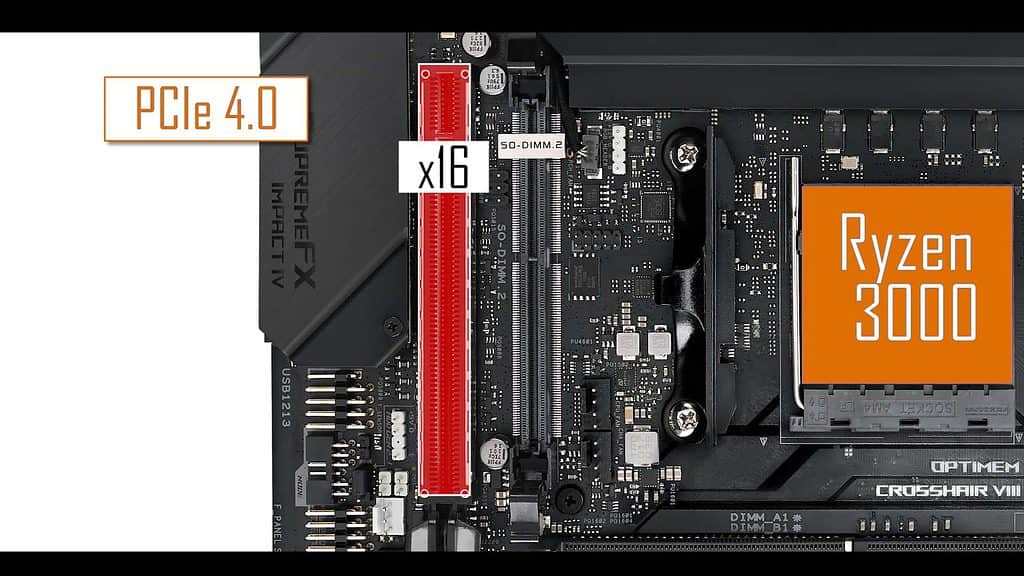 The ROG CROSSHAIR VIII IMPACT has a single 16 slot, 16 lanes metal re-enforced PCIe slot.
Coupled with a Ryzen 2000 CPU series, our 16 PCIe slot will run at a PCIe 3.0 standard, meaning 1 GB/s per lane per direction worth of bandwidth,.
Coupled with a Ryzen 3000 CPU series, and our 16 PCIe slot will run at a PCIe 4.0 standard, doubling its passing bandwidth to 2 GB/s per lane per direction worth of bandwidth,.

Does that mean better gaming? 
Video-cards currently on the market are far from bottle-necking the PCIe 3.0 standard in its 16 lanes configuration. Meaning that GPUs are yet to produce enough data to experience any kind of in-game performance gain between a PCIe 3.0 and a PCIe 4.0 ran motherboard.
So a great future-proofing feature, but nothing which will immediately provide a gaming edge today.
---
BACK IO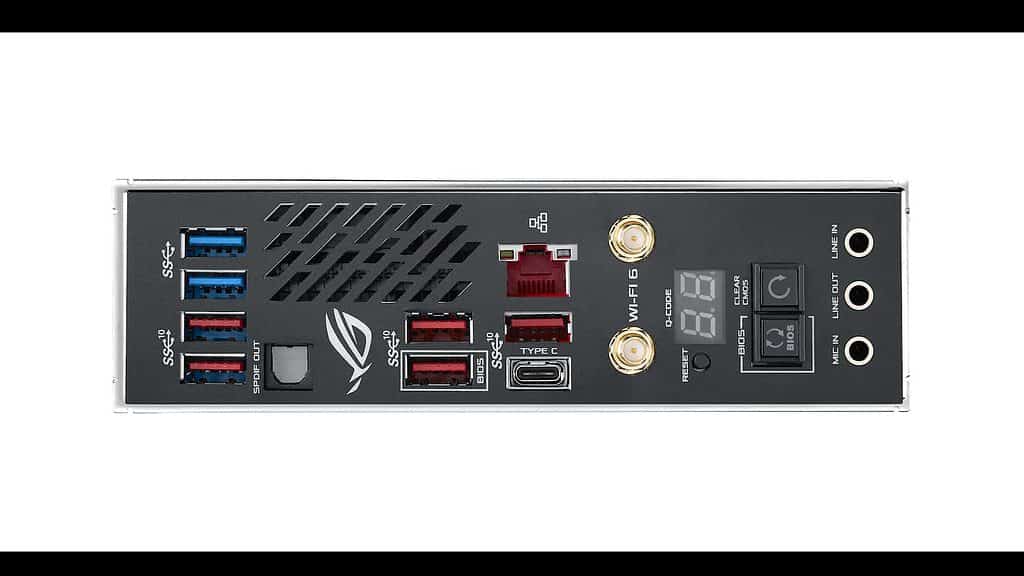 First let me note the presence of an integrated back-plate which is always a good thing!
Starting from the left, we have :
x2 USB 3.2 1st gen RX/TX 5Gbps
x2 Hybrid USB 3.2 gen

RX/TX 5 Gbps (coupled with a Ryzen 2000 CPU)
RX/TX 10 Gbps (coupled with a Ryzen 3000 CPU)

x4 USB 3.2 2nd Gen. RX/TX 10 Gbps (including a Type-C)
x1 Surge protected Gigabit LAN
x1 Q-CODE Error screen
Dual Band Wi-Fi 6 802.11AX 200. RX/TX 2.4 Gbps.
Clear CMOS, BIOS and RESET Buttons
Supreme FX S1220 Codec Realtek, 7.1 channels
There is a LOT to talk about.
That is a LOT of USB output. 70 Gbps in total! Not bad at all!
I am not too happy to see the Q-Code screen on the back IO plate. Not the most practical place to look at when trying to troubleshoot a failed boot.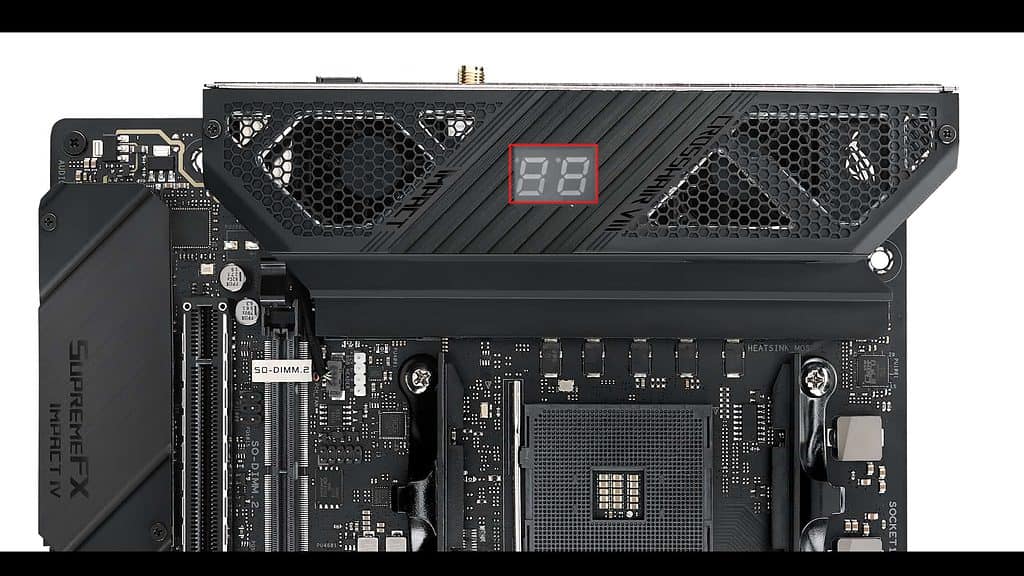 Instead I would have preferred to see it on the IO roofing.
Audio wise, we have the best codec Realtek has to offer. And it does a great job for an integrated audio module.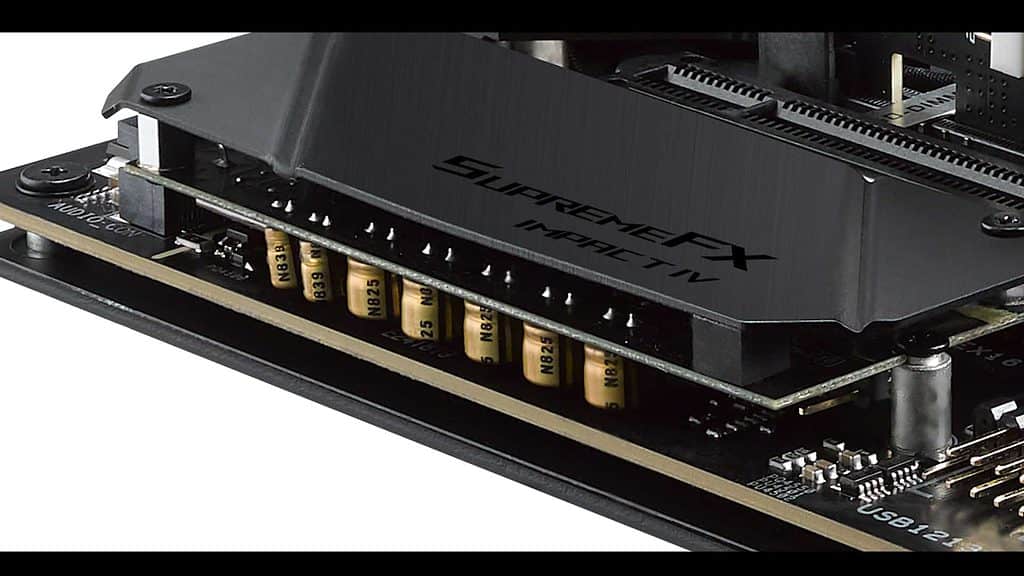 But with such a small board form factor and that many components in close proximity, I am afraid that over time, you might experience static interference on your recording.

---
Front Panel connectors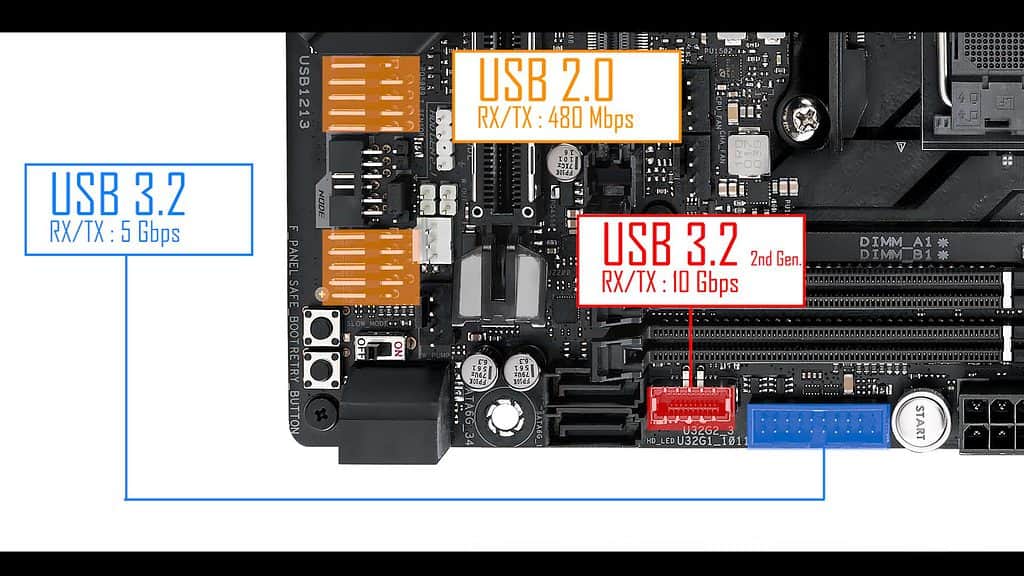 Front panel connector wise we have :
x2 USB 2.0 RX/TX 480 Mbps
x1 USB 3.2 RX/TX 5 Gbps
x1 USB 3.2 2nd Gen. RX/TX 10 Gbps (Type C)
Note that the 2nd Gen USB plugs have been places at 90 degrees angle for an easier access, and that is exactly what I would have expected to see on our 3.2 USB plugs as well! But unfortunately it is not the case. And that is problematic indeed.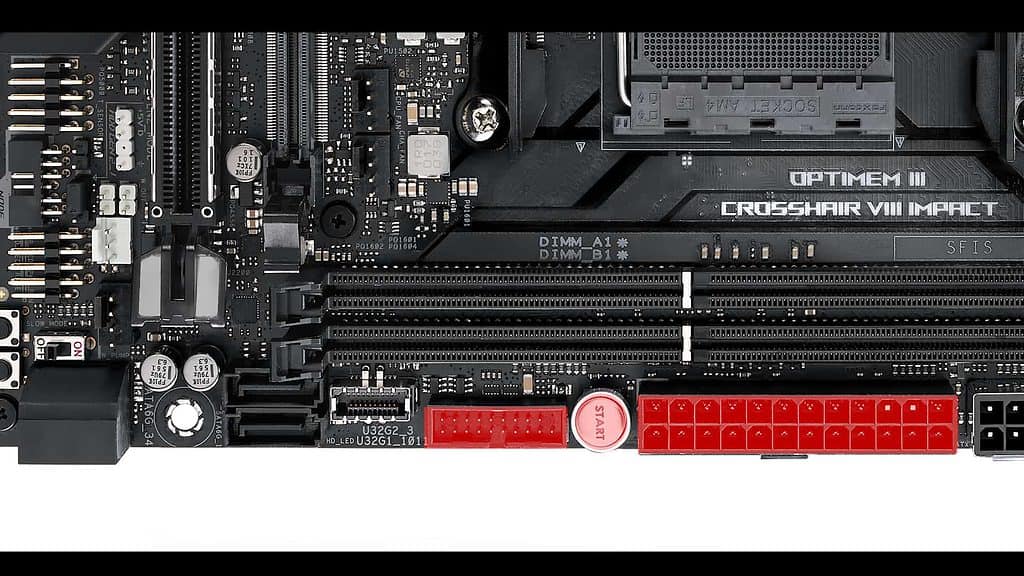 As a result, our Start soldered buttons is trapped between our USB 3.2 plug and the ATX 24 PSU cable, making it virtually inaccessible to the common of the mortals.
Something I would like to see fixed in the next iteration of that board.
Fan connectors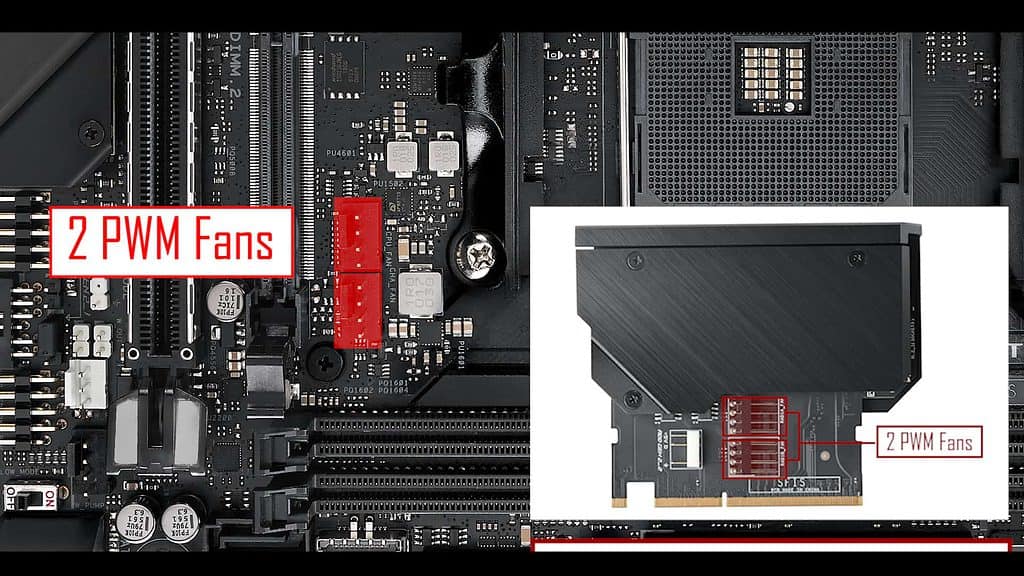 We have 4 PWM fan connectors :
2 on-board
2 on the DIMM.2 / M.2 SSD extension module
Without being overkill, it is the right amount of connectors to keep a good amount of air flow on a compact build. If you are eyeing a custom water killed, you might have to use fan splitters. Just make sure to not connect more than 5 fans per connector.
Fan & Pump Connectors
The ROG CROSSHAIR VIII IMPACT gives us about everything you will need to operate a fully operational and monitored custom water cooled solution.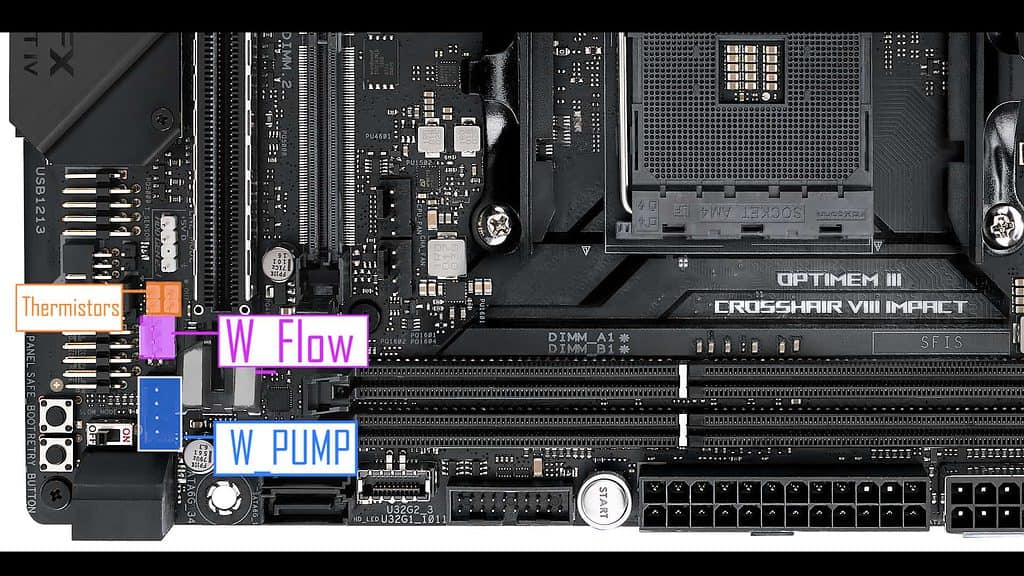 Namely :
a dedicated 5 watt Water Pump connector
a Water Flow connector
2 thermistor connectors
And even-though the form factor my deter many enthusiast to seek a custom water cooling solution with this board, I can't help but wonder how absolutely cool that would look like!
---
AURA Sync Effect
Despite its smaller size, our ROG CROSSHAIR VIII IMPACT is a RGB fest!
We have 2 nested addressable RGB Strips.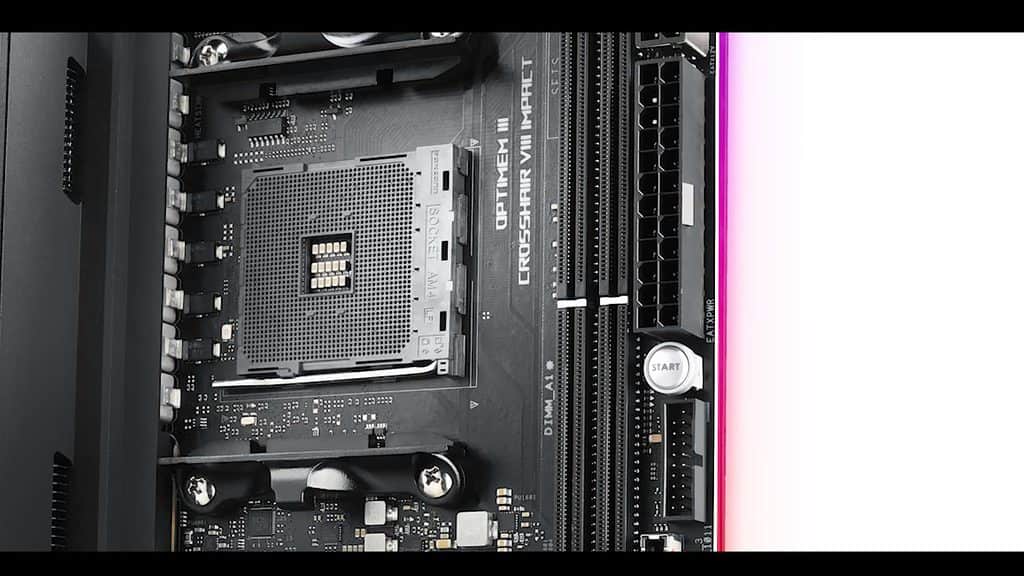 One on the back of our PCB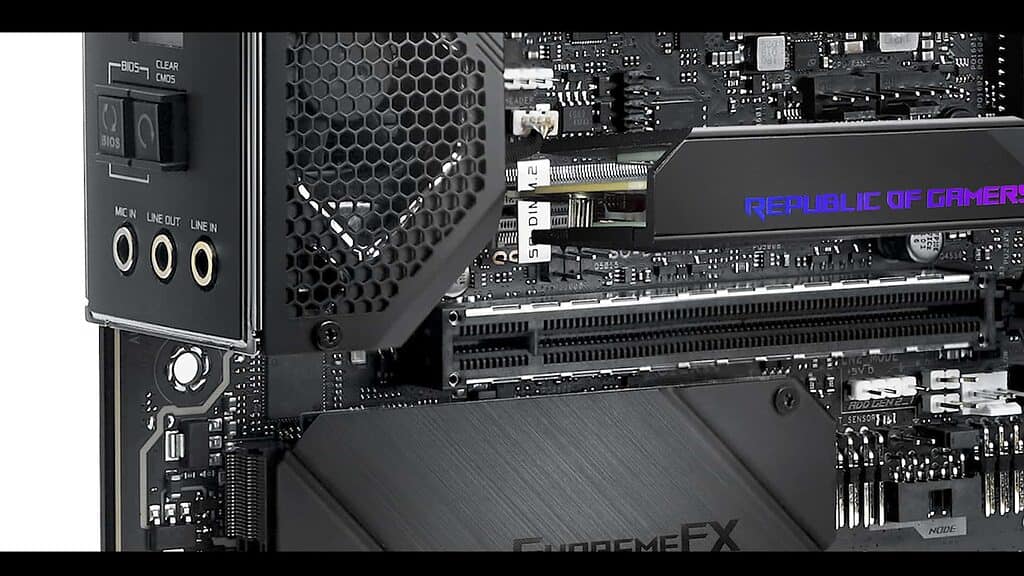 and one high lighting our spelled ROG on the DIMM.2 extension module.
We also have 3 RGB connectors :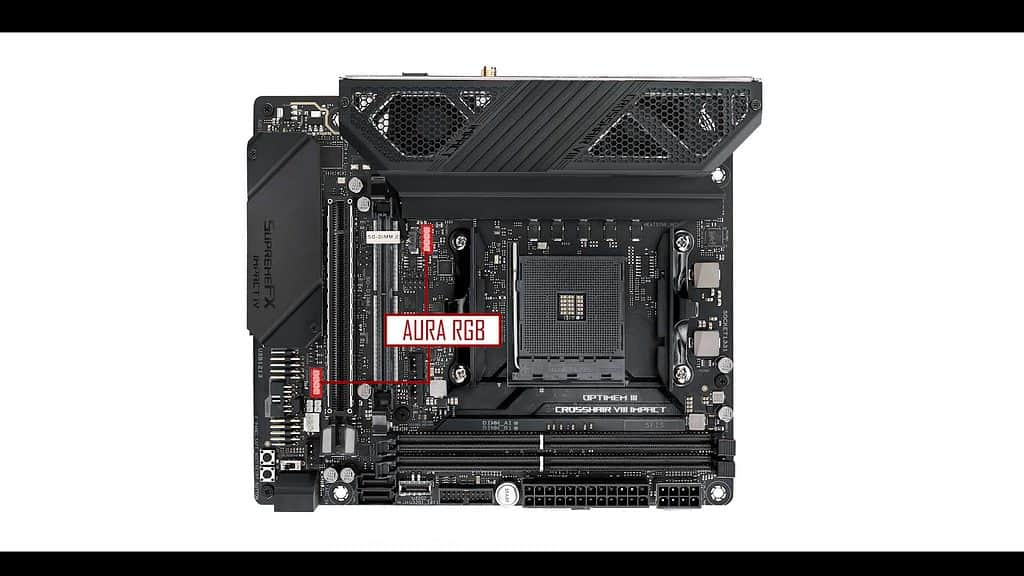 On-board:
x1 AURA RGB connector
x1 AURA addressable RGB connector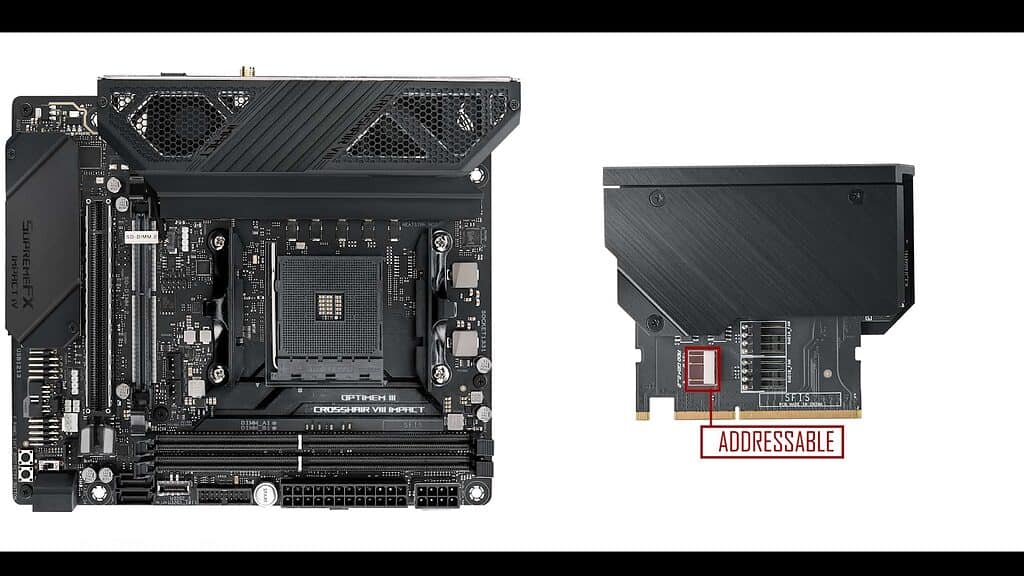 as well as one AURA addressable RGB connector on our DIMM.2 extension module.
In short, more RGB than available on many of the CROSSHAIR COMPACT VIII large siblings.
---
Troubleshooting
As a CROSSHAIR motherboard, there are quite a few troubleshooting features which had to somehow be squeezed in here.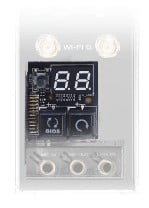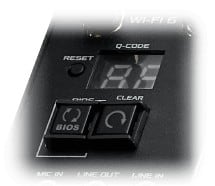 Starting with the misplaced Q-LED screen I was talking about earlier.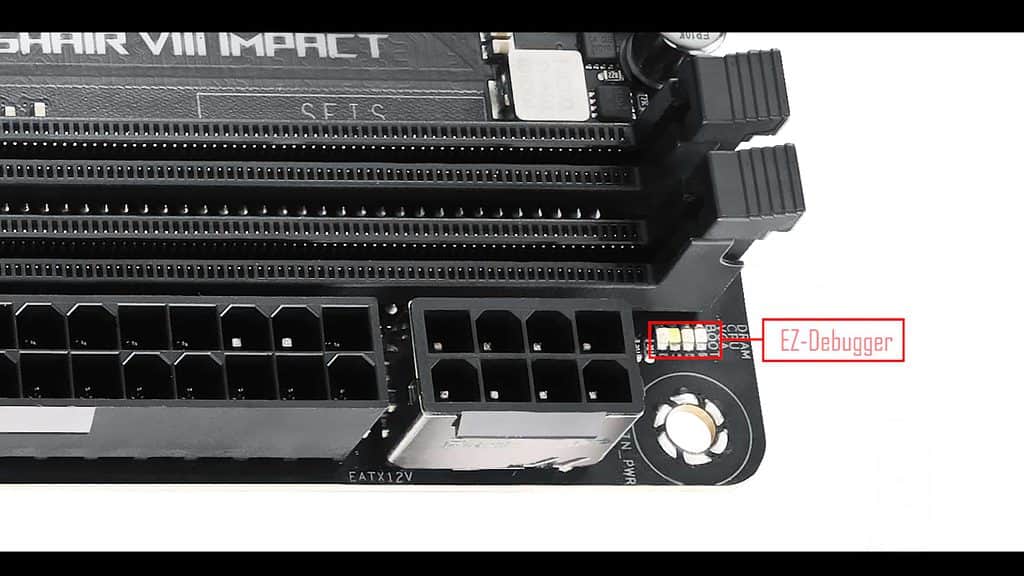 Starting with an awkwardly placed EZ Debugger.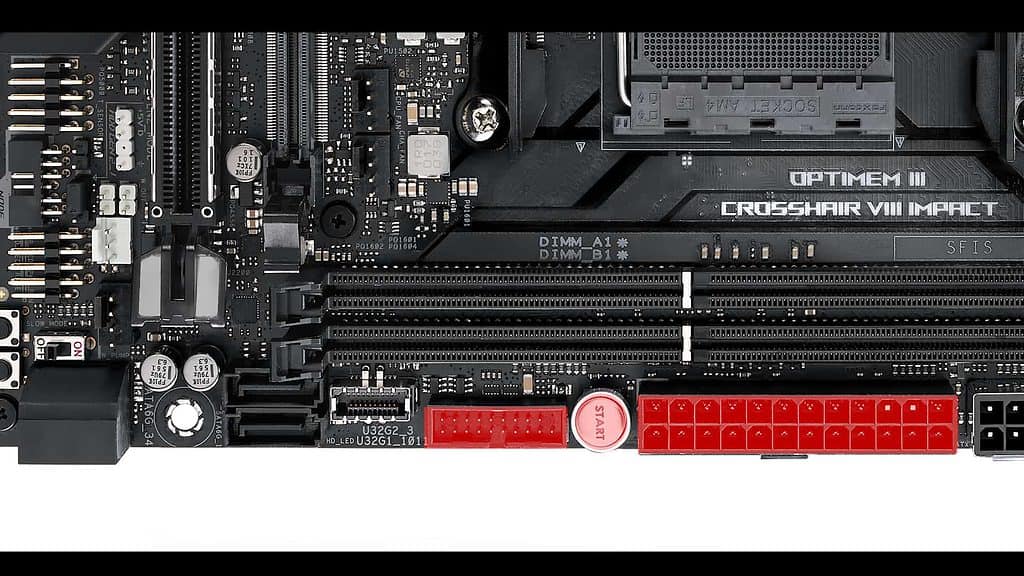 An inaccessible soldered START and distant RESET button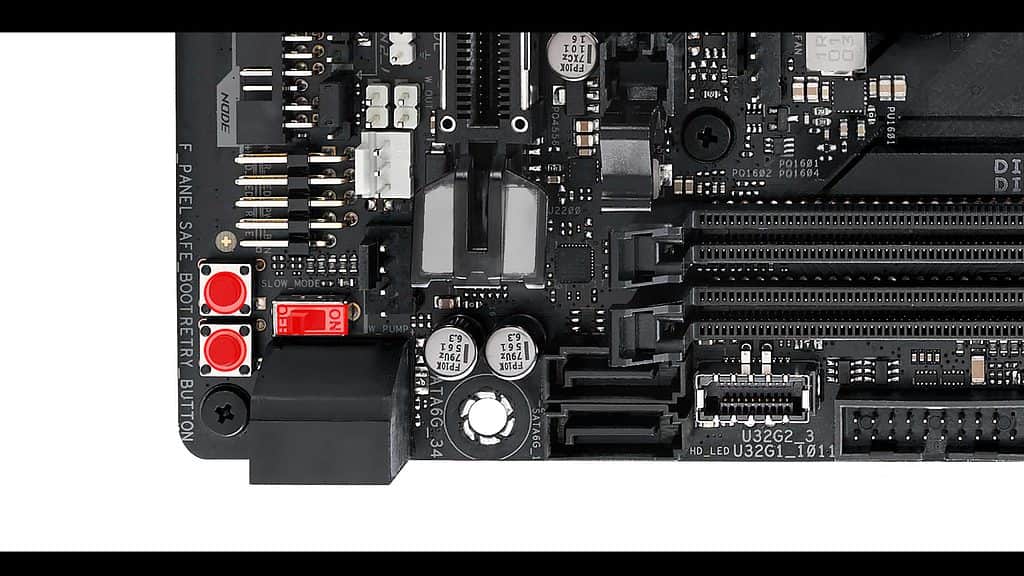 And finally all our LN2 CROSSHAIR features, including SAFE_BOOT, RETRY_BUTTON and our SLOW_MODE switch.
Happy to see all these features on the board, but in terms of placement, I do strongly feel that ASUS could have done much better without extra cost.
---
Conclusion
At anywhere between 450 and 500 USD before taxes, the ROG CROSSHAIR VIII Impact is not for every one! If you are looking for a first-time-builder motherboard, or even a worry free enthusiast board… go away… run for your lives. This is going for a tiny blasé segment of enthusiasts who are looking for a challenge.
You know that cute looking girl in high-school which you could go for but you knew your life would be miserable afterward.. that's her! In a "computerly" metaphor … great I talk in a paraboles now!
Technically, in terms of components, yes! The money is there. We have a 8 layered PCB board, 70 AMPS power stage ( that on its own! ), we have all the troubleshooting options, LN2 features, premium components you would expect at that price range. In short, this is in the top 3 most performant motherboard in the X570 range. Period!
But that is not going to be an easy build, and if you go this way, it means you want to be there.
And I count myself in there, there is such a cool factor into cramming so many premium features in such a small layout! It's a technological jewel!
In short, if you want an insanely small yet insanely powerful, and un-practical build which will look absolutely awesome!!! Well, that's exactly where your money needs to be!
QUICK OVERVIEW
CPU & northbridge support
Supported Processor
Ryzen 2000 , Ryzen 3000 series AMD Processors
Chipset
X570
CPU socket
AM4
Memory
Slots
2 (dual extended channel)
Max System Memory (Gigabytes)
64
Memory Technology
DDR4
Maximum Clock (MgHz)
4,800
Connectors
USB 2.0
2 on-board
USB 3.1 (1st Gen)
1 on back IO + 4 on-board
USB 3.1 (2nd Gen)
4  on back IO + 1 on-board
LAN
1 Gb/s
WiFi
Dual Lan 802.11 AX200 / Bluetooth 5.0