X99 Vs X299, That's the question.
As Intel and AMD wage their latest CPU war (some 1999 nostalgia?), the two legendary competitors shower us with code names and new (or recycled) architectures. After 3 years of status quo, 2017 witnesses the highest release of hardware seen since the late 90s. And that's not necessarily a good thing.
Even though the X99 has aged quite a bit since its August 2014 release, with its rather bulky 32nm architecture, it is far from being obsolete. Particularly when coupled with the right CPU.
But 3 years is a long time, and it is more and more apparent that, a refreshed release might be in order.
Behold the X299…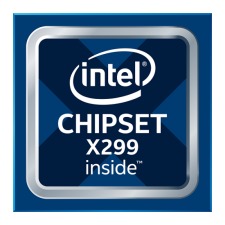 Released in the Q2 2017, the X299 will support Intel's latest CPU (X-series), through its latest socket, the LGA 2066.
Table Source : Intel.com
X299
X99
Processor Support
Skylake-X (Core i7-78xx & i9-79xx)
Kaby Lake-X (Core i7-77xx & i5-76xx)
Haswell-E (Core i7-59xx/58xx)
Broadwell-E (Core i7-69xx/68xx)
Socket
LGA-2066
LGA-2011 v3
DRAM Support
DDR4
DDR4
Mem/DIMMs Per Channel
4/1
4/1
DMI Version
3.0
3.0
Intel Rapid Storage Technology (RST)
Yes
Yes
Intel RST for PCI-E Storage
Yes
No
Intel Smart Response Technology (SRT)
Yes
Yes
Intel Optane Technology
Yes
No
USB Total (USB 3.0)
14(10)
14(6)
Max SATA 6Gb/s
8
10
Max Additional PCI-E lanes*
24x PCI-E 3.0
8x PCI-E 2.0
CPU Overclocking
Yes
Yes
In bold, the differences between both chipsets.
In short, it is a little disappointing. No big leap forward here, but instead, an update of the X99 chipset to the latest additions we saw in the Z270 chipset earlier this year.
The only "real" added value of the new X299, is the passage from 8 PCI lanes (2.0) to 24 PCI lanes (3.0). For the rest… an absolute bore in my opinion.
But what about CPUs?
BUT Intel's new X CPU series is only X299 compatible! So if you want to enjoy the latest CPU technology out there, you'd HAVE TO upgrade to an X299 chipset motherboard. A no-brainer! Right?
WRONG!
After taking a closer look to the said X CPUs, I was left unimpressed, and the performance gain between a i7 7700K and the new i7 7740X, are… nonexistent.
Both CPUs are running on the same architecture: Kaby Lake. Meaning that whatever limitations the i7 7700K had, the i7 7740X has.
Worse! You cannot use the quad channel if using the i7 7740x on the new X299 boards, simply because… they are both the same processors.
Worst! The Integrated Graphics module present on the i7-7700K, is present on the i7-7740X but… disabled!
To resume, if you do go for an X299 motherboard, and unless you go for an i9 CPU, you are stuck with a hardware mismatch, designed and released, it seems, by a White House intern on a lunch break (ringing any bells?).
See where I am going with this?
---
In Conclusion:
If you are looking at an upgrade from pre-z170 or pre-X99 motherboards… you might want to consider the X299, noting that it might be wise to wait for the Z370 chipset series and the "not so awaited" Coffee Lake. Yes. I know. Another line up of motherboards and processors from Intel… only the THIRD this year!!!!!
But that will be the topic of another article, down summer lane 🙂
Let us know what you think!