Tech News
Intel Core Ultra "Meteor Lake" Laptops Listed In The US, Starting at $1049 & Available on 18th December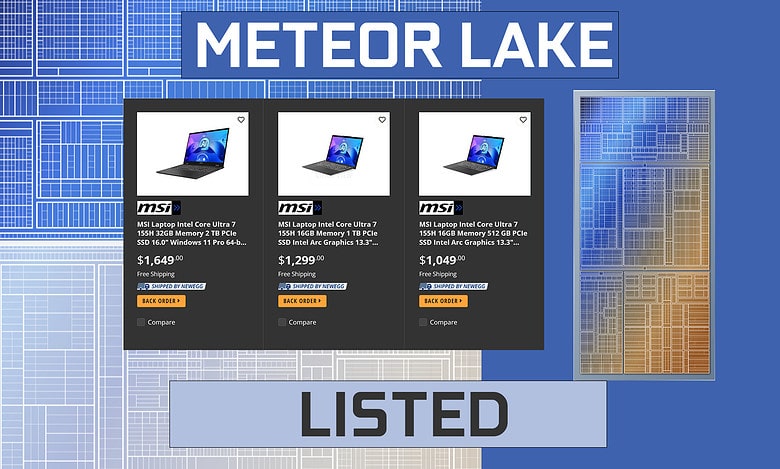 The first Intel Meteor Lake laptops powered by the Core Ultra CPUs are now appearing at various online retailers in the US.
MSI Prestige 16 & 13 Are The First Meteor Lake Laptops To Be Listed By Retailers In The US: Intel Core Ultra 5 125H Starting at $1049 US
The MSI Prestige AI EVO is the first Meteor Lake CPU-powered laptop that is being listed in the US and features the Core Ultra 7 155H & Core Ultra 5 125H SKUs. The laptops are available in both 16″ and 13″ variants and have been listed for somewhat affordable prices (starting $1049).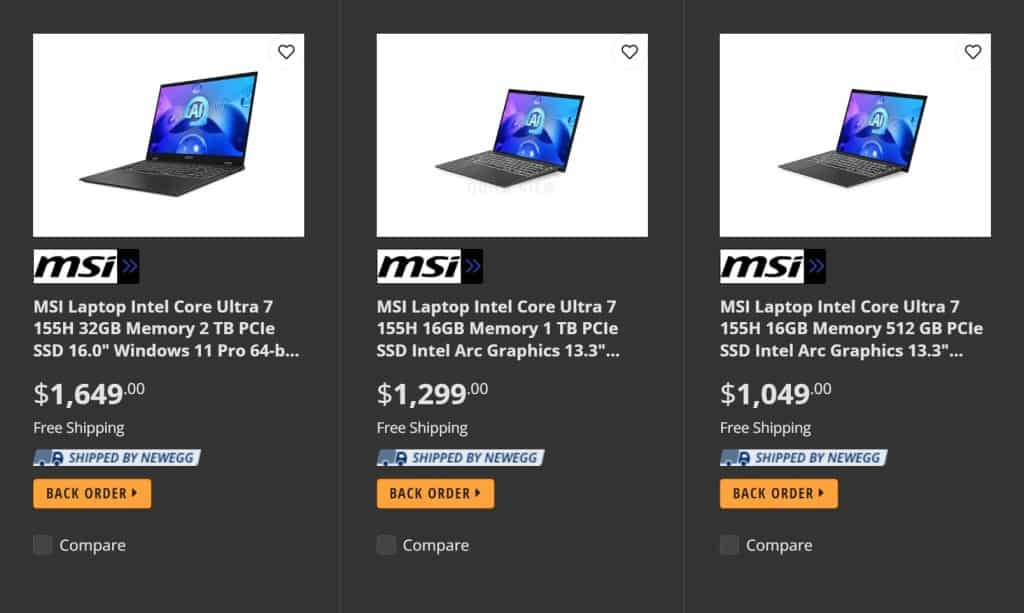 In terms of specifications, the Intel Core Ultra 7 155H "Meteor Lake" CPU features a 6+8+2 config.
6 Performance cores based on the Redwood Cove architecture,
8 Efficiency cores on Crestmont architecture, and an additional 2
2 E-Cores using the same architecture that is found within the SOC tile.
The clock speeds of the chip are rated at 3.8 GHz base and 4.8 GHz boost with TDPs rated at 28-35W. The CPU also offers 24 MB of L3 cache.
As for the MSI Prestige laptops, the base configuration seems to be priced at $1049 US and comes packed with a 13.3″ QHD OLED display with 16 GB of LPDDR5-6400 memory, 512 GB NVMe SSD storage, and an integrated Arc graphics chip for display. The laptop weighs 2.18 lbs and supports the latest IO such as WIFI 7 and Bluetooth 5.4 using the Intel Killer BE1750 chipset. You also get 2 Thunderbolt 4 (Type-C) ports, a single USB 3.2 Gen 1 Type-A Port, and 65W PD charging through the USB Type-C port. The three variants listed on Newegg have now been removed from the site:
(Note: The $1049 US variant is based on the Core Ultra 5 125H and not the Core Ultra 7 155H as mentioned in the listing. You can see the specs sheet in the listing which states the CPU is the Core Ultra 5 125H).
You will note a lack of discrete GPUs on these laptops since these laptops already pack Intel's latest Arc Alchemist-based integrated GPU on the GFX-Tile. This solution is said to be on par with low-end discrete GPUs and support the latest features such as Ray Tracing, DX12 Ultimate, and XeSS. iGPUs also mean that you won't have to worry about higher power draws that are associated with dGPUs so you can have longer battery times too. There will be a few discrete GPU models with higher-end laptops later in 2024 but for now, we can only expect iGPU Meteor Lake laptops. Following is list of laptops from MSI featuring Intel Meteor Lake CPUs (Source: Momomo_US):
Prestige 16 AI Studio
Prestige 13 AI Studio
Prestige 16 AI EVO
Prestige 13 AI EVO
Stealth 14 AI Studio
Stealth 14 AI
Stealth 16 AI Studio
Stealth 13 AI Studio
Stealth 16 AI
Stealth 13 AI
CreatorPro 16 AI Studio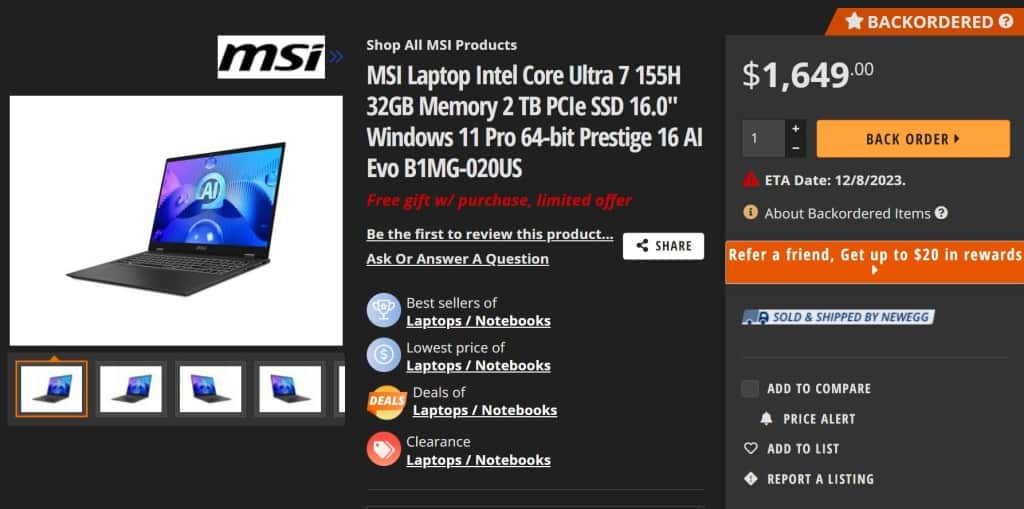 The MSI Prestige AI EVO laptops powered by Intel's Meteor Lake "Core Ultra" CPUs will be unveiled on the 14th of December followed by the official retail availability on the 18th of December. We've also seen listings of other laptops such as Lenovo's Yoga in the European market featuring the very same Core Ultra 5 155H CPU.
MORE TO COME
Intel 14th Gen Meteor Lake CPU Family "Preliminary":
| CPU NAME | PROCESS NODE | CORE CONFIGURATION | THREADS (TOTAL) | BASE / BOOST CLOCK | L3 CACHE | TDP |
| --- | --- | --- | --- | --- | --- | --- |
| Intel Core Ultra 9 185H | Intel 4 | 6+8+2 (16) | 22 | 3.8 GHz / 5.1 GHz | 24 MB | 28-35W |
| Intel Core Ultra 7 165H | Intel 4 | 6+8+2 (16) | 22 | 3.8 GHz / 5.0 GHz | 24 MB | 28-35W |
| Intel Core Ultra 7 155H | Intel 4 | 6+8+2 (16) | 22 | 3.8 GHz / 4.8 GHz | 24 MB | 28-35W |
| Intel Core Ultra 5 135H | Intel 4 | 4+8+2 (14) | 18 | 3.6 GHz / TBD | 20 MB | 28-35W |
| Intel Core Ultra 5 125H | Intel 4 | 4+8+2 (14) | 18 | 3.6 GHz / 4.5 GHz | 20 MB | 28-35W |
| Intel Core Ultra 7 155U | Intel 4 | 6+8+2 (16) | 22 | TBD | 24 MB | 15W |
| Intel Core Ultra 5 135U | Intel 4 | 2+8+2 (14) | 14 | 2.1 GHz / 4.4 GHz | 12 MB | 15W |
| Intel Core Ultra 5 125U | Intel 4 | 4+8+2 (14) | 18 | TBD | 20 MB | 15W |
| Intel Core Ultra 7 164U | Intel 4 | 6+8+2 (16) | 22 | TBD | 24 MB | 9W |
| Intel Core Ultra 5 134U | Intel 4 | 4+8+2 (14) | 18 | TBD | 20 MB | 9W |