Key Features
Price:

350 USD

Release Date : 3rd October 2022
ATX Form Factor / 8 PCB layers + 2 copper layers
AMD B650E chipset
AM5 LGA1718 CPU socket
CPU Support

Ryzen 7000
Ryzen 8000
Ryzen 9000

x4 32GB 6,400 MHz DDR4, maximum 128 GB
x3 PCIe x16 ( x2 PCIe 5.0, x1 PCIe 4.0 )
Back IO :

HDMI 2.1
DP 1.4
x4 USB 2.0 RX/TX 480 Mbps
x7  USB 3.2 2nd gen. Type-A + TYPE-C RX/TX 10 Gbps
x1 USB 3.2 2nd Gen 2×2 Type-C RX/TX 20 Gbps
Clear CMOS / FLASH back buttons
Surge protected 2.5Gbps LAN controller
WiFi 6E / BT 5.3
Realtek ALC 4080 Codec 7.1 channels audio,

STORAGE

x4 M.2 SSD (x2 PCIe 5.0 | x2 PCIe 4.0)
x4 SATA 3 — RX/TX 6 Gbps
x18 70 AMPS power stages
Broad PCIe 5.0 support on both M.2 SSDs and PCie exports.
Dual GPU PCIe 5.0 support
Great Premium integrated AUDIO
Much cheaper than its X670E-E variant
Slower DDR5 clock (6400)  then its Intel variant (7800).
The ROG STRIX B650E-E Gaming WiFi comes in a time where gaming board prices soared to an all-time high! And being a B series, it also comes with a lot of hope in terms of pricing.
On the other hand, being the top end model of a STRIX series also comes with a certain level of premium and feature expectations.
It is obviously a delicate time for ASUS engineers to decide what has to stay and what has to go in order to respect these two incredibly important operatives.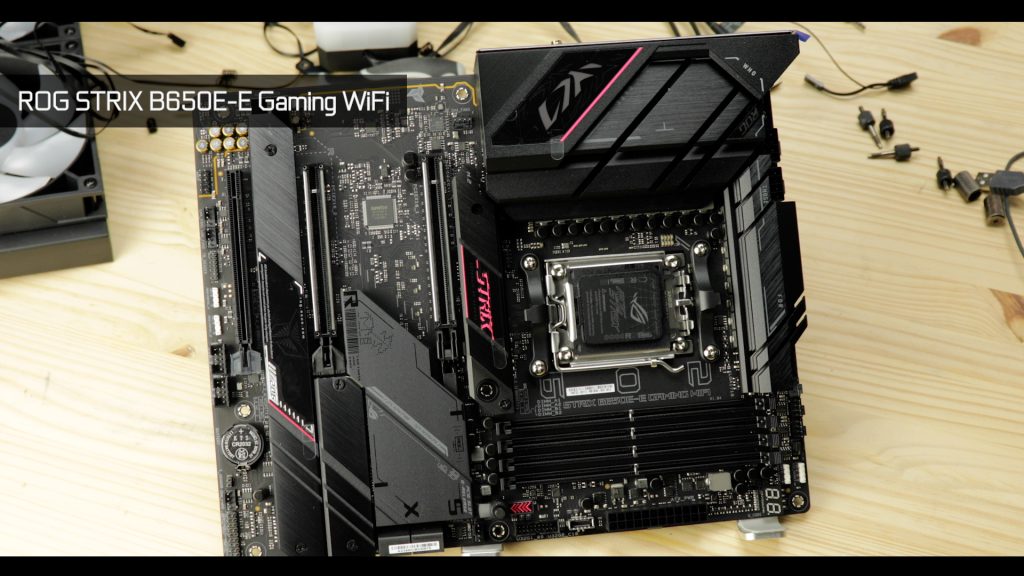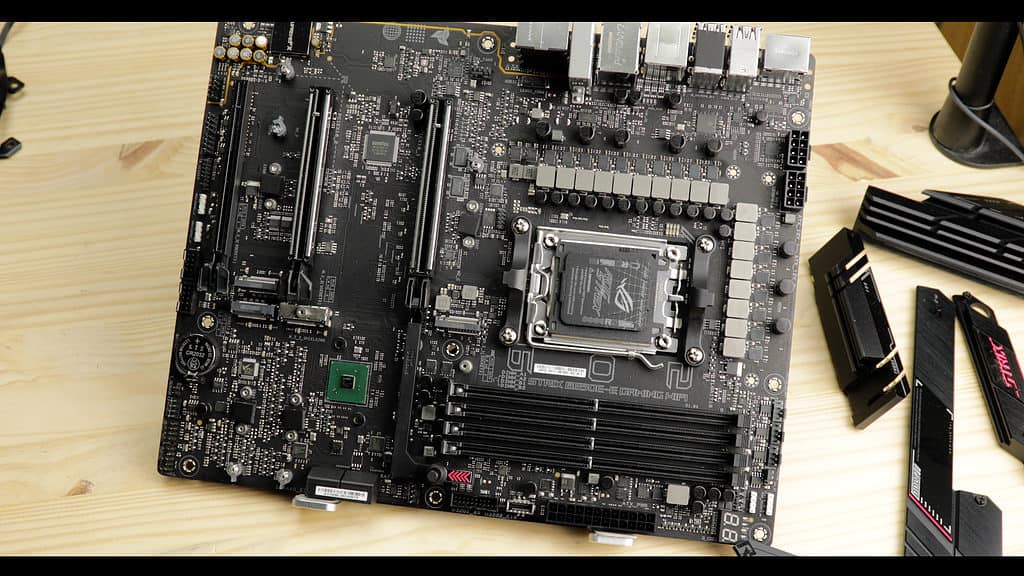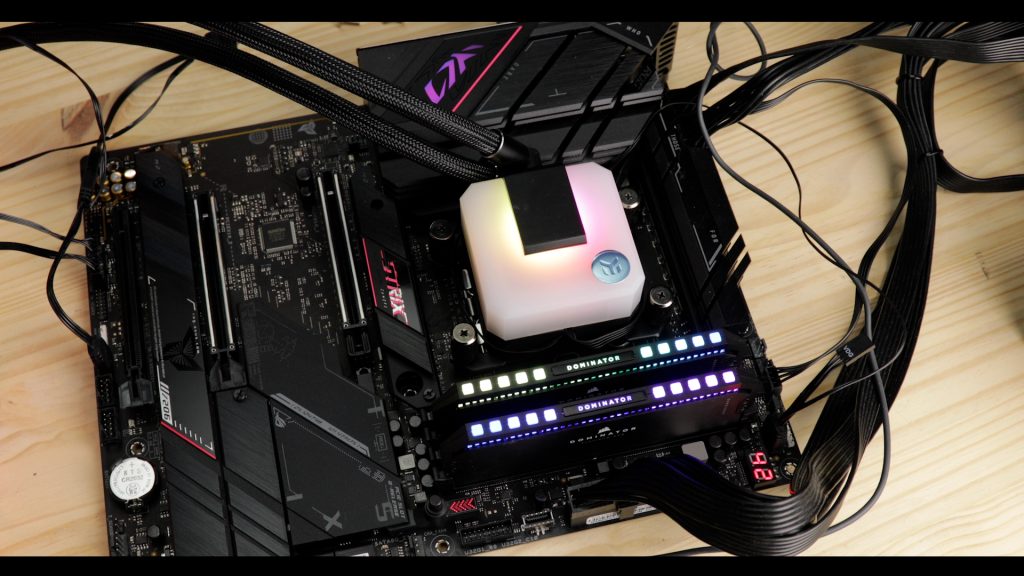 ---
PCB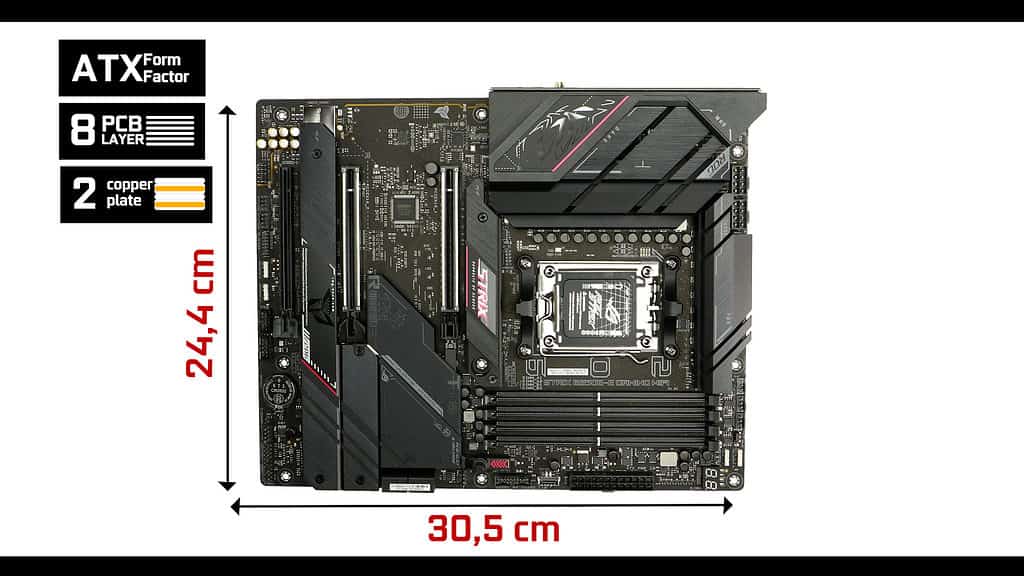 We are dealing with a very robust 8 PCB layered ATX motherboard.
Having as many as 8 PCB layers, instead or 4 or 6 is a first coming from an AMD powered STRIX. It does have heavy consequences on about everything around the board.
It means a better VRM heat-diffusion, a better PCIe signal isolation, and an overall longer life span.
A fundamental which means that the STRIX just jumped a serious step in its premium appeal, especially when you are talking about a B chipset powered board!
AM5 LGA 1718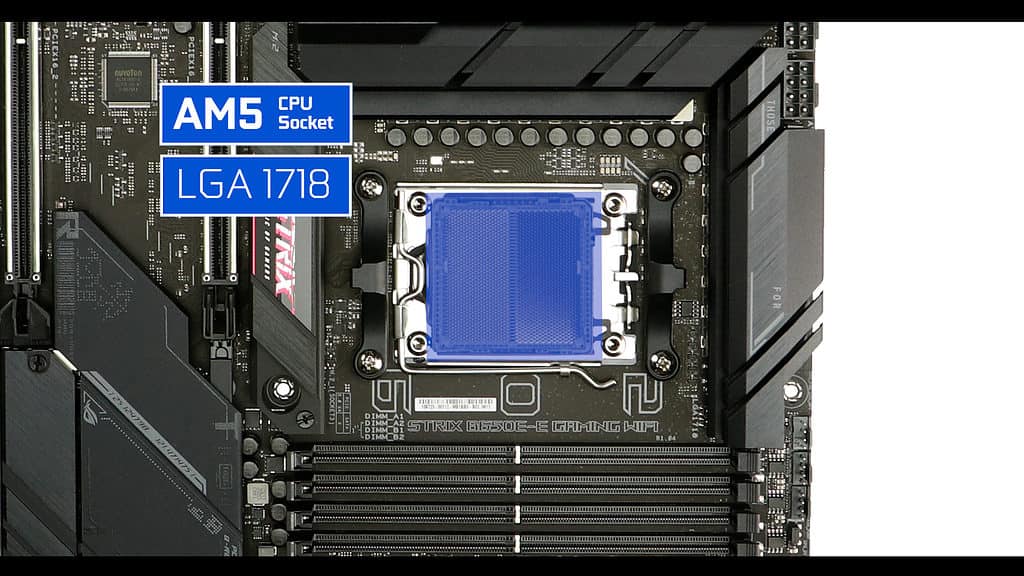 Our LGA1718 socket can support :
RYZEN 7000 / 8000 / 9000 series
CPU socket wise, the board is rocking AMD first LGA socket, featuring no less than 1718 low pressure pins, drastically increasing the CPU-sourced bandwidth output, and allowing the introduction of both the latest PCIe 5.0 standard and DDR5 RAM support.
And looking at AMD track record, it is safe to say that the AM5 CPU socket will be supporting quiet a few incoming RYZEN generations.
PCIe 5.0 standard, what is it?: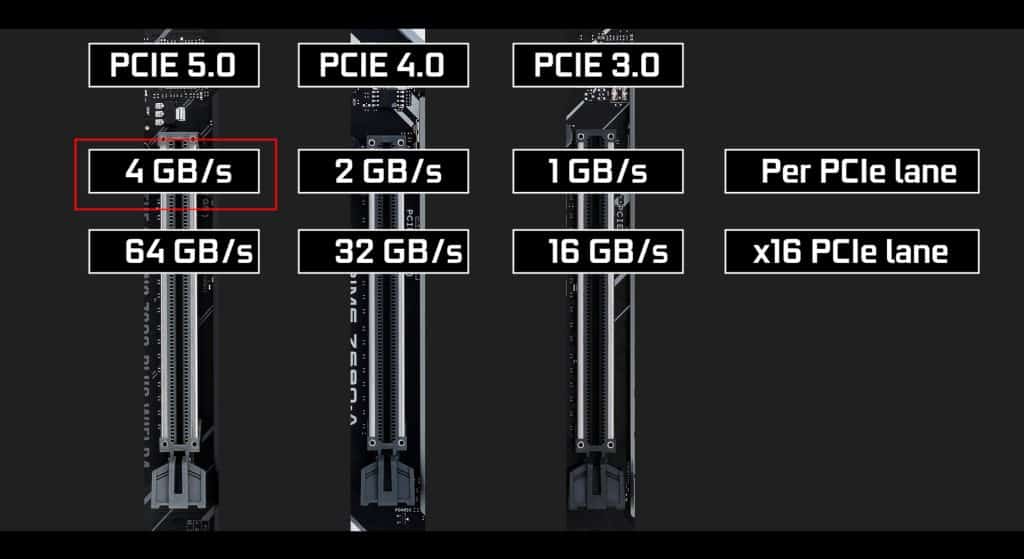 The PCIe 5.0 standard doubles its previous PCIe 4.0 bandwidth, going from 2 GB/s per PCIe lane, to 4 GB/s per PCIe lane.
This evolution brought in by Intel surprised the industry since there is no components, currently, which can use this new standard. Graphics Cards are still struggling to go beyond PCIe 3.0 level bandwidth and we do not have PCIe 5.0 enabled M.2 SSD. That last one being predominantly produced in PCIe 3.0 standard as well.
---
VRM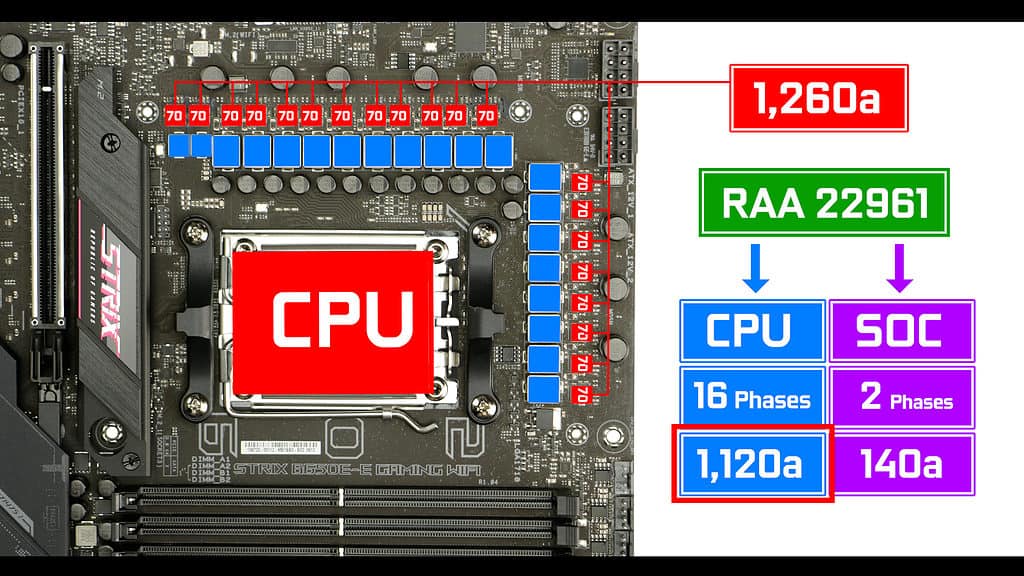 The ROG STRIX B650E-E Gaming WiFi has nothing to be ashamed about, showing-off an imposing 16+2 70 amps direct phases, for a total of 1,260a, 1,120a of which are CPU-centric.
Obviously more than enough  to juice and power the most demanding CPU the RYZEN 7000 series has to offer.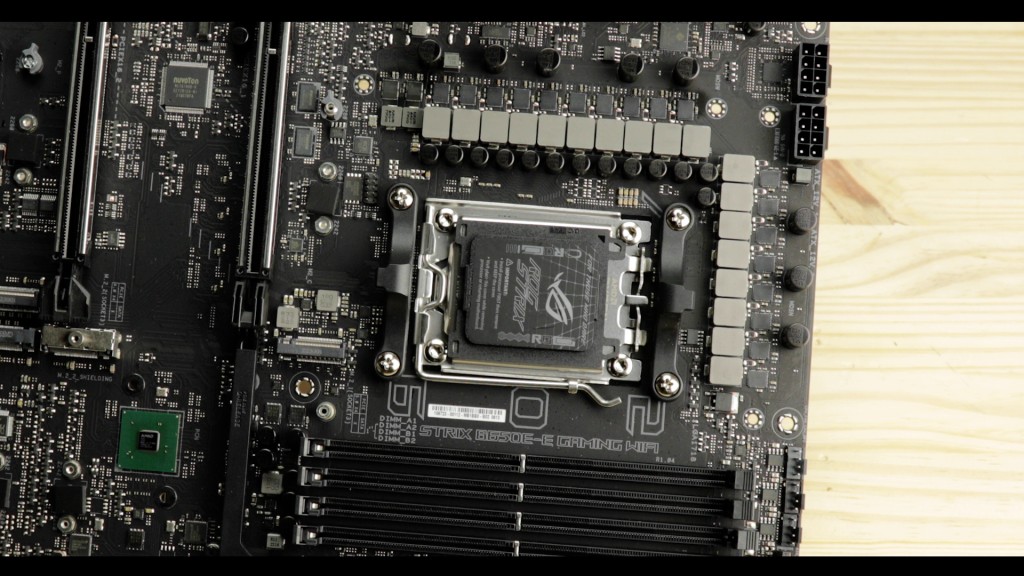 You will note that this 40% less power than seen on its much more expensive X670E variant, but to be fair, when I reviewed it, I did mention that it was ridiculously overkill.
So much so because I did manage to get the same gorgeous Overclocking results on the B650E than I did on the X670e. I rest my case.
VRM Cooling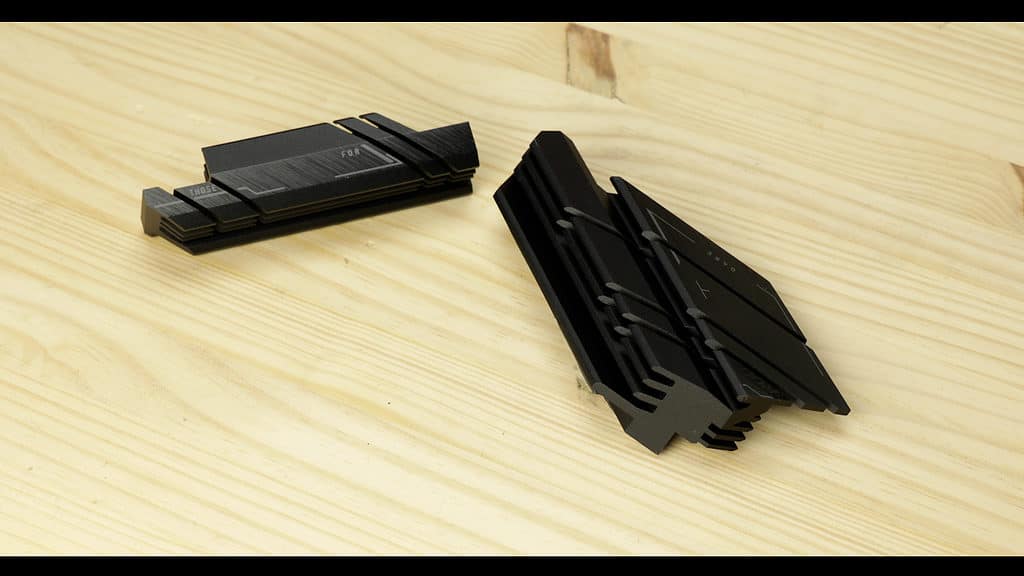 ---
Now to keep that very agile VRM in the cool, ASUS provided a very premium 2 independent cooling blocks.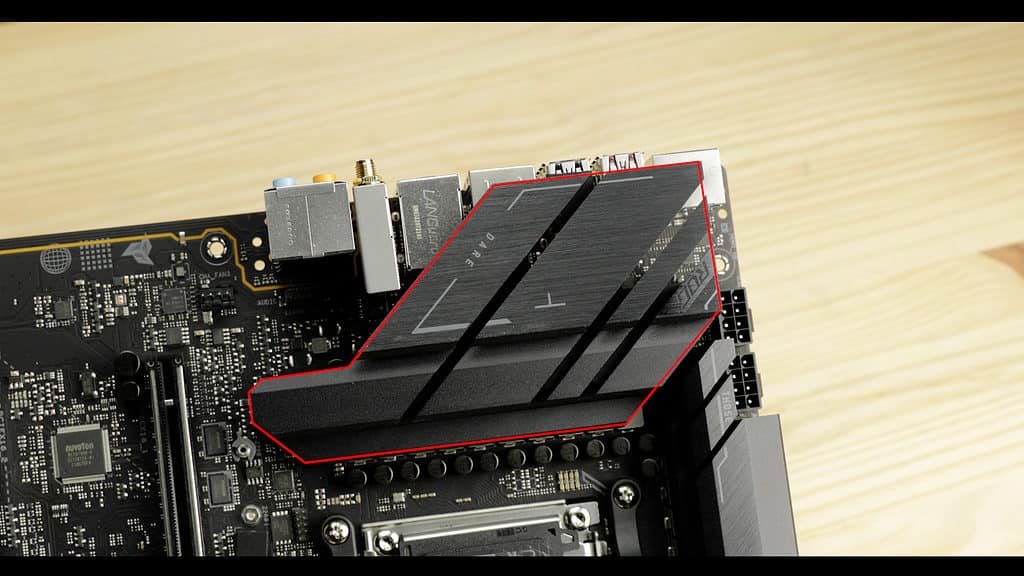 The main one shows a nice and particularly thick radiating plate, supported by wide walls to store all the heat this block will harvest.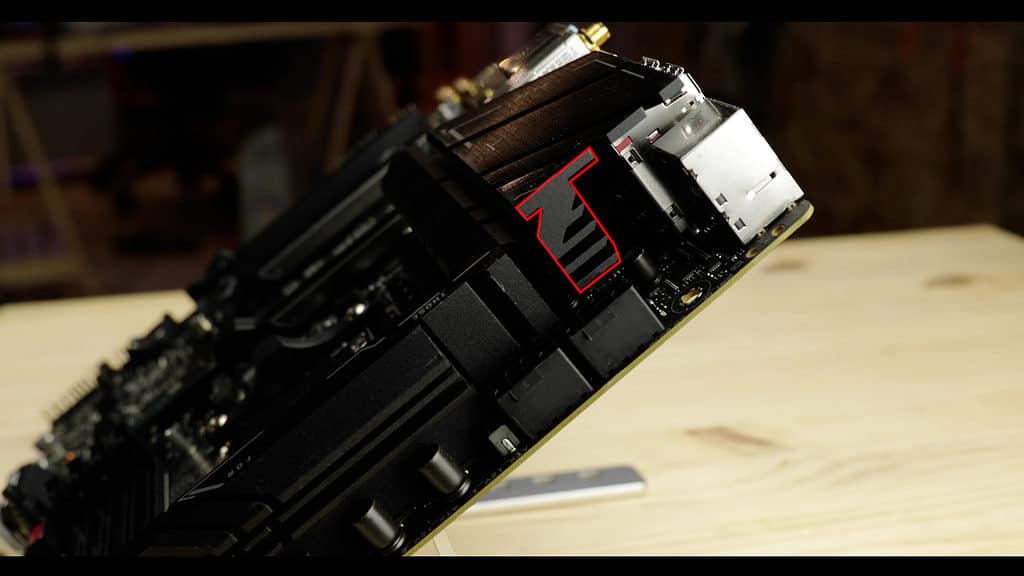 ---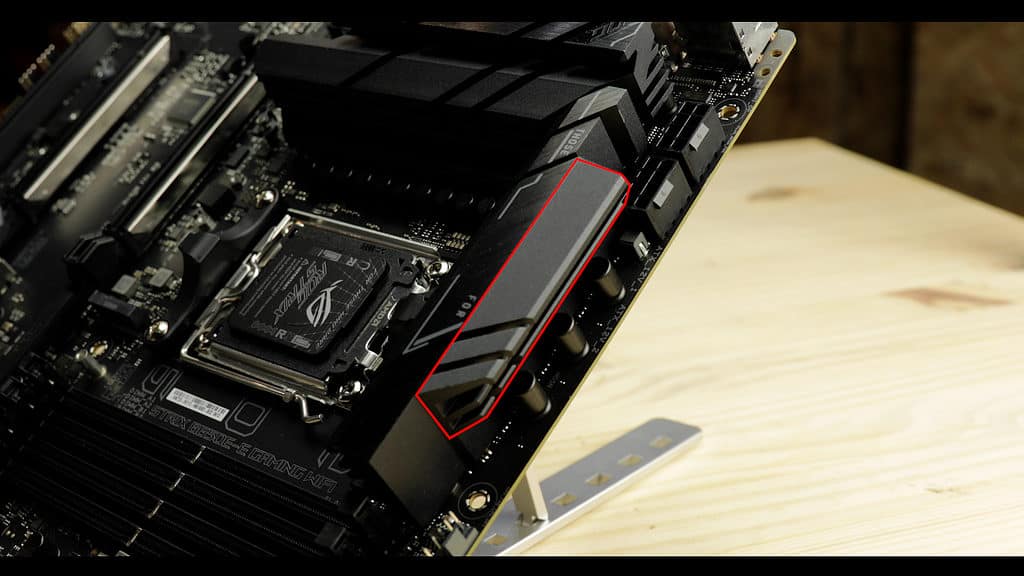 Our side block features deep winglets on both of its side for a larger radiating area, the all sourced by wide trunk for heat storage.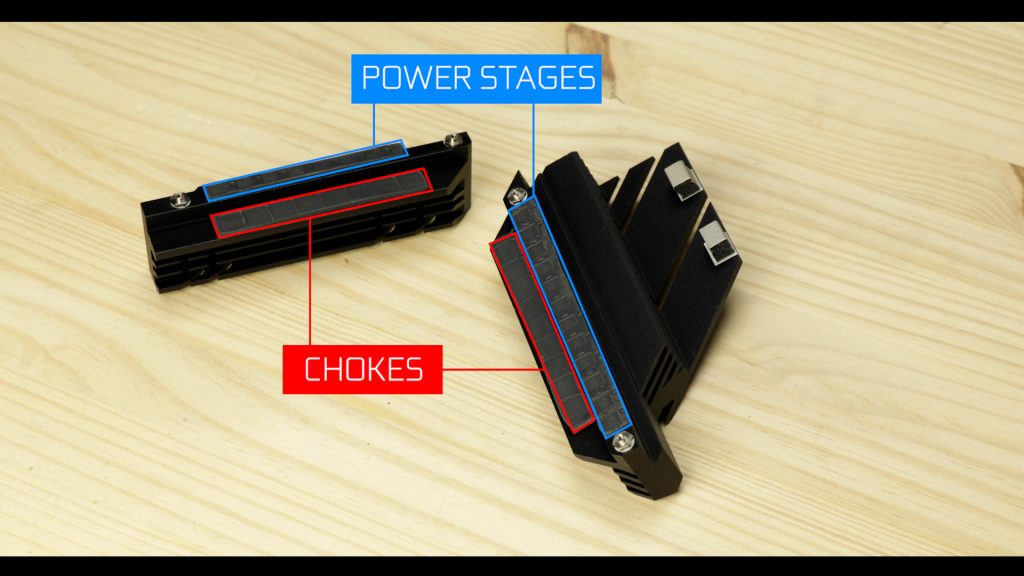 Both blocks also feature a double contact design providing a direct thermal-padded contact to both chokes and power stages for a faster heat diffusion.
---
VRM TEMPS
And results are naturally good!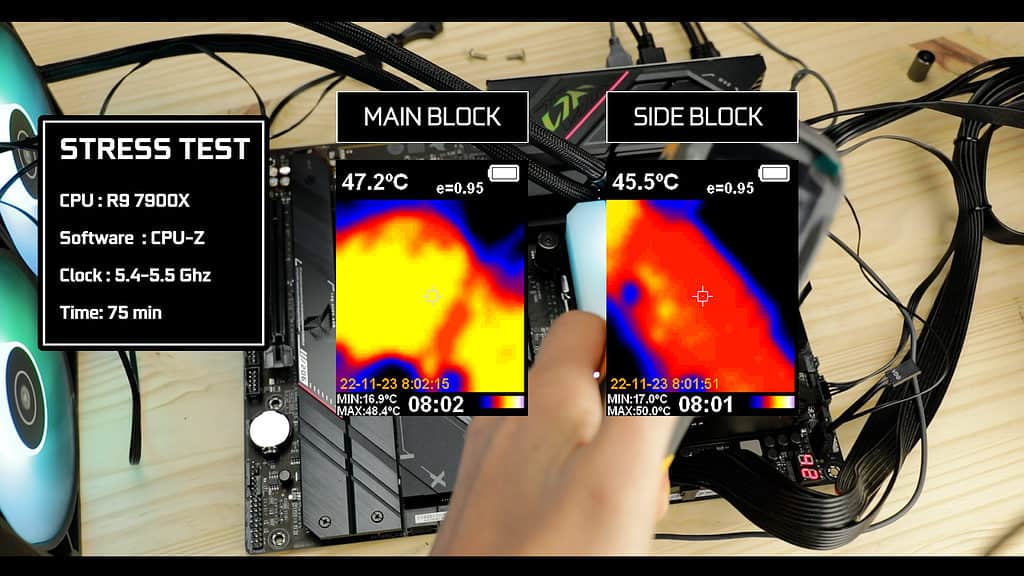 With a severely Overclocked R9 7900X (5.4-5.5 GHz), our blocks stayed below 50c at all time, which promises a minimal heat strain on our circuit hence a more stable product and a prolonged board lifespan.
I cannot imagine this thing running with anything less than a R9 processor, anything else would be pure waisted potential.
---
RAM
Our ROG STRIX B650E-E supports 128 GB of DDR5 ram overclockable up to a very conservative 6.4 GHz, which is the identical RAM configuration we had seen on its more expensive X670E-E variant and therefore will suffer the same remark I made noting that it is also much slower than its Intel Z790 variant which can clock well beyond 8 GHz.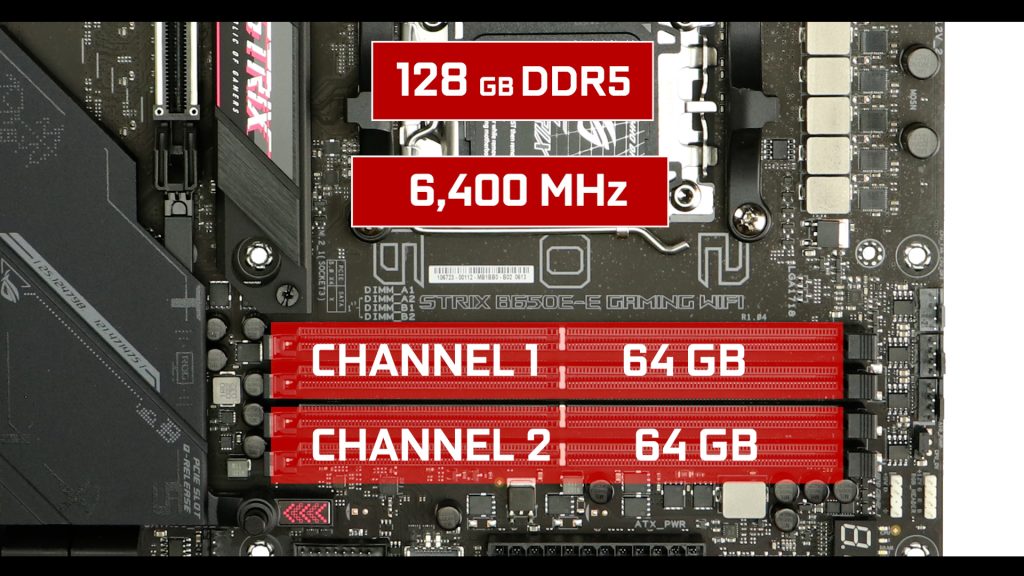 Nevertheless, it is much faster than what seen on its predecessors but will fail to make a noticeable difference gaming wise, since DDR4 RAM was never a bottle neck to start with.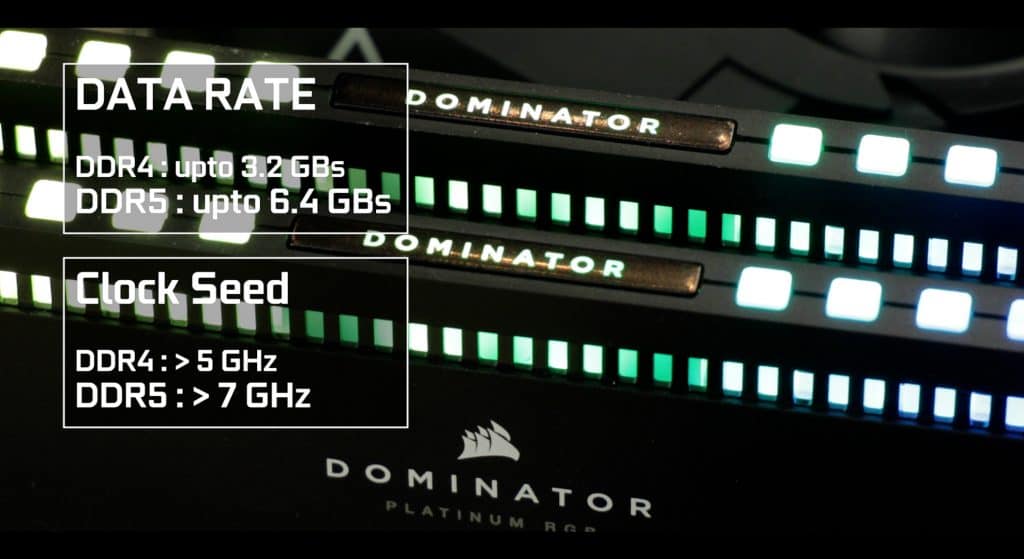 On the other hand, memory intensive task will most benefit from the DDR5 upgraded bandwidth and clock, so definitely a plus for content creators.
---
M.2 SSD
We have 4 M.2 SSDs, 2 of which are PCIe 5.0 compliant able to swap data upto a whooping 128 Gbs.
Something I did not expect, since we usually have only 1 of those on much more expensive X670 powered board. Again and again, ASUS shows it absolute bandwidth control!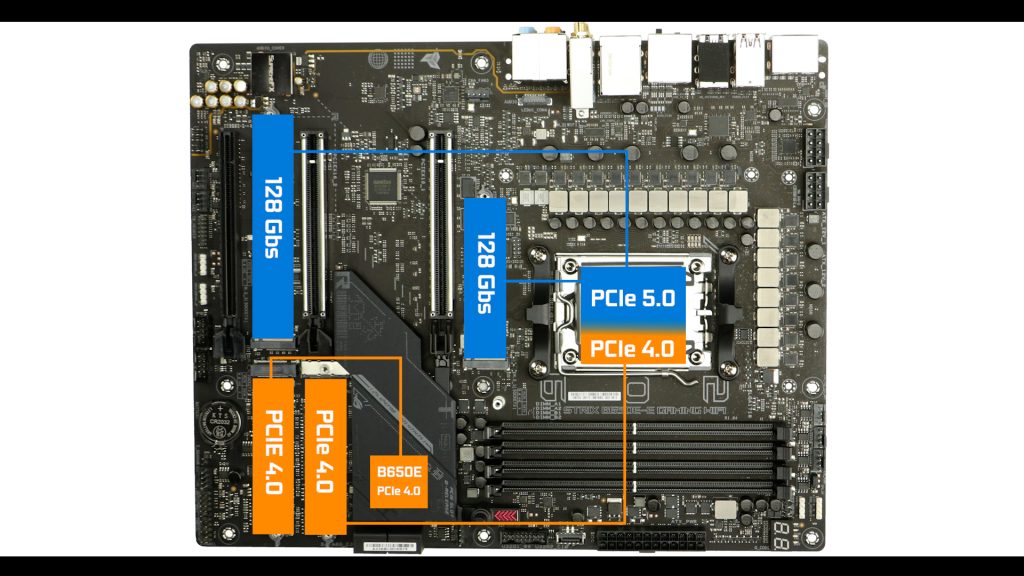 Our 2 other M.2 SSDs runs 4 lanes at PCIe 4.0 standard which translate in a still very fast 64 Gbs worth of data swap.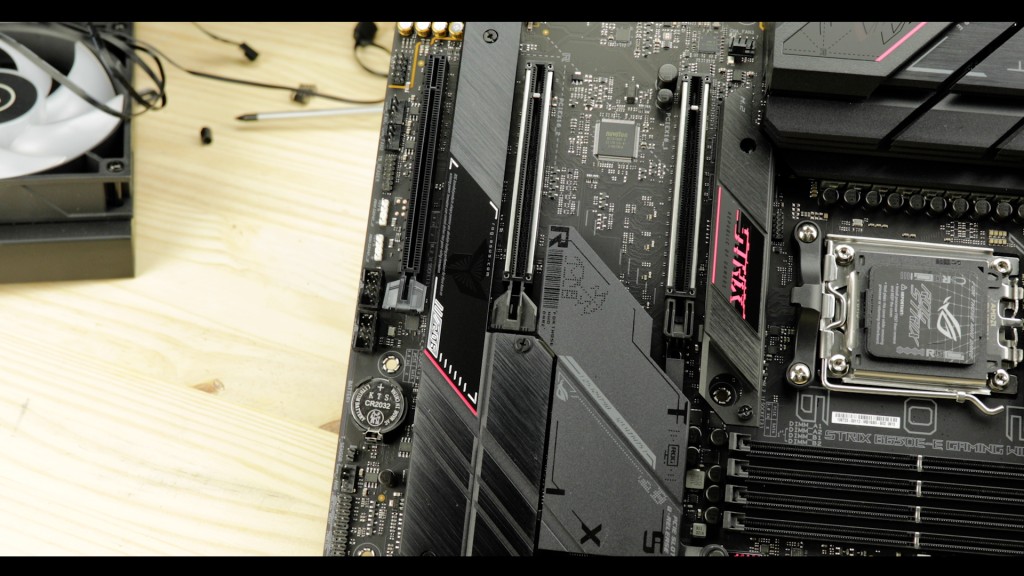 But all that bandwidth does translate in a lot, and I mean a lot of heat, and that is why ASUS as equipped our board with long and thick very thick thermal-padded heat shields.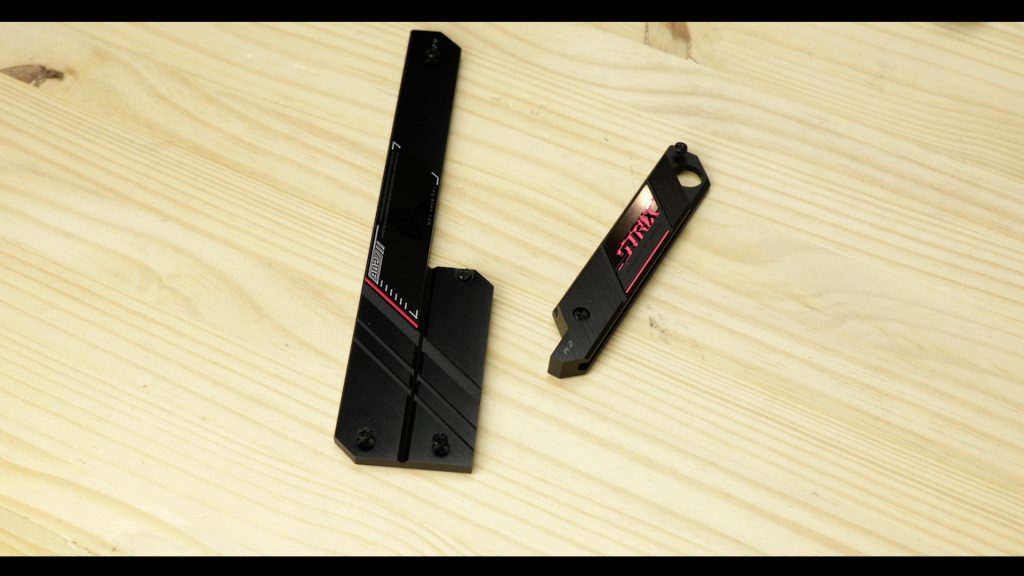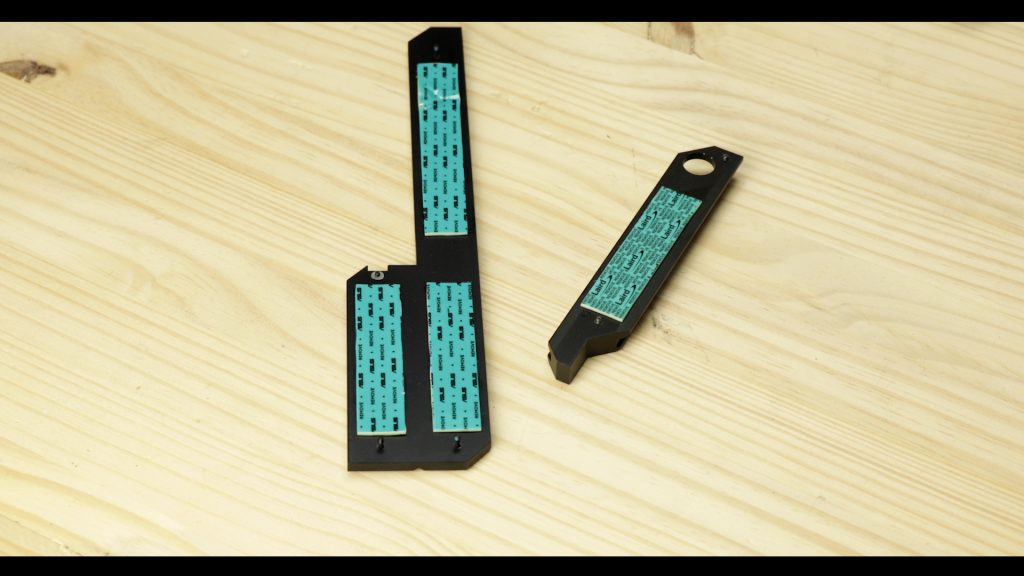 A much more classic cooling situation than seen on the ROG STRIX X670E-E but to be fair, its cooling addons, I feel were overkill anyway, and were more about the wow effect rather than trying to fix a problem which did not exist.
---
Last but not least, I want to note that  all of our stick come equipped with ASUS very own screw less mechanism which I believe remains the simplest, most sturdy M.2 locking mechanism on the market thus far.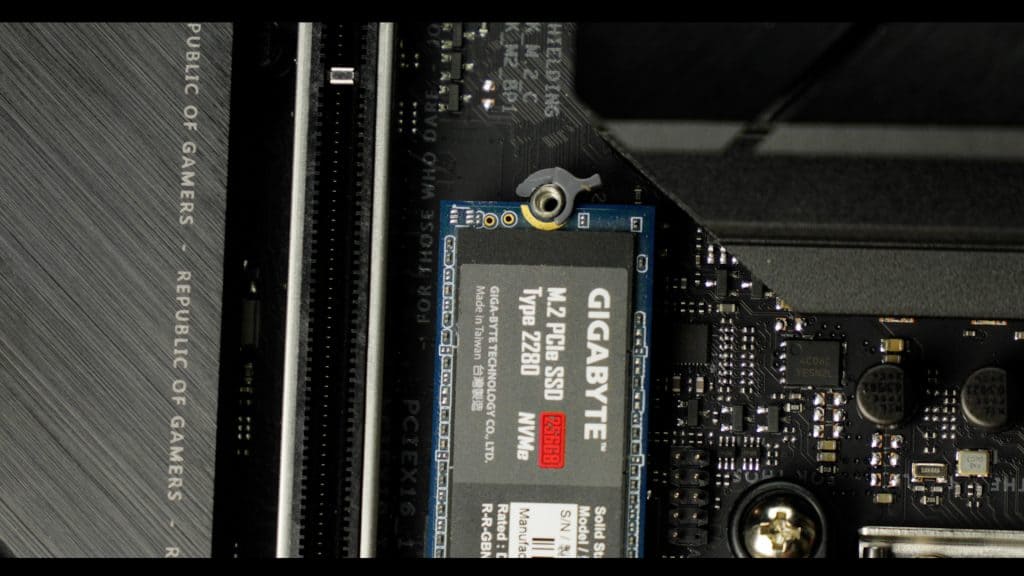 Overall, a surprisingly premium M.2 storage solution which, thanks to ASUS cooling obsession, matures PCIe 5.0 to be a real benefit in our day-2- day computing life.
An absolute well deserved KUDOS to ASUS for this!
---
Chipset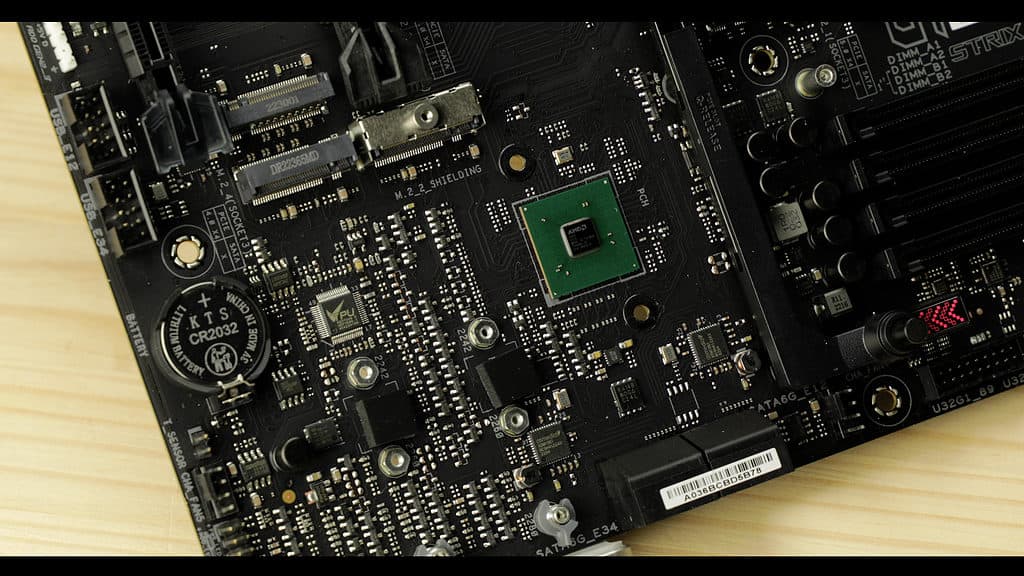 Our STRIX is powered by AMD's brand new B650E chipset. It comes in a more classic single 7 watts chip configuration, which has the benefit of needing nothing more than a low profile heat shield to stay cool at all time, which is always a good point.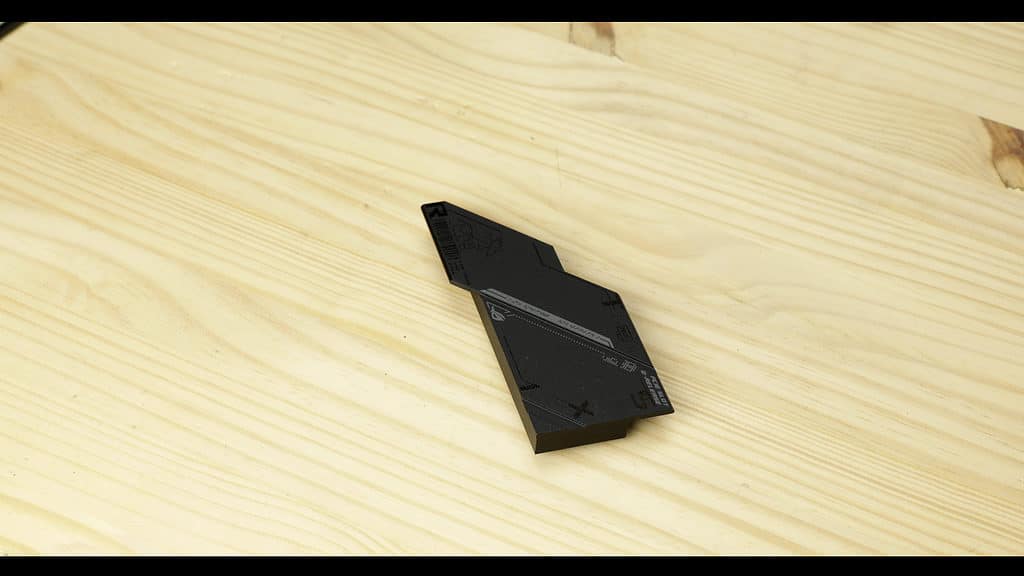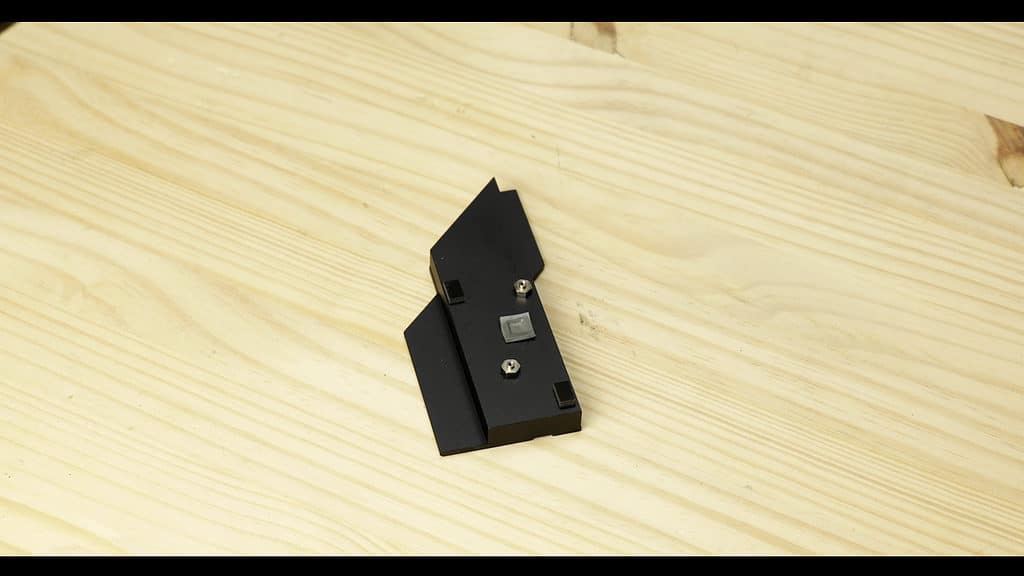 keeping temps way below 40c which is where you'd want your chipset to be under any conditions.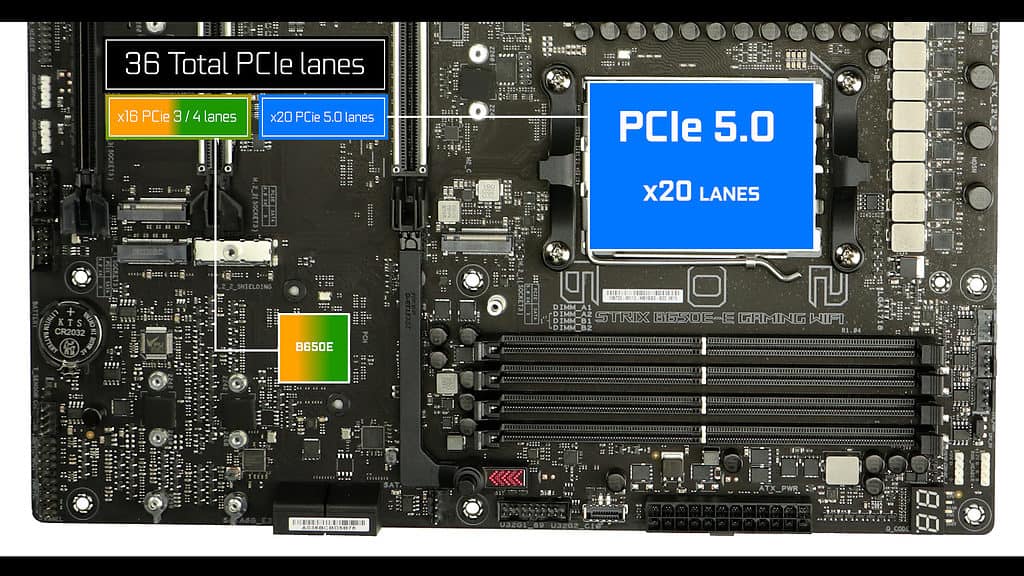 On the inside, we have a bunch of PCIe lanes going in three different PCIe standards directions but what really set apart the XB650E is that it can utilize the same amount of PCIe 5.0 lanes from the CPU than seen on its more expensive X670E, and allowing a very similar PCIe 5.0 wider support as seen on this bord.
---
SATA 3.0
For a more classical storage solutions, we have our usual SATA 3.0 plugs. 4 in total, with a transfer rate of 6 Gbps each. They can be configured to run into a 0,1, 5 or 10 RAID configuration.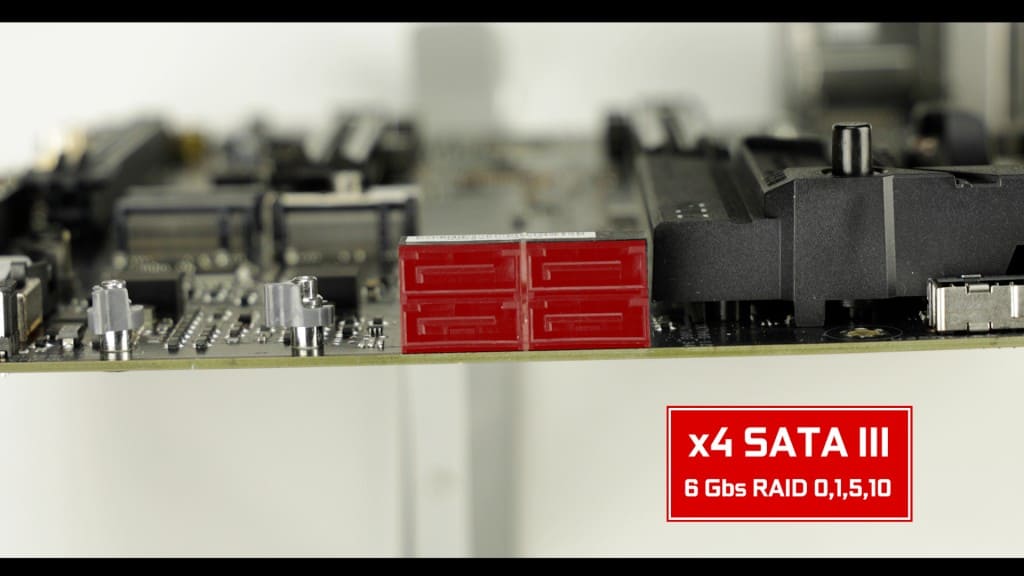 ---
PCIe Slots
We have 3 x16 slots with different speeds.
As usual, only the CPU linked one gets a full 16 PCIe lanes treatment, therefore this is where you want to place your GPU for optimal performances, hence the metallic re-enforcement.
In a single GPU configuration, it can run up-to a very fast PCIe 5.0 fueled 64 GBs.
In a dual GPU configuration, our two first 16 slots, share lanes in a 8 by 4 ratio at PCIe 5 standard, which translated in 32 and 16 GBs worth of data swap individually, which is more than enough for current video cards to run optimally.
The last naked 16 slot has no reasons to blush since it runs at a very respectable 4 lanes at PCIe 4 standard, meaning upto 8 GBs , which will be great for extra PCIe based storage and or a capture card.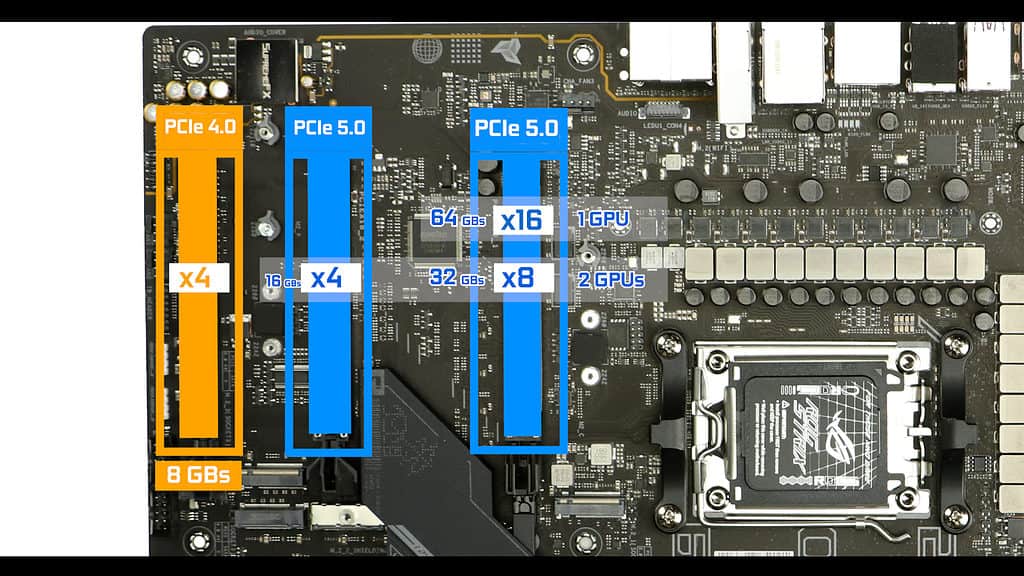 Let us not forget to mention the ASUS has equipped our first GPU slot with its PCIe unlocking mechanism it introduced last year. It will make your life so much easier in your GPU retrieval adventures.
But worth noting, this is one of the rare instances where a B series overdoes its bigger and more expensive sibling. The unlocking mechanism is the improved, more sturdy and more aesthetically pleasing than the older version we had seen on the X670E-E powered STRIX.
Not the biggest of points, but I like to look at the details.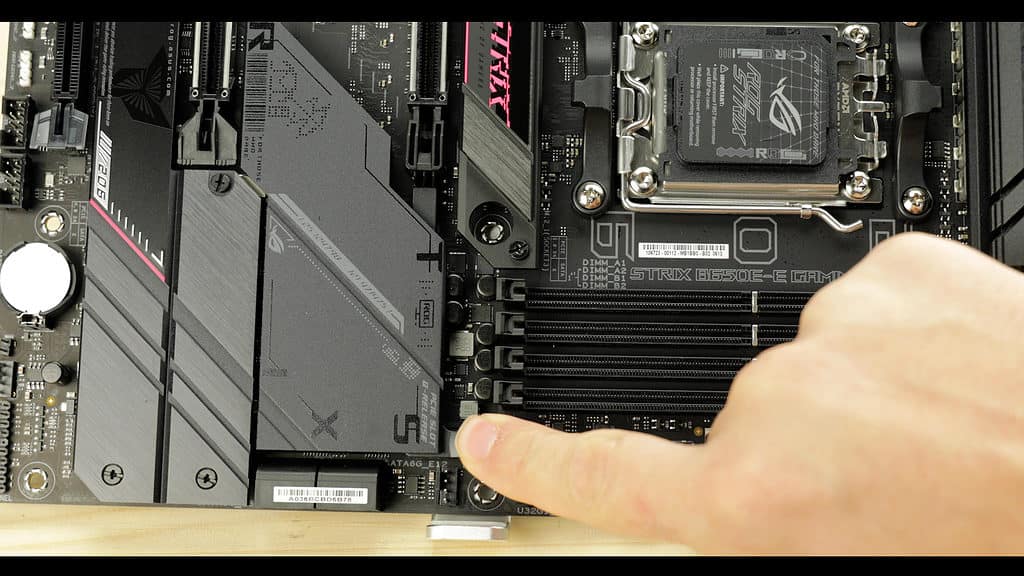 Overall, I am thrilled to see that our B650E benefits from an identical DUAL GPU support we have seen on the STRIX X670E, and another great benefit of running a PCIe 5.0 board.
Kudos to ASUS for this.
---
Back IO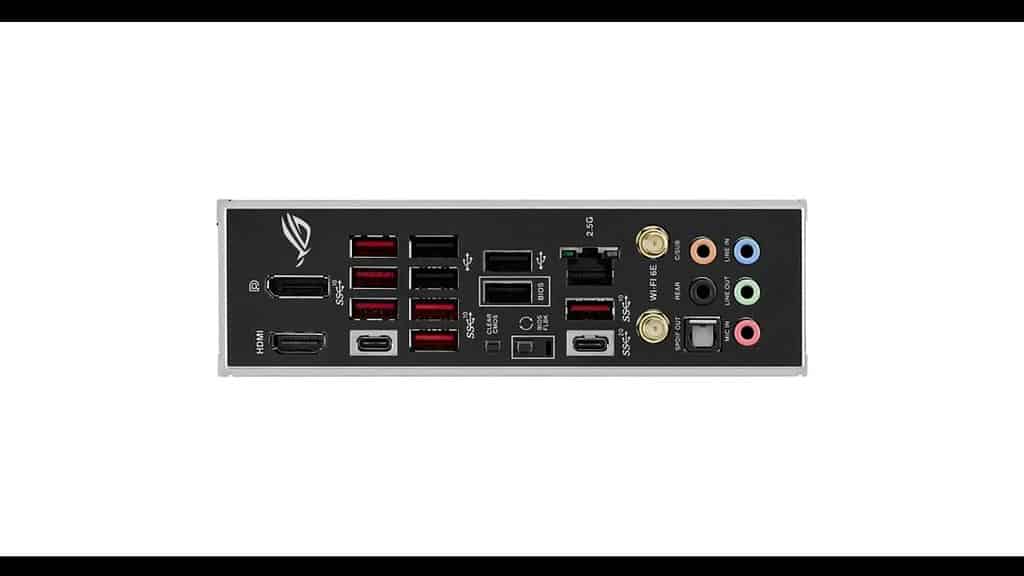 First let me note the presence of an IO integrated plate which is always a good point!
HDMI
Display Port
x7 USB 3.2 2nd Gen all able to transfer data upto 10 Gbs including 2 TYPE-C
x1 USB 3.2 2nd Gen 2×2 able to transfer data upto 20 Gbs (TYPE-C)
x4 USB 2.0 all able to transfer data upto 480 Mbs
Clear CMOS & Flash BIOS button
WiFi 6E dual band adapter (2,4 Gbs / 6GHz) \ BT 5.3
x1 surge protected  Intel I225-V 2.5Gbps LAN controller (step 3)
ALC 4080 REALTEK audio codec, which is about the best integrated AUDIO Codec a board can have. It takes full advantage of the numerous PCB layers available to it, since both left and right audio channels have been traced on individual PCB layers, further improving its signal isolation and protecting it from static interferences. It is serviced by 700 microfarads worth of capacitors.  Great for playing and recording alike.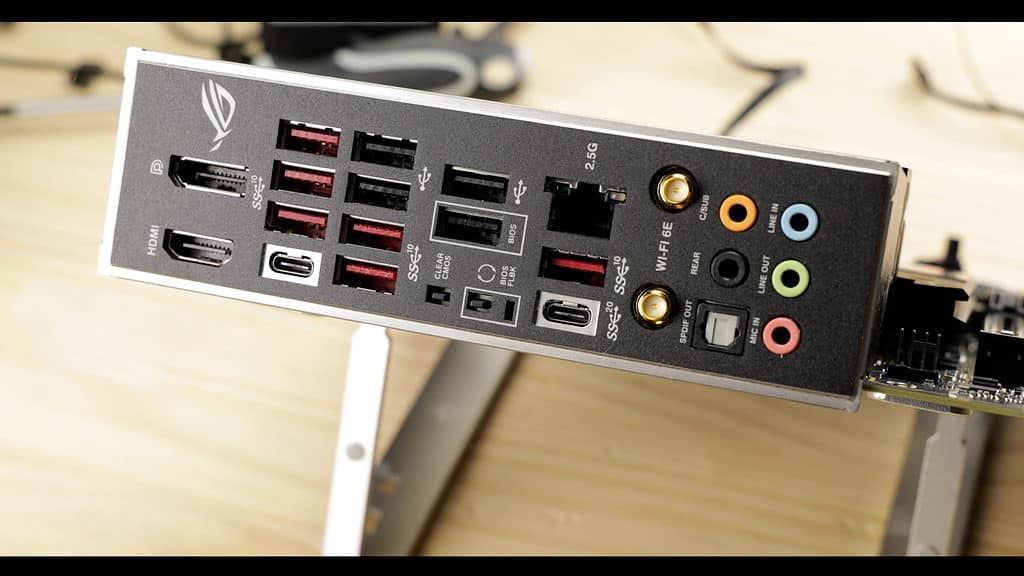 Overall, a more modest back IO than seen on the STRIX X670E-E: 90 Gbs against 140, but still plenty.
I do think this is the part where we see most of the watering down a B series motherboard entails.
---
Front Panel Connectors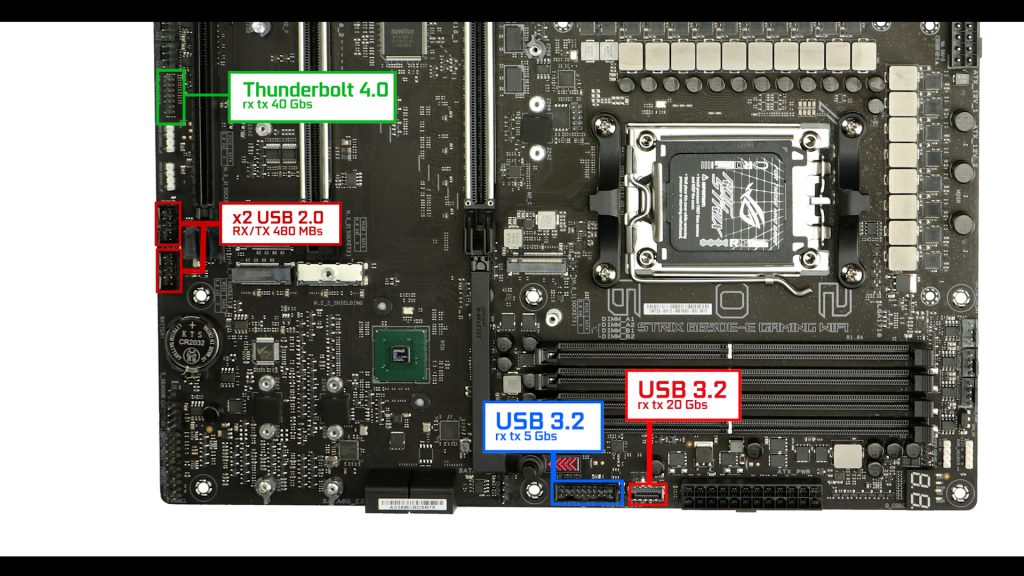 x3 USB 2.0 (480 Mbs)
x1 USB 3.0 (5 Gbs)
x1 USB 3.2 2nd Gen 2×2 (20 Gbs) + fast charge upto 30 watts
x1 Thunderbolt 4 card connector (40 Gbs)
Upgraded and well featured front panel presence even on the cheaper STRIX B650E-E which is obviously welcome news.
Cooling connectors
Cooling wise, our board has a healthy 8 PWM fans, one of which can support a water pump. Which is more than enough to support most available cooling solution's out there, but not the best for more enthusiast graded custom water cooling solutions. We don't have a 2nd Water_Pump connector, or flow sensors. Not a deal breaker, but definitely something ASUS might want to add for  next year's STRIX iteration.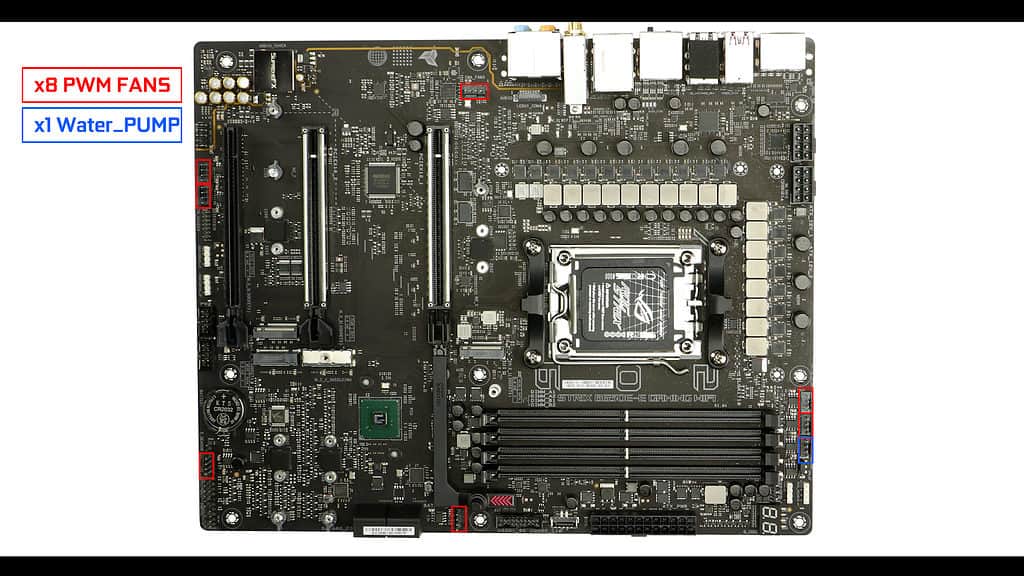 ---
TROUBLESHOOTING
EZ Debugger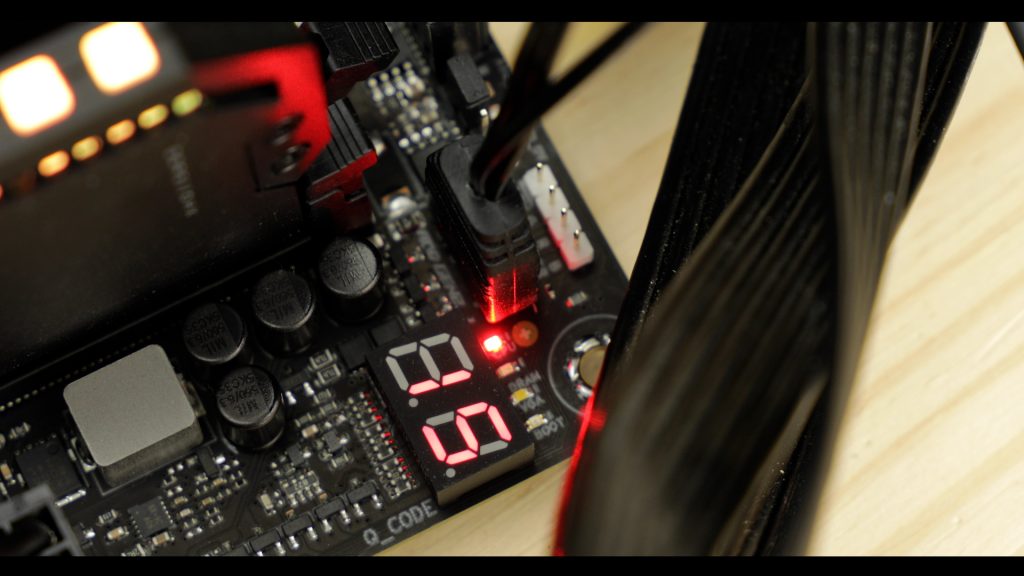 The EZ debugger is really the a must-have on PCIe 4.0 / PCIe 5.0 enabled boards. Especially knowing that X670(E) boards are prone to extended boot times.
Thankfully we also have a Q-error code screen which will refine our troubleshooting experience to the very reason why your board refuses to boot. In addition, once booted ,the Q-error screen doubles as CPU temps monitor.
We also have our Clear CMOS and Q-FLASH button we saw earlier on our back IO. Great for CPU less BIOS updates.
---
AURA Sync Effect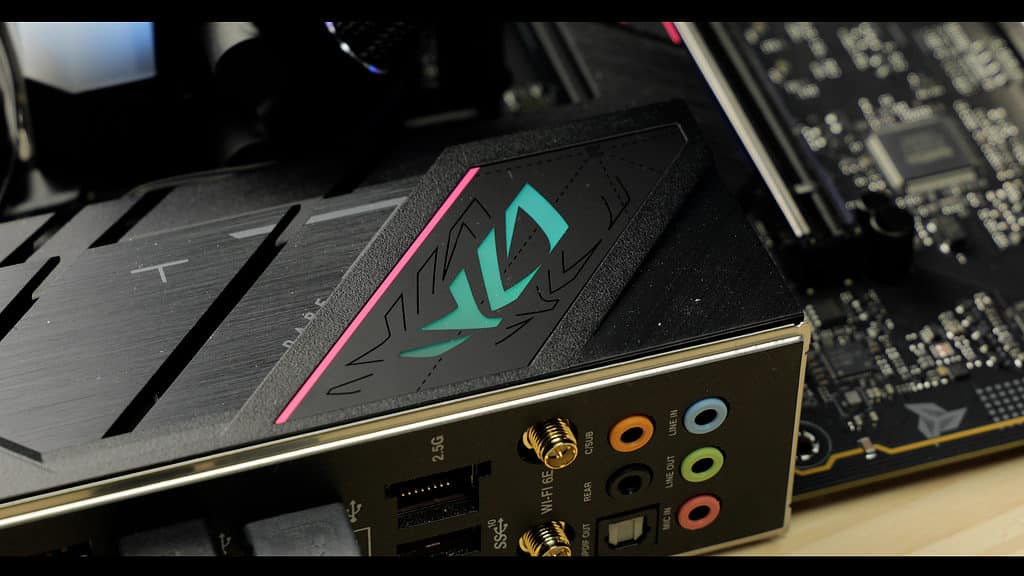 RGB WISE we have A LARGE ROG eye shading its colors through the IO roofing, which to be fair, I do find a little dim. Good looking, but dim.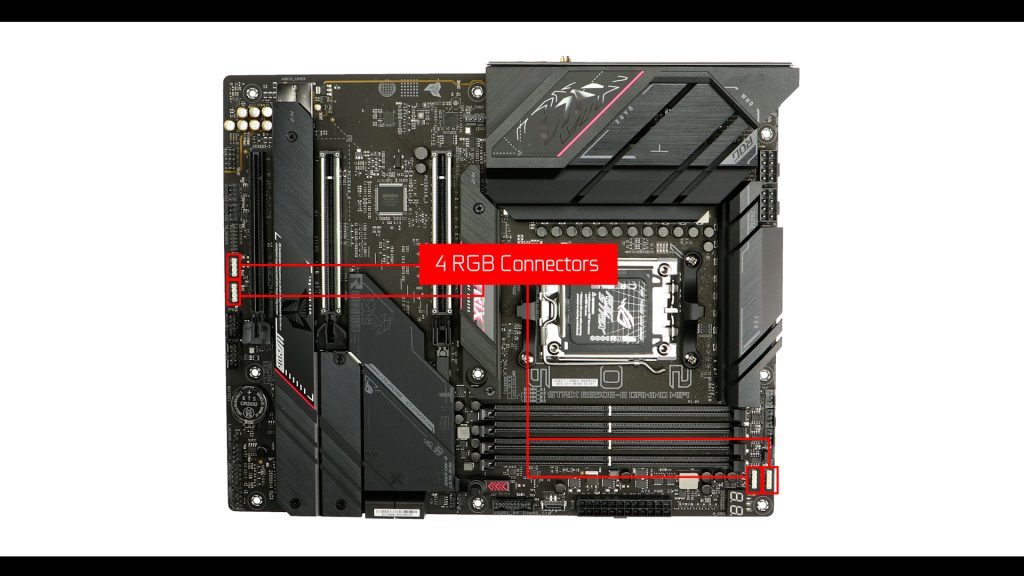 But if that is not enough RGB for you we have 4 AURA compliant RGB connectors, 3 of which are addressable.
4 classic RGB Connectors
3 Addressable  RGB Connectors
All of the above are obviously fully customizable (and sync-able) through ASUS very own ARMORY CRATE software.
---
CONCLUSION
The ROG STRIX XB650-E Gaming WiFi, will cost you 350 bucks before taxes, which is a happy 150 bucks lower than its X670E powered counterpart,
Which is gorgeous news since the STRIX B650E-E successfully preserved all of the most important innovations and premium features that its X670E variant brought us.
We retain a wide PCIe 5.0 support, spanning from the dual M.2 SSD to the dual GPU.
We have a the very premium 8 PCB layering which is probably the most important feature of this board, and about everything else we had on the much more expensive X670E powered STRIX.
ASUS simply outdid itself and managed a real tour-de-force in giving us a much more affordable board which will cast an uncomfortable shadow on many X670 and X670E boards out there.
You might not get all the little cool and extra features we saw on its more expensive sibling, but more crucially, you do still get what made the ROG STRIX X670E-E Gaming such a wonderful gamer, and at 40% discount.
The only remaining question is, why would you buy a X670E powered motherboard, when this much cheaper B650E can bring you all this?
Answer you don't.
QUICK OVERVIEW
CPU & northbridge support
Supported Processor
AMD RYZEN 7000 series CPUs
Chipset
B650E
CPU socket
LGA1718
Memory
Slots
4 (dual channel)
Max System Memory (Gigabytes)
128
Memory Technology
DDR4
Maximum Clock (MgHz)
6,400 GHz
Connectors
USB 2.0
4 on back IO + 2 on-board
USB 3.2 (1st Gen)
1 on-board
USB 3.2 (2nd Gen)
8 on back IO + 1 on-board
Thunderbolt 4.0
1 on board
LAN
2.5 Gb/s
WiFi
WiFi 6E
The ONLY STRIX worth owning