Key Features
Price: 260 USD (CLICK TO BUY )
ATX Form Factor / 6 PCB Layers
AMD X570 chipset
AM4 CPU socket
CPU Support

RYZEN 2000 AMD CPU
RYZEN 3000 AMD CPU
RYZEN 4000 AMD CPU
RYZEN 5000 AMD CPU

4 x 32GB 5,100 MHz DDR4, maximum 128 GB
2 x PCIe x16 —  2 x PCIe x1
Back IO :

Flash BIOS Button
PS/2 (keyboard/mouse)
HDMI 2.1
2 x USB 2.0 — RX/TX 480 Mbps
4 x USB 3.2 2nd gen. Type-A+C — RX/TX 10 Gbps
2 x USB 3.2 (1st Gen) — RX/TX 5 Gbps
2.5Gbs Realtek LAN,
Realtek ALC4080 Codec 7.1 channels audio,
DUAL BAND WiFi 6E 802.11 AX (2.4 Gbps), BT 5.2

STORAGE

2 x M.2 SSD — PCIe 4.0 — RX/TX 64 Gbps
6 x SATA 3 — RX/TX 6 Gbps

MULTIPLE GPU

NO Nvidia SLI
x2 AMD Crossfire
Best VRM of its class
Great passive Cooling elements
6 layered PCB + 2 ozz copper
5,100 MHz RAM clock
WiFi 6E
Premium Audio
No hybrid fan connectors
Too close to the MAG B550 TOMAHAWK in terms of specs
Does not bring enough on the table to motivate an upgrade from the MAG X570 TOMAHAWK
MSI's MAG series is all about durable Gaming. Impressive VRM specs and keep a somewhat accepting pricing.
The first thing one should keep in mind when looking at the new X570S series of motherboard is that they have a lot in common with their 2 years old predecessors, the X570 powered motherboards.
The most important difference, and the drive for the new X570S family of boards is the replacement of the chipset cooling solution.
No more fans, chipsets are now passively cooled, correcting that 2019 anomaly that PCIe 4.0 had imposed onto manufacturers.
Luckily for all of us, manufacturers took this occasion to sneak in several other upgrades.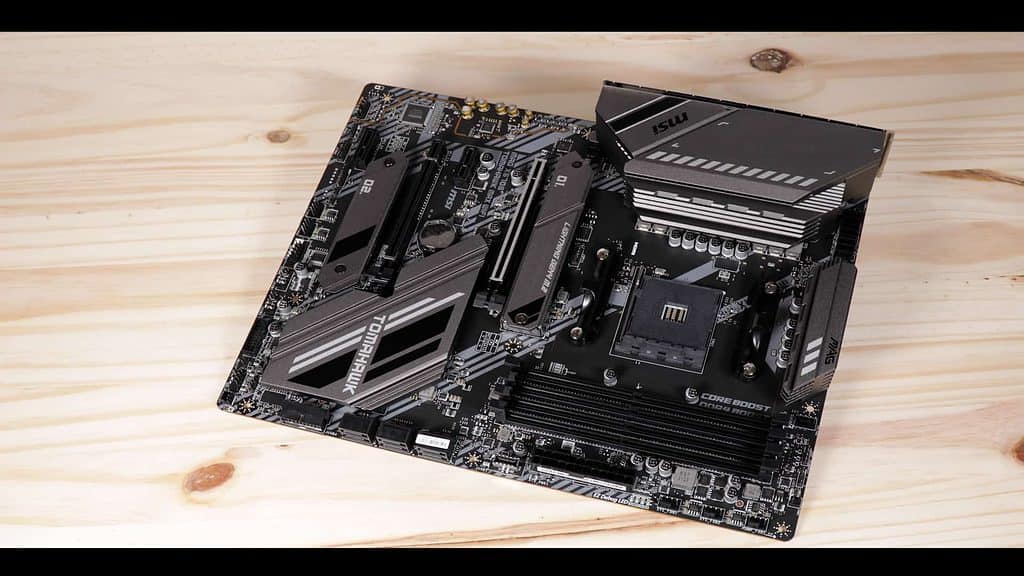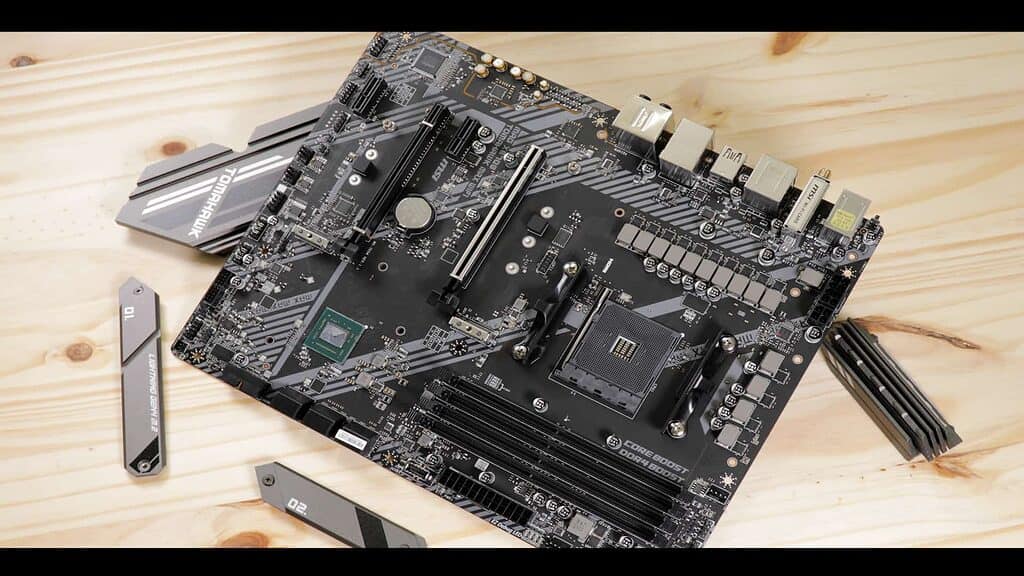 4 SATA cables
WiFi antennas
Thermistors
M.2 SSD screws and screw raisers
RGB cable extension
Manual
---
PCB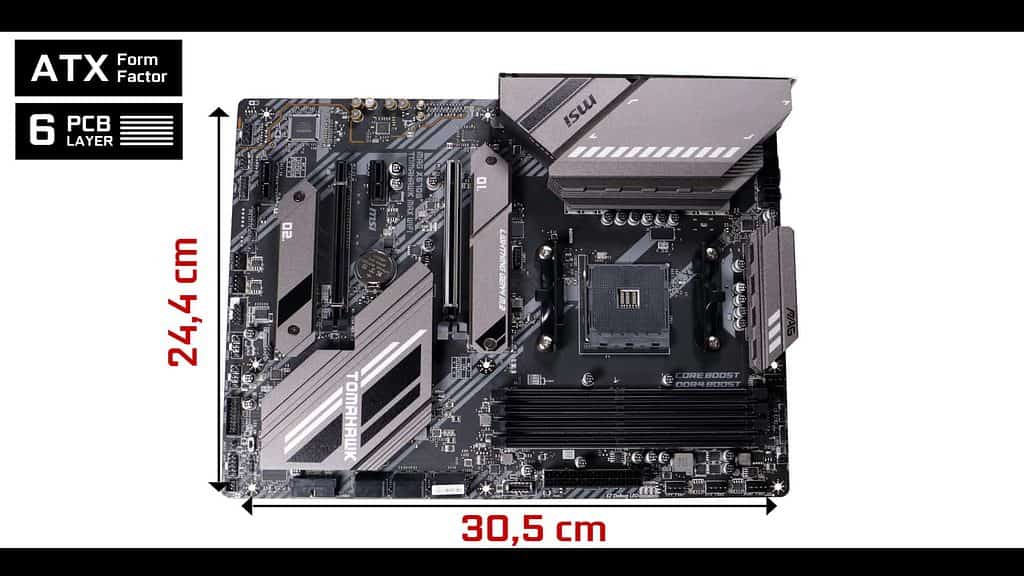 We are dealing with a 6 layered PCB ATX motherboard re-enforced with a 2 oz thickened copper plate for better isolation and conductivity. A must to provide a solid signal isolation and allow a stable PCIe 4.0 support.
The 2 oz plating is a new add-on when compared to the its older X570 Tomahawk Variant.
It also will benefit VRM heat dissipation and audio quality. Obviously, a very solid foundation for a performant and durable motherboard.
---
CPU Socket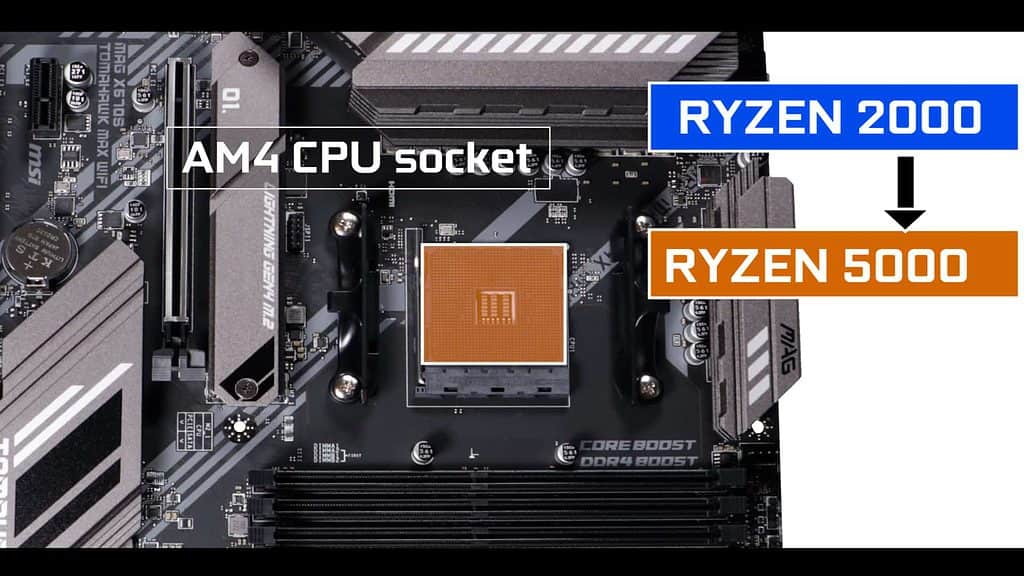 Our AM4 socket can support :
AMD RYZEN 2000 series
AMD RYZEN 3000 series
AMD RYZEN 4000 series
AMD RYZEN 5000 series
This is a PCIe 4.0 only CPU support, which makes sense since it is the CPU PCIE 4.0 lanes which will feed the PCIe 4.0 enable components (GPU PCIe slots and on M.2 SSD connector).
---
VRM
This is where MSI really did well!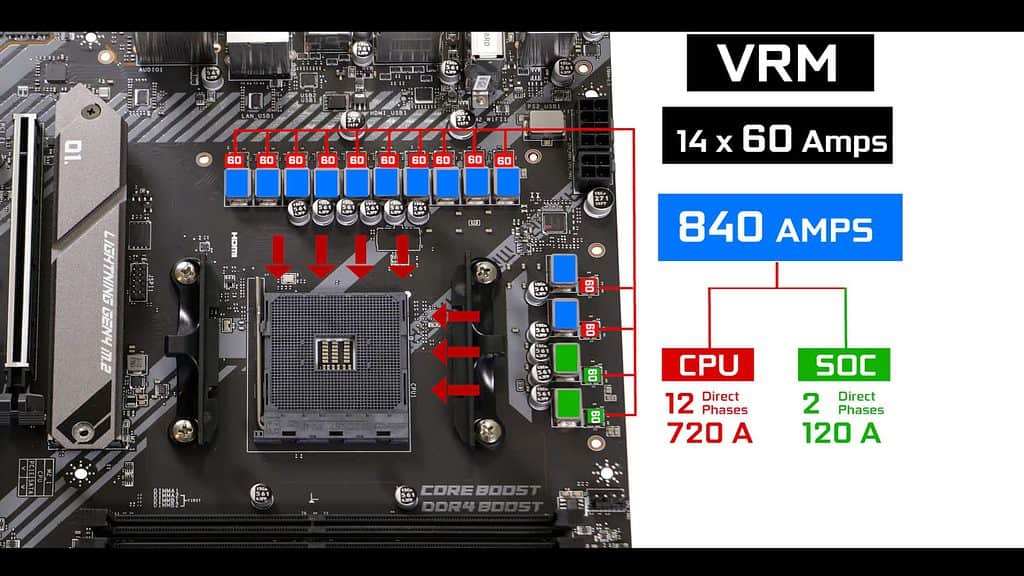 | | |
| --- | --- |
| Phases : | 14 |
| VRM configuration : | 12 + 2 |
| Controller : | ISL69247 8-channel |
| MOSFSETS : |  60A Intersil ISL99360 SPS |
| Power delivery : | Mirrored Configuration |
It is exactly the same VRM you will find on the MAG X570 TOMAHAWK.
We are dealing with 14 60 amps Powers stages, 12 of which are CPU centric.We have 12 direct phases, delivering a whooping 720 AMPs to our CPU.
Obviously more than you'll ever need to run and severely overclock any processors featured in the Ryzen 3000 and 5000 series.But most importantly and identical configuration to its aging MAG X570 TOMAHAWK which is not a bad thing since it was the best performing mid-budget gamer of its class.
VRM Temps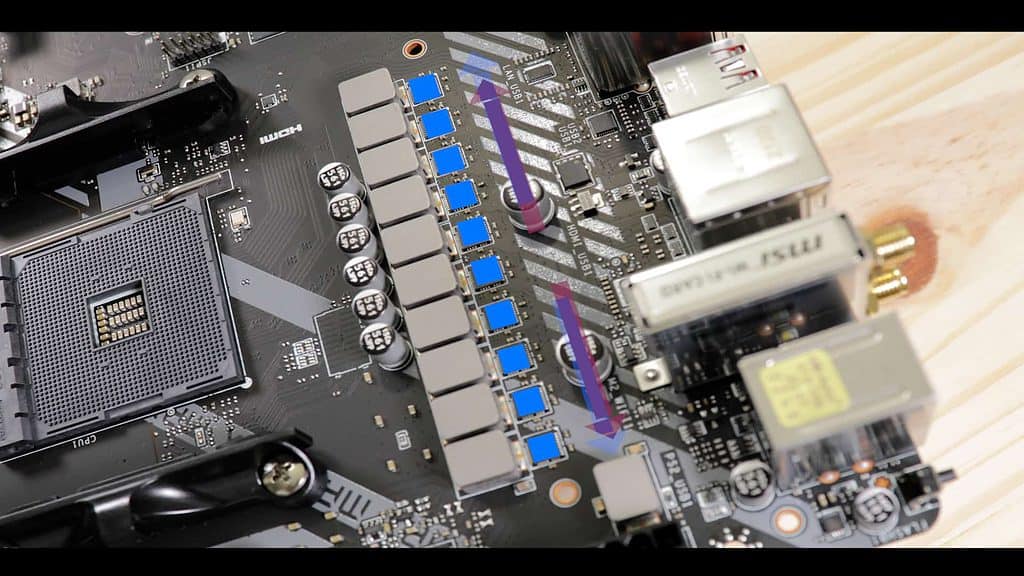 Having several MOSFEST translates in a larger spread to radiate away the VRM heat. And in the MAG X570S Tomahawk MAX WiFI it does wonders.
Add to that the MSI signature VRM block, and we got one of the most powerful and efficient VRM of its class.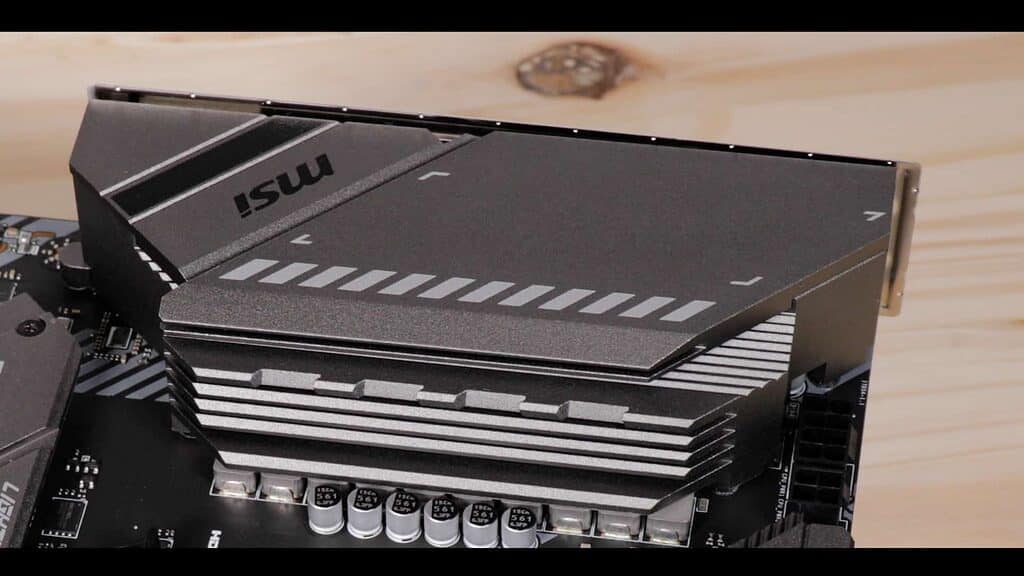 From MOSFESTS to back-IO, there is nothing here but condensed aluminum.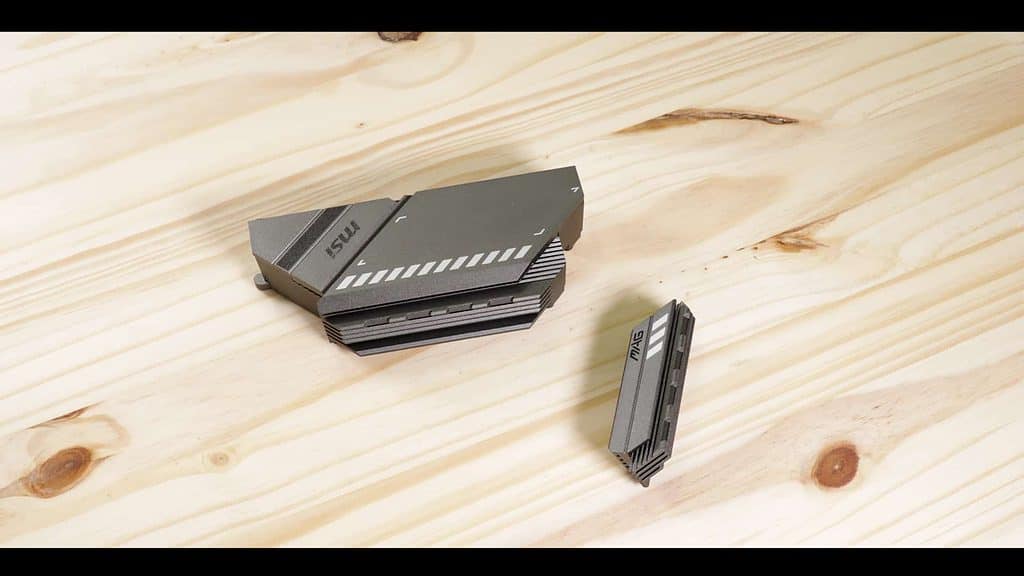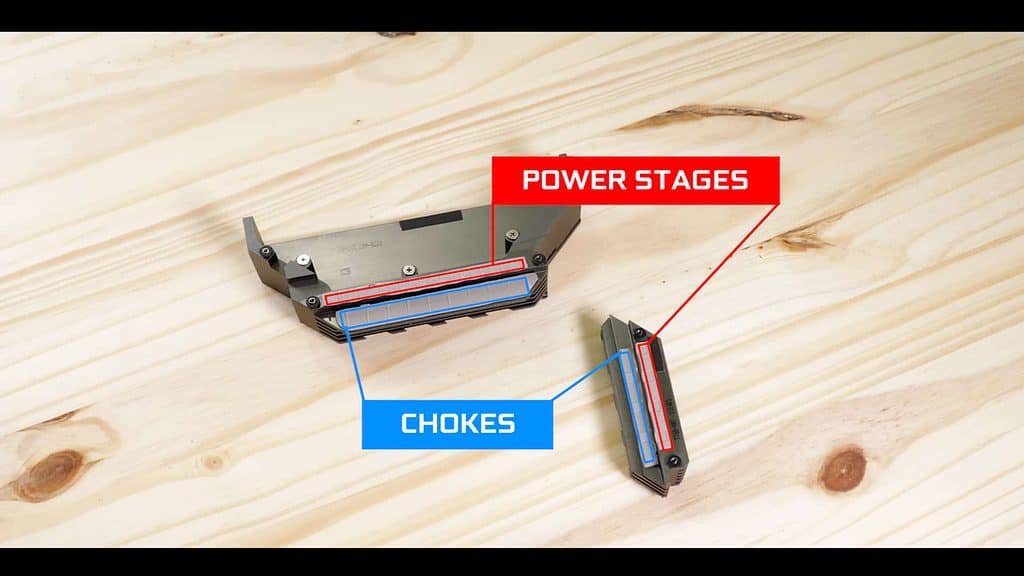 Worth noting, the double contact thermo-padded design which improves its heat-sink heat diffusion ratio quite a bit. A simple inexpensive evolution which really adds a ton of VRM value here!
And that all translate in a cool and efficient VRM, even in the most demanding and continuous load.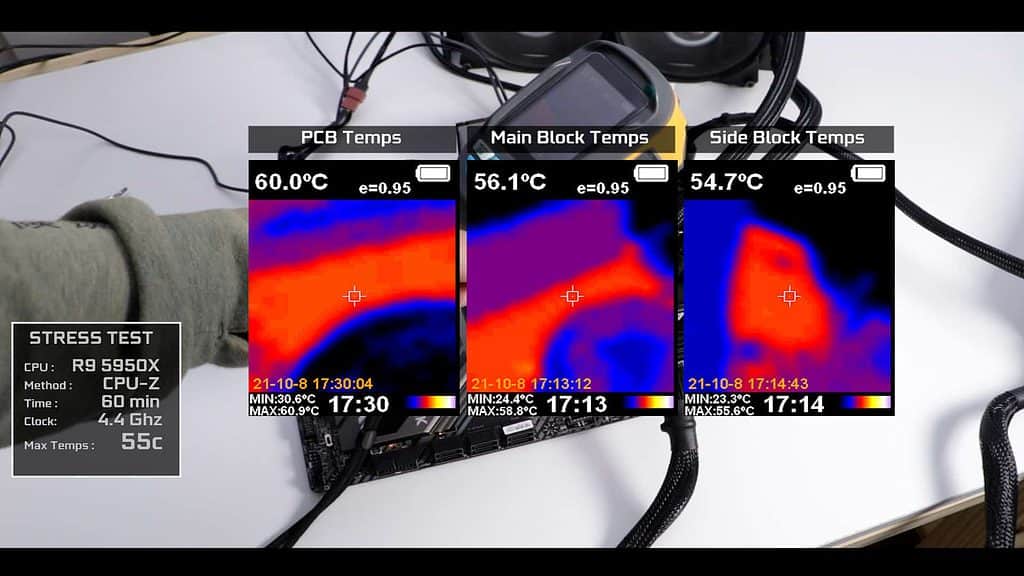 With an overclocked Ryzen 5950X (4,4 GHz / BIOS Auto) , CPU stressed for 60 minutes:
PCB Junction points :       60 Celsius    (max)
VRM :                               55 Celcius    (max)
Absolutely great for this motherboard in term of stability and durability.
---
RAM
The MSI MAG X570S TOMAHAWK MAX WiFi can support up to 128 GB of DDR4 ram in a dual channel configuration.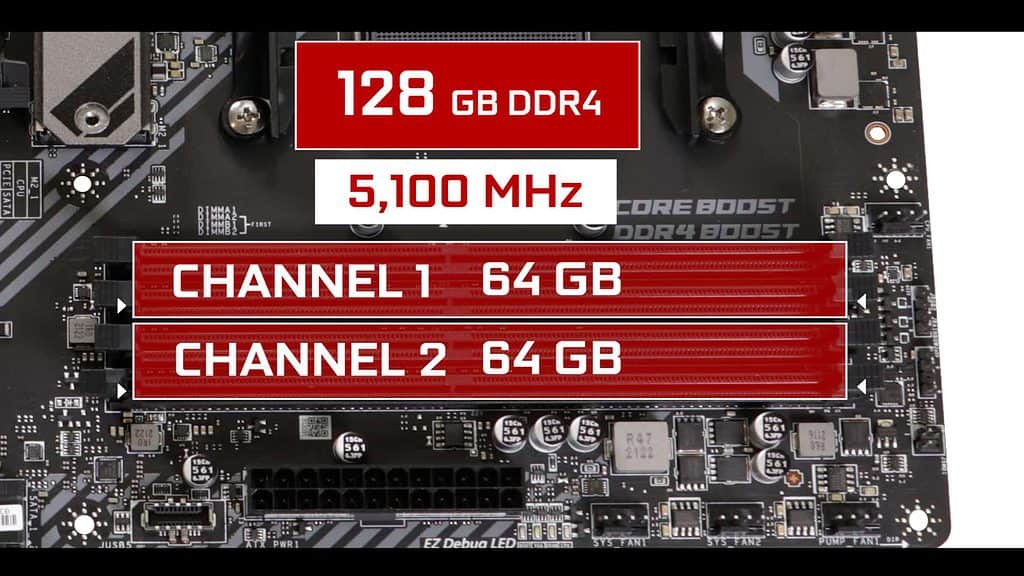 It is  overclockable up to a whooping 5.1 GHz, 500 MHz more than its MAG X570 TOMAHAWK variant.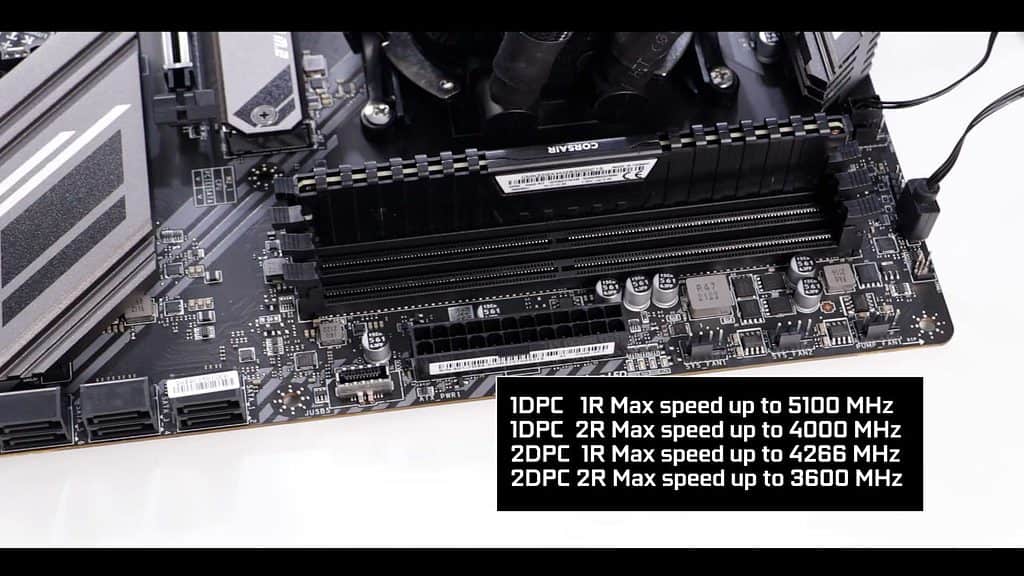 Note: these kind of clocks (5,000 – 5,100 MHz) can be obtained with single memory sticks, The more RAM module installed, the lower the clock goes.
With a fully populated dual-channel, the maximal frequency obtainable should be anywhere between 3,600 MHz and 4,000 MHz.
---
M.2 SSD
Our board can support up-to 2 M.2 SSD (11 cm and 8 cm respectively).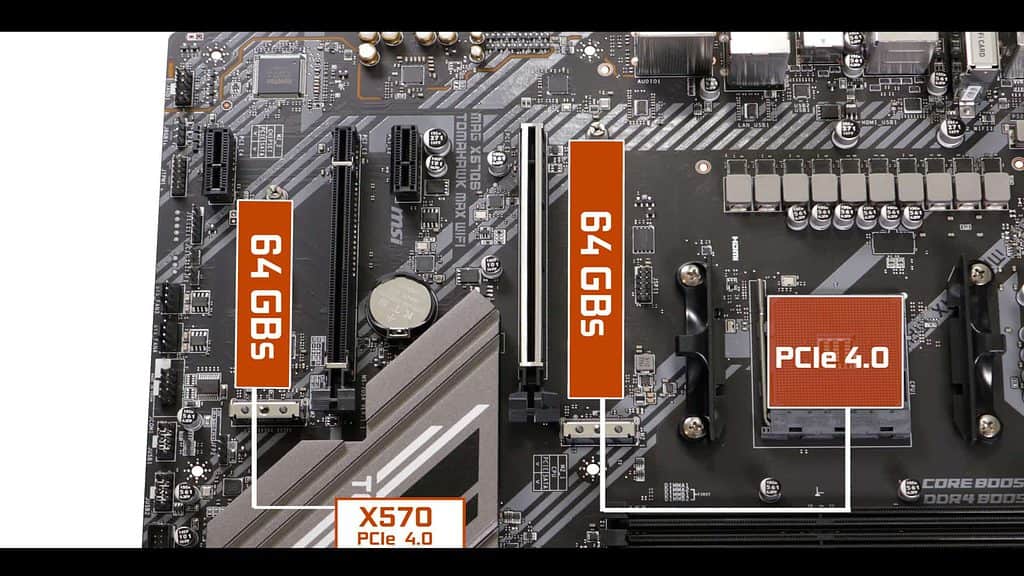 Equipped with PICe 3 M.2 SSDs, our sticks can swap data upto 32 Gbs. But if you do purchase a PCie 4.0 enabled M.2 SSD, the CPU fed M.2 SSD will be able to swap data up to an indecent 64 Gbs.
In both cases our M.2 SSD sticks will experience a lot of heat.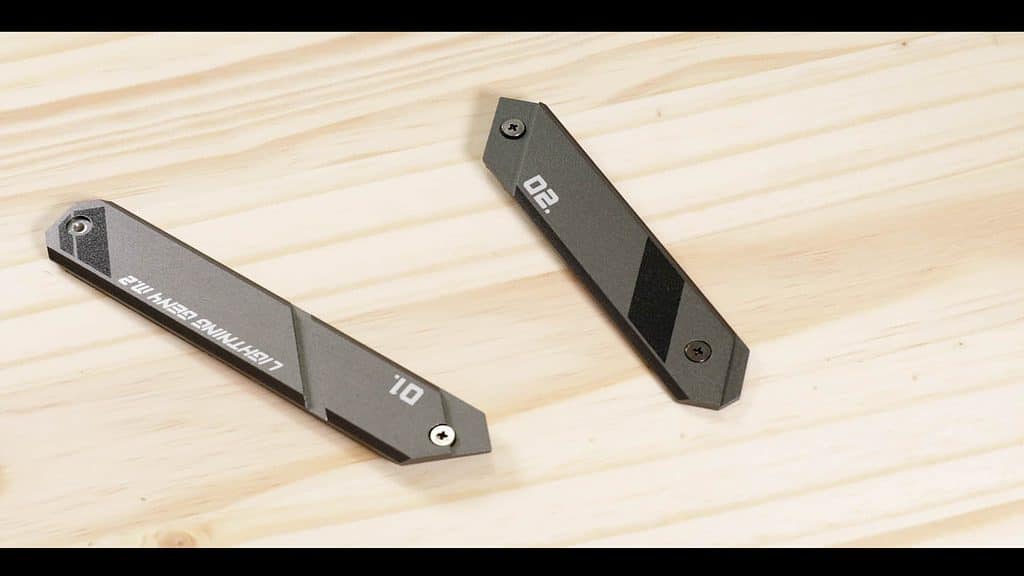 Fortunately , we do have a rather impressive thermo-padded (0,5 mm thick) heat-shields  which do a wonderful job at keeping our stick cool in any usage condition. Perfect for a bootable M.2 SSD.
---
Chipset
Chipset wise, it is nothing more than AMD's good old X570 chipset. Initially released in summer 2019, it was the first chipset to support the then new PCIe 4.0.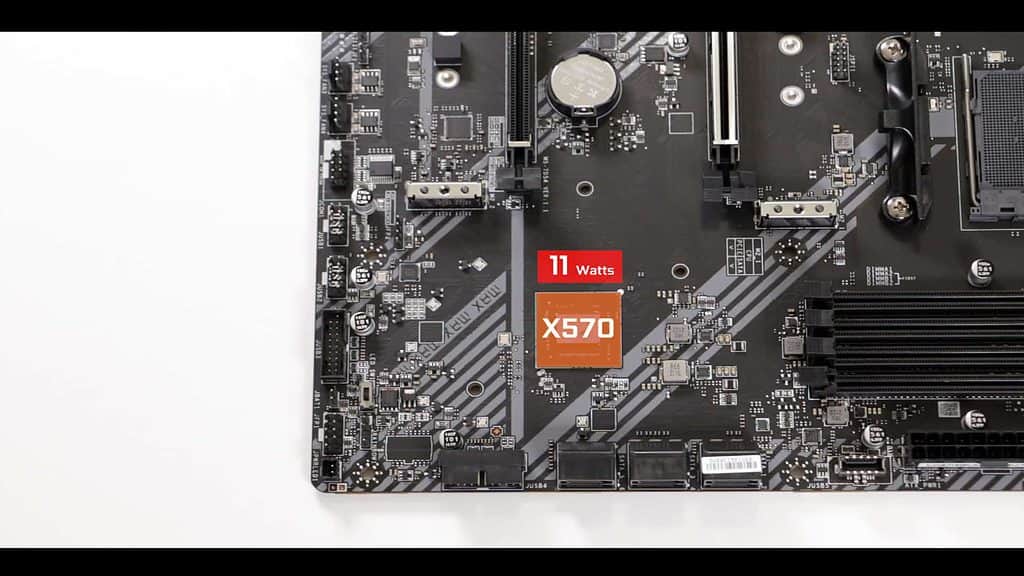 It did however translate in double the usual wattage consumption (11 Watt instead of 6 Watt),  and in turn in a LOT of heat.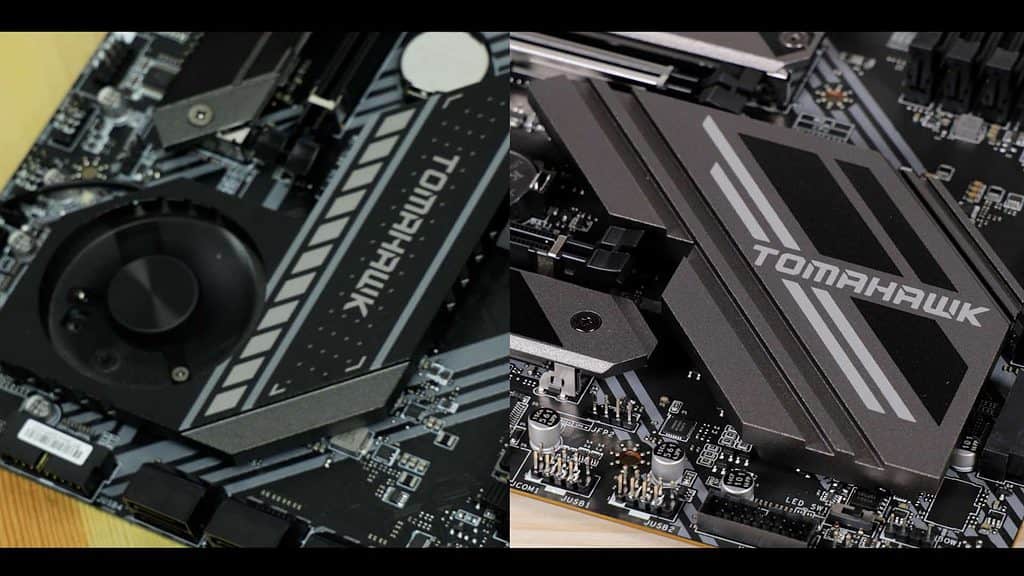 This pushed manufacturers to opt for an active cooling solution, with extra cost, noise and moving parts. This new X570S series take the very same X570 chipset and cool it with an impressively large and thick heat sink.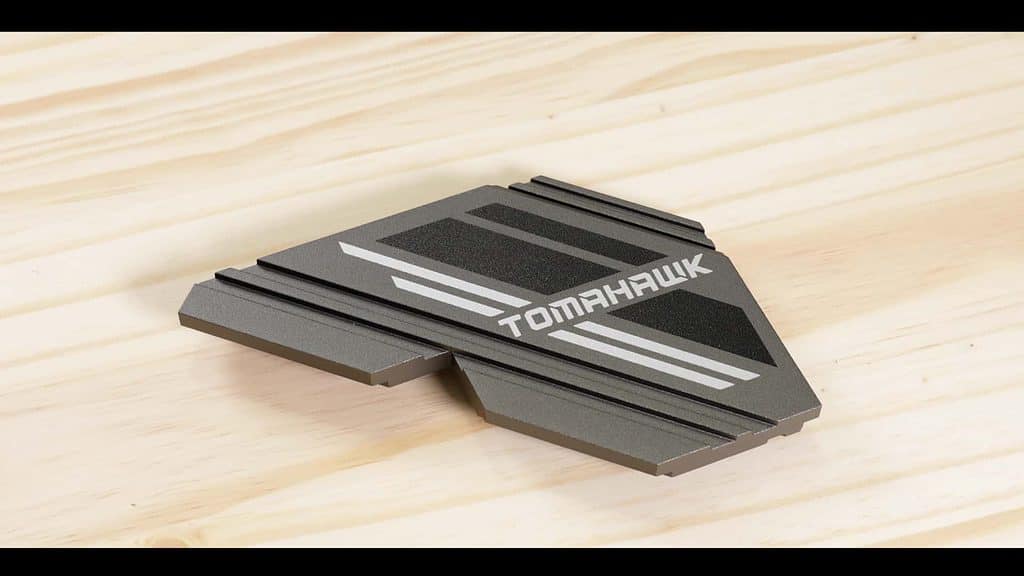 Which does a great job at job at keeping our boiling 11 watts chipset below 50c. Which begs the question, why did manufacturers bother with active cooling in the first place? It's not like the re-invented the wheel to get here!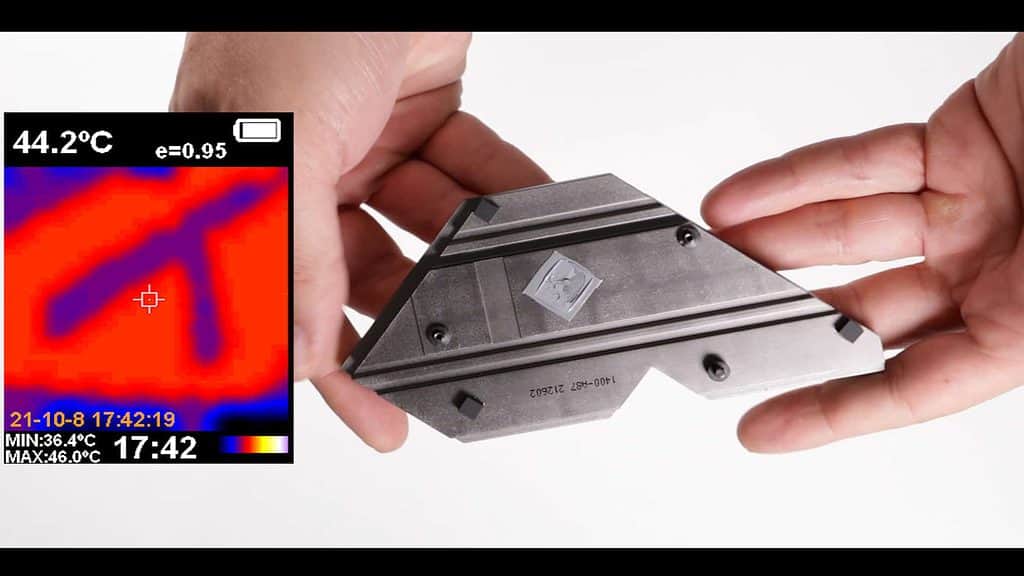 ---
SATA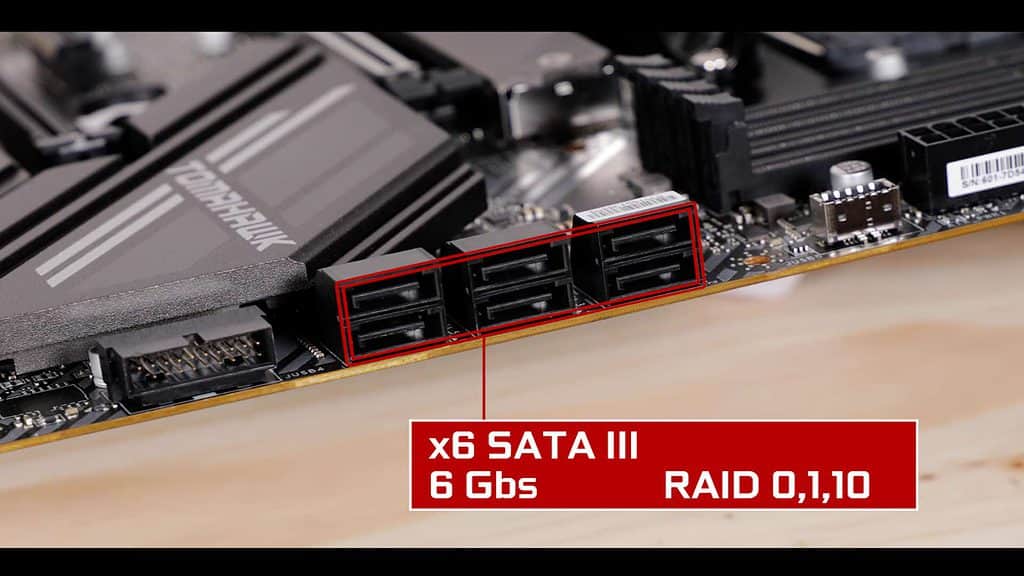 For more classical storage solutions, we have our usual SATA 3.0 plugs. 6 in total, with a transfer rate of 6 Gbps each. They can be configured to run into a 0,1, or 10 RAID configuration.
---
PCIe Slots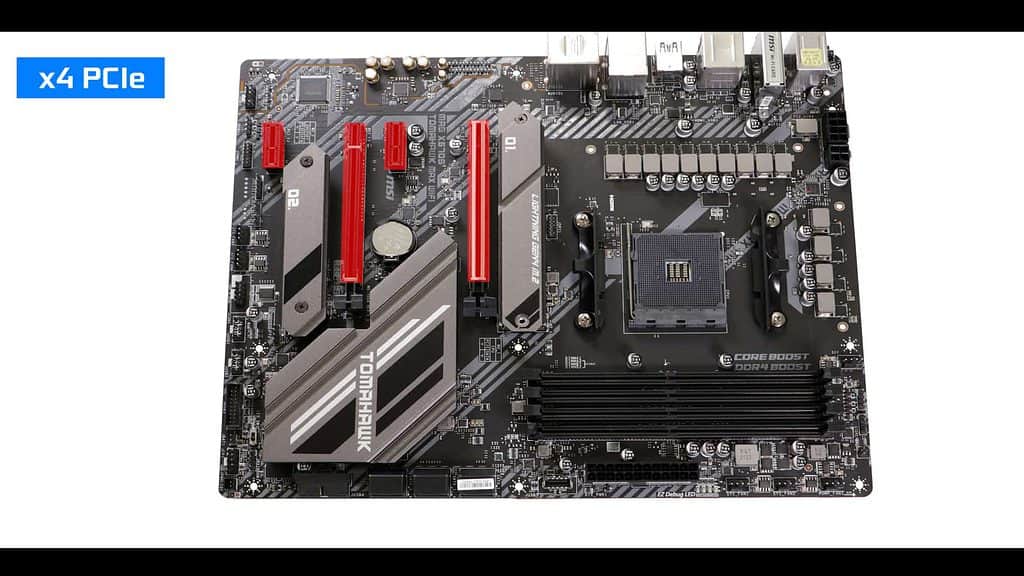 The MPG B550 GAMING EDGE WiFi has 4 PCI expresses slots.:
2 16 lanes with different BUS speeds
2 single lanes , single speeds
Only the closest one to your CPU can deliver up to x16 PCIE 4.0 lanes. This is where you'd want your video card to be placed for optimal performances, hence the metal re-enforcement.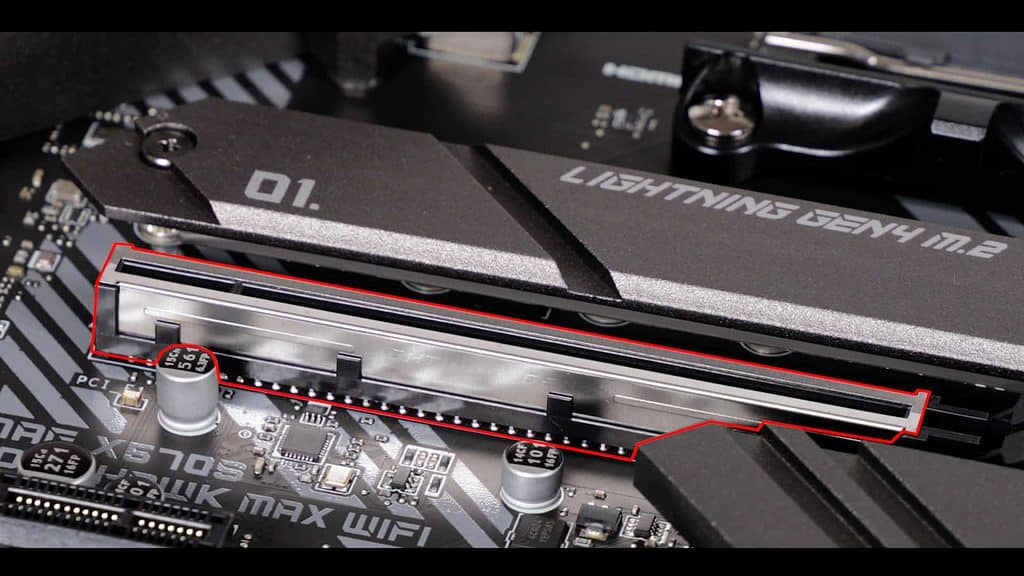 The second naked PCIe slot has been capped at only x4 PCIe 3.0 lanes. Not exactly suitable to extract the best performances from your video card, but fully expected at this price range.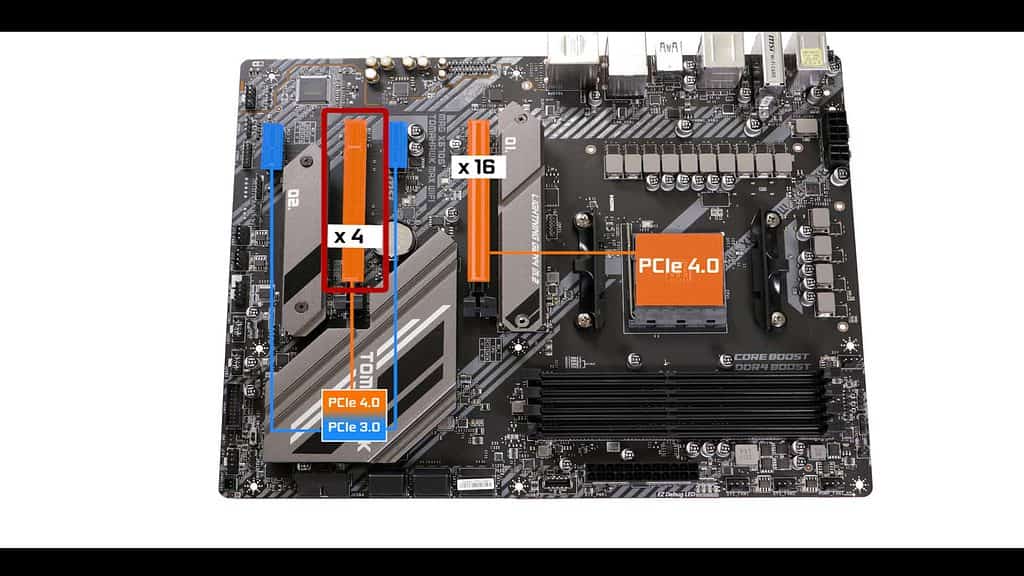 So a good board for a single GPU configuration, even though it can support a dual AMD card configuration (CROSSFIRE).
---
Back IO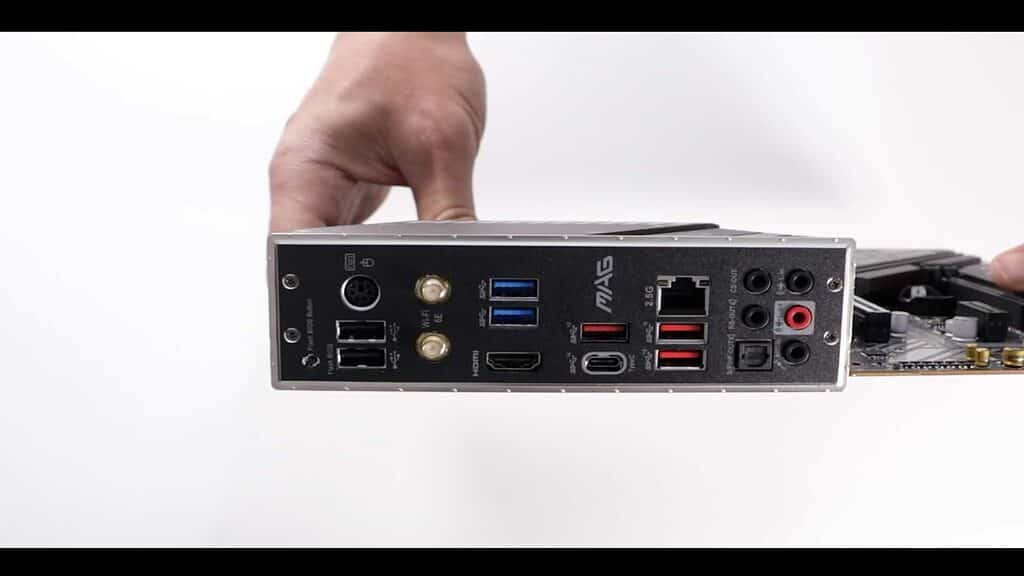 First let me note the presence of an IO integrated plate which is always a good point!
a BIOS flash back button, delighted to find one.. great to update or recover your bios on the go!
a PS/2 connector for our no latency players.
an HDMI 2.1 plug, able to output 4K@60 fps.
2x 2nd Gen USB plugs (480 Mbs)
2 X 3.1 Gen USB plus (5 Gbs)
4x 3.2 2nd GEN USB plugs (10 Gbs) , including a type C
a 2.5 gigabit LAN which is an upgrade coming either from its B450 or X570 variant.
a WiFi 6E AX201 with transfer up to 2.4 Gb/s on trhe cleaner 6GHz radio Spectrum.
a rather premium  ALC 4080 REALTEK audio codec which fully benefits from the 6 PCB layers board, since both left and right audio channel have been traced on separate and dedicated PCB layers, insuring a better static isolation.
---
Front Panel Connectors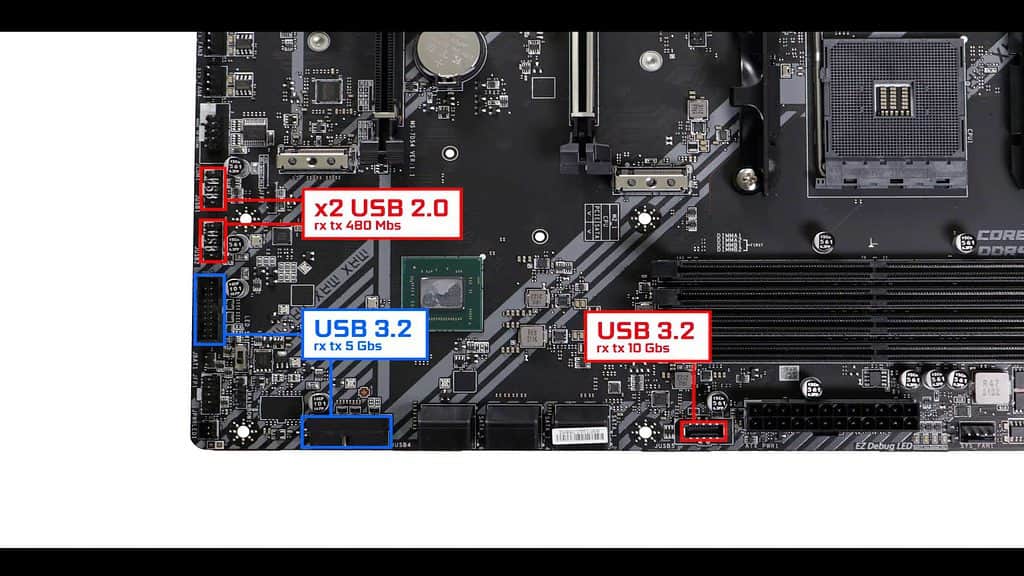 We have :
2x 2nd gen USB front panel connectors , good for our AIO pumps, or PSU monitoring,
2x 5Gbs USB 3.2 (1st Gen) front panel Connector
1x 10Gbs USB 3.2 (2nd Gen) TYPE-C front panel Connector
Overall a well furnished board-based peripherals in par with its pricing.
Cooling connectors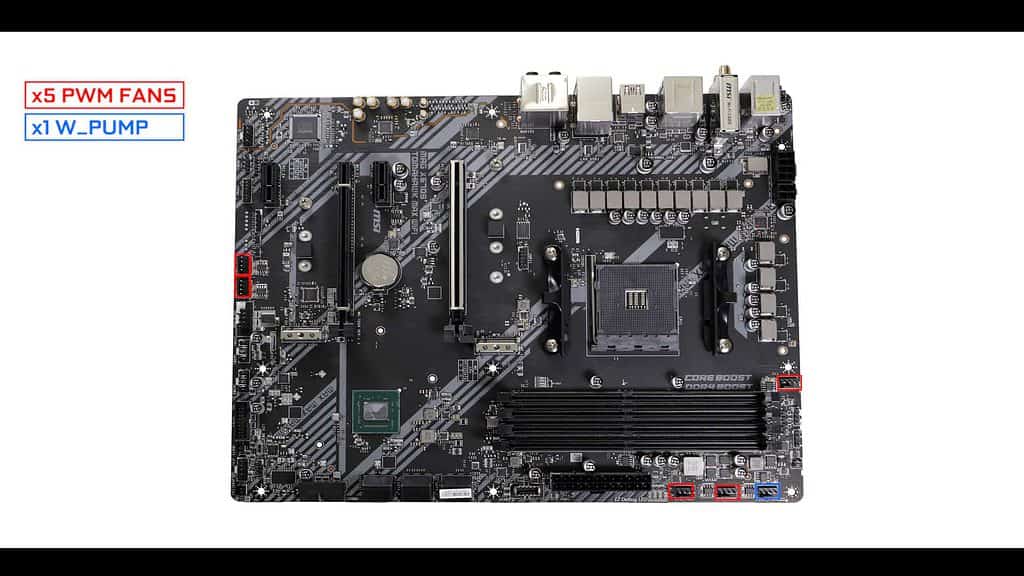 We have 6 nested PWM FAN connectors, 1 of which can support a water pump (AIO or dedicated)Definitely what you want to see on a gaming motherboard. The MSI MAG X570S TOMAHAWK MAX WiFi can handle about any cooling solutions you will throw at it.
Spanning from the classic air to the eccentric dual-loop custom water cooling apparatus.
Only regret here, is the fact that these connectors are not Hybrids which could support anything you'd throw at it, whether a fan, a water pump or a flow sensor.
I would have given this boards an unprecedented level of agility which enthusiast would have most certainly appreciate.
---
TROUBLESHOOTING
EZ Debugger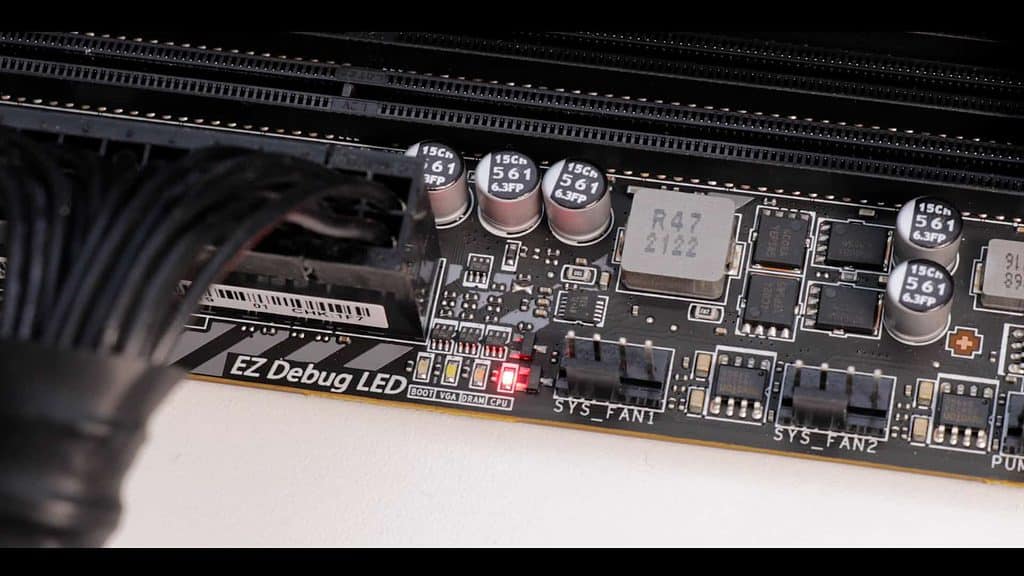 The EZ debugger is really the a crucial must have on the overclockers. More often than not, enthusiasts can't resist the call to find their RAM or CPU overclocking limits, and fail boots becomes a daily incidence.
The EZ debugger will give us a first-aid troubleshooting guidance one what stage of the boot your system failed.
---
MYSTIC Sync Effect
RGB wise, our MSI MAG X570S TOMAHAWK MAX WiFi has one nested RGB strip under our Chipset heat sink,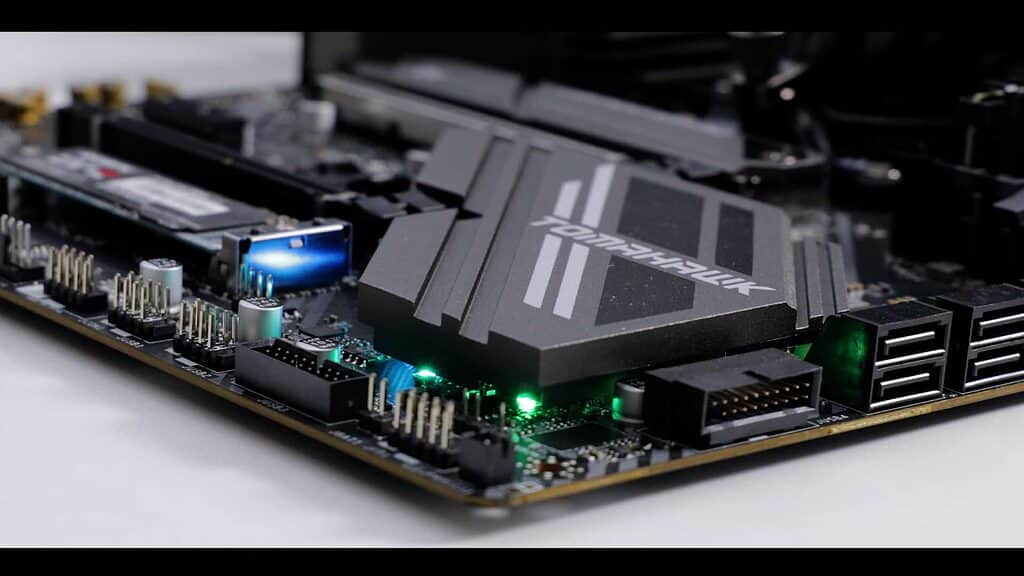 We also have 4 RGB connectors :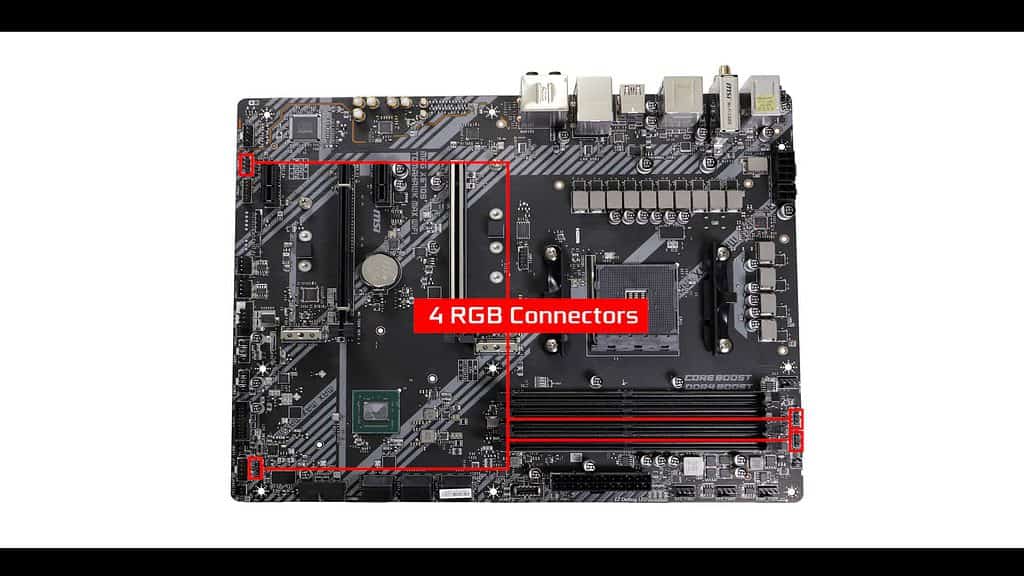 2 standard 12V RGB connector and 2 addressable RGB connector.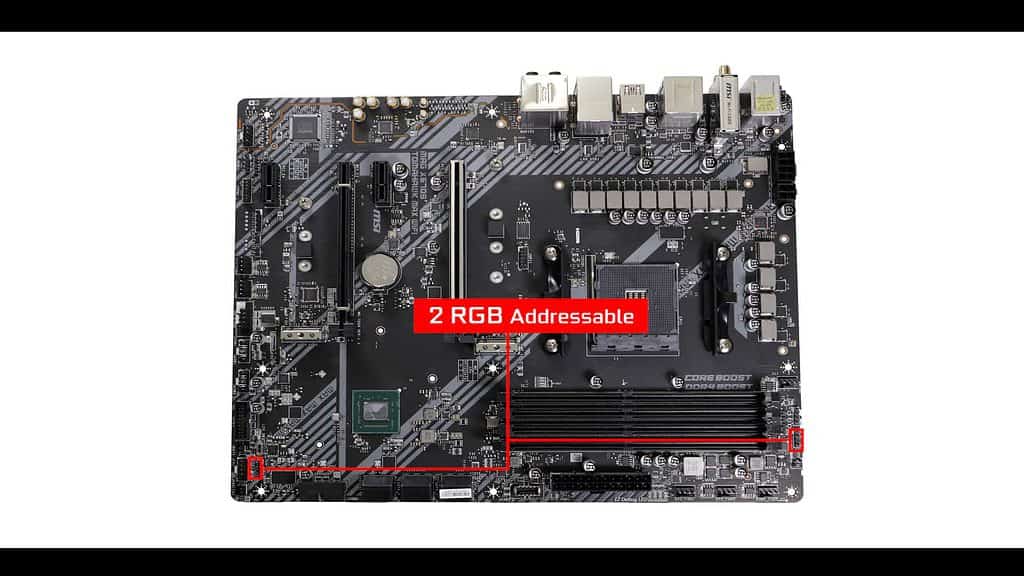 All of which can obviously be synced though MSI proprietary Mystic software.
---
CONCLUSION
The MSI MAG X570S TOMAHAHWKS MAX WIFI will cost you around 260 USD before taxes, and that is about 30 to 50 bucks more than its predecessor, and the all question is: IS IT WORTH IT?
Well obviously its an excellent gaming board, maybe the best in its price range when compared to its competition, but despite all of the incremental upgrades, it is one too many.
It shares the exact identical VRM than its X570 predecessor, and even worse, almost identical to its much cheaper B550 Tomahawk counterpart.
Which, by the way provides plenty of PCIe 4.0 support and costs 100 bucks less!
And on as gaming goes I can guarantee you one thing: you won't lose a single FPS or a Hertz of overclocking power!
In short, upgrade wise, if you run a X570 TOMAHAWK, or a B550 Tomahawk, don't waist your time and money for an upgrade.
And as in new build goes, well, I do believe the MAG X570S Tomahawk MAX WiFi, despite being the best of the three, does not bring enough on the table to motivate the extra expenditure when compared to its X570 but most noticeably its B550 siblings.
It simply is one TOMAHAWK too many!
QUICK OVERVIEW
CPU & northbridge support
Supported Processor
Ryzen 2000, Ryzen 3000, Ryzen 4000, Ryzen 5000 AMD CPU series
Chipset
X570
CPU socket
AM4
Memory
Slots
4 (dual channel)
Max System Memory (Gigabytes)
128
Memory Technology
DDR4
Maximum Clock (MgHz)
5,100
Connectors
USB 2.0
2 back IO + 2 on-board
USB 3.2 (1st Gen)
2 on back IO + 2 on-board
USB 3.2 (2nd Gen)
4on back IO + 1 on-board
LAN
2.5 Gb/s
WiFi
Dual Band WIFI 6E AX / BT 5.2