Laptops
Tech Review
Trending
ASUS ROG ZEPHYRUS DUO 15 – Powered by INTEL
GX550LWS - i7 10980HK - RTX 2070 SUPER - 1080p / 300 Hertz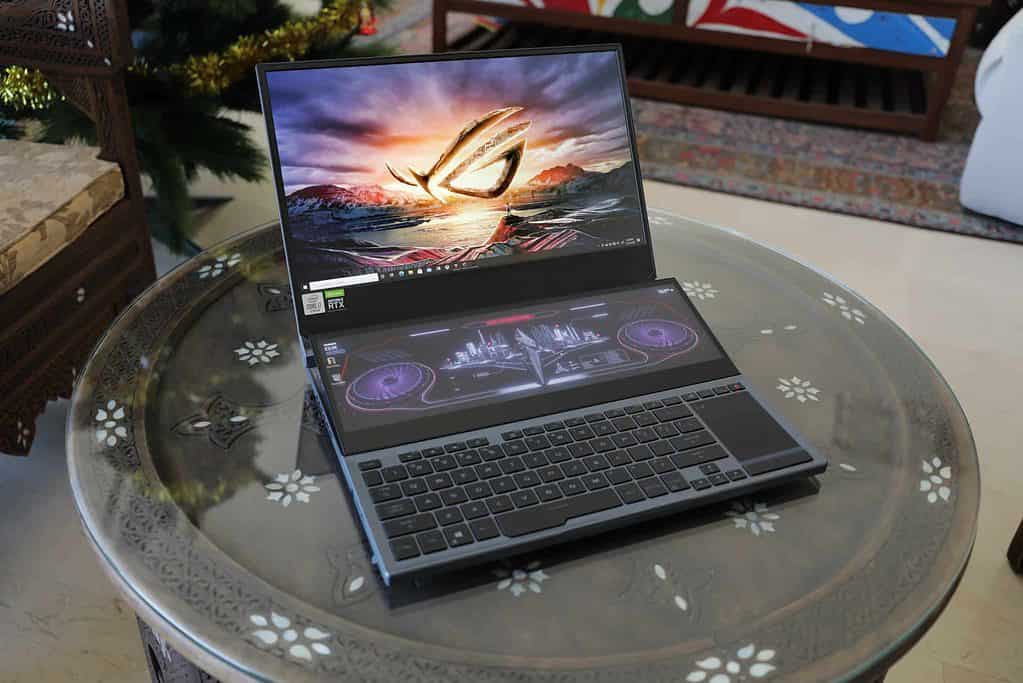 Y

ou came here for the dual screen, but you'll stay for much more than that.
Resulting from a partnership with INTEL, behind a daring concept design, the ROG Zephyrus Duo hides a computing monster.
Powered by the latest 10th Gen Intel H series processors, and NVIDIA RTX 2070 SUPER MAX-Q, The ROG Zephyrus DUO, is the most daring product ASUS has to offer (visit its official release page here).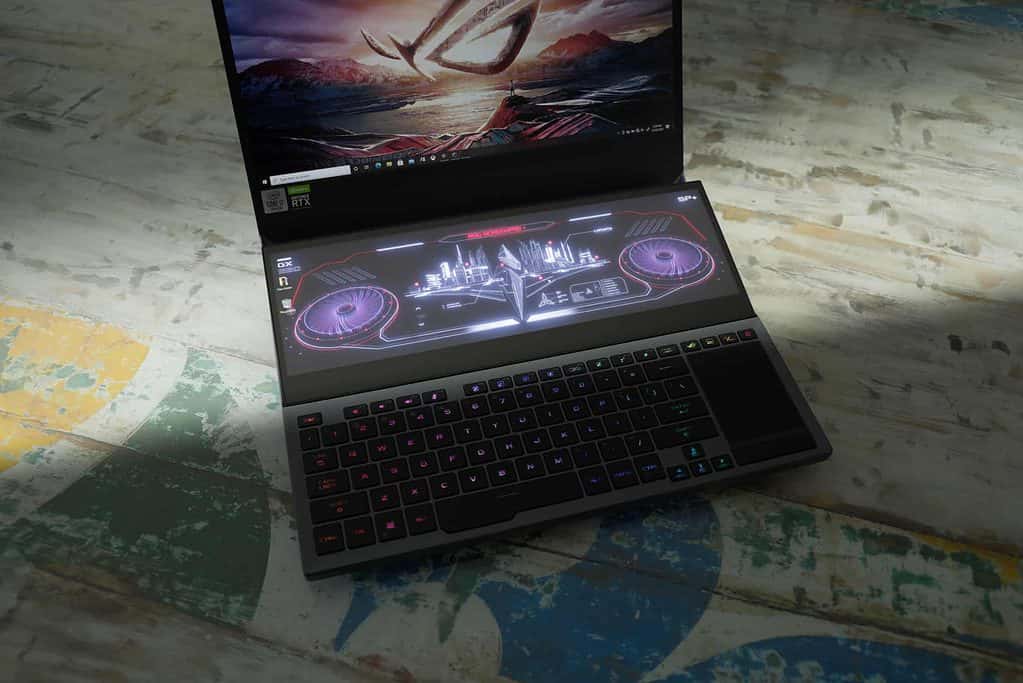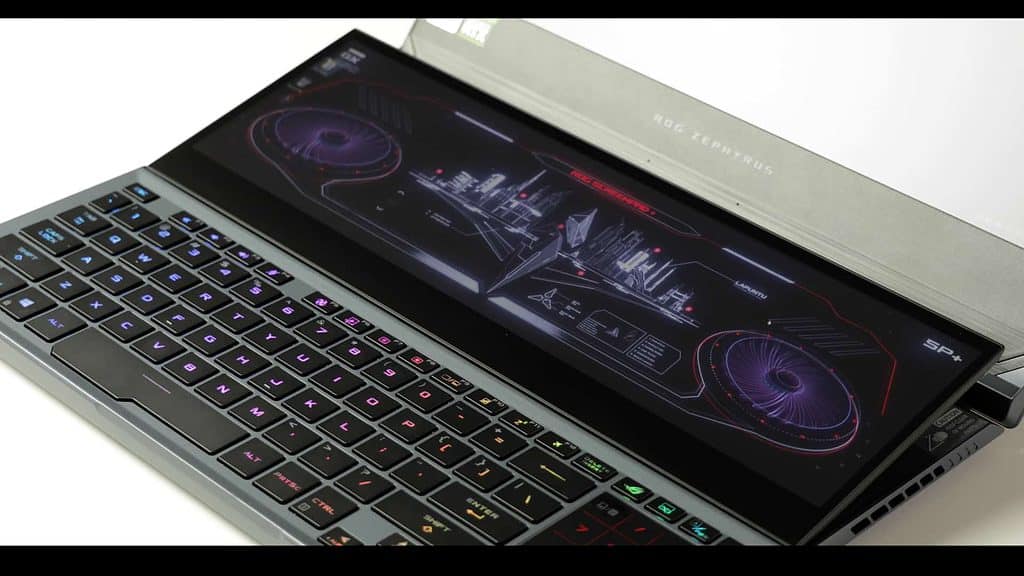 A SUS partnered with INTEL to produce the most powerful and relevant gaming / content creator on the market today!
Powered by Intel's latest 10th Gen Intel Core i7 H series processor, and nothing less than a monstrously powerful RTX 2070 SUPER MAX-Q (RTX 2080 MAX-Q available), this laptop is a superlative on its own merit!
Before going any further, I want to thank INTEL for sending me the reviewed model!
Key Features
Price: 3249.99 USD (CLICK TO BUY )
Dual Display
i7-10875H or i9-10980HK
Nvidia GeForce RTX 2070 SUPER MAX-Q or 2080 MAX-Q
2 TB Storage / PCIE 3.0×4  (1 TBx2 RAID 0)
32 GB DDR4 RAM SODIMM 3200 MhZ (single Dimm, up to 48 GB)
PROS
Innovative tilted secondary display ( ROG ScreenPad Plus)
Gorgeous and premium design
10th Gen Intel H series
RTX 2070 or 2080 MAX-Q
Insane gaming and Production performances
Extended battery life
300 Hertz 15,6 Inch display
RAID 0 storage configuration
CONS
Power input poorly placed
Awkwardly placed Mouse PAD
---
DESIGN
The first thing I need to address is that WOW effect the ROG Zephyrus Duo imposes with its two screens. The main 15,6" monitor is complimented by a large tilting touch screen, which raises as you open the laptop lid.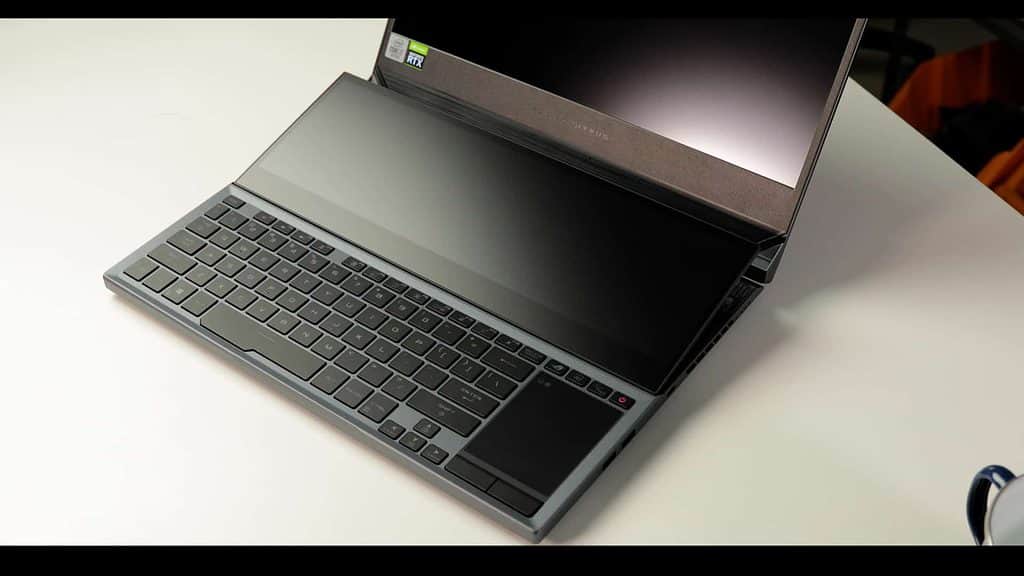 The body is made of a rather light non-reflective sand-blasted alloy. Plastics are expensive : nothing scratchy, crackly, or too shiny.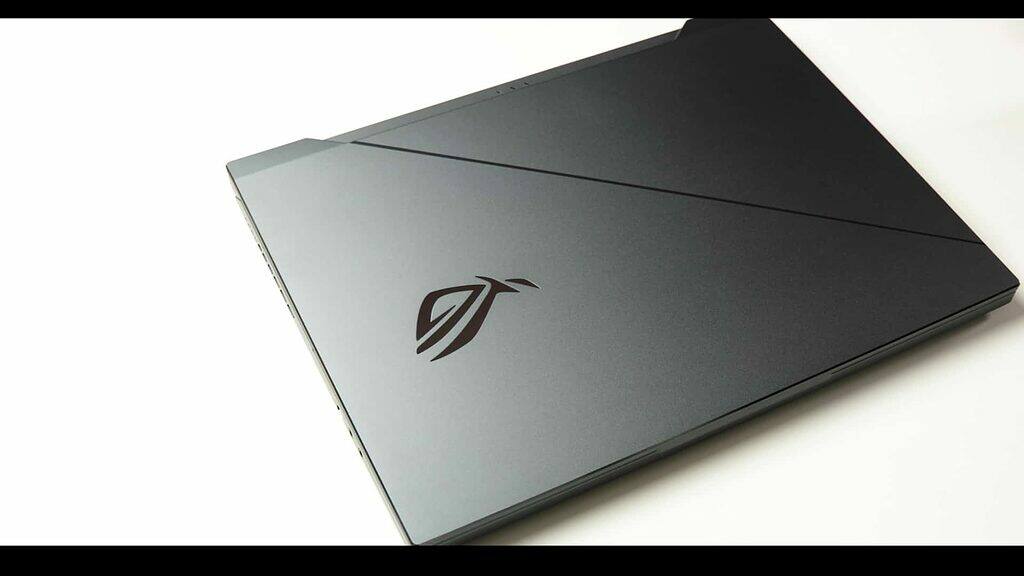 It has a mineral feel to it, refreshing to the palm. The surfaces do not easily attract finger print or finger oils.
It is balanced to carry, and easy to grip, which at 5.3 pounds of weight, is a very good point.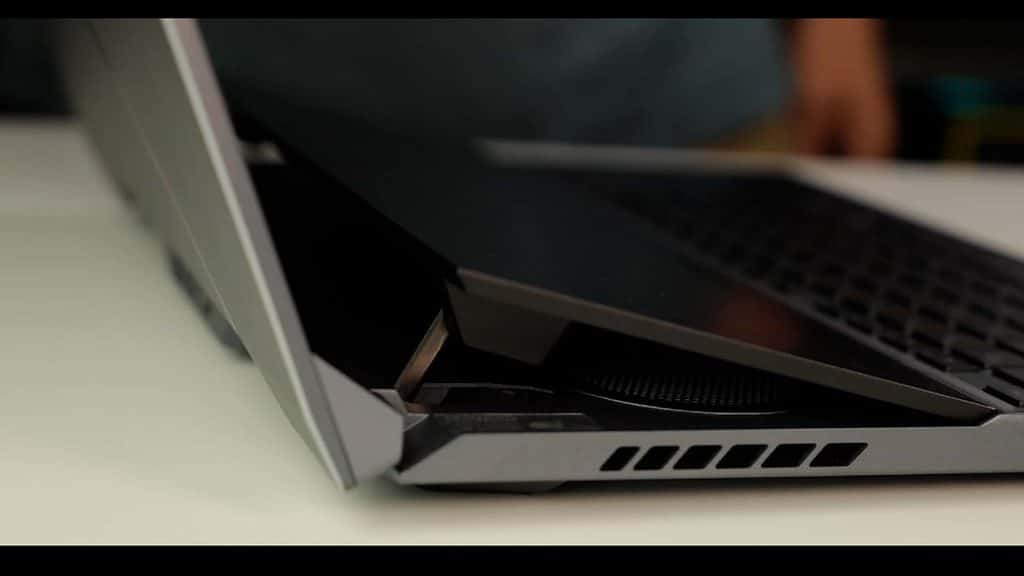 Despite featuring unusually large and complex moving parts, the ROG ZEPHIRUS DUO does a great job at transitioning through all its forms without friction or noticeable shakes.
Every movement is soft, directed and purposed.
---
SPECS
Asus ROG Zephyrus Duo (GX550) Specs
| | |
| --- | --- |
| Laptop Class | Content Creation / Gaming |
| Processor | Intel Core i7 10875H or i9-10980HK |
| Processor Speed | 2.4 GHz |
| RAM (as Tested) | 32 GB |
| Boot Drive Type | SSD |
| Boot Drive Capacity (as Tested) | 2 TB |
| Screen Size | 15.6 inches |
| Native Display Resolution | 1920 – 1080 300 Hertz or 3840 by 2160 60 Hertz |
| Touch Screen | Yes |
| Panel Technology | IPS |
| Variable Refresh Support | None |
| Screen Refresh Rate | 60 Hz |
| Graphics Processor | Nvidia GeForce RTX 2070 or 2080 Super (Max-Q) |
| Graphics Memory | 8 GB |
| Wireless Networking | 802.11ax (WiFi 6), Bluetooth 5.2 |
| Dimensions (HWD) | 0.82 by 14.2 by 10.6 inches |
| Weight | 5.3 lbs / 2.4 Kg |
| Operating System | Microsoft Windows 10 |
| Tested Battery Life (Hours:Minutes) | ~ 6 hours (ScreenPad off) | ~ 5 hours (ScreenPad on) |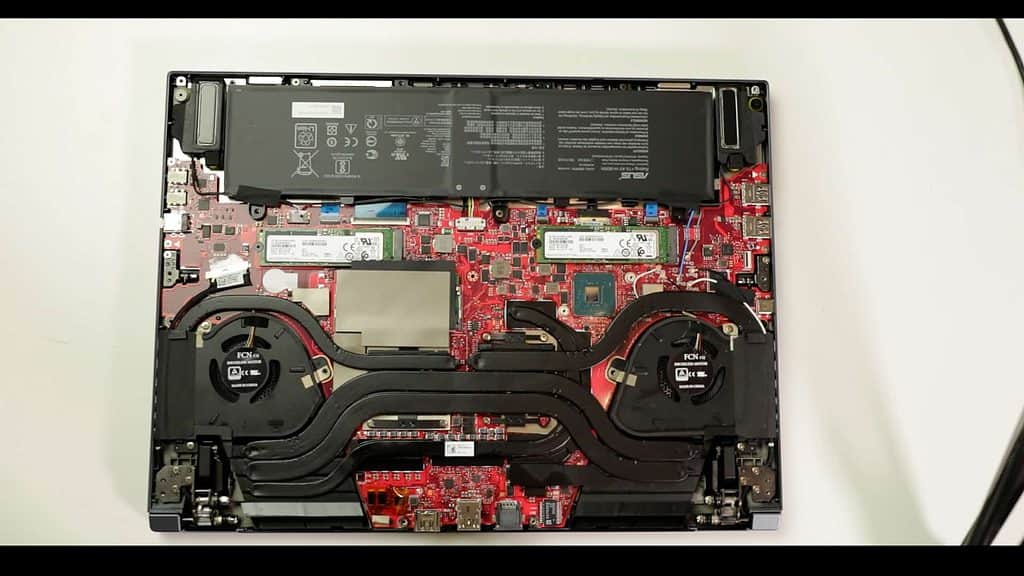 Processor wise, the model we received was equipped with the extremely efficient 8 cores 16 threads i7-10875H which packs a ridiculous amount of power.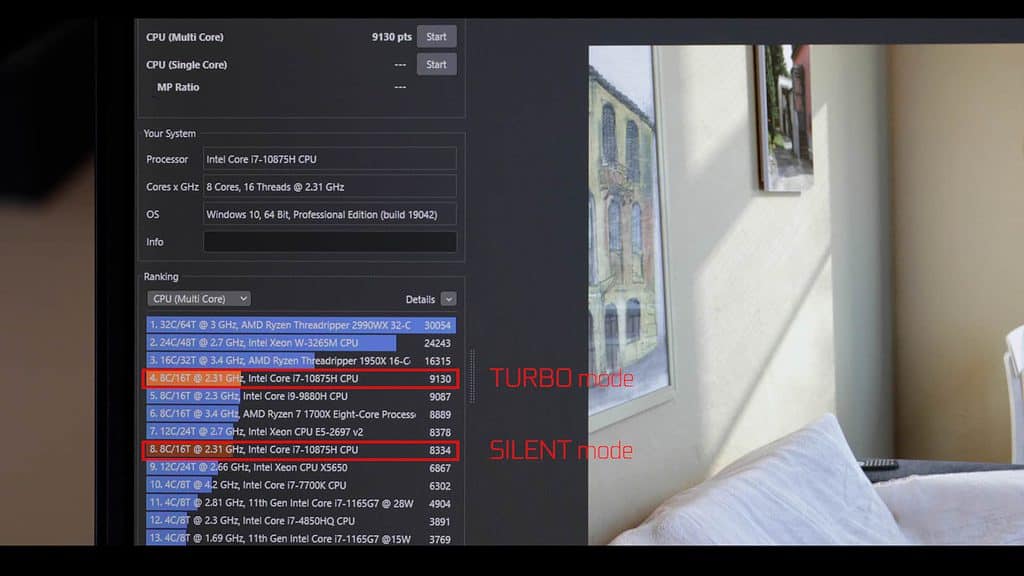 With only 45-Watt to its disposal (though you can manually push above 60 Watts), this thing can TURBO up to 5.1 GHz. I would not keep it there at all time, it can get hot, but at about 4.5 to 4.7 GHz, it tore through anything I threw at it without crossing 85C.
Definitely an achievement coming from Intel, and what certainly is the most desirable aspect of this year Zephyrus series.
GPU wise, we got nothing less than the ridiculously powerful RTX 2070 Super (MAX-Q).
Basically, one of the most powerful mobile Video cards on planet earth today, which, even with 8 GB of DDR 6 dedicated memory, manages to fully express its graphic potential right under 90 Watt.
By far the most energy hungry component of the ROG Zephyrus DUO, and the reason why the i7-10875H is so important here.
Having such a powerful processor running on this few watts, avails more resources to feed larger components (such as a de-measured GPU) for longer.
Memory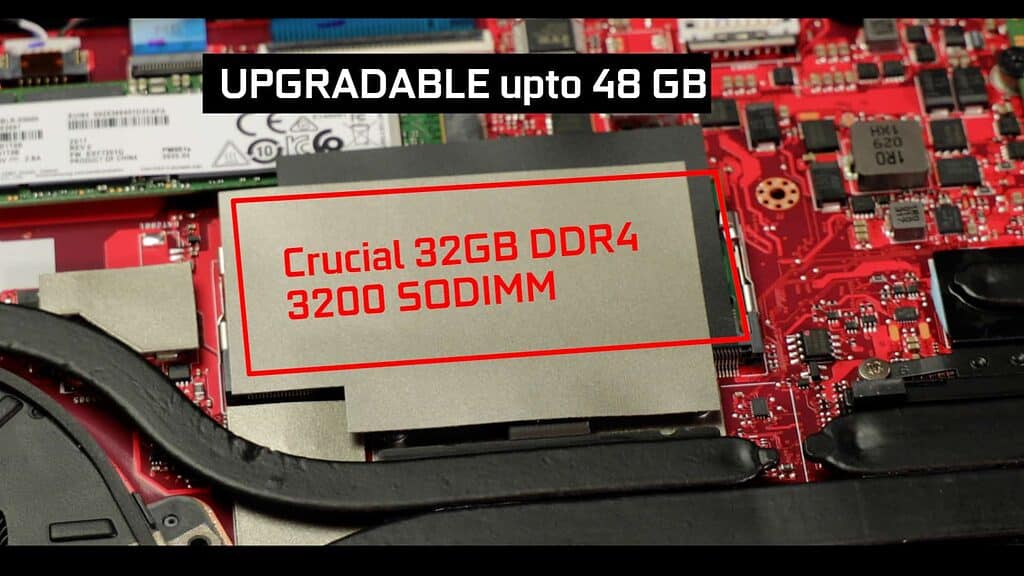 The ROG Zephyrus DUO comes with an imposing 32 GB 3200 MHz DDR4 RAM, upgradable to 48.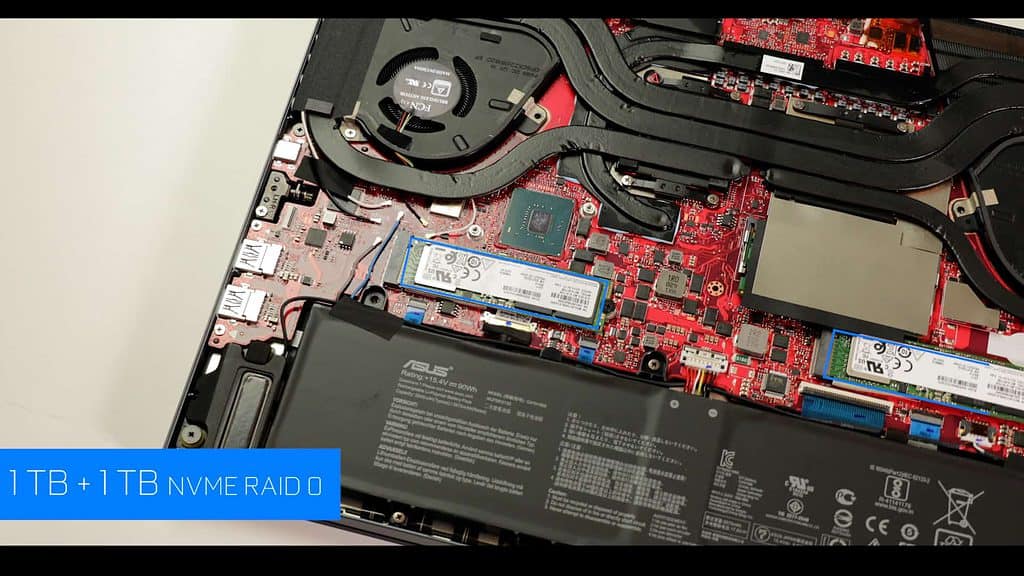 Two 1Tb sticks mounted in RAID 0.
Obviously, no bottle neck here. We have more ROM and RAM than you'll need in the foreseeable future, Special Kudos to ASUS for going for a RAID solution! Especially important for content creators!
These components aggregated cost CPU (450 USD), the GPU (450 USD, the RAM (150) and Storage (300 USD), add to about 1350 USD at the time of this article, representing a little over a third of the total value of the ROG Zephyrus DUO, which is a very nice ratio.
---
The Screens
With the ROG Zephyrus DUO, ASUS is primarily aiming at the content creators on the move. The ones who wants to bring in their creation station with them every where they go.
And that is exactly what you get here!
First and foremost, there is an absolute sense of comfort when using this machine. The 2 screens combo works! It is not a new concept, this attempt as the merit of truly adding creativity value to your day-to-day.
That's no accident. Intel and ASUS asked gamers and content creators, to help and design the next evolution of their dream laptops, and that gave us ROG Screen PAD PLUS.
ROG Screen PAD PLUS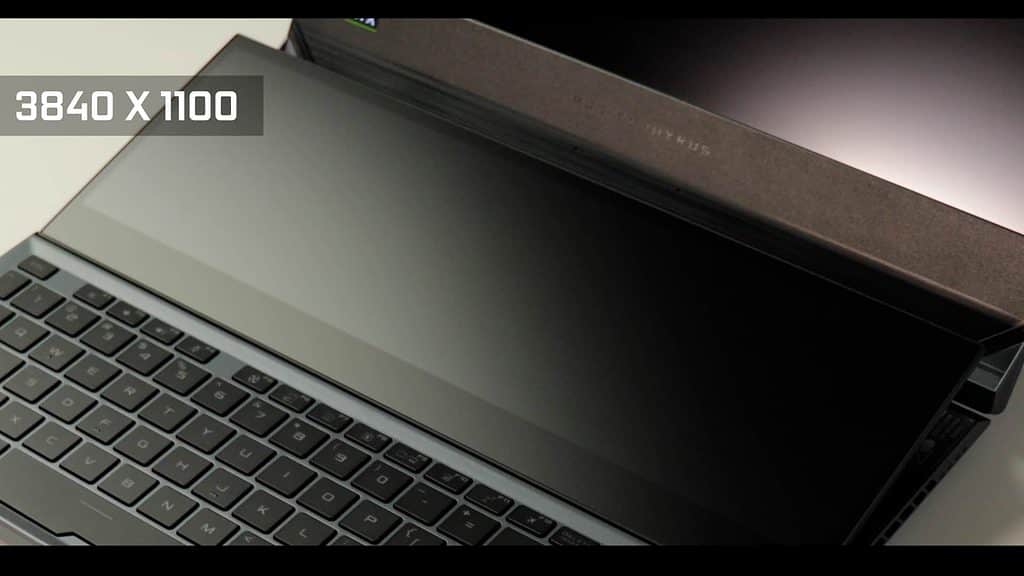 The ROG ScreenPAD PLUS is a 14,1" 3840 by 1100 touch responsive display.
Passed the curiosity, I find it to be purposeful in about any context. Either Streaming, Gaming, editing, that pad always comes handy. But more on that in a bit.
The Main Monitor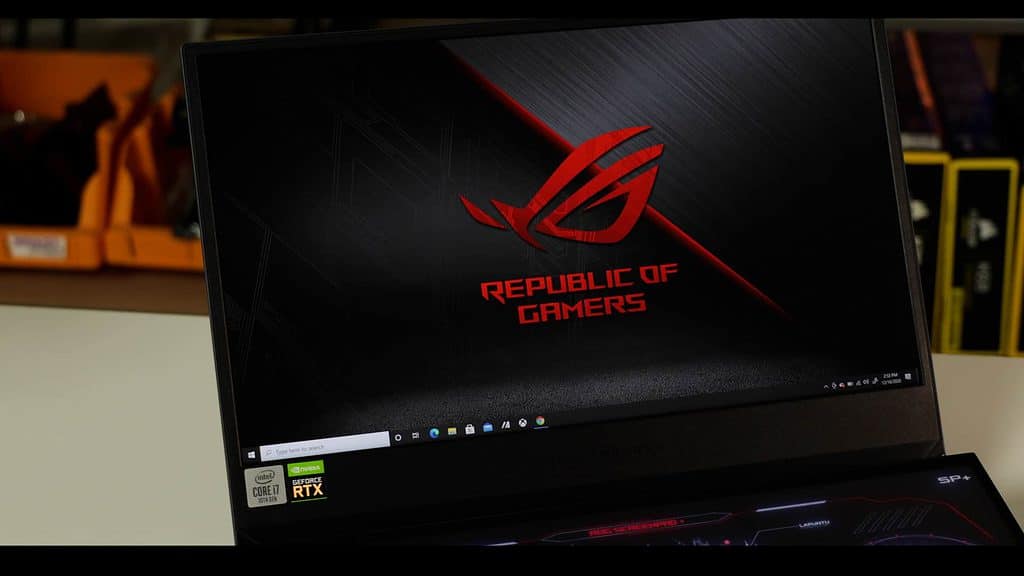 The main display is equally praise-worthy. The ROG Zephyrus DUO  came with the 15'6-inch 1080p 300 Hertz IPS* screen which is, well, very very good!
*(4k@60 Hertz available)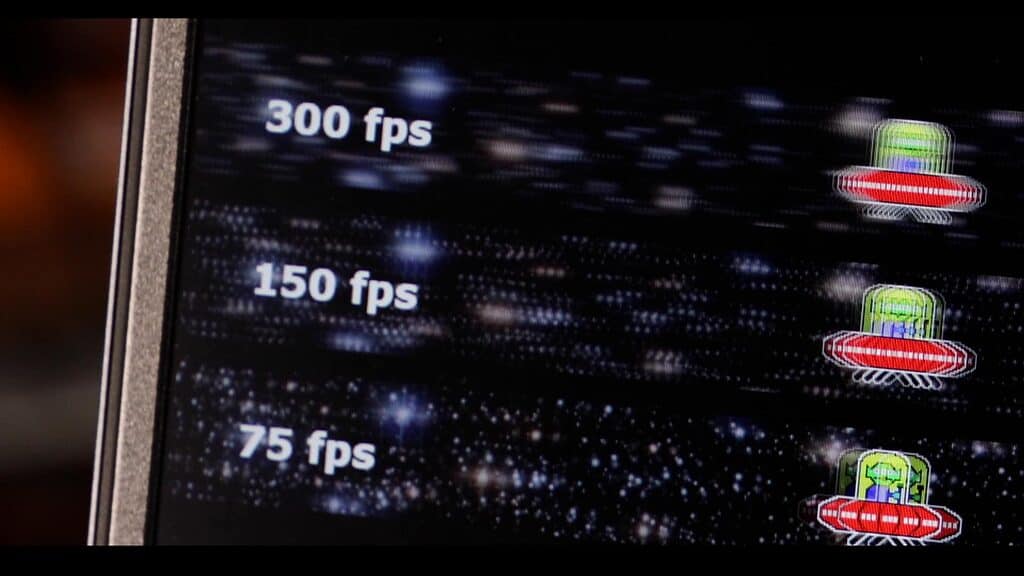 Despite not featuring HDR, it manages to shine a top-of-the-industry 400 nits, the colors are deep, vibrant, and well contrasted.
In short, Intel wanted creators and gamers, alike to rejoice, and rejoice they shall!
---
Gaming & Content Creation
Gaming on this thing is ridiculous! And the dual display takes a whole new meaning.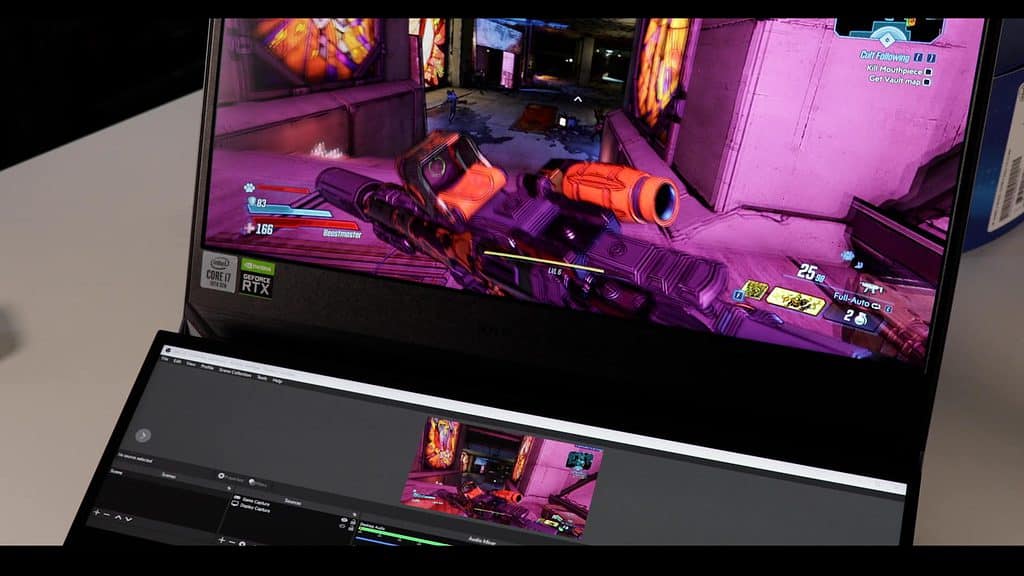 If you are a streamer, well there goes your OBS-Studio.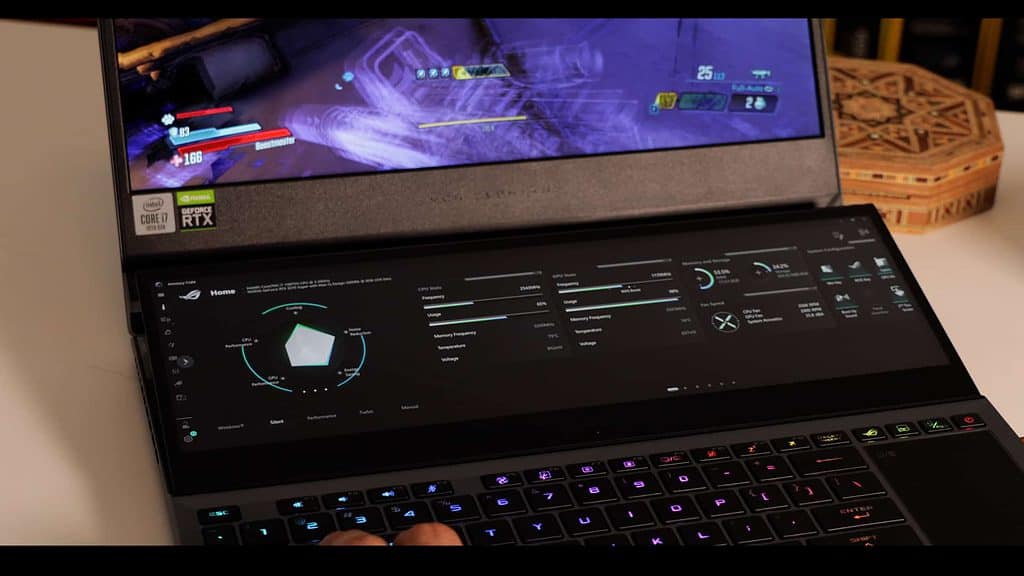 If you are a tech-freak, such as yours truly, you can turn-on the Armoury Crate metrics, and adjust your laptop performance profile to best fit your gaming needs.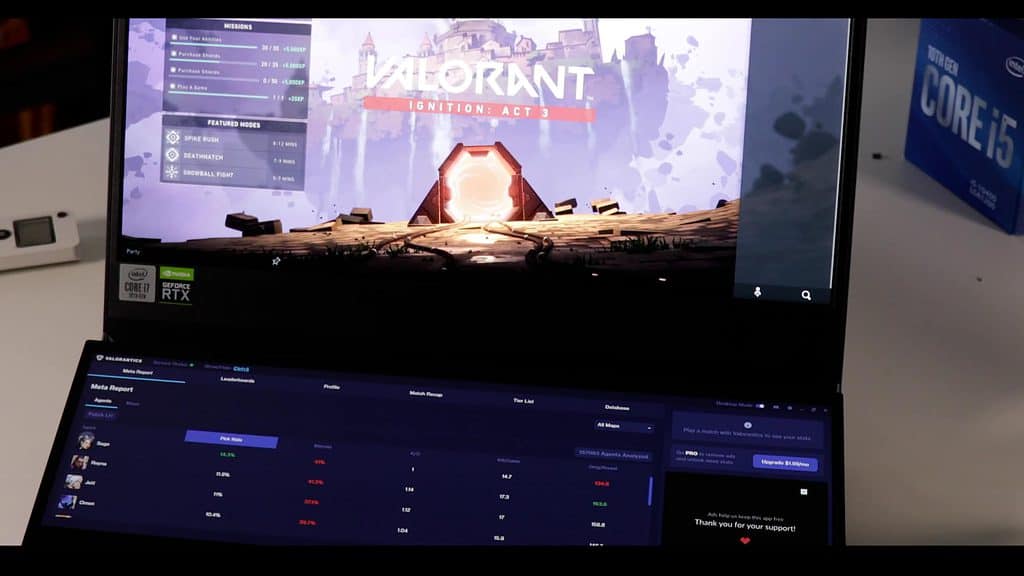 In addition, ROG partnered with Overwolf to optimize its gaming companion apps to the 'ROG ScreenPad Plus' . It does further add a value custom apps for the most popular FPS games out there
Titles such as Fortnite, Valariant, Overwatch or Leagues of Legends, [list is growing] feature custom app companion to live feed you all the relevant metrics concerning your game current battle play.
In all honesty, It was a bit disconcerting going back to my desktop after that!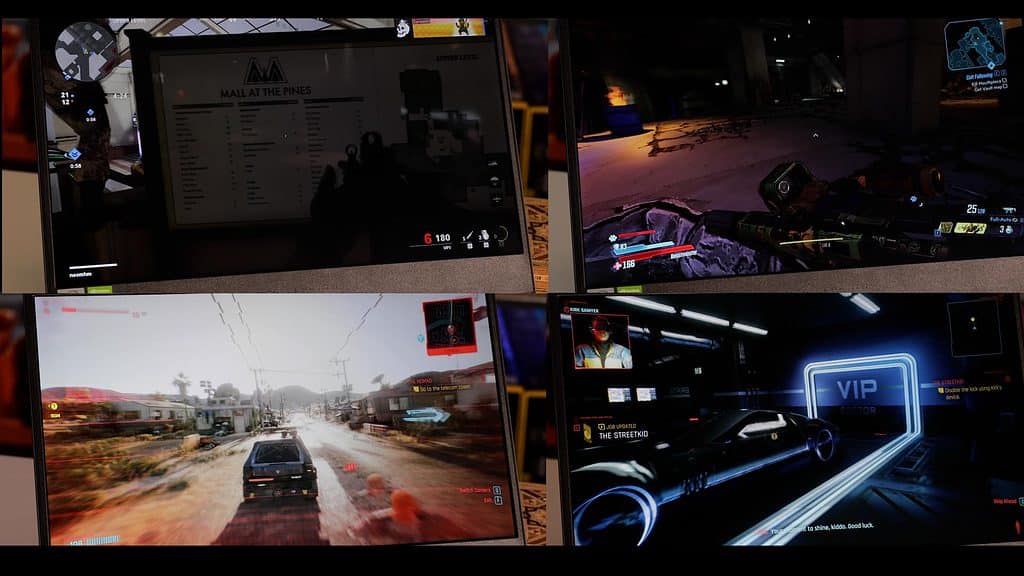 To put it to the test I have tested about the most demanding games available on the market today, with a variant of Graphic Engines.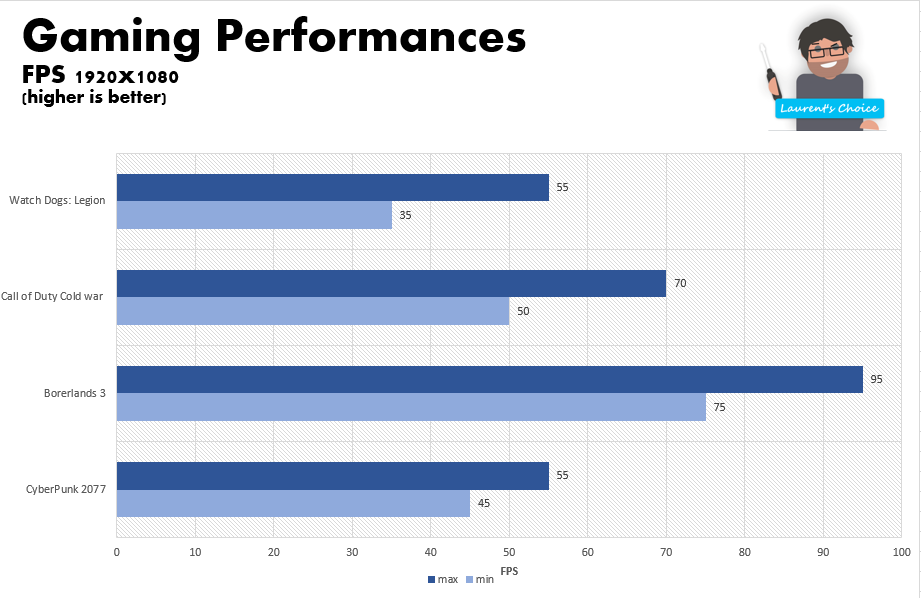 Starting with the sumptuous CYBERPUNK 2077,(Game Engine : REDengine 4 ) which even with all ray tracing settings maxed out, went butter smooth at about 55 frames per seconds,
Exact same story FOR Watch Dogs: Legion, (Game Engine: DISRUPT), I have pretty much maxed out all of the settings (including Ray Tracing, and the game play was fluid without noticeable lag.
Call of Duty: Cold War (Game Engine : IW) went even better with about 70 frames per seconds, and last but not least, Borderlands 3 (Game Engine : Unreal Engine 4 ) easily kept running at 90 FPS.
Throughout a variety of game engines, on its native 1080 resolution, the ROG Zephyrus DUO had absolutely no problem delivering highs-tier desktop class performances.
As for production,
I can not stress enough what fined tune hardware will do for your comfort and sanity when working on a complex video. I edited this video in 4K, and my production work experience was more comfortable, dare I say performant, than some of the most expensive desktop out there!
I have to mention the color depth and quality of the 15,6" main-screen which has nothing to envy from some of the most industrious dedicated panels on the market today!
In a prod. context, that secondary screen took a life of its own.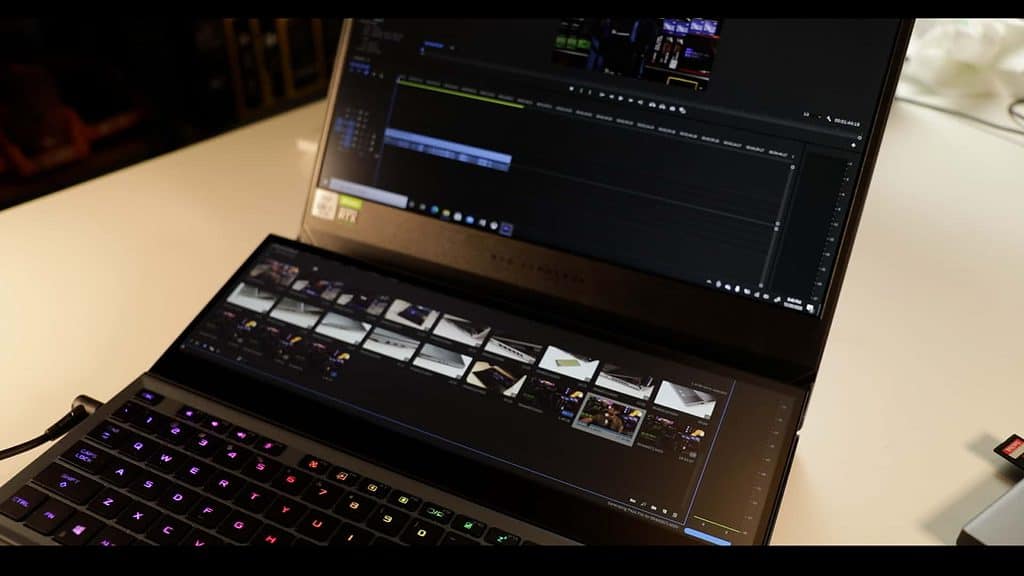 It allowed my 15 inches to focused on my timeline, since I could place my components on the secondary one!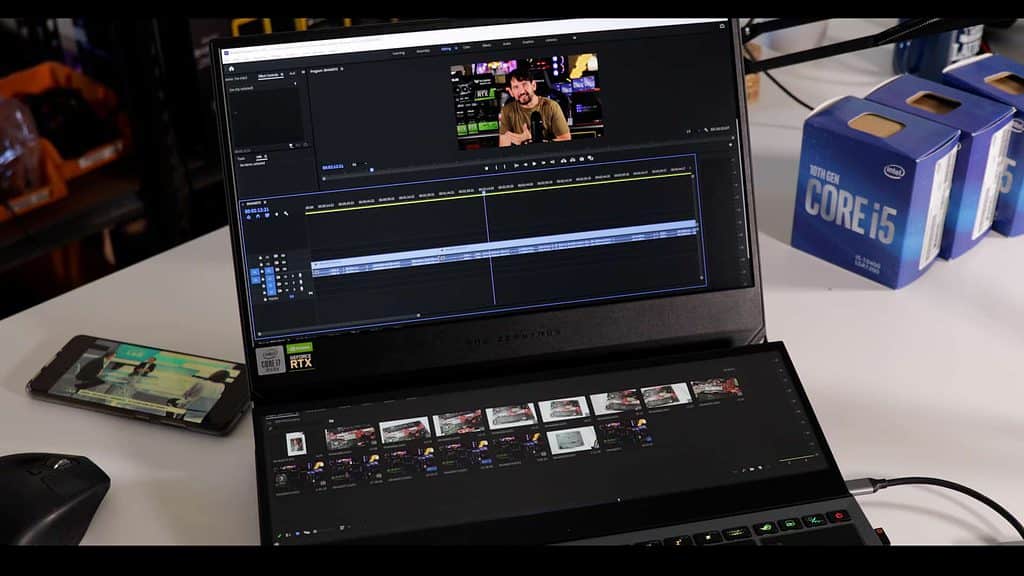 I only wish it had been a tad higher, to hide some of that main screen bezel, and add a more obvious continuity with it, but I am splitting hairs in two here. That thing is so addictive it should be illegal.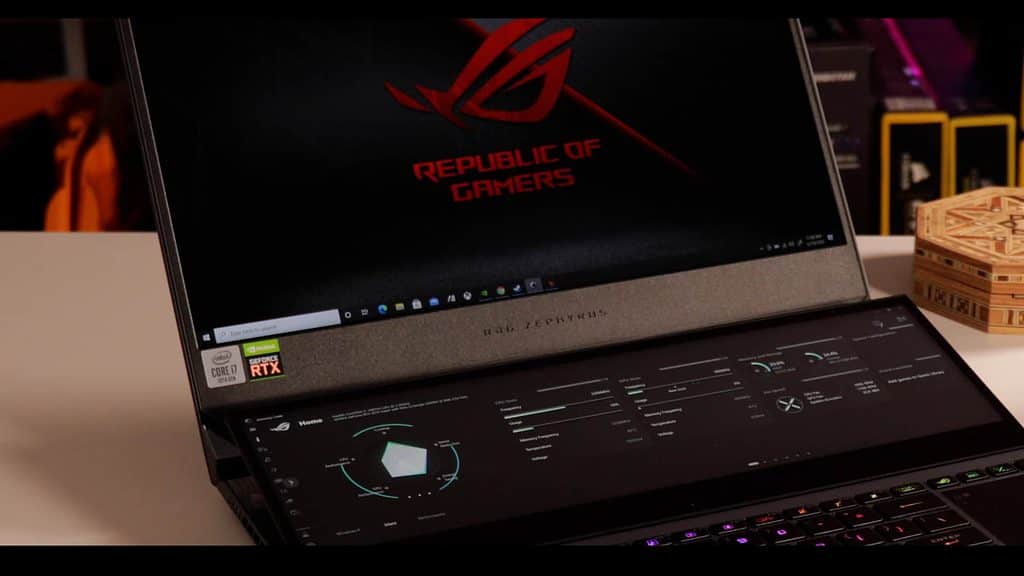 I need to note the absence of an integrated camera, but I'd side with ASUS on this one! They usually thicken the bezel or remove screen real-estate.
If you are a streamer, having a camera placed right at about chin level is not really sexy! I would rather use my own camera set up than a non-upgradable ever-deprecating built-in camera. No regrets here!
---
Temps & Performances
We got a couple of very hot chip in there, despite being extremely heat efficient, our processor and GPU, can accumulate serious temps.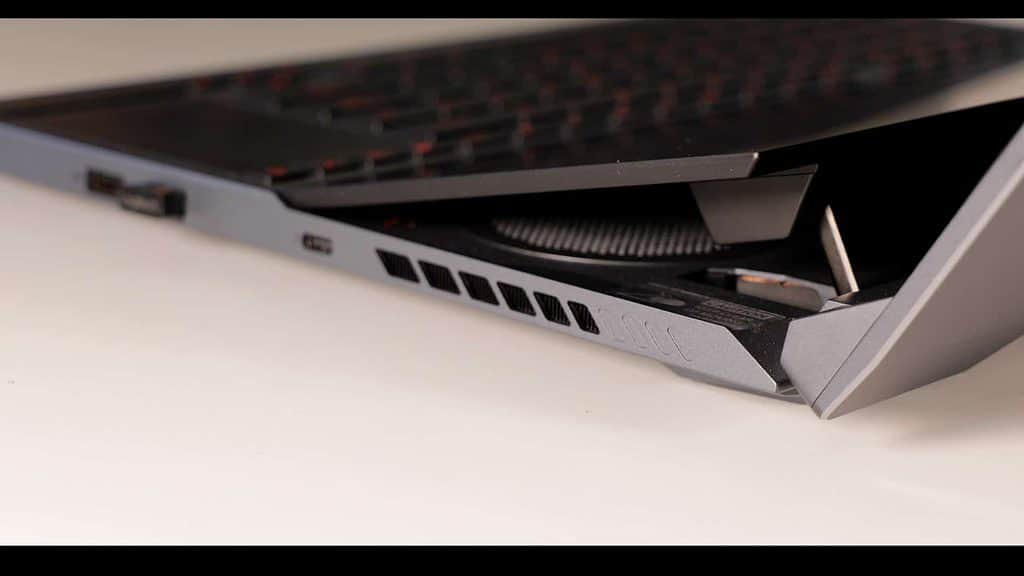 But that 2ndary screen 30-degree tilt is not only here to find your gorgeous regard, but also to allow much more air in than on its predecessor (which I have also reviewed). 30 to 40% more air intake to be precise.
And it shows! The ROG Zephyrus DUO manages to stay relatively cool even after a solid hour of synthetic stress.
---
Sound & Keyboard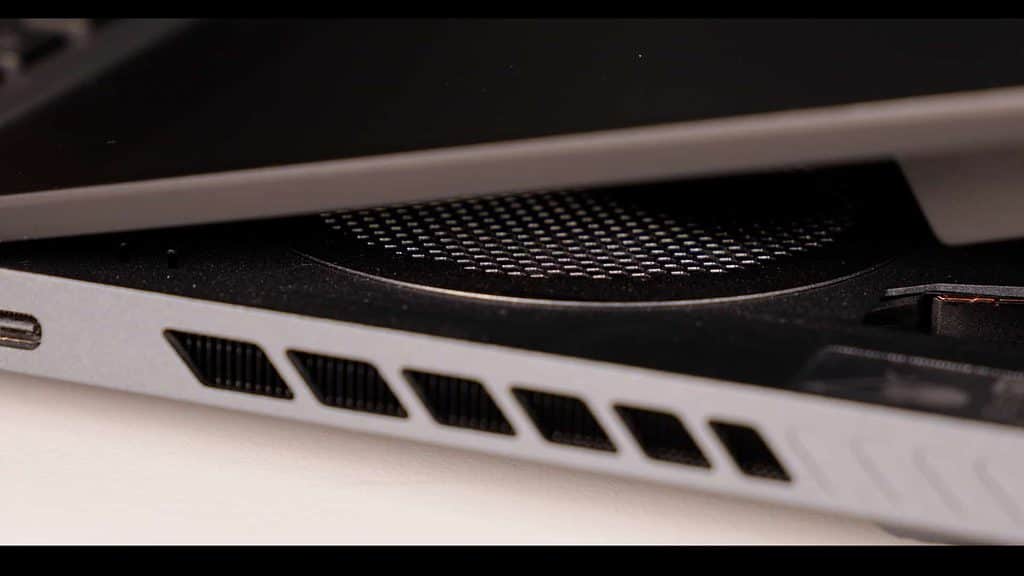 The speakers are hidden right under the ScreenPad, giving them space and room to echo deep and rich bass.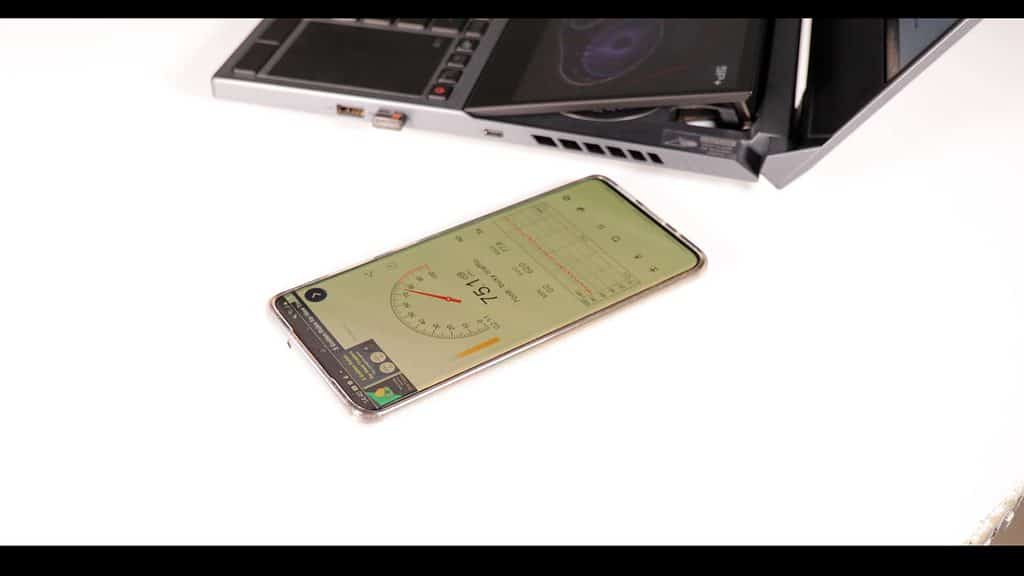 And without being loud, they are clear and produce a clean and agreeable sound. It is a luxurious experience, nothing less.
The KEYBOARD
First, and obviously, being a ROG keyboard, we got all the AURA goodies which will make your fingertips squirm of pleasure!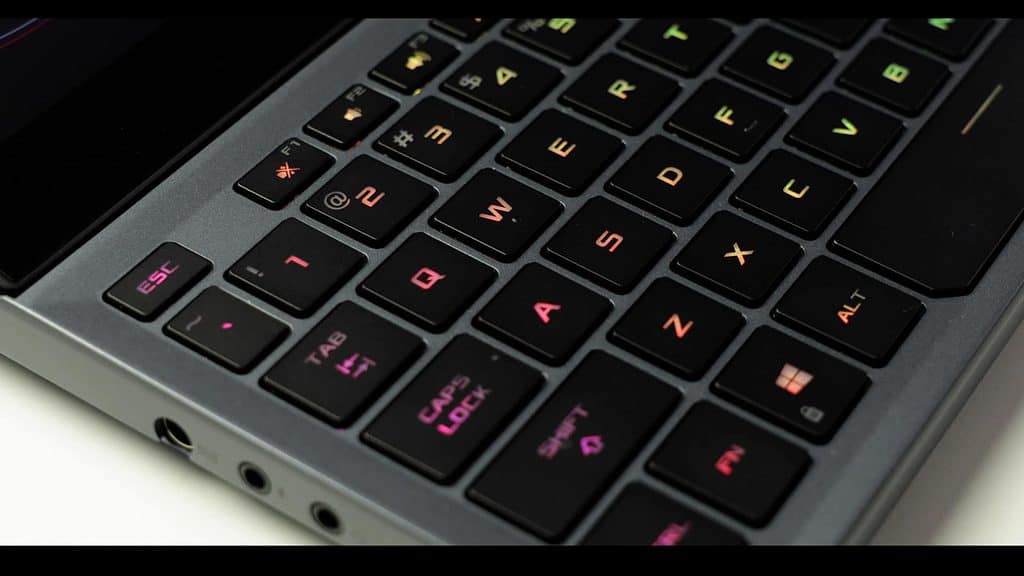 But most importantly, this is such a comfortable and satisfying keyboard. When pressed, the key fits securely and homogeneously in, it precisely register and produces this ever satisfying leveled resistance, which makes you crave for that next letter!
Well-spaced, every letter you type is pure un-distilled satisfaction.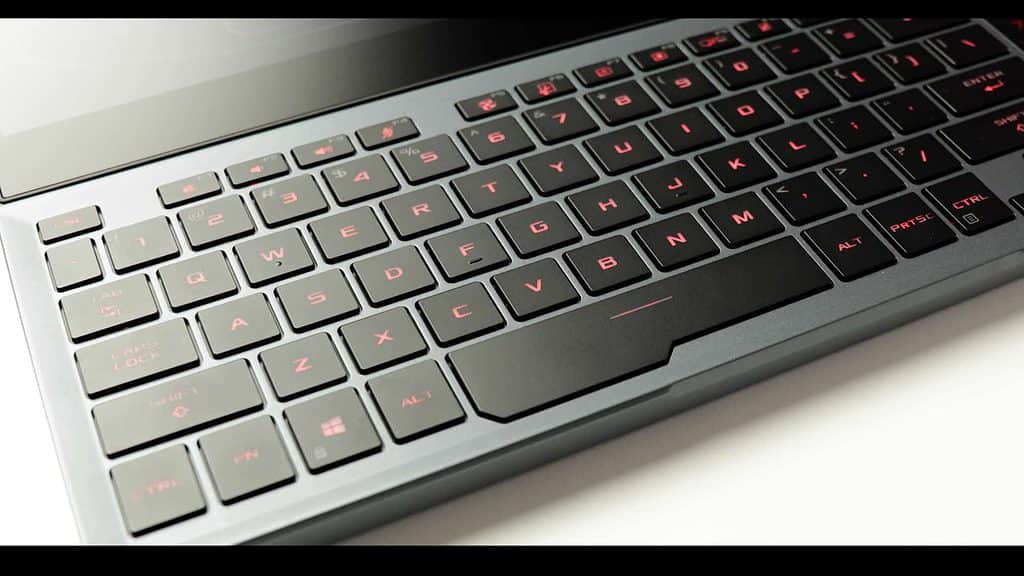 Honestly, I could re-write the "Encyclopedie" on this thing, and still be able precise-pick my nose afterward.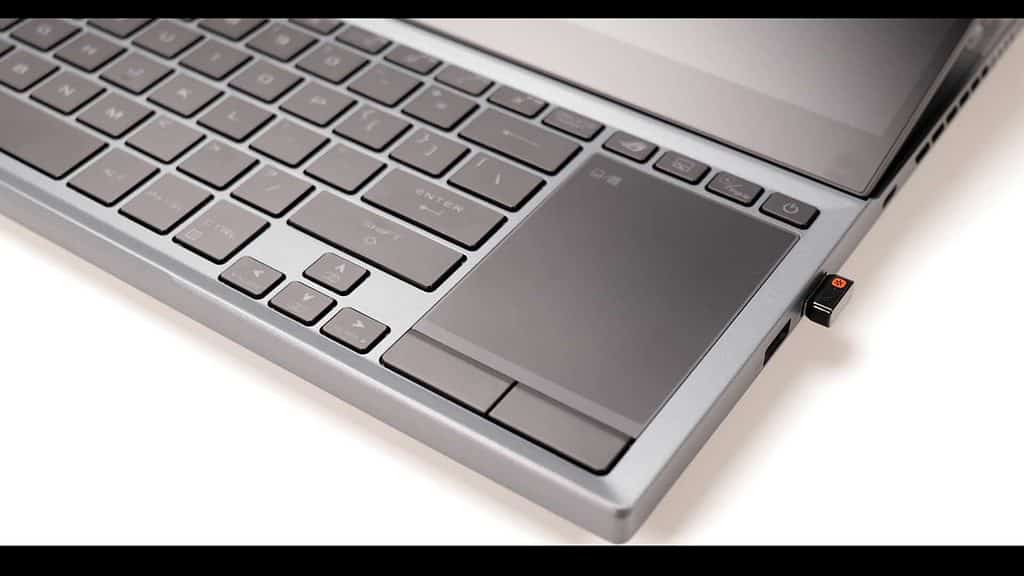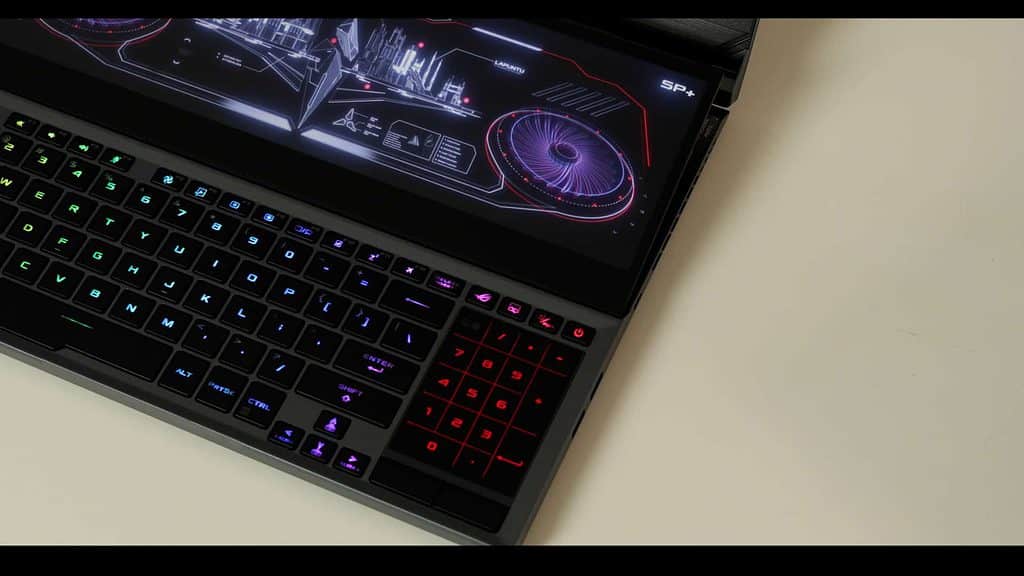 On the other hand we got that mouse pad which luckily doubles in a numpad. I say luckily because I am certainly not using it as a mouse. I Find it awkwardly placed and a bit too small.
Anyhow, once installed for work or for gaming, I can not imagine anyone not using a dedicated mouse.
It is very useful on a plane, but that's about it.
---
IO & Expandability
IO wise, well it's as simple and efficient as it gets.
Audio Jacks
A couple of 3.2 USBs but most importantly a TYPE-C which will allow you all the expansions you can dream of.

I do regret the absence of a 2nd TYPE-C which I think would have been one not too many.

On the back We also have our surge protected LAN ethernet port, a 10 gig USB plug, and a HDMI 2.1(4k@60) output for a secondary display.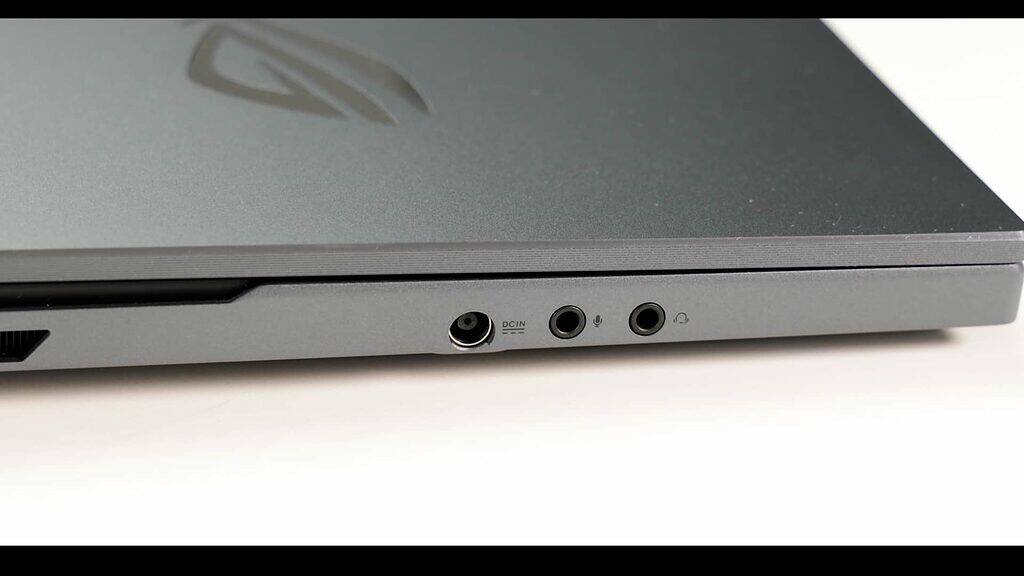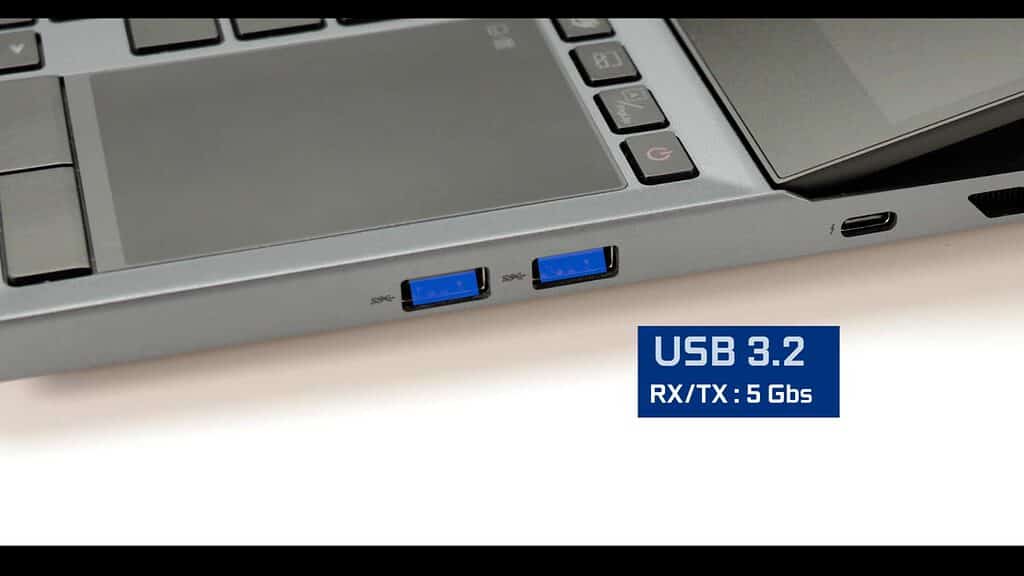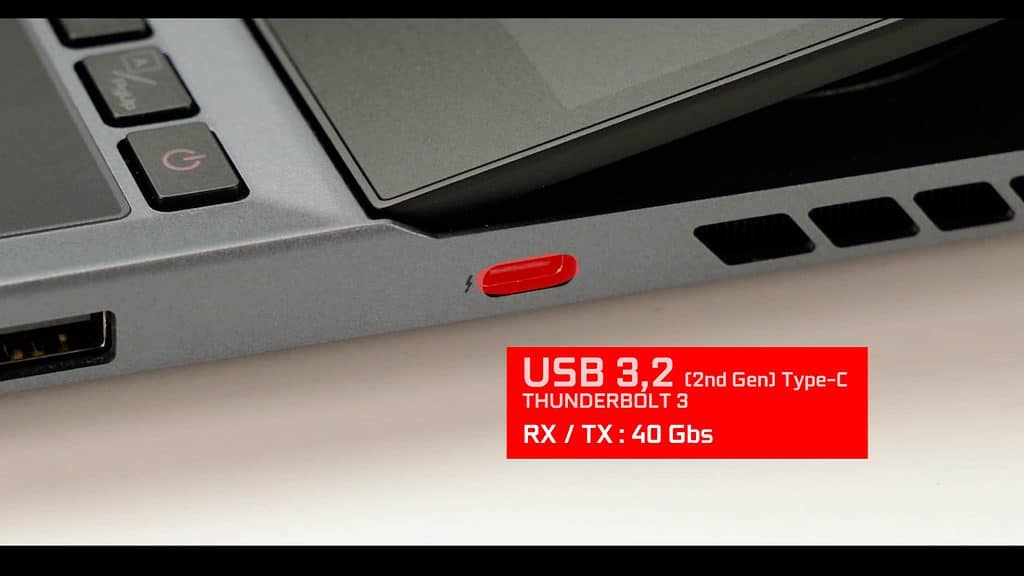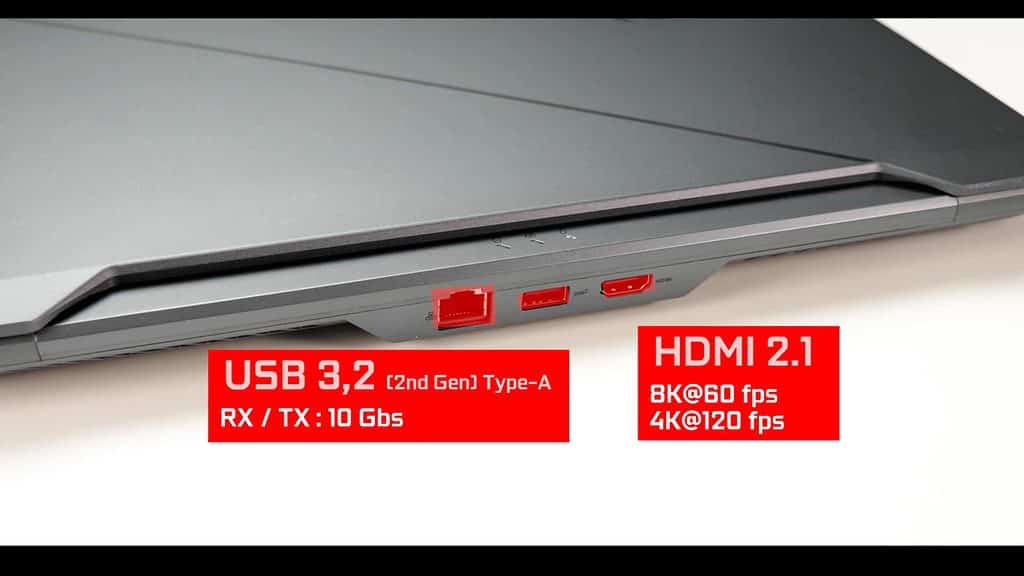 The only critic I have here is the positioning of the power inlet, which placed on the side, will take more place than it needs, and compete with you right hand for space.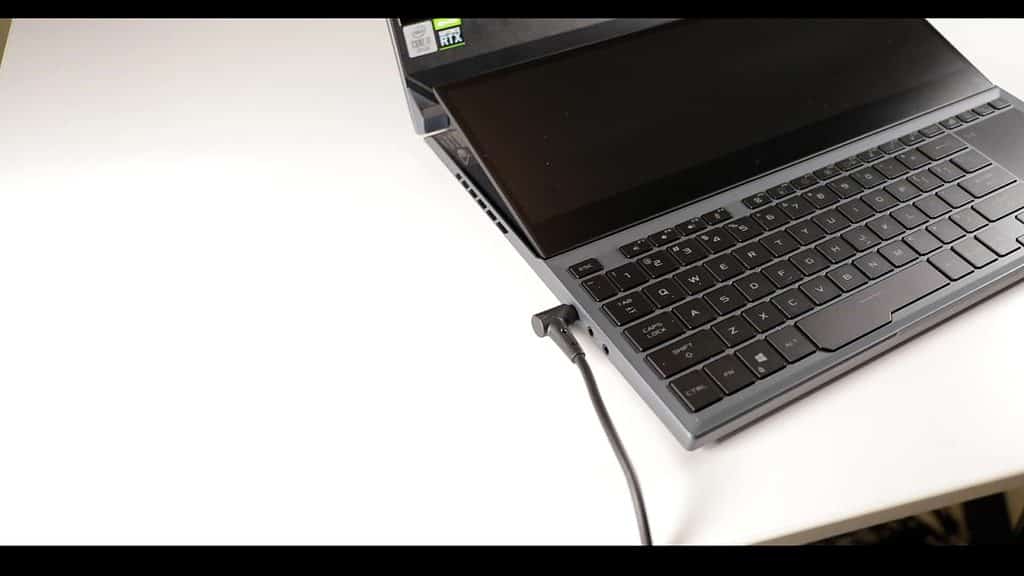 Most importantly, it is located right next to the audio jacks which makes it a 'wire-dance' every time you try to connect your audio device.
In short, the power inlet should have been placed either behind or on one of its top corners.
Being a creator machine, some of you might question ASUS' choice not to equip the ROG Zephyrus DUO with an integrated SD card reader.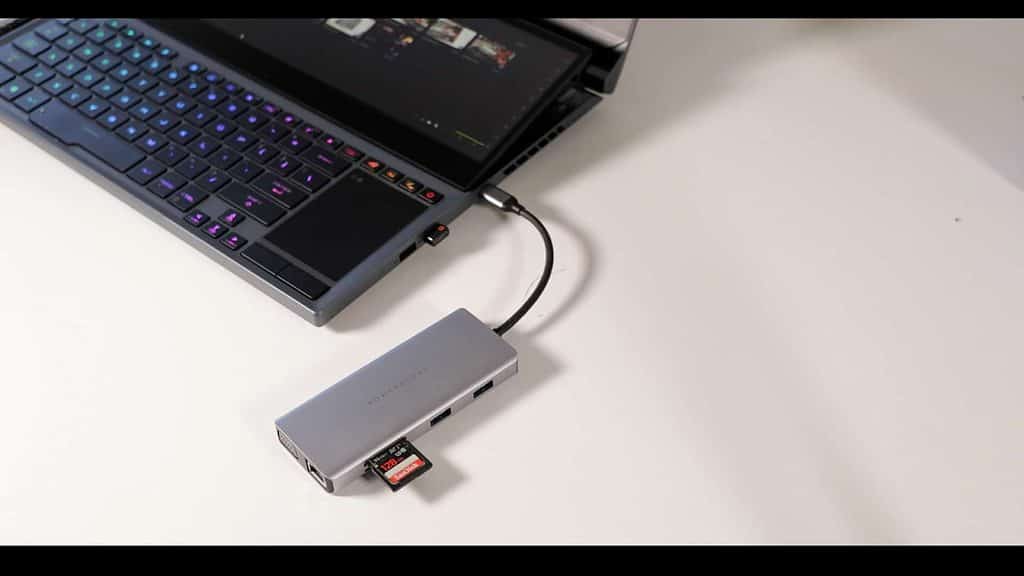 Despite understanding your concern, I am rather pleased not to see one. The least amount of integrated features both benefit the reliability and the heat management of the ROG Zephyrus DUO. And since we do have Thunderbolt 3 output, it is extremely easy to expand our laptop IO.
---
Portability & Battery
The ROG Zephyrus DUO is extraordinary thin and compact measuring a mere 0.82 by 14.2 by 10.6 inch (HWD). It still shows a not-so-light 5.3 pounds (2,4 Kg), but even that is not heavy considering what it packs.
Eventhoug it is on the thick side, It will fit in about any backpack 15-inch pocket.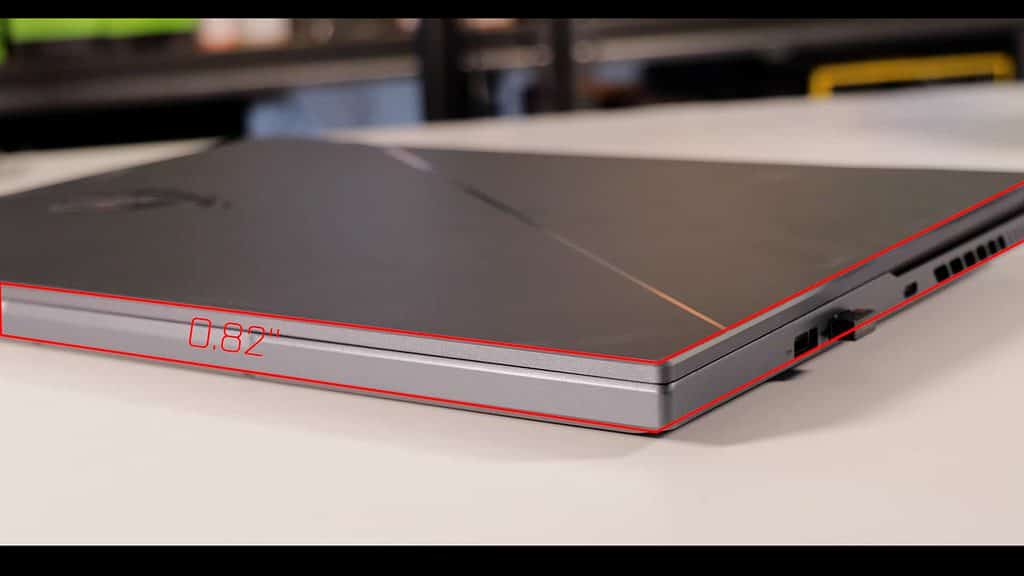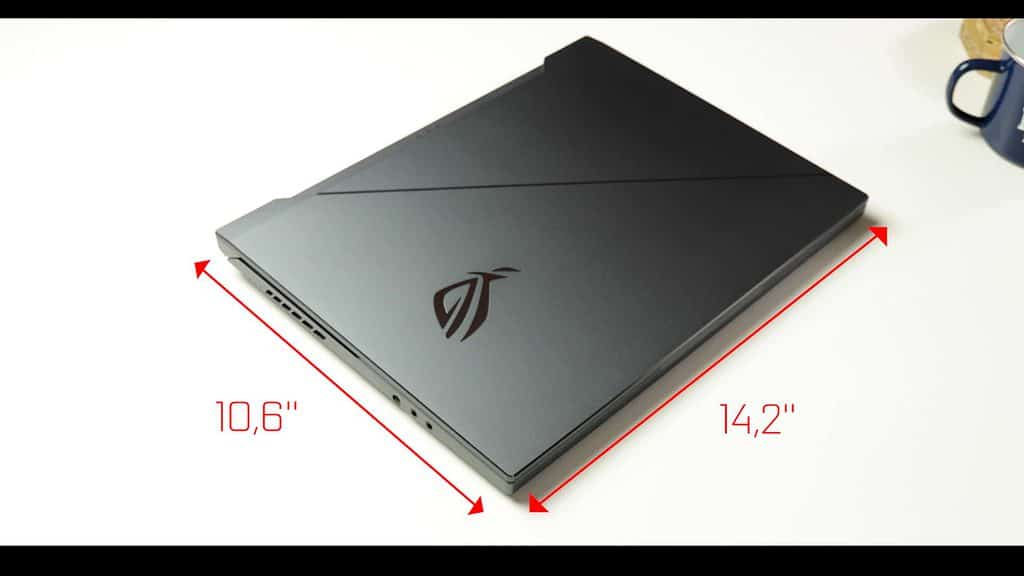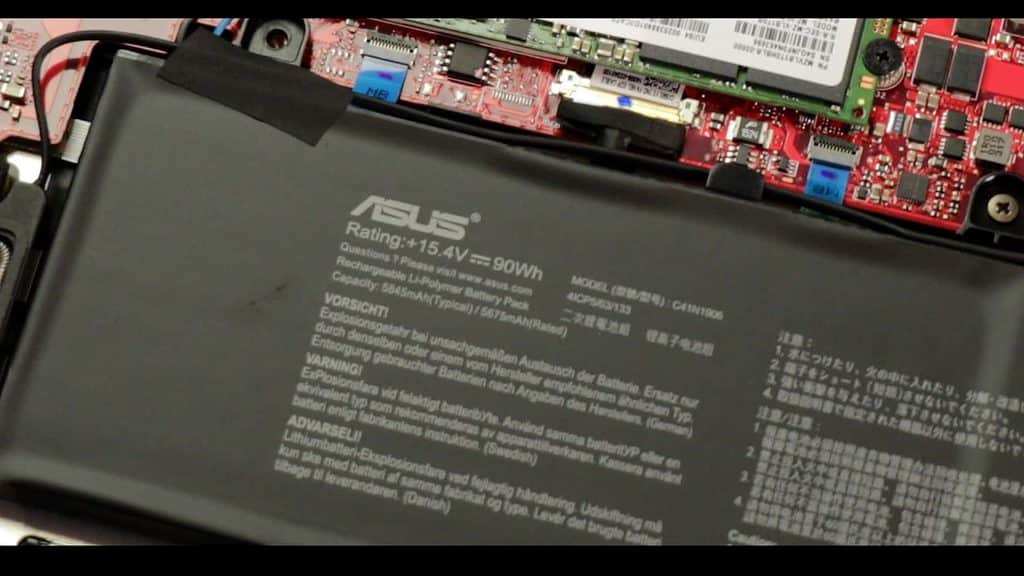 Battery wise, the ROG Zephyrus DUO does have a massive 90W/hour lithium pack and a few tricks up its sleeves in order to extend its battery life.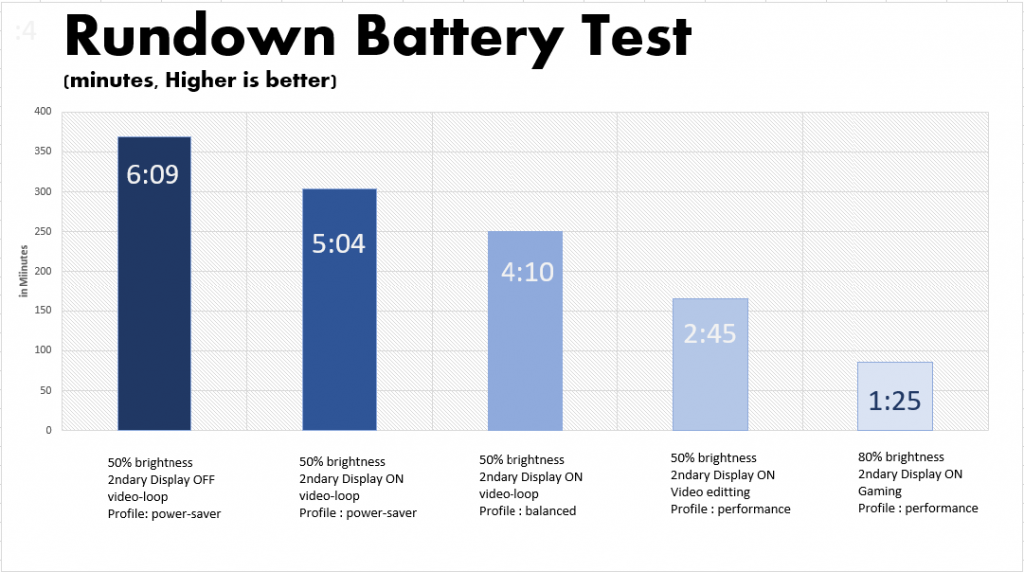 Most notably, the ROG Zephyrus DUO lets you turn off its touch panel thanks to dedicated button (Keyboard), which is rather a nice touch (pun intended).
That last feature allowed an impressive 6:09 hours with the main screen set at 50% brightness and set on 'power-save mode', on a video loop.
Surprisingly, with the secondary screen back on, and on a full charge, I still managed to get 5 hours of life. Impressive!
On balance-mode, I managed to squeeze in almost 3 hours  (Adobe PREMIERE PRO) before windows went into a deep sleep.
---
Conclusion
At about $3,300  before taxes (reviewed model), the ASUS ROG Zephyrus Duo is aiming at doing one thing, and one thing only:
Innovate and be the best at it, and it does. It deliciously does!
Beyond that, it hopes to seduce and attract mainly YouTube / Twitch content creators / Heavy gamers, an graphics professionals,  by showcasing where ASUS engineering is at!
It is a Premium object! That's certain. But the why and how it works so well, is its perceived simplicity. Obviously this is an incredibly complex object to engineer, but it all feels so intuitive to the user. That is what so many brands out there try to do, but so many few manage to achieve.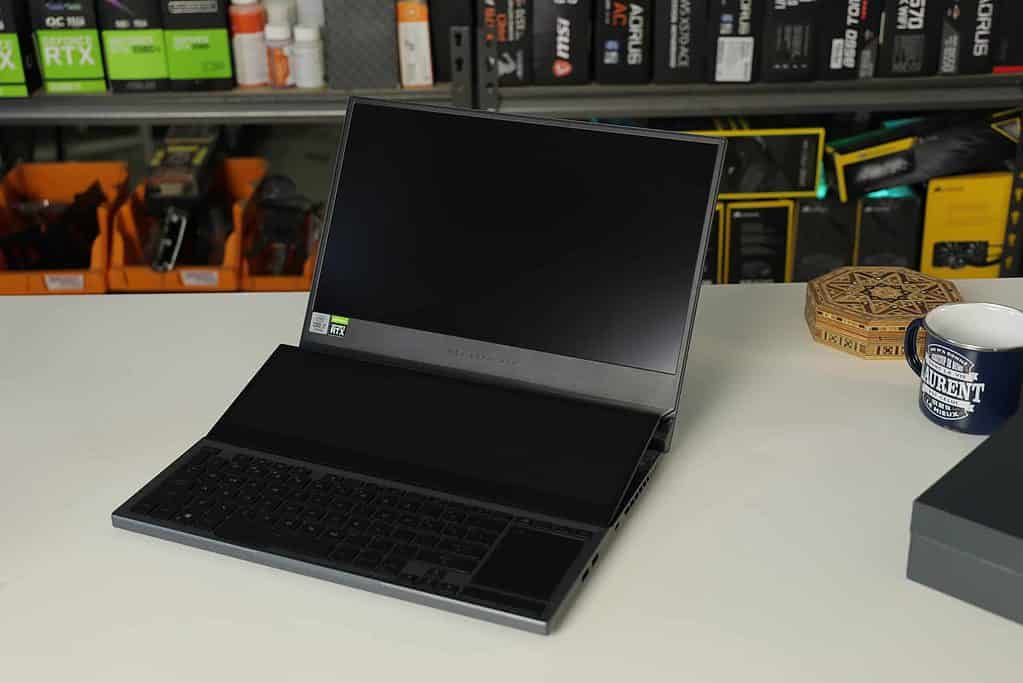 It's not only about the hardware, but how it's put together. The seamless marriage of elements. The harmonious concert of a ridiculously efficient CPU allowing the full potential of the GPU.
The dual screen setup works!
It simply betters everything you do. My production is more comfortable. There is an added pleasure working with such an object.
This is not a laptop; this is a precision tool!
Frankly talking I can't wait to see the next iteration of the ROG Zephyrus DUO and where Intel and ASUS will take us!