Key Features
Price: 475 USD
E-ATX Form Factor
Intel Z390 chipset
LGA 1151 CPU socket
Compatible with 8th and 9th Gen. Intel CPUs
2 x 32GB 4,800 MHz DDR4, maximum 64GB
3 x PCI-E 3.0 x16, 1 x PCI-E 3.0 X1
Back IO :Clear CMOS, Bios FLASHBACK, PS2 Keyboard, PS2 Mouse,  4 x USB 3.1 2nd gen. Type-A+ Type C, 6 x USB 3.1 (1st Gen), 1 x  Gigabit LAN, S1220 Realtek 7.1 channels audio, Dual Band 802.11 AC WIFI,
 DIMM.2 DUAL M.2 SSD, 6 x SATA 3
3 x CrossFire support, 2 x SLI support
8 Phases/ 16 Power Stages  for CPU Over-Clocking
Premium Chocks, and MOSFETs
Single DIMM RAM channel
Liquid-nitrogen cooling features
Advanced Custom Water cooling features
Simplified and bare-bone PCB overlay
DIMM.2 plate with thermo-padded heat-shield
Integrated IO shields
Multiple troubleshooting features
Big START/ RESET soldered buttons
Looks great
Robust design
Expensive to operate and max out (32 GB DDR4 RAM sticks)
No Live-Dash which would have been perfect for a quick CPU frequency and voltage read-out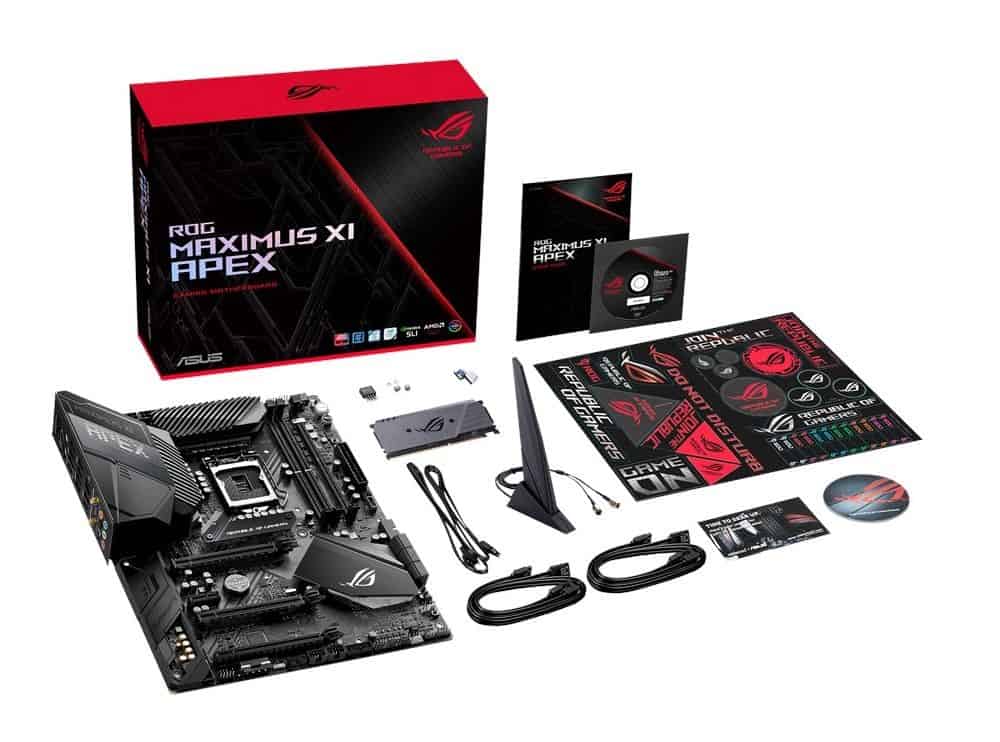 Q connector
4 SATA cables
3 thermistor cables
Dual band antenna
DIMM.2 plat with thermo-padded heat-shield
RGB extension cable
Fan Extension card
Addressable RGB extension cable
M.2 SSD screws and screw raisers
2 way SLI Bridge
ROG metal Sticker
ROG Cup coaster
MSI Coupon code
Driver USB stick
Manual
Cable Labels
Stickers
The ROG MAXIMUS XI APEX
First and foremost, it is an ATX motherboard.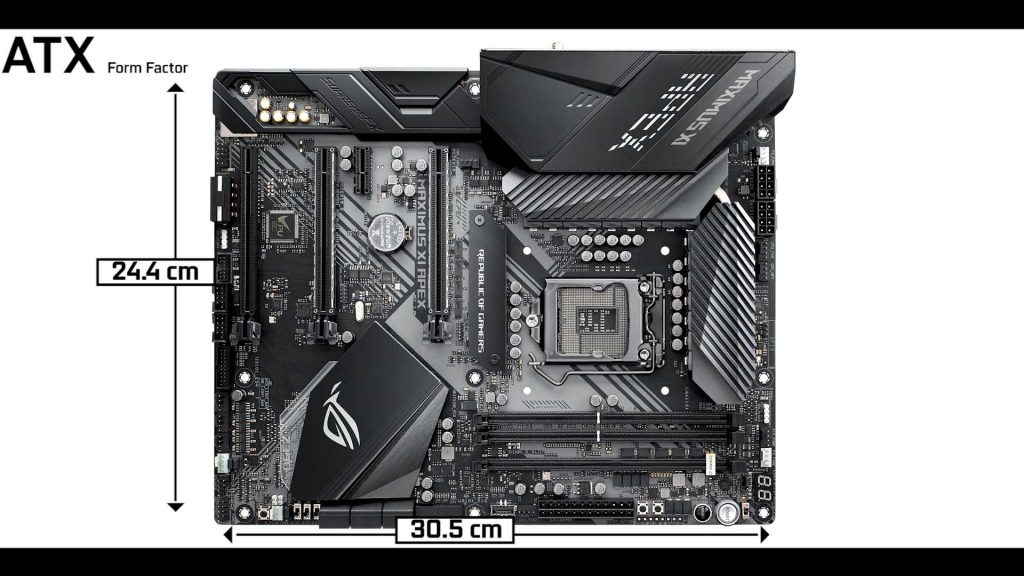 On its back, It is equipped with padded thermo shields on it VRM soldered points to ensure heat dissipation and further protect it against water condensation.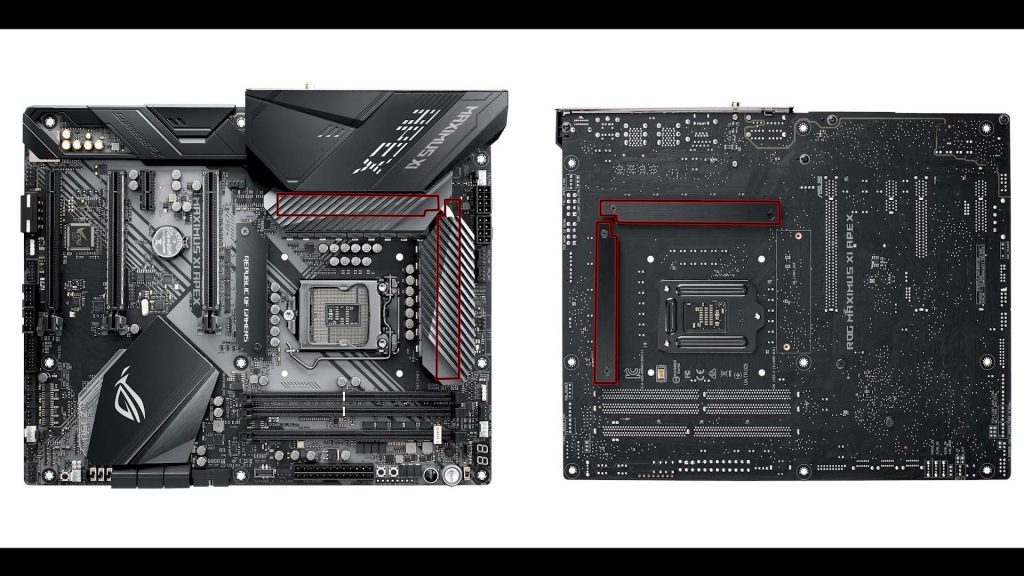 The Z390 chipset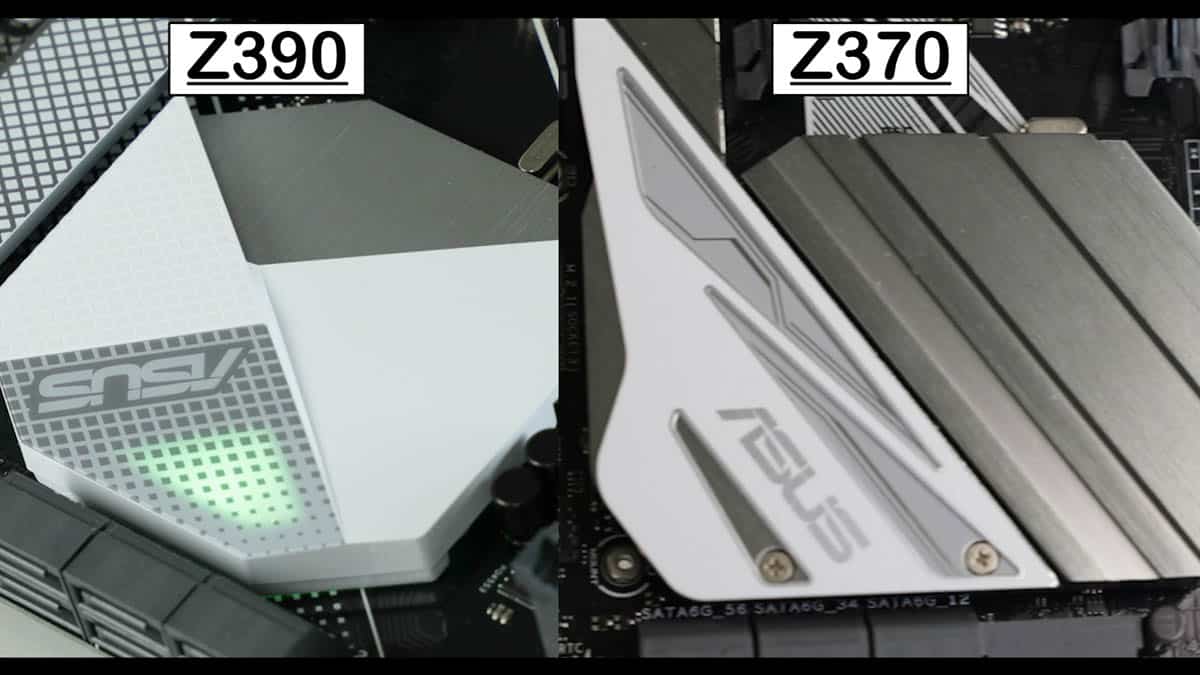 The big difference in this new series is, of course, the chipset: The Z390.
What you need to know here is that the Z390 is in all and for all identical to its predecessor, the Z370. The only noticeable differences are the addition of 2 features (marked in red below) :
Intel Z370 versus Z390


Intel Chipset
Z390
Z370
Overclocking Support
Yes
Yes
On-CPU PCI Express* 3.0 Configurations
1X16 or 2X8 or 1×8+2X4
1×16 or 2×8 or 1×8+2×4
Independent Display Ports / Pipes Support
3/3
3/3
Memory Channels / DIMMs per Channel
2/2
2/2
Processor Overclocking
Yes
Yes
Integrated Intel Wireless-AC Support (CNVi)

Yes

No
Intel Optane Memory Support
Yes
Yes
Maximum High Speed I/O Lanes
30?
30
Maximum USB 3.1 Ports: Gen 2 / Gen 1

6 / 10

0 / 10
Maximum SATA 6Gb/s Ports
6
6
Maximum PCI Express* 3.0 lanes
24 (v3.0)
24 (v3.0)
Intel Rapid Storage Technology
Yes
Yes
Maximum Intel RST for PCIe Storage Ports (x2 M.2 or x4 M.2)
3
3
Intel RST PCIe RAID 0, 1, 5
Yes
Yes
Intel RST SATA RAID 0, 1, 5, 10
Yes
Yes
Intel RST for CPU-attached Intel PCIe Storage
Yes
Yes
Other than that, they are the very same chipset, which is a good thing since both the Z370 and Z390 can support the same processors:
8th Generation Intel Processors (Coffee Lake)
9th Generation Intel Processors (Coffee Lake refresh)
Socket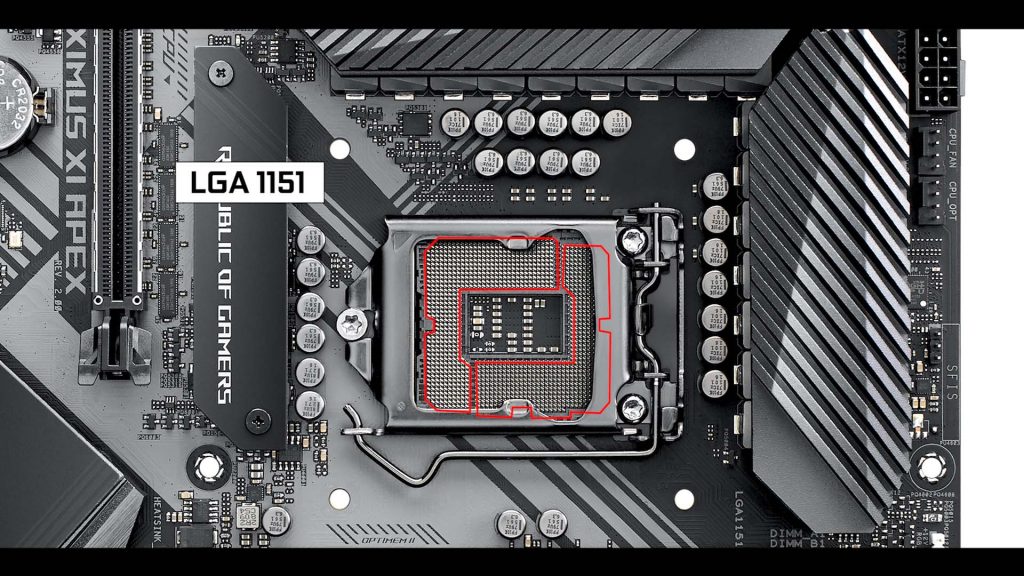 Luckily for all of us, this board still uses the highly compatible 1151 LGA CPU socket. Therefore, if you have installed any Intel CPU in the past decade, you should feel right at home.
And, as previously stated, the CPU socket will support both the 8th and 9th generation of Intel's Core CPUs.
VRM
The ROG MAXIMUS XI APEX comes with 12 phases, 10 of which are dedicated to your CPU!
Obviously, this means a superior overclocking experience with ANY supported CPU. Yes! Including the massive i9-9900K!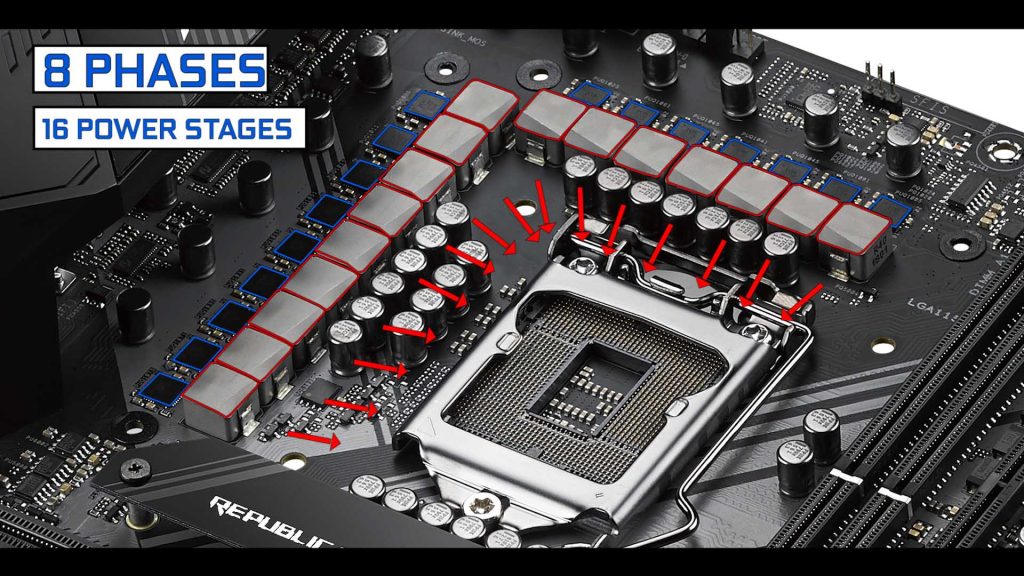 Actually, you could OC an i7 or an i9 and still not need and heatsinks to keep our VRM cool. It will require extreme voltage and overclocking to feel any kind of serious heating coming from the APEX.
Note on Overcloking:
APEX series were design, not only to overclock, but to break world records. It covers everything from classic air cooling, to nitrogen cooling, passing custom water cooling.
In this context, there is no surprise in seeing the most over-kill VRM configuration a baord can boast.
We have 8 phases delivering their power through 16 power-stages. This evidently more power than any available Intel Core CPU would need.
Having that many power stages also mean almost not heat concentration on them. The more power stage surface you have, the more heat has space to dissipate.
No thermo-throttling and of a stone-stable voltage in the most extreme overclocking setups!
And yes indeed, this is one of the few board which can truly managed an i9-9900k at 5.1 Ghz on a long term basis.
RAM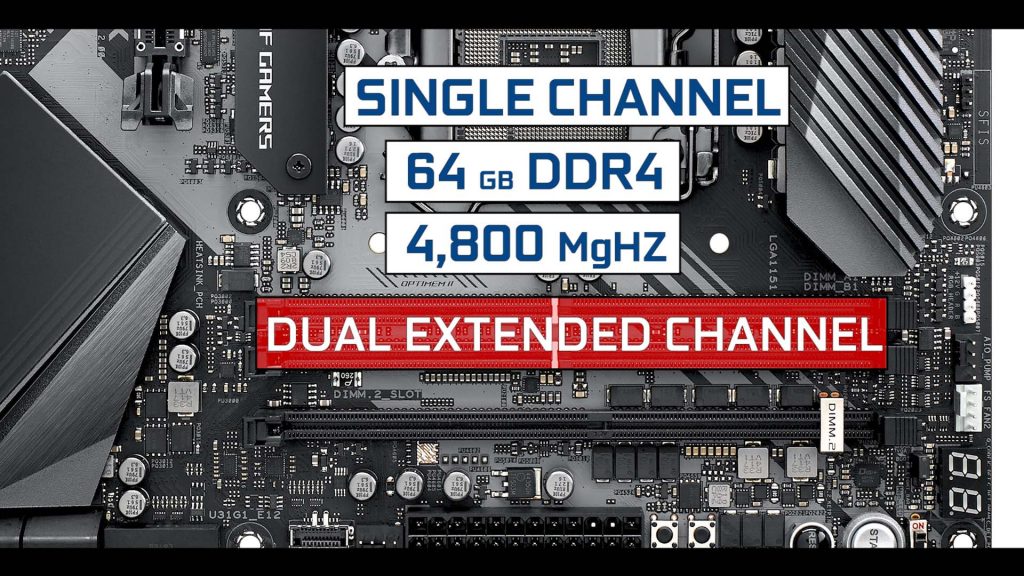 RAM wise, we have a a single slot dual channel (correction from my video review which erroneously showed a single channel configuration).
To be clear, both slot can operate 32 GB DDR4 sticks each, and they both have dedicated access to CPU on their own separated memory channels.
It can support up-to 64 GB of DDR4 RAM at an unprecedented 4,800 MgHZ.
M.2 SSD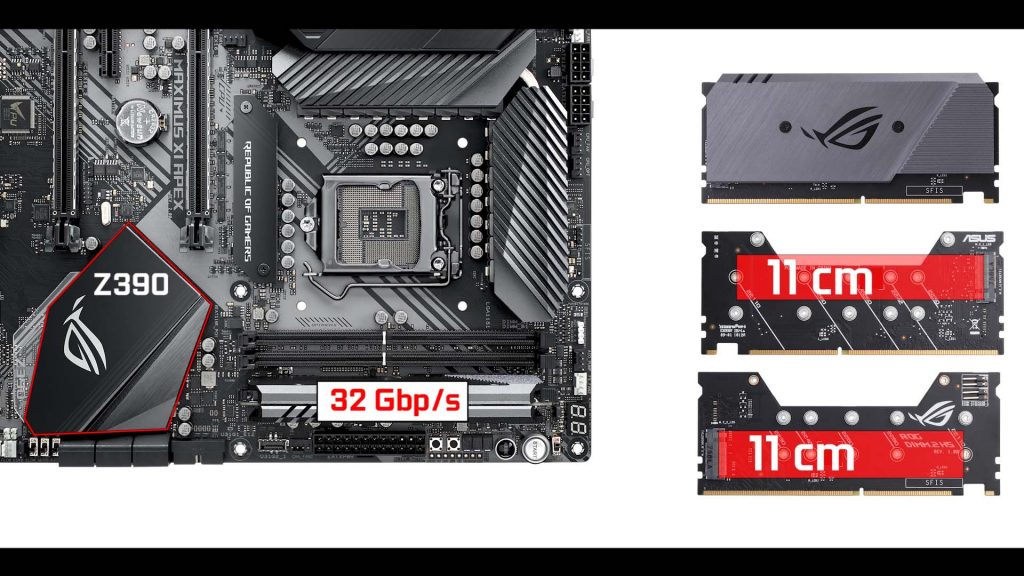 Storage wise, we have a dual M.2 SSD configuration place on a DIMM.2 plate.  Of course, the Z390 chipset is Optane ready. This will allow our M.2 SSD sticks to swap data up to 32 Gbps.
With this kind of theoretical transfers, do not be surprised to see your M.2 SSDs sticks overheating, and thermo-throttling.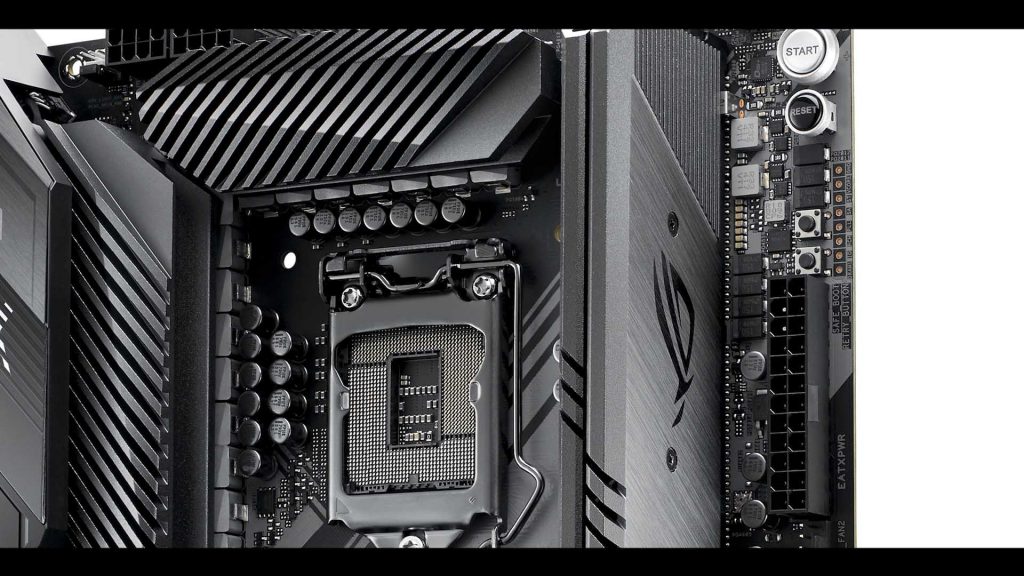 And that is why all of our DIMM.2 comes with a rather good looking thermo-padded heat-shield.
SATA 3.0
ROG MAXIMUS XI APEX SATA connectors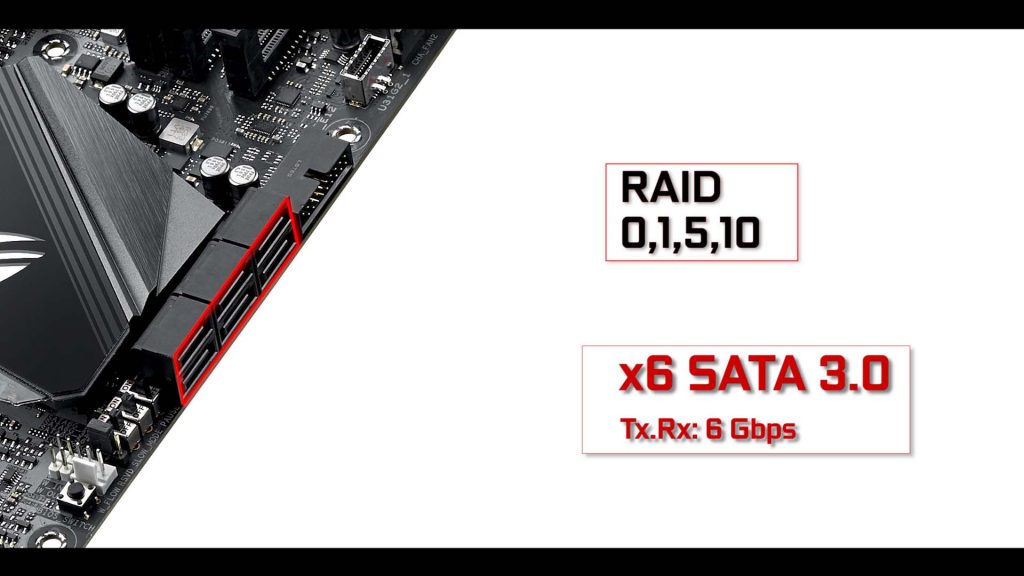 For more classical storage solutions, we have our usual SATA 3.0 plugs. 6 in total, with a transfer rate of 6 Gbps each. They can be configured to run into a 0,1,5 or 10 RAID configuration.
PCIe Lanes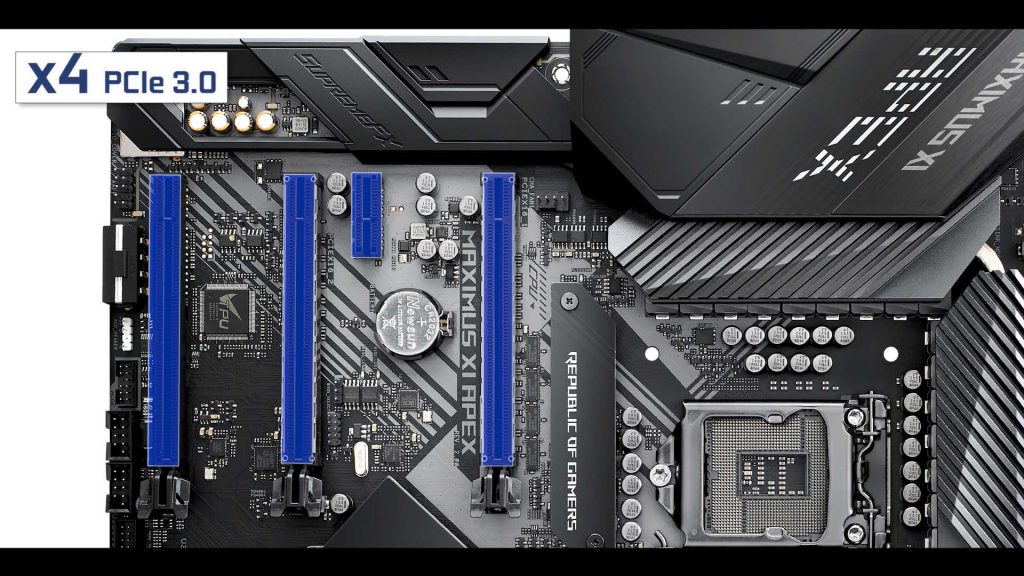 The ROG MAXIMUS XI APEX has four 3rd Generation PCI expresses.:
3 16 lanes with different BUS speeds
1 single lanes , single speeds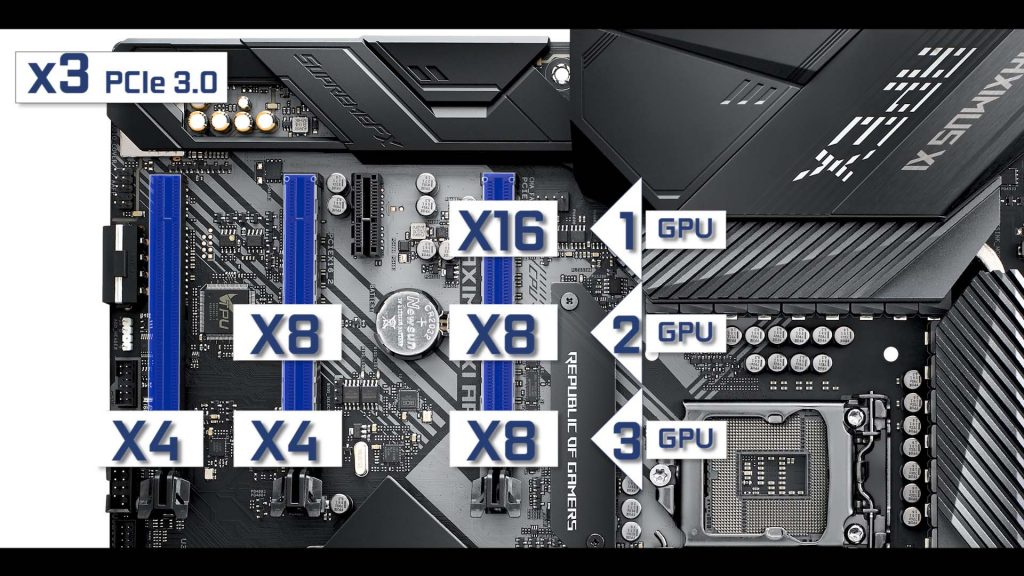 Only the closest 16 lanes PCIe slot can operate up to 16 full BUS speed. Therefore, your unique video card should be here for optimal performances.
In a 2 way GPU configuration, we have a descent 8 by 8 BUS speed, which is plenty to a run a well-performing SLI or CrossFire dual GPU configuration.
But evidently, the Z390/Core combination does not provide enough PCIe lanes to say the same about a 3 way GPU configuration, which will only provide 4 BUS speed in 2nd and 3rd position.
BACK IO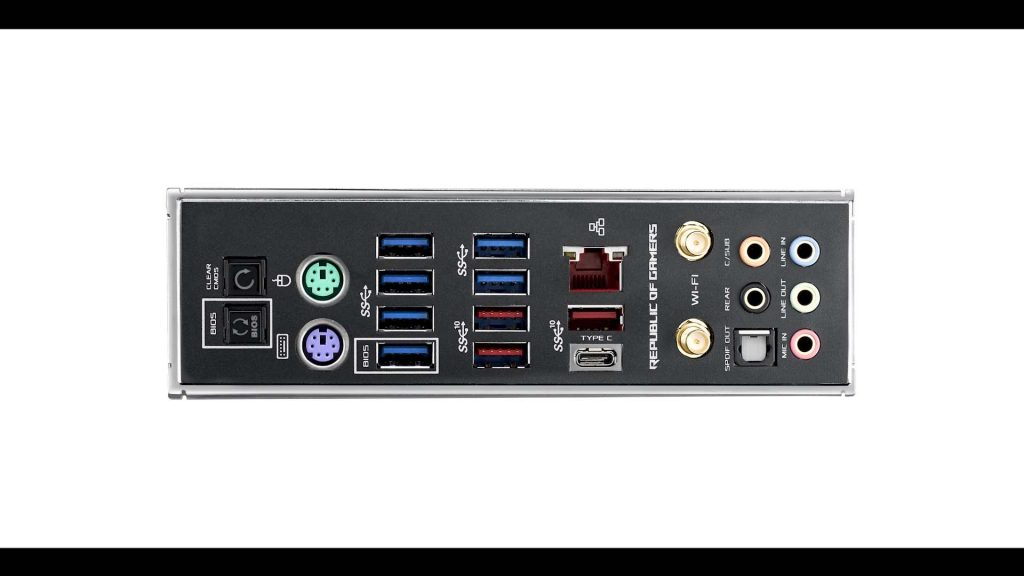 First, let me note that we have an integrated I/O shield. Which is ALWAYS a good start.
Starting from the left, we have :
Clear CMOS / BIOS Flash Back button
2 PS2 plugs for keyboard and mouse
x6 USB 3.1 1st Gen. RX/TX 5 Gbps
x4 USB 3.1 2nd Gen. ( 1 type A + 1 type C) RX/TX 10 Gbps
x1 Gigabit  LAN
Dual Band WiFi 802.11 AC, 2×2 MU-MIMO, 1.73 Gbps,
Realtek S1220A, 7.1 channels
Front Panel connectors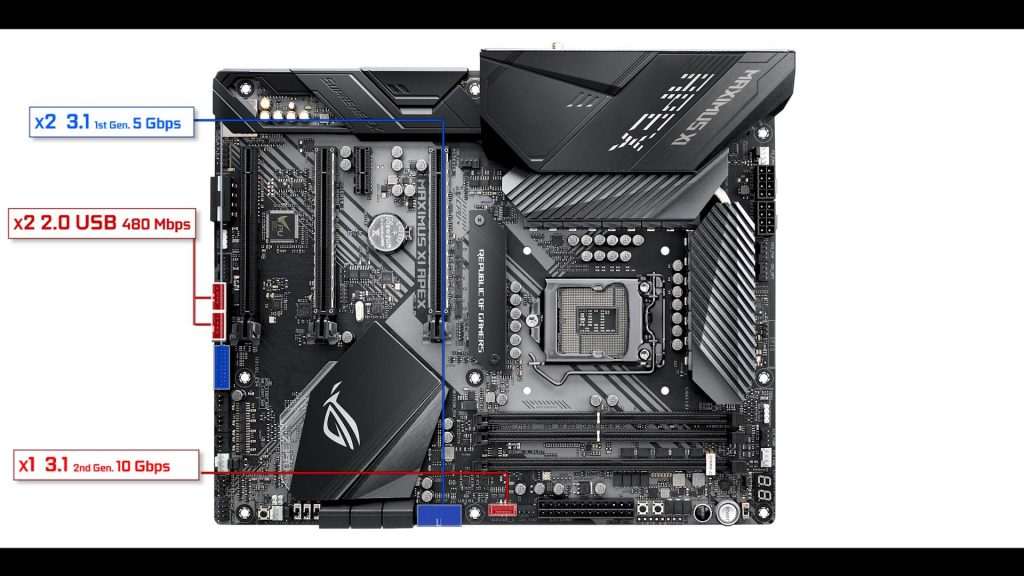 We have one USB 3.1 2nd gen type C front panel connector as well as two USB 3.1 1st gen type A (classical) front panel connector.
In addition, we have 2 USB 2.0 front panel connectors. Worth noting, these are not only relevant for data transfer, but they are also very useful for All-In-One water pumps energy supply and PWM abilities, or for Intelligent PSUs for in and out wattage readout / monitoring.
Fan & Pump Connectors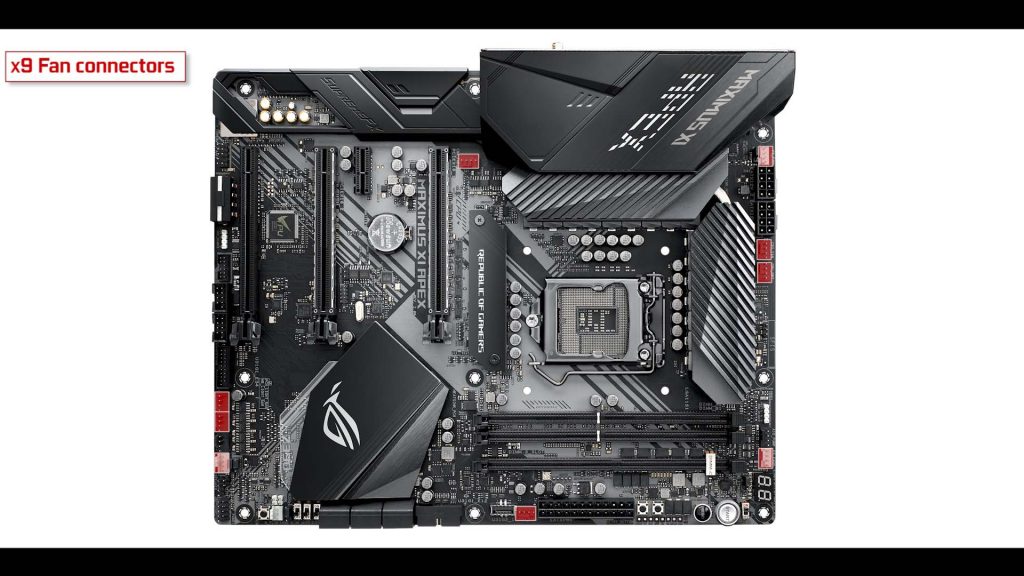 We have 9 nest fan connectors 3 of which will deliver full speed per default (white ones, picture below). They are white and easy to spot.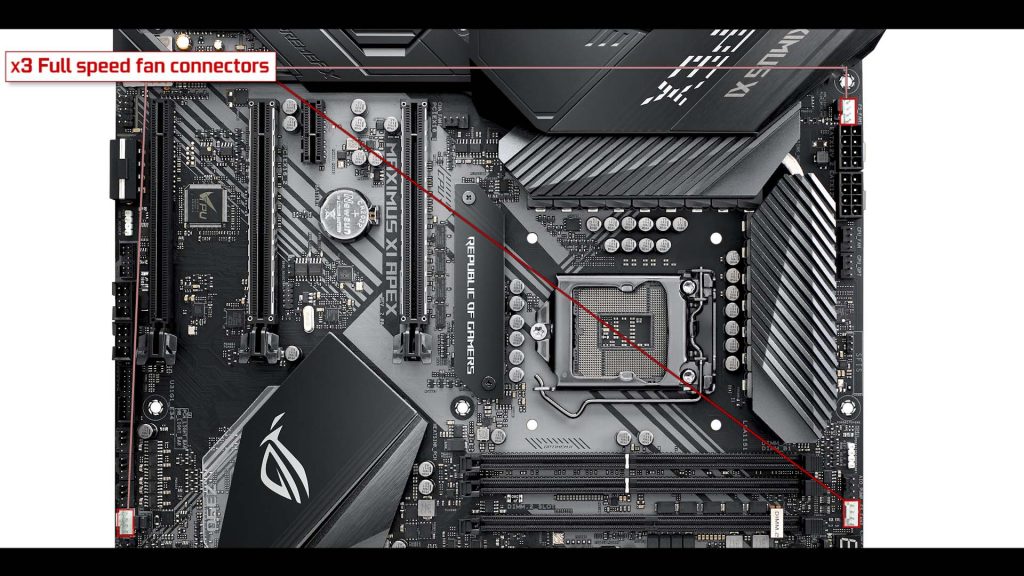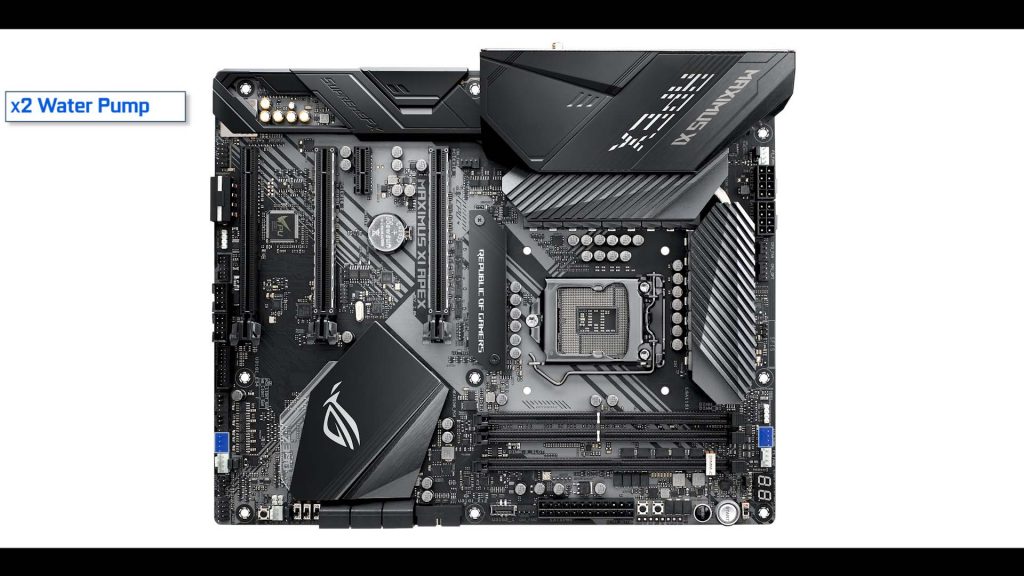 In addition we have a 12 watts Water Pump connectors and dedicated AIO PWM/DC connector. These are perfect to implement a dual custom water cooling solution or operate an all-in-one CPU cooler.
On-Board Bouttons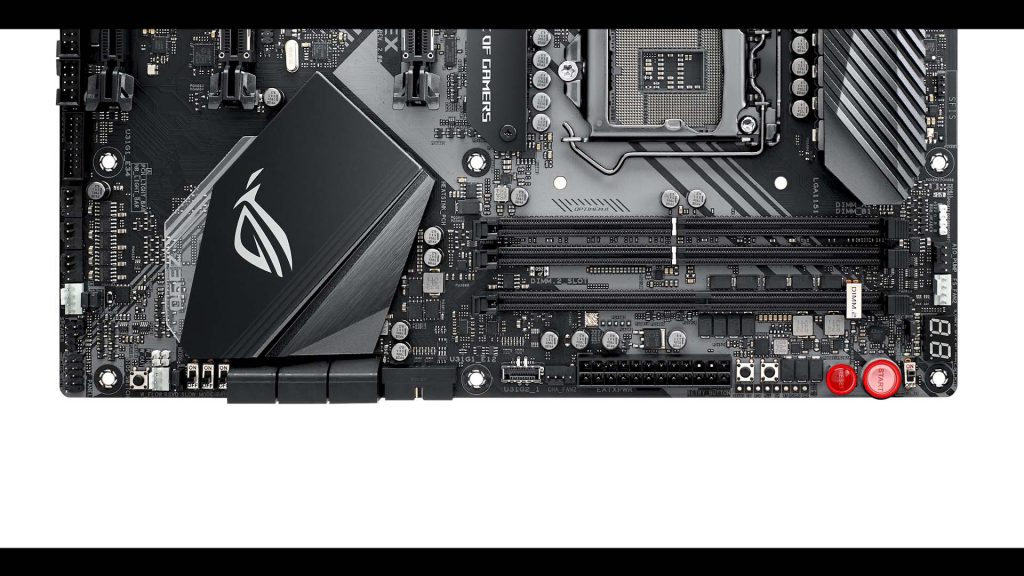 Happy to see big (and back-lit) soldered button. Always a good point!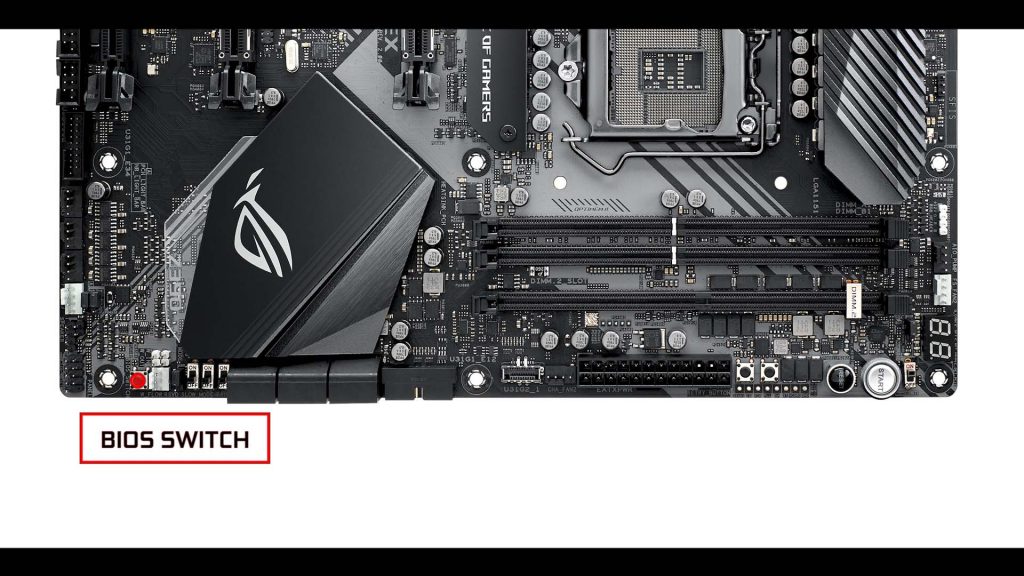 We also have safe_boot, BIOS and retry buttons which give us a direct access to all the different hard boot features the board support.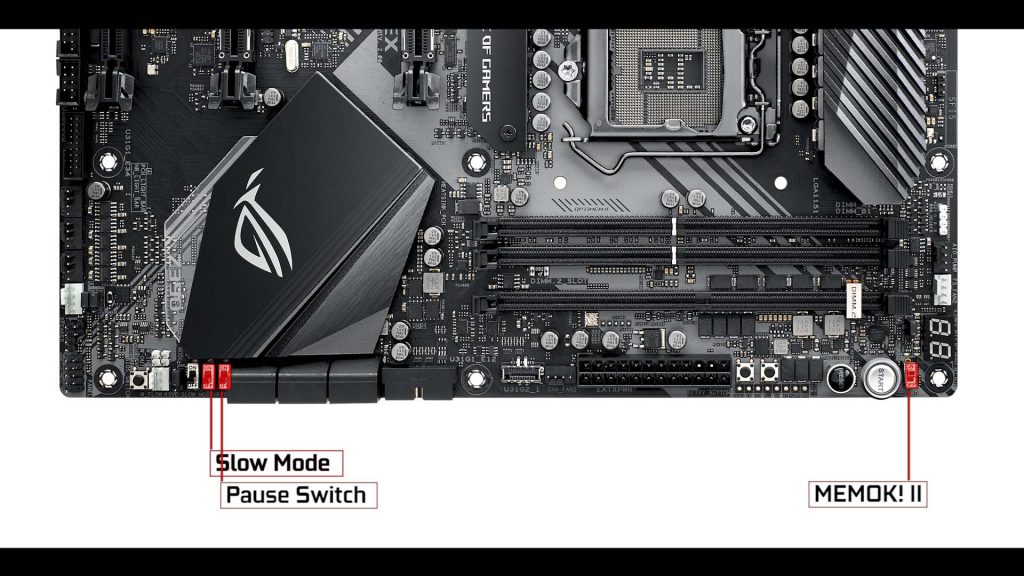 We also have more advanced switched I want to take a look at :
First a MEMOKII which will re-tune your memory setting to make sure your next boot happens.
A slow mode which will deduce your CPU over clocking ratio to 8 every time you computer is about to crash. Very useful
A pause switch which will pause the system and fine tune your OC parameters for you in mid-benchmarks
AURA Sync Effect
Aura Sync effect will sync all of your build RGB components to glow in sync through ASUS native AURA Sync Effect software. And all of the RGB options featured below are AURA compliant.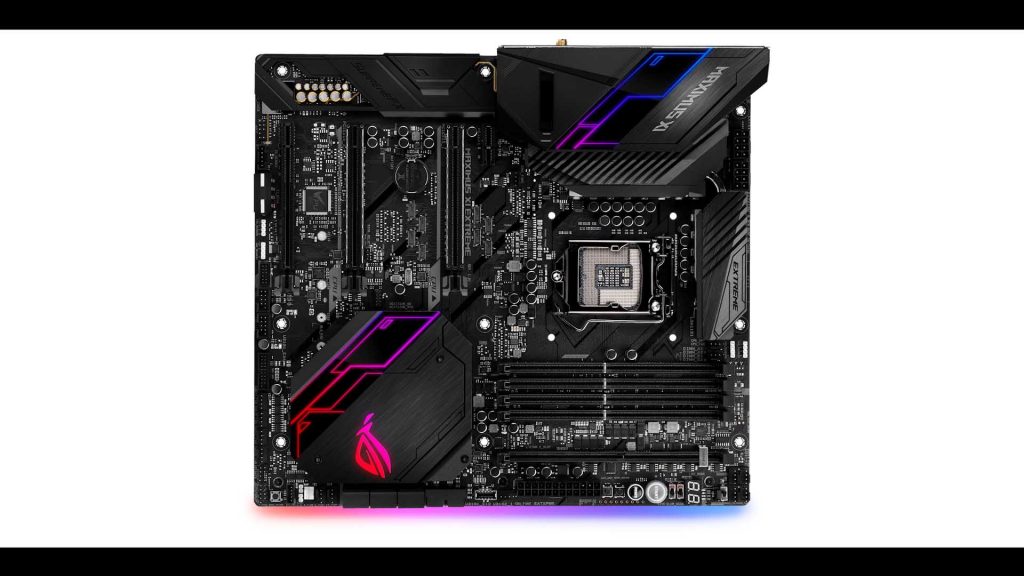 PCB
Even though this is highly technical board, it remains a ROG and as such Asus had to give it its best shot. The motherboards covered in RGB strips and  connectors.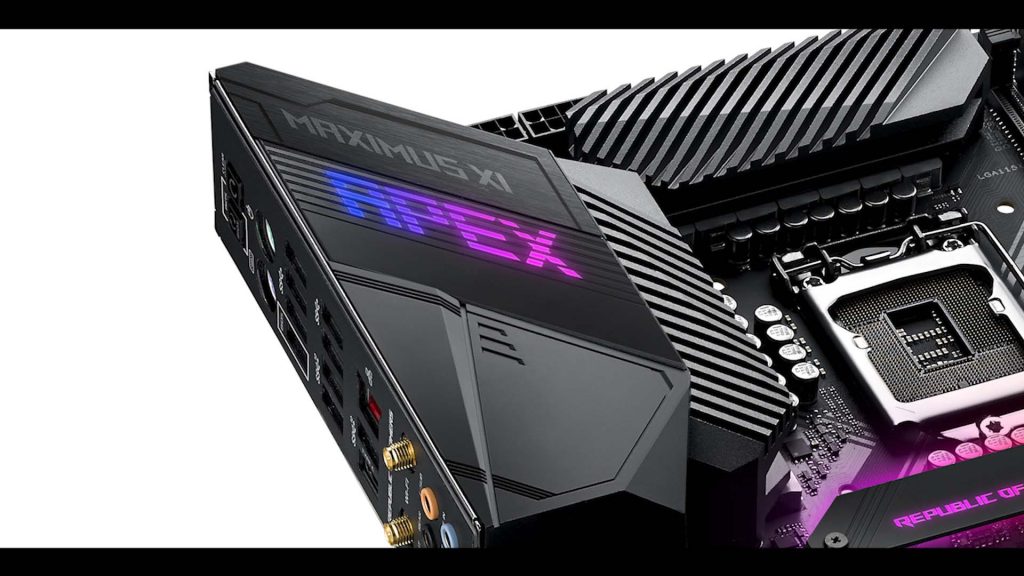 PCB
One under the IO roof, spelling APEX.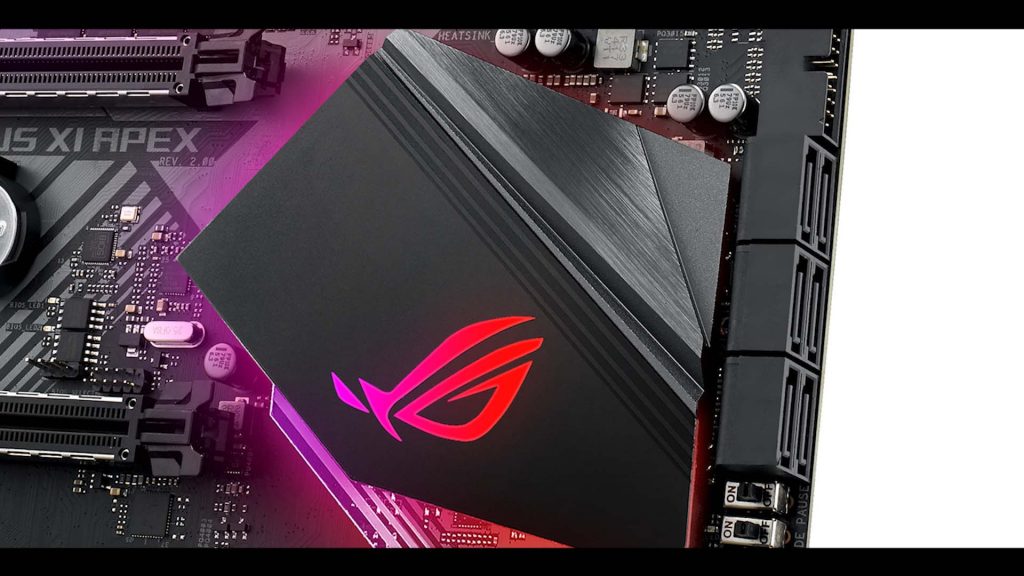 PCB
One under the chipset heat-shield.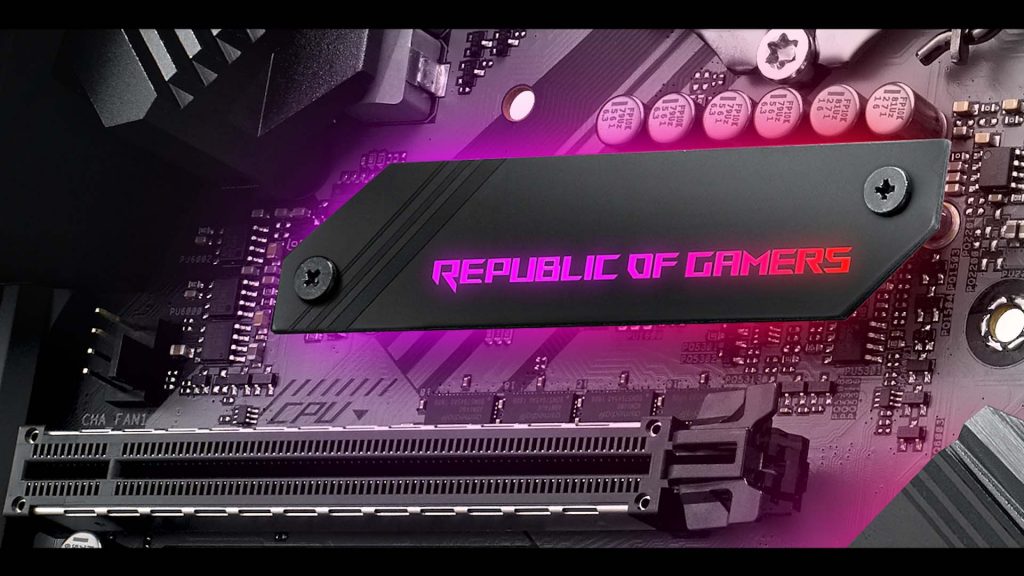 PCB
And one under a purely aesthetic name-shield.
But if that is not enough, you can add up to 2 additional RGB :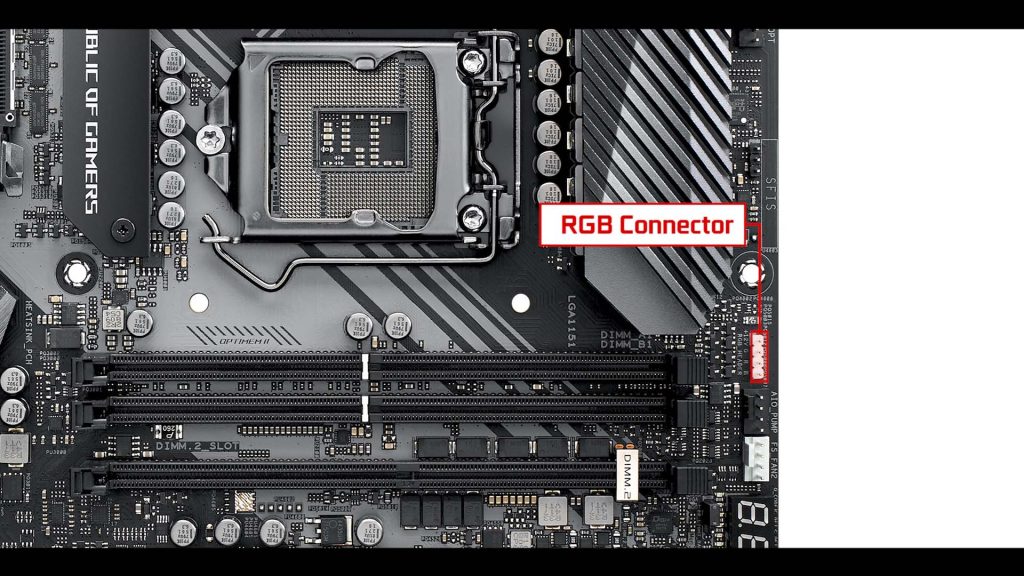 1 standard 12V RGB AURA connector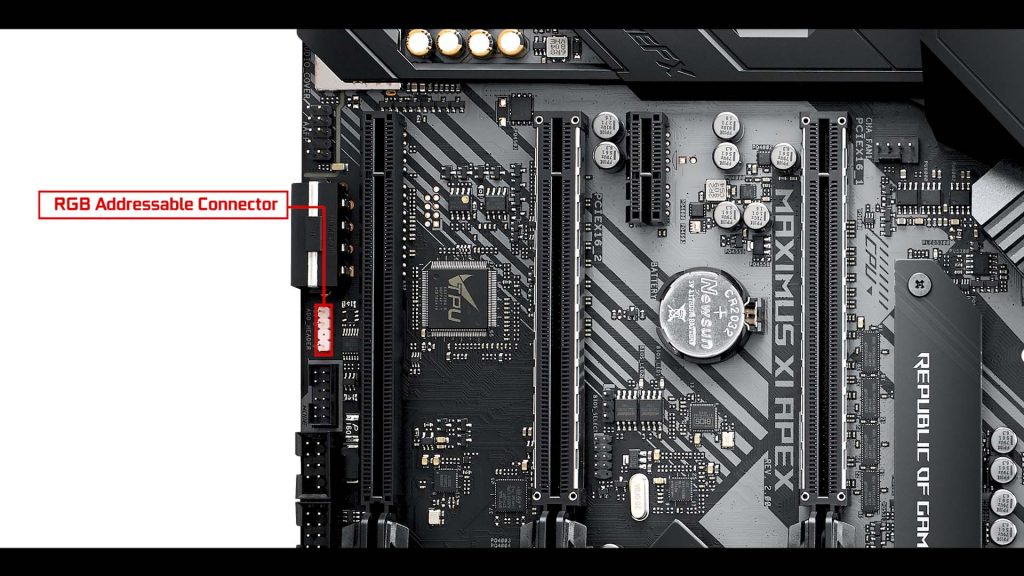 and 1 addressable RGB AURA connector.
---
Troubleshooting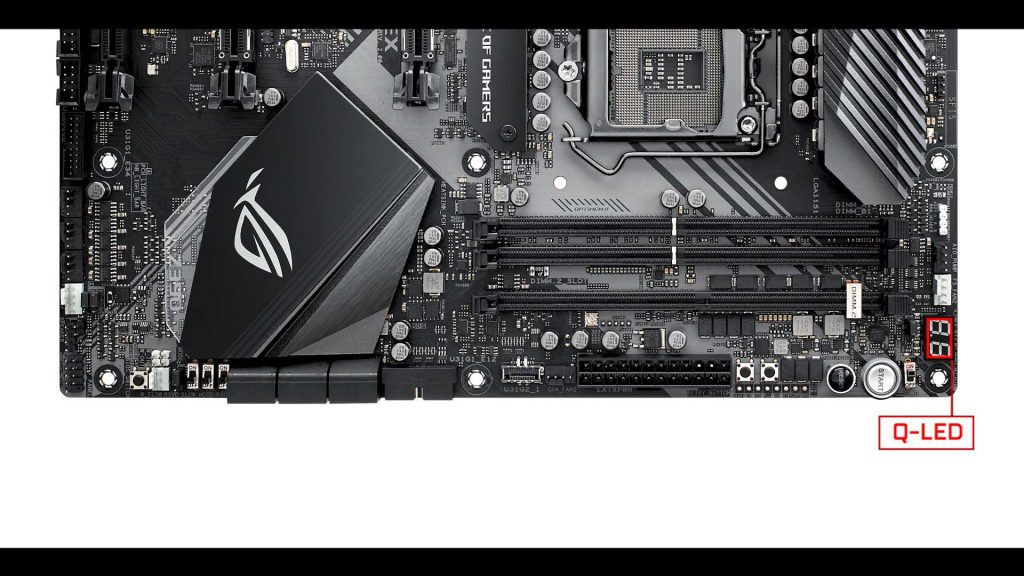 The Q-LED screen is a must on any enthusiast board. The error code will guide you through a more precise troubleshooting of a board failure.
The EZ debugger is always a welcomed feature. It lets you know where your boot is at in its cycle. Very useful when you are trying quickly understand why your build is not booting.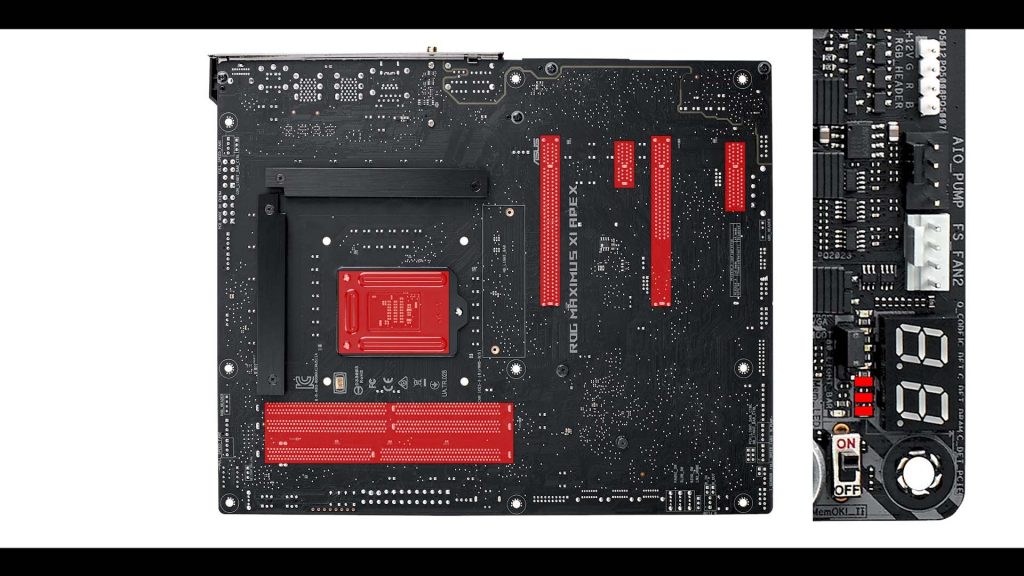 But this one comes with 3 additional LEDs, which are connected to to condensation captors around the CPU, RAM and PCIe areas.
Not that this is an "Liquid Nitrogen only" feature. Condensations can build around hot soldered points and can short or burn your motherboard when dealing with sub-zero temperatures cooling system.
---
Conclusion
The ROG MAXIMUS XI APEX will cost you around 500 bucks, and let me start by saying that this is not for everyone.
Even-though there is a clear effort from ASUS to add some mainstream features (DIMM.2, RGB, ) it is still and remain an extremely focused motherboard.
And paradoxically my favorite motherboard out there… but that does not mean you should get it!
This is a world record breaker motherboard which is one of the very very few able to handle liquid nitrogen cooling.
And with that you have unique (and expensive features).
16 power stages, 64gb of DDR4 ram support in single slots dual channels,, advanced over clocking features, and even condensation captors.
Through the APEX, ASUS is in pure F1 show off mode.. its showing that they are they have the very best engineering team out there today.
If you are in your first builds or even looking for a cool enthusiast builds, you got better and cheaper choices out there! I would recommend you do take a look at the ROG Z390 STRIX-E or ROG MAXIMUS XI Hero.
But if you are one of them Over-Clocker racer, one of those crazy, insane," I am going to regret what I'm about to do" kind of guy.. like me … this is, I dare say, the UNIQUE choice for you.
Nothing else will resist the punishing condition extreme over-clocking through at your components. Not even near Absolute 0 temperatures! Nothing else.
QUICK OVERVIEW
CPU & northbridge support
Supported Processor
8th & 9th Gen. Intel Core Processors
Chipset
Z390
CPU socket
LGA1151
Memory
Slots
2 (dual channel)
Max System Memory (Gigabytes)
64
Memory Technology
DDR4
Maximum Clock (MgHz)
4,800
Connectors
USB 2.0
2 on-board
USB 3.1 (1st Gen)
6 on back IO + 2 on-board
USB 3.1 (2nd Gen)
4 Type A/C on back IO + 1 Type C on board.
LAN
1 Gb/s
WiFi
802.11AC + 2×2 MU MIMO
Welcome to the world of extreme Over-clocking
Even-though there is a clear effort from ASUS to add some mainstream features (DIMM.2, RGB, ) it is still and remain an extremely focused motherboard.And paradoxically my favorite motherboard out there… but that does not mean you should get it!