Tech News
AMD Ryzen 7000: CPUs coming September 27th
Here everything we know!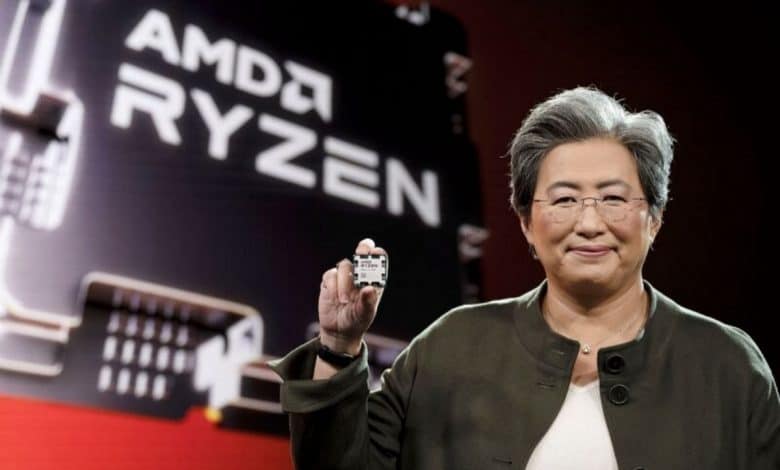 AMD Ryzen 7000: 5 nm desktop CPUs coming September 27th
AMD reveals the new architecture with Zen4 desktop CPUs, codenamed "Raphael".
On the 27th of September, the long awaited Ryzen 7000 will hit PC stores across the nation, and with it dozens of supporting motherboards.
What was confirmed yesterday was that this generation of processors are here to eat away additional market share from Intel, proposing clocks and cash memory equivalent or beyond what is expected out of Intel incoming Raptor Lake.
According to AMD, the flagship Zen4 desktop CPU with 16 cores and 32-threads will boost up to 5.7 GHz, and it will cost 699 USD. Meanwhile, Ryzen 9 7900X with 12 cores and 24 threads and boost up to 5.6 GHz will retail at 549 USD.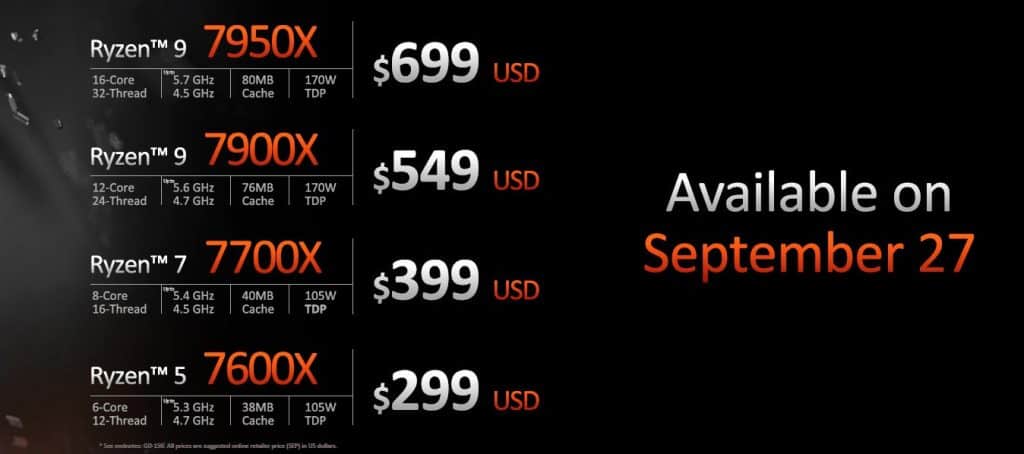 AMD Ryzen 7000 Specifications and Pricing, Source: AMD
---
AMD is also unveiling 8-core Ryzen 7 7700X for 399 USD and Ryzen 5 7600X at 299 USD. All four CPUs are to launch on September 27th. These are the only CPUs AMD is announcing today.

AMD Ryzen 7000 IPC Uplift, Source: AMD
According to these slides, Ryzen 7000 series will have ~13% IPC uplift over predecessors and up to 29% higher single-thread performance. This is mainly from the higher clock speeds now going up to 5.7 GHz on the flagship model, which is 800 MHz over the current series.

AMD Ryzen 9 7950X Performance, Source: AMD
---
AMD is claiming 6% to 35% better performance on Ryzen 9 7950X compared to Ryzen 9 5950X in games. In rendering tools including V-Ray Render, Corona or POV-Ray, the performance uplift is from 32 to 48%.

AMD Ryzen 5 7600X in Games, Source: AMD
---
The 6-core Ryzen 5 7600X offers 5% better gaming performance on average compared to the flagship Intel 12th Gen Core CPU, the i9-12900K.

AMD Ryzen 7000 vs Core i9-12900K, Source: AMD
---
AMD is also comparing the Ryzen 9 7950X to i9-12900K in V-Ray benchmark, where the Zen4 CPU has up to 57% better raytraced performance and up to 47% better performance per watt.
 Official AMD Ryzen 7000 Specifications


| LaurentsChoice.com | Cores/Threads | Base/Boost Clock | TDP | Cache (L2+L3) | in USD |
| --- | --- | --- | --- | --- | --- |
| Ryzen 9 7950X | 16C/32T | 4.5/5.7 GHz | 170W | 80MB (16+64) | 699 USD |
| Ryzen 9 7900X | 12C/24T | 4.7/5.6 GHz | 170W | 76MB (12+64) | 549 USD |
| Ryzen 7 7700X | 8C/16T | 4.5/5.4 GHz | 105W | 40MB (8+32) | 399 USD |
| Ryzen 5 7600X | 6C/12T | 4.7/5.3 GHz | 105W | 38MB (6+32) | 299 USD |