Tech News
NVIDIA GeForce RTX 3080 Max-Q specs out!
6144 CUDAs and 12 Gbps memory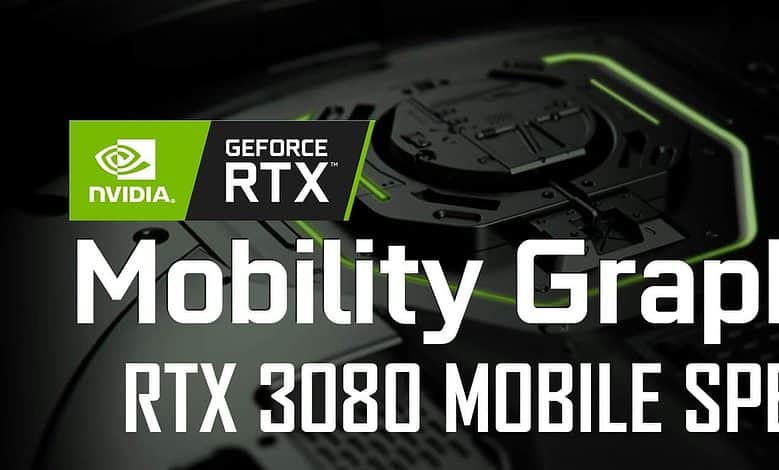 At the CES 2021, (in 5 days) NVIDIA is set to announce its GeForce RTX 30 mobile graphics cards based on its 8nm Ampere architecture.
Nvidia will be releasing three SKUs which will be divided into numerous variants based on their power limitations: RTX 3080, RTX 3070, and RTX 3060.
The GeForce RTX 3080 Mobile is the flagship (and the most powerful) model which features a massive GA104 GPU with 6144 CUDA cores. Much fewer cores than the desktop its desktop variant (8704 CUDA CUDA Cores), but still quiet a bit more than the desktop RTX 3070 featuring GA104 GPU (5888 CUDA cores).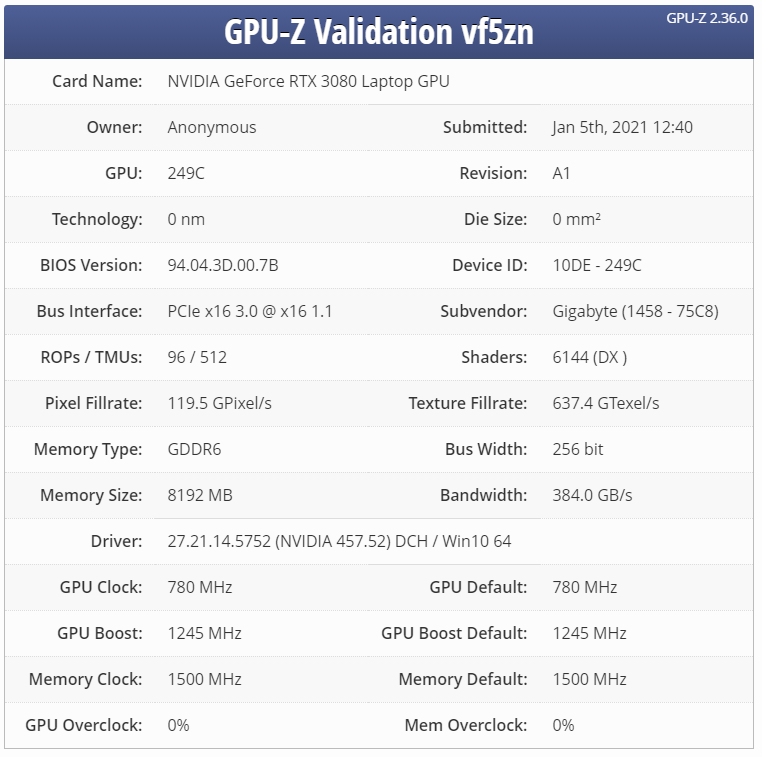 NVIDIA GeForce RTX 3080 Mobile will launch in two main variants, the Max-P with the power of a total graphic reaching 150W and the Max-Q variant which is expected to be limited to 90 or so watts. While both cards carry the same model name, they will offer different performance. The Max-P variant is expected to feature an 1110 MHz base clock and a 1545 MHz boost clock, while the Max-Q variant should offer 780 MHz and 1245 MHz respectively by default. The 'default' is a key word there since both power variants will also be further adjusted by notebook makers, so there will be many subvariants such as 80W, 115W, 125W, etc. As a result, any direct comparison between GeForce RTX 3080 variants shall list TGP values as well, otherwise, it wouldn't be a proper comparison. Fortunately, many notebook reviewers have already noticed how important this is and we are seeing more and more tests with TGP listed in the benchmark charts. Hopefully, notebook makers will list discrete GPU graphics power in their specs sheets as well.
According to the latest leak from TechPowerUP GPU-Z validation database, the Max-Q variant used by Gigabyte (most likely for their new AORUS or AERO gaming laptops) will feature the Max-Q variant with memory speed locked to 12 Gbps. We have not had confirmation on the memory bandwidth yet, but it appears that Ampere-based Max-Q variants will feature the same bandwidth as Turing-based Max-Q GPUs, which is 384 GB/s. It is yet to be confirmed if Max-P also has 14 Gbps like their predecessor, but so far there have been no leaks on that part.
It seems that RTX 3080 Mobile will be offered with either 16GB or 8GB memory capacity, which will segment this model even further. In reality, we might see as many as 10 models called RTX 3080 Mobile/Laptop, but each carrying a different clock speed, power limit, or memory capacity.
The RTX 3080 Max-Q features 6144 CUDA cores, 192 Texture Units, and 96 ROPs (the GPU-Z software incorrectly reports on 512 TMUs). The CPU has been submitted to the database yesterday. It appears that the Gigabyte laptop tested does not support PCIe Gen4, thus is it likely based on the Intel 10th Gen Core Comet Lake-H series. Only Tiger Lake-H will support PCI Gen4, but these are not expected till the next quarter.

SOURCE : TechPowerUP