Every 5 years or so, Asus releases its WS series, which has been the workstaion gold standard for the past 2 decades. Did ASUS manage to outdo itself with its X299 version of its best selling corporate friendly motherboard? Let's find out.
Key Features
Review Price: 405.00 USD
ATX Form Factor (30.5cm x 24.4 cm)
Intel X299 chipset
Intel LGA 2066 socket
Quad-channel, 8 slots, max 128GB (Dual channel and max of 64 GB for i7-7740x and i5-7640x CPUs). OC up to 4133 MgHz.
4 x PCI-E 3.0 x16 | 1 x PCI-E 2.0 x4
1 x USB 3.1 Gen 2 Type-A | 1 x USB 3.1 Gen 2 Type-C | 1 x USB 3.1 Gen 2 on-board connector | 8 x USB 3.1 | 1 x Gigabit Ethernet | 2 x USB 2.0 | 5 x audio | 1 x optical S/PDIF
2 x M.2 SSD (1 vertical)| 6 x SATA 3 (6Gb/s) | U.2 connector
Supports Raid 0,1,5,10
up to Triple SLI support| up to Triple CrossFireX support
Accessories & Docs
1 x I/O shield
3 x  SATA Cables
1 x RGB 4 pins 12v cable extension
1 x Addressable RGB 3 pins 5v cable extension
1 x Front panel bridge
2 x M.2 SSD mounting screw and screw raiser
1 x SLI HB Bridge (2-way-M)
1 x SLI HB Bridge (3-way-M)
Additional fan and its bracket for better air flow
USB 2.0 (x2) external module
Serial COM module
1 x Manual / quick setup guide / coupon
[spacer height="20px"]
The WS X299 Pro
Where the WS series really differs itself from the usually gamers-focused boards Asus products, is in its lack of bombastic features (no native AURA strips, or large OLED screens). Instead, ASUS focused its engineering on the quality of the board's components.
The heat-sink metal is different from other boards. It heavier, thicker, and has a much greater ability to diffuse heat than anything else available on the market. The WS X299 Pro was not designed for one purpose only, but instead, it wants to be versatile. Being equally excellent in a server environment as in production or gaming ones. Yes, you have read that well… gaming.
Let's dig right in!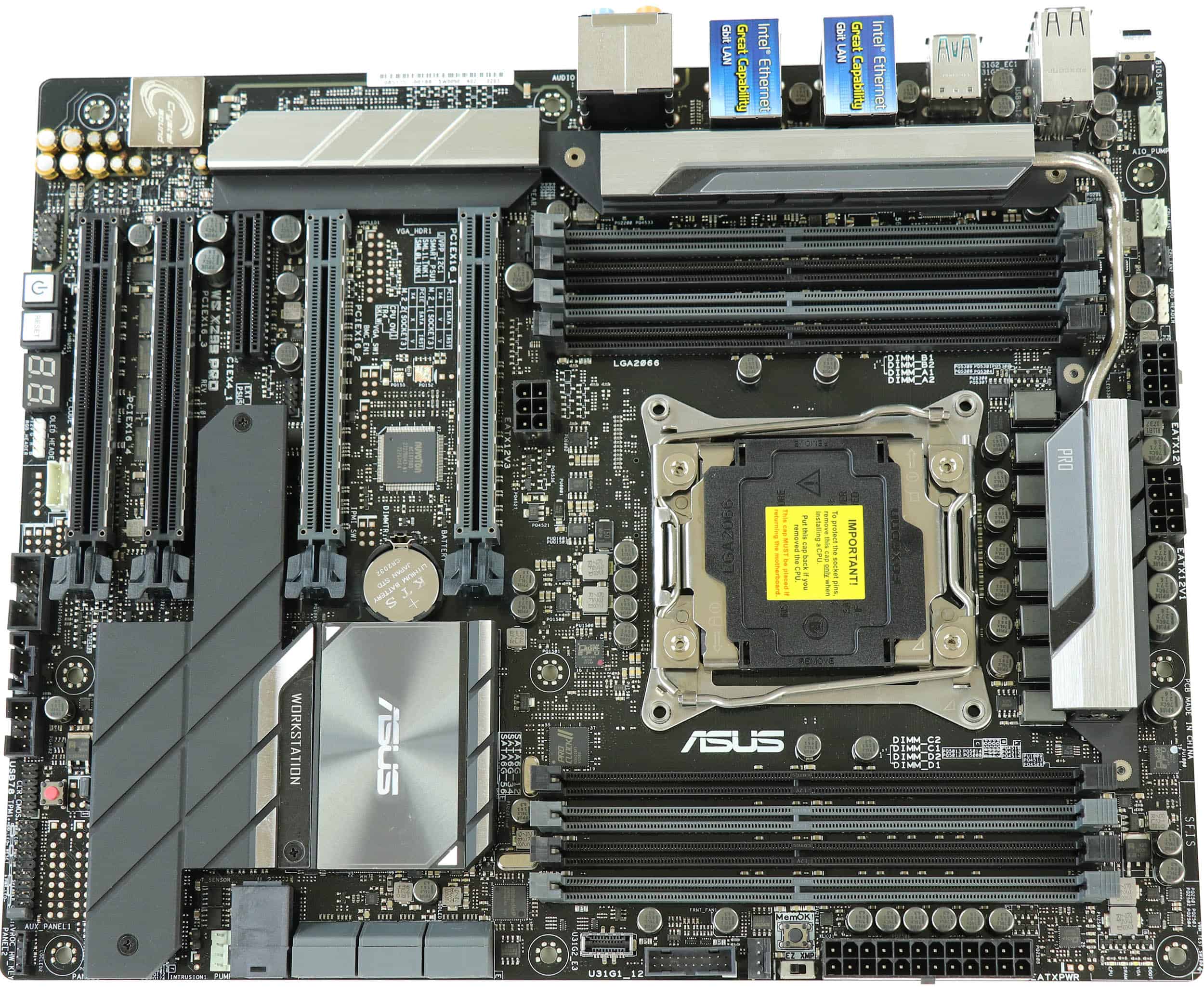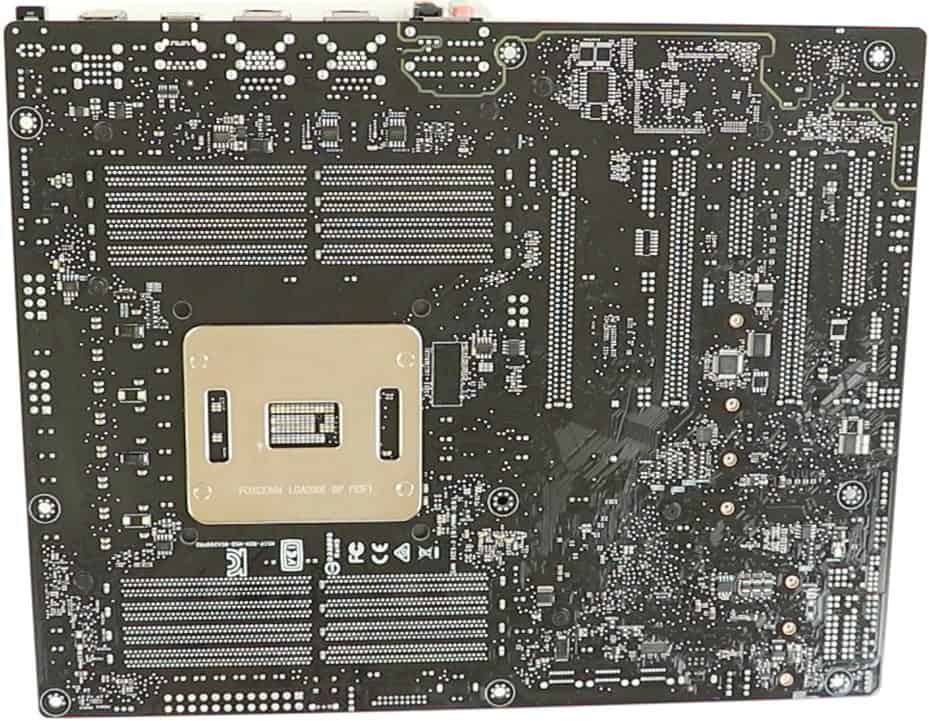 ---
LGA 2066 Socket
The WS X299 Pro is the first proper WorkStation  which feature both the new X299 chip-set and its LGA 2066 socket.
What does this entail?
More 3rd Gen. PCIe Lanes. Given the right CPU, you can have an unprecedented 44+24 PCIe Lanes to toy around with! And yes, that does mean more bandwidth combinations, including more GPU PCIe Lanes!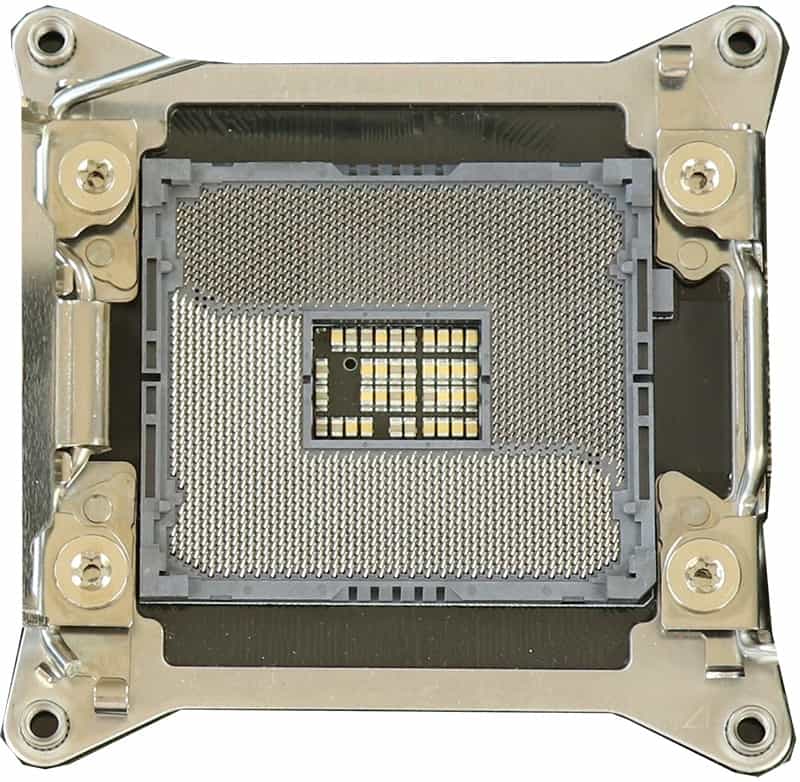 ---
The X299 chip-set
The only viable competition to Intel's new X299 chips is the AMD's x399 chip-set. And unsurprisingly, the X299 features many more 3rd Gen PCIe (24 VS 2) and more RAID configurations.
But let's not jump to conclusions to fast. the reason why AMD's X399 has such a ridiculously low PCIe count is due to the fact that its MASSIVE CPU, the Threadripper can boast up-to 64 3rd Gen PCI-e lanes. Yeah, you read that right! And please, do read more about it on my Threadripper in-depth review!
So why would you go for an Intel-based X299 chipset/CPU combo? Well, you can achieve a high count of PCIe lanes with a cheaper CPU. For example, you could go for an i5-7640X for less than 250,00 USD, and have of 40 3rd Gen PCIe lanes (14 provided by the X299 chipset and 16 provided by the CPU).
---
Memory
RAM
As already seen and said on my Prime X299-A review, It gets tricky!
The motherboard presents itself with a quad channel configuration, for a total of 128 GB of DDR4 RAM. But not all X series CPUs can run quad channels! Some of them (quad cores) can only run up to two channels (4 RAM slots, up to 64GB of DDR 4 RAM).
So if you have the i5-7640x or the i7-7740x (4 cores respectively), you will be limited to a dual channel configuration (channel C and D), and up to 64 GB of RAM. Any X CPUs with more than 4 Cores, will be able to activate the entire 4 channels! Therefore, chose well!
The maximum clock allowed by our WS X299 Pro is an impressive 4133 MgHz! A solid 933 MgHz AHEAD from Ryzen based CPUs (X370/Ryzen and X399/Threadripper).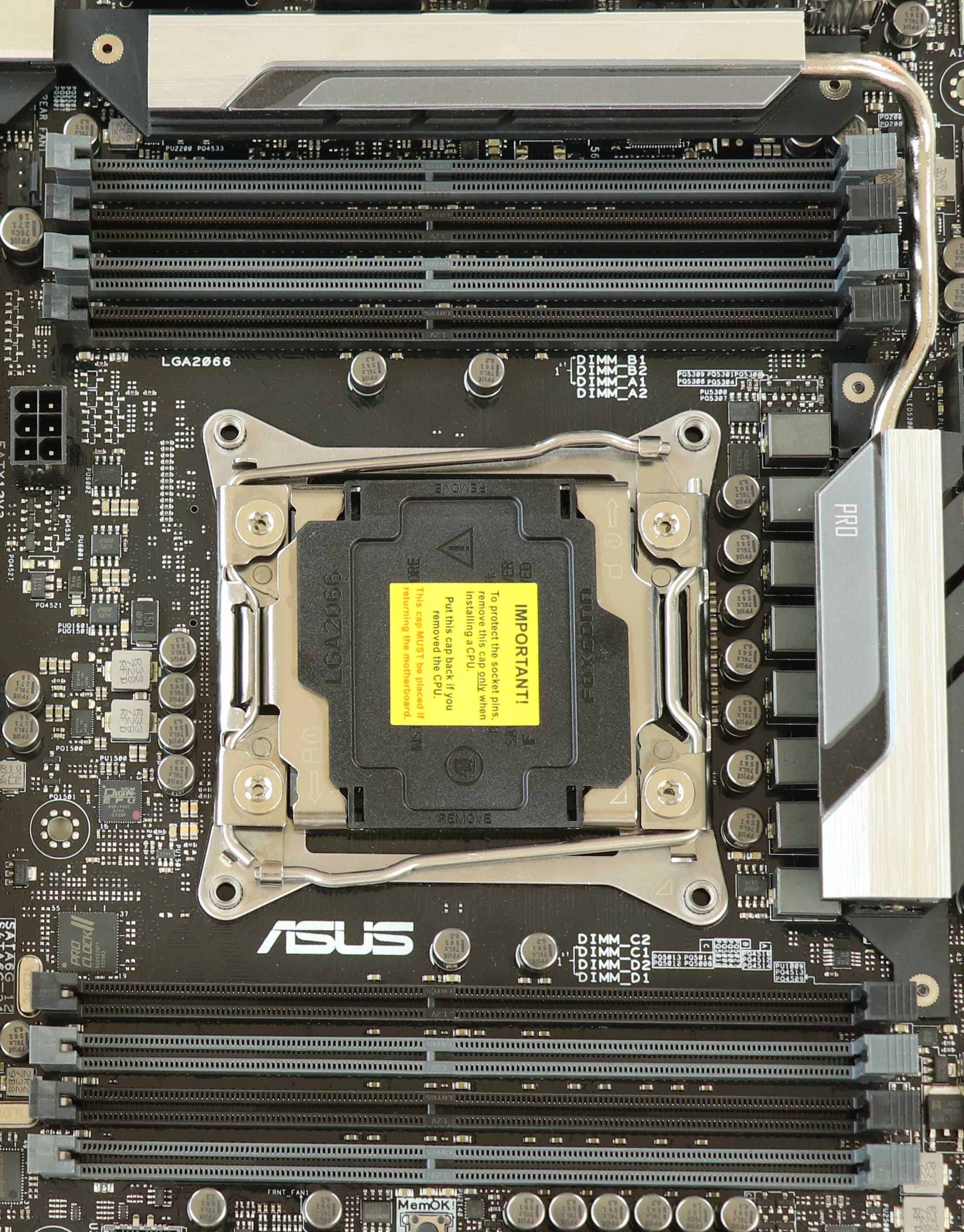 6 Cores CPUs and above (up to Quad Channel Configuration | 128 GB DDR4)
| | | | |
| --- | --- | --- | --- |
| DIMM / Channels | Single | Dual | Quad |
| A1 (Master) | | X | X |
| A2 |   |   |   |
| B1 (Master) |   |   | X |
| B2 |   |   |   |
| C1 (Master) |  X | X | X |
| C2 |   |   |   |
| D1 (Master) |   |   | X |
| D2 |   |   |   |
4 Cores CPUs (up to Dual Channel Configuration | 64 GB DDR4)
| | | | |
| --- | --- | --- | --- |
| DIMM / Channels | Single | Dual | |
| C1 (Master) |  X | X | |
| C2 |   |   |   |
| D1 (Master) |   |  X | |
| D2 |   |   |   |
M.2 SSD
Compared to its predecessor (the X99), the only real advantage the x299 chipset has, is its bandwidth!
From 8 2nd Gen. PCI-e Lanes,  we are now at 24 available 3rd Gen PCI-e lanes ( basically what a Z270 has).
And that allows this board to comfortably feature and operate a dual 4x M.2 SSD configuration:
1 M.2 SSD, up to 80 mm long, in a horizontal configuration.
1 M.2 SSD, up to 110 mm, in a vertical configuration.
Let's not forget that, as in the Z270 chipset, the X299 chipset is "Optane Ready". This should get each of our M.2 gum-sticks transferring data up to 32Gb/s!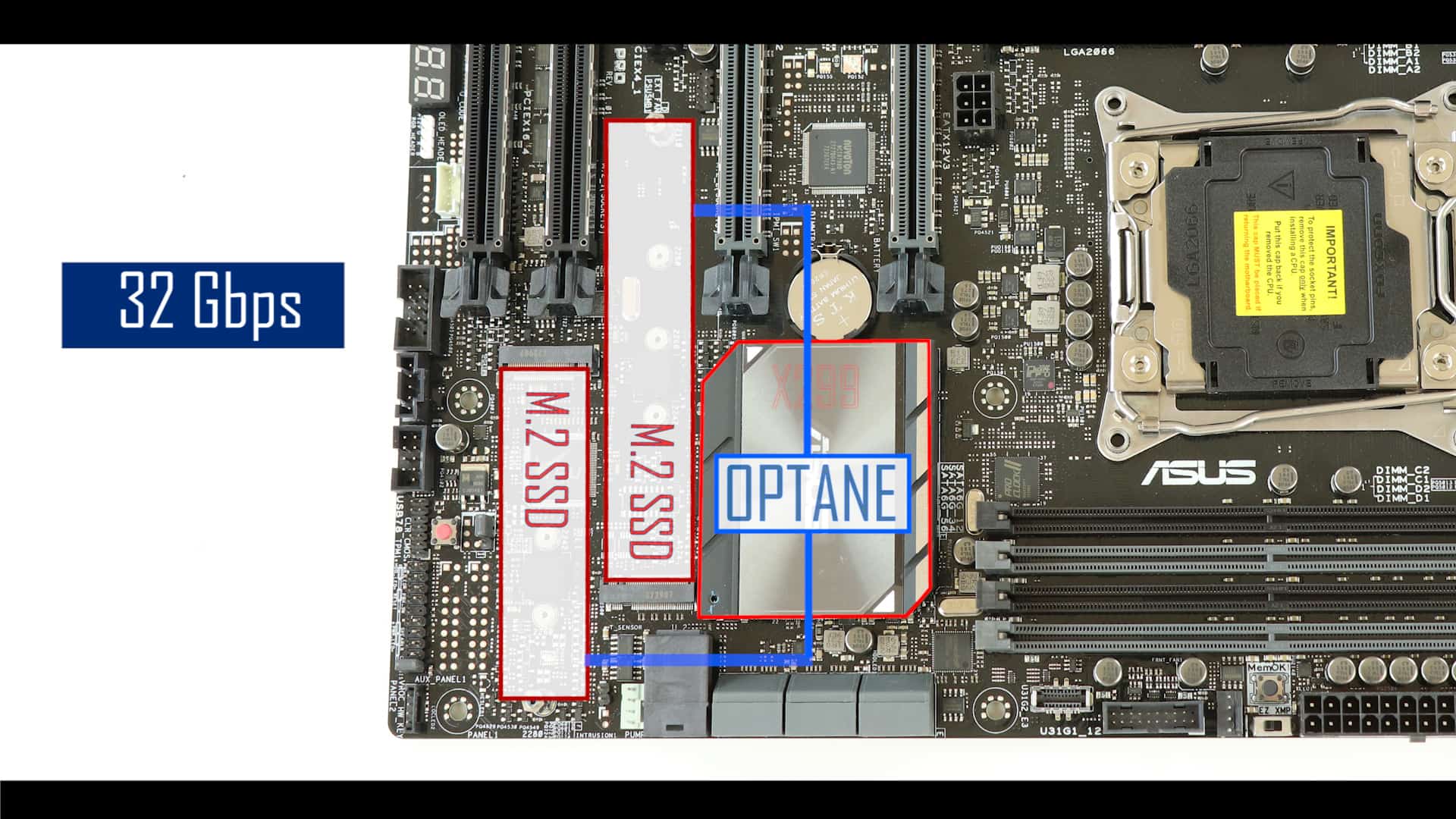 The horizontal M.2 SSD will benefit in terms of temperatures thanks to 2 thermo-pads placed right under the common chipset heat-shield! I would like to note that the heat-shield, as for the other heatsinks on this motherboard, benefits from a thicker and heavier metal. That is, of course, important to have better heat dissipation and reduce thermal throttling.
Peripherals


We do have a LOT of USB plugs. Count 10 of them on the IO shield alone. Ranging from a very useful 2nd generation USB to the blazing fast 3.1 2nd Gen.
The main attraction here is the dual LANs plugs which will transfer data up to 1 Gbps each. And I know that will disappoint a few, but given how much peripherals have been added to the board, it doesn't surprise me. There is so much you can juice out of the X299 chipset!
| | | |
| --- | --- | --- |
| | I/O Ports | Onboard i/o |
| WIFI / Bluetooth | 0 | 0 |
| USB 2.0 | 4 | 1 |
| USB 3.1 Gen 1 | 4 | 1 |
| USB 3.1 Gen 2 | 2 (type A + C) | 1 |
| SATA 6Gb/s | 0 | 6 |
| U.2 | 0 | 1 |
| AUDIO | 5 channels + S/PDIF | Input/output |
| LAN |  2      (1 Gig) | 0 |
| BIOS FLASH BUTTON | 1 | 0 |
---
PCI-E Lanes
Even though our x299 chip-set can run up to a quad GPU configuration (SLI or CrossFireX), this board as room for "only" 3 of them. And since this is the same case for the past 3 X299/X399 motherboards reviews I have been doing, it seems to me that it will take a really special board to accommodate a 4-way GPU configuration!
You do know that I always appreciate the fact that they have metallic re-enforcements. Given the weight and size of the latest video cards, it is no luxury! And I have no doubt that one of these days we will get a titanium re-enforced PCIe slot!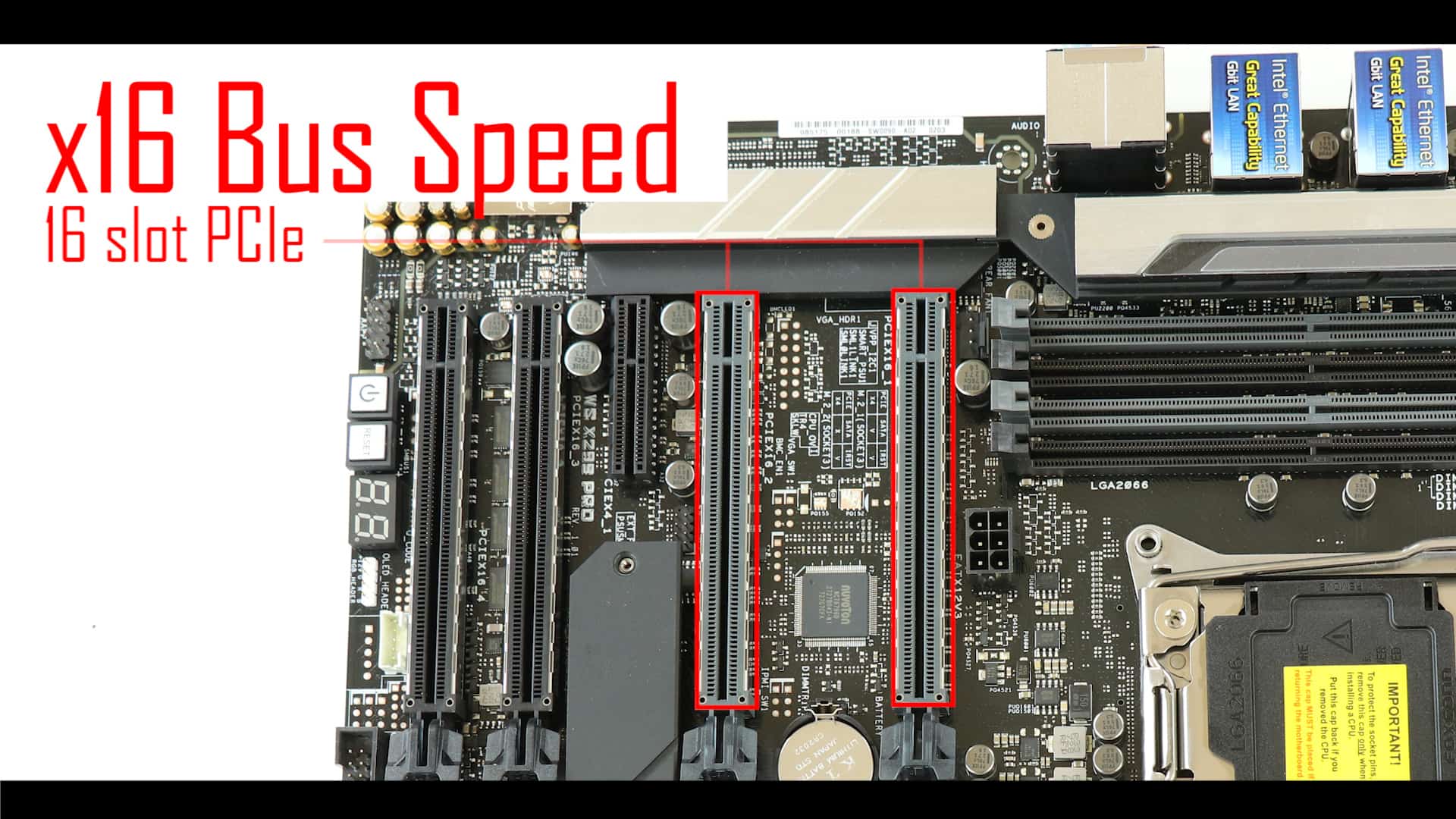 But please, do double check how many PCIe lanes your CPU will bring to your configuration! An optimal 3-way GPU config. will require 48 dedicated 3rd Gen PCIe lanes! So at least look at the 6 Cores CPUs, which usually comes with enough of them to complement the X299's.
---
Anything for enthusiasts?
Well, it's not as bad as I was expecting. We have no native RGB strips on the board, and understandably so. But, we do have a couple of AURA compliant RGB connectors.
One for classic RGB strips

and one for addressable RGB strips.
That three pin header is different from the other 2 AURA connectors. This connector coupled with an addressable RGB cable will be able to extend the different AURA lighting effects to every LED individually!
Let me be clear, normal AURA RGB strips can sync their entire strips to the AURA effect, but in their entirety. Addressable strips can have their individual RGB LEDs shining in different colors, to more precisely reflect the current AURA effect in use!

Q-LED Screen & Power / Reset buttons
Again, a must if you care to tune your config just right. Sure you could do without… but why?
Finally, I'd like to give an extra point for the physical power button soldered right next to the Q-LED screen!

Given the fact that we are on workstation motherboard, it doesn't surprise me the least to find a physical power and reset button soldered on the board. It should be an absolute must on any motherboards. It saves time during the build and for troubleshooting your assembling. A+ on this one.
Custom Water Cooling Ready
And you know that motherboard has received as much engineering as it should when you can safely say that it is Custom Water Cooling ready! There should be a stamp for that!
Thankfully we have our array of fan connectors (4), temperature sensors (1) and water pump monitors (1 for AIO water pump, and 1 for a separated pump). Everything you need to operate a comfortable single or dual loop water cooling system!
---
Conclusion:
The bet Asus made with this product was to have an All-In-One board. Something which could cater for server rooms, production environment, and even gamers.
And it works. Of course, you will find more advanced options such as a TPM module, a V-ROC key or even a good old COM serial module, but it is still a familiar board which can fit any ATX case and does not require "expert" hands for its assembling.
One of the highlights of this review was the robustness of it all. All the metals were clearly heavier and thicker than on any other boards I have reviewed so far. We even have a no option fan and fan mount to bring in extra cooling to our VRM.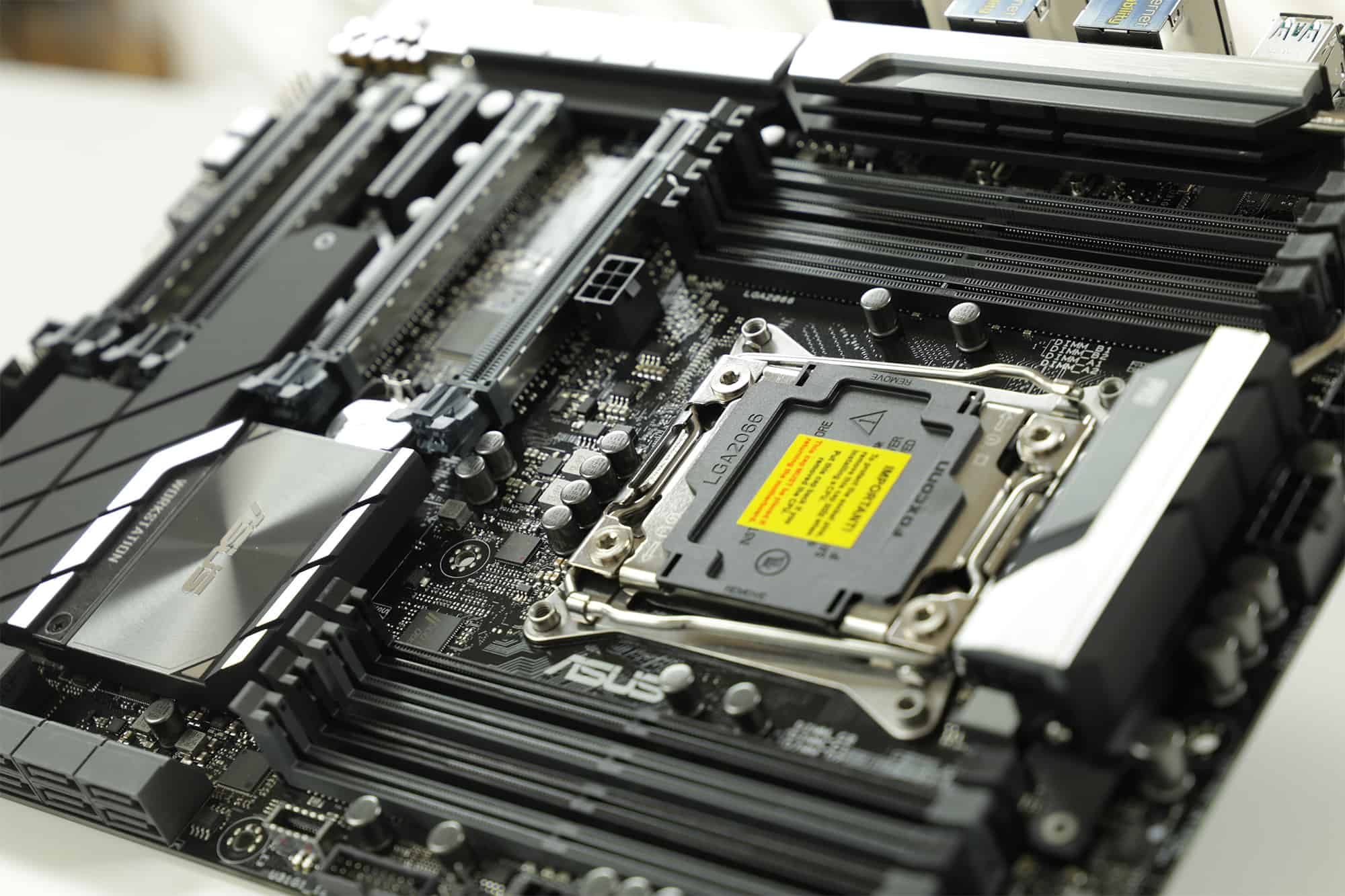 In short, this thing is meant to last, and last a long long time. It was built to outlive the components it supports.
My only regret is the absence of a WiFi adapter and "slow" 1 Gbps LANs. I do suspect that the flory of USBs and the U.2 connector are draining the X299 chipset in terms of bandwidth to the extent ASUS engineers had to make painful choices… but a WiFi adaptor, at this price range should be a no-brainer.
But let me be clear, there are no deal breakers. Just meer suggestions for the next generation of WS boards.
As far as I am concerned, this is THE board which will power my new editing machine for the years to come.
QUICK OVERVIEW
CPU & northbridge support
Supported Processor
Intel X-Series
Chipset
X299
CPU socket
LGA 2066
Memory
Slots
8 (quad and dual channel)
Max System Memory (Gigabytes)
64/128
Memory Technology
DDR4
Maximum Clock (MgHz)
4133
Connectors
USB 2.0
4
USB 3.1 / 1st Gen
8
USB 3.1 / 2nd Gen
3 (Type A and Type C)
LAN
2 Ethernet LAN, up to 1 Gb/s