Finally, the first x399 motherboards are hitting the shelves. The Threadripper has landed, and despite some difficulties to find supporting motherboards, I have successfully procured a ASUS Prime X399-A !
For our immense curiosity and my greedy pleasure, let us dig right in!
Key Features
Review Price: 350.00 USD
EATX Form Factor (30.5cm x 26.9 cm)
AMD X399 chipset
AMD TR4 LGA 4094 socket
Quad-channel, 8 slots, max 128GB with OC up to 3.2 GHz.
4 x PCI-E 3.0 x16 | 1 x PCI-E 2.0 x4 | 1 x PCI-E 2.0 x1
1 x USB 3.1 Type-A, 1 x USB 3.1 Type-C | 4 x USB 3.0 | 1 x Gigabit Ethernet | 2 x USB 2.0 | 5 x audio | 1 x optical S/PDIF
2 x M.2 SSD (1 vertical)| 6 x SATA 3 (6Gb/s)
Supports Raid 0,1,10
up to Quad SLI support| up to Quad CrossFireX support
AURA Light Sync. Effect
On board CPU, PCI-e (x2) and chipset, temperature sensors.
Accessories & Docs
1 x I/O shield
4 x SATA Cables
1 x Front panel bridge
1 x M.2 SSD mounting screw and screw raiser
1 x M.2 SSD vertical mount
1 x SLI HB Bridge (2-way-M)
1 x CPU installer
1 x Manual / quick setup guide / coupon
The Prime X399-A
The fact that this entry level shows up in an EATX form factor says it all. Everything evolving around the Threadripper is big, and the motherboard is no exception.
The Prime series is Asus entry level for any of its motherboards family. But it doesn't mean it comes with a limited amount of features. Asus knows very well that most of its customer base is right here… on the affordable bracket of its boards.
And it is where ASUS wow them. Doing a delicate balancing act between featuring the latest tech out there, and keeping its financial footprint as small as possible, ASUS throws a flurry of new features to our geeky eyes!
The Prime X399-A has a lot to prove if it is going to take full advantage of the gigantic Threadripper! This monster brings in 64 3rd Gen PCIe lanes, and that translates in rather big multiple GPUs and Memory expectations.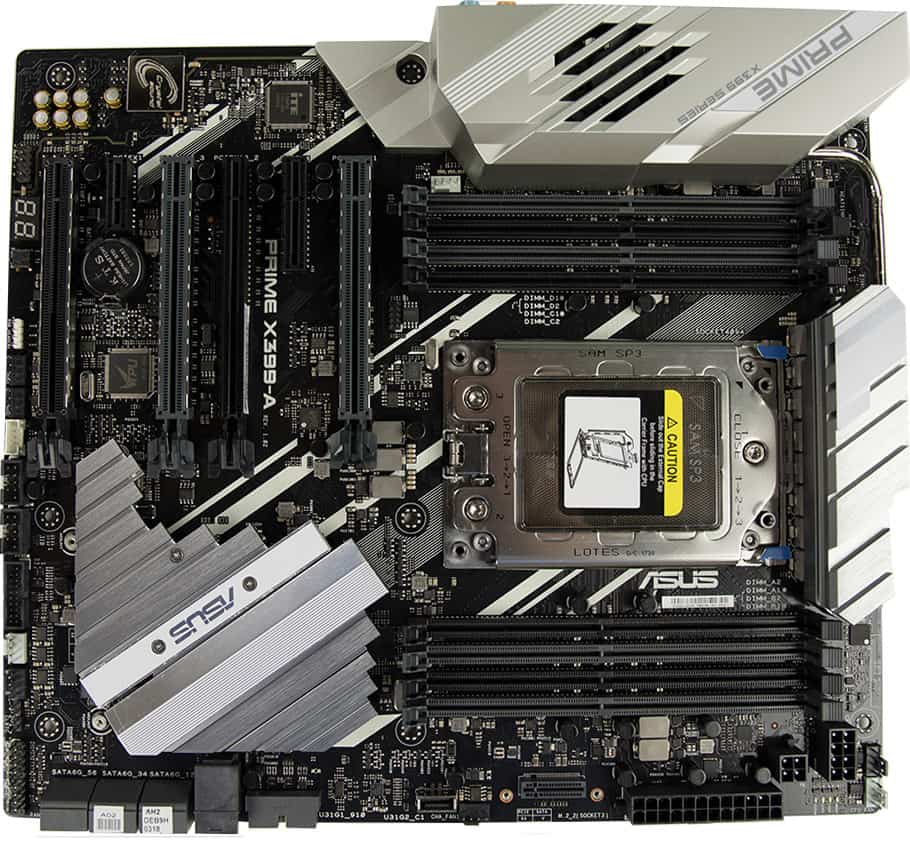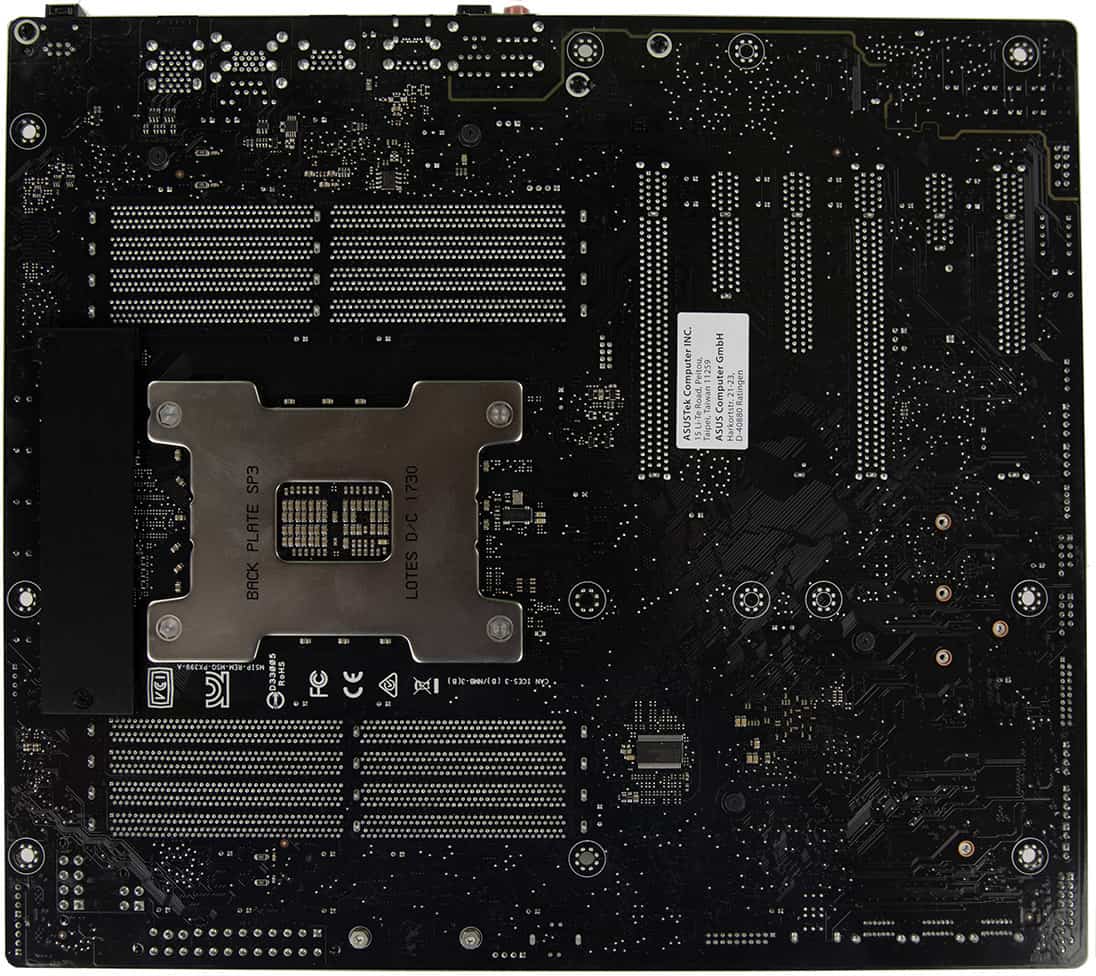 ---
TR4 Socket
Let me start with the obvious. Never did any manufacturer release motherboards boasting such a ludicrous amount of pins ever before. The TR4 socket has no less than 4094 pins!!! And as you probably painfully already know, this is 4094 good occasions to ruin your board right here and right there!
Obviously, the X399 motherboards series will support ONLY Threadripper processors (for now at least) and you will need a little training before installing the CPU.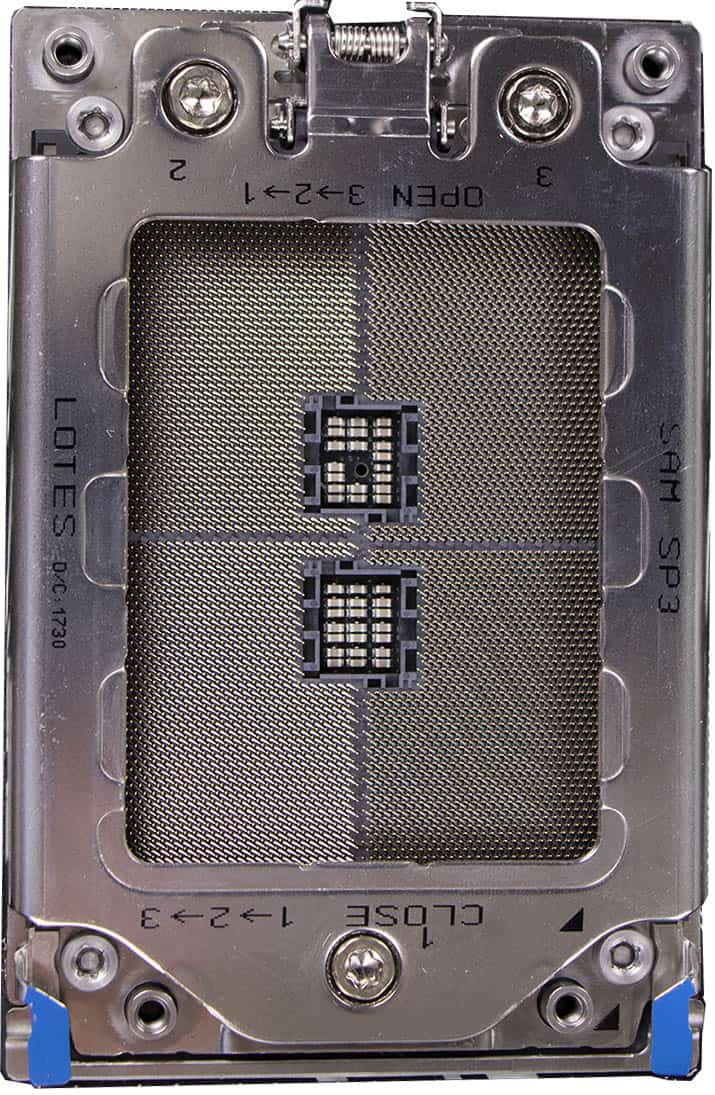 But that also means that this board can easily handle greater core counts (physical) and juggle unprecedented amounts of bandwidth! And that's exactly where I am heading.
---
The X399 chip-set
Needless to say that AMD came a long way from just a short 6 months ago. But let's take a step back a moment here. At first glance, the specifications of the X399 are underwhelming to say the list.
| | | |
| --- | --- | --- |
| | Intel X299 | AMD X399 |
| 2nd Gen. PCIe | 0 | 8 |
| 3rd Gen. PCIe | 24 | 2 |
| USB 2.0 | 14 | 6 |
| USB 3.0 | 10 | 8 |
| USB 3.1 Gen 1 | 10 | 14 |
| USB 3.1 Gen 2 | 5 | 2 |
| SATA 6Gb/s | 8 | 12 |
| MEMORY | Quad Channel | Quad Channel |
| SATA RAID | 0,1,5,10 | 0,1,10 |
| Multiple GPU | Up to Quad | Up to Quad |
In comparison to the Intel X299 native 24 3rd Gen PCIe, one would say that the two (yes.. 1+1) 3rd Gen PCIe and 8 end Gen PCIe lanes coming with the X399 are… a typo?
A couple of weeks ago, AMD changed its X399 specifications page, replacing the laughable 2 3rd Gen PCIe lanes with a gargantuan 66 3rd Gen PCIe lanes!
Explanation: Unlike Intel, AMD has shifted practically all its PCIe lanes onto its CPU.
What is the difference between onboard and CPU PCIe lanes? NONE.
In their core function motherboard chip-sets prioritize the bandwidth coming out of the CPU to the computer's different components (HDD, M.2 SSD, GPU, USB, etc..). And because the chip-set gets to juggle bandwidth around your build, manufacturers added additional PCIe lanes directly into the chipset to support CPU outputs.
And that was necessary for a not so distant past as CPU's were CPU real-estate was more focused in achieving the greater Core count or limit its heat production.
But with a Threadripper, the need of additional PCIe lanes is literally non-existent!
It will translate in less heat for the x399 chipset and more bandwidth versatility coming from CPU. In short, AMD is streamlining its bandwidth resources placing its PCIe lanes almost exclusively in the CPU, and its management in the chipset.
---
Memory
RAM
Unsurprisingly, our Prime X399-A features a quad channel divided into 8 DIMM slots, for a total of 128 GB DDR4 RAM. Noteworthy, AMD has caught up Intel in terms of RAM Over Clocking. You will be able to push your RAM up to an impressive 3,2 GHz! And I have no doubt that this processor will handle these frequencies in real-time!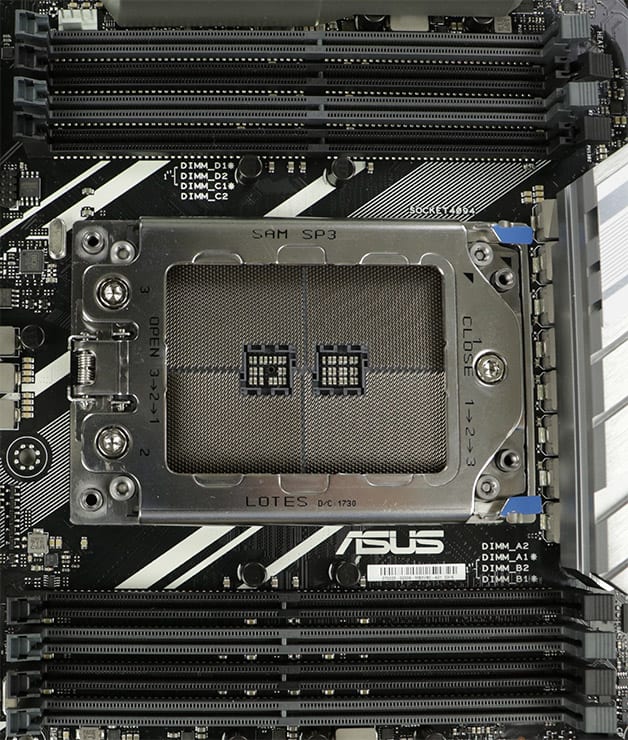 | | | | |
| --- | --- | --- | --- |
| DIMM / Channels | Single | Dual | Quad |
| A1 (Master) | X | X | X |
| A2 | | | |
| B1 (Master) | | | X |
| B2 | | | |
| C1 (Master) | | X | X |
| C2 | | | |
| D1 (Master) | | | X |
| D2 | | | |
M.2 SSD
In short, we have 2 M.2 Solid State Drive connectors. Because we have such an insane amount of available of PCIe lanes, we can run both of them at a full x4 speed!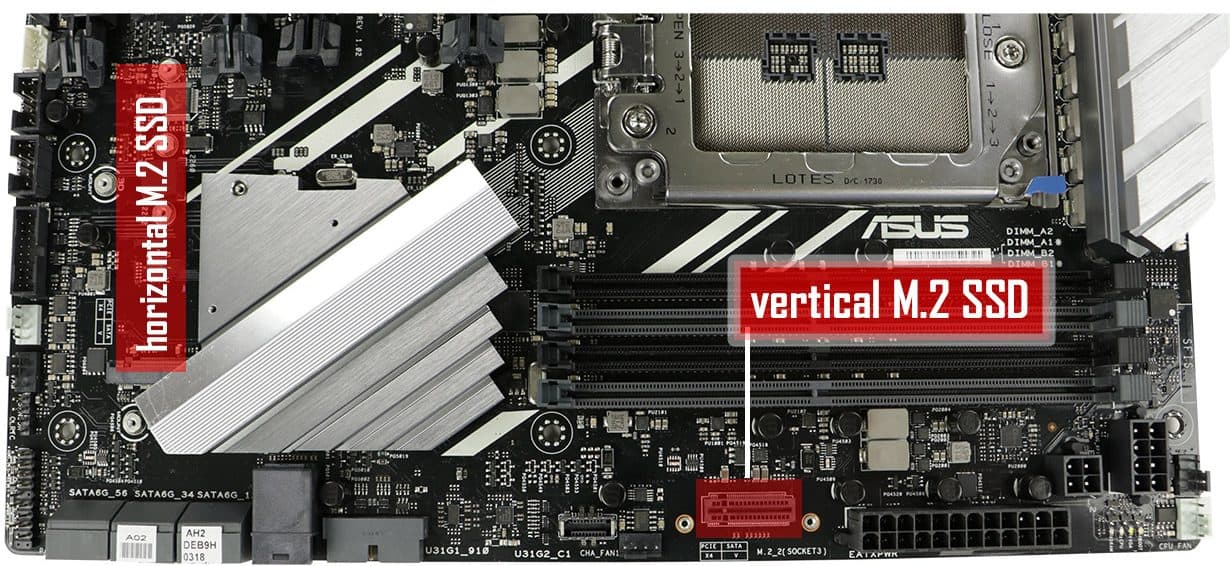 The horizontal M.2 SSD will benefit in terms of temperatures thanks to a thermo-pad placed right under the chip-set heat-shield!
Peripherals


Coming from an AMD board, this is refreshing to say the least!
| | | |
| --- | --- | --- |
| | I/o Ports | Onboard i/o |
| u.2 (PCIe 3.0 4x NVM) | 0 | 2 |
| USB 2.0 | 0 | 2 |
| USB 3.0 | 0 | 0 |
| USB 3.1 Gen 1 | 8 | 2 |
| USB 3.1 Gen 2 | 2 (type A + C) | 1 |
| SATA 6Gb/s | 6 | 0 |
| AUDIO | 5 channels + S/PDIF | Input/output |
| LAN | 1 RJ45 | 0 |
| BIOS FLASH BUTTON | 1 | 0 |
---
PCI-E Lanes
Even thought our x399 chip-set can run upto a quad GPU configuration (SLI or CrossFireX), this board as room for "only" 3 of them. Poor us.
I always appreciate the fact that they have metallic re-enforcements. Given the weight and size of the latest video cards, it is no luxury!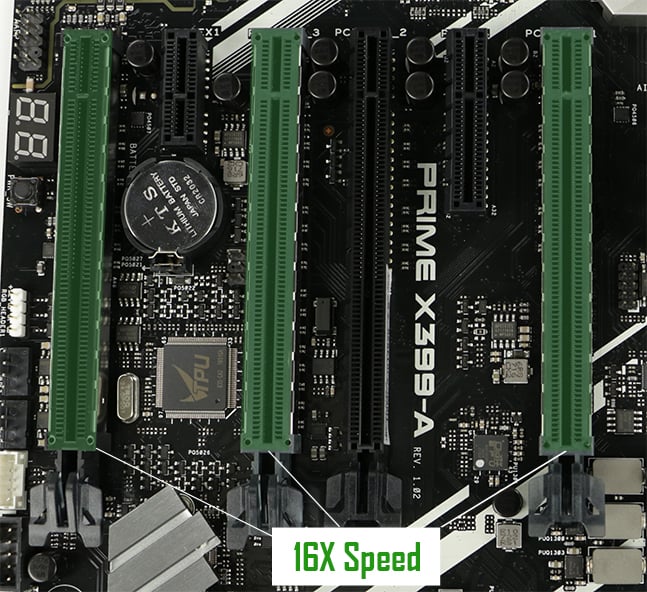 This is where you can really appreciate what advancements the Threadripper brings! We can run no less than THREE GPUs up to 16 BUS speed individually! That is absolutely INSANE!
---
For enthusiasts
AURA
I applaud Aura light sync effect everywhere I see it! I am a big fan of RGB LED, especially when it finds its rhythm throughout the entire build!
And the Prime X399-A does not disappoint. We have an RGB strip hidden under the X399 heat-shield as well as an extra 2 Aura RGB connectors on each extremity of the board, for additional Aura compliant strips.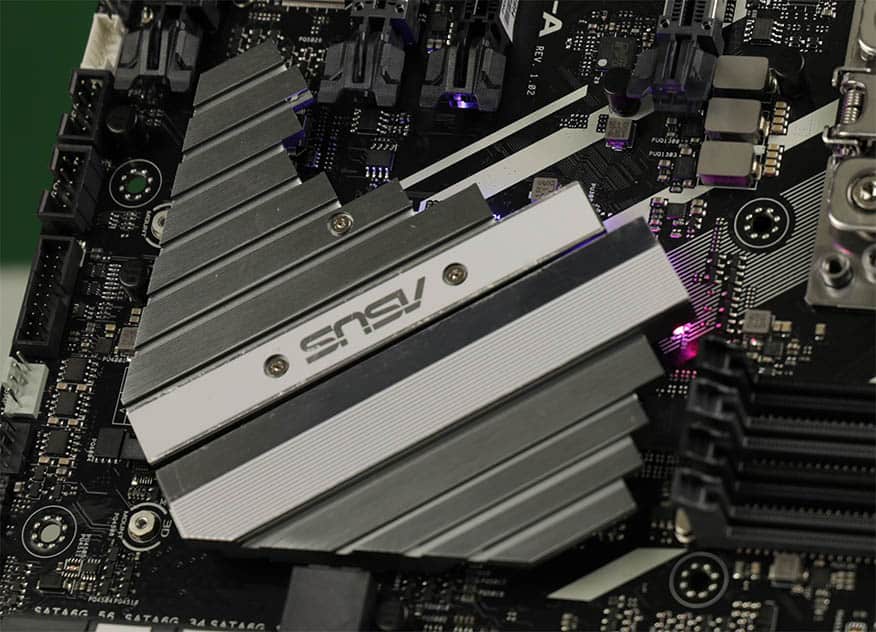 Q-LED Screen
Again, a must if you care to tune your config just right. Sure you could do without… but why?
Finally, I'd like to give an extra point for the physical power button soldered right next to the Q-LED screen!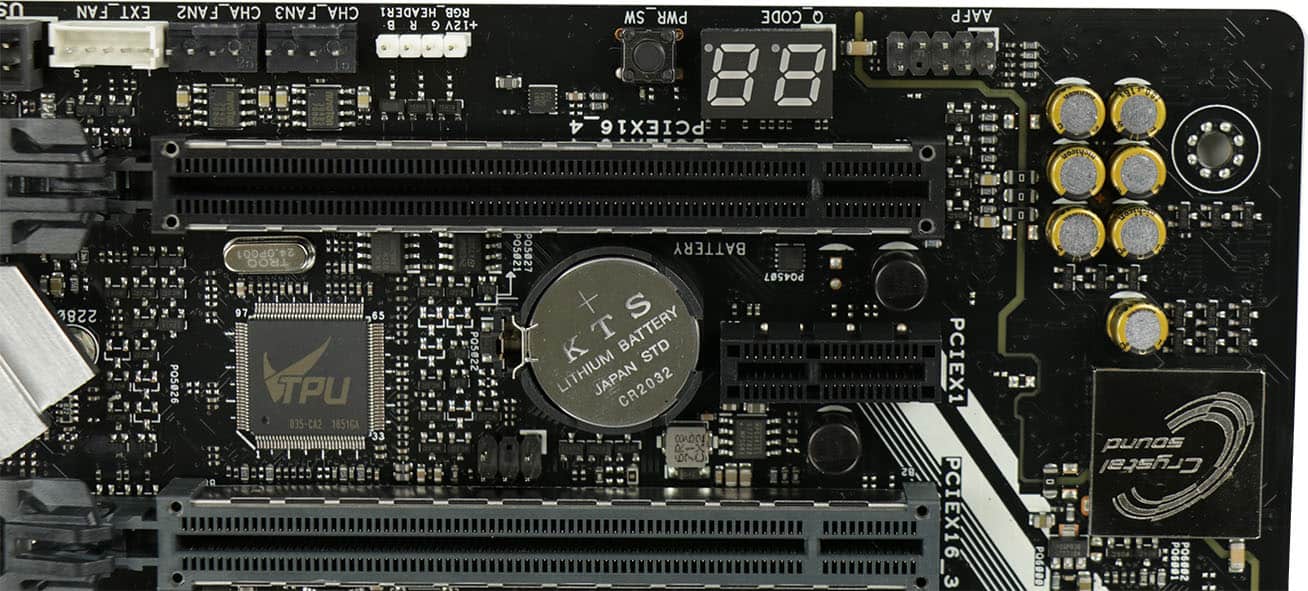 Custom Water cooling ready
Thankfully we have our array of fan connectors (4), temperature sensors (2) and water pump monitors (1 for AIO water pump, and 1 for a separated pump). Everything you need to operate a single loop water cooling system!
---
Conclusion:
All right, I'll start with a couple of critics:
No onboard Bluetooth / WiFi adapter
Other than rather these two minor points, the Prime X399-A has everything it needs to take FULL advantage of that monstrous processor AMD has produced!
This is a well designed and robust motherboard.
The make feels premium and envies NOTHING to its more expensive siblings on that regards.
It does feel that this motherboard was designed on a decentralized plan. The x399 skinnier specs seem to have forced a little extra management around the TR4 socket and the addition of a few hub-chips around it.
This may have caused some struggles with heat dissipation on certain areas of the board (i.e. an additional 60mm fan hidden under the back I/O housing, and an extra backplate on the back of our motherboard).

I also note the CPU plugs have been moved closer to the ATX plug. Again, that shows an effort to remove heat sources from the northern side of the board.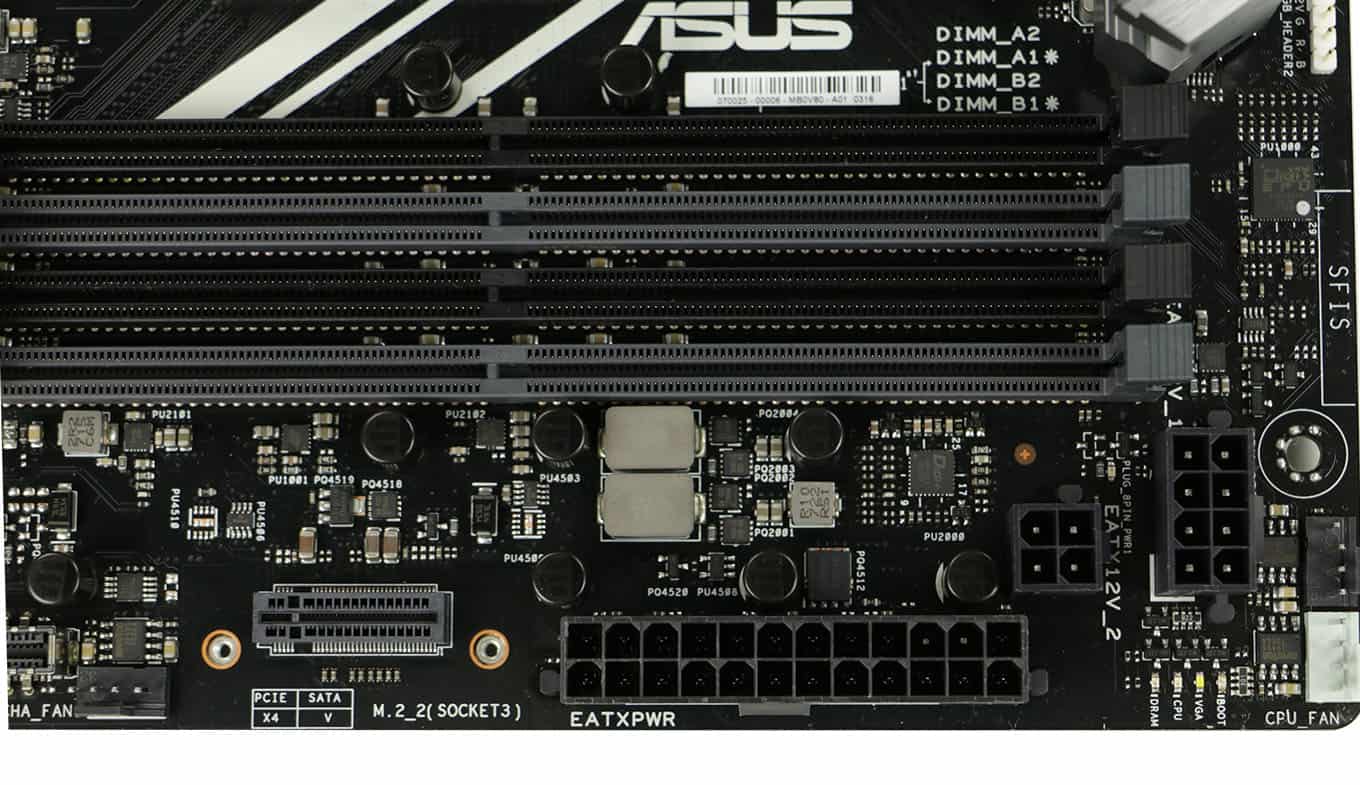 But with a well-purposed air flow, I foresee no problems on the longer terms usage of this solidly designed motherboard!
In short and despite some limitations, at a price tag of 350 USD, the Prime X399-A is a STEAL, a luxurious piece of tech. for an expensive processor.
As in other Prime motherboards I have reviewed in the past, I would NOT hesitate a second!
QUICK OVERVIEW
CPU & northbridge support
Supported Processor
AMD Ryzen Threadripper
Chipset
X399
CPU socket
TR4 LGA 4094
Memory
Slots
8 (quad channel)
Max System Memory (Gigabytes)
128
Memory Technology
DDR4
Maximum Clock (MgHz)
3200
Connectors
USB 2.0
2
USB 3.1 / 1st Gen
10
USB 3.1 / 2nd Gen
4 (Type A and Type C)
LAN
1 Ethernet Lan, up to 10 Gb/s