Motherboards
Trending
MSI MEG Z390 ACE
The Master Over-Clocker
Key Features
ATX Form Factor
Intel Z390 chipset
LGA 1151 CPU socket
Compatible with 8th and 9th Gen. Intel CPUs
4 x 16GB 4,266 MHz DDR4, maximum 64GB
3 x PCI-E 3.0 x16, 3 x PCI-E 3.0 X1
Back IO :Cear CMOS, bios FLASHBACK , 4 x usb 2.0, 2 x USB 3.1 2nd gen. Type-A+ Type C, 4 x USB 3.1 (1st Gen), 1 x Gigabit Ethernet,S1220 Realtek 8 channels audio. Dual Band 802.11 AC WIFI, 5.0 Bluetooth
3 x M.2 SSD (Optane ready), 6 x SATA 3
3 x CrossFire support, 2 x SLI support
12 CPU dedicated phases
Easy to safely OC your CPU
Absence of integrated graphics ports (very good)
Double sided M.2 SSD thermo-pads
x2 USB 3.1 Type C front panel connectors
Integrated shields
Multiple troubleshooting features
Very good heat sinks despite absence of extended design.
Big START/ RESET soldered buttons
No second dedicated water-pump connector
3 metallic re-enforcement on PCIe convey a false 3-GPU support assumption
Some LEDs are hidden under heat-sinks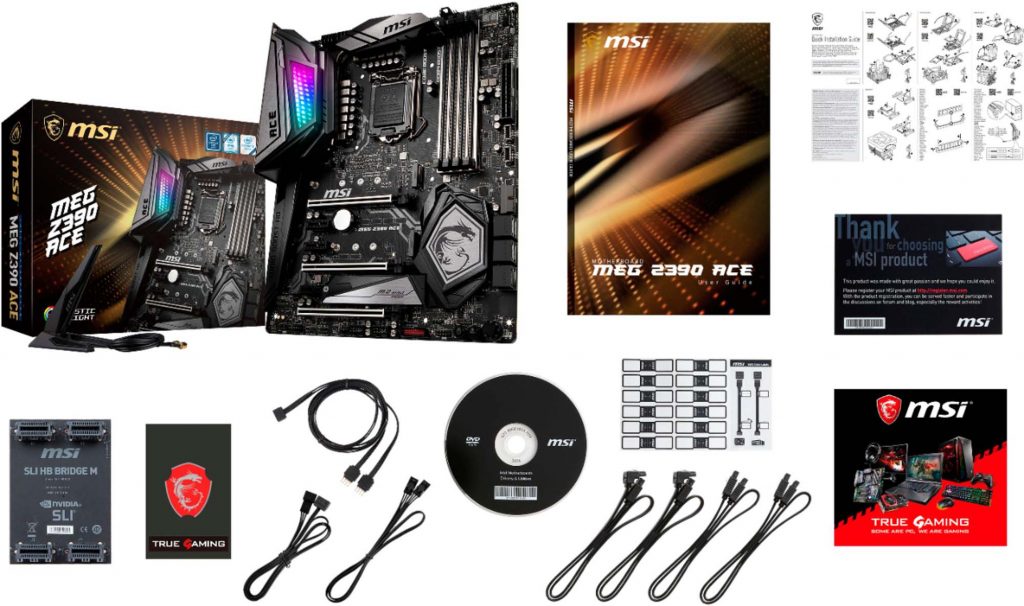 4 SATA cables
RGB extension cable
Addressable RGB extension cable
M.2 SSD screws and screw raisers
2 way SLI Bridge
MSI metal Sticker
MSI Coupon code
Driver DVD
Manual
Cable Labels
The MEG Z390 ACE
First and foremost, it is an ATX motherboard which will fit virtually any case you throw at it. Nothing new there. Note that there is no PCB back shield on this board.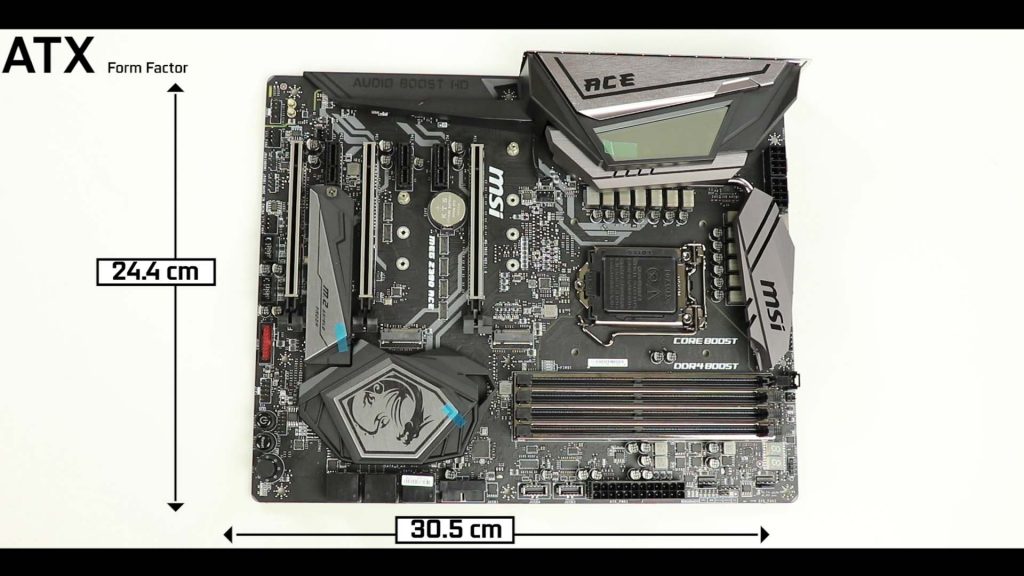 The Z390 chipset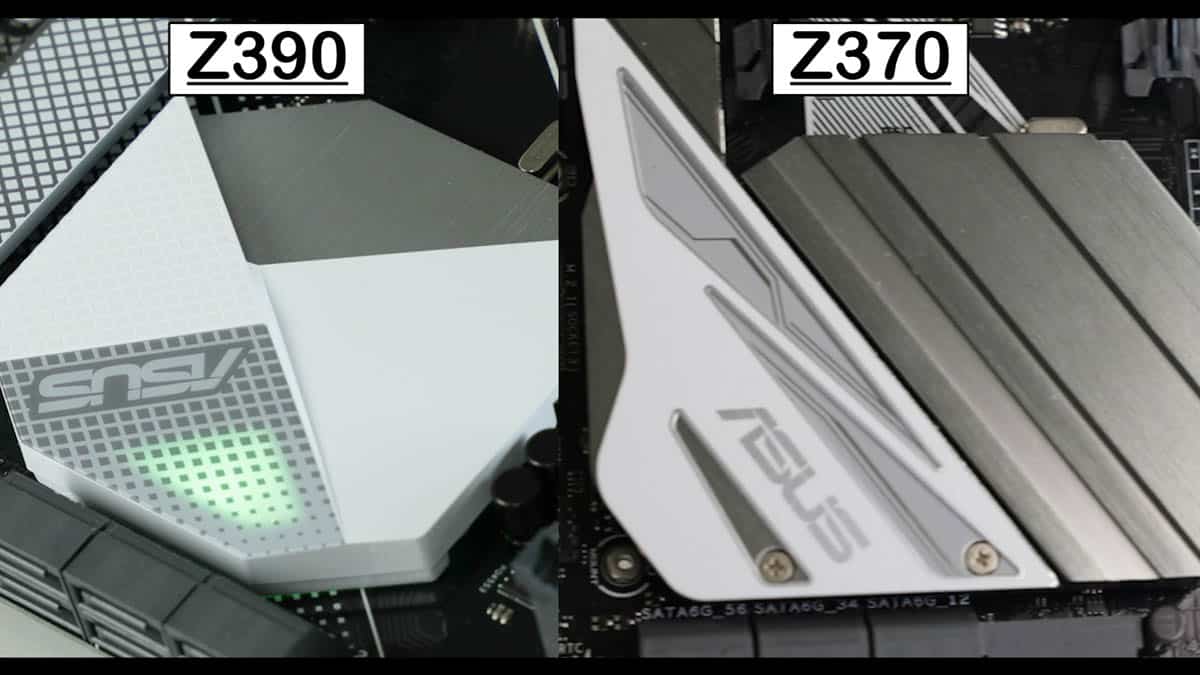 The big difference in this new series is, of course, the chipset: The Z390.
What you need to know here is that the Z390 is in all and for all identical to its predecessor, the Z370. The only noticeable differences are the addition of 2 features (marked in red below) :
Intel Z370 versus Z390


Intel Chipset
Z390
Z370
Overclocking Support
Yes
Yes
On-CPU PCI Express* 3.0 Configurations
1X16 or 2X8 or 1×8+2X4
1×16 or 2×8 or 1×8+2×4
Independent Display Ports / Pipes Support
3/3
3/3
Memory Channels / DIMMs per Channel
2/2
2/2
Processor Overclocking
Yes
Yes
Integrated Intel Wireless-AC Support (CNVi)

Yes

No
Intel Optane Memory Support
Yes
Yes
Maximum High Speed I/O Lanes
30?
30
Maximum USB 3.1 Ports: Gen 2 / Gen 1

6 / 10

0 / 10
Maximum SATA 6Gb/s Ports
6
6
Maximum PCI Express* 3.0 lanes
24 (v3.0)
24 (v3.0)
Intel Rapid Storage Technology
Yes
Yes
Maximum Intel RST for PCIe Storage Ports (x2 M.2 or x4 M.2)
3
3
Intel RST PCIe RAID 0, 1, 5
Yes
Yes
Intel RST SATA RAID 0, 1, 5, 10
Yes
Yes
Intel RST for CPU-attached Intel PCIe Storage
Yes
Yes
Other than that, they are the very same chipset, which is a good thing since both the Z370 and Z390 can support the same processors:
8th Generation Intel Processors (Coffee Lake)
9th Generation Intel Processors (Coffee Lake refresh)
Socket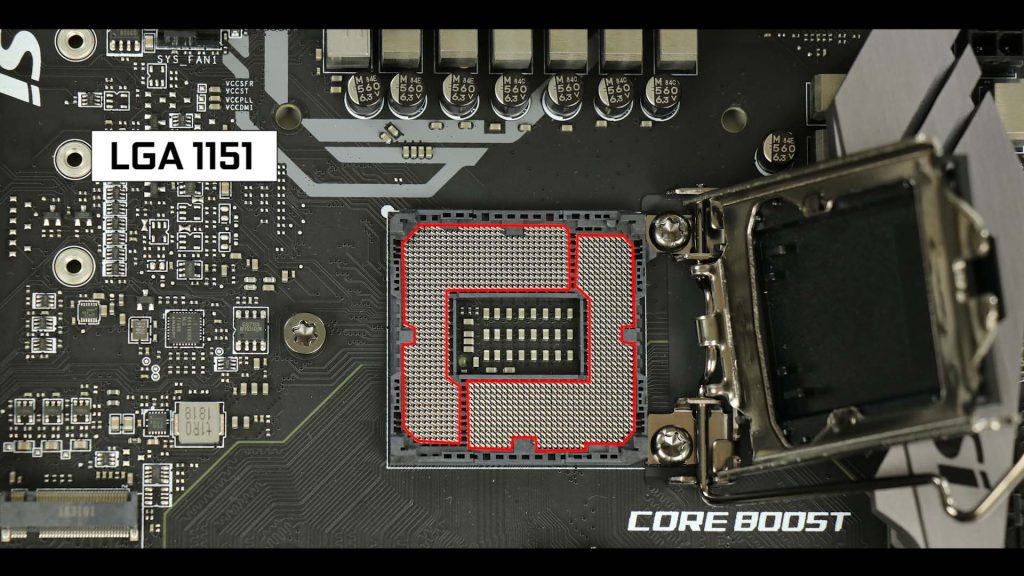 Luckily for all of us, this board still uses the highly compatible 1151 LGA CPU socket. Therefore, if you have installed any Intel CPU in the past decade, you should feel right at home.
And, as previously stated, the CPU socket will support both the 8th and 9th generation of Intel's Core CPUs.
VRM
The MSI MEG Z390 ACE comes with 13 phases, 12 of which are dedicated to your CPU!
Obviously, this means a superior overclocking experience with ANY supported CPU. Yes! Including the massive i9-9900K!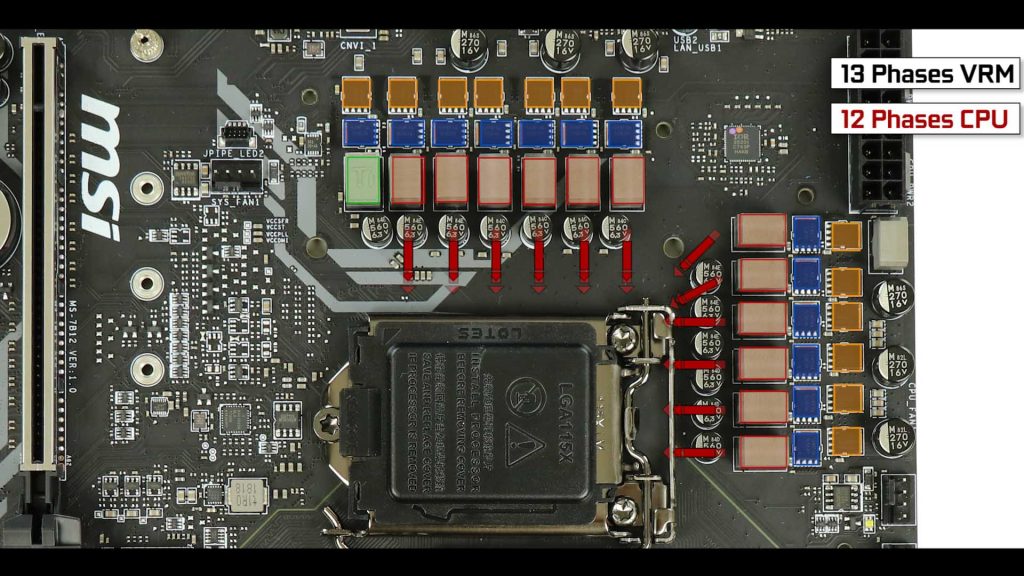 After running different CPU stress on the 9th Generation of Core processors, I could not detect serious overheating or thermo-throttling.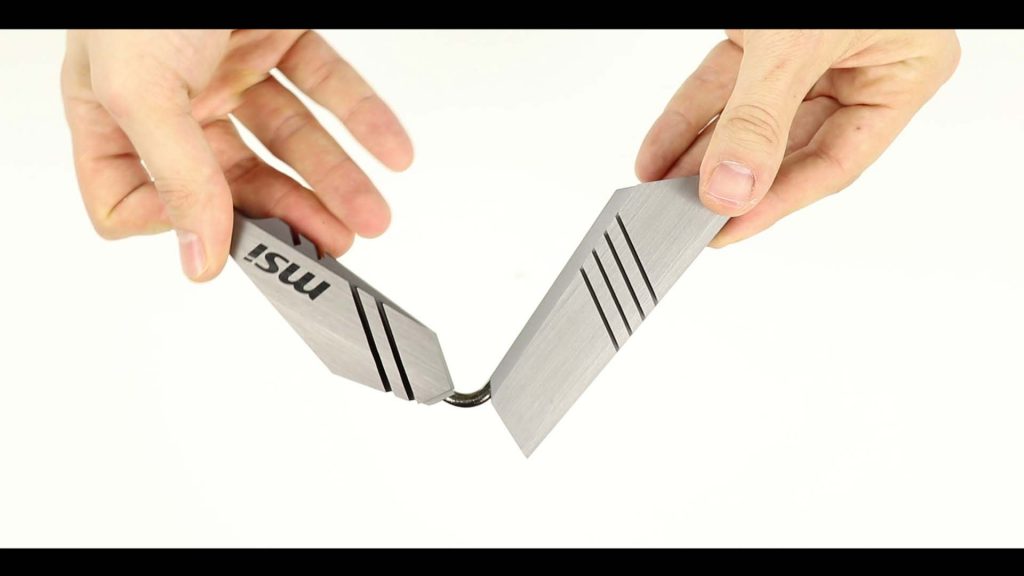 MSI did not go for their Heat–Sink Extended design they showed-off on the MEG and MPG series, but nevertheless, these heat-sinks are really good. And perform particularly well in dissipating heat.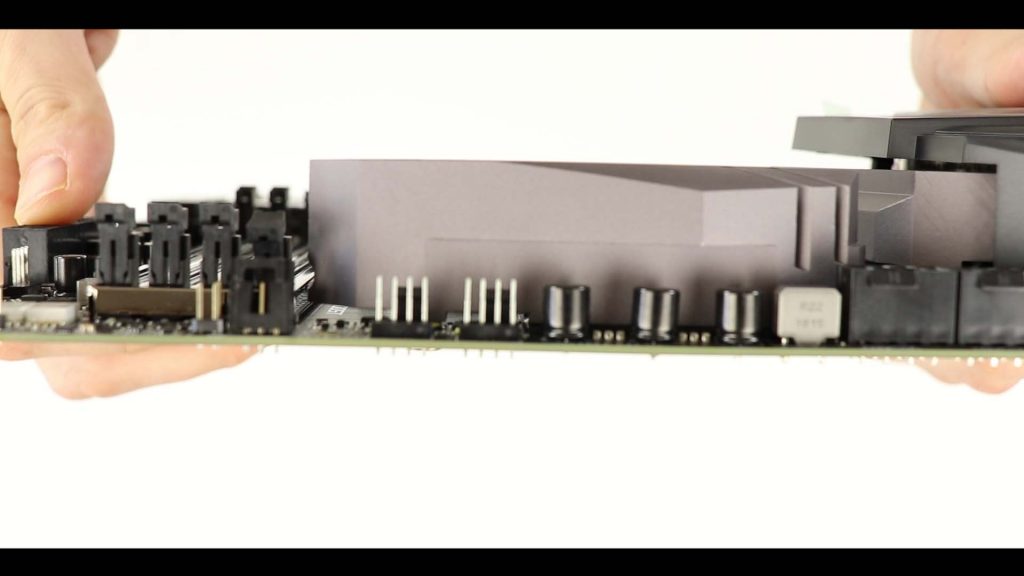 They are tall and heavy. In fact, I am not sure I have ever seen such tall heat-sinks!
RAM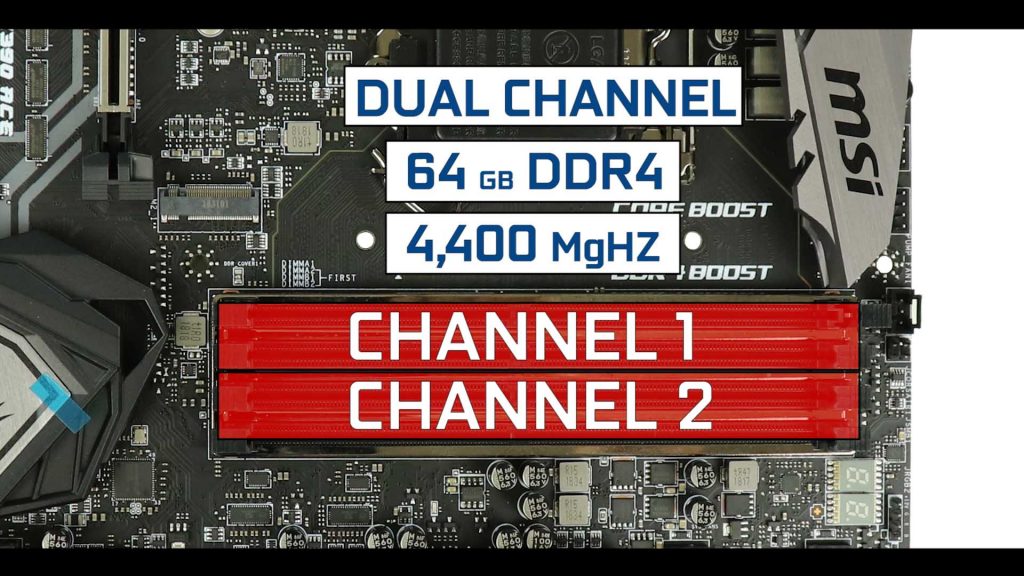 RAM wise, nothing surprising. We have the usual dual channel configuration which can support (for now) up to 64gb of DDR4 RAM, overclock-able up to 4,400 GHz.
Keep in mind that Asus just released a BIOS update for its ROG series motherboard allowing them to support up to 128 GB of RAM in 32 GB x 4 configuration.
I would not be surprised if MSI would follow suite in the near future.
M.2 SSD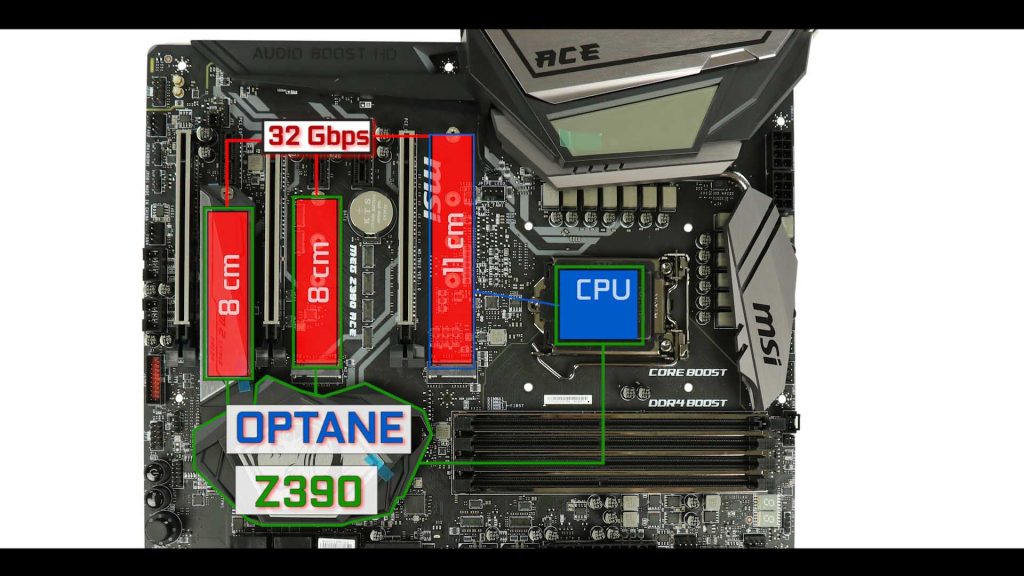 Storage wise, we have a three-way M.2 SSD configuration. . And of course, the Z390 chipset is Optane ready. This will allow our M.2 SSD sticks to swap data up to 32 Gbps.
With this kind of theoretical transfers, do not be surprised to see your M.2 SSDs sticks overheating, and thermo-throttling.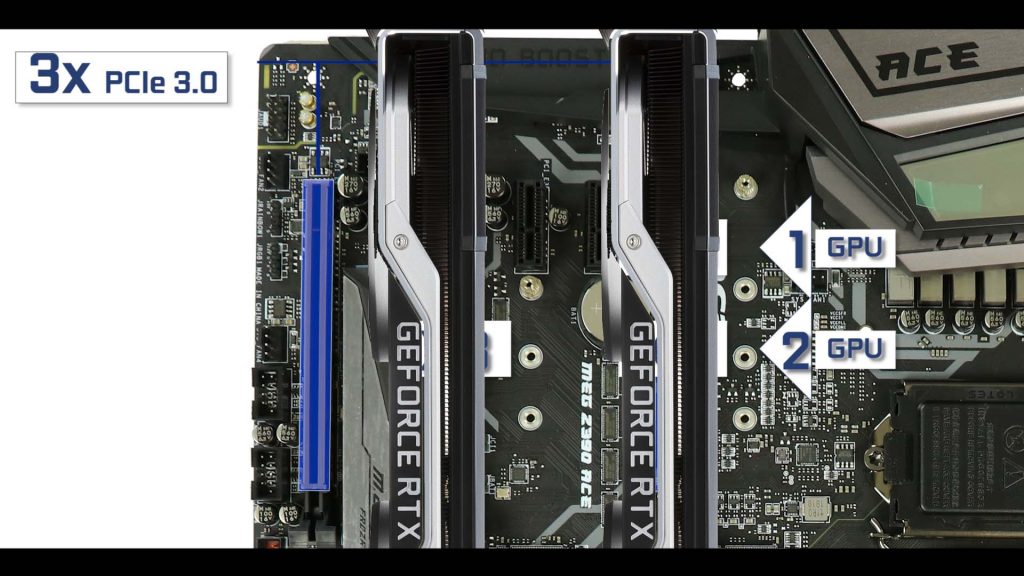 That is especially true with sticks which will find themselves stuck under t heat producing video-cards.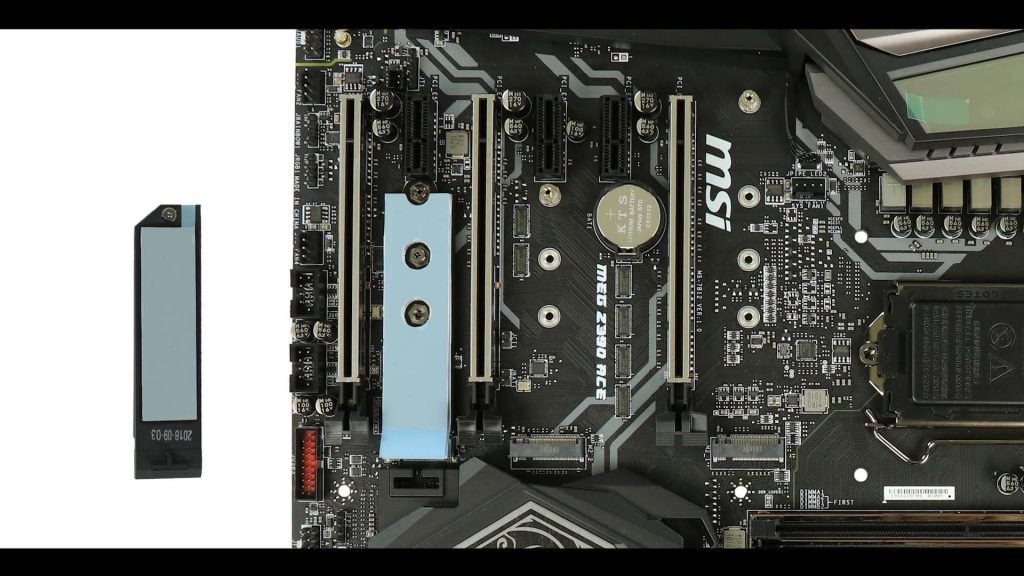 That is why one of the M.2SSD, has been equipped with a double sided thermo-padded heat-shield. Therefore, this is where I would recommend to place a bootable M.2 SSD if any.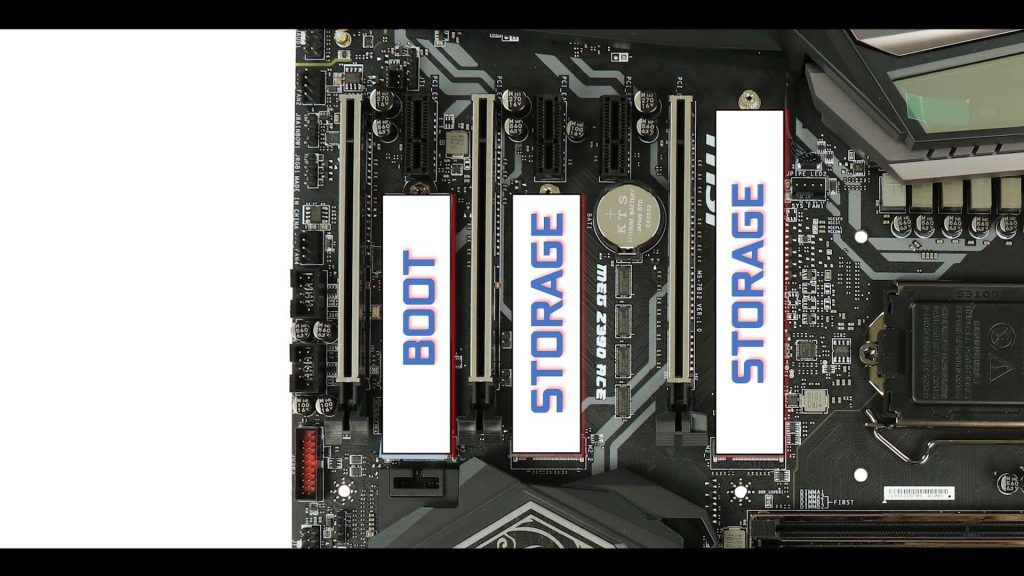 SATA 3.0
MSI MEG Z390 ACE SATA connectors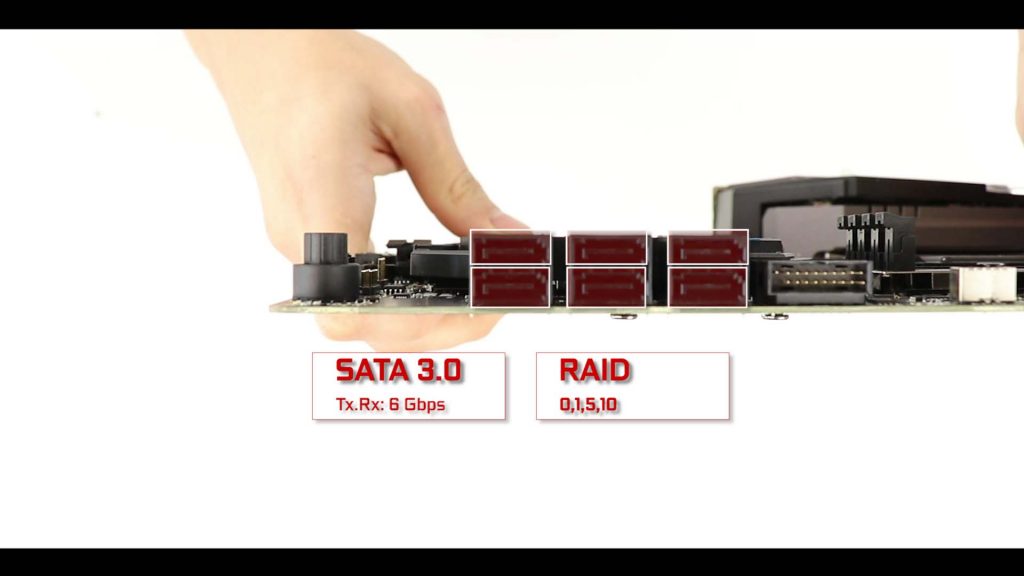 For more classical storage solutions, we have our usual SATA 3.0 plugs. 6 in total, with a transfer rate of 6 Gbps each.
PCIe Lanes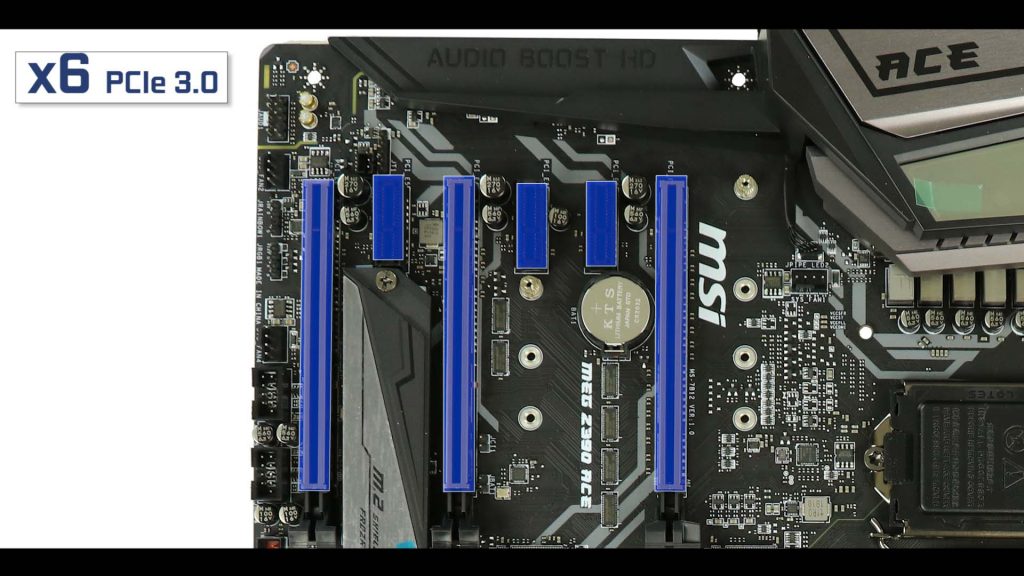 The MSI MEG Z390 ACE has six 3rd Generation PCI expresses.:
3 16 lanes with different BUS speeds
3 single lanes , single speeds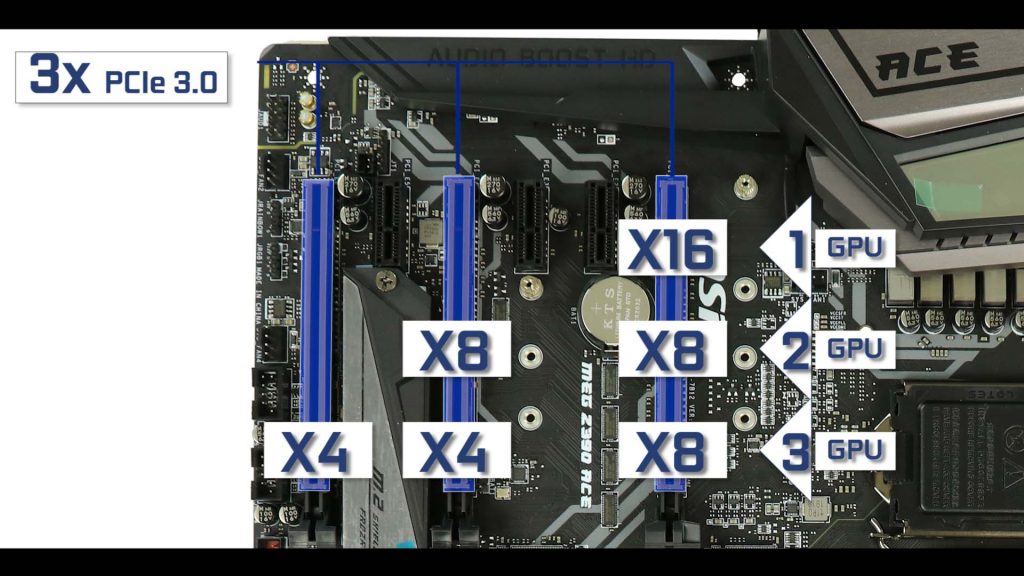 Only the closest 16 lanes PCIe slot can operate up to 16 full BUS speed. Therefore, your unique video card should be here for optimal performances.
In a 2 way GPU configuration, we have a descent 8 by 8 BUS speed, which is plenty to a run a well-performing  SLI or CrossFire dual GOU configuration.
But evidently, the Z390/Core combination does not provide enough PCIe lanes to say the same about a 3 way GPU configuration, which will only provide 4 BUS speed in 2nd and 3rd position.
And that is where I am a little mad at MSI. To provide metallic re-enforcement on 16 slots PCIe is always a great move BUT it also conveys the message that these slots can run video cards optimally, or that the board was designed to that aim.
It it is not the case. For one, SLI support is limited to only 2 video-cards, and again, any Z390 powered motherboard should not run anything else but a single or a dual video card configuration.
A bit misleading from MSI here.
BACK IO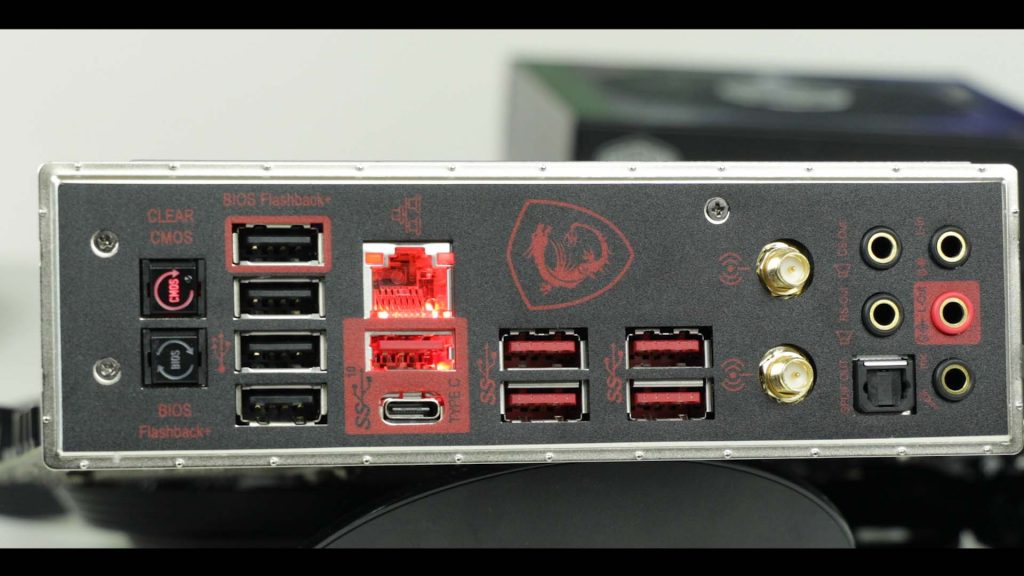 First, let me note that we have an integrated I/O shield. Which is ALWAYS a good start.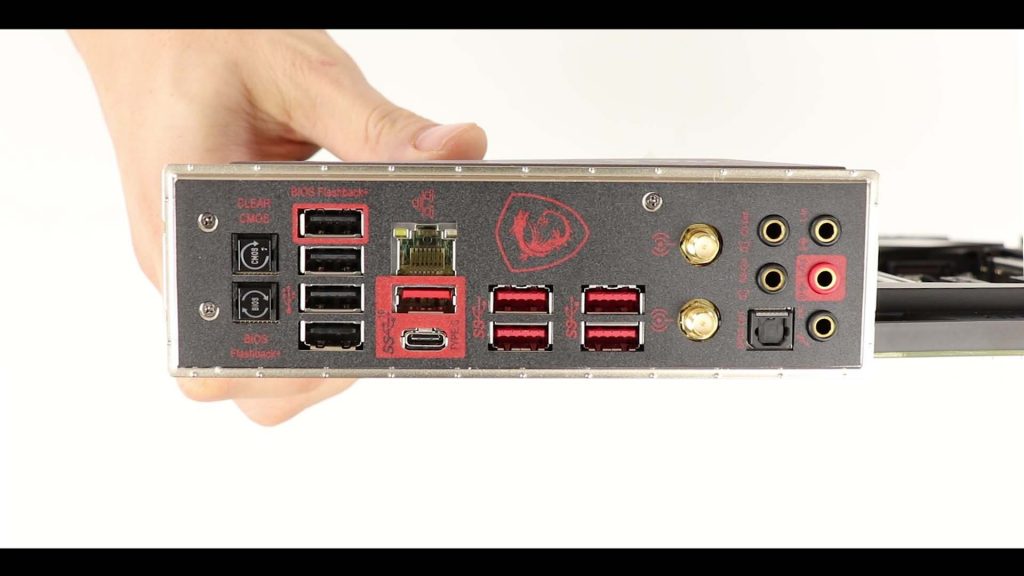 Starting from the left, we have :
Clear CMOS / BIOS Flash Back button
x4 USB 2.0 RX/TX 480 Mbps
x2 USB 3.1 2nd Gen. ( 1 type A + 1 type C) RX/TX 10 Gbps
x4 USB 3.1 1st Gen. RX/TX 5 Gbps
x1 Gigabit LAN
Dual Band WiFi 802.11 AC, 2×2 MU-MIMO, 1.73 Gbps, Bluetooth 5.0
Realtek S1220A, 7.1 channels
Rich and well featured. I am noting the absence of integrate display ports, which absolutely makes sense! This will free up phases for our CPU and further focus our board on its primal task : Overclocking the CPU.
Front Panel connectors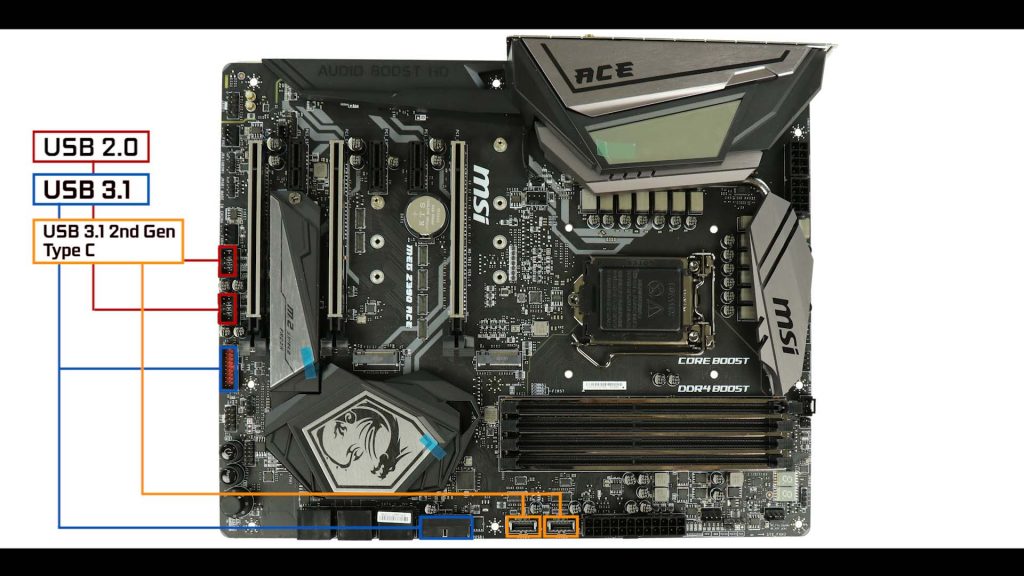 We have two USB 3.1 2nd gen type C front panel connector as well as a USB 3.1 1st gen type A (classical) front panel connector.
In addition, we have 2 USB 2.0 front panel connectors. Worth noting, these are not only relevant for data transfer, but they are also very useful for All-In-One water pumps energy supply and PWM abilities, or for Intelligent PSUs for in and out wattage readout / monitoring.
Fan & Pump Connectors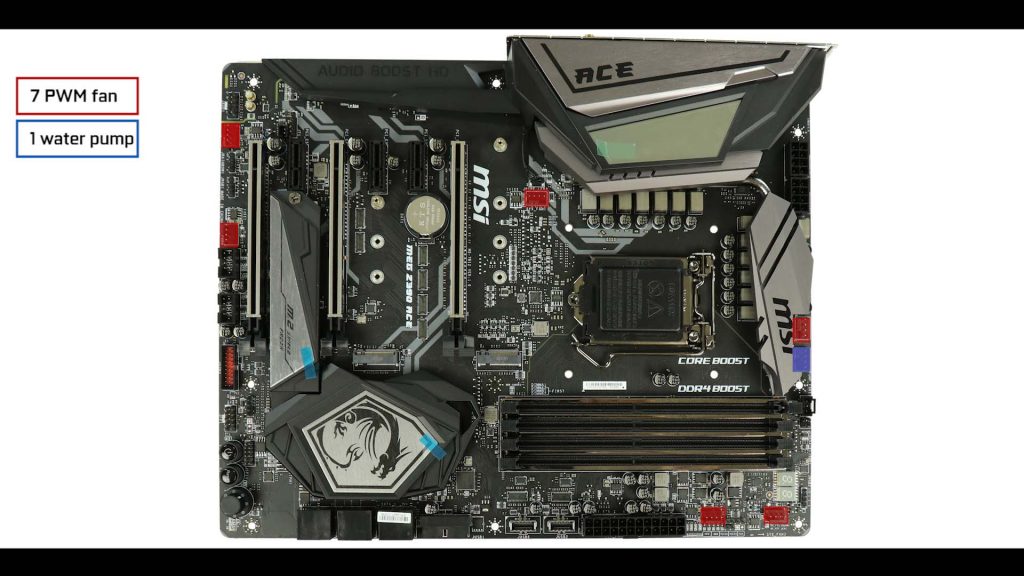 We have 7 native PWM fan connectors, 1 of which can be used for your water pumps. And that will not make our enthusiastic friends dream, but it will be plenty to run a descent single-loop custom water cooling
I would have loved to see an additional Water-Pump connector, to allow a dual custom water cooling configuration.
On-Board Bouttons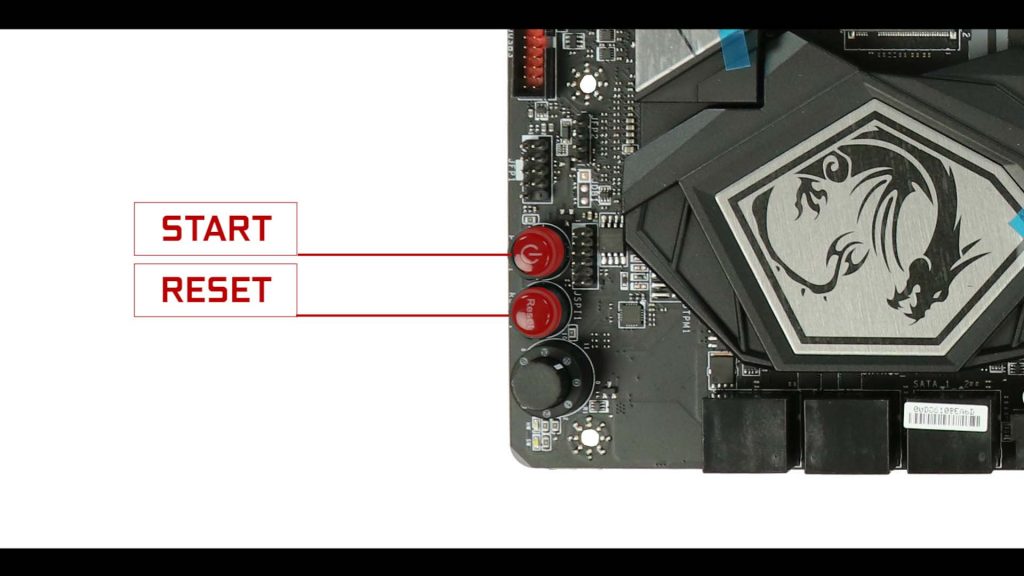 Happy to see big (and back-lit) soldered button. Always a good point!
Mystic Light Sync
As in every major motherboard manufacturer these days, MSI has its own software controlled RGB Syn effects: Mystic Light Sync.
It'll allow you to harmonize and sync colour themes and RGB effect through your builds and supported components.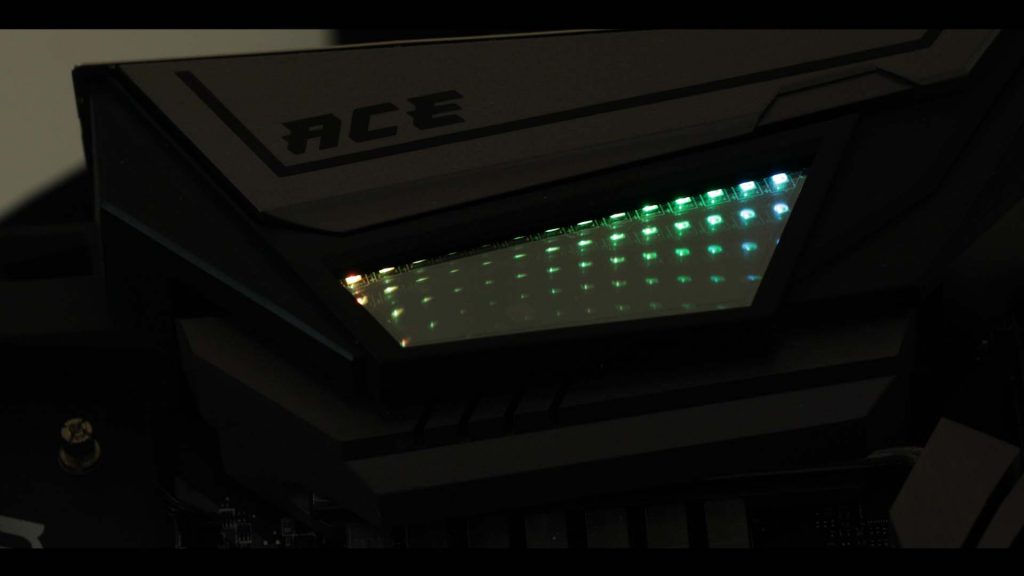 PCB
We have a rather good looking infinity mirror on the top of our IO housing. It puts forward an addressable RGB strip which tends to disappear when you look at it straight forwardly.
But if that is not enough, you can add up to 2 additional RGB strips!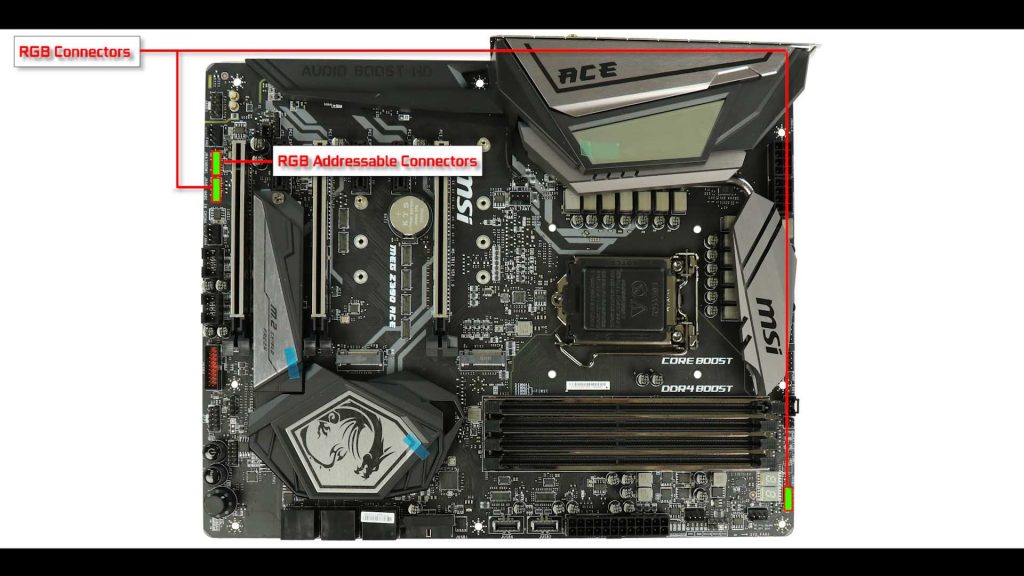 And even an Addressable RGB connector. At this price level, this is luxury.
---
Overclocking
That's what the MEG Z390 ACE shines at. The Game Boost Knob (below in red) offers a quick and easy way to change or adjust overclocking profiles for you. It will do so in regards of the type or generation of CPU you are running.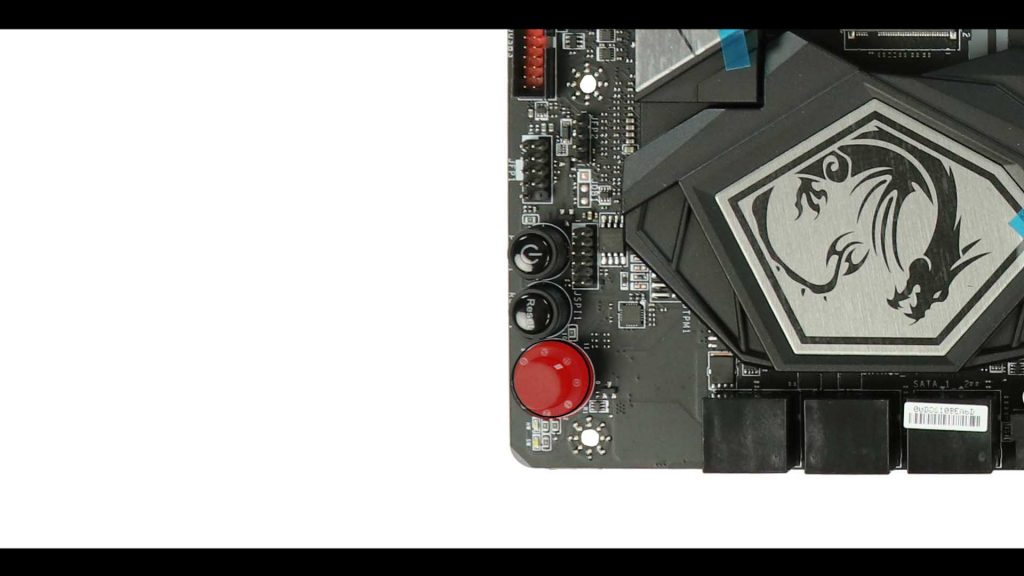 It makes a somewhat impressionable operation easy and safe.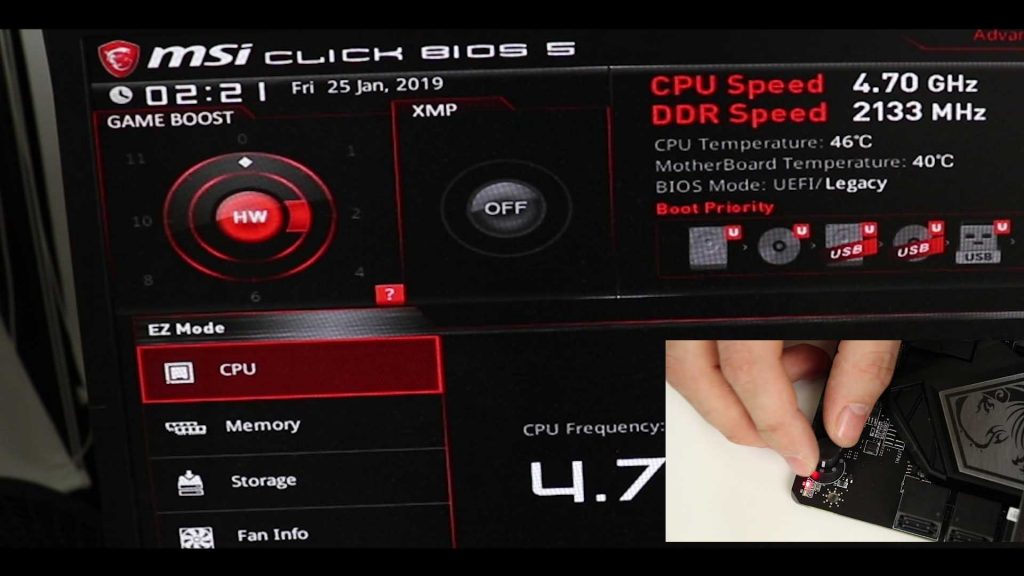 I managed to Overclock my i5-9600k to an impressive 5GhZ withing 20 seconds!
Troubleshooting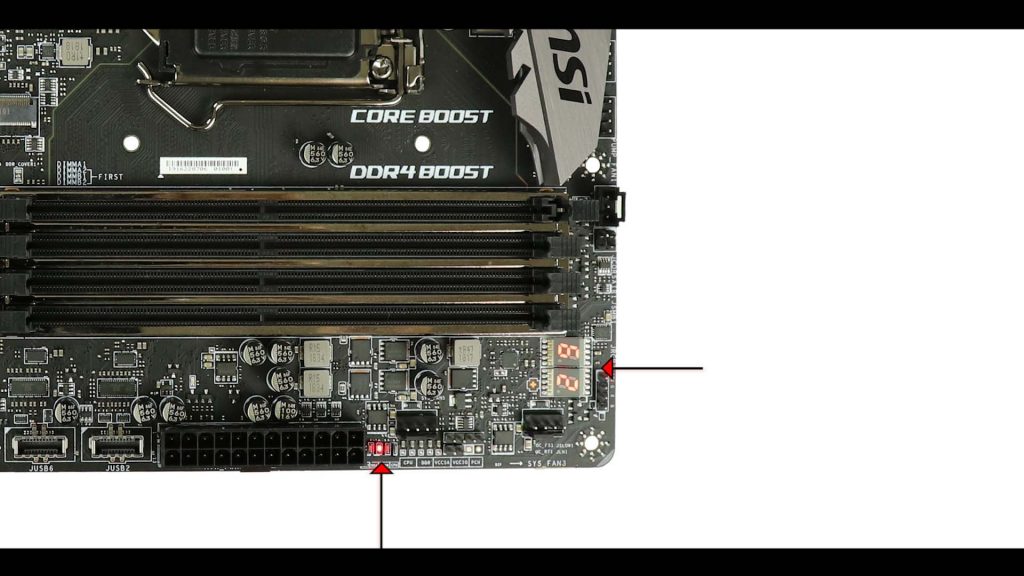 This is one feature you do not always see at this price point.
Since we do not have a Q-LED screen, the EZ debugger takes a leading role in guiding us in case of trouble.
---
Conclusion
The ACE makes no apologies. It wants to be the ultimate Over-Clocking board out there. It couples 12 CPU_focused phases with the now well established Game Boost Knob ( or as I call it, the overclocking wheel).
And it does so wonderfully. As you can see it in my video-review, I could overclock my i5 9600K from a tock clock of 3.7 Ghz to 5 Ghz in about 20 seconds.
My only real issue with the MEG Z390 ACE, is its un-focused approach to enthusiast computing. And at times, even its contradictions.
On the former, we have a three metallic re-enforced PCIe which convey the idea that this board has been DESIGNED to support a 3 GPU configuration.
Of course, this is not the case. As in any other Z390/Core CPUs, you simply do not have enough PCIe lanes to really take advantage of three individual video cards. It is obviously more of a marketing move hopefully, because if it is not, I would have a serious talk with my engineers about that.
We have PWM/DC mode LEDs which are deeply hidden by our side heat-sink. Another design blunder.
And finally, the absence of a second fully dedicated 5watt water pump connector, will make it difficult to run a dual custom water cooling configuration, seriously limiting our enthusiast builds. Again… somewhat of a contradiction knowing how cheap and easy that would have been to make if possible.
But on the other hand, and despite these confusing aspects of the MEG Z390 ACE, I am finding myself with an absolutely delightful overclocking motherboard. Which took some some bold moves and innovative risks.
It did away with the integrated graphics in order to dedicated all available VRMs to the CPU. Something I applaud.
We have a double sided thermopad for one of our M.2SSD. Again… Bravo!
Finally, this is a luxurious motherboard, with multiple troubleshooting aids, such as the Q-LED screen, the EZ debugger or the RAM LED.
It has all the connectivity you'd need and even TWO front pane USB type-C which I have never seen before on any board.
So, you can see why I am somewhat confused, or borderline mad.
This could have been the best motherboard EVER. But instead, it is an un-focused mess. And I'll say this, kindly:
If you are on the market for an absolute over-clocking beast, at this price range, nothing compares. But if you are looking for custom water cooling wonder, I would risk myself and say that you can get better, for cheaper.
QUICK OVERVIEW
CPU & northbridge support
Supported Processor
8th & 9th Gen. Intel Core Processors
Chipset
Z390
CPU socket
LGA1151
Memory
Slots
4 (dual channel)
Max System Memory (Gigabytes)
64
Memory Technology
DDR4
Maximum Clock (MgHz)
4,400
Connectors
USB 2.0
4 on back IO + 2 on-board
USB 3.1 (1st Gen)
4 on back IO + 2 on-board
USB 3.1 (2nd Gen)
2 Type A/C on back IO  + 2 Type C on board.
LAN
1 Gb/s
WiFi
802.11AC + 2×2 MU MIMO + Bluetooth 5.0
Great at overclokcing, BUT...