Cases come in different shapes and colours. But only one can truly pretend to be silent
There is a company out there called Be Quiet (shuuuut) and they specialize in noise suppressed casings. I had to hear this for myself… hear this… see what I have done there?
So today we are taking a closer look at the extremely modular and surprising, full tower, 900 DARK Base Pro, Tempered glass edition from Be-Quiet.
Would you look at that!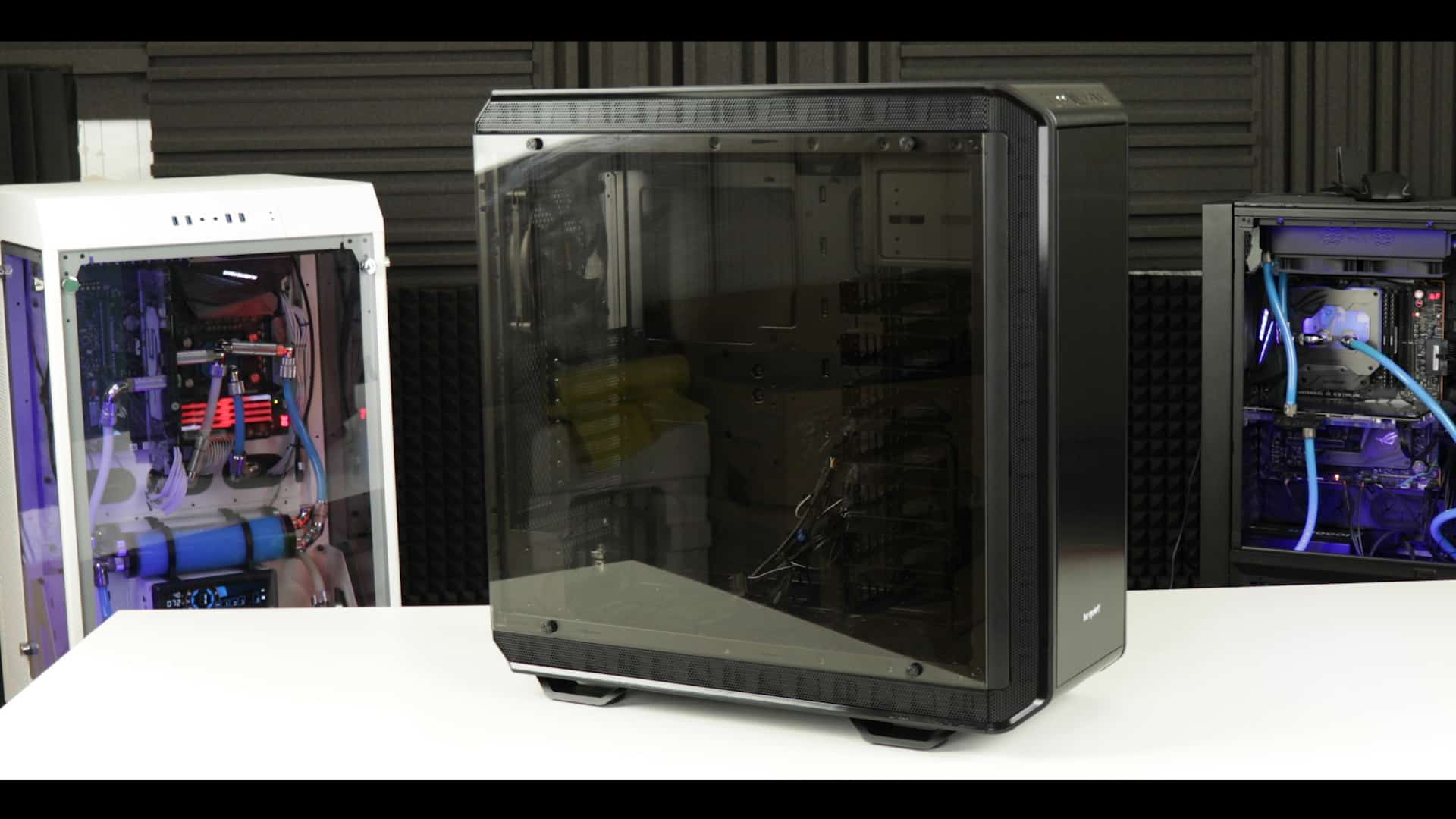 The 900 Base Pro tempered edition is the refresh of the 900 Base Pro, but a with tempered glass panel. And that is a risky bet. Suppressing sound with a tempered enclosed metallic panel is one thing, and doing so with a tempered glass panel is another!
Sure it looks great, but did Be Quiet rose to the challenge and did indeed release a better-looking version of its 900 BASE pro series, without sacrificing its sound repression qualities?
Did it over commit? Well, there is only one way to find out!
Let's start with the obvious.
This case is 585 mm tall, 243 mm wide and 577 mm deep.
Empty, it weighs a whopping 14.39 Kg… seriously, that is a heavy case.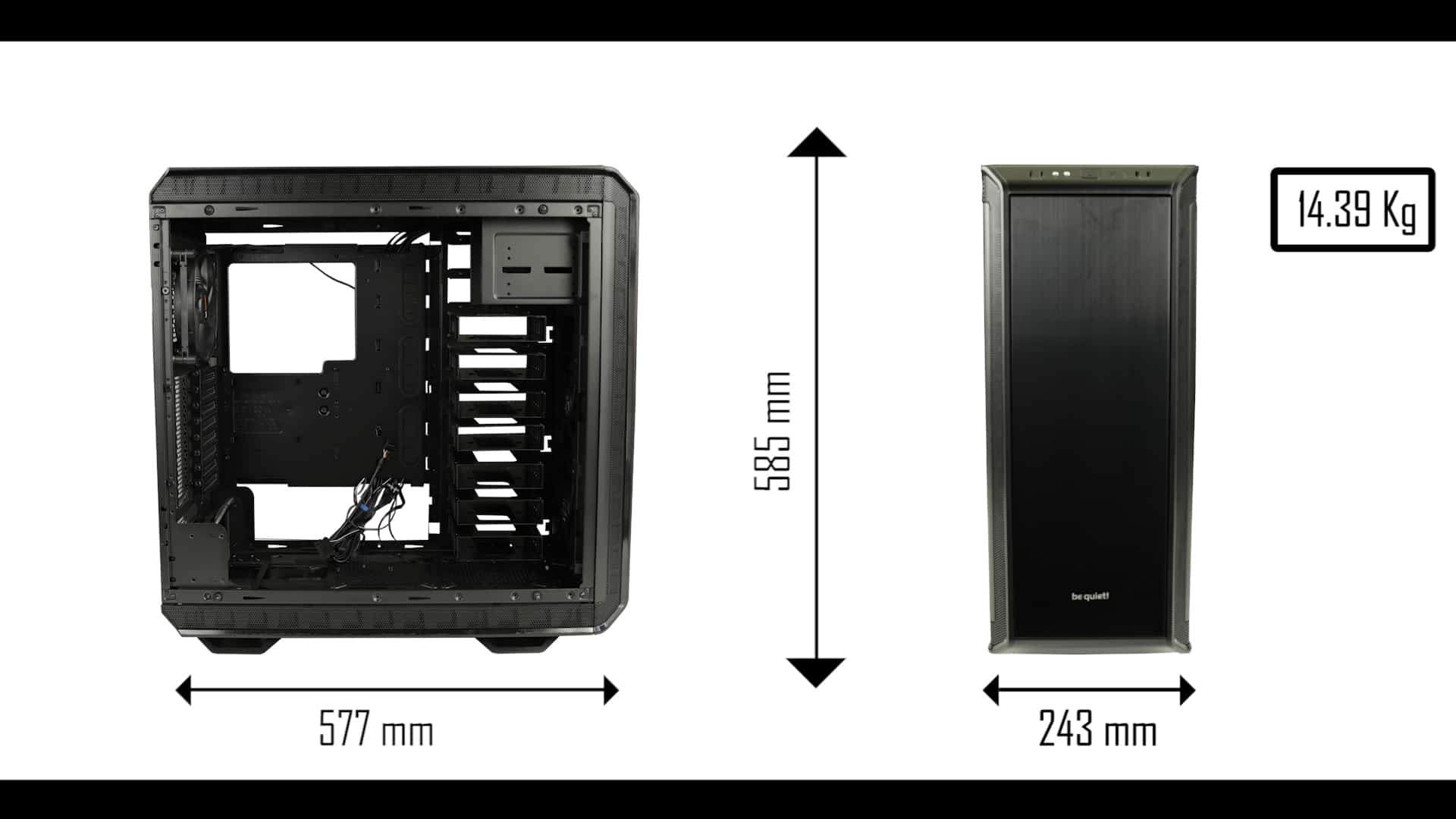 It is a full tower and can accommodate, Mini ITX, M-ATX, ATX, XL-ATX, and E-ATX, though I have spotted limitations on that last one.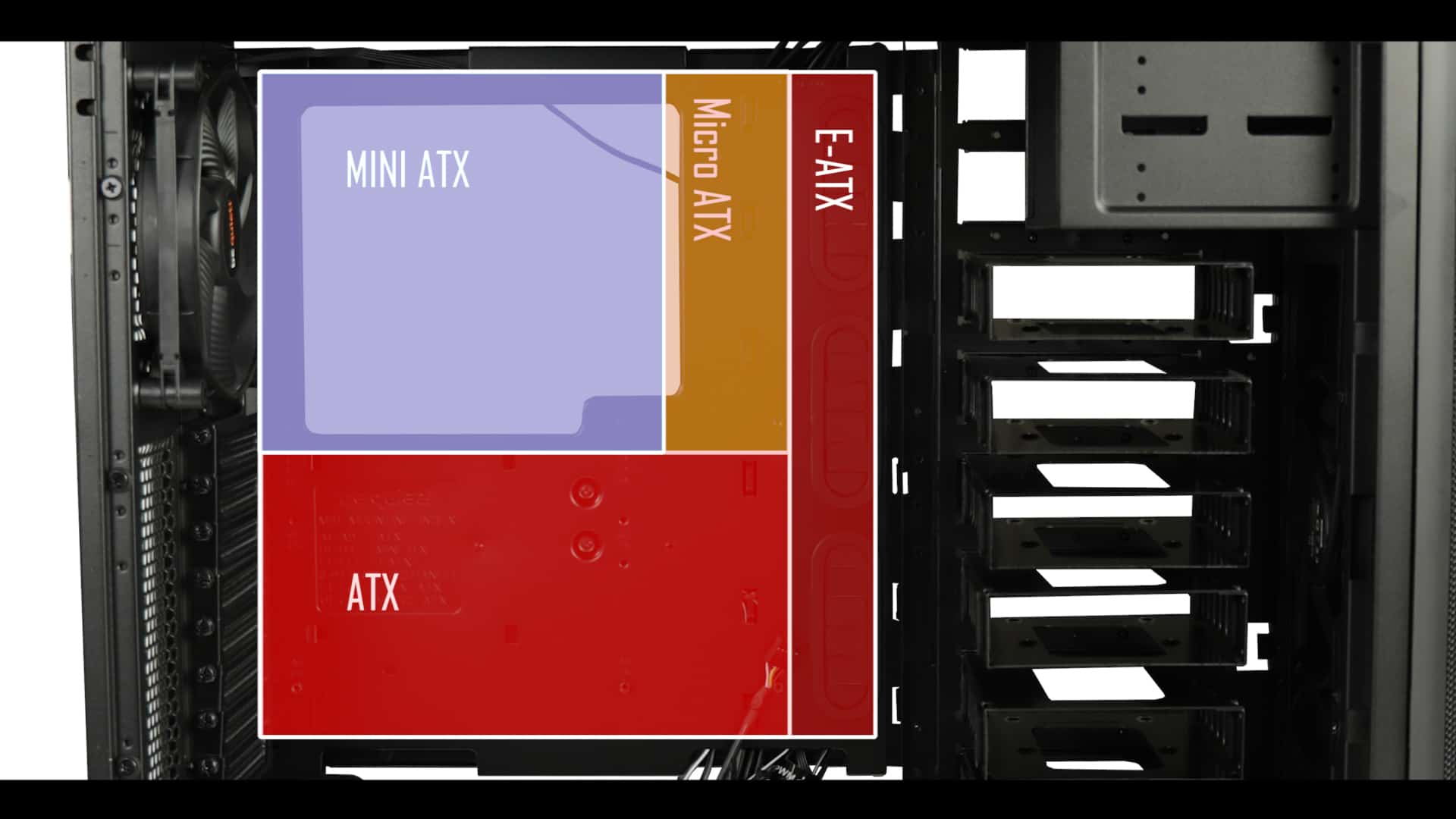 The front panel is tempered, and the back panel is metallic.
And finally, the Base Pro 900 comes in 4 colour variations. Black, White, Silver, and Orange.
The front panel and the case top is dressed in a gorgeous brushed aluminium sheet,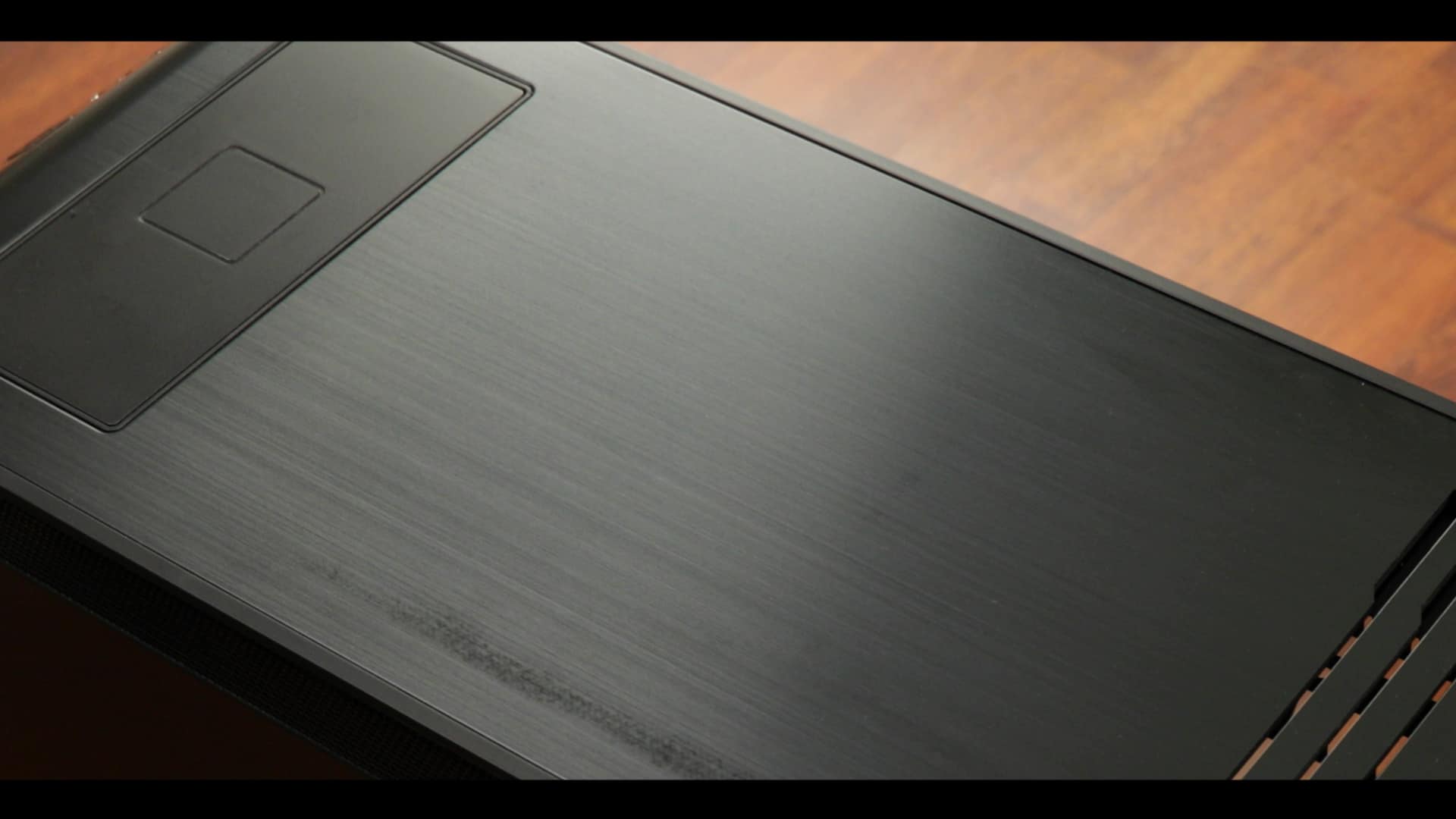 showcasing laser cuts vent opening on its back, and a curved front espousing the chassis curvature.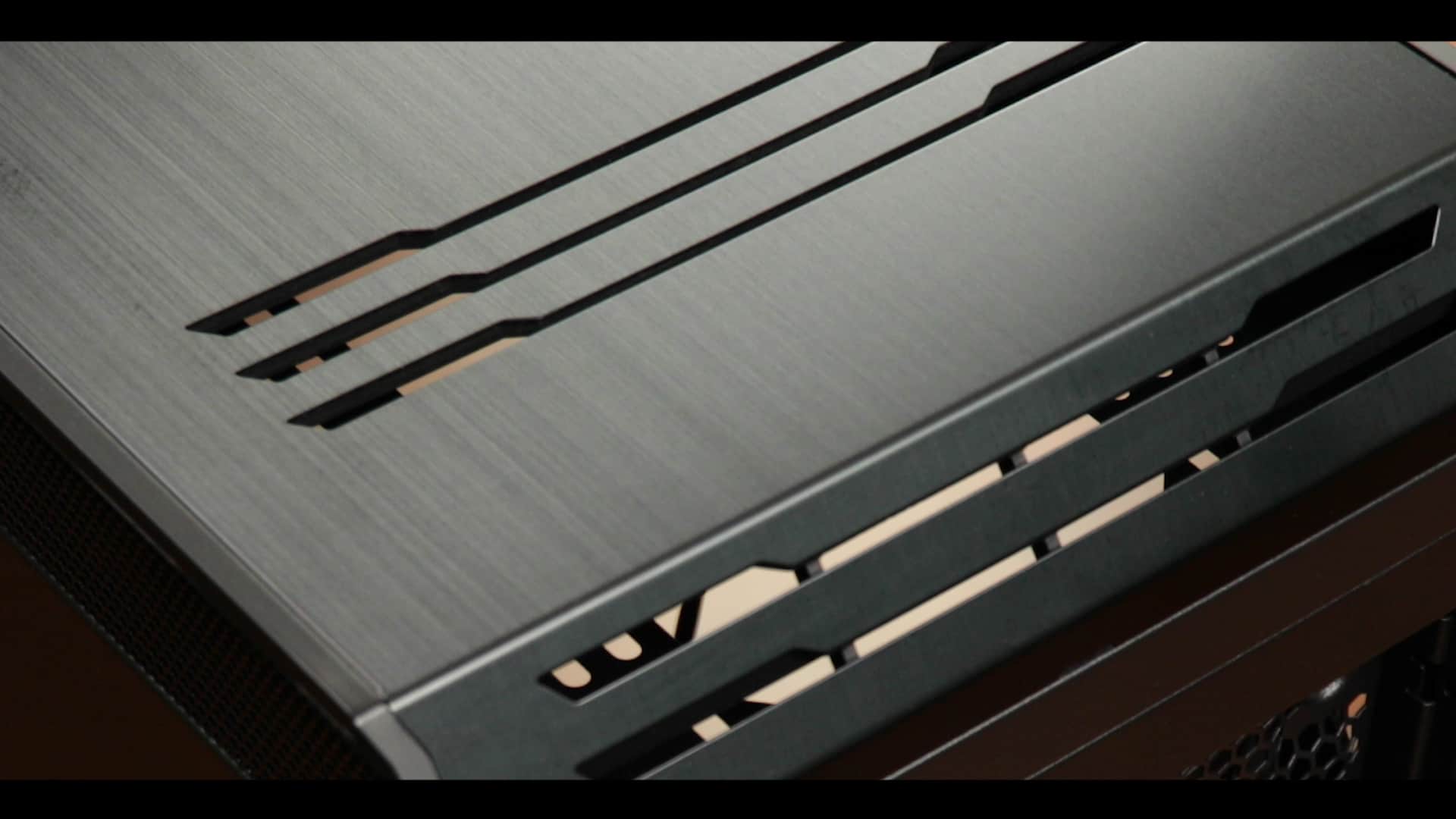 It also perfectly embeds our front panels elements.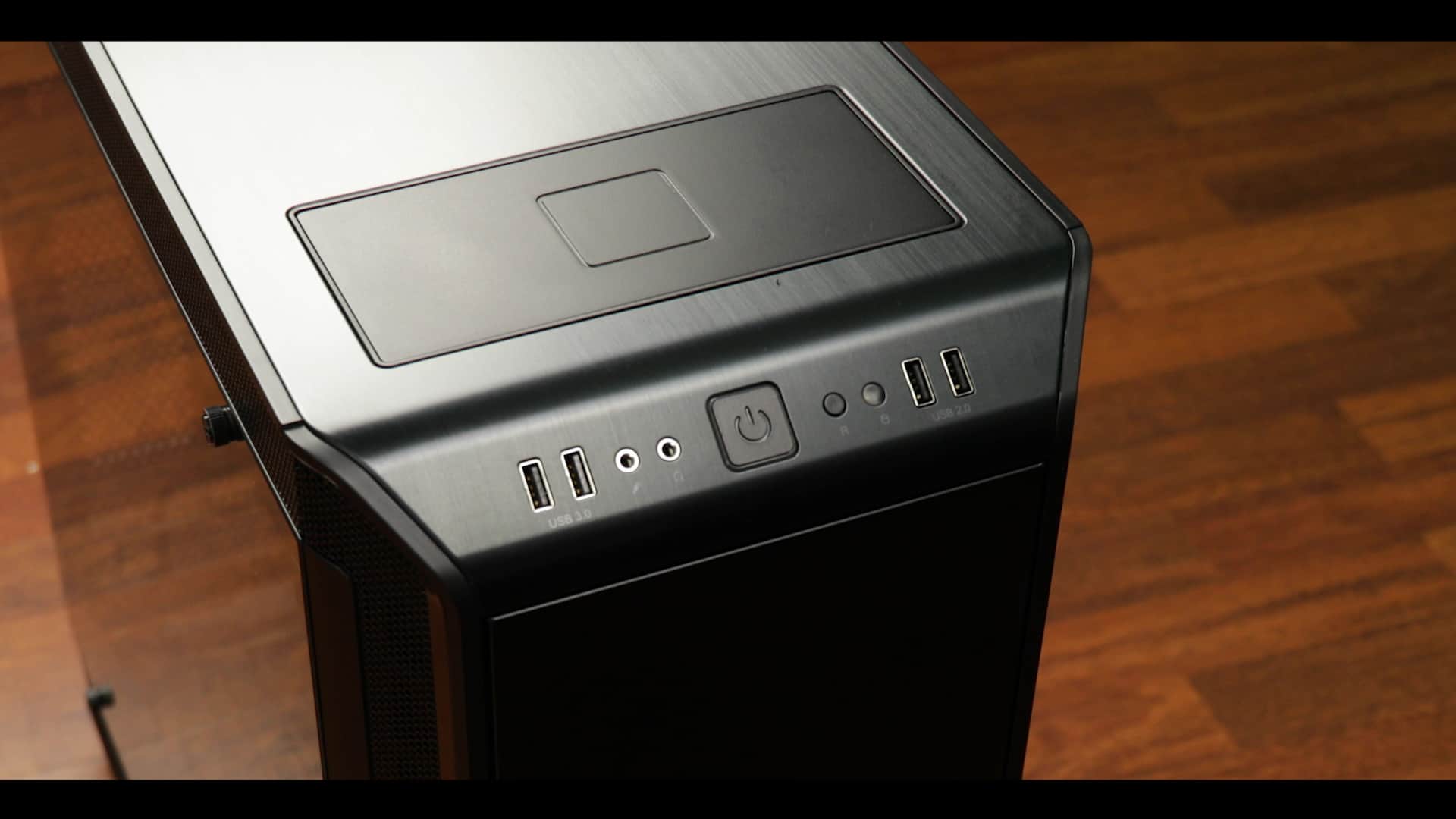 Talking about which we have our power / LED button, our reset button, 2 USB 3.0 plugs, 2 USB 2.0plugs, our audio plugs, and… and that is a first for me, a QI charger!
Yes, this case can charge your phone wirelessly if you place it on this rather larger rectangle! Now, I would not call this groundbreaking, or revolutionary, but interesting and maybe even useful. Let's see.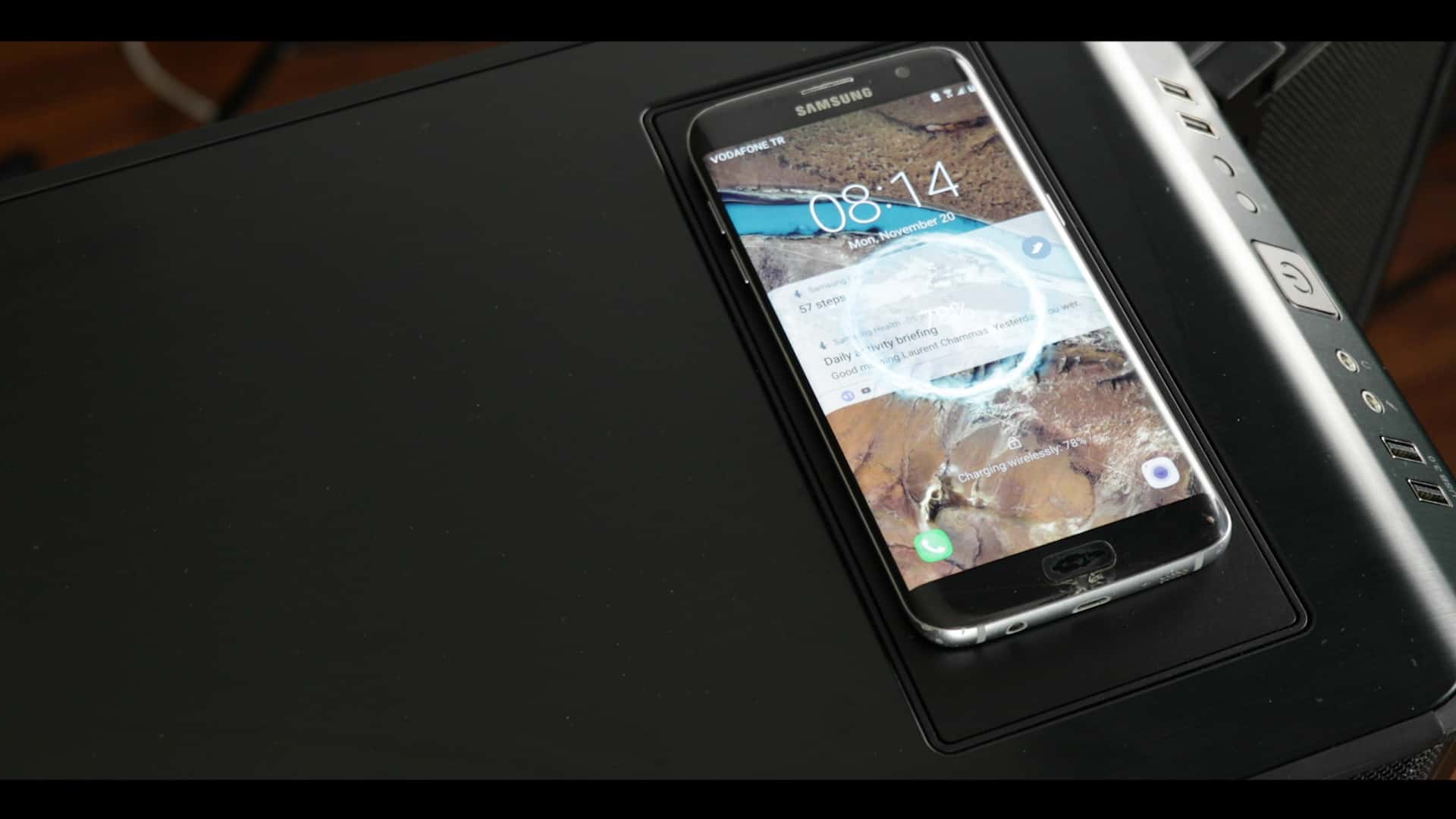 My only critic so far is the fact that, even though brushed aluminium looks amazing, it is a fingerprint magnet. And you will need to wear gloves to keep this thing looking clean!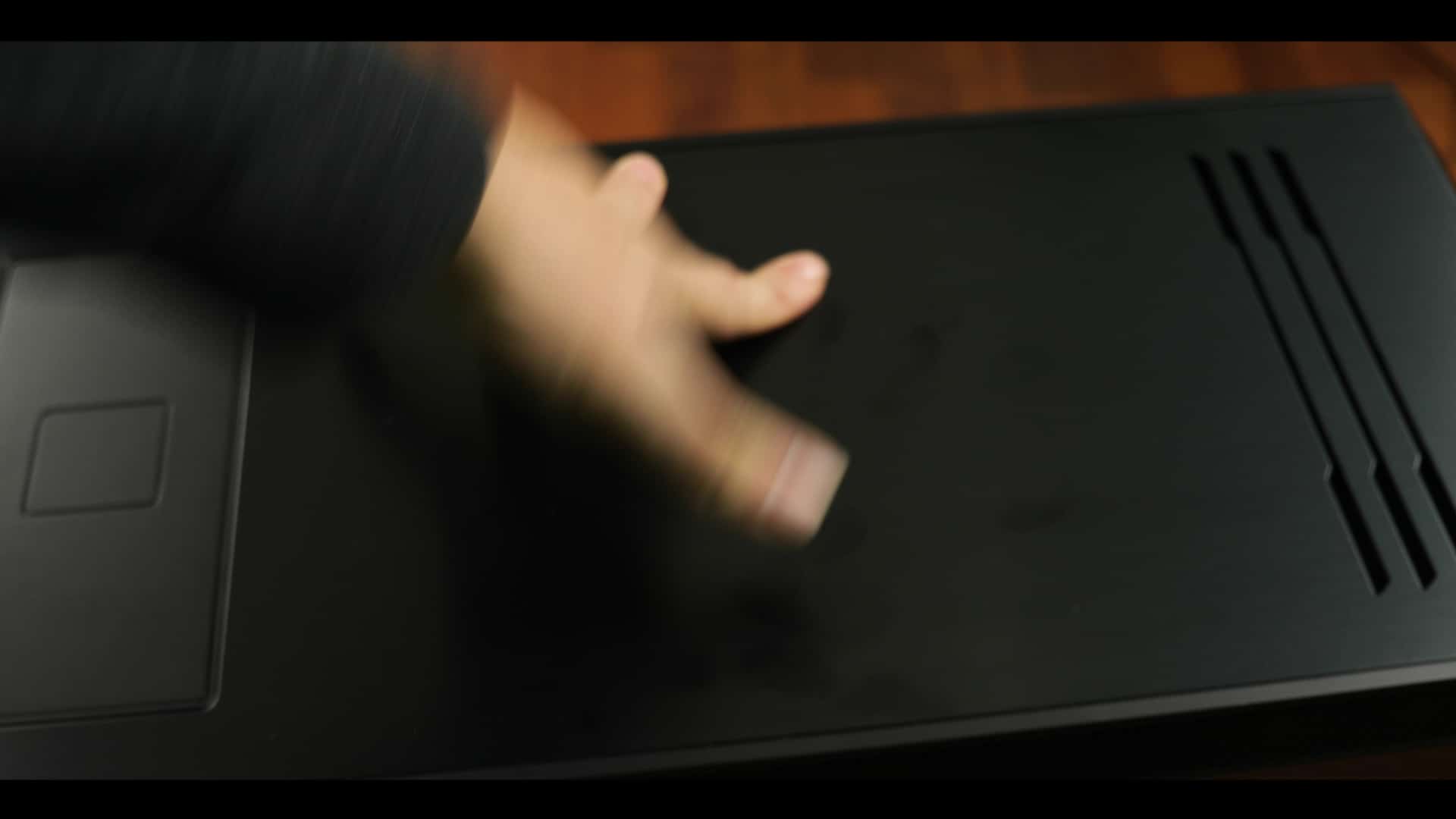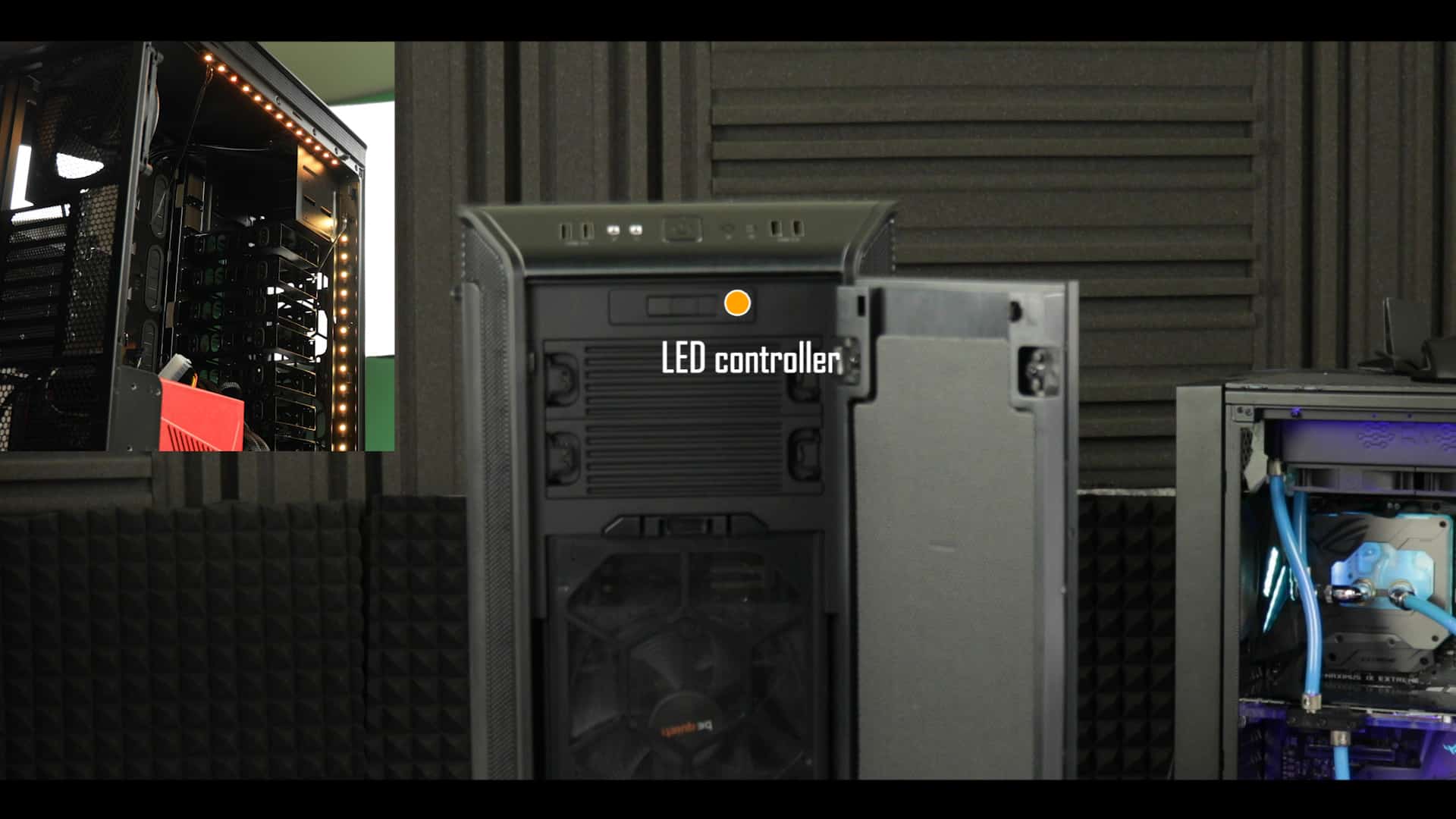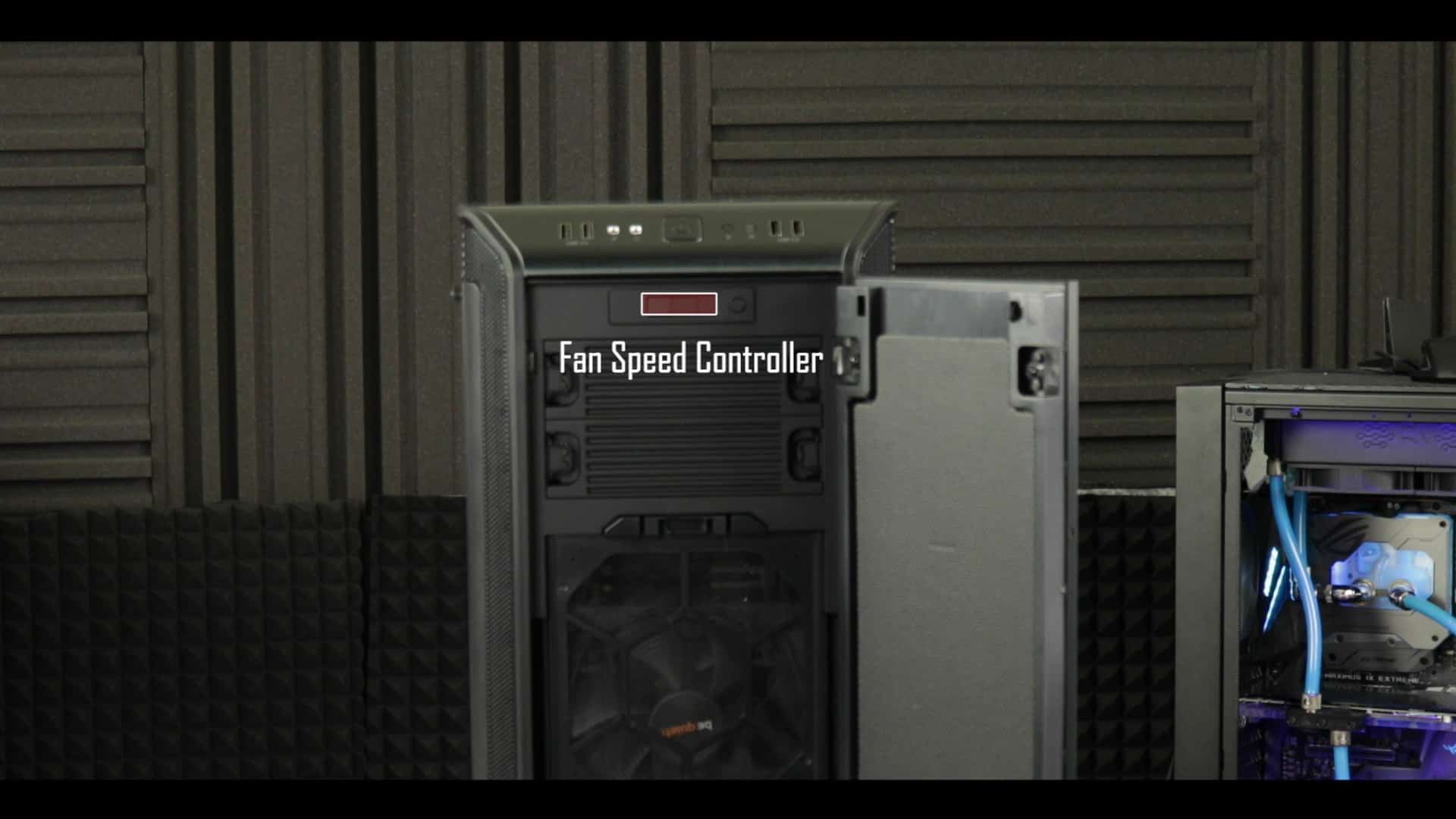 We have a pressure opening front panel which hides, starting from the top, an LED controller switch,
and our Fans Speed controller. I find them to be of lesser quality than the previous buttons and switches but nothing to cry about.
---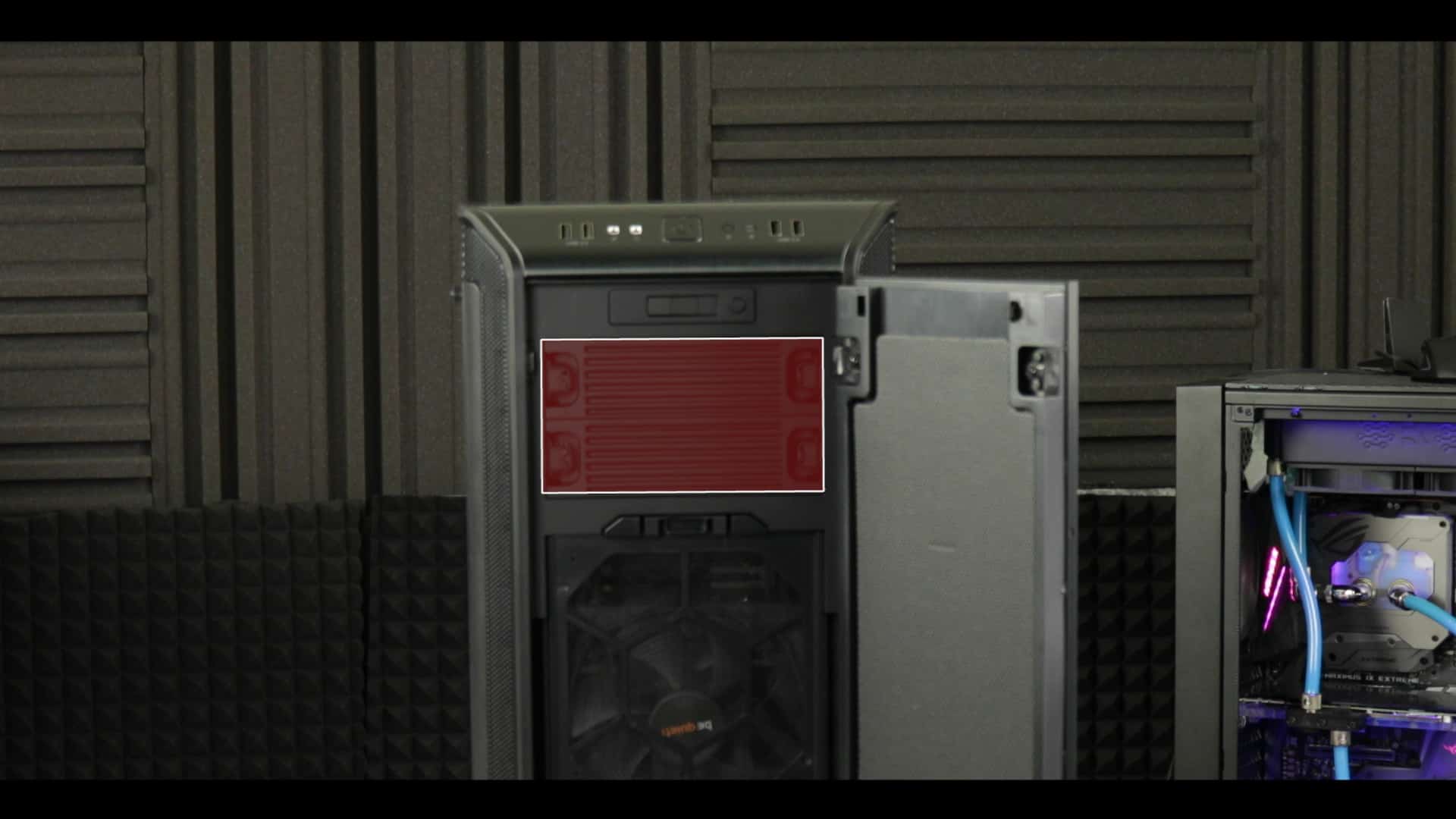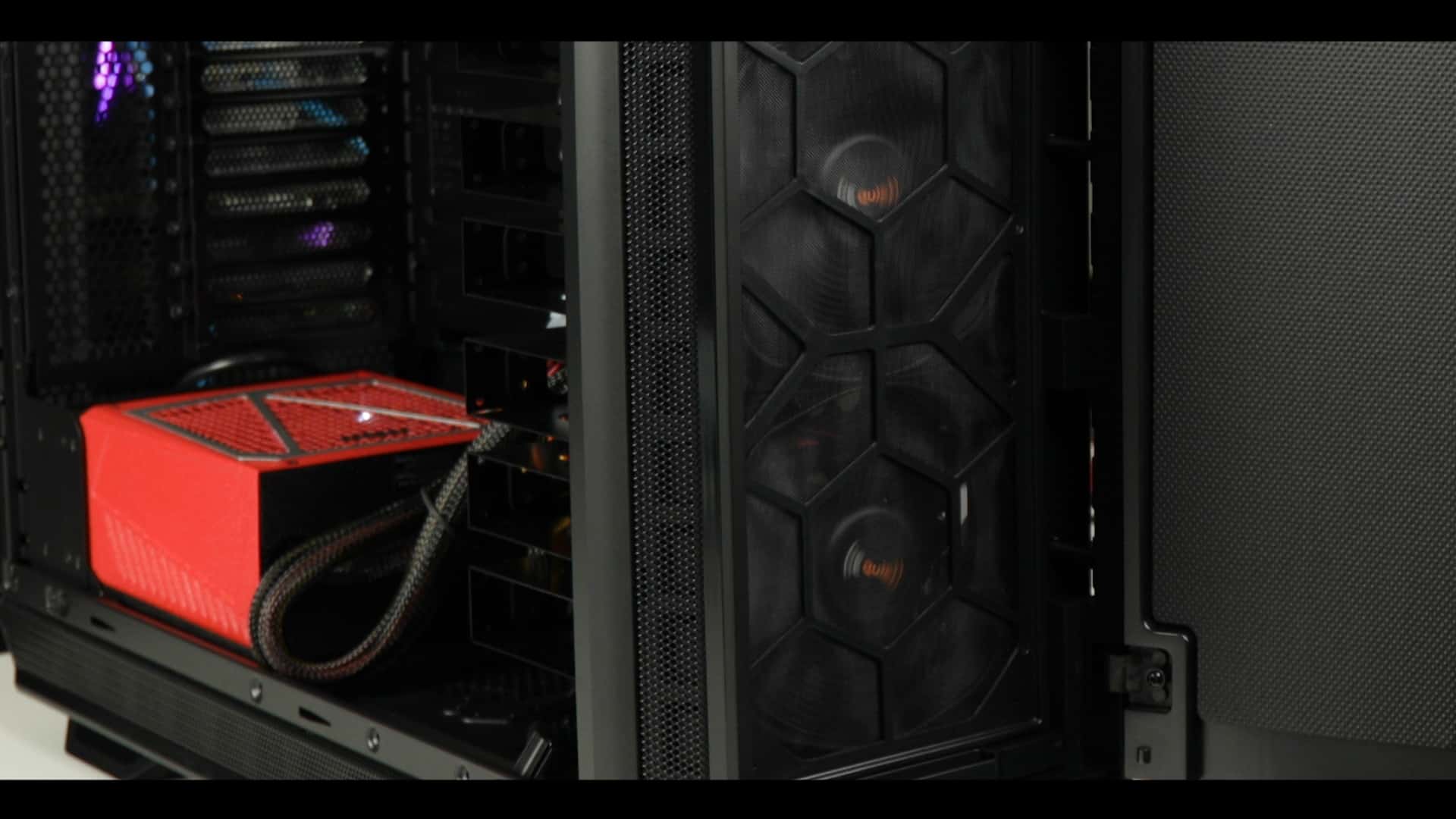 We have a 5 ¼ inch bays for optical drives or other compatible components,
2 gigantic 140mm fans,
---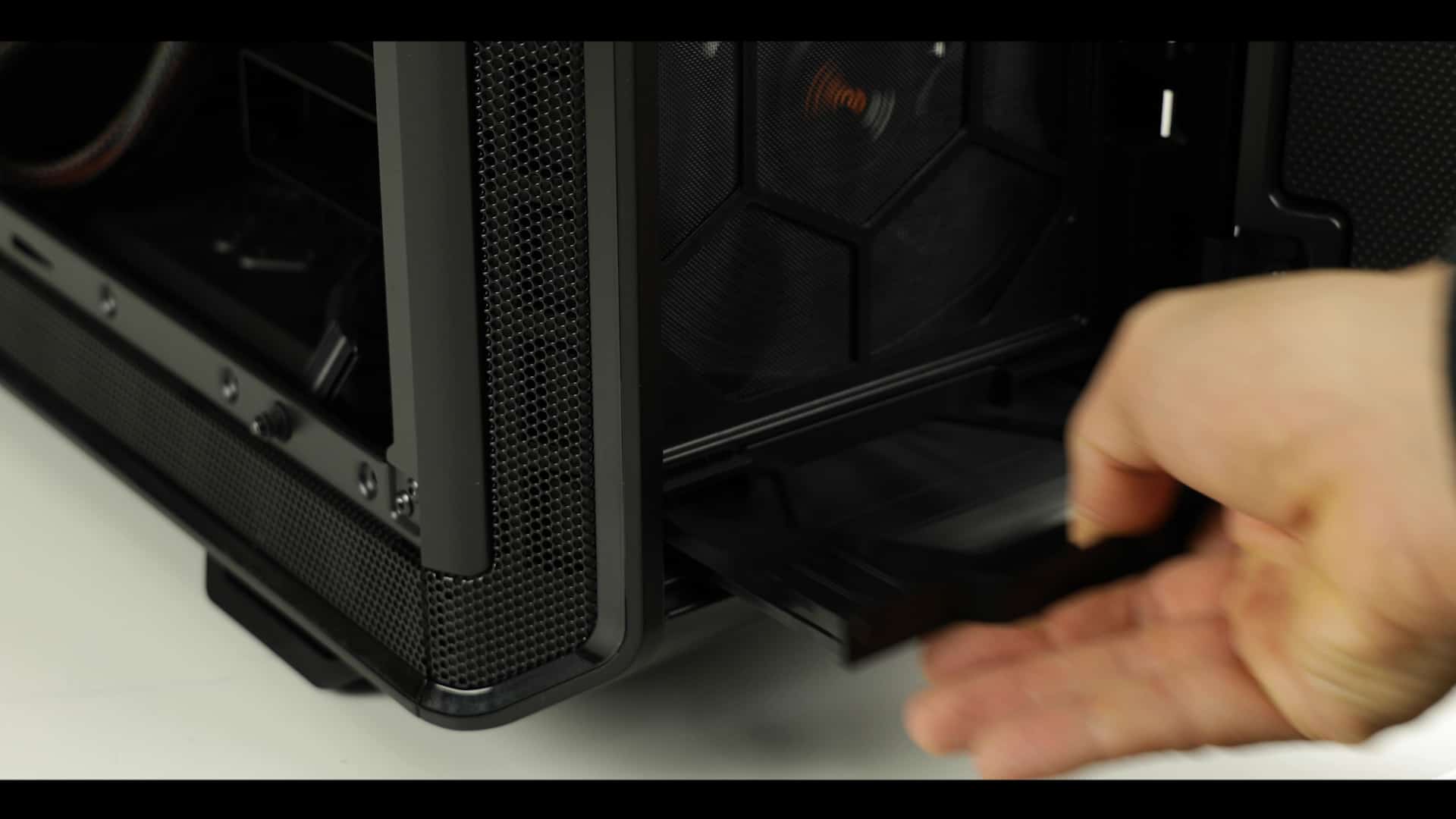 our front fan filter,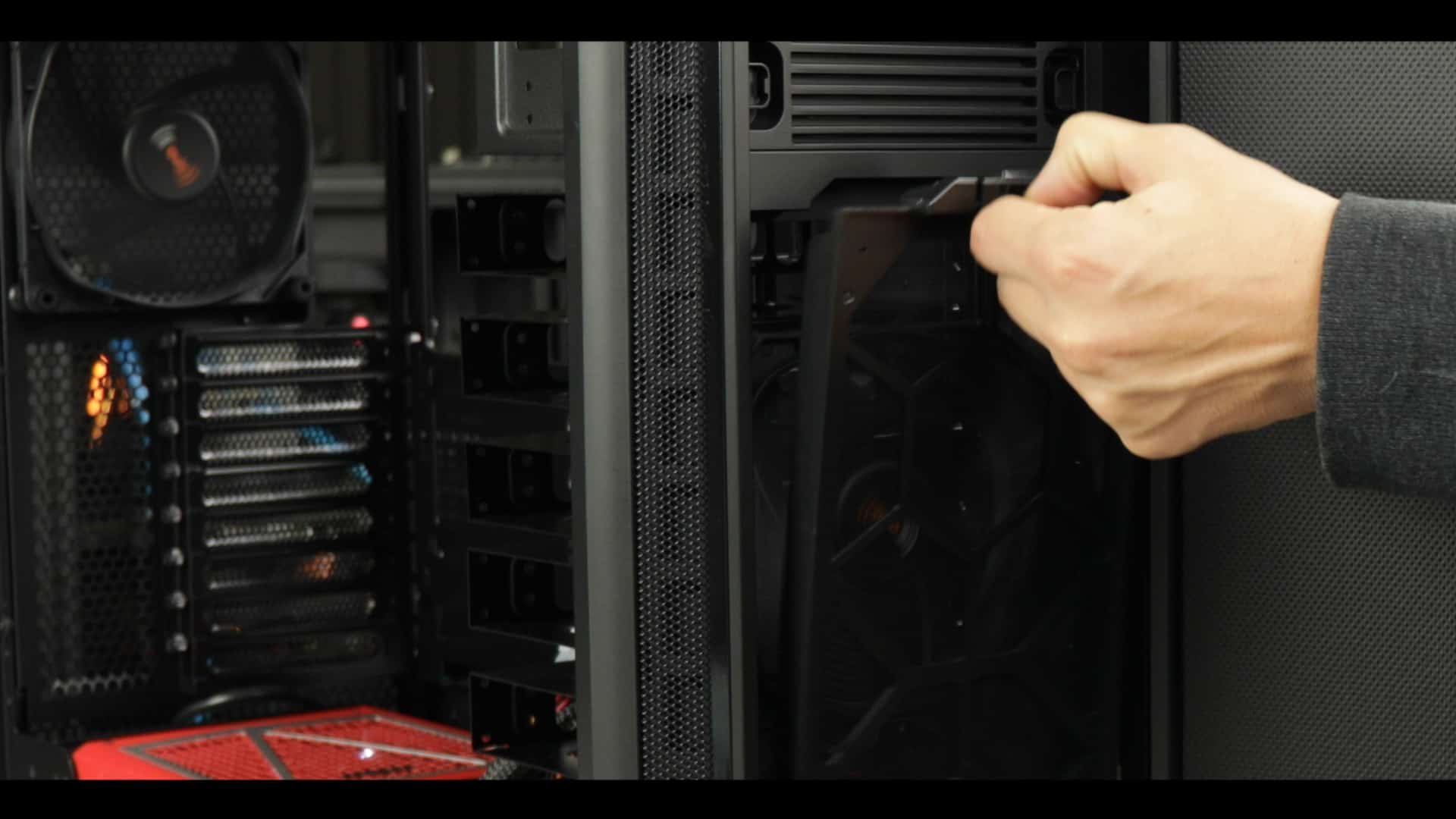 and our case base fan filter. They are both extremely easy to remove and well located for regular maintenance.
---
Let's take a closer look to our front panel door. It's inside facing wall is covered by a noise tempering padding which is featured on all the chassis walls, save the tempered glass obviously.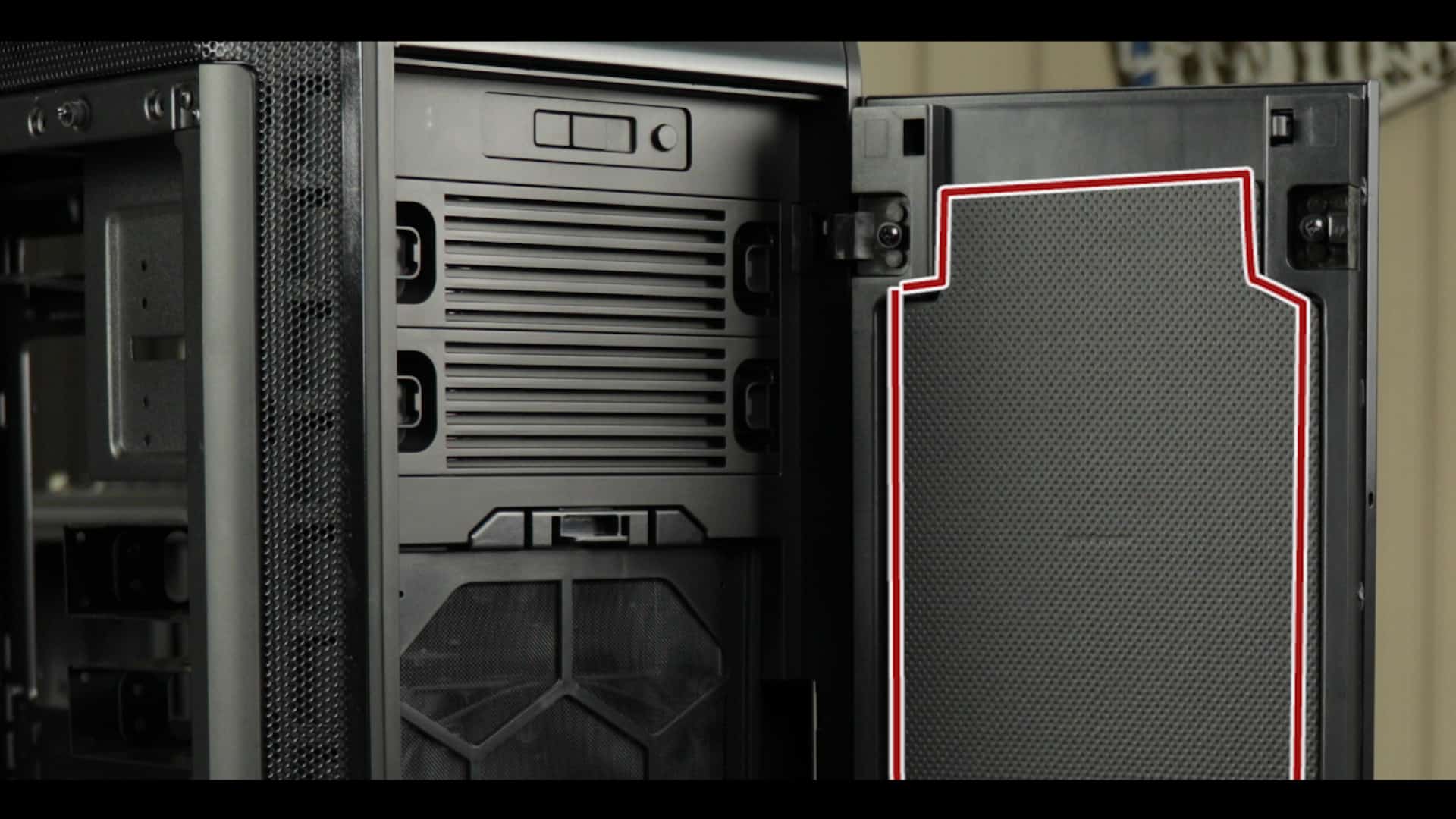 The case is surrounded by a continuous venting channel which is here to break the air flow speed and reduce its sound footprint. It also provides a greater dispersion surface for a better air evacuation, even if slowed down.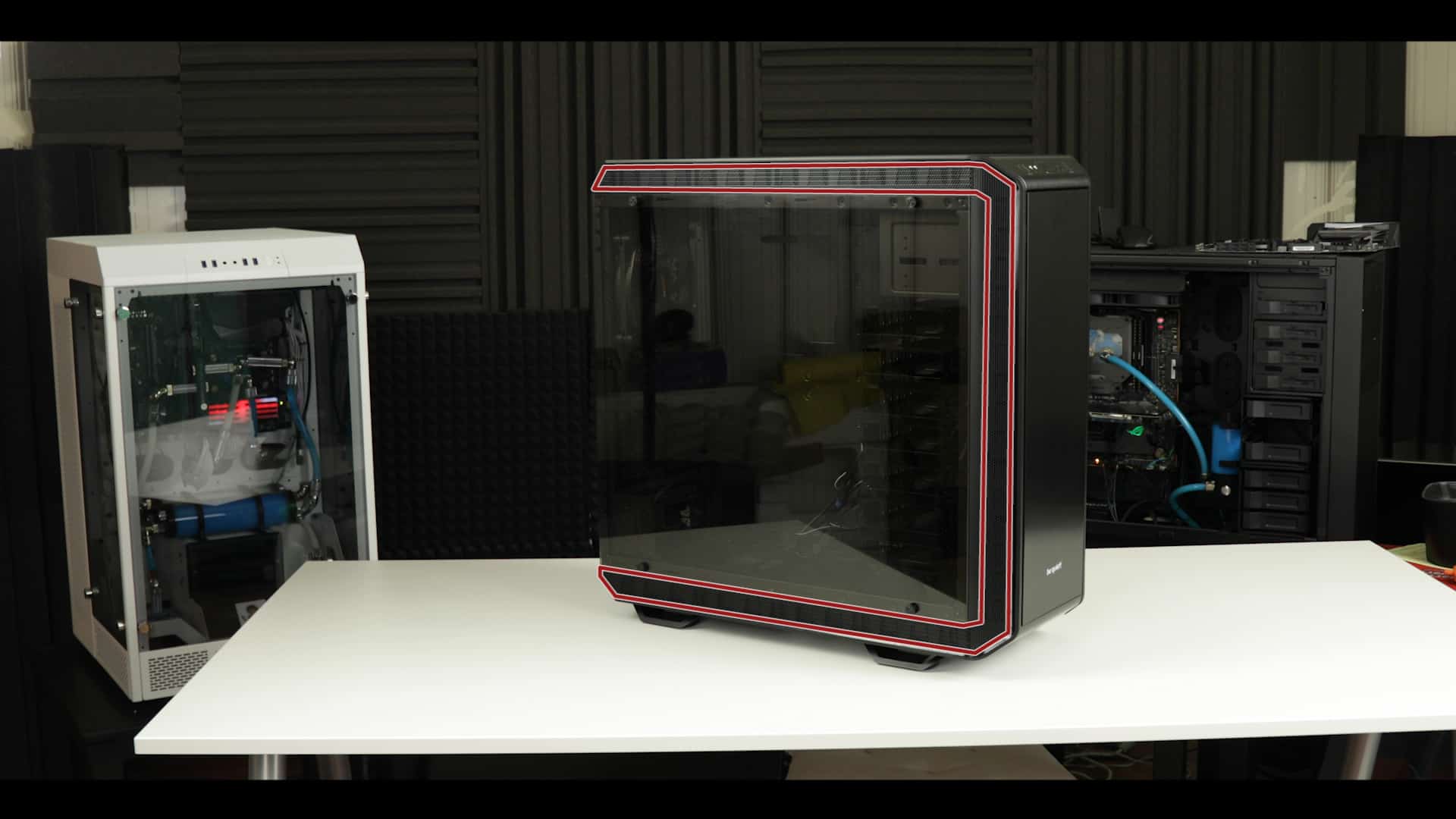 Which brings us to the cooling this thing. Our Dark 900 BASE Pro can accommodate up to… wait for it… 360 to 420 mm rad on the top and a front position, 120 to 140 mm on the back of our case, and 120 to 280 mm rad on the case floor.
So you can potentially run 4 simultaneous radiators in this…. You can have a Chernobyl style meltdown at your feet and still wear socks.…. No idea what that means… none.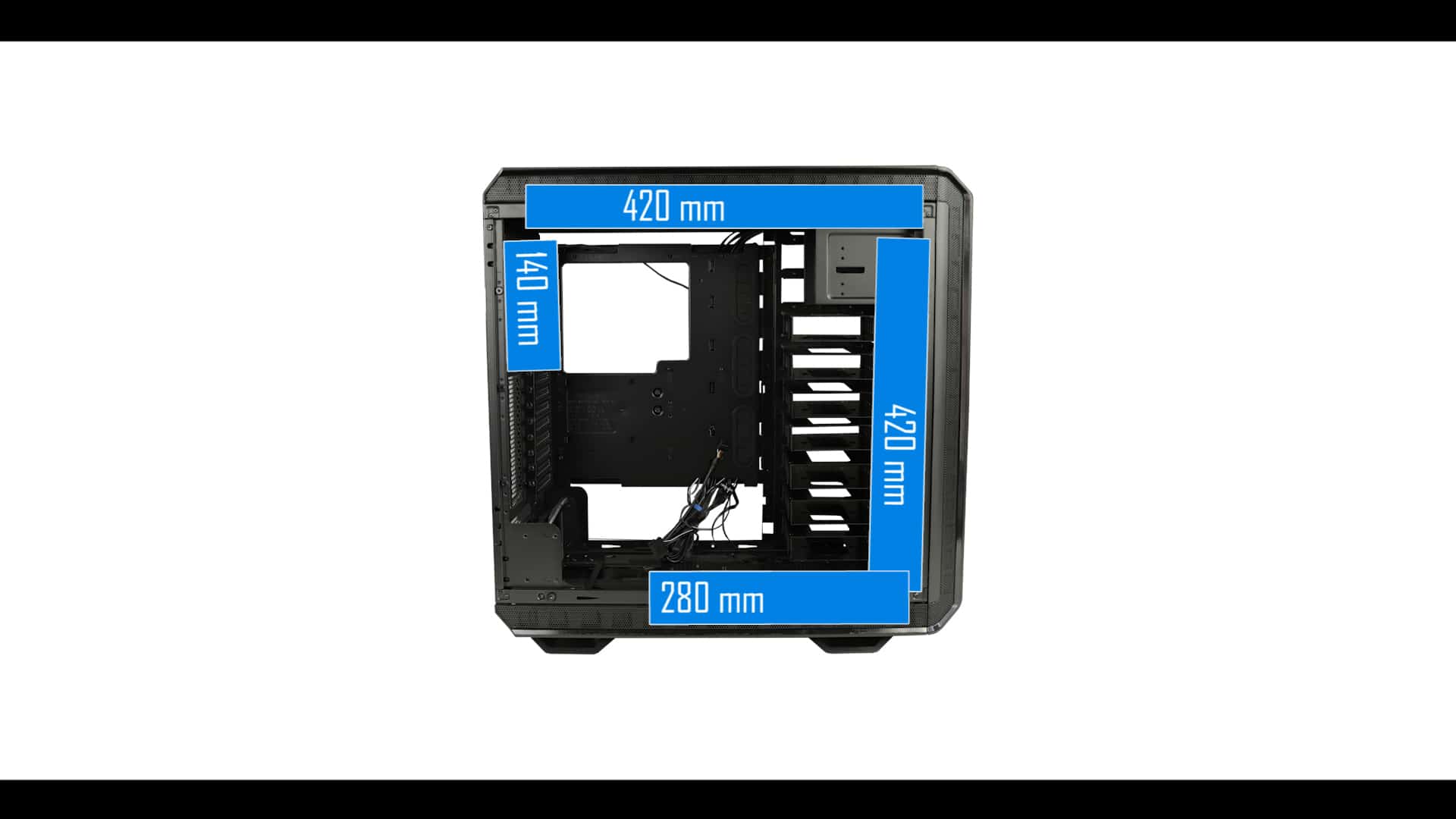 Our left side panel is what all the fuss is about, a gigantic 479 mm by 525 mm darken tempered glass piece. To note that the raising screws have been padded to avoid metal on glass scratches.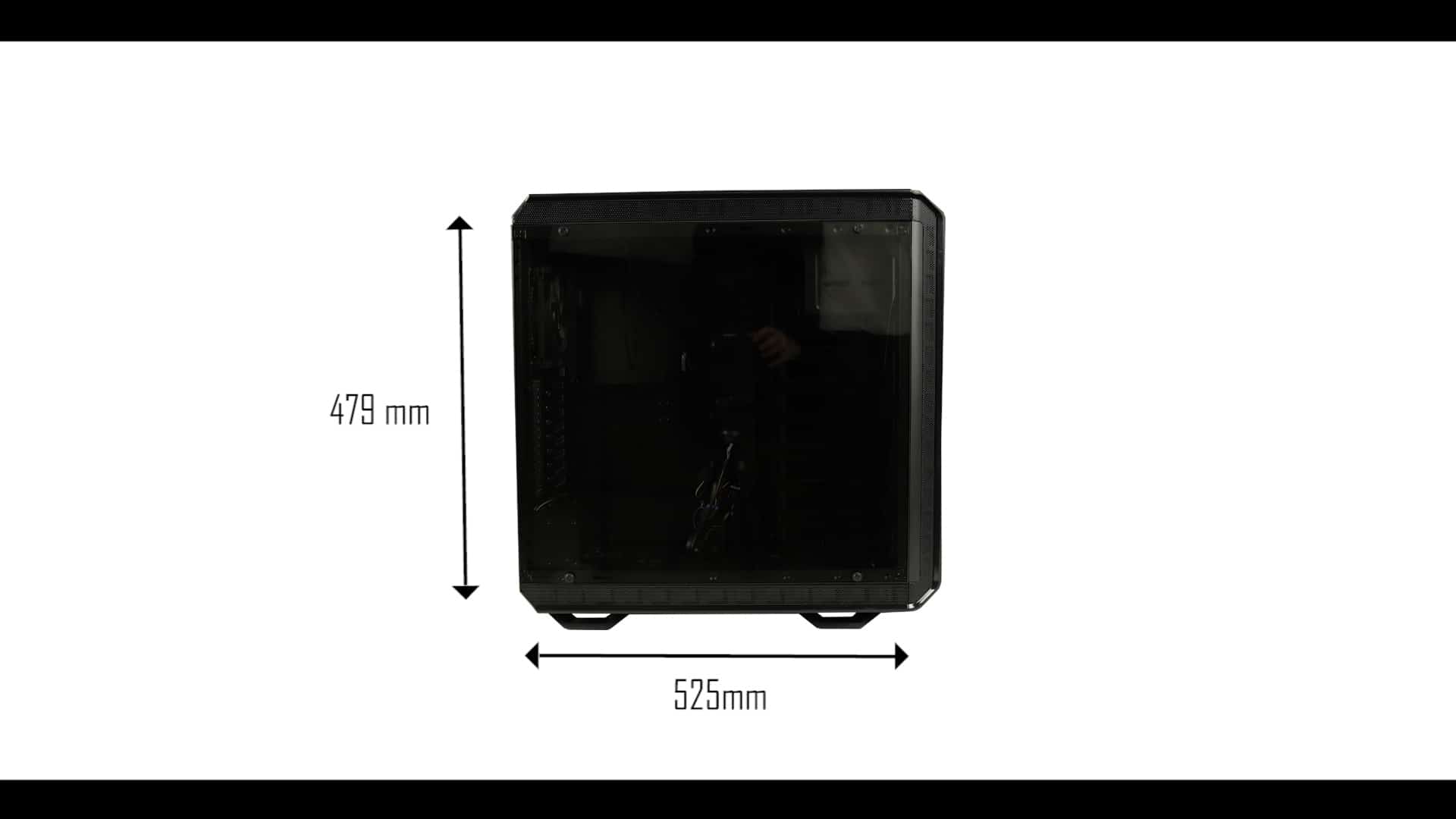 The right side panel is a more classic metallic sheet. It does feature a removable plastic cover which would hide optional 2 120 mm fans and their air filter. Of course, the inward facing wall of our panel has been padded with noise tempering foam as well.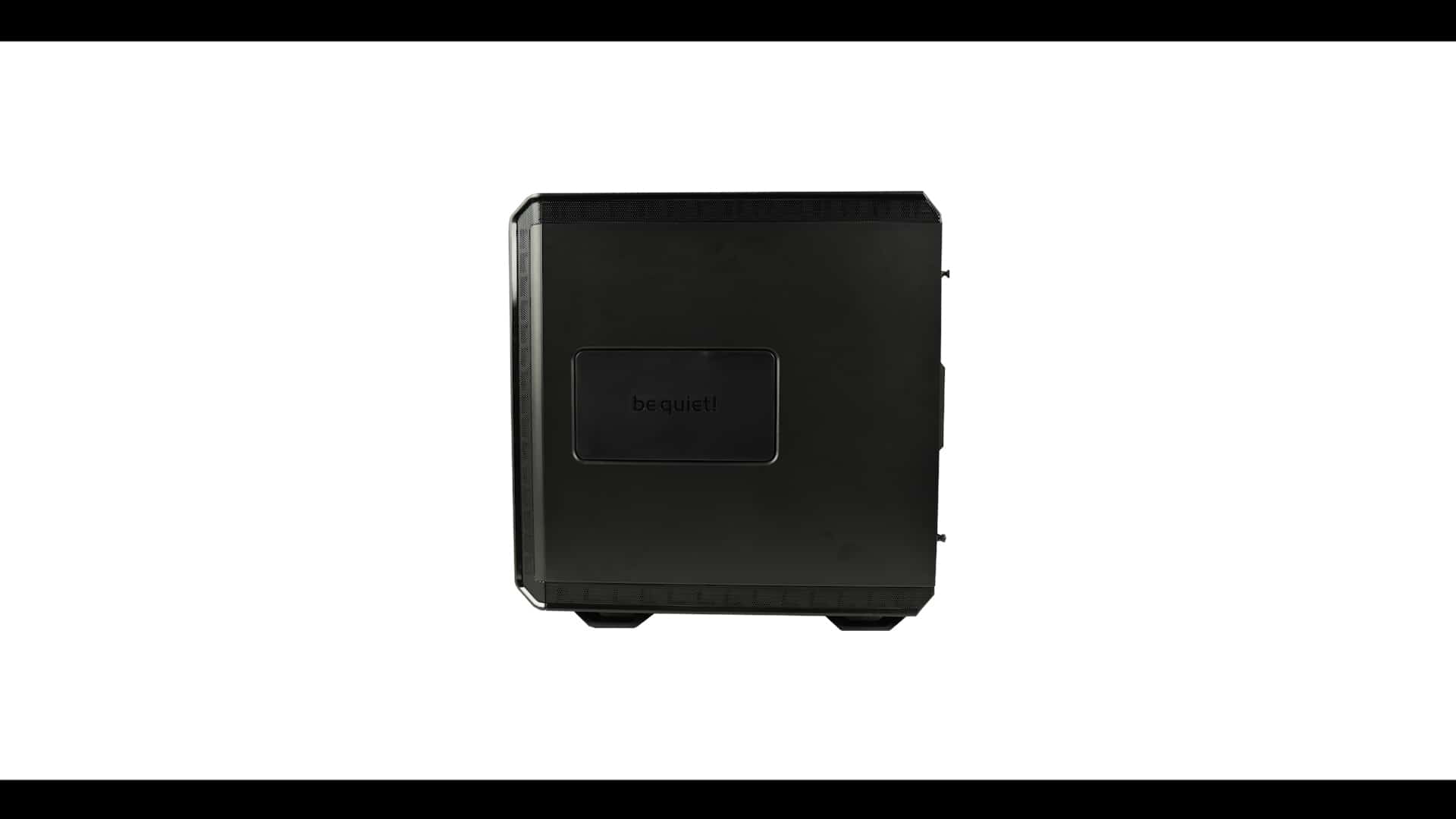 Cable management wise, we have what we need to get, an even complex cabled traffic situation, in order.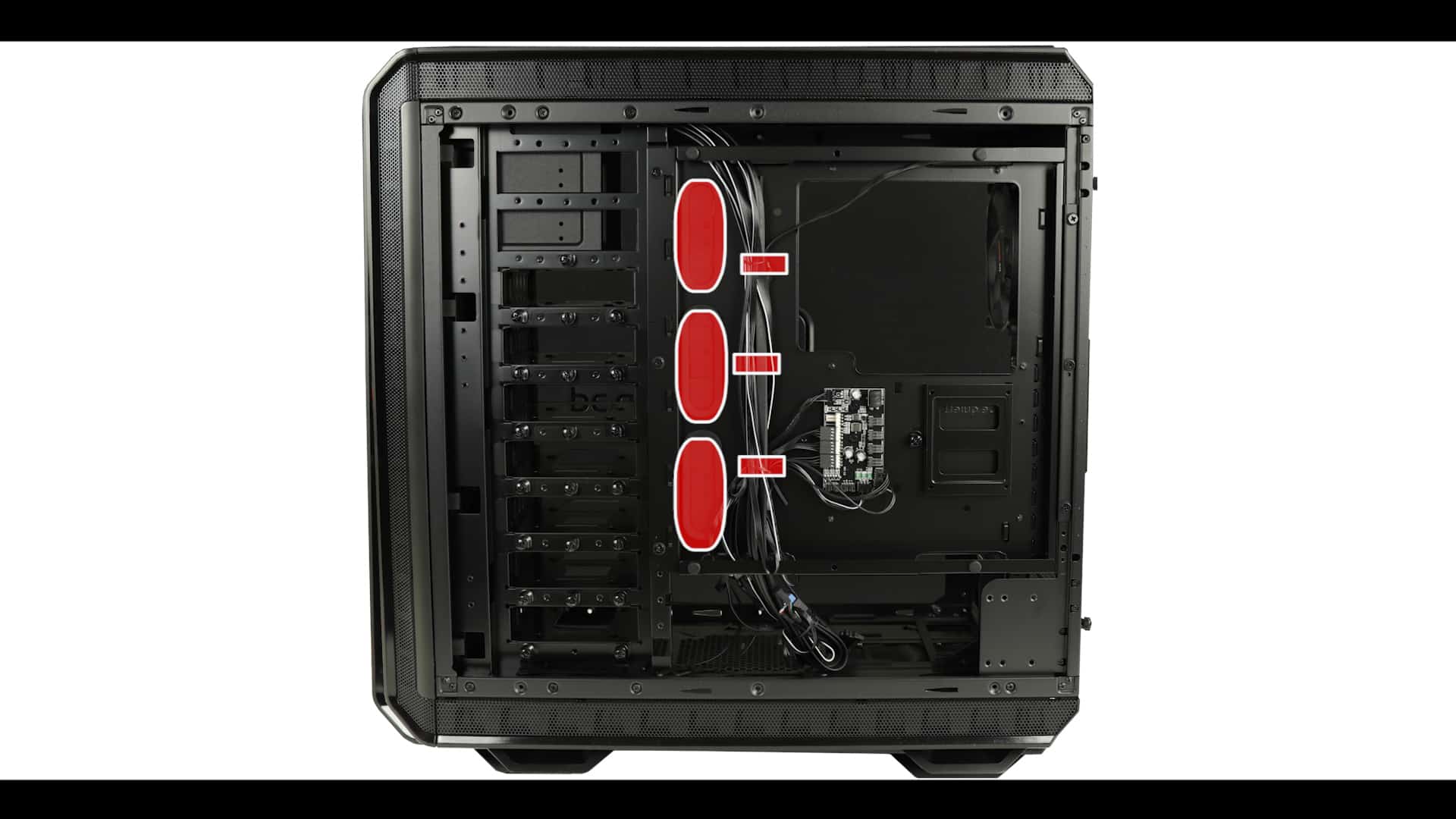 That brings us to the exposed fan/led hub controller. We can add up to 8 fans and 2 LED strips on this little thing. Note that the 2 said LED strips are provided with our case.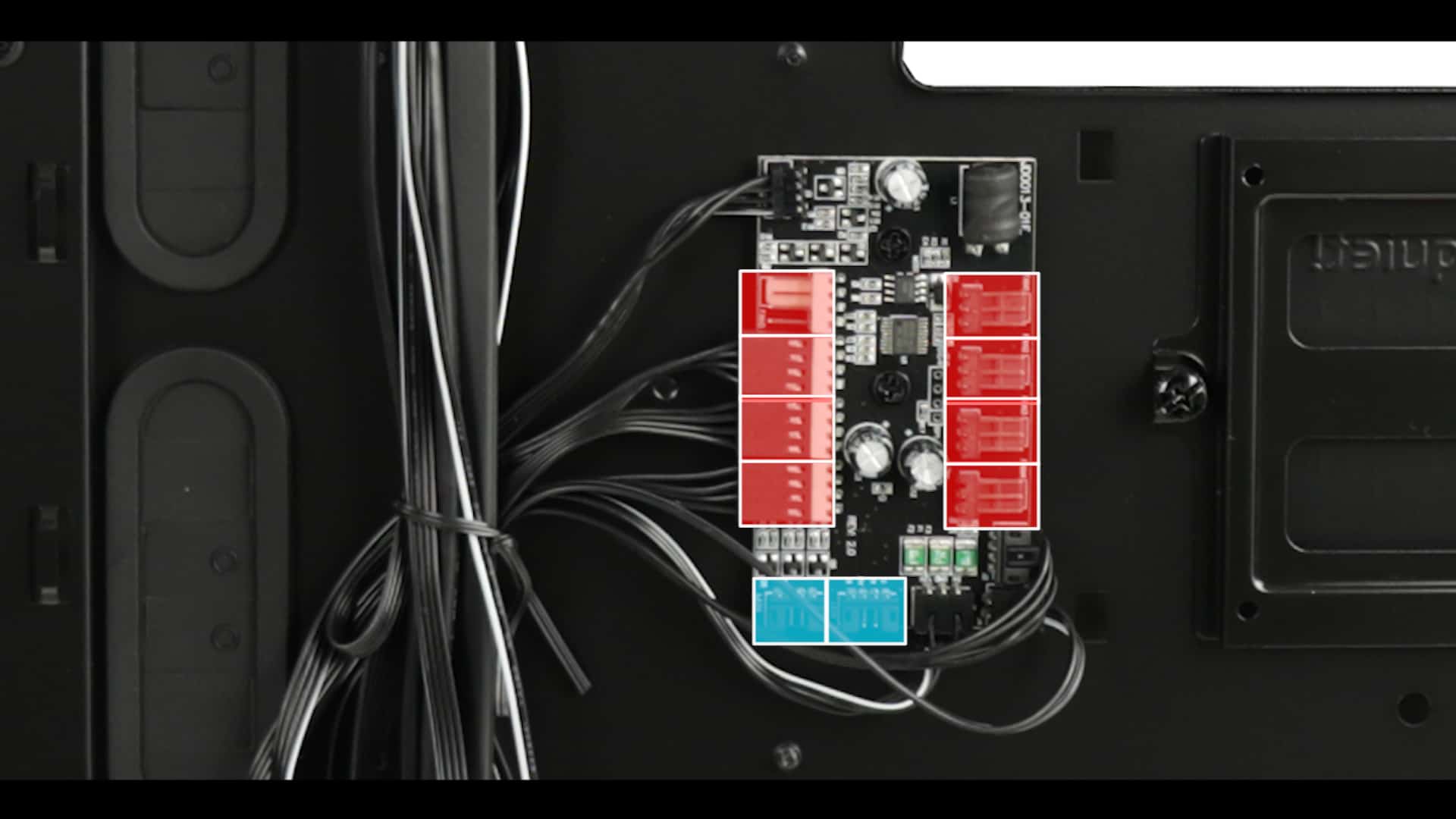 Storage wise, we have a 7 3.5 inch HDD column, and 1 2,5 inch SSD sliding tray on the back of our case.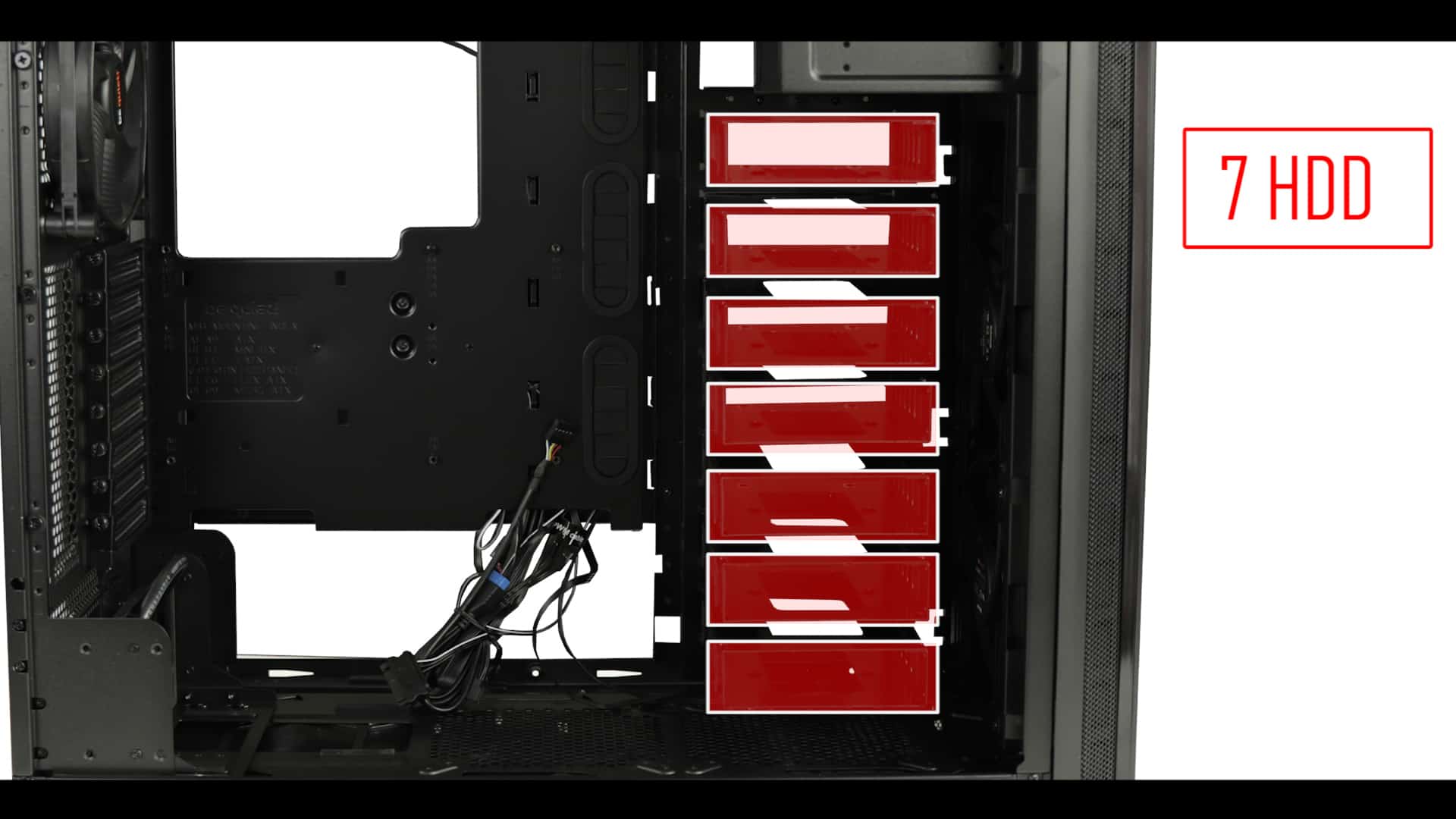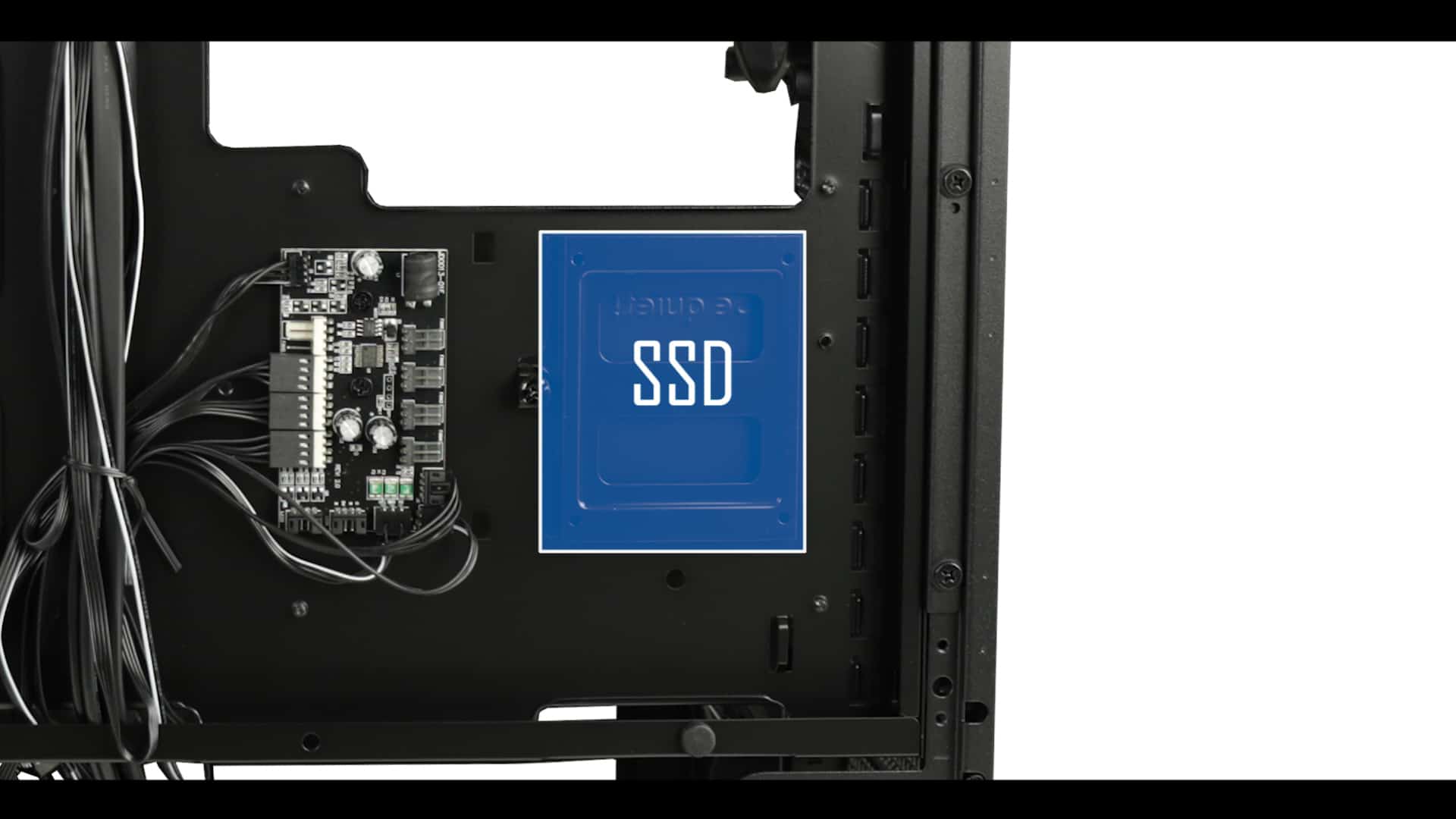 And now comes, my favorite part of this review.
This case is entirely and unapologetic-ally MODULAR.
We can add and remove anything we see. We can even swap the motherboards from one side of the case to another!
Even the PSU has its own mounting rail to adjust its location…. Whaaaaaaaaat?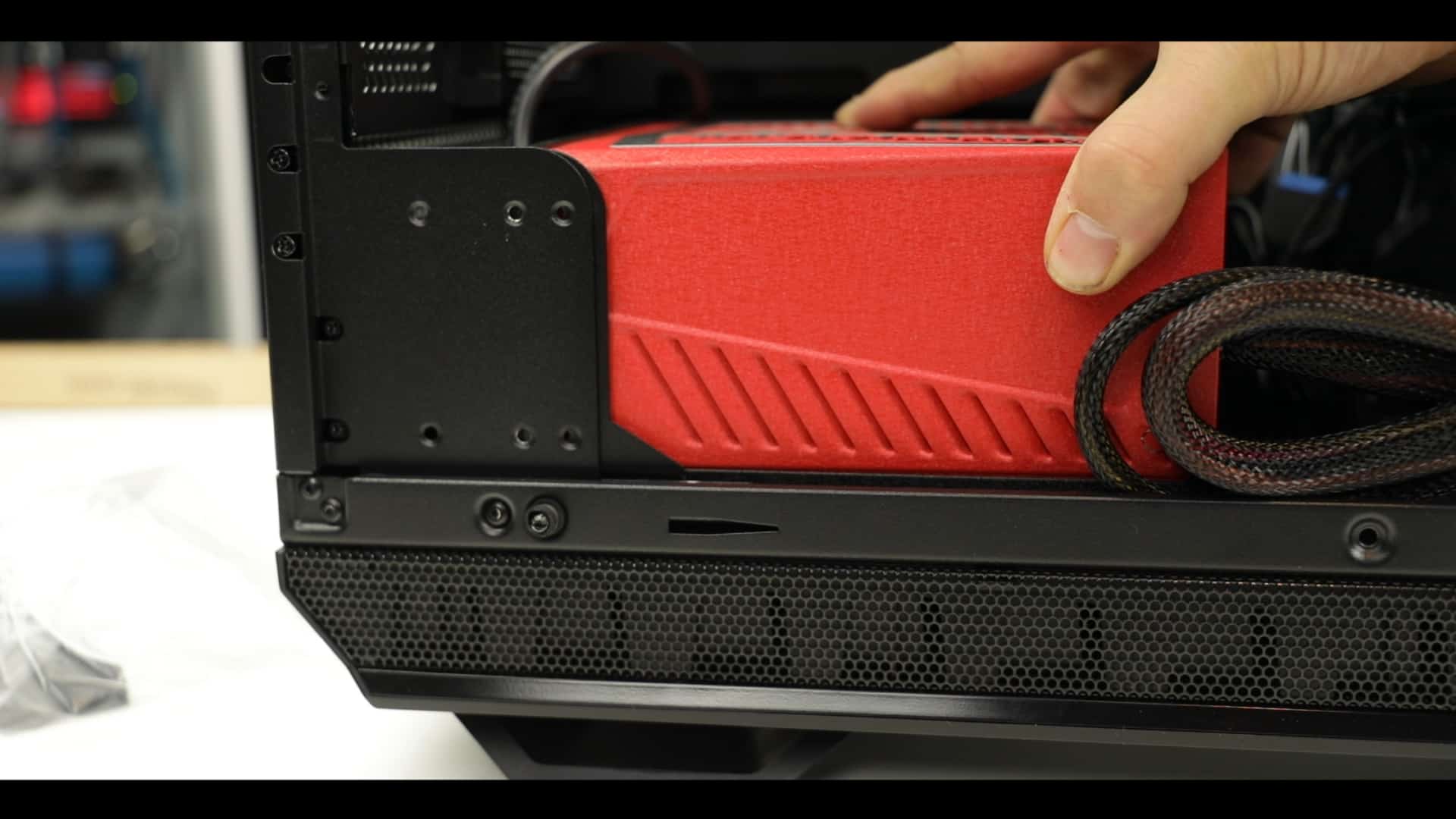 Now I do have a couple of reserves here.
First, as in many cases advertising an EATX compliant, the Dark Base Pro 900 , cannot truly support EATX board, whiteout covering all of the cable traps necessary to its operation. You'd have to remove the entire Hard Disk column and redirect the PSU cables this way to make it work. So full tower? Really???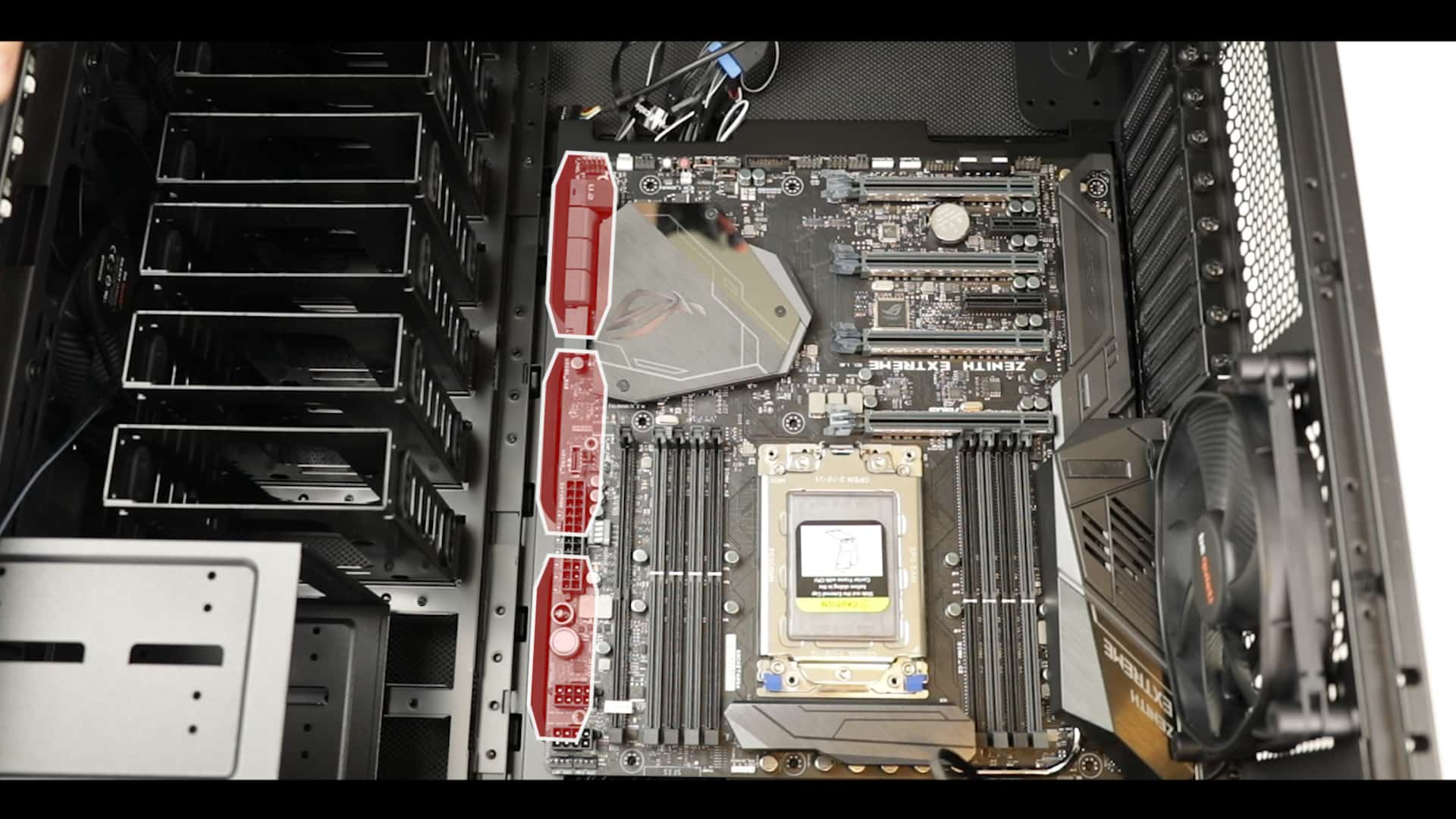 Talking about of the Hard Disk column… how many thumb screw does one need? They are big, too many and in the way of right-angled SATA connectors.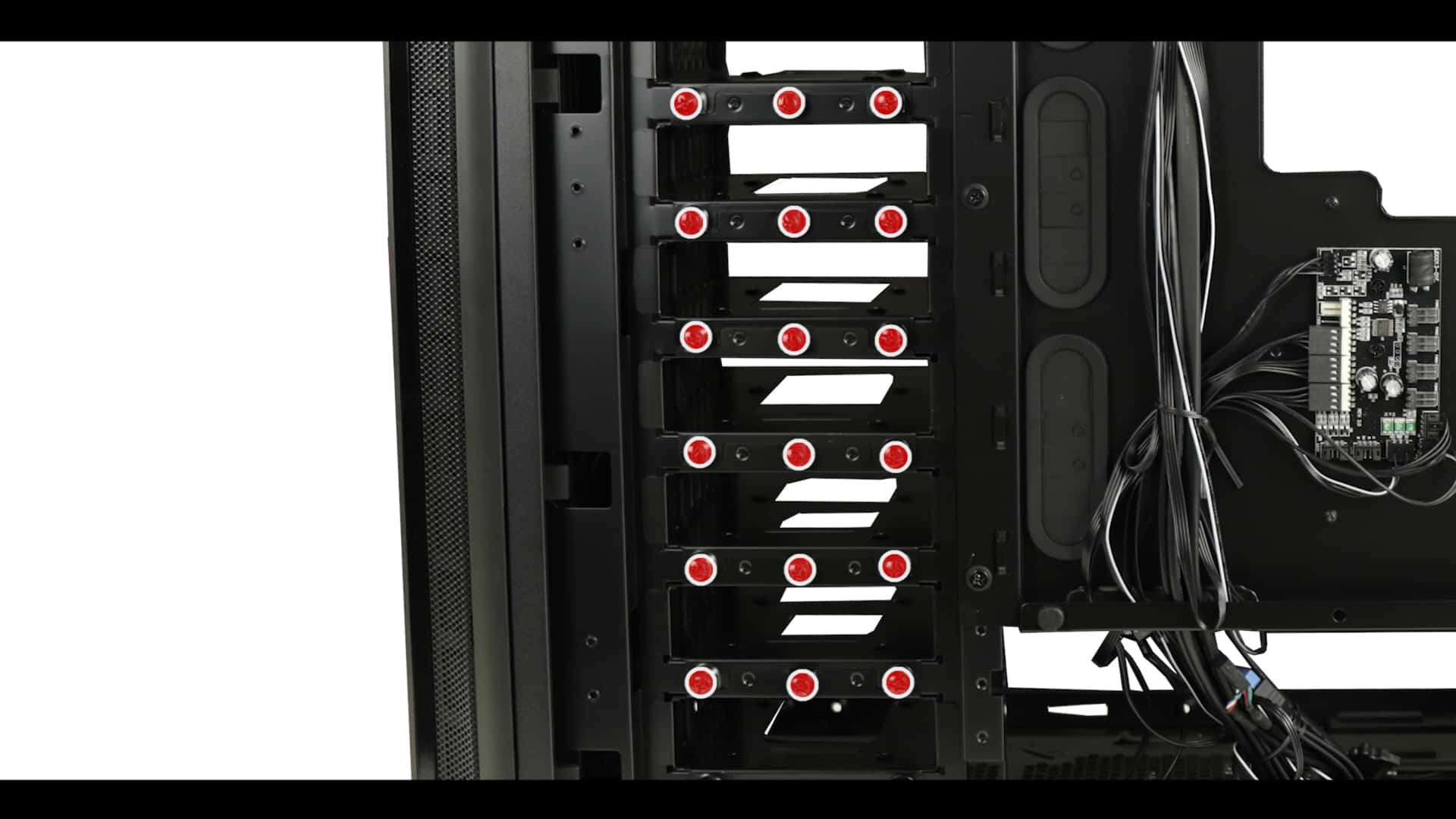 Conclusion
This is an enthusiast case… make no mistake about it. It has as many features as I have hairspray bottles. I like hairspray.
There are a few drawbacks, which seem redundant amongst case manufacturers lately. The EATX, does not properly all of the EATX boards out there… almost unforgiving for a case advertised as a full tower.
Thumbs screws are not only annoying but unnecessary, and we have a Qi charger but no Type-C USB… really?
But none of these are deal breakers.
For the cost (250.00 USD), you are getting, I believe more than you bargained for.
It was designed for hardcore enthusiasts who will want to push their build to the very limit, and not have a turboprop taking off every time they to turn on their creation.
They are so many possible modular combinations, you can have 5 of these cases lined up, with drastically different machines.
It was designed to look good.. and it does! Simple in design, remorseful in its finish, and pompously good in its execution.
And that is why I have decided to feature this very case for my Threadripper Build. Which I am glad to report, I have started to build. Videos coming on that soon 😊