Tech News
Coffee Lake, 8th Generation Intel CPU
Coffee Lake Is upon us!
Kaby Lake is barely cooling from its loud and hot January launch earlier this year (that's a short 7 months ago), and yet, its replacement is already being announced for a 3rd Quarter launch the same year.
And that would not have been a big deal if it didn't imply the fact that you'd need a new chipset to use it, the Z370, even-though the motherboard will feature the same old LGA 1151 CPU socket. Meaning that this new CPU generation will not be backwards compatible (you won't be able to use it on Z170 or Z270 motherboards) and that, yet again, for the third time this year alone (Z270, X299, Z370), you might have to buy and upgrade your motherboard to be on the latest Intel CPU!
And that is, in my opinion, a bad decision… a really bad one.
What about backward compatibility? Will the Skylake (6th Gen Intel CPU) or Kaby Lake (7th Gen Intel CPU) be able to run on a Z370 chipset. Again, the answer is no!
The 7th Generation Intel CPU would have enjoyed a short life, and For that AMD gladly claims the blame!
Since its latest Zen architecture release (Ryzen and Threadripper), AMD has shown that it could deliver higher performances at a better (much much better) price . You can read more about this on my in-depth analysis of the Ryzen 7 1800X CPU and the Threadripper CPU.
Intel has tried its best to cope with AMD's surprise move with last-minute releases ( Computex June 2017 ), using both the marketing version of a nuke by releasing a CPU named i9 (X-series CPUs) and hurrying the release of its next CPU architecture (Coffee Lake). All of it hoping that its latest rushed upgrade could fill the performance gap AMD has created, and dent its momentum.
Yesterday, in China, Intel has released to its close partners, what should transpire to the public tomorrow (21st of August): the full Coffee Lake CPU specs.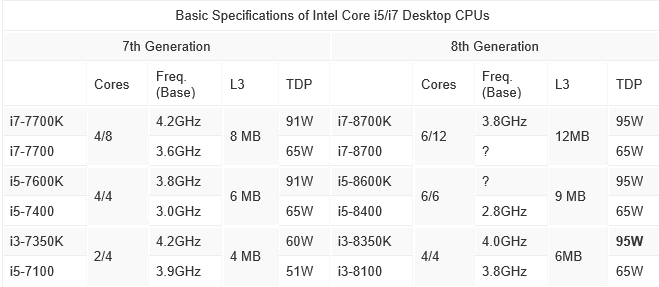 There is a lot to discuss, so let's dig right in!
Coffee Lake: Redemption or Damnation!
The 21st of August (tomorrow) is a big deal for Intel. This is what you could read on their website today!
On Aug. 21, Intel will unveil the 8th Generation Intel Core processor family on Facebook Live.
Watch as two exciting moments align: the Great American Solar Eclipse and the unveiling of Intel's most powerful family of processors for the next era of computing. Hear from those who are at the centre of creating this technology and from creators who are using the power of 8th Gen Intel Core technology in new and exciting ways.
Eight Reasons to Tune In
Don't be caught in the dark. Learn how the 8th Gen Intel Core processor family will offer blazing fast performance.
Hear directly from Gregory Bryant, senior vice president of the Client Computing Group at Intel, and others about the details on the latest processor family and what it can help you do.
Discover how immersive experiences will bring you from spectator to participant with 8th Gen Intel Core processor capabilities.
Don't just take our word for it. See the power of 8th Gen Intel Core technology come to life in the hands of a VR creator and imaging technologist.
Get a sneak peek at some of the amazing system designs based on 8th Gen Intel Core processors.
Start planning for what new 8th Gen Intel Core processor-based device to purchase in the holiday season and even before.
Don't worry, you won't miss the solar eclipse. Tune in before it descends upon Oregon and the West Coast and then makes its way across the U.S.
See how the 8th Gen Intel Core processor is designed for today and what comes next.
When: 8 a.m. PDT, Aug. 21, 2017
Watch the Live Stream: Tune in live on Intel's Facebook page or the Intel newsroom
The X299 and its X series CPUs are great… if you can afford it. But for the immense majority of computer users, the LGA 1151 based motherboards and its 100, 200 and now 300 series chipset, is the way forward, and the real test for Intel.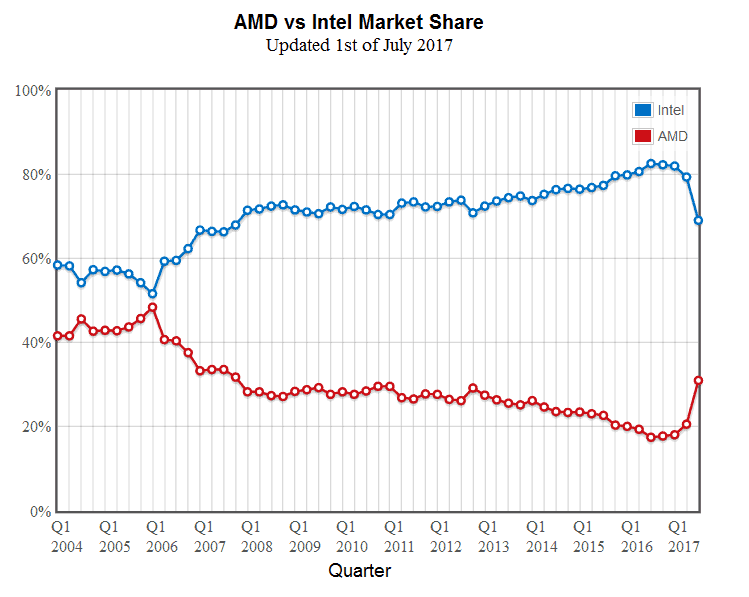 ---
In the past (and short) 3 months since AMD released its Ryzen 3, 5 and 7, it managed to claim an ever-growing size of the market. In the single month following its release, AMD already managed to reverse its falling market curb, and steal from Intel a decade worth of market share progress!
And it is safe to say that, Q2 and Q3 will be equally disastrous for Intel and equally generous for AMD.
In short, Intel cannot afford to get Coffee Lake wrong!
Coffee Lake: Performances
This is where everything could go incredibly right or incredibly wrong. We already know that the CPU will be priced within the Kaby Lake price bracket when it was launch. Especially given the proximity of both Generations launches (slowly turning the knife in the wound).
But we don't yet know much about what can Coffee Lake deliver in terms of raw performances.
Cores
A definite plus. For the first time since 2012, we can see a real Core increase! On its own, this should guaranty a serious and tangible gain on equivalent past CPUs.
I3 now pass from 2 to 4 physical Cores and 4 threaded
i5s now pass from 4 to 6 physical Cores and 6 threaded
i7s now pass from 4 to 6 physical Cores and 12 threaded
14 nm
No big surprise there. Since both Kaby Lake and Coffee Lake are part of the Skylake micro-architecture, there is no reason to foresee any serious performance gain solely based on the "optimization" of an already ageing micro-architecture. But we are definitely leaving the Intel's "Tick-Tock" philosophy, to follow every change to the micro-architecture with a die shrink of the process technology, originally adopted in 2007. We now have a so-called optimization process, which I think it is safe to say, might last more than a year, and will bring only symbolic gains computing wise.
Cache memory
Good news! more cores means more L2 and L3 Cache!
Count a solid 33% L3 cache bonus on i3 (going from 4 to 6 MB of L3 cache) and i5 (going from 6 to 9 MB of L3 cache), and a 25% increase for the i7 25% (going from 8 to 12 MB of L3 cache).
Again, that is real solid performances gains in the 3 cases (5 to 10% in each case) compared to the previous Kaby Lake generation.
---
Conclusion:
Intel claims that its latest Coffee Lake iteration of the Skylake micro-architecture will provide up to 30% in total performance gain. And based on the specs provided yesterday, I believe it.
But this is only one part of the equation, and I am not certain that this will be enough to maintain its current market position (let alone gain back its recent loss) confronted to an unusually combative and innovative AMD. Especially knowing that Intel asks of users to upgrade, yet again, its motherboard!
One thing is certain. This is good for consumers. Never can we see more innovations than when two gigonots give it at each other, seeking predominance or, at least, another period of status quo.