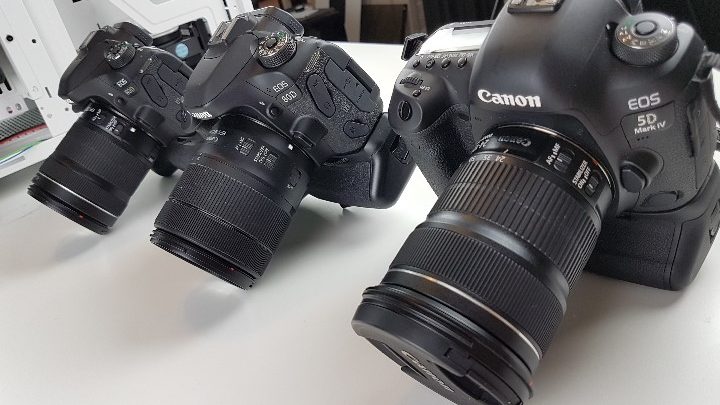 When it comes to film, either components or myself, I always try to get the best possible shooting gear available. And that comes at a cost.
But before talking about ugly dollars, let's take a closer look at what I am using.
THE CANON 80D
Camera for components filming
Number of cameras : 2
Camera model : Canon 80D
Focus Points:  45-point hybrid
Sensor: 24.2 mega pixels APS-C CMOS sensor with Dual Pixel AF
Maximum filming resolution: up to 1080/60fps
Price: 1,200.00 USD (body only)
Because of its crystal clear, high definition C-MOS sensor, the 80D is particularly recommended for components close-ups, and because it has a touch screen flip-screen, it is easy to use in angle filming.
I just think that this camera is the perfect starting point for a tech channel. Both for filming your hardware or yourself, this camera has advanced the mid-range DSLR to maturity.
I use two 80Ds simply because, when filming different angles, I want to have the very same sensor composition, so that both views have the color, hue, kelvin warmth, etc…
Even in the same brand, and arguably in the same range of cameras, you can detect differences when putting both videos one next to another.
Hence, if you are shooting different simultaneous angles,  make sure to use identical cameras model and make.
THE CANON 5D MARK IV
First… let me start by saying that the 80D would be a great choice for this category. But, our days, you need to be 4k ready… hence the 5D Mark 4.
The Canon 5d Mark IV is probably the best of its field (and one of the most expensive). It covers a wide range of applications and one of which I am a big fan: Slow motion shooting (120 FPS at 720 resolution.. yes only 720 🙁 )
It also has a FULL FRAME sensor… and that means ultra crisp pictures and videos. And, boy oh boy, when you start filming with this thing… it's hard to go back on anything else.
A couple of cons:
The price !  (4,000.00 USD with lens)
No flip-screens
And these are two MASSIVE cons in my opinion. Enough to say that if I didn't have to produce in 4K, I would have never gone for it… just saying.
But in a more positive note, the 6D Mark 2 is about to be released for half the price (hopefully), and even though it will not feature a full frame CMOS sensor, it will shoot in 4K and will feature all the other available features on the 5D Mark IV.
Camera for tech review & host filming
Number of cameras : 1
Camera model : Canon 5D Mark IV
Focus Points:  61-points 
Sensor: 30.4 Megapixel Full-frame CMOS sensor with Dual Pixel AF
Maximum filming resolution: 4k/30fps —- 1080/60fps —- 720/120fps (no audio)

Price: 3,300.00 USD (body only)
LAST NAG ABOUT CANON (I promise)
Canon is a little late when it comes to accessories, especially when it comes to electrical adapters. Hear this: there are no AC adapters for Canon DSLRs (none approved anyways). Meaning that you are stuck with swapping batteries every so often. The only meaningful way to alleviate this, is to buy (again) a battery grip for you DSLR.
No problem for the 80Ds, they are cheap enough if you go for approved third-party manufacturers, but as far as the 5D Mark IV, you are stuck with original Canon battery grips (probably because of that 5 ways extra buttons the Mark IV introduced), and it is about 500,00 USD without the extra batteries…
Let us know what you think!